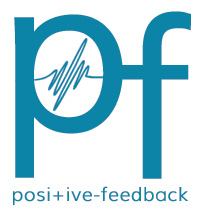 You are reading the older HTML site
Positive Feedback ISSUE 59
january/february 2012
Notes of an Amateur: Britten, Ysaÿe, Ustvolskya, and Bach: St. John Passion/Gardiner and Sonatas & Partitas/ Ibragimova.
by Bob Neill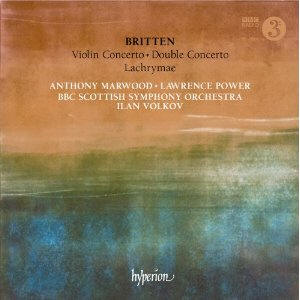 Britten. Violin Concerto. Double Concerto. Lachrymae Lachrymae. Anthony Marwood, violin. Lawrence Power, viola. BBC Scotish Symphony Orchestra, Ilan Volkov.
This album has two subjects. The first is composer Benjamin Britten, who found unique modern forms and styles for music dealing with profoundly traditional concerns. This is an achievement his British contemporaries struggled to match and quite simply could not. They were forced to go their generally unsatisfactory ways either toward pastoral neo-romanticism or a prickly, alienated modernist idiom.
The other subject is rapidly ascending violinist Anthony Marwood, late of the Florestan Trio and fresh from a brilliant recording (and continuing world tour) of the Thomas Adès Violin Concerto. Britten and Marwood fans have been waiting for this combination since the violinist's voice first became recognizable in its own right.
In its earliest version (1939), the Violin Concerto was 'early Britten,' when the composer was 26 and not yet the master of where he was going. As he matured, he appears to have heard more possibilities in the concerto, coming back to tinker with it in 1950 and 1958 before getting it where he wanted, in 1963.
It has been a bit of a sleeper in the Britten oeuvre since then with just four of recordings I know of: Lubotsky, Haendel, Vengerov, and McAlsin. All four get something from the concerto but none really persuade us that this is a significant work. Listening to Marwood and Volkov, it is immediately clear that they hear more in it. What they bring out is the emotional power behind the undeniable charm, something that a violinist with Marwood's great technical skill and apparent connection to the work brings off with great success. Based on his fairly recent outings with Stravinsky's L'Histoire de Soldat, his music for violin and piano (with Adès), and with the Adès concerto, this should be no surprise to us. The lyric passages are gorgeous but rightly strung tight, the contrasting, more conflicted, passages sweep across the lyricism with eloquent severity. Volkov and his orchestra are full partners in taking this modernist view of the music, but the violinist is the story here. He literally commands the emotional power of this music to come forth.
The concerto's third movement is the first (that I can remember) Passacaglia that is to become one of Britten's hallmarks. Rapturous and psychologically complex, it foretells the even more powerful (and more conflicted) Symphony for Cello and Orchestra, to come in 1963—significantly the year he did the final revision of the violin concerto. This movement is likely what Britten knew (and what Marwood knows) is the music that had to be saved. Marwood calls the concerto "prophetic" and he may well have been thinking of the Passacaglia. In his hands it has exhilarating power. Anthony Marwood is the violinist this concerto has been waiting for.
Britten's Double Concerto (for violin, viola, and orchestra) was written in 1932 when the composer was still a student at Royal College of Music in London, aged nineteen. At this young age, Britten had still not let the growing emotional conflicts that drive his mature music come into play. Its major interest here is the play of textures of the two solo instruments, though there are the beginnings of something in the slow middle movement that are clearly what attracted Marwood (and violist Lawrence Power) to the work.
Power completes the program with an orchestrated version of Britten's Lachrymae; reflections on a song of John Dowland. The work was composed in 1950 for viola and piano, then orchestrated by Britten in 1976, the last year of his life. It begins as a lonely quiet piece, the viola essentially talking to itself, as it imitates Dowland's lute with pizzicato, then builds into something else. It becomes more outspoken, the orchestra playing a stronger role, and then, as the orchestra retreats it becomes antic, then finally elegiac, as it settles into music we had been wanting all along, more recognizably Dowland at last. Lachrymae has always eluded me, even in its leaner version for duo. And perhaps that's all right. Some music gives up its secrets gradually, some not at all.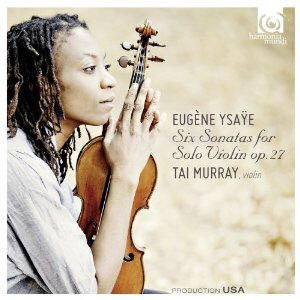 Eugène Ysaÿe, Six Sonatas for Solo Violin, Opus 27. Tai Murray, violin. Harmonia Mundi HMU 907569
Harmonia Mundi takes pride in introducing young artists and the label's track record for picking future mature first rate musicians is a strong one. Violinist Isabella Faust and cellist Jean-Guihen Queyras come immediately to mind. When I take a flyer on debut CDs, I find myself paying at least as much attention to the performer as the music. I already own two excellent recordings of these solo sonatas, but young violinist Tai Murray seemed too interesting to ignore. She has an extraordinary resume already. She's from Chicago, has degrees from Indiana and Julliard, has performed with seven significant orchestras and along with a handful of very well known individual musicians as well as the Musicians of Marboro and the Chamber Music Society of Lincoln Center. This is her first recording.
What I hear from her is the versatility this music demands but also a coherent vision, which is where her particular genius comes out. Ysaÿe's (1924) early modern sonatas are sonatas in name only. As a group, they run the gamut of form and mood. To stitch them together into the musical world they describe requires the performer to change moods and styles: perform like a gymnast, a melancholy lyricist, a troubadour, and a dancer; but also to keep all of these roles within an emotional range such that we can feel their relation to one another. There is a coherent poetry to Opus 27 and Murray finds it. She resists the temptation to take off. She pays attention to the little things as well as the music's larger, more spectacular gestures. Her reward is the cumulative power this music can and does realize in her hands.
Hers is not the only way to play this music. Fanny Clamigirand's Ysaÿe on nascor is more intense, sprung tighter. Thomas Zehetmair's on ECM brings out its drama; he's also faster than Clamigirand and considerably faster than Murray. In their company, Murray comes off as the most lyrical, the most thoughtful, and the least intense. Rating them is pretty much a matter of taste. I prefer both Murray and Clamigirand to Zehetmair but I'll have to say they all work.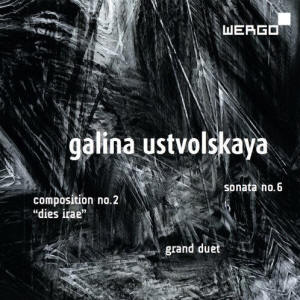 Galina Uslvolskaya, Composition No. 2: Dies Irae. Sonata No. 6. Grand Duet. Wergo WER 6739-2
Twentieth century Russian composer Galina Ulsvoskaya (1919-2006) wrote a total of twenty-five works, most of which were never performed in her lifetime because under the cultural authority of Stalin's Russia they were considered decadent, avant-garde, and unsupportive of socialist society. To be fair—and I don't mean to Stalin's regime—her music is extremely difficult to make much of. Even to our late modern ears, much of her music—the first two works on this album written as late as 1972-73 and 1988—is a barely coherent expression of destructive forces unleashed. It is easy to believe that this music is an expression of a modern soul inside the most repressive regime in history. The third work, Grand Duet for Cello and Piano (1955) is considerably more comprehensible. The spirit of Prokofiev is buried not too deeply beneath its surface. Prokofiev could not have written it but it remembers him—and takes him over the edge into unexplored territory.
I have listened to a handful of Ulsvolskaya's earlier works, mainly composed for solo piano, and always found them, like the Grand Duet, challenging but very moving: within the comprehensible bounds of music as we know it, while always testing its limits. In the last movement of the Grand Duet, it is as if the furies have been recalled and the voice of the cello permitted its sad, eloquent lament for all that has passed before us. And even then it is forced to let out a last flurry of angry bursts. The Duet justifies the album.
Bach, St. John Passion, Gardiner. Monteverdi Choir, English Baroque Soloists. Soli Deus Gloria SDG 712.
I am not a Christian, though I have the roots and have always found the story compelling when it is told such that the difficult radicalism of Jesus' message is preserved. I am a Bachian and so, in sum, I am fairly vulnerable to Bach's passions and have always had a great affection for the least well known of them, the St. John. The St. John Passion takes us from the betrayal, through the crucifixion at a deliberate, reflective rather than melodic pace, ending with no resurrection in sight—the passion was composed for Good Friday. My kingdom is not of this world," the famous statement by Jesus to Pilate, brushed aside by those at his 'trial' and prudently ignored by the church, stands eloquently at the center of the story, where it belongs.
I am happy to report that John Eliot Gardiner and friends, following on their wonderful series of the cantatas, have given us a very fine and moving St. John Passion. Soloists are absolutely first rate. It is, we are told, the first of a series of live concert recordings of the Bach passions performed after the completion of the cantata tour. So we have the St. Matthew and B-Minor Mass to look forward to.
Sound is clean and atmospheric—solo voices come to us out of a huge space. For me, all of Gardiner's Bach is definitive. And the SGD website tells us that in May, 2012, Gardiner's forces will perform and record the composer's Ascension Cantatas "in order to complete their set of 198 sacred cantatas from the Bach Cantata Pilgrimage."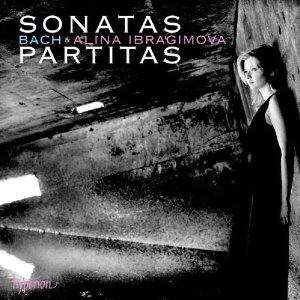 Bach, Sonatas and Partitas, Alina Ibragimova, violin. Hyperion CDA67691/2.
Many of us discovered the brilliant and magnetic Russian violinist Alina Ibragimova on her recordings of the Beethoven violin sonatas with pianist Cédric Tiberghien made in Wigmore Hall live and released on their label. We then followed her to a Hyperion Ravel CD (also with Tiberghien). But not so many of us knew she had already recorded the Bach Sonatas and Partitas in 2009.
Ibragimova's Bach is like no other I've heard. To begin with, there are extended passages in which she is the quietest performer of this music I've ever heard—some of the music is played in a near whisper. Also, leading edges of notes are frequently softened, almost suppressed, so that the music flows from note to note in a continuous line—though as always with Ibragimova's Bach, not always! Because sometimes there is an ebb and flow to dynamics and pace in her playing that gives us the feeling we are breathing with her; or it is as if she is speaking, though not in conversation but privately, to herself. And finally, in the prestos, she flies and darts like a celestial trout in fast water, reminding us that her technical skill and silver tone are second to none. She has been called "expressive."
That is an understatement. Critics accustomed to a more formal approach to this music would call her Bach informal, even self-indulgent. It is certainly personal Bach, a personal engagement with Bach. Poetic Bach, idiosyncratic Bach. This is not how she will play this music 20 years from now. It is a young musician's Bach. A brilliant young musician. She makes us listen to every note and phrase—there is not the inevitability and momentum we expect from the composer. Ibragimova's Bach is as unique as Glenn Gould's but at the opposite pole of style. Though in both their cases, it is as much about the performer's love of the music as the music itself. Ibragmova's kind of love is one that mature performers prefer to hold back, in search of something else.
On the other hand, as we know, it is sometimes the young who, coming with as much affection as reverence, find new possibilities in great music. What Ibragimova has found is a new level of emotional life beneath the commanding and disciplined regularity of the surface, a life that only the freedom of a freely inventive and expressive style can bring out. Baroque ears would likely have simply heard what Ibragimova plays as incorrect because baroque performance style and decorum may well not have permitted it. It may well require modern ears and freedoms to hear it as... possible. Great music often takes centuries to reveal all of its resources and possibilities.
I do not mean to create the impression that Ibragimova's Bach is radically different from what we are used to: casual listeners will not be shocked. What I do mean to say is that if you are a seasoned listener whose experience of Bach has been characterized primarily by regularity, formality, and discipline, emotion gaining expression through restraint, you will be surprised by Ibragimova. You will notice that her approach misses the sublimity that a more 'matured' one can achieve by resisting excitement, joy, inspiration, exuberance. To check my own impressions on this matter, I took out the sacred fount of Bach performance, Nathan Millstein's (on a monaural Capital LP). While my initial impression of Millstein, coming directly from Ibragimova, was that his seemed like pretty tight upper lip Bach (going back to Ibragimova from Millstein induced a complementary shock), I soon realized, yet again, that Millstein deserves his reputation. In addition to his dead-on intonation and masterful tone, he understands the need for momentum in Bach if you want to retrieve what his music is most admired for. Even in the slow suites, which could be said to invite freedoms of pace, Millstein hears the invisible clock ticking and keeps the monumental train moving. It is momentum, a steady forward movement, that lets emotion accumulate and build rather than expend itself, dissipate, along the way. It is how to build Apollonian Bach.
As predicted, the first impression we get in moving directly from Millstein back to Ibragimova is that essential structure and discipline have been lost, the music has fallen apart! But Ms. Ibragimova does not seek Apollonian Bach: she seeks a Bach of this world, and after a few bars, he's back. And marvelously, we do not feel that in retrieving the earthly Bach, we are getting less.
Buy this album. Buy every album this musician makes. She is the present and will likely be the future as well.
System used for this audition: Audio Note CDT 4 transport; Blue Circle BC501ob LOC dac, Crimson CS710 preamplifier and CS640E mono-block amplifier; JM Reynaud Orféos speakers; and Crimson cable.
Bob Neill, in addition to being an occasional equipment and regular music reviewer for Positive- Feedback Online, is also proprietor of Amherst Audio in Amherst, Massachusetts, which sells equipment from Audio Note, Blue Circle, JM Reynaud, and Crimson Audio.