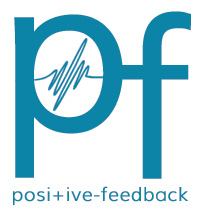 You are reading the older HTML site
Positive Feedback ISSUE 59
january/february 2012
Diary of a Mad Exhibitor: CES 2012
by Marc Phillips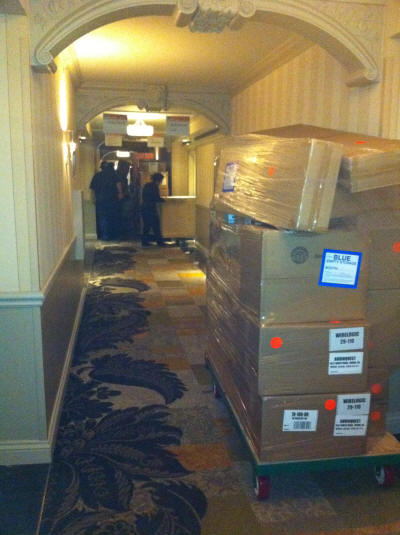 "Are they really going to CES? I thought they would have gone up in flames by now."
In 1992 I attended my first audio show, the erstwhile Stereophile Show in Los Angeles. Nursing a freshly broken toe, I hobbled from room to room and indulged in audio systems I'd only read and fantasized about up to that time. (I used to play a game where I imagined what certain components, especially loudspeakers, sounded like after I read the reviews—I've recently met other young audiophiles who still engage in that rather frustrating pastime.)
I landed in one particular room with Gryphon amplification and Enigma Acoustique speakers and let the gentleman who was demonstrating the system work his sales magic. He answered all my questions and played all my discs and all I could think of was how much I wanted his job. He was surrounded by great gear and great music and he got paid to do it. I wanted this gig.
Twenty years later, I have it. I'm not going to lie and tell you how hard it is and how I really had no idea what I was getting into when I signed on the dotted line. To be succinct, it's the best job I've ever had and now I finally understand what Abraham Maslow means by self-actualization. As the US distributor of Unison Research and Opera Loudspeakers along with Colleen Cardas, I get to hear great gear in my home nearly every day. When the new stuff comes out, I get to "test it out." After several years of reviewing equipment, I have to admit that this is much more fun.
But as you can see from the quote above, which was uttered by someone I consider a friendly competitor (we're even Facebook friends with him, so he must know on some level that Colleen and I are doing well), there is a dark side to the commercial of high-end audio. That shouldn't come as a surprise to anyone familiar with the industry—especially to someone like me who spent way too many years flaming away on audio discussion groups on the Internet—but shit happens. Despite an overall and unifying spirit in high-end audio that can be encapsulated in the phrase "Times are tough and we all need to stick together to survive," a certain desperate ugliness occasionally rears its dour and battle-scarred head.
This is especially true with the Consumer Electronics Show in Las Vegas. As you've probably heard, CES is all about business and not at all about products or music or superior production. I know this is a gross generalization, but if you've spent a lot of time at more consumer-friendly shows such as the Rocky Mountain Audio Fest you'll know that this is the general vibe at CES, and everyone who needs to stay in business for another year can feel the incredible stress. While this is partially due to the fact that the general public is not allowed into CES—although as an amateur I was always able to find a way in—what you see at the Venetian are the deals being made, not the gear being evaluated. Manufacturers make deals with distributors, distributors make deals with dealers, and the entire time journalists are trying to squeeze in and take pictures and hopefully get something sent to them for review.
As a former audio journalist, I do have a special place in my heart for the scribes. At CES, they feel the pressure as well, so much so that the reviewers who represent larger publications are assigned a market sector which truly limits their ability to see and hear what they want. For example, I watched several journalists walk into my room and immediately ask the retail price of my speakers or my amps. When I told them, they reluctantly exited while muttering something like, "Sorry, I'm only supposed to cover floorstanding loudspeakers that retail between $3850 and $4150 per pair." One poor soul seemed especially stymied by the fact we were demonstrating a hybrid integrated amplifier—he was only supposed to cover solid state amplification and his nearby colleague was only supposed to cover tubed amplification. After I convinced him that someone had to step up and take responsibility for our unique product category, he reluctantly sat down and took notes, all the time wondering if his editor was going to reject his efforts because he didn't conform to his narrow assignment.
Yup, CES is pretty serious stuff. Yet for some reason I absolutely loved the show this year. Sure, a lot of it had to do with it being my first year as an exhibitor (and my third show overall). While the percentage of visitors to my room who actually sat down and listen to my system was comparatively small next to AXPONA or RMAF, I still had a lot of face time with some truly interesting people in our industry. Best of all, some of them came bearing cigars. While I brought some exquisite examples from Illusione, Gurkha, Litto Gomez, Warlock and Cabaiguan, I still managed to reinforce my stock through the contributions of wonderful people such as George Cardas and PJ Zornosa. Someone else quietly left a huge cigar next to my belongings in the bathroom of our room; it had a Straightwire band on it and actually tasted quite good. Thanks, whoever you are! I can almost hear everyone in their conference rooms discussing their Colleen Cardas Imports strategies and saying, "Just hook that Phillips guy up with a Cohiba Behike and he'll be putty in your hands." They'd be right.
While the show was extremely successful for CCI—we added a few dealers and were presented several opportunities to expand our business—we had our share of challenges. When I was a project manager for a telecommunications company, we used to say, "Our job isn't to lay cable, it's to eliminate the friggin' obstacles." Same goes for CCI and CES; the setting up and showing of hi-fi gear is the easy part. Important promotional materials for our room partner, Audience AV, arrived on our front porch on the day we left—and we had exited through the back alley and never saw them. We had to ask one of our neighbors to FedEx everything and it cost a fortune. I also managed to create a product listing that mixed up the retail price of our premier CD player with the dealer price, effectively giving everyone the audio bargain of the century. Finally, we had to contend with the fact that our Ford Expedition was filled to the gills with equipment, promotional materials and luggage, and we still had to pick up our manufacturer at the airport. I hope he didn't mind the quick trip from McCarran to the Venetian strapped to the luggage rack on the roof of our Expedition.
The successes, however, greatly outweighed the missteps. Our fondest memories will be the time we spent with our manufacturer Bartolomeo Nasta of Unison. Colleen and I always make it a point to provide Bart with unique glimpses of American culture. At the AXPONA show in NYC last June, we took him to Grey's Papaya and Papaya King and let him decide which hot dog was the best. It was the first hot dog he had ever tasted, and he loved it. At CES, we turned him onto In-N-Out Burgers, another first. "It's much fresher than McDonald's!" he exclaimed after his experienced Italian palate met with its first Double Double. Finally, I showed him the infamous "Dick in a Box" video from Lonely Island, and for the rest of the show he was humming the tune to himself and occasionally punctuating our conversations with the chorus. If DIAB becomes a monster 2012 hit in Italy, I take full credit.
Colleen and I drove back to Texas with tired feet and a profound sense of elation. The consensus was that we kicked ass. We talked about correcting mistakes before CES 2013, and we started choosing which equipment we wanted to show at the Jacksonville AXPONA show in March. When we finally drove past the dusty broken-down little towns in New Mexico and West Texas and finally wandered into the serene beauty of the Texas Hill Country, our home, I thought about that 1992 Stereophile show and how far I had come in just a few short decades. It's been a hell of a ride. I love this job.
Marc Phillips is a partner with Colleen Cardas at Colleen Cardas Imports