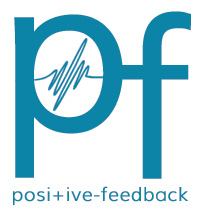 You are reading the older HTML site
Positive Feedback ISSUE 59
january/february 2012
High Performance Audio at the 45th Annual CES and the 14th Annual T.H.E. Show
by Greg Weaver
CES, number 45, brings us to the sixth year that the high performance audio portion of the Consumer Electronics Associations Consumer Electronics Show (or CES) has been on display at the remarkable Venetian Hotel and Casino. This year's event also marks the celebration of the fourteenth T.H.E. Show (referred to as T.H.E. Expo its first four years), the "renegade" event run by Richard Beers (originally including Mike Maloney), always coincident with the CEA Event.
Monday morning, January 9th, found me up at 3:30AM to make a 5:30AM flight out of South Bend, through O'Hare, and then Phoenix, to Las Vegas. Sheesh, the path one has to take to save a few bucks in this economy!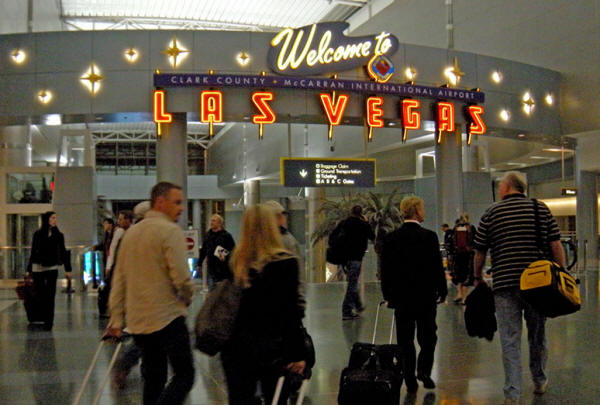 There is no doubt where you are when you land at McCarran International Airport
I got into McCarren Airport at 11:30PM, quickly picked up my luggage, and made it to pick up my rental car by 12:15PM. After walking around the car and signing off on all the existing marks, dents, and scrapes, it was as I was setting up my GPS that I noticed the steam slowly billowing out from under the hood and through the grill. After popping the hood latch, I stepped out to take a closer look, and that is when I noticed the puddle of Ethyl Glycol gathering on the pavement just under the radiator! After only a few minutes, and with sincere apologies, they had me set up in a very low mileage Dodge Avenger. Off to the Venetian I went, all before 12:30PM…
Driving from the Car Rental complex up Las Vegas Boulevard, I turned at Flamingo Road, then turned north onto Koval Lane to avoid traffic and to more easily enter the Venetian parking garage. After finding a spot in the garage and making my way to the 2nd level, I walked through the Casino and made my way to the Sands Expo Area, where I picked up my badge holder at the CES Registration Area, Level One of the Venetian/Sands Convention Center. After that, I went up to the 4th Level to the Press Room, which has traditionally been set up on the Second Level, to pick up my Press Bag and all the press materials I might need for the entire week's events.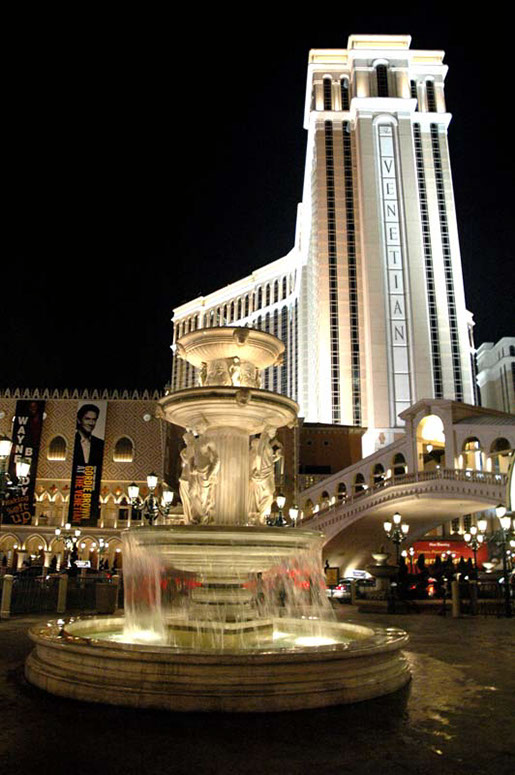 This is the sixth year that the Venetian has hosted the High Performance Audio exhibits for CES.
Back down on Level 2, I stopped by the Innovations and Engineering Honoree room, where not only all the winners for this year's awards, bat all the nominees' as well, were exhibited. After a brief chat with Brandon Moffett, the CEA Project Specialist who manages the Innovations and Engineering Awards Judging, I was awarded my commemorative pin and my judges ribbon to apply to my badge holder. It was my honor to be empanelled to judge the Innovations and Engineering Awards for the High Performance Audio products this year. This makes my fourth year in that role.
On my way out of the Venetian, I ran into Steve Holt, International Sales Manager for MIT, on the casino floor. We talked about many of the new Oracle MA-X Rev. 2 Oracle products, which he was premiering in the Magico Suite on the 35th floor this year. Magico was also debuting a new product, the flagship Q product, the Q7. More on both soon.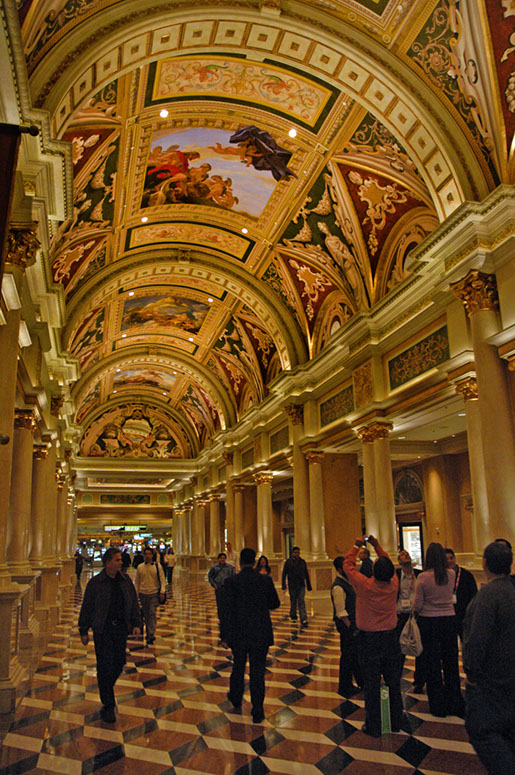 Just one of the amazing hallways inside the Venetian.
It was 2:30PM now as I left the Venetian and checked into the Tuscany, right on Flamingo Road, where I had stayed in 2002 and 2004. In 2002, the Tuscany was host to T.H.E. Expo, then run by Mike Maloney and Richard Beers. The unique thing was that the hotel was still under construction. The restaurants and Lobby/Check in areas were not even open yet. We were checked in from a converted sleeping room! That was the only time I know of where I was the first guest to stay a room.
After unpacking, answering some important emails from work, and splashing a little water on my face, I jumped back into the rental car and ran up Koval again, this time entering the Flamingo Parking Garage. I made my way to the lower level, to the Executive Conference Center, where the larger ballrooms for exhibits, and the registration area, are located. I registered with Joseph and got my badge. As I was leaving the Show office, I ran into Joe Cohen, of the Lotus Group, and Blue Light Audio's Jonathan Tinn.
Jonathan and I exchanged some quick pleasantries, but he was off to finish set-up in his room on the 4th floor with Kevin Malmgren, his partner and Director of Operations and Product Development at Evolution Acoustics.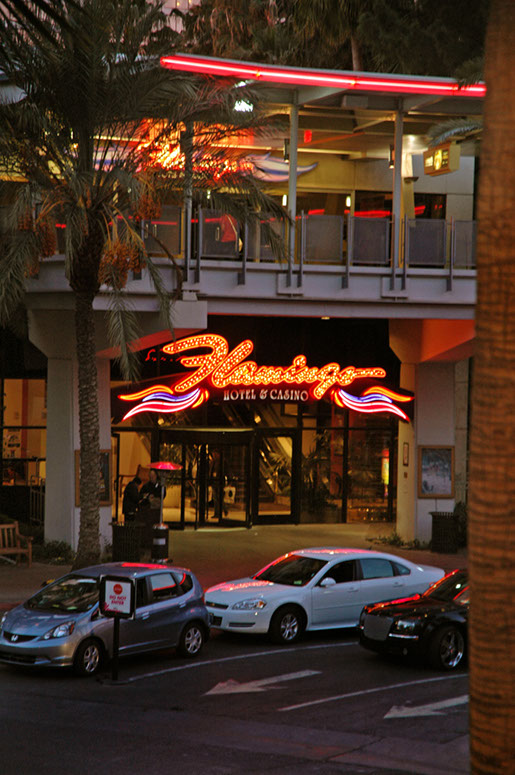 The Valet parking entrance at the Flamingo, host to T.H.E. Show.
Joe looked exhausted, and it was still only Monday – Press Day. Neither CES or T.H.E. Show had opened their doors yet. As stressed as he seemed, he briefly related his latest Show set-up horror story with me. Jonathan Brown, of Covenant Audio, the US importer for WAVAC Audio Labs, was sharing the room with Joe. The plan had been to power the low frequency drivers of the new Lotus Group Granada II loudspeakers, their follow-up to the stirringly engaging Granada active loudspeaker, with the $195,000 WAVAC HE-833mkIIs and the high frequency drivers with the $60,000 WAVAC MD-805mkIIs.
The problem was that the HE-833mkIIs were NOT behaving. Jonathan was having issue with one which, though silent when powered on with no connections, would make an awful noise as soon as they hitched it to the preamp with an interconnect. They were struggling to determine the cause in hopes of eliminating that aberrant sound and setting up the room. So far, the cause had eluded their best efforts. Well, they still had the rest of the day, right? Positive thoughts…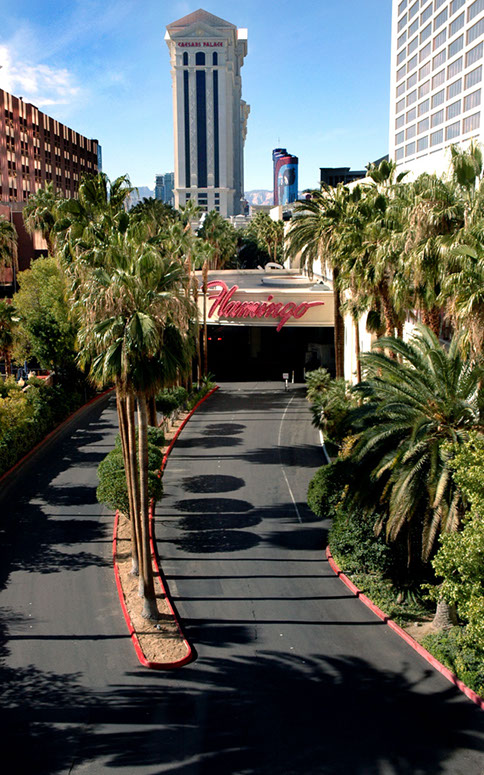 The main entrance for the Flamingo, with a view Ceasar's Palace and the in the distance.
By early evening, it was time to take a short 25 minute drive north west of the strip to visit my friend, and PFO Senior Editor, Gary Lea, who has a beautiful home in North Las Vegas. His lovely wife Paula, and his granddaughter, greeted me, but both soon bid us adieu and headed off. Just as well, as we were set to have a "manly" evening, filled with the great conversation of good friends who see each other far too infrequently, great libations, and music! We spent a wonderful evening, sharing stories, savoring some fine beverages, all the while listening to Gary's exquisite primary rig!
The time passed too quickly, and after saying my farewells to Paula, I made my exit just after 10:00PM Nevada time. The drive back was uneventful, even relaxing, as traffic had all but dissipated until I neared the heart of "The Strip" once again. But, please keep in mind, that it was after 1:00AM to my body, which was still on Eastern Time, and by the time I made it back to the Tuscany, I had been up well over 22 hours!
And so it commences… again!
As tired as I was when I hit the sheets in my hotel room, (I'd gone out and played Black Jack until about 2:00AM Vegas time!), I was up and out by 8:00AM Tuesday morning. I decided to go to breakfast at the Mirage, which offers a truly exceptional breakfast buffet. And, between courses (yes, I like a BIG breakfast) you can look out on the streams and falls they have installed there and enjoy all the fish, birds, and other wildlife who make their home in this unlikely but very impressive habitat.
When I finished, I had decided that I would just spend the opening of the day at T.H.E. Show, most likely by starting checking out the large exhibits rooms downstairs in the Conference Center. On my way out, I ran into audio pal and SMc Audio principal Steve McCormack, who was making his way to breakfast. He was showing the latest iteration of his stoopid good preamp, the VRE-1c, with Joe Cohen and Jonathan Brown, so I inquired as to whether or not they had resolved the WAVAC HE-833MkIIs sonic issues. Unfortunately, he had met with neither of them yet that morning, nor had an opportunity to visit the room yet. We agreed to catch up when we had more time, and we headed off on our respective ways.
At the bottom of the escalator, and on into the Conference Center area, there seemed to be no one open yet. All the large rooms seemed to have their doors closed, with no tell-tale sounds coming from behind them. Heading up to the fourth floor at about 9:30AM, just as the show opened, many rooms here were still quite as well, and I just poked around a bit. Just before 10:00AM, I heard an ear-splitting alarm in the hallway. I headed for the stairs, went down to the Casino, and then on outside. You just don't want to hear an alarm like that when you are in a hotel, especially up on a higher floor. Within minutes, the alarm ceased and that was that. The desk staff at the Flamingo indicated it was some prankster who had set it off, but that was all they were willing to say.
When I headed back up, I ran into the inimitable Albert Porter, columnist and reviewer for PFO, and photographer extraordinaire. We were joined by the charming Marjorie Baumert, RMAF Show Director, and spent some considerable time shooting the breeze and catching up. As we finished chatting and headed our separate ways, it was official… CES and T.H.E. Show were underway.
Ten Best Sounds of CES
What follows is my accounting of the ten most musical, most life-like, most astounding sounding rooms at this year's event. The following room descriptions are arranged in the chronological order in which I originally made my way into them; do not attribute any ascending or descending qualities to that order. Three of them were very closely matched and could have been chosen as the best, but best IS a relative term, no? I had to decide on a number, and we are a decimal based species, so ten it was.
Venetian 35-209 - Magico, LLC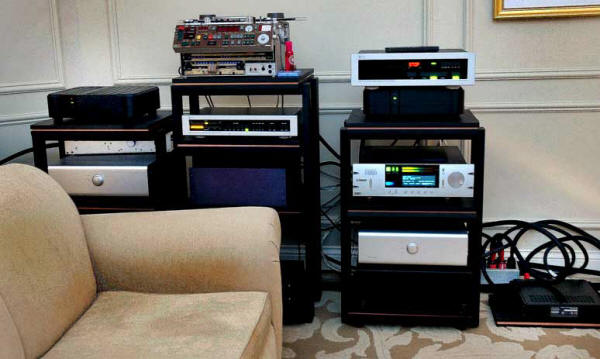 With the exception of the Spectral DMC 30SS preamp, all other electronics used in this system were utterly unknown to me.
Last year, the annual High Performance Audio Innovations and Engineering Award went to the Magico Q5, a $60,000 implementation of their Q design technology. Having served as a judge for the prestigious CEA honors over the past four years, I was my pleasure to have had a small hand in conferring that award.
This year they introduced their all-out realization of that design paradigm, the $165,000 Q7. Every driver of this beautifully accomplished four-way, five-driver, loudspeaker has been designed from the ground up, resulting in a system with an efficiency of 94dB.
The Q7 employs a 1" MB7 Tweeter, a 6" MG70 Midrange, a 10" MG107 Midbass, and a pair of 12" MG1207 Bass drivers. These new drivers utilize an entirely new motor system, backed with exceptionally powerful neodymium magnets that Magico claims are 10 times higher than industry norm, and in fact, cannot yet be built in the United States. The dual 12" bass woofers and a 10" midbass use Magico's Nano-Tec® cone technology. The Q7s' 4-way filters are realized with their advanced elliptical crossover techniques and parts that include custom ultra-high precision resistors, capacitors and coils, all sourced in collaboration with other industry leaders.
Weighing in at some 750 pounds per side, standing some 60" high, by 32" deep, and with a baffle width of 15", the Q7s enclosure is a remarkable architectural feat. Using Advanced Finite Elements Analysis to study 'in-box' driver behavior, the Q-Series' construction technique employs over 100 individual parts of aluminum, copper, and stainless steel, all affixed with over 650 fasteners to create what Magico calls a "calculated labyrinth" of internal bracing. If you've seen any of the images of the inside of a Q series speaker, you'll realize what a complex arrangement this internal lattice is. Magico claims that it affords the Q series a unique combination of mass, dampness, and rigidity.
A new three-axis matrix frame, copper decoupling levels, and a 'floating' midrange cavity, along with combine to create the most effective multi-faceted strategy of eliminating the cabinet as a secondary acoustic source Magico has ever executed.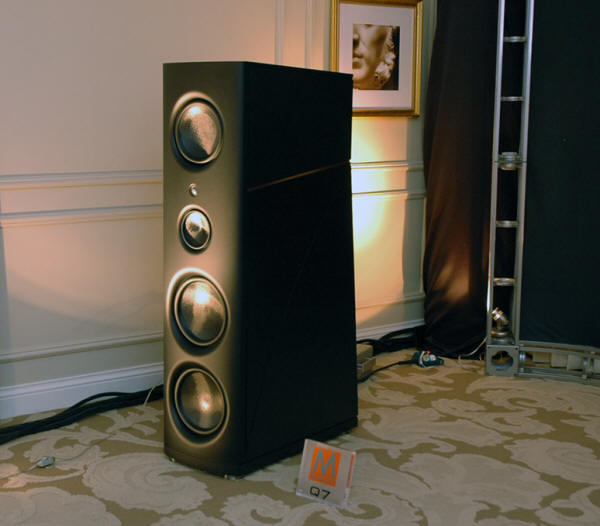 The world debut of the amazing looking, and STUNNING sounding, Magico Q7.
The chosen amplifier to speaker interface for the World Premier of the remarkable Q7 was the new and equally amazing MIT Oracle MA-X Rev. 2 SHD bi-wired speaker cables. These advanced networked speaker cables employ a new patent pending Adjustable Articulation Response Module (or A.A.R.M.), to allow for 134 poles of user adjustable articulation. This level of control allows the user to precisely "fine tune" their results in a high performance system, allowing users to maximize retrieval of detail in instrumental passages, soundstage "openness," and pinpoint placement of orchestral and vocal imaging.
The Oracle MA-X Rev. 2 Interconnect is MITs next generation of fully-adjustable articulation audio component interfaces. Designed to be paired with the Oracle MA-X Rev. 2 SHD or Matrix HD line of speaker interfaces, the Oracle MA-X Rev. 2 provides the user 95 poles of articulation. With such versatility, MIT claims that the user can dial in timbre that is full, natural and rich, with textures that remain thick and dense, and ensure that voices and instruments will not lose their natural tones.
MIT also provided the Oracle ZIII power cables for all electronics in the room, which, while it does NOT use any networking, does employ their own proprietary hand winding.
Before I go any further, it should be mentioned that, as the Q7 has three sets of binding posts, it took two sets of MIT interfaces to make them sing; one set of Oracle MA-X Rev. 2 SHD bi-wired speaker cables at $40,000, As well as one set of Oracle MA-X Rev. 2 SHD speaker cables at $38,000. That's right, folks, $78,000 just speaker cables! While we all know that price alone is not always indicative of the resultant sonic result of a system, this should give you some indication of just how serious a system this was.
For me, however, there were two major comparison considerations to be factored into how this system sounded. First, the music selection was limited only to music already stored on Magico's own unidentified music server. The same was true of the power amplifiers in use in this room; they were also unidentified. All Alon would tell me about them was that there were prototypical and were too expensive to consider selling.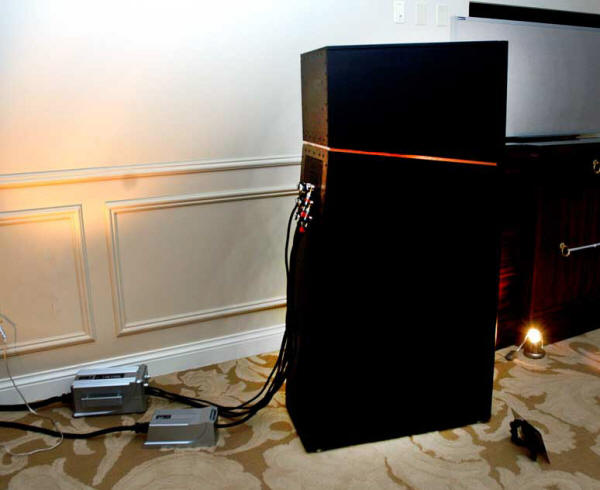 A view from the rear, showing the massive network boxes of the nearly $80,000 worth of MIT speaker interfaces.
Combine the fact I was unable to play the ever-familiar tracks that I had brought with me specifically to use as a consistent reference (and was able to play on every other system I describe in this report) with the unknown and unknowable virtues of the amplification used, and you can see that there are serious concerns as to how to make any realistic comparison to any reference.
Even with those caveats foremost in mind, the sound in this room was, in a word, magical! What Magico and MIT pulled off in 35-209 was nothing short of miraculous. This system was one of the most natural, musically engaging, and convincingly "live" sounding rooms I've EVER been exposed to. One colleague who had asked me what rooms he "had" to hear sent me an SMS message when he made it to the room on Friday; it simply said "OMFG! F*#k me to tears! This is incredible!"
This system had everything; stellar dynamics, alluring presence, rock-solid coherence, to-die-for resolution, and unmistakably truthful voicing. Tone was rich, vibrant, and warm. Dynamics were scary realistic. Microdynamic involvement was eerily honest and downright revelatory. This system recreated the scale of the music in a way I've only heard a handful of times, yet at the same time, it served up the nuances and subtleties with uncanny, unnerving realism. And talk about imaging and soundstaging! Voices were the right size, the right shape, and their relationships to each other were undeniably accurate and precise. This system lands on my short list of the most musically correct and exhilarating I've EVER had the pleasure of sitting in front of. Even with no way to make any valid comparisons to the rest of the systems I heard at this CES, it must be seen as affording the most realistic and truthful sound of this year's event.
Venetian 34-209 – Hansen/Critical Mass Systems/Kubala-Sosna Systems/Tenor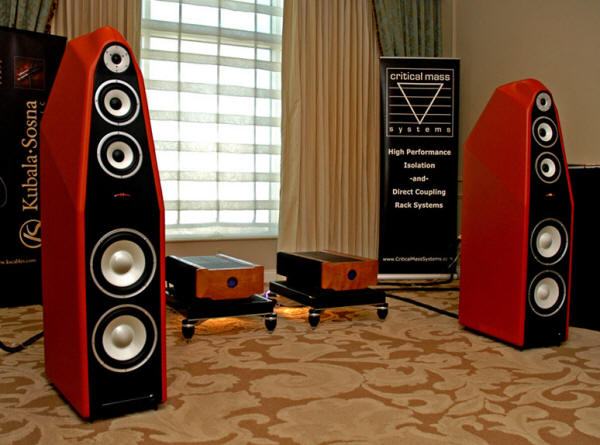 The world debut of the beautiful Hansen Emperor E loudspeakers, driven with the Tenor 350M monos on Critical Mass stands, all hitched together with Kubala-Sosna Elation cables.
System Details
Clearaudio Master Innovation turntable ($27,000)
Graham Phantom II tonearm ($8000)
Goldfinger Statement cartridge ($15,000)
dCS Scarlatti CD/SACD Transport, Upsampler, Master Clock, DAc stack ($80,000)
Tenor 350M monoblock amplifiers ($100,000/pr)
Line 1/Power 1 Preamplifier ($75,000)
Phono 1 Phono Stage ($50,000)
Hansen Emperor E Loudspeakers ($69,000) WORLD DEBUT
Kubala-Sosna Elation Cables:
1.0m XLR IC ($6000/pr)
1.0m RCA IC ($6000/pr)
6.0m XLR IC ($12,000/pr)
2.0m SC1 Speaker cables ($7000/pr)
1.5m PC1 Power Cord ($2050)
Critical Mass Systems Maxxum Rack & Filter system ($5,650/ea)
Approximate System Total: $465,000
What a stunning sounding room! Joe Kubala and Howard Sosna have paired up with Lars Hansen previously, most memorably in 2010, when Lars introduced the Grand Master loudspeakers. While they constantly put together one of the best sounding rooms at this event, this year's assemblage was perhaps the most remarkable yet.
This system's overwhelming strengths were its overall accuracy, timbral integrity, tonal balance, and the resulting presence. In this room, you were literally transported back to the venue and the time of the recorded event. Ambient information, imaging and staging cues, and the complex layering of compositions were effortlessly sorted out and presented with a coherence, articulation, and a voicing that utterly moved me emotionally.
There was an unavoidable magic and vibrancy in this room. I'm not sure I've ever heard more accurate voicing of a system as a whole. Sounds just launched into the space of the room, with such energy and vibrancy that you had to make a concerted effort NOT to dance…
Venetian 30-229 – Audio Power Labs/Von Schweikert Audio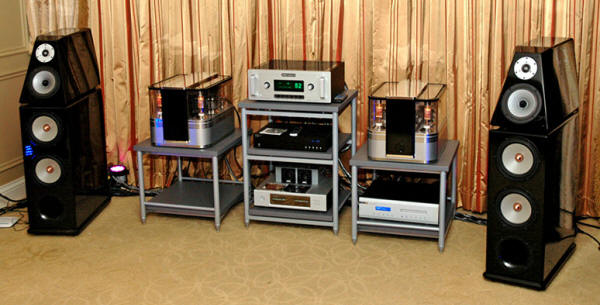 The Von Schweikert VR-5 Anniversary loudspeakers (my reference for the past four years), driven by the new "baby" sibling of the Audio Power Labs 833TNT, the 50 watt 50TNT monos.
System Details
WideaLab Aurender S10 Music Playback and Storage System ($6,995)
Eera Tentation CD Player ($12,000)
Audio Research Reference 5 Preamp ($8995)
Audio Power Labs 50TNT ($47,500/pr)
Von Schweikert VR-5 Anniversary Loudspeakers ($30,000)
Von Schweikert Audio MasterBuilt Signature Interconnects ($4200 per meter pr) and Signature Bi-wire Speaker Cables ($6000 per 8 foot pair)
Approximate System Total: $130,000
This was my first experience with the new Audio Power Labs 50TNT, the new "baby" sibling to the stunning 833TNT. This system was revealing, detailed, and exquisitely voiced. As I am intimate with Von Schweikert VR-5 Anniversaries hitched up with the Von Schwiekert Audio MasterBuilt Signature Bi-wires (my reference speakers and cables for the past four years), I can say that what I was hearing upstream, both from the Eera Tentation player and the new 50TNTs, both of which I'd not had the pleasure of hearing prior to this event, was exquisite.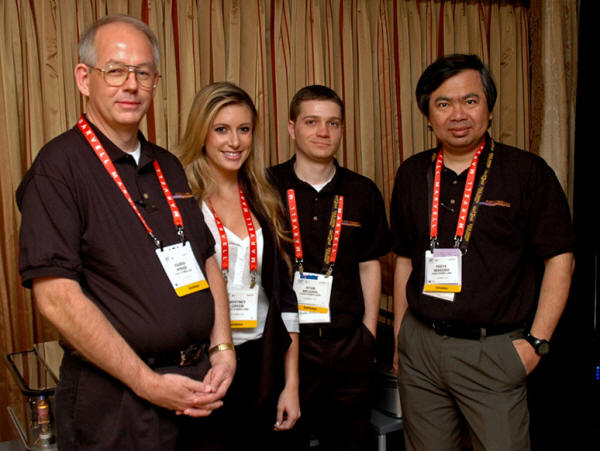 The crew from APL in the Venetian, Squeek Ricker, Whitney Green, Ryan Meldahl, and Peeya Iwagoshi.
Since the introduction of the proto-833TNTs at last year's CES, I've been involved with and in regular communication with the fine folks behind that remarkable amp. After uncountable emails and phone calls to both Peeya Iwagoshi, APLs Vice President, and Squeek Ricker, their lead engineer, it was a pleasure to finally meet both gentlemen. After all our discussions covering topics as diverse as 5-way binding posts to what speakers they might want to consider showing with (I had a hand in putting Maestro Albert Von Schweikert in touch with the fine gang from APL), I admit to really looking forward to getting some "face time" with these cats.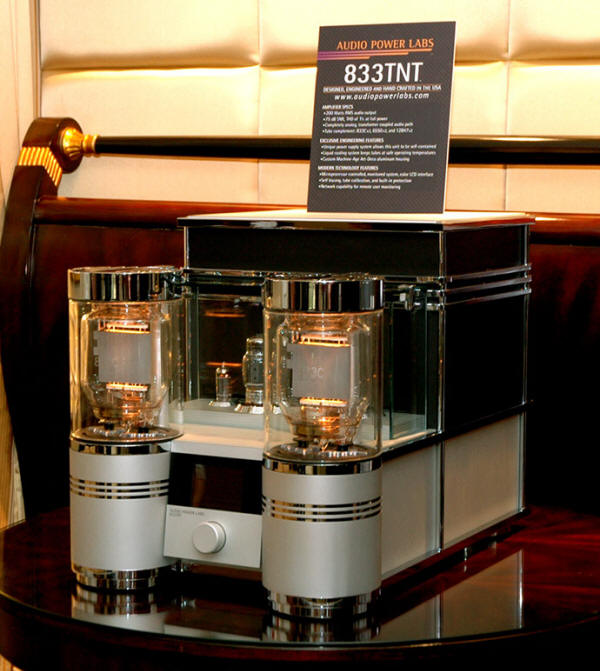 A close view of a static 833TNT, Audio Power Labs flagship amplifier.
The system was remarkably detailed without being aggressive, and had a midrange purity that is rare to find. Tonal balance was superb, and the overall coherence of the sound made for a convincing disappearing act, with only the music and the performance left in front of the listener.
Flamingo Valley of Fire – Covenant/WAVAC/Lotus Group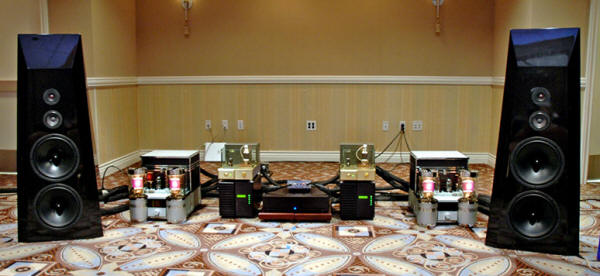 Jonathan Brown's Covenant Audio Audio Consulting and Joe Cohen's The Lotus Group teamed up to present one of the most authentically musical rooms at this year's event.
System Details
Hanss T-60 BL, magnetically levitating, ceramic bearing turntable ($7000)
Durand Talea Tonearm ($8500)
Lyra Olympus Cartridge ($8500)
E.A.R. Acute III, tube/transformer-coupled output CD Player ($6895)
WAVAC MD-805mkII 60wpc, monoblocks w/external power supplies ($59,900)
Audio Power Labs 833TNT 200 Watt, Push-Pull 833 based monoblocks, ($175,000/pr)
SMc Audio VRE-1C Remote Controlled Preamplifier ($16,950) or
PR-T1 transformer-coupled, 3 chassis preamplifier ($31,900)
LCR-X2 Phonostage. L-C-R topology, 3 chassis ($25,0000)
Lotus Group GRANADA G2 , open baffle 3-way Loudspeaker ($75,000)
Sistrum (StarSound Technology) Stands ($3000/ea)
Hanss rack ($5950)
PranaWire Cables: (approx. $125,000)
Speaker Cables: Two, 2 meter pairs of Cosmos and one 3 meter pair of Nataraja
Interconnects: Avatar, Cosmos, Nataraja
Power Cords: Avatar, Maha-Samadhi, Satori, and Kensho
AC-2 Power Conditioner, SH Amplifier derived ($22,900)
PranaWire Linebacker, in line filter ($1950)
Approximate System Total: $550,000
What great folks, and what a stellar system! This is the first time that Jonathan Brown and Joe Cohen have teamed up to share a room. Jonathan is WAVAC's US Importer (Covenant Audio Consulting) and Joe makes the remarkable handmade PranaWires, the Granada speakers, and represents SMc Audio, Hanss Acoustics, Oyaide, Acrolink, and Audio Replas (the Lotus Group). I should make it clear that both gentlemen have earned my respect and admiration for their work ethic and their dedication and commitment to the recreation of music over the years. These are two people that I genuinely look forward to seeing and spending some quality time with every year.
As I hinted in my first day recap, this room had presented a struggle. As the Granada G2 is a three way actively tri-amplified speaker, it provides two 500 watt amplifier modules in the crossover box to drive the woofers. The original plan was to use the $195,000, four-box, WAVAC HE-833MkII amps on the midranges of the Granada G2 loudspeakers. After some 36 hours of wriggling, they just did not want to cooperate! Something was amiss, and it was suggested that it might have been because they had been sitting idle for some months before they were shipped to T.H.E. Show. However, after nearly a day and a half of a valiant campaign, it became apparent that they simply would not work out.
.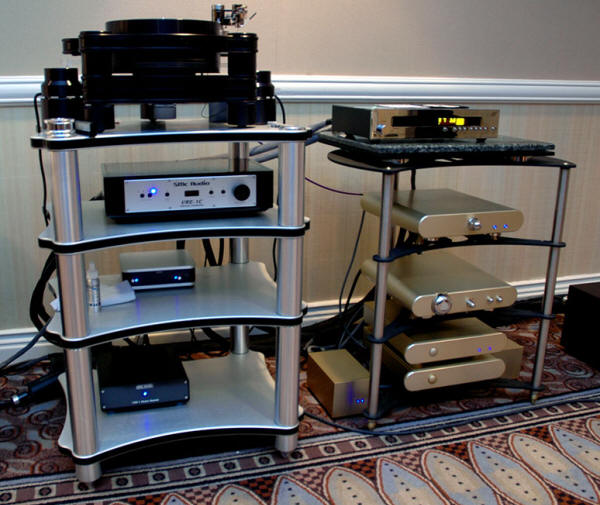 The Hanss T-60BL table, and the SMc Audio VRE-1c on a Hanss Rack to the left, and the E.A.R. Acute III and WAVAC PR-T1 3-chassis preamp on a Sistrum Rack to the right.
As it turns out, Audio Power Labs, just across the Executive Conference Center in the Red Rock VIII room, had a spare pair of their flagship 833TNTs available, and were kind enough to loan them to Jonathan for the event. While that resolved the issue of what would be used to drive the midranges on the Granada G2s, Joe and Jonathan had lost almost 2 days of set up, and there was still the issue of matching and tuning them using the active crossover and room correction system that is integral to their operation. Manny LaCarrubba, founder and CTO of Sausalito Audio, consults as the Acoustic Engineer for the Lotus Group speaker projects. As he was the least exhausted and most qualified candidate, he took up the task of final voicing of the room, and by mid-day Tuesday, the room was open for visitors.
Sonic strengths of this match up included bold and vivid tonal colors, complex, replete textures, and virtually unrivalled spatial characteristics. Bass was fast, with incredible pitch definition. Mids were luxuriously recreated with uncanny texture and palpability. The upper registers were articulate, detailed, focused, and resolute. This was easily one of the best sounding systems I've ever heard at any show, any time.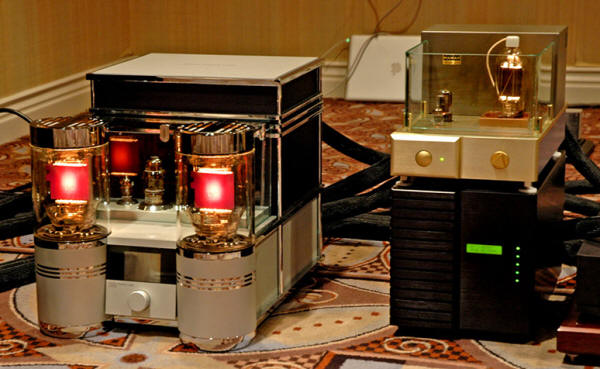 Toob magic! The new $165,000/pr APL 833TNT 200 watt monos (left) and the stirring $60,000/pr WAVAC MD-805MkIIs, which I had in house and reviewed (right).
What stood out for me here was the remarkable synergy of this system. I was taken by the power and sheer dynamic control the "native" amps brandished on the bass drivers in the Granada G2, as well as the pitch finesse and tonal correctness of the APL 833TNT amps and WAVAC MD-805MkIIs driving their midranges and tweeters. The transparency and resolve of the SMc VRE-1c preamplifier, and both the recreated texture of the sonic envelope and utter vanishing act of the Granada G2 loudspeakers, were essential to this musical alchemy. Of course the E.A.R. Acute III was clearly no slouch at regenerating the ones and zeros to drive this remarkable system. Supplying AC to the components, as well as routing and delivering all this sound accurately and vividly, were Joe's remarkable handcrafted PranaWire cables.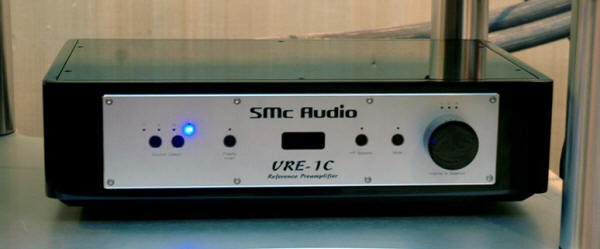 Steve McCormack's Virtual Reality Engine preamplifier, the VRE-1c.
The original open-baffle actively crossed over Granada loudspeaker features the Feastrex Field Coil driver for mids and high frequencies matched to a pair of dual voice coil 12" woofers, and had achieved a remarkable effect on me at the 2010 CES, especially with Steve McCormack's VRE-1 preamplifier and the upgraded Feastrex Power Supplies in the audio chain. It was such a remarkable listen that Joe uses some of my comments about that experience at his site.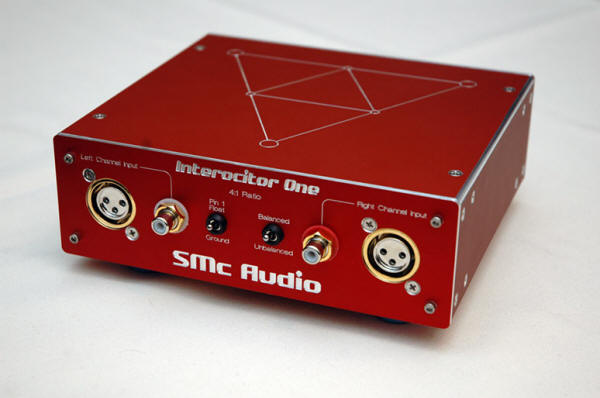 SMc has introduced a new and highly versatile isolation transformer, called the Interocitor One.
The Granada G2 replaces the Feastrex driver with a more conventional midrange and tweeter, and at half the price, is an undeniable over-achiever. I'm simply amazed to find such refined, accomplished performance at its price. The G2 may not have an identical soul to the Granada, but it has much the same spirit and harnesses all but the final smidge of the magic of its twice-as-expensive inspiration.
Flamingo Red Rock VIII - Audio Power Labs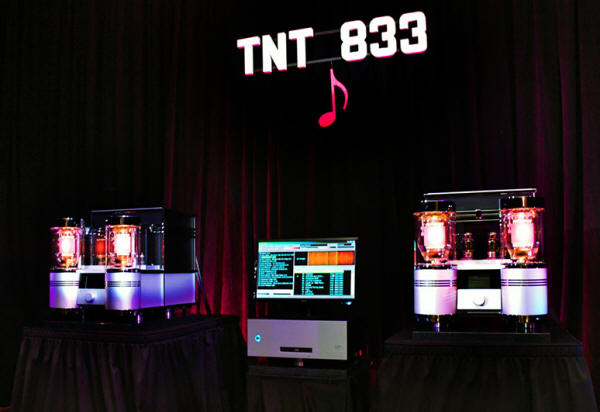 Darkness illuminated by The Memory Player 64 and beautiful tube powered music.
System Details
Laufer Teknik "The Memory Player 64" ($24,500)
Audio Power Labs 833-TNT monoblocks ($175,000/pr)
Tidal Audio Piano Cera Loudspeakers ($24,000/pr)
Silver Circle Audio Pure Power One Power Conditioners
one 5.0 se ($7,500) and two 5.0s ($5000 each)
Klee Acoustics Grand Illusion Speaker ($8995) and TruBalance XLR ICs ($3995)
Kaplan Cables GS MkII HC ($1695 each) and GS MkII SRC ($1695 each)
Stillpoints Ultra (11 at $225 each) and Ultra 5 (11 at $650 each) isolation devices
Approximate System Total: $225,000
This was one room I had been looking forward to getting to hear, no question. The last years' worth of communications and exchanges with the gang at APL had really given me some insight into just how much has gone into this remarkable amplifier design. I had only heard these behemoths once before, at CES last year, where they were paired Vandersteen 3a Signatures. While the 3a Sigs are very good $4000 loudspeakers from one of the more gifted speaker designers in American audio, I honestly felt that they were nowhere NEAR up to the task of revealing with these dual 833-based, push-pull, monsters could unleash.
Alas, I was to be let down yet again this year. While the potential of these remarkable amps shown through, only a glimmer of what they may be capable of seemed audible through the $24,000 Tidal Audio Piano Cera loudspeakers. Hell, even the 50-watt 50TNT seemed to show more of its pedigree in the Venetian with the VSA VR-5 Anniversaries. Now, this is not intended as a backhanded or subtle criticism on a particular speaker. I'm sure that the Piano Cera's are very competent loudspeakers. Rather, it is purely a statement of the reality of an unfortunate mis-pairing. I might liken this combination to that of trying to experience the capabilities of the 1001 horsepower, $2,200,000 Bugatti Veyron 16.4 while driving it on a set of bias ply tires.
Much to like was heard. Tonal color, texture, and purity were very good. Staging was good, as was dynamic impact and overall musical weight. But having heard them in a different setup in the Covenant/Lotus room, I was left believing that there was more available; more resolution, more air, and better focus and articulation of inner harmonic structure. I'm convinced I've yet to hear the best from this amazing and uncompromising design. Even with that stipulation, it was still that good; good enough to make my top ten. That says a lot to me.
Flamingo 4040 – Blue Light Audio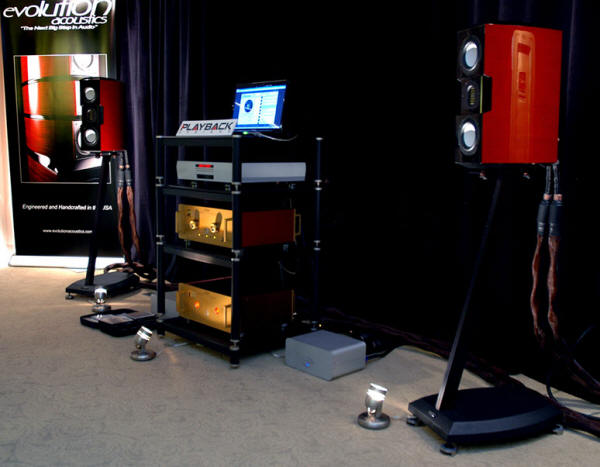 Evolution Acoustics, darTZeel, and Playback Designs—absolute proof that you can't judge a system by its appearance only.
System Details
Ampex ATR-102 Open Reel analog Tape deck with Aria Electronics ($???)
Playback Designs MPS-3 CD Player with USB Input ($8500)
darTZeel NHB-18 NS Preamplifier with MC Phono section (₣30,000 [Swiss Francs]/~$32,000)
darTZeel NHB-108 Model B Amplifier (₣25,000 [Swiss Francs]/~$26,700)
Evolution Acoustics MMMicroOne Loudspeakers with stands ($2500/pr)
Evolution Acoustics DRSC Speaker Cables ($6000/pr)
Evolution Acoustics The LINK BNC Interconnect ($6000/ea)
Evolution Acoustics TRPC Power Cord ($3000)
Evolution Acoustics PC2One Power Conditioning Power Cord ($2000)
Wave Kinetics A10-U8 Component Control System ($700 / set of 4)
Wave Kinetics 2NS Loudspeaker Interface System ($1600 / set of 8)
Audience Adept Response aR6-TS power conditioner($6000)
Approximate System Total: $120,000
I know what you're thinking… but I swear that these are NOT my photos from last year's show report. I can prove it! See the laptop computer on the top shelf of the rack? Yeah, last year that was a turntable!
Seriously, though the components in play here are virtually identical to last year's configuration, the Playback Designs MPS-3 CD Player, the Ampex ATR-102 Reel-to-Reel deck with Aria Electronics, the darTZeel NHB-18 NS Reference preamplifier and NHB-108 Model B Reference stereo amplifier, it was even better sounding this year. No really!
The primary reasons for the sonic improvements were the minor improvements Kevin Malmgren (Evolution Acoustics' design engineer) has made to the miniscule MMMicro ONE. Though the speaker was just $2000 a pair last year, the new, improved version, which now include their own dedicated stands, still sell for a miniscule $2500!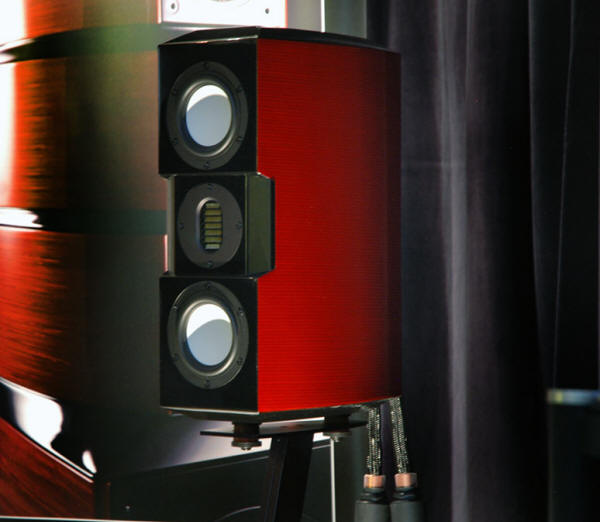 The new and improved Evolution MMMicroOne, with its PDAV tweeters and pair of Ceramic Matrix mid-woofer drive units.
What you have to understand about this room is that these speakers are just 18" tall, 7" wide, and 12" deep. The driver complement includes Evolution Acoustic's own designed 2" Pleated Diaphragm Air Velocity (PDAV) tweeters and pair of 4" Ceramic Matrix (CMAT) mid-woofer drive units. Fronted with over $85,000 worth of electronics (excluding the undisclosed price of the open reel system), and using over $25,000 worth of cable, these $2500 mini monitors pulled off one of the best sounding rooms at this event—regardless of size.
This room recreated the space of the recording as well as any, and while that is usually an expected attribute of mini's, it is not a given. While they don't reconstruct the lowest of lows, the bass that they do reproduce was exceptionally deep (did I mention they only use a pair of 4" midbass drivers?), exquisitely detailed, and fast! These speakers have no business sounding as big as they do – but they do it.
Other strengths in this room were remarkably accurate tonal balance, jolting dynamics (did I mention these are mini monitors?), and a stark level of resolution. To be honest, if I'd been set down in front of this system blindfolded and asked to describe the speakers, I have bet I was listening to a pair of floor standing 3 ways with an 8 or 10 inch woofer; ones that had a price tag of $7000 or $10,000. I don't know how else to convey to you just how overachieving these speakers are. Go out of your way to hear them—you will never look at "minis" the same again.
Venetian 29-318 – Convergent Audio Technologies/STEALTH Audio Cables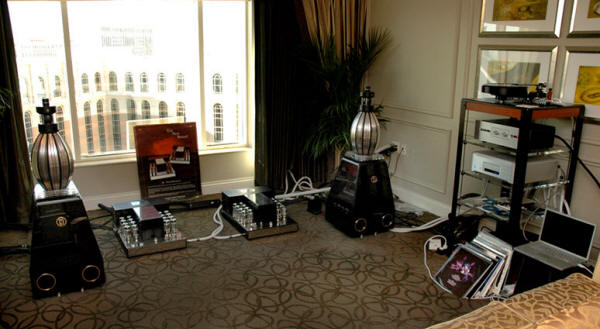 Brinkman, Esoteric, CAT, STEALTH all working together to create some undeniable magic.
System Details
Esoteric K-01 Digital Source Device ($22,000)
McBook Pro playing Hi-Rez audio files via its async USB interface
Brinkman Bardot turntable/arm included ($8000)
my Sonic Labs cartridge ($6000)
CAT Legend preamp ($20,000)
CAT Statement monoblocks ($80,000/pr)
MBL Radialstrahler 101E mkII ($72,000)
All STEALTH Cables:
STEALTH Sakra Single-Ended Interconnects ($10,000K per 1 meter pair)
STEALTH Dream AC cords ($3200 per 1.5 meter)
Approximate System Total: $187,000 Hardware/$150-200,000 cable ~ $337-$387,000
$187,000 HD/$150-200,000 cable = $337-$387,000
What a stellar sounding room! There is something about the utter vanishing act that MBL Radialstrahler 101s, both the 101X-treme and the 101E, which may be thought of as (essentially) the bottom half of the X-treme, can do that make them irresistible. Now, I'll be the first to admit that they can sound overblown and strident when paired with less than adequate electronics. That was not the case in this room.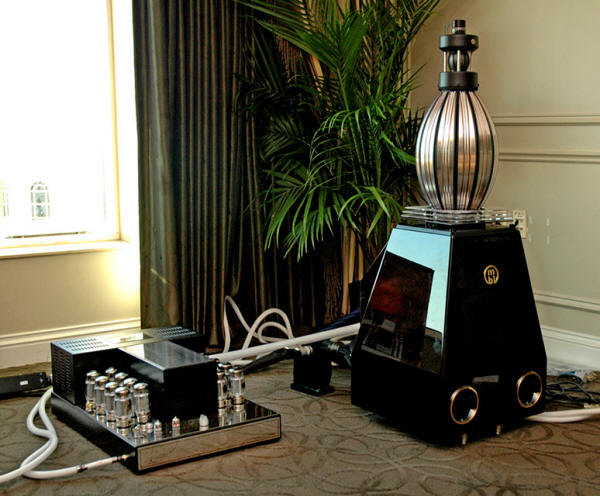 As gorgeous to look at as they are seductive to listen to… CAT Statement mono's and MBL Radialstrahlers, all hitched up with STEALTH cables.
When fed a diet of Esoteric reconstituted 1's and 0's, streamed through Serguei Timachev's marvelous STEALTH cables, and driven by Ken Steven's superb CAT Legend Preamp and Statement mono's, they were driven to their absolute best results. What an astounding result! Space so realistic and believable you felt as though you could walk around through the soundstage. Resolution and microdynamic shadings were goose-bump rendering. Timbre was stirringly accurate and tonal texture and vibrancy was nearly unrivaled in my years of listening. This room did as amazing a job of recreating the "presence" of the live event as any in recent memory. It managed to push nearly all my hot buttons and earned it a very high place on this year's top ten.
Venetian 30-323 – Wes Bender Studio NYC/Hansen/Redpoint Audio Design/Viola Audio Laboratories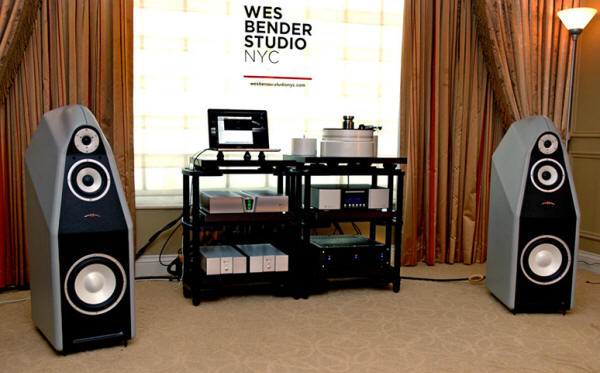 The world debut of the Hansen Prince-E Loudspeaker and the US debut of the Viola Audio Laboratories Crescendo Preamplifier.
System Details
Redpoint Audio Design Model D ($29,000)
Tri-Planar Ultimate Mk VII ($5000)
Dynavector XV-1t ($9250)
Lindermann Audio 825 High Definition Disc Player ($12,500)
Apple MacBook Pro running Channel D with Pure Music ($1799 + $129)
Viola Audio Laboratories Forte Mono Power Amps ($19,500/pr)
Viola Audio Laboratories Crescendo Preamplifier (with integrated DAC) ($19,000) US DEBUT
Wavestream Kinetics Deluxe Phono Stage ($7900)
Hansen The Prince E ($39,000) WORLD DEBUT
Jorma Designs Prime, Origo, and Unity speaker cables and interconnects
Kaplan Cable Power Cords – GS MkII SRC on sources ($1600) and GS MkII HC on amps ($1600)
Audioquest Diamond USB cable ($695)
Approximate System Total: $210,000
I freely admit to looking forward to running into Wes Bender at CES, and the reason is simple. Wes always manages to be involved, in some capacity, with great sounding rooms. This year was no exception. Oh, then there is the fact that he is a fellow classic Benz man!
This year, his work saw the world debut of Lars Hansen's The Prince-E, the second of the Hansen E series of products to make its premier showing at CES. While the Prince-E and Emperor-E share the same single tweeter, the Prince-E uses essentially one-half the rest of the driver complement of the Emperor-E on display in 34-209. Let me assure you; half the speaker is was NOT.
The Viola electronics, including the world debut of their Cresendo preamp, delivered sounds that were very smooth and balanced. This system's strengths were voicing, resolve, and coherence. The system was overwhelming with its ability to render tonal color and texture, and at maintaining timbral purity, the exquisite laying of instrumentation, and its overall articulation and focus.
Peter Clark was on hand, showing his remarkable Redpoint Audio Design Model D turntable (my reference for the past 4 years now), mounted with the Tri-Planar Ultimate Mk VII arm and sporting the Dynavector XV-1t cart. You know, I've heard much pricier table/arm combos, but I've yet to hear one that can readily best this match up. This year was no exception.
I will have to admit that, while I was not terribly familiar with the Viola products, I was quite impressed with their performance. I only knew that they were the creation of two designers, Tom Colangelo and Paul Jayson, who had started with Mark Levinson back in the Mark Levinson Audio Systems days and had been with him when he left Madrigal and formed Cello. I hope you get the Cello/Viola thing, because it was intended. It is my hope to follow up with Wes, Tom, and Paul and hopefully, take a closer look at these products over the coming months.
Venetian 30-216 – E.A.R. USA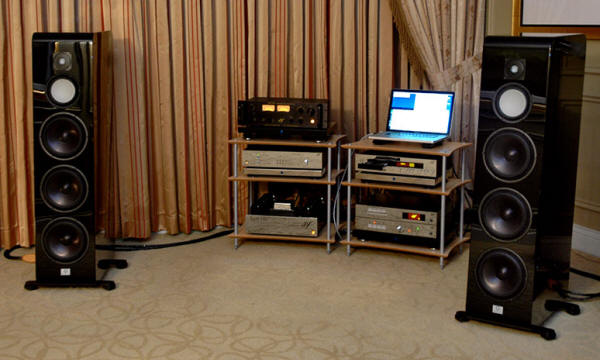 One of the few to actually leverage the advantage of setting up diagonally in these small-ish rooms, E.A.R. and Marten Design.
System Details
E.A.R. DAC ($6595)
E.A.R. Acute 3 CD Player ($6795)
E.A.R. SACD Player (TBA)
E.A.R. 912 preamplifier ($13,000)
E.A.R. 890 power amplifier ($8295)
Marten Django Loudspeakers ($15,000)
Jorma Origo ICs ($5250 per 1 meter pair/$1,875 each additional meter)
Jorma Origo speaker cables ($7000 per 1 meter pair/$2200 each additional meter)
Approximate System Total: $90,000
It was my pleasure to walk into this room to be greeted by Dan Meinwald, the US representative for E.A.R. and Marten Designs, and Tim de Paravicini, the gifted designer of the wonderful E.A.R. Products. I've long loved and respected Tim's work. His history and work with Pink Floyd and Alan Parsons is fascinating to me. And Dan is one of those guys who really gets it.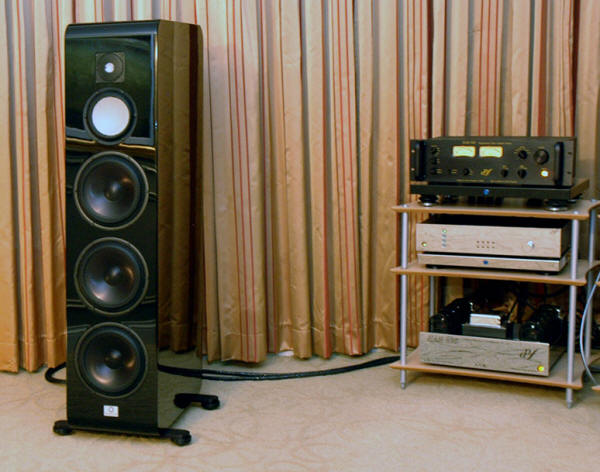 The remarkable, and surprisingly affordable, Django loudspeaker from Marten Designs.
The only thing about the Marten Design Django loudspeakers that took me by surprise, other than the affordable price, was the look of the woofers. Obviously different from the all-white Accuton drivers used throughout most of the rest of this Swedish product line, the three bass drivers used in the Django, are all 203mm in diameter and made in Norway by SEAS. The rest of the long-awaited Django, a floor-standing three-way, bass reflex design, uses the familial Accuton 25 mm ceramic tweeter and 153 mm ceramic midrange.
I have to tell you I was not prepared for a $15,000 speaker, even one hitched to Tim's exquisite E.A.R. frontend, preamp, and amp, to turn in anywhere near this astounding a performance. I was so impressed with its impact and punch that I asked Dan again if he was kidding me about the price. They had much of the swagger, clarity, weight, and vibrancy of the $30,000 Heritage Bird. They were so musical, and so involving that they had me tapping my toes the whole time I was in the room.
Venetian 30-222 – ModWright Instruments, LLC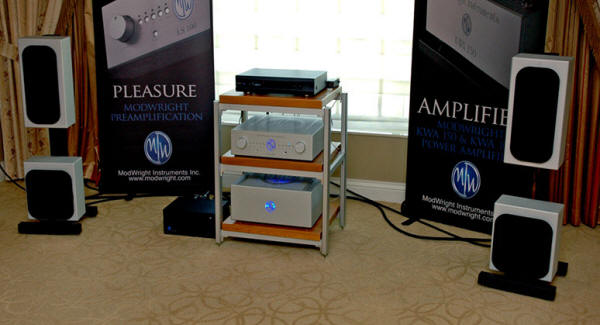 A stock OPPO front end allowed the ModWright LS 100/KWA 150 combo to create involving music with the Audio Machina CRG/CRS speaker system.
System Details
Oppo BDP-95 Universal Blu-Ray Player ($995)
LS 100 Preamplifier WITH Internal DAC ($4645)
KWA 150 Signature Power Amplifier ($8495)
Audio Machina Compact Reference Grand/Conference Reference Subwoofer system ($24,000)
Audio Machina cabling throughout
Secondary System
VPI Classic One with JMW Classic One arm ($2750)
Dynavector 20X H cartridge ($550)
KWI 200 Integrated Amplifier with integrated DAC and Phone Stage ($6495) WORLD DEBUT
Audio Machina Compact Reference Monitors ($8000/pr)
Audio Machina cabling throughout
Approximate System Total: $40,000
While the primary system in this room may not have exhibited the utter resolution and timbral purity of some of the pricier systems to make this list, its overall musical balance and unfailing musical accuracy made it magical—as always. For about the past 6 years now, Dan has had way of making me pay attention to his gear, and his show rooms keep landing on my list. Until very recently, I was using his original preamplifier entry, the SWL 9.0SE Signature, as my reference. I have recently moved up to the his LS 100.
This room hosted yet another world debut product, the KWI 200 Integrated Amplifier. Coming in at just under $6500, this looks to be a grand slam home run product. Weighing in at just 55 pounds, this one box does it all… it's a 200-wpc integrated amp that includes a DAC and a phono stage. All you need is a source and a pair of speakers!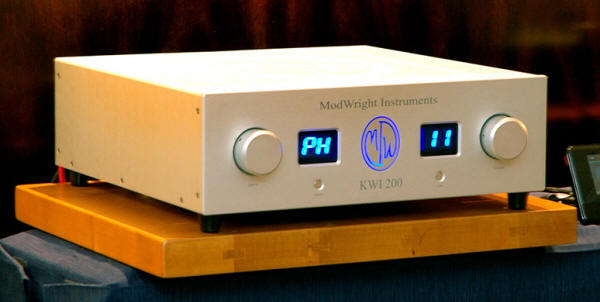 New from ModWright, the KWI 200 Integrated Amplifier with integrated DAC and Phone Stage made its world debut.
As gorgeous to look at as it is to listen to, I really think this is going to be a very popular product for ModWright, one that will fill the bill for a lot of audiophiles who just want good sound, and not a stack of components.
And there you have it, the very best sounding rooms at this year's event.
Conclusions
Honestly, every room on the list was amazing sounding. And there were several that were just narrowly nudged out of the final ten. Those just missing the cut this year include the YG Acoustics room, the Vivid/Luxman room, and the Lamm rooms, most notably. And even with all the great sounding rooms that I found this year, I have to say that I'm STILL amazed, having been covering shows for nearly 40 years, at just how poorly some rooms are set up and the resultant lackluster, or worse, sound some exhibitors are willing to put up with and accept.
Speaking of the Vivid/Luxman room, I did have an opportunity to speak with Laurence "Dic" Dickie of Vivid, about his new Giya G3. The speaker was very impressive, connected with Kubala-Sosna cables to an all Luxman system. But, through no fault of anyone in particular, the only time I got to hear this system at the Mirage Suite, was Wednesday evening during Philip O'Hanlan's famous annual bash. As taken as I am with the G1s, the G3s might be even the slightest bit sweeter from about 200Hz up. I just couldn't tell with that party in full tilt!
And while I'm at it, I want to tip my hat to Lars Hansen, who just knocked me out with the introduction of, not one, but TWO products at this years show, the Prince-E and the Emperor-E loudspeakers. Introducing any product at one of these shows is hard enough, yet this year, he introduced two—and both of them landed on my short list of the ten best… That is a feat worth noting…
Well, till next year then...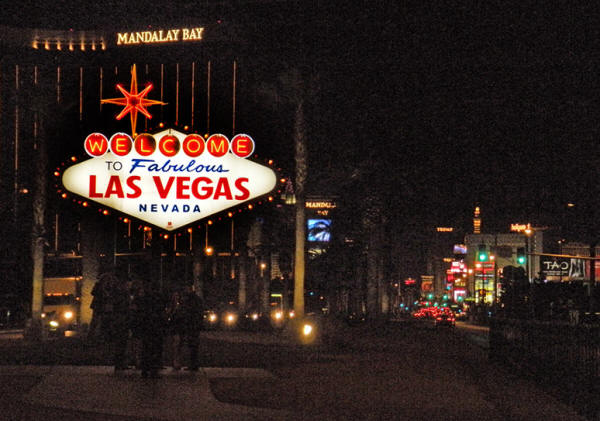 The famous sign at the south end of "The Strip."