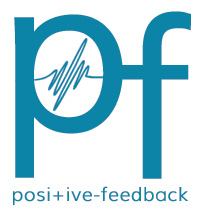 You are reading the older HTML site
Positive Feedback ISSUE 59
january/february 2012
CES Report 2012 Day One – Part 2, Page 2
by Pete Davey
Harmonic Resolution Systems, Inc.
Various equipment isolation devices, record clamps, etc.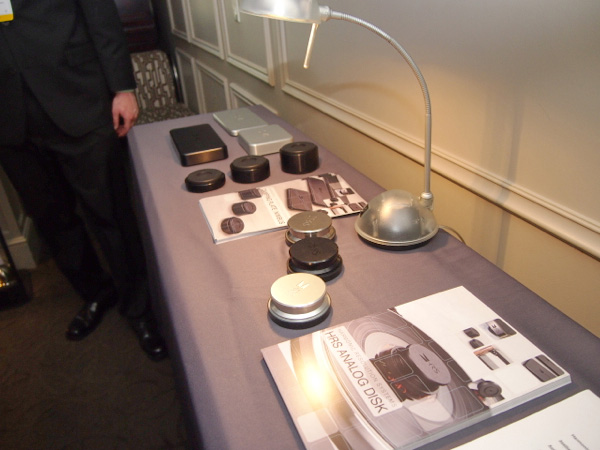 Kimber Cable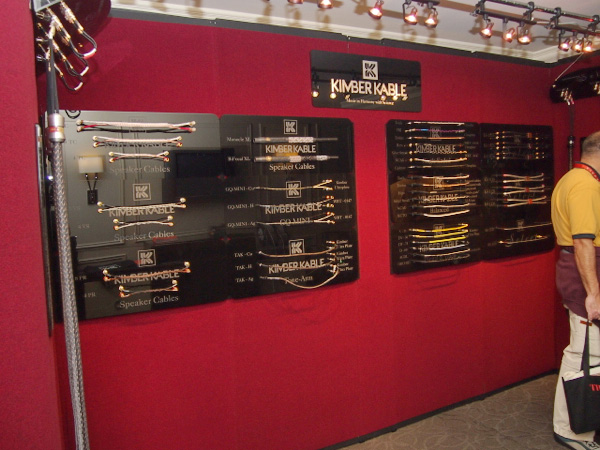 MSB Technology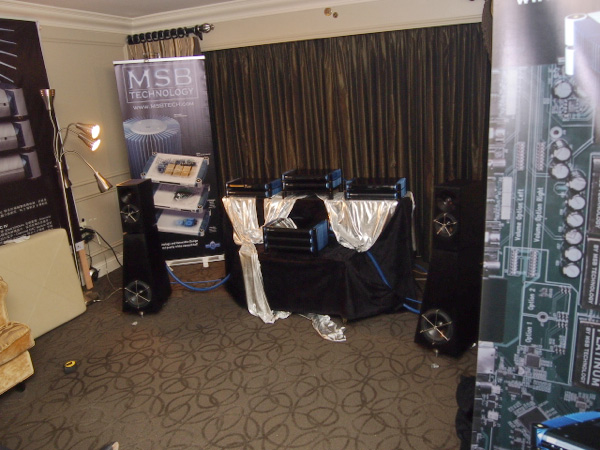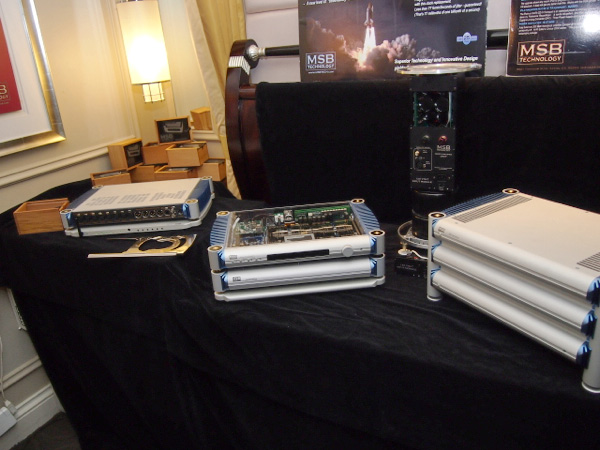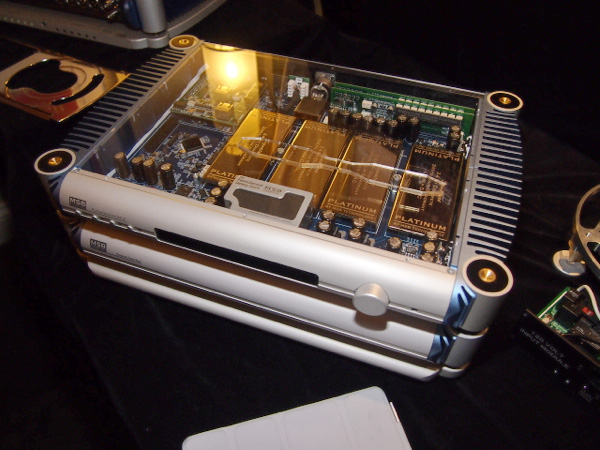 Motus Audio
Really nice drivers.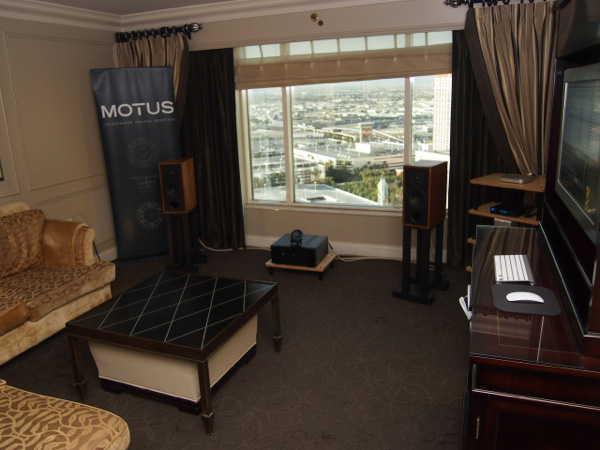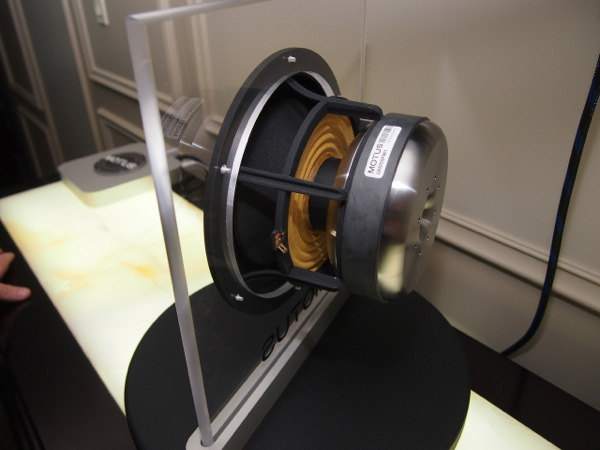 Light Harmonic
A nicely designed high resolution capable DAC. Anodized aluminum, touch screen controls… $20,000 US.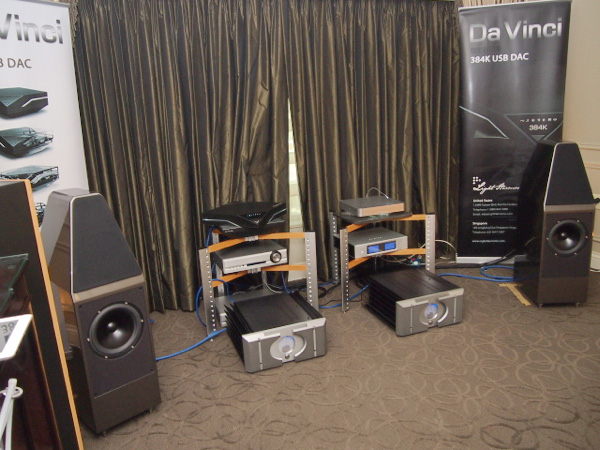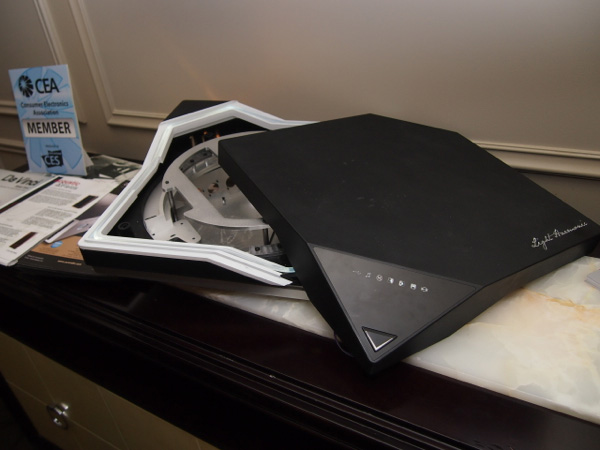 Genesis Advanced Technologies, Inc.
Their new G7.2-F retails for $9000.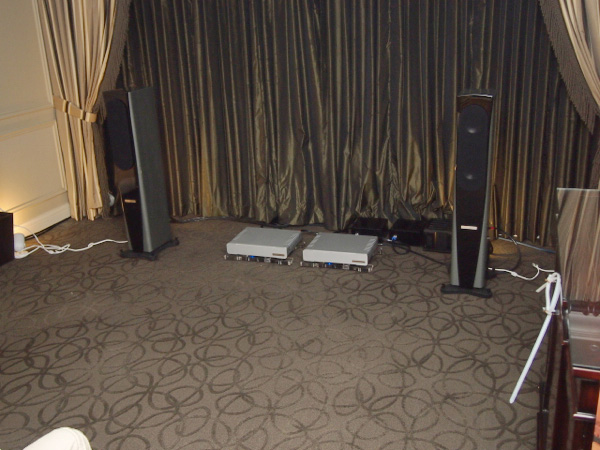 Musical Surroundings / Aesthetix Audio Corporation / AMG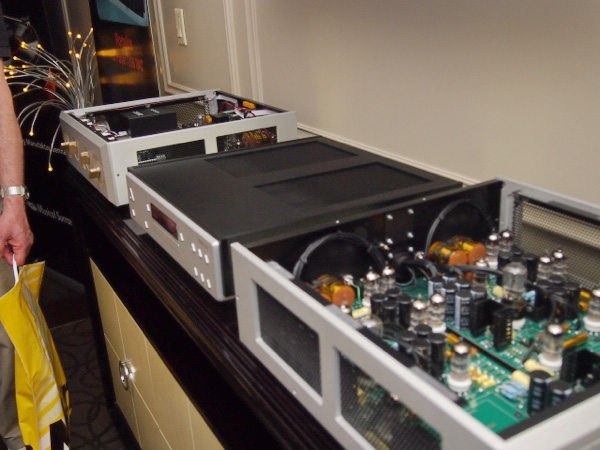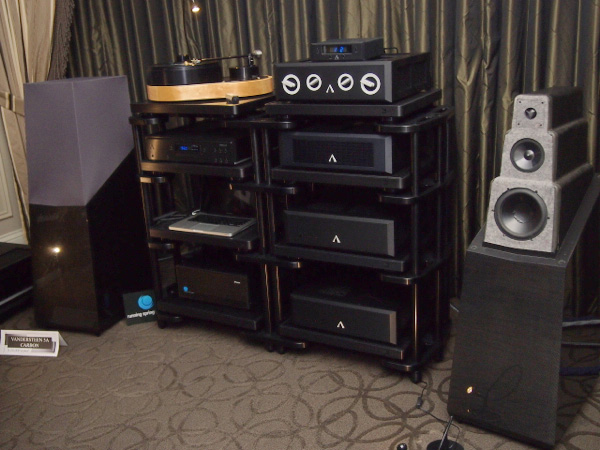 Musical Surroundings / Benz Micro/Lukaschek HiFi / Fosgate Signature / Graham Engineering, Inc.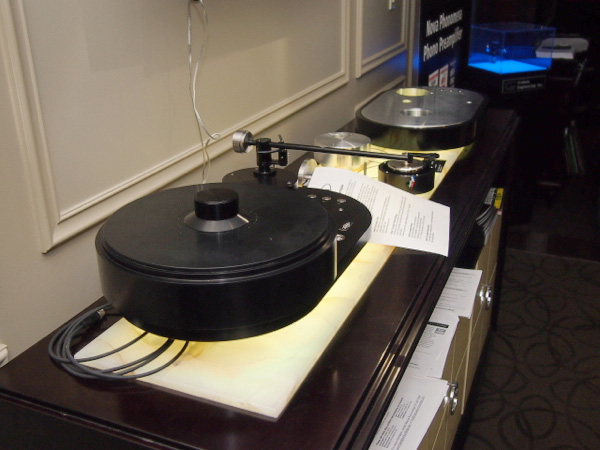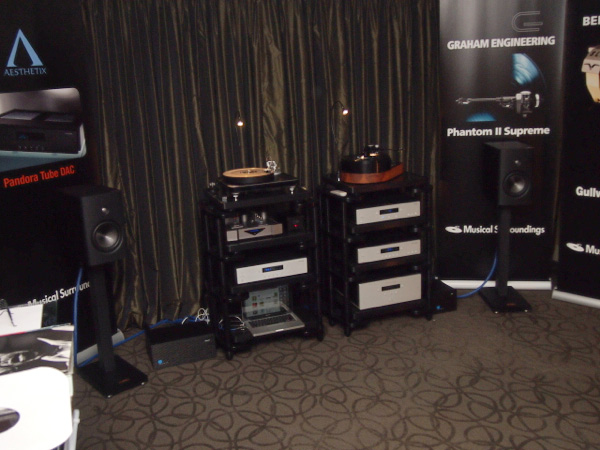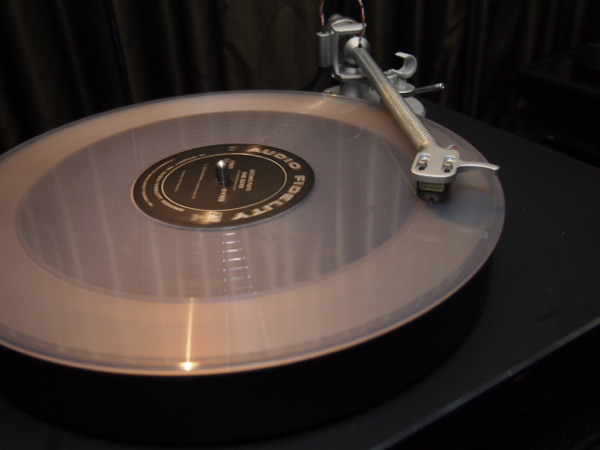 Musical Surroundings / Clearaudio Electronic GmBh
New cleaners.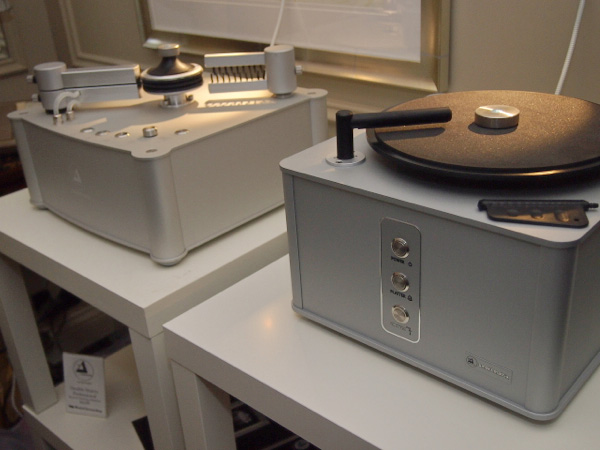 New Ovation - $5500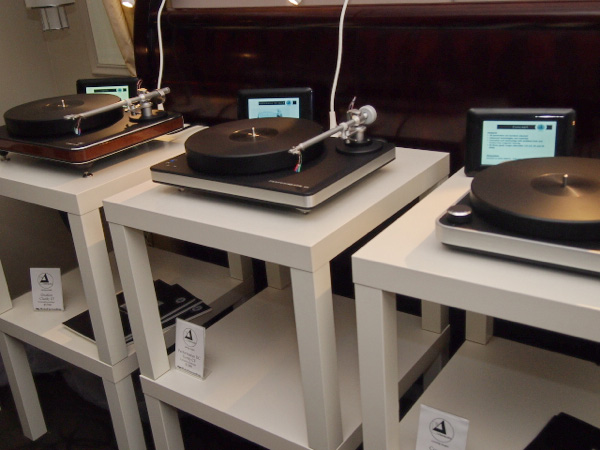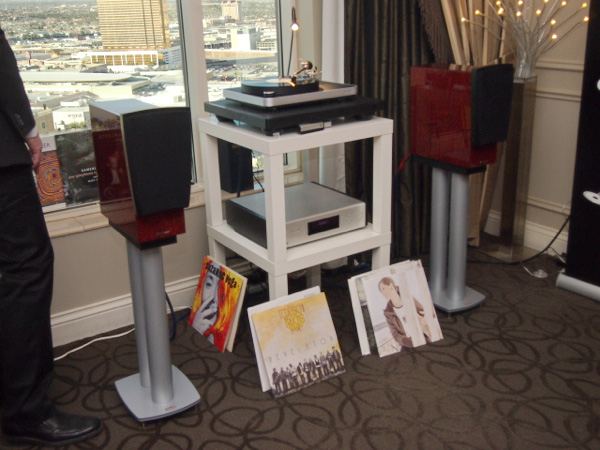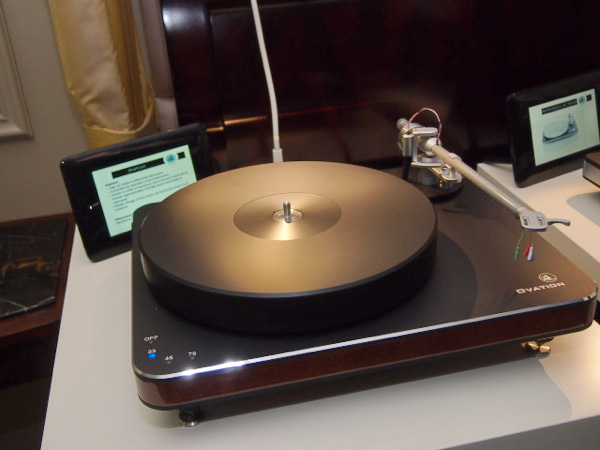 New Performance - $3000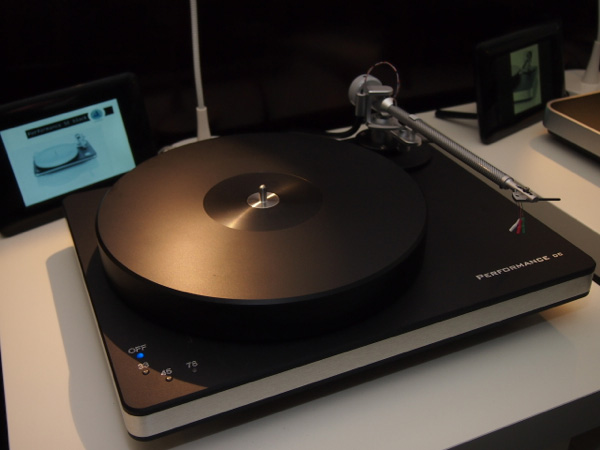 Accudrive Power supply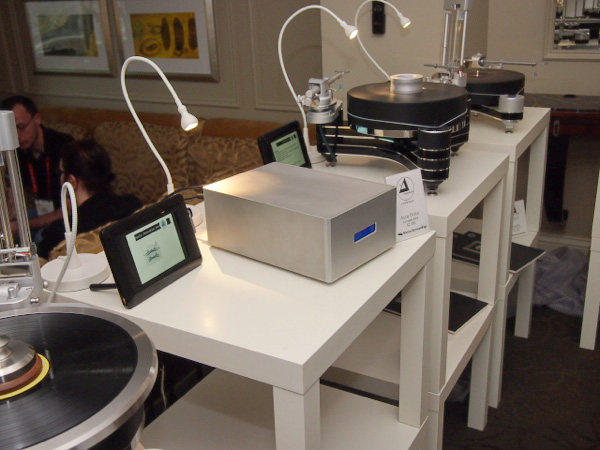 Master Innovation (little brother of their statement turntable) Turntable - $27,500, Stand - $8000, T-2 Tonearm - $10,000
Magnetically driven, really nice.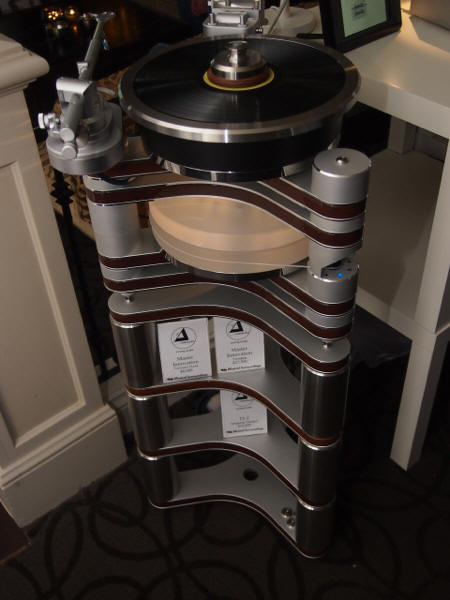 A whole eschew of phono stages, including the new Basic + at $1000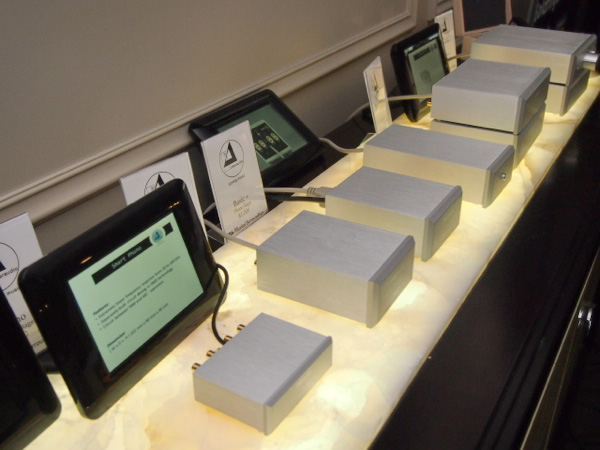 Onda Systems
These cables were different, esp. their "Free flow conductor" line where they had a solid silver core from end to end. The point sticking out was the wire itself, very stiff stuff. Sounded nice!
The "Rush" – IC RCA 1M $3400, Digital RCA 1.5M $2850, Power Cable 5F $3400, Additional Foot $749, Speaker Wire 8F $4999
The "Crybaby"- IC RCA 1M $4800, Digital RCA 1.5M $3600, Power Cable 5F $4800, Additional Foot $999, Speaker Wire 8F $6999
The "Riptide"- IC RCA 1M $7800, Digital RCA 1.5M $5300, Power Cable 5F $7800, Additional Foot $1500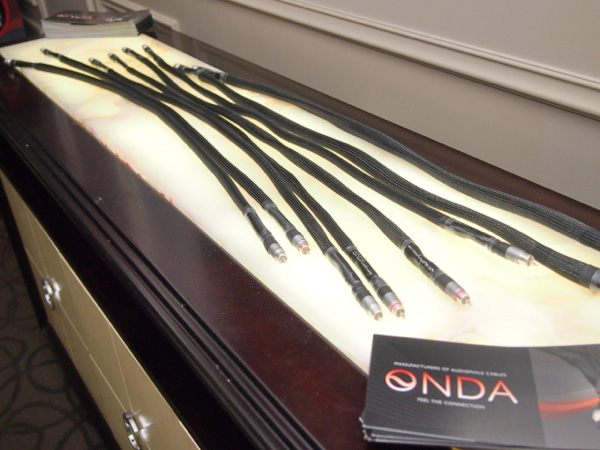 Rogue Audio, Inc. / Tel Wire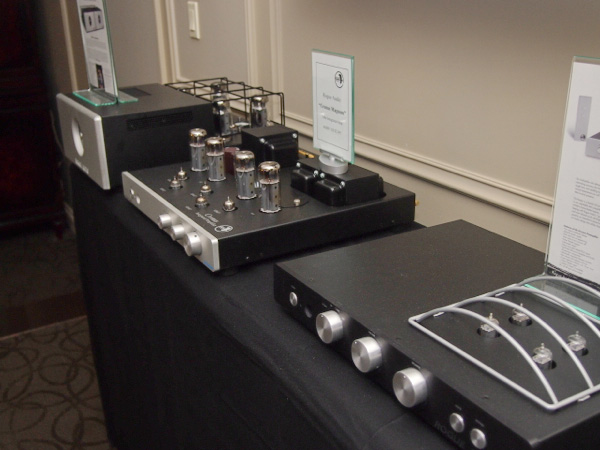 Introducing the Medusa – a hybrid tube / solid state power amplifier with some good grunt. 200 watts @ 8 Ohms and doubles to 400 watts @ 4 Ohms. $3995 and the Hydra (a smaller version) is $2995.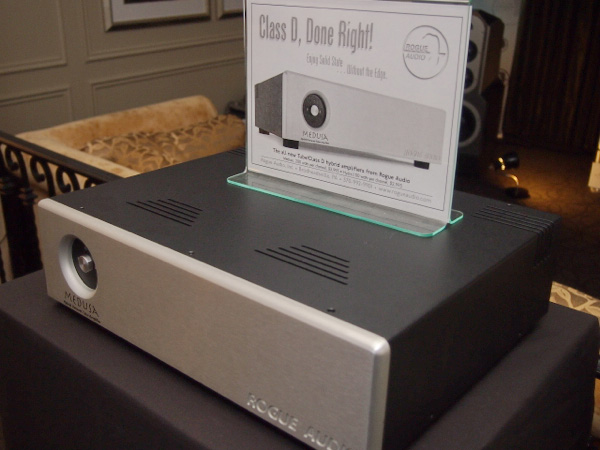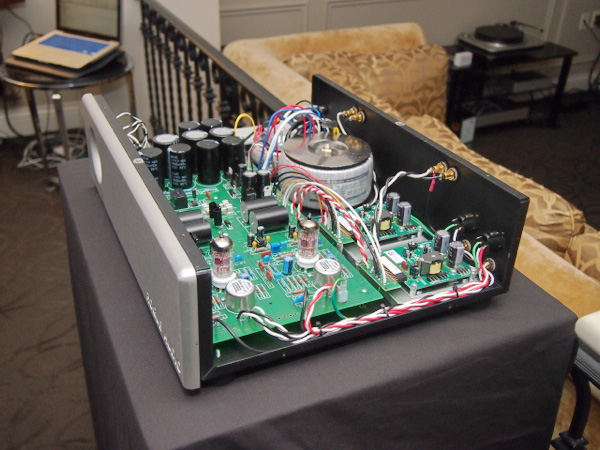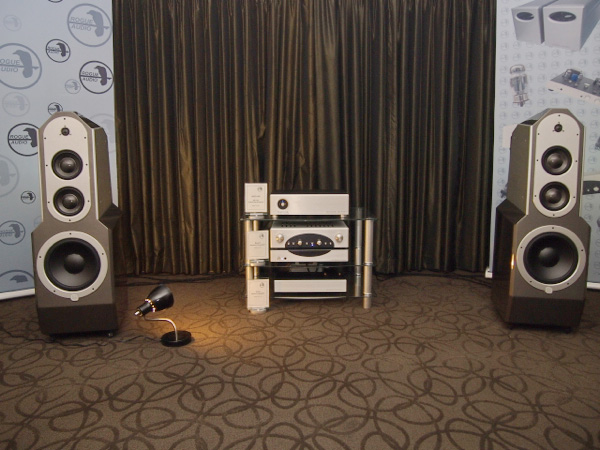 Merril Williams Audio / Enklein Cables / Sutherland Engineering
Harmonious Haven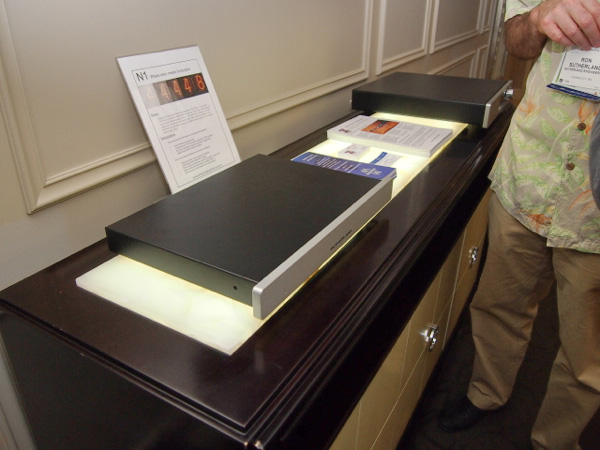 Introducing a new fully mono stack of equipment, really hard-core independent mono designs. Ron is a great guy and a blast to talk to, he really gets it and has a SUCH a passion to build amazing equipment.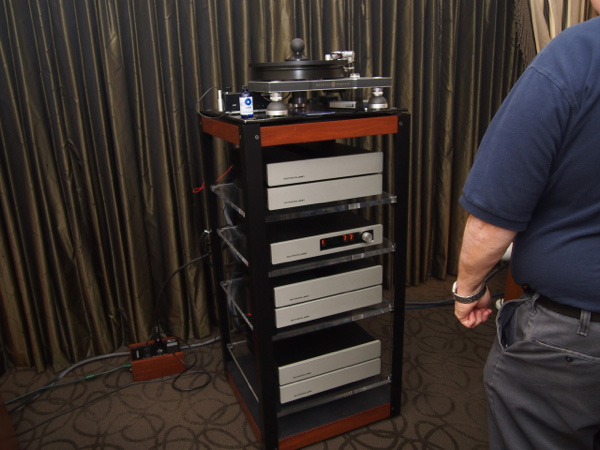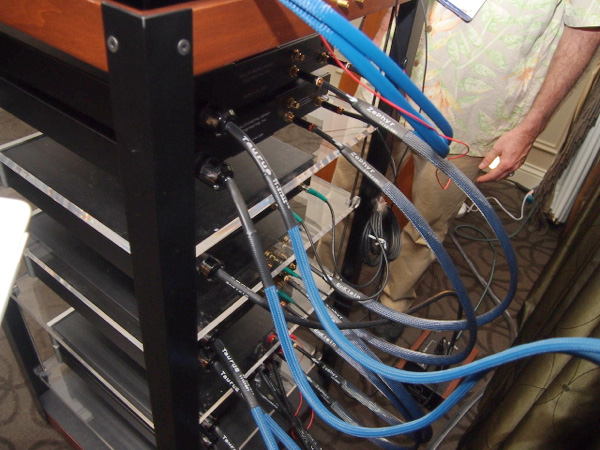 Note the nixie tubes for the display. Super simple operation; depress the volume knob to go into mute and then turn to change inputs. Push again to un-mute.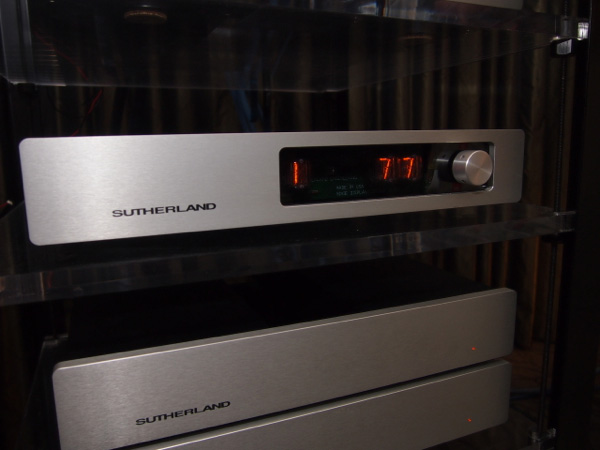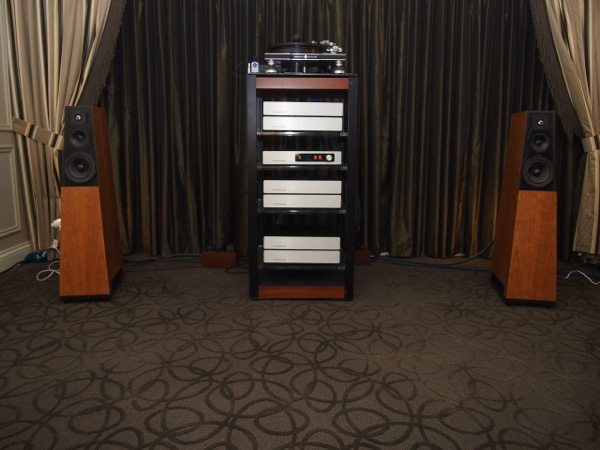 Phonoblocks $10,000, Lineblocks $15,000, Powerblocks $10,000
Volent Lab Ltd.
VL-3 $11,000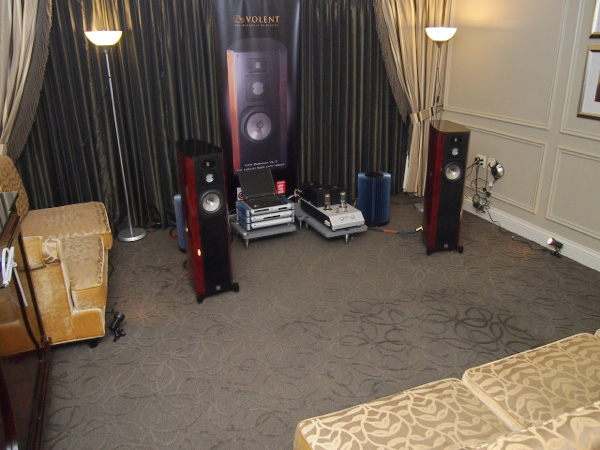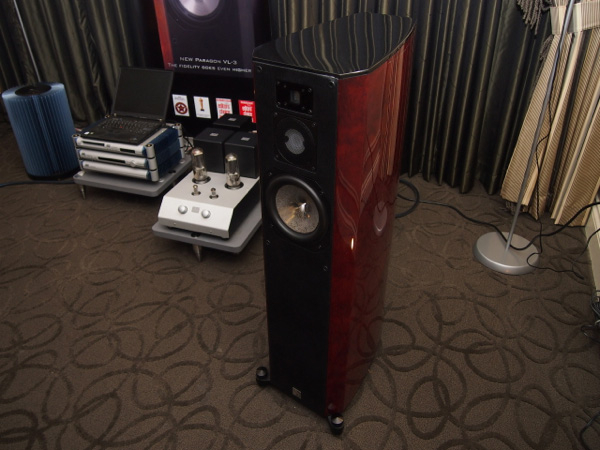 Ayon Audio / Audio Block / AVM Audio USA / Bassocontinuo USA / Legacy Audio / Lumenwhite USA
Whole ton of stuff in this room!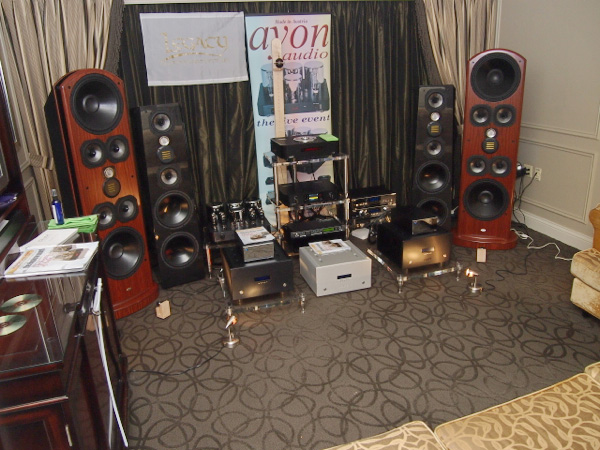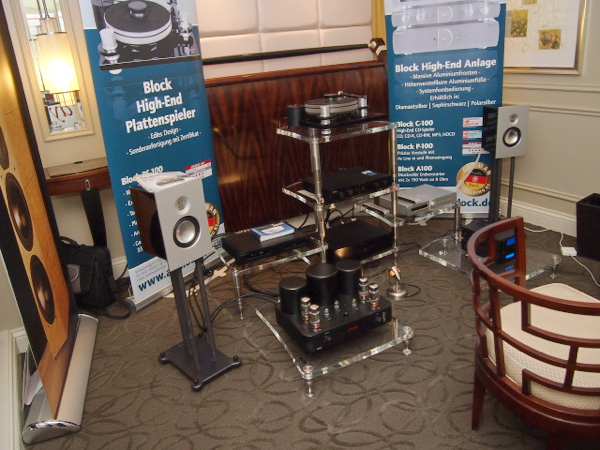 New Ayon Triton 2 with their own branded KT-88 style Ayon tubes - $9800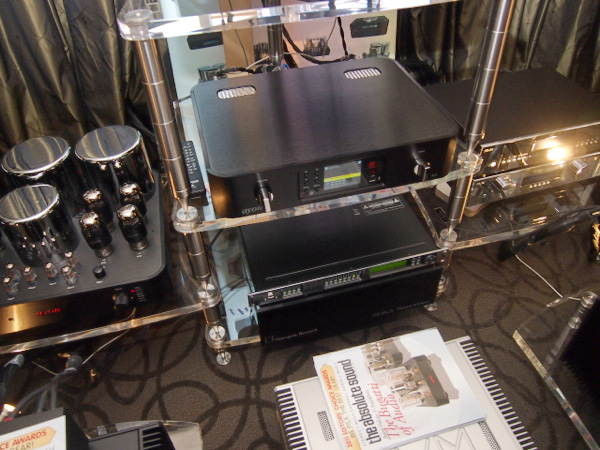 Pass Laboratories
Harmonious Haven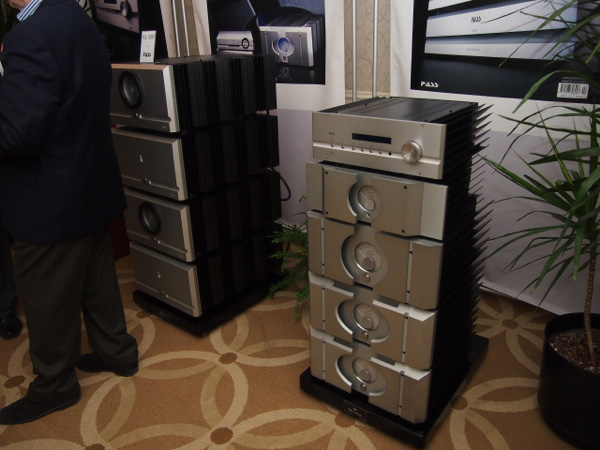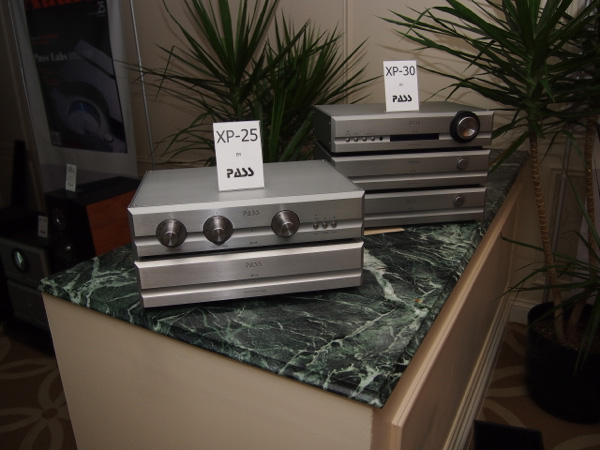 New statement XS-150 with separate power supplies. These sounded amazing.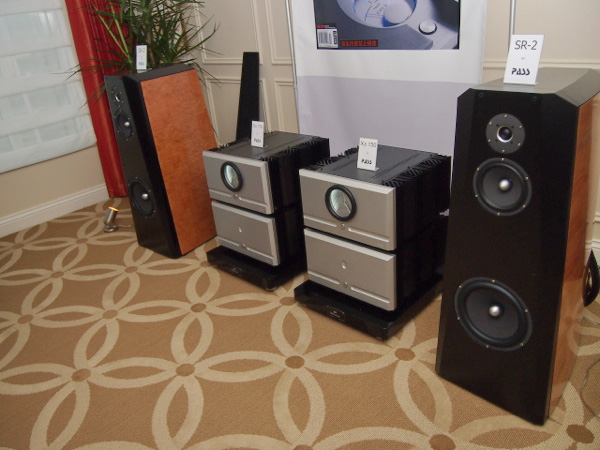 TAD
Harmonious Haven
Ended Day 1 with a visit and demo to the TAD room. Got to hear their newer reference line as well as their new smaller loudspeakers.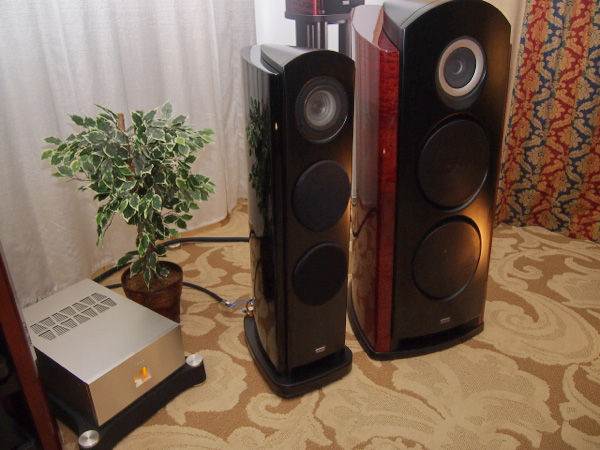 Magnesium Midrange, Beryllium Tweeter Vented system and Made in Japan.
Got a nice demo comparing these to their big reference system and wow, talk about nice. Then got to play some of my music! Thanks for humoring me TAD! For those that don't know, this is Pioneer's "reference" line of equipment.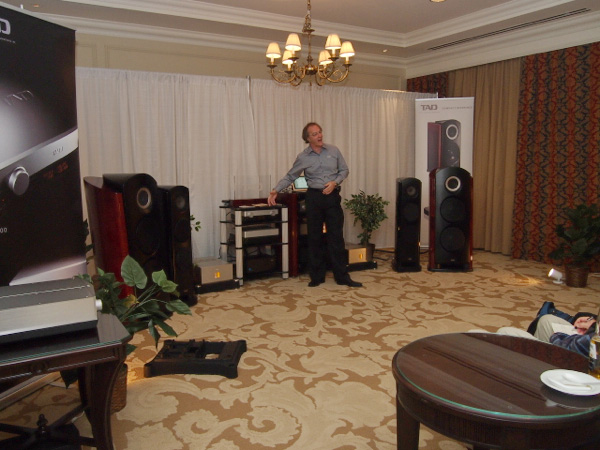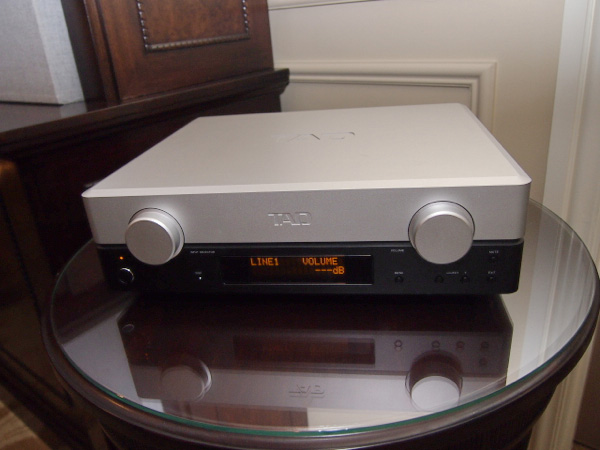 Front and center, sitting next to Chuck Bruce (he put on some Stevie Ray Vaughan)!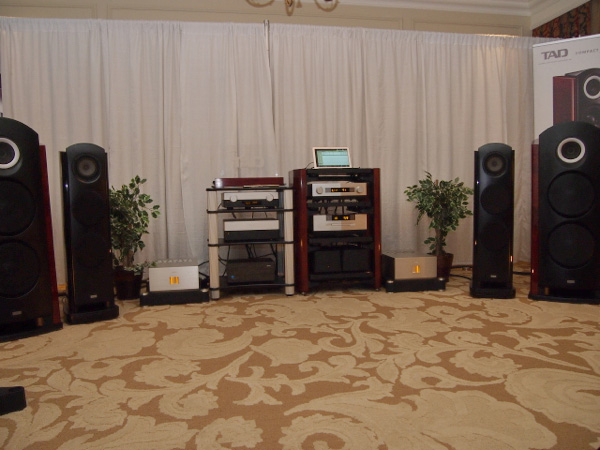 Zu Audio
And to conclude Day 1, a nice after hour hang-out session with the Zu guys (covering their room on Day 3). Great guys! Oh and Danny Kaey makes a cameo appearance.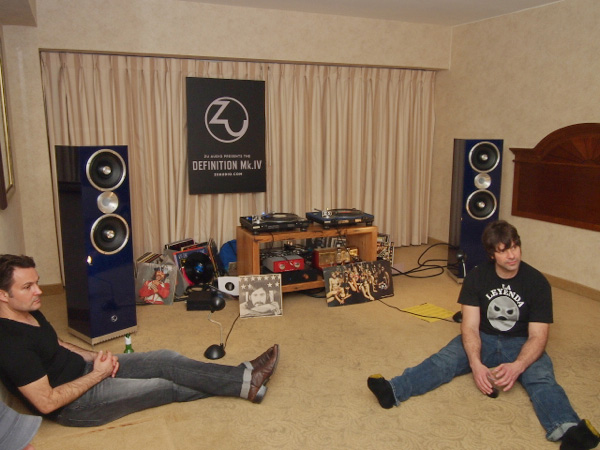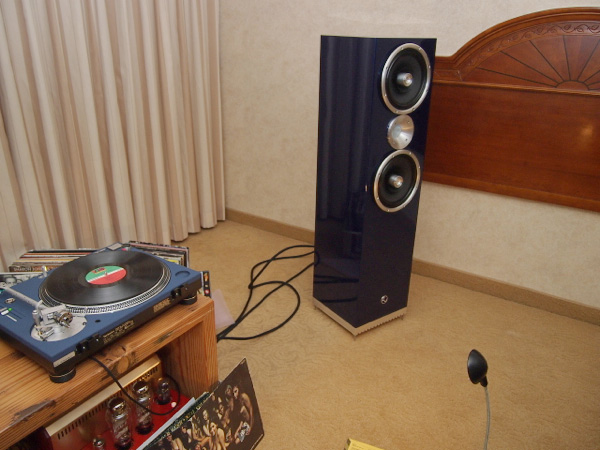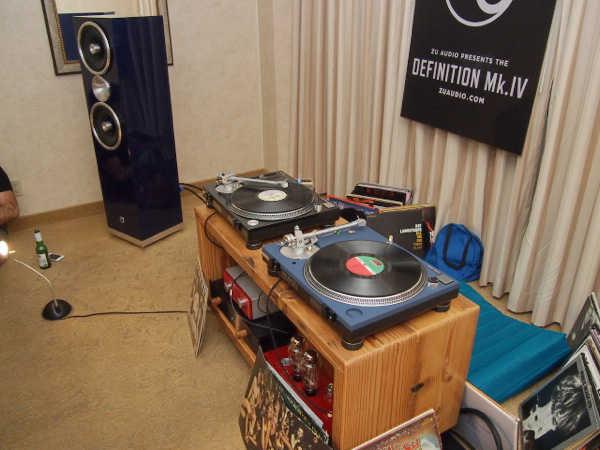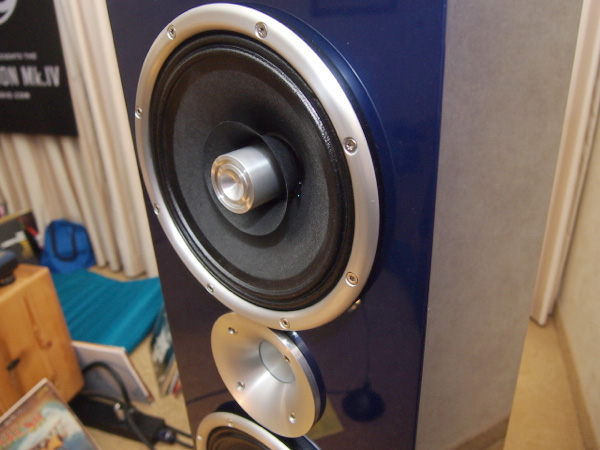 Thanks for the excellent burgers and wine Sean!
Stay tuned for Day 2!