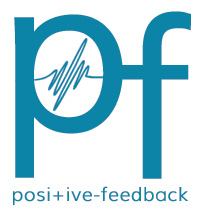 You are reading the older HTML site
Positive Feedback ISSUE 59
january/february 2012
CES 2012 Day 2 - Part 4
by Pete Davey
Kondo / Audio Note
Always excellent stuff in this room..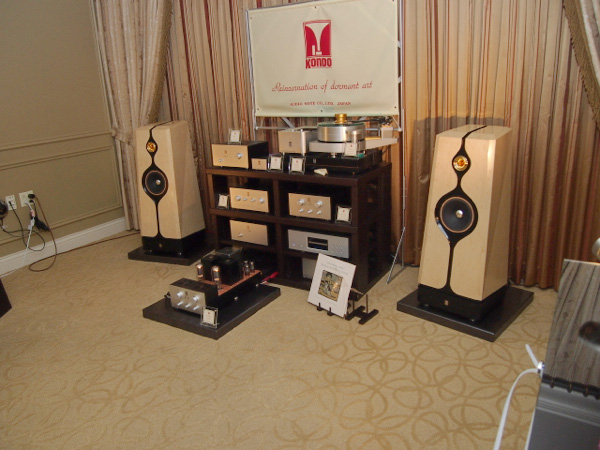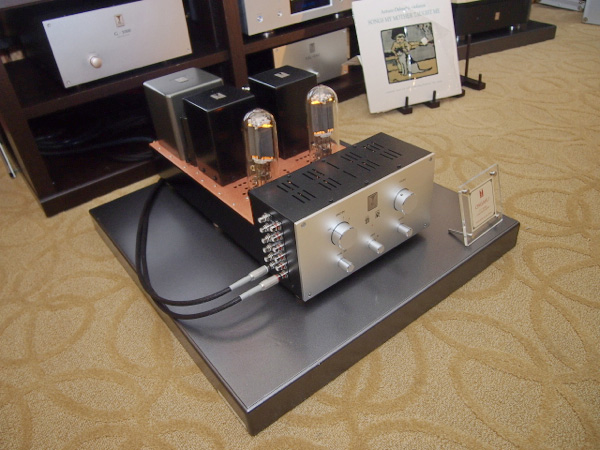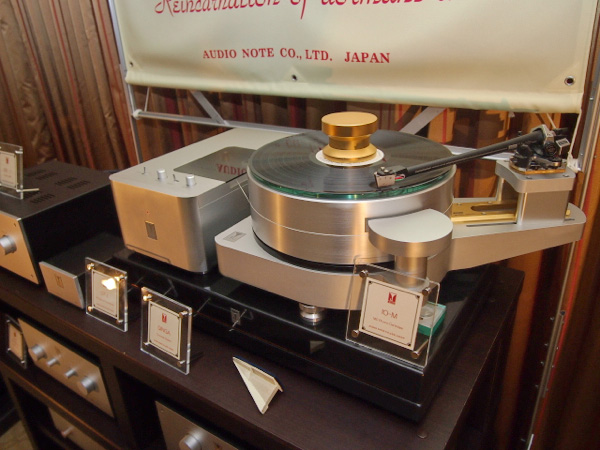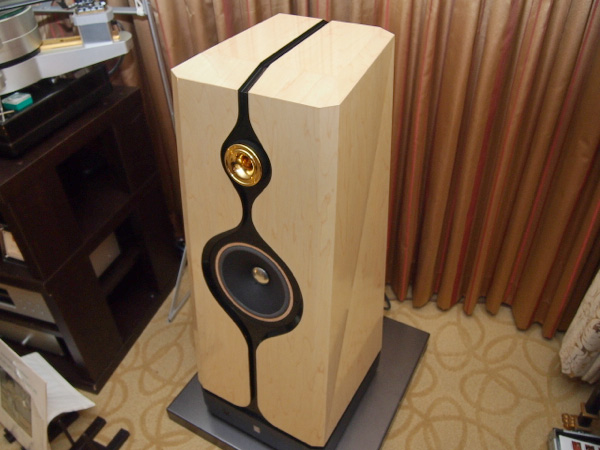 Burmester Audiosysteme GmBH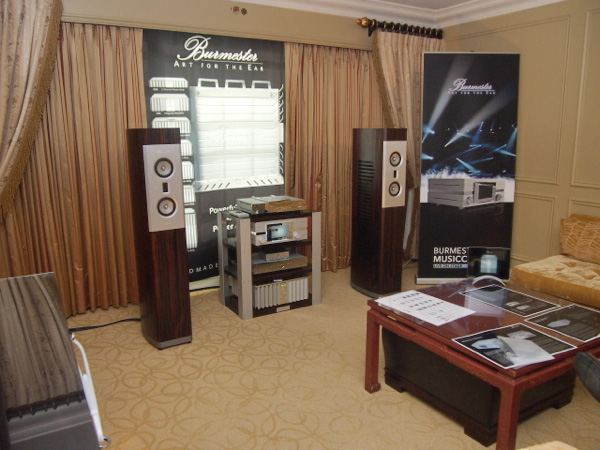 The big thing from Burmester was their new music server. Not cheap but packed full of features. Has an ADC so if you're spinning some analog it will record and encode in high res for you to play back at any time.
The Reference Line III Music Center – $50,000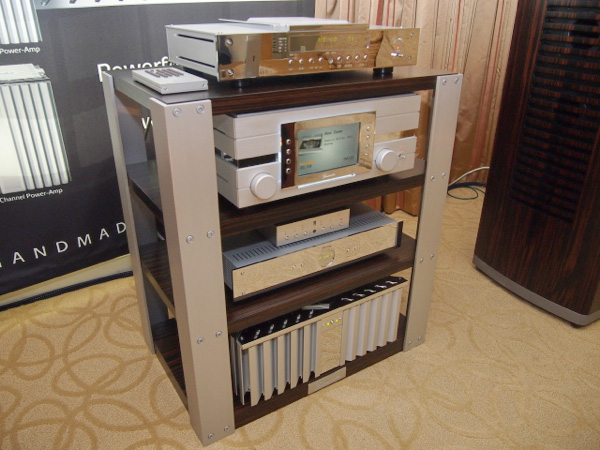 The interface via iPad app—still needed some work, I wasn't able to get it to play something without asking how it worked.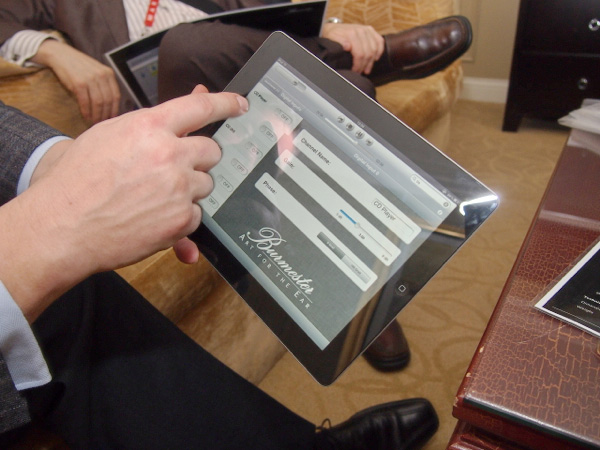 Grand Prix Audio / Zanden Audio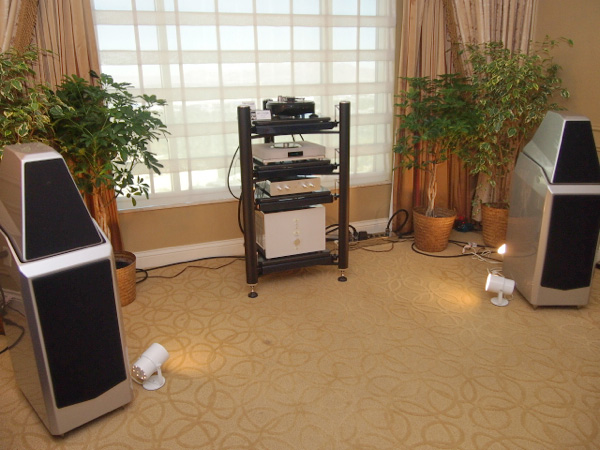 The Silverstone F1 made of carbon fiber.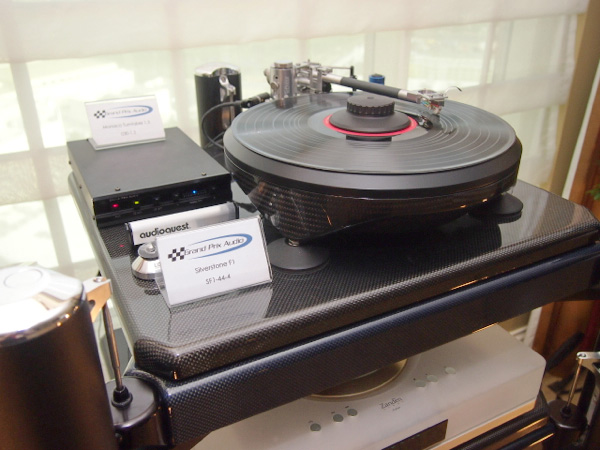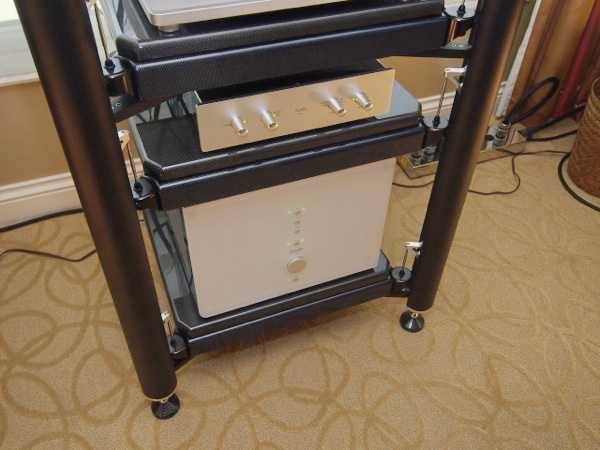 Steve Holt of MIT Cables! Asked him if he brought his guitar this year but no. Too bad! Always a good time.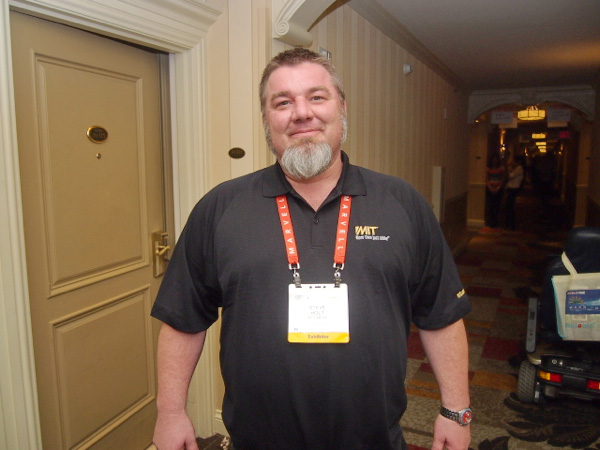 Waterfall Audio / Clarus
The famous glass speakers. Absolutely cool looking! Not cheap.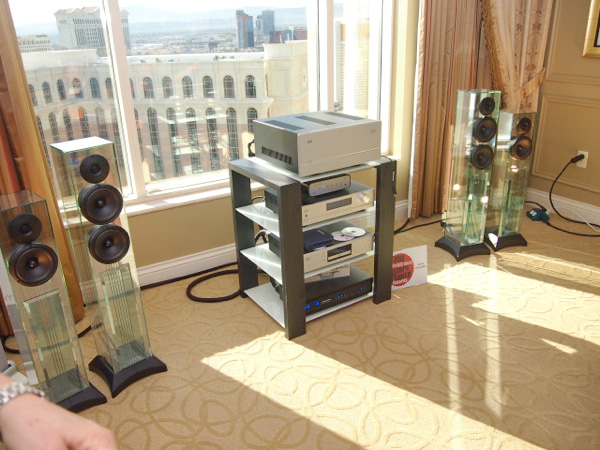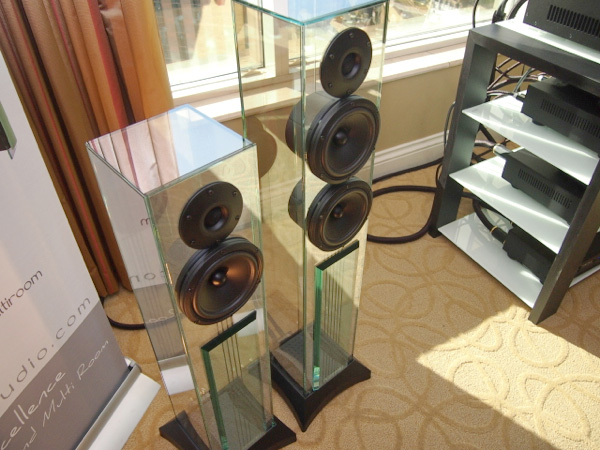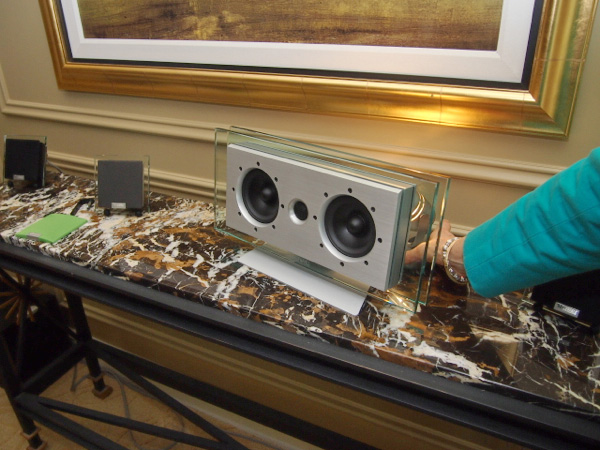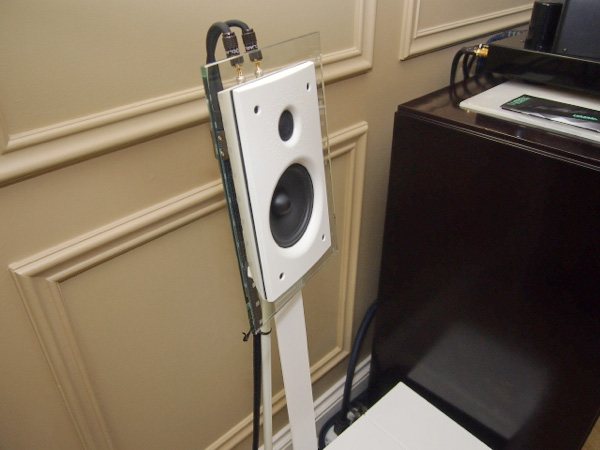 Eggleston Works / Harmonious Haven
Personally I haven't heard anything new about Eggleston in a while, but I walked in here and didn't find anyone so I asked if I could play a CD on their newest line of speakers called the "Isabel Signature". Retail was a mere $6500! The sound was really nice!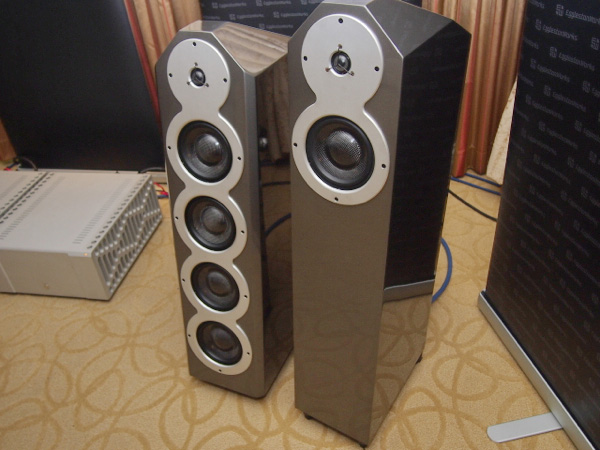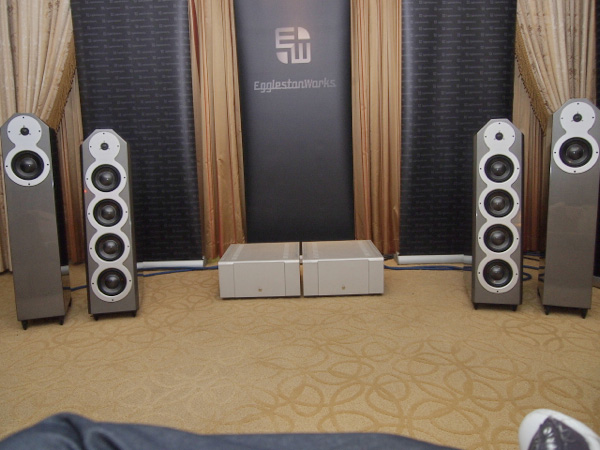 Nola Loudspeakers
Introducing their new Baby Grand Reference speakers, revised crossovers.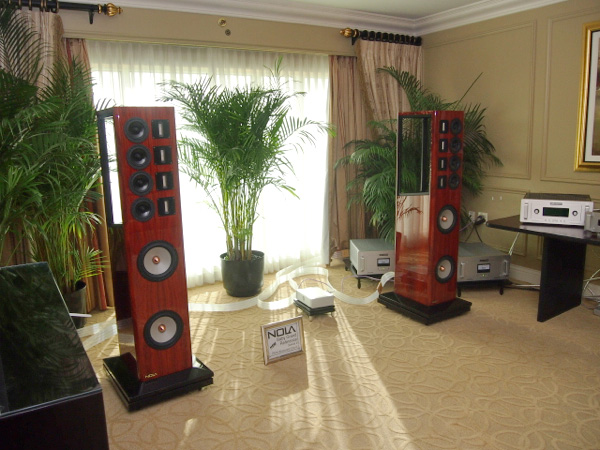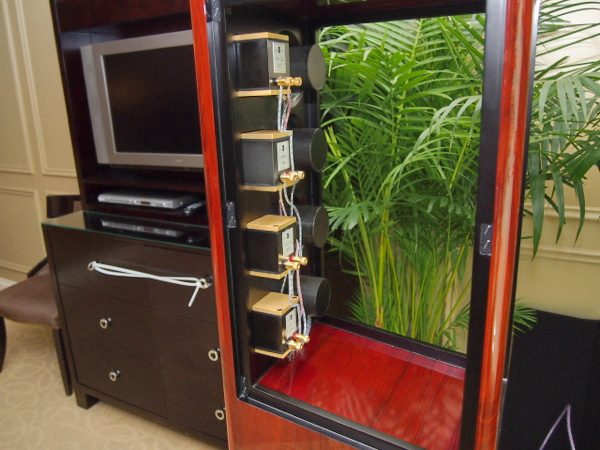 Sumiko / Pro-Ject
Always cool turntables from Pro-Ject.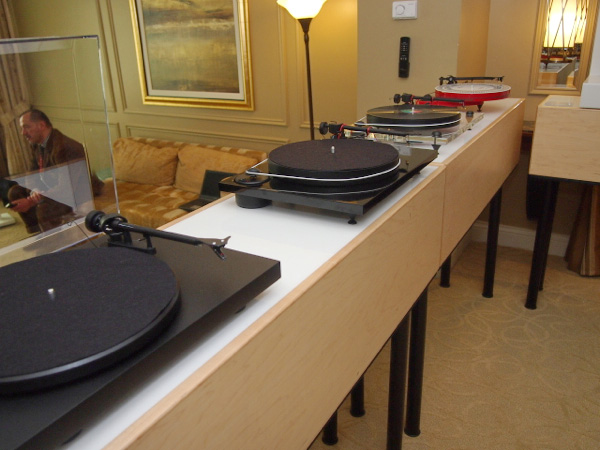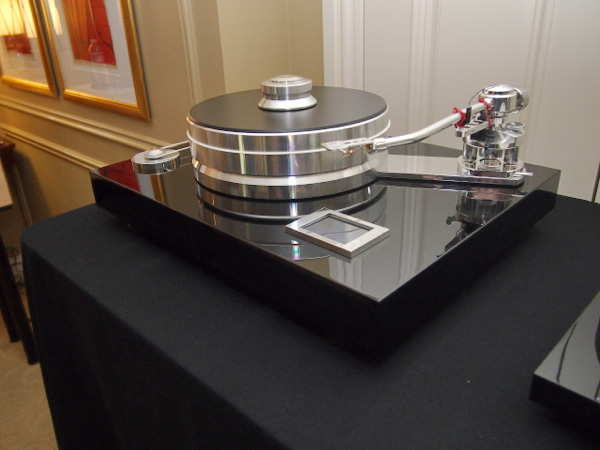 New Art-1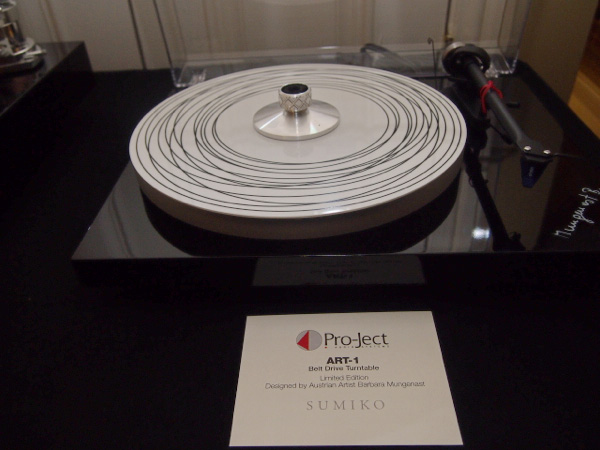 New mini digital music player, nice sound from such a small system.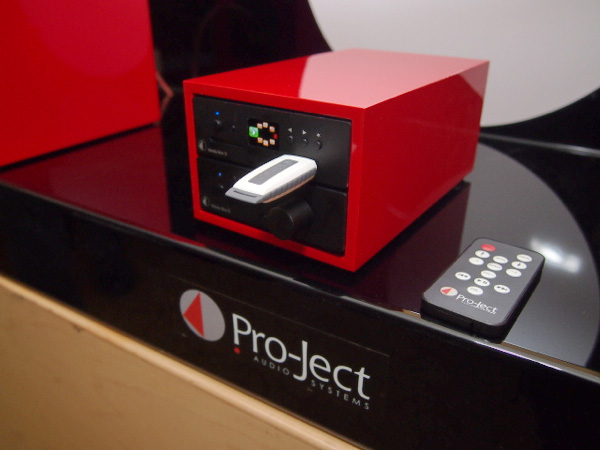 LA Audio / Acoustic Zen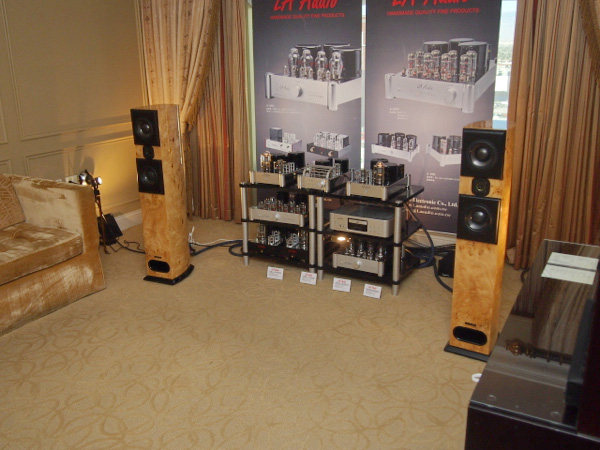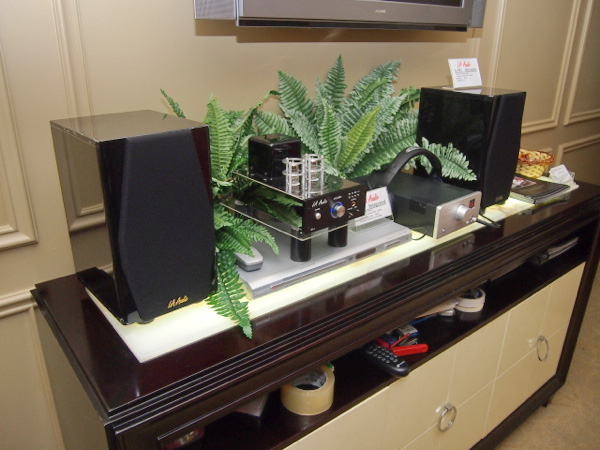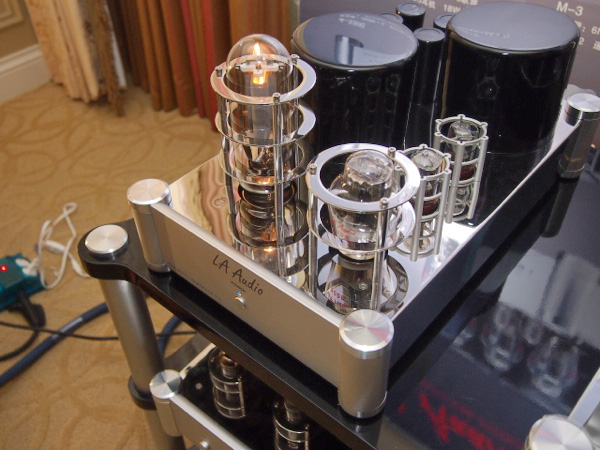 Lawrence Audio
Harmonious Haven
I walked in and it was love at first site with these speakers, a little on the expensive side at $19,000 but they really sounded nice. Immediately went out the audio-show crap music and in went my CD. Very very nice engaging sound!
The Cellos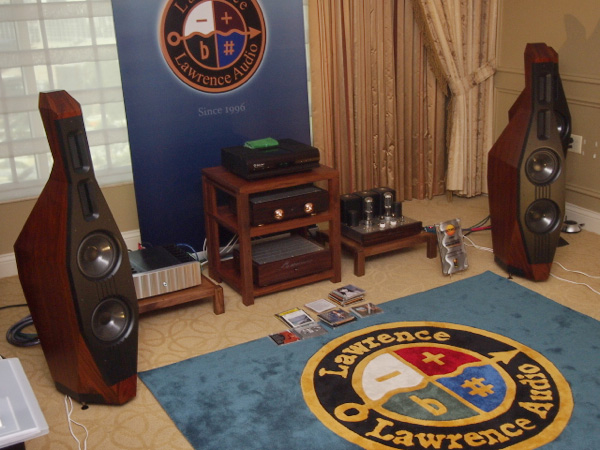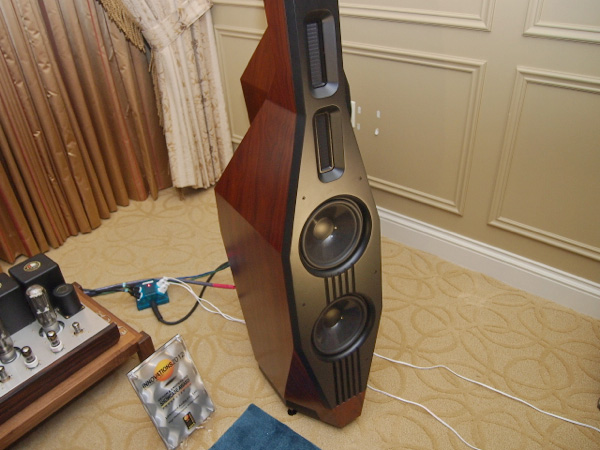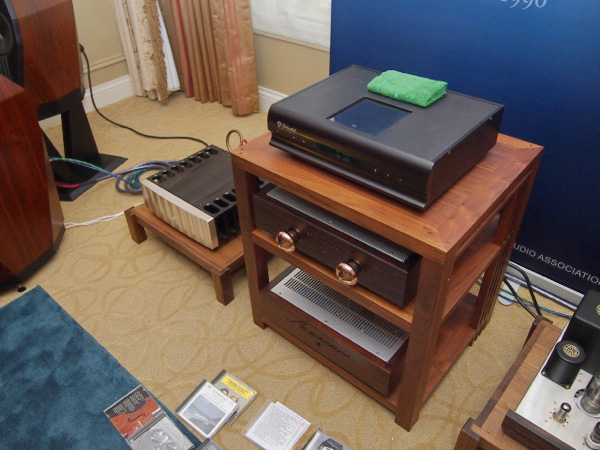 Aaudio Imports / Bergmann Audio / Lansche Audio / Ypsilon Electronics
Harmonious Haven
Some serious gear in this room. Ever since I first heard the smaller Lansche's a few years ago, I've been chasing the sound from their Ion corona (plasma) tweeter. There is nothing like the highs from a mass-less driver, the hard part is getting the crossover right but this is it! These are the larger models… 7.0 - $100,000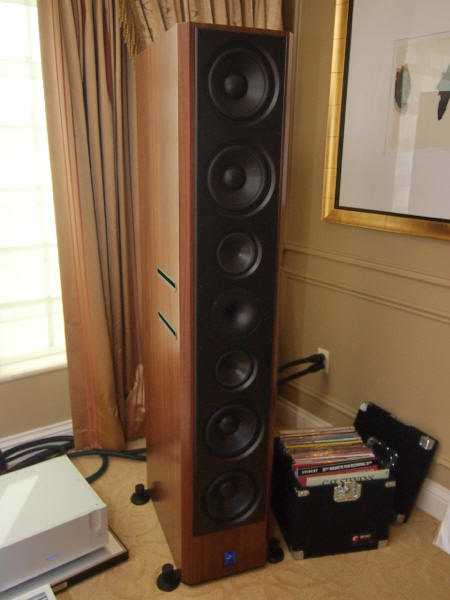 Close-up of the violet flame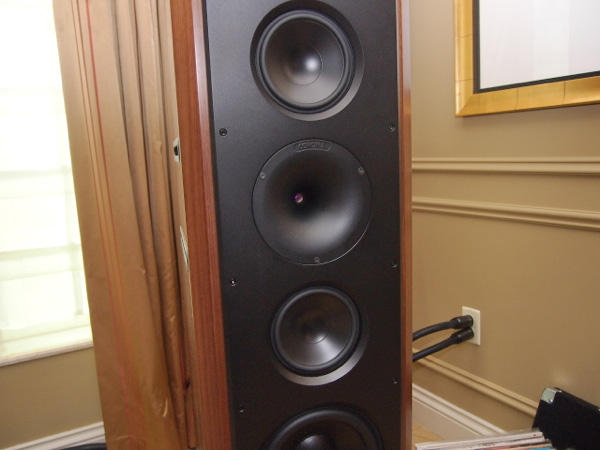 Out-of-this world Ypsilon gear introducing new Aelius Push Pull mono Amps - $36,000.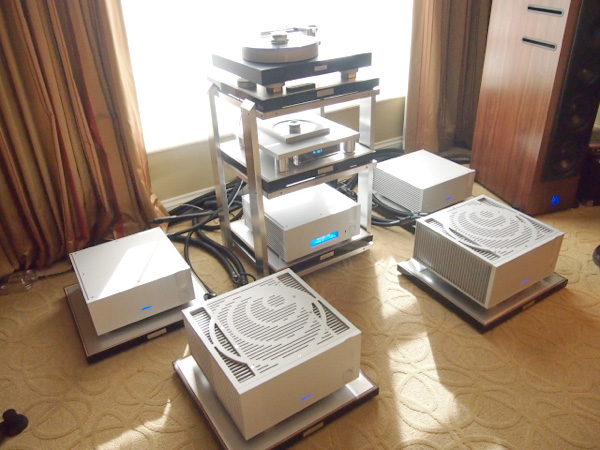 From the drivers seat.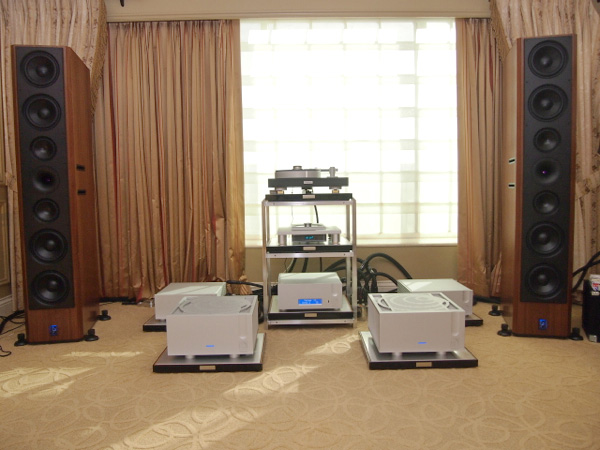 King Sound / Bob Carver / Purity Audio Design
Immediately after entering this room I recognized these new Carver amps. For the past few years they've been all the rave on the Internet, a Bob Carver / Tim de Paravicini design that will drive a 1-ohm load. Why is this important? For me, a Scintilla owner to be able to use a Tube amp! I'm still dying to hear this combination, for now, on these King Sound Electrostats, the sound was quite nice!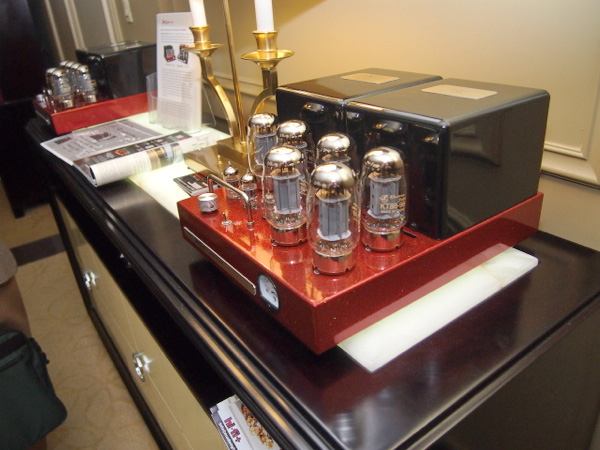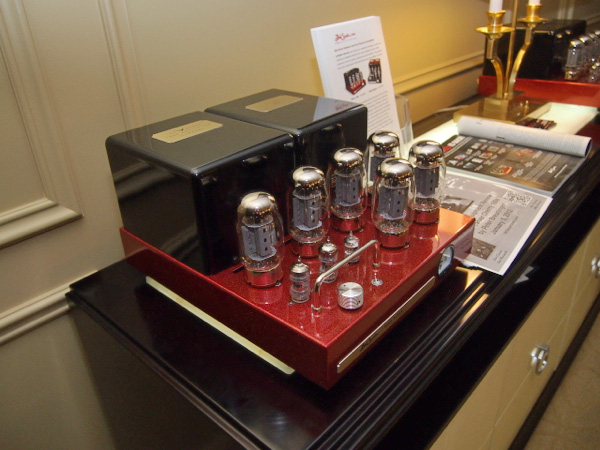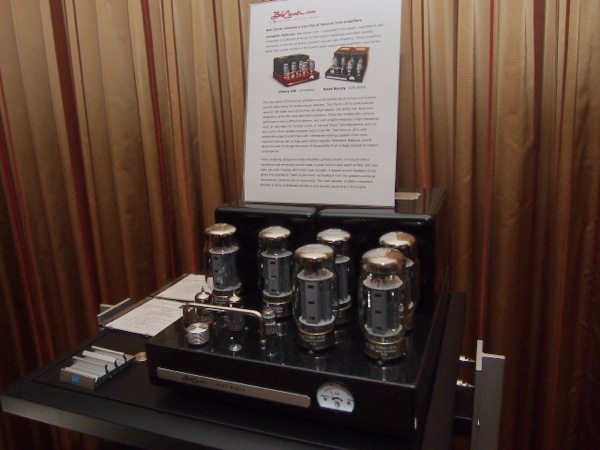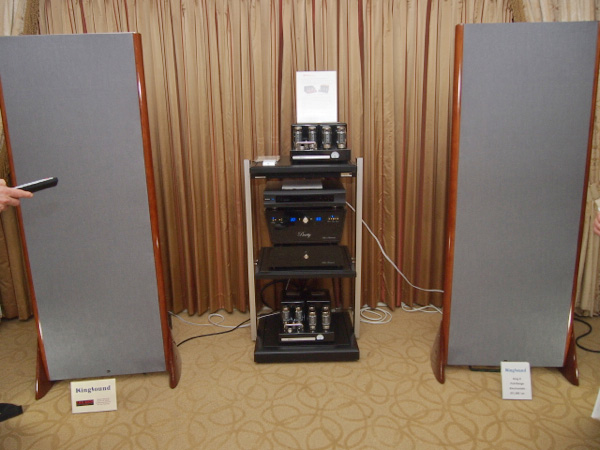 OK now upstairs to the high suites…
Hansen Audio / Critical Mass Systems / Kubala-Sosna Research / Tenor Inc.
Really nice sound from here… world class reference system.
Hansen Emperor - $69,000, Tenor Ultimate Reference Amplifiers (Monoblocks @ $100,000, Line 1/ Power 1 Pre @ $75,000, Phono 1 – Phono Stage $50,000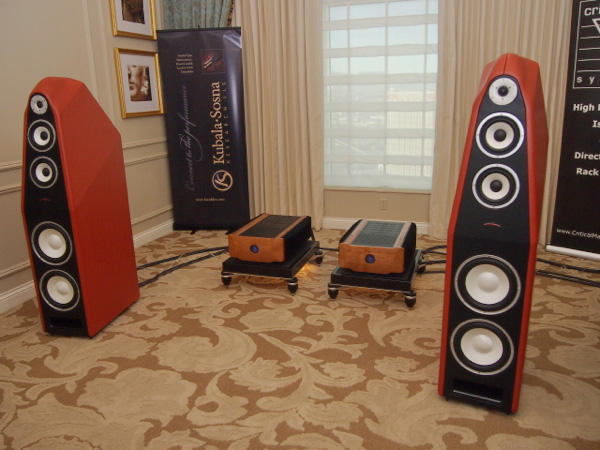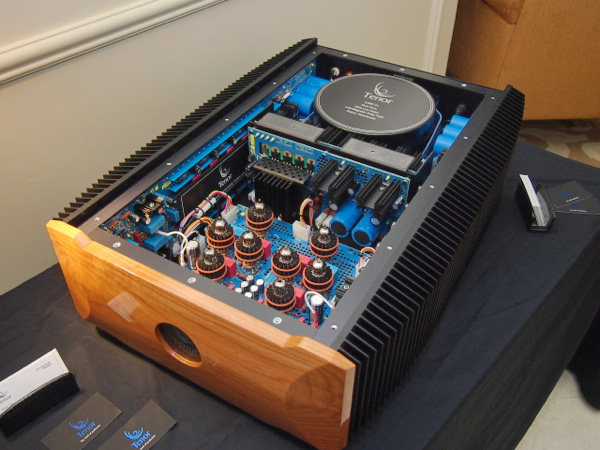 Boulder Amplifiers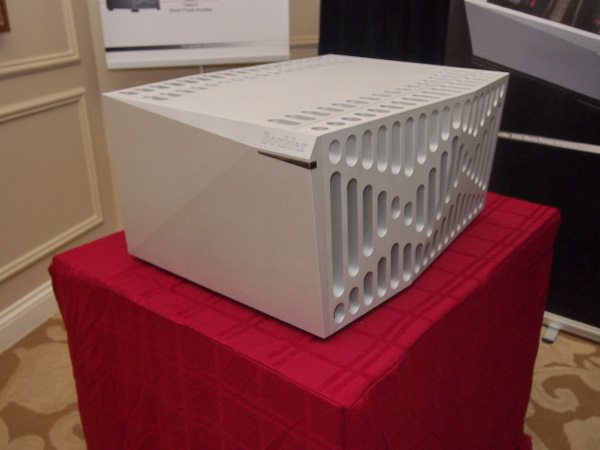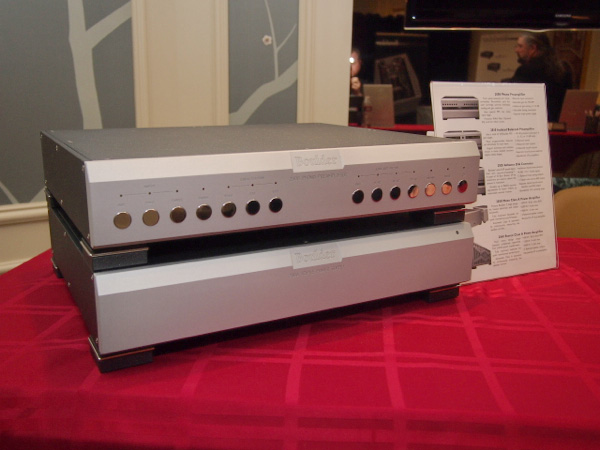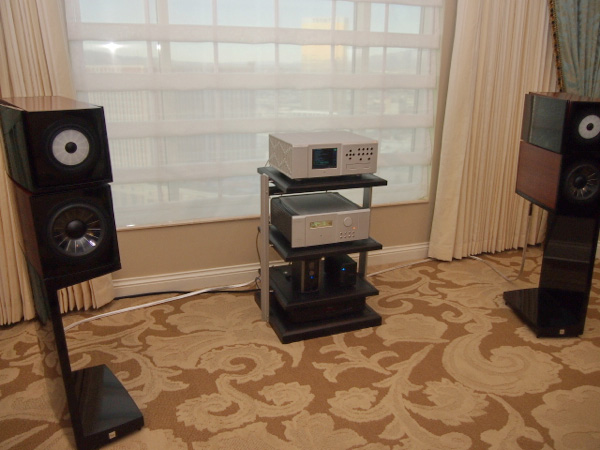 MBL North America, Inc.
Behold, the big reference system. I wish they would have turned these suckers up, you can tell they really like to rock. The sound was amazing.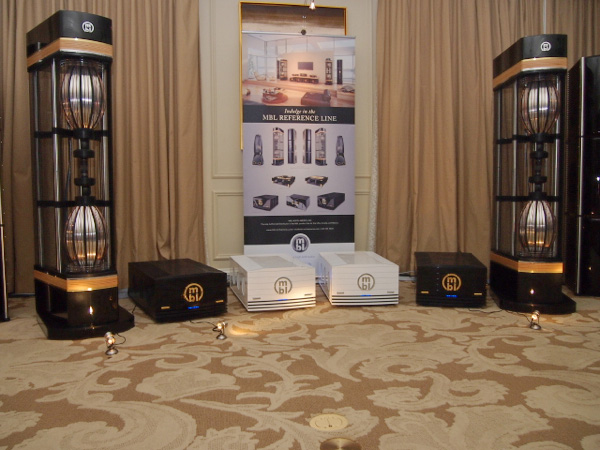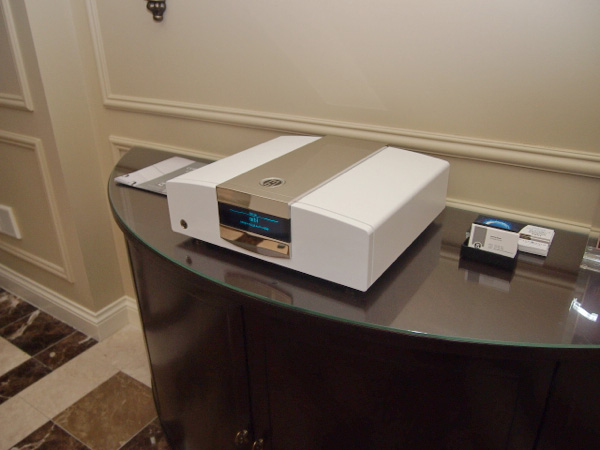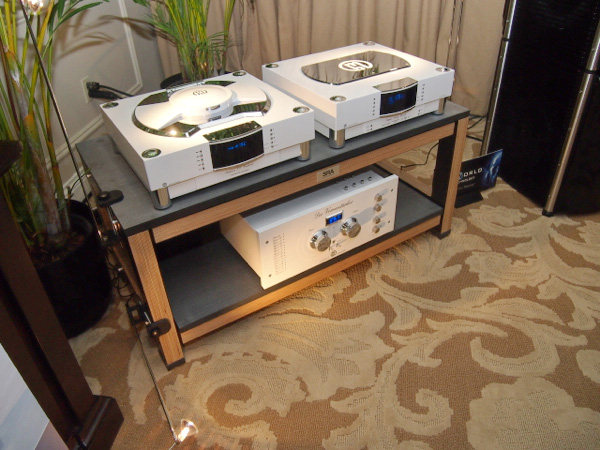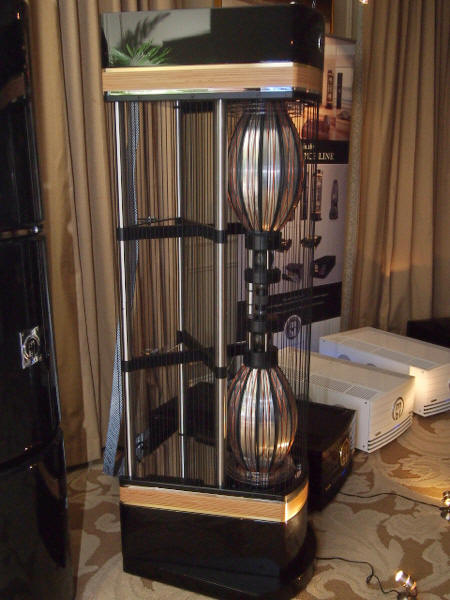 Ayre / Vandersteen
The usual high-quality gear here.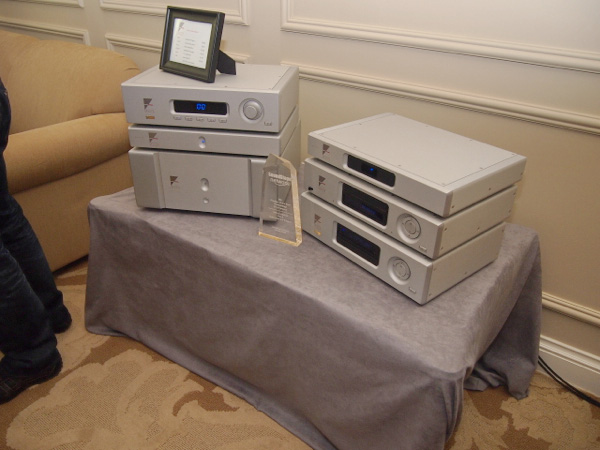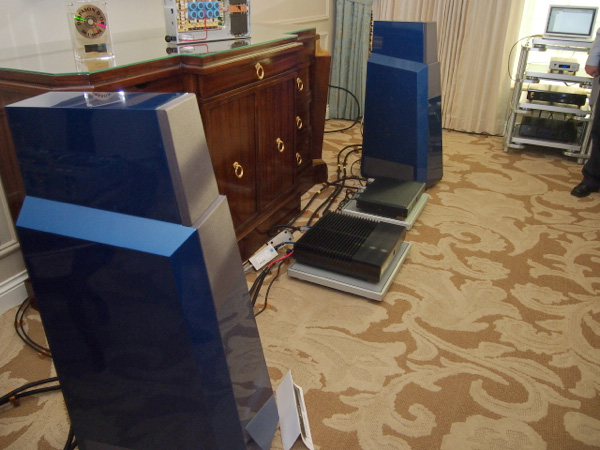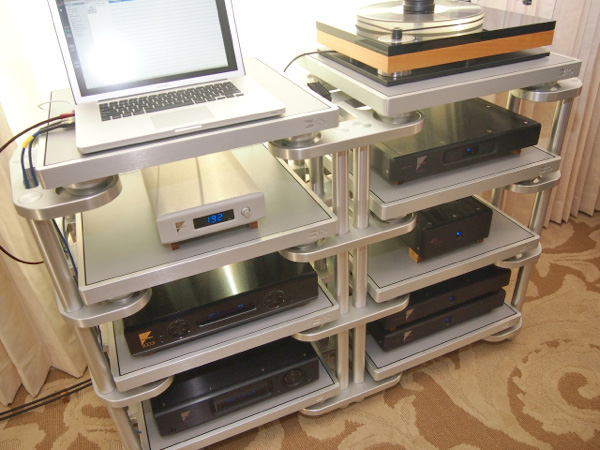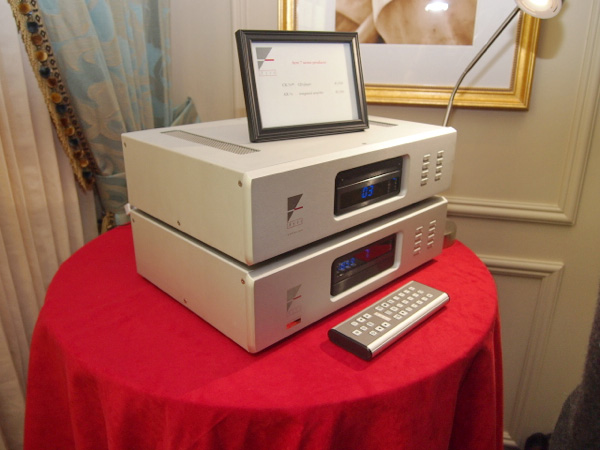 In the middle is a new ADC, very awesome.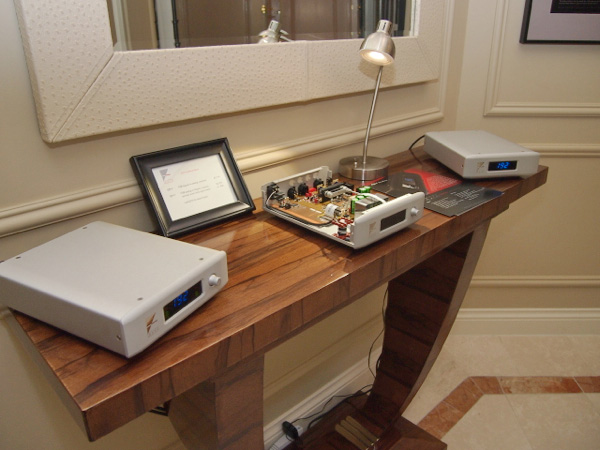 McIntosh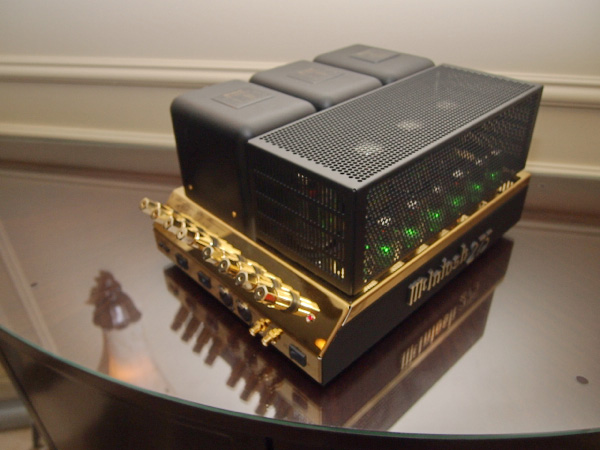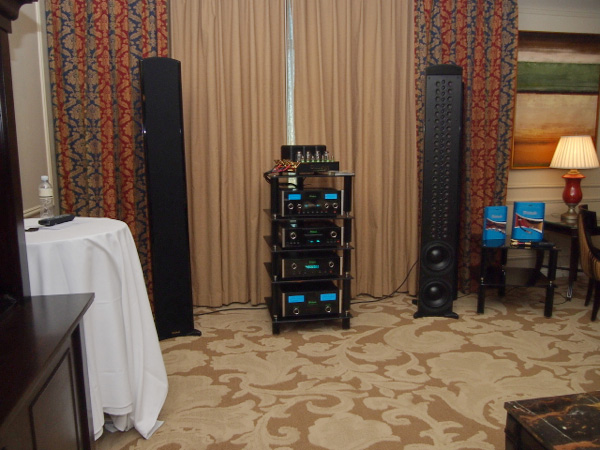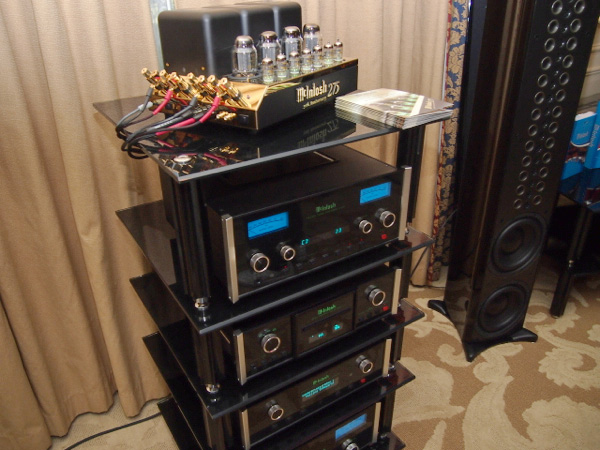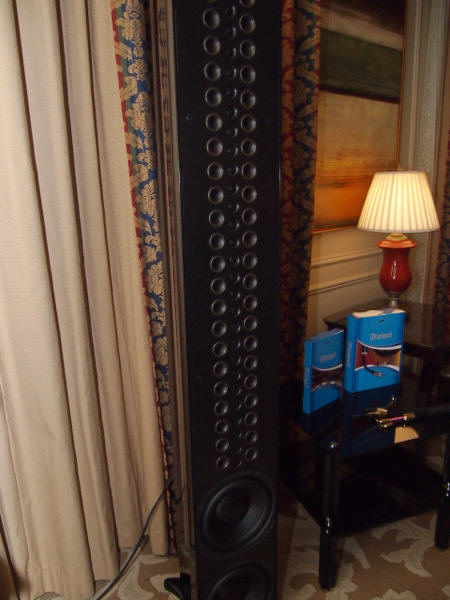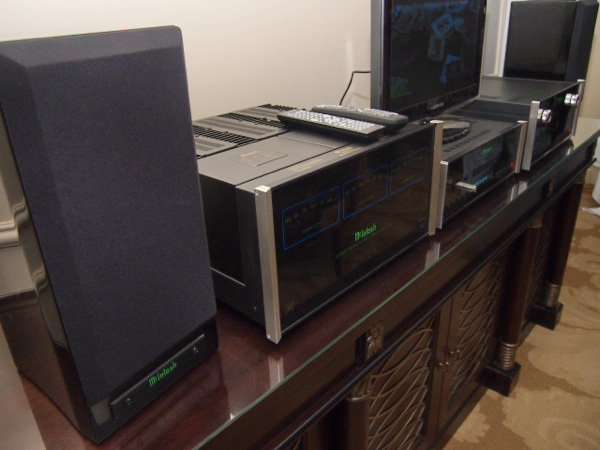 LAMM / Wilson / Kubala-Sosna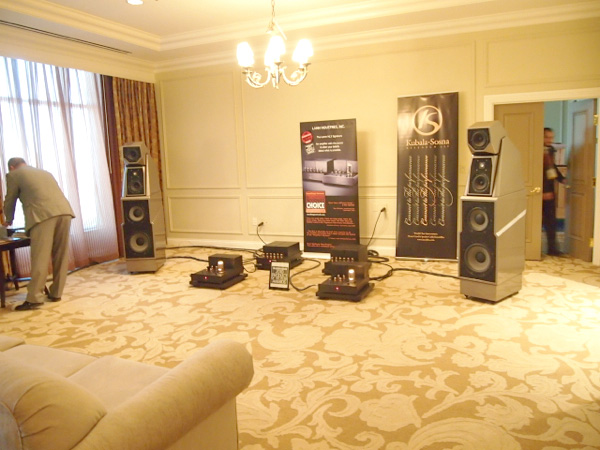 YG Acoustics / Tenor / Kubala-Sosna
ANAT-IIl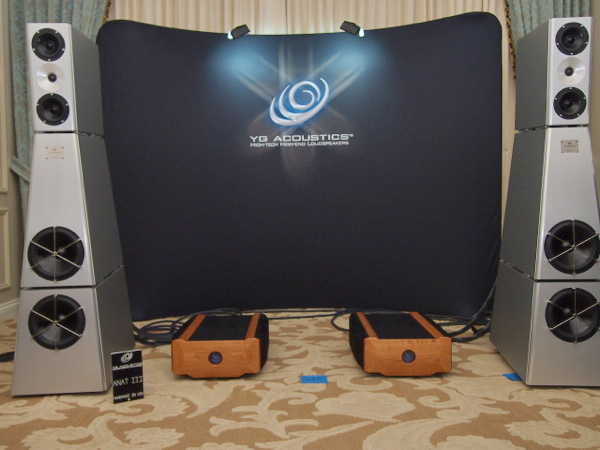 Nice little Studer setup!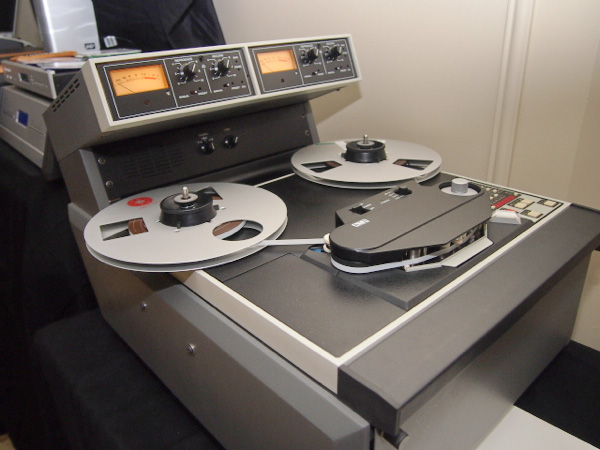 Magico / MIT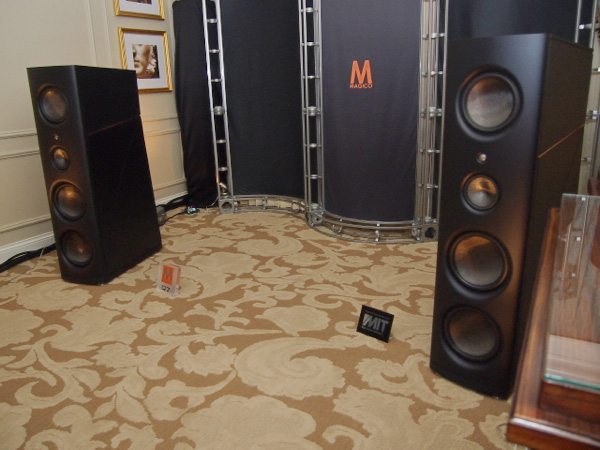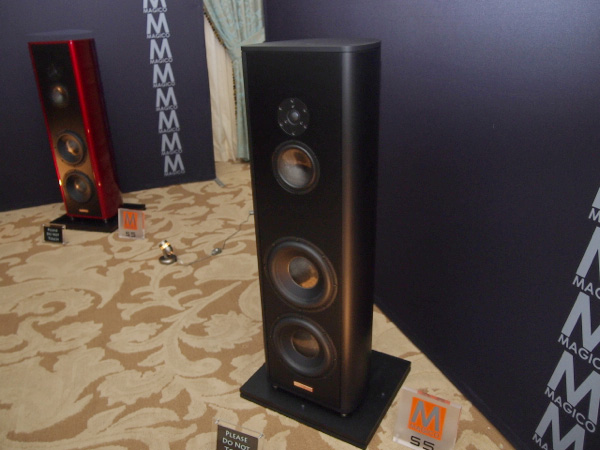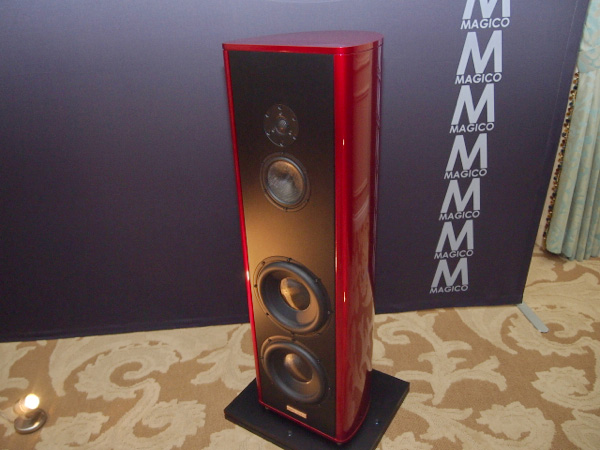 Alright, enough serious stuff… Time to head back to Dan Meinwald's room where he and Tim shared some really cool Sweet Potato liquor (had a vodka taste) that a customer brought. Really smooth…
Tim de Paravicini and Dan Meinwald of E.A.R. Audio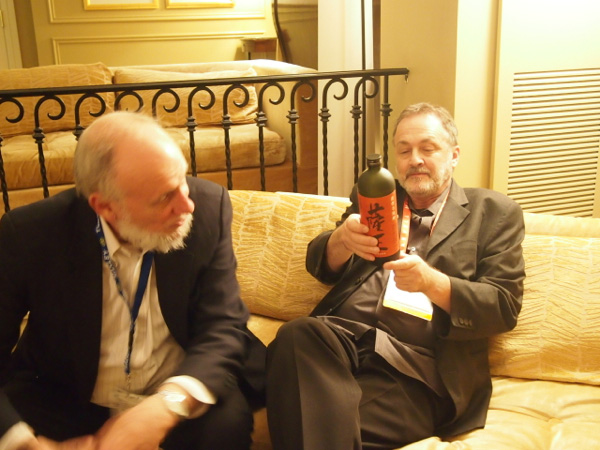 The always smiling Jonathan Scull! Even after his mishap with a ladder…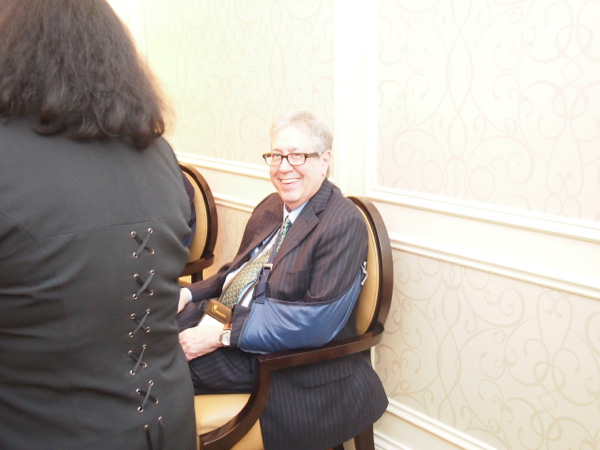 Les Edelberg of API (and all around good guy!)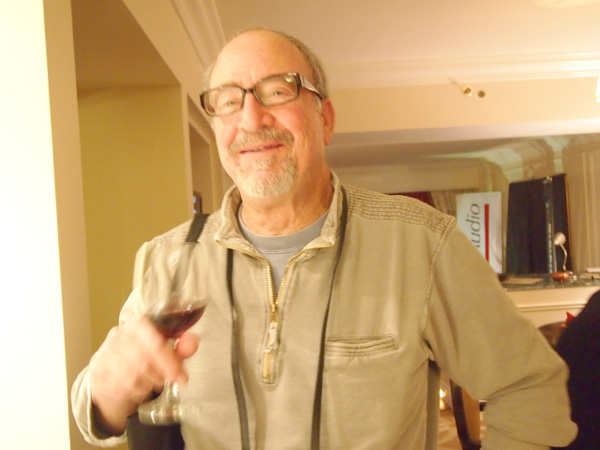 The always cheerful Greg Weaver of PFO!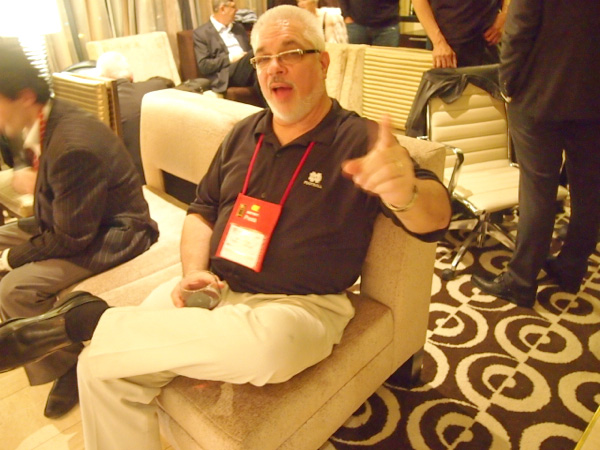 Laurence Dickie (AKA Dic) of Vivid Audio and Greg Weaver sharing a funny story about… well, I won't say. Involves fire!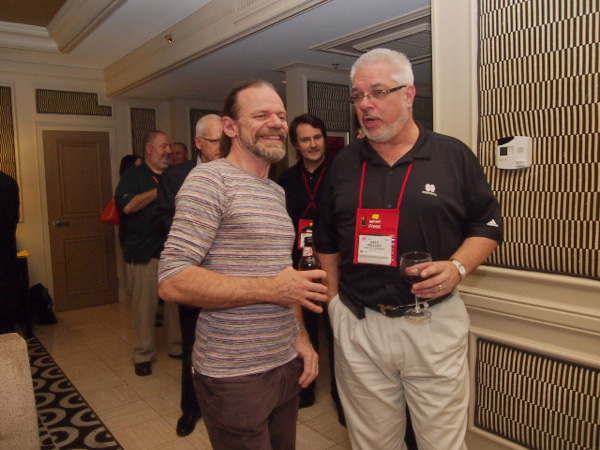 Myles Astor of PFO – Analog Purist and Fitness expert enjoying a rest after a long day of press.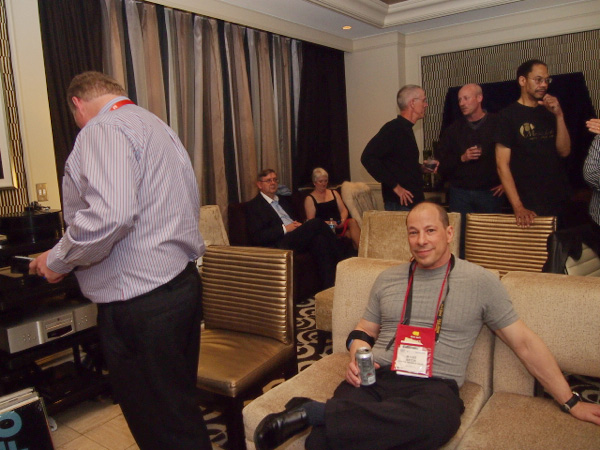 The gracious host Philip O'Hanlon of "On a Higher Note" always has a fun story to tell with Bill Parish.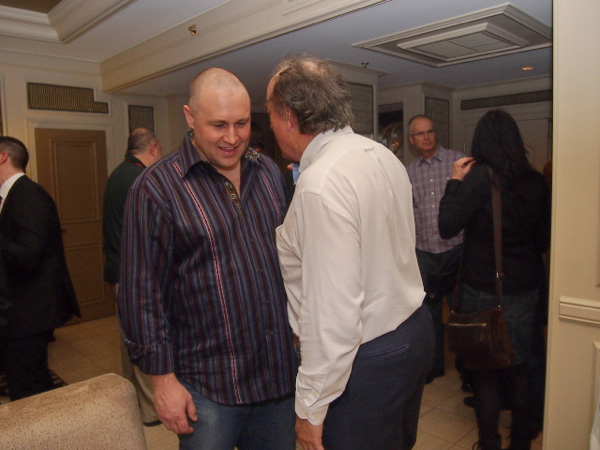 Some nice sonorous restored tape deck spinning some great tunes, check out the LFO vinyl! Hell yes Philip!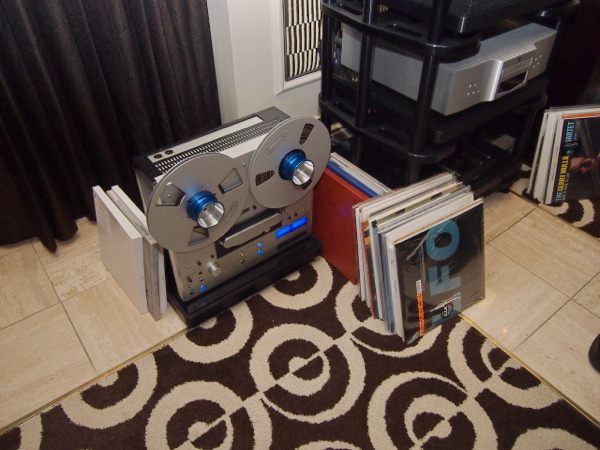 The CEntrance crew – with Mike Mercer.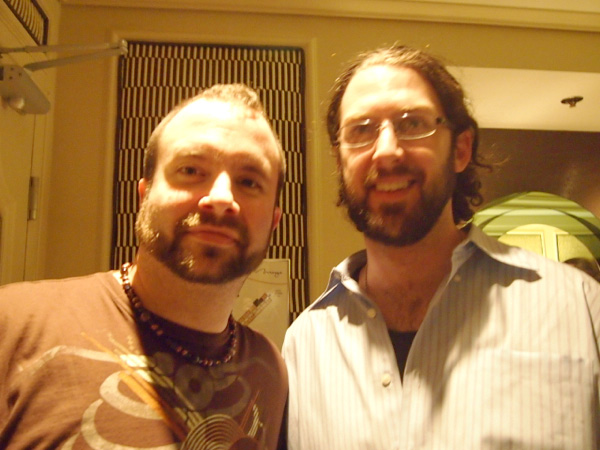 Stay tuned for Day 3 where I cover T.H.E. Show at the Flamingo!