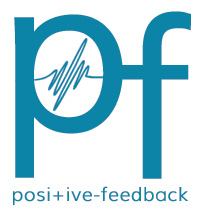 You are reading the older HTML site
Positive Feedback ISSUE 59
january/february 2012
CES 2012 Day 3 - Part 5
by Pete Davey
OK – Enough of the Venetian! Some great sound there, but time to head on over to the Flamingo for T.H.E. Show.
Heading on down the escalator to the registration area, the first thing I see is the CEntrance booth, and friends Mike Mercer and Chris Sommovigo.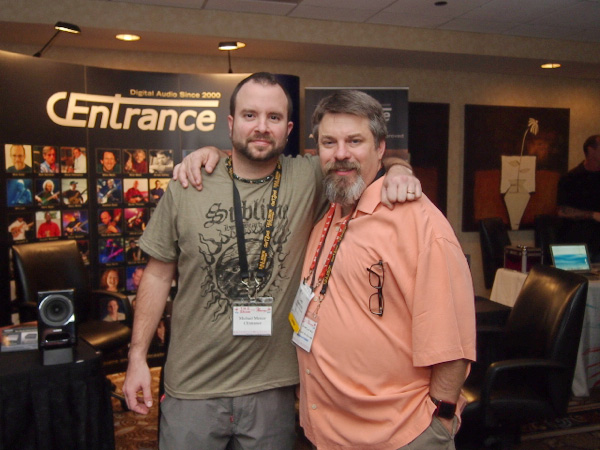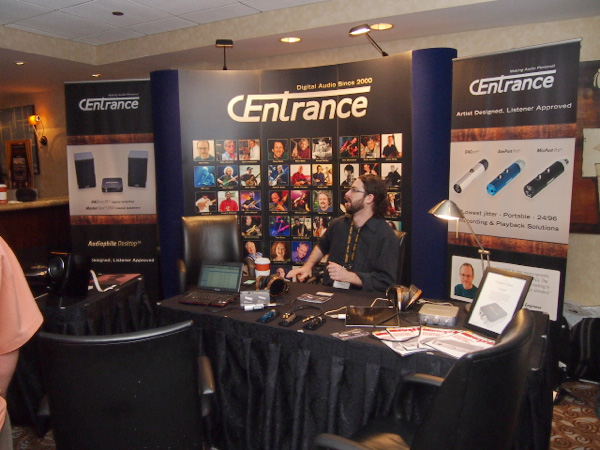 The headroom guys naturally…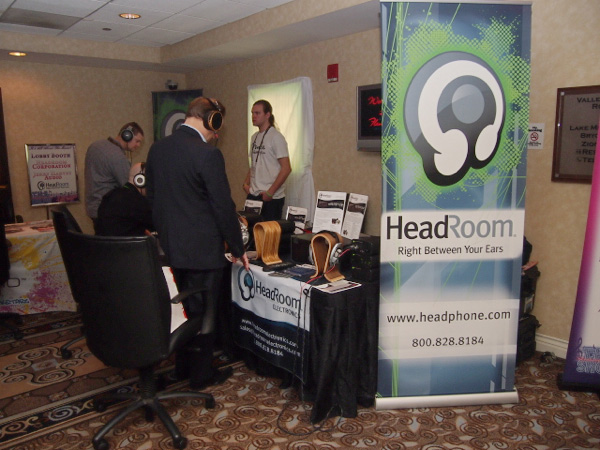 Really cool "DACmini" connected to an iPad, sounded quite nice.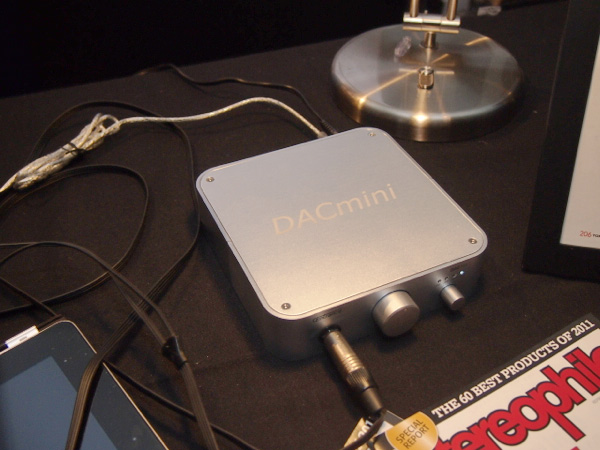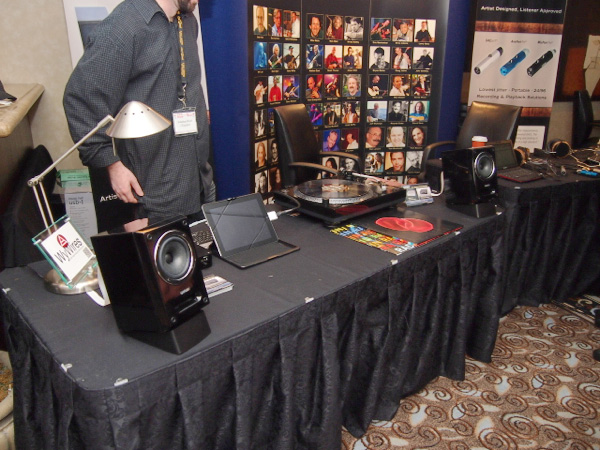 Covenant Audio Consulting / The Lotus Group / WAVAC Audio Lab / PranaWire
Harmonious Haven
The Lotus speakers always sound nice, coupled with the crazy WAVAC amplifiers it was a match made in heaven.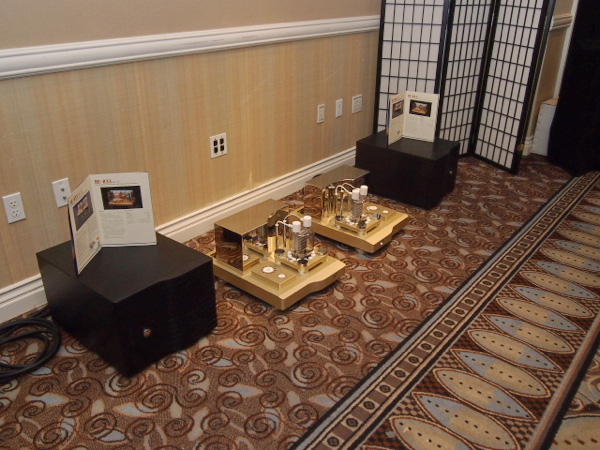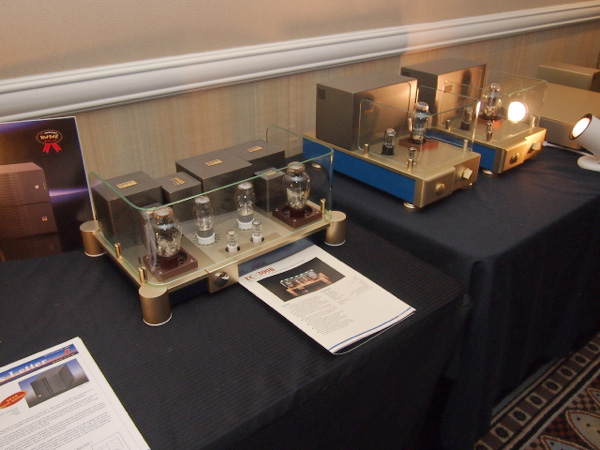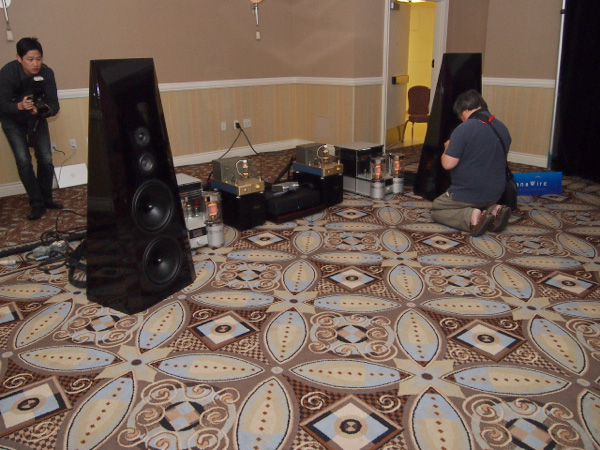 Active crossovers...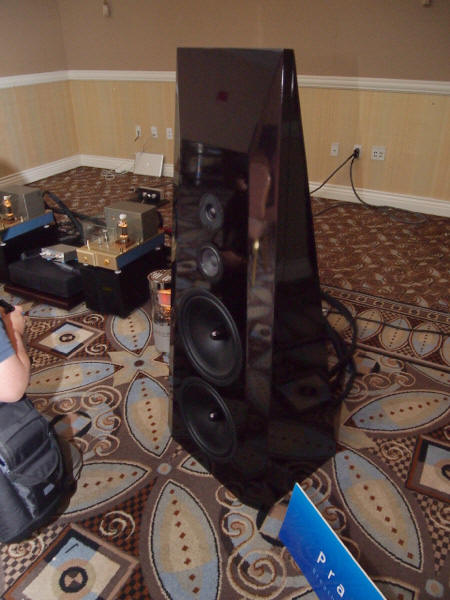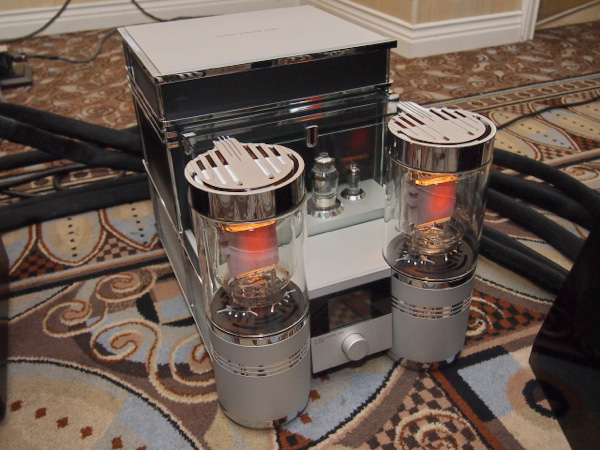 Nice dipole sound...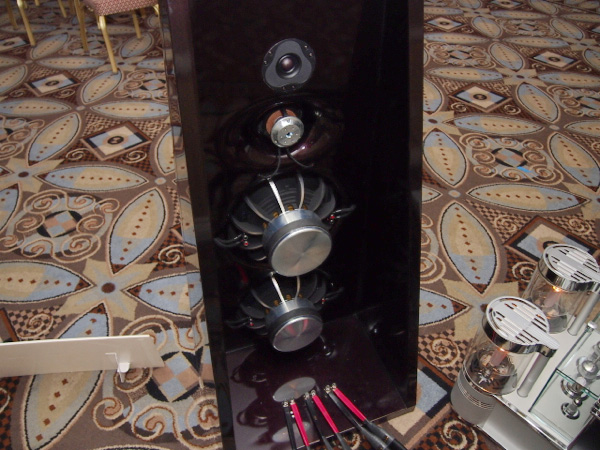 VMPS Ribbon / Wyred4Sound / Ampzilla / WyWires / Audience / Spread Spectrum Technologies
This is the room where they record a live show then play it back for the audience to try and demonstrate the recording process.
Large VMPS speakers...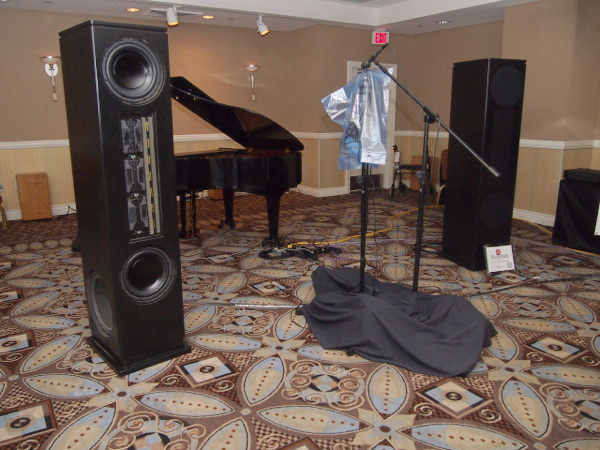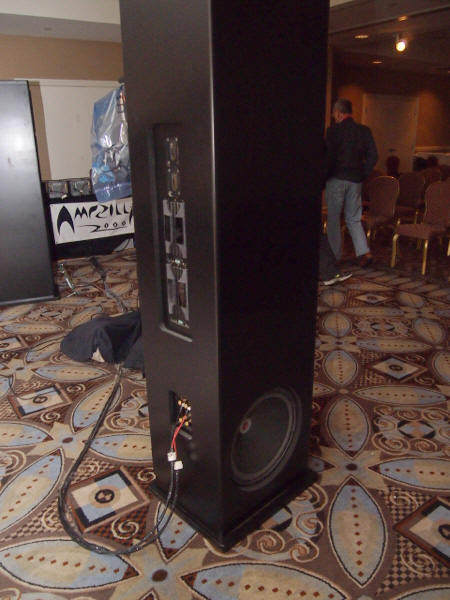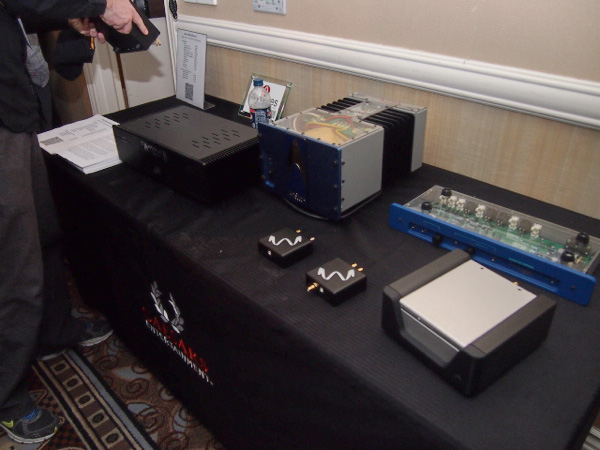 Huge Ampzilla amplifiers...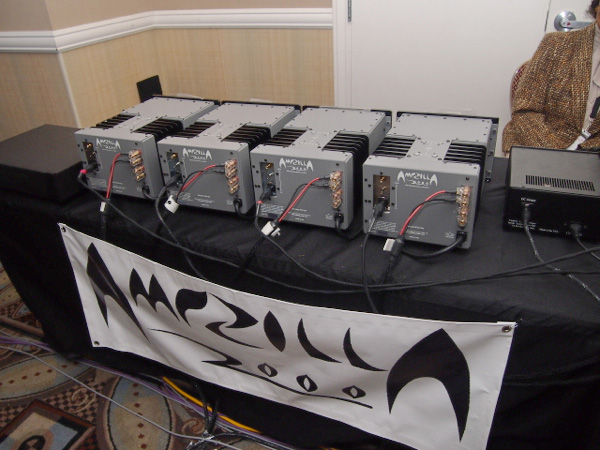 Headroom Corporation / Jerry Harvey Audio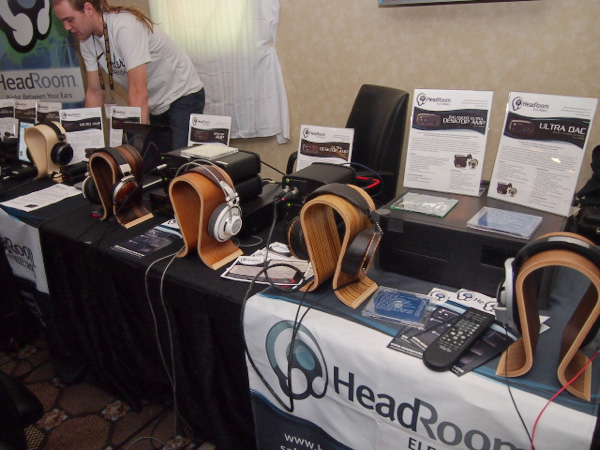 Quintessense Acoustics / United Home Audio / PBN Audio / Merryl Jaye Audio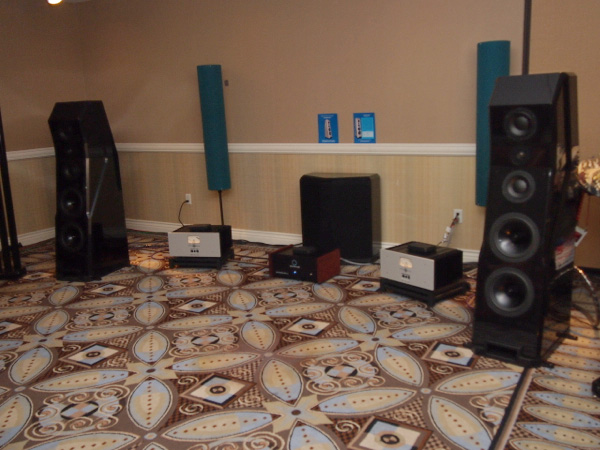 Nicely rebuilt Tascam tape machines...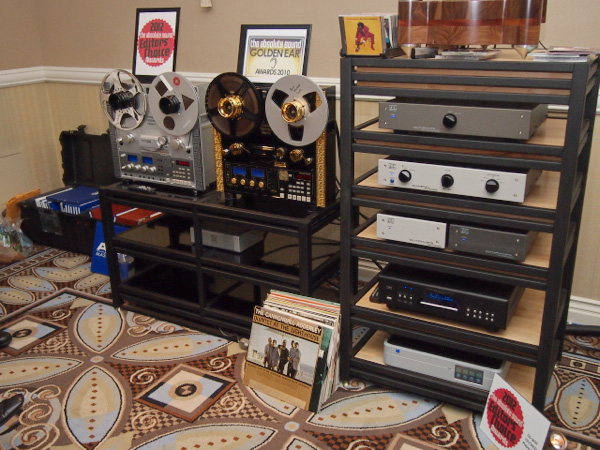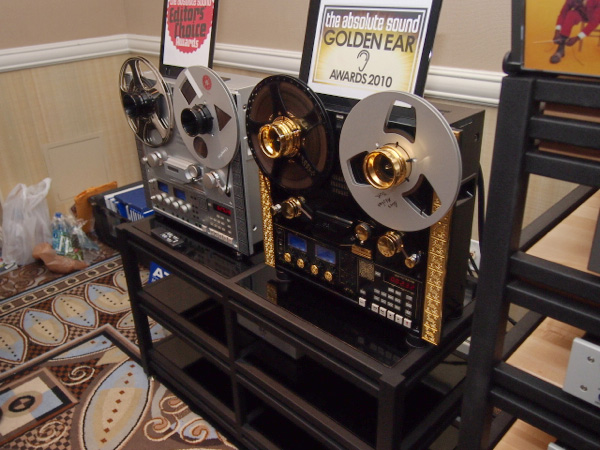 Bob's Devices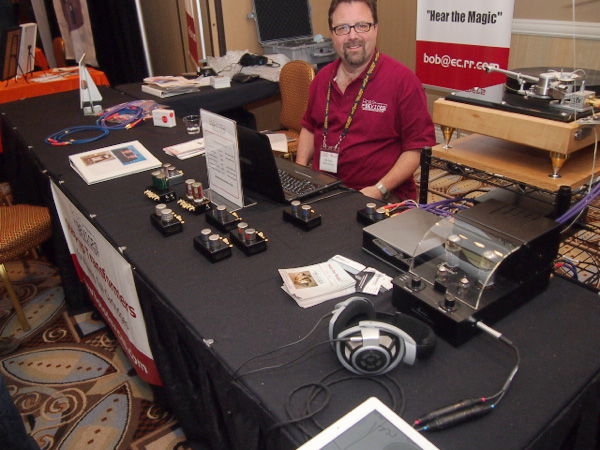 Bob is pretty serious about phono step-up transformers. He had a demonstration going with a set of headphones and I could have sat there all day listening.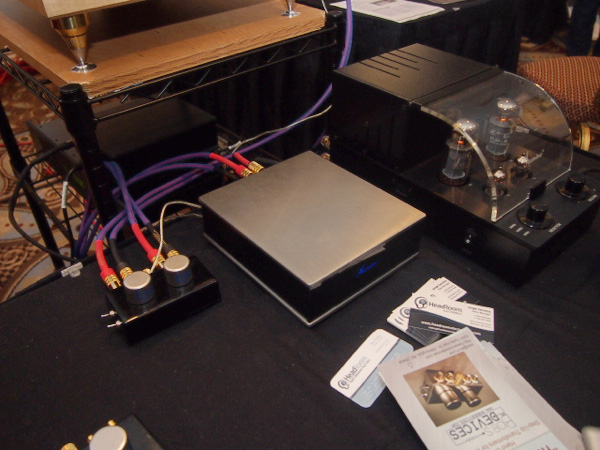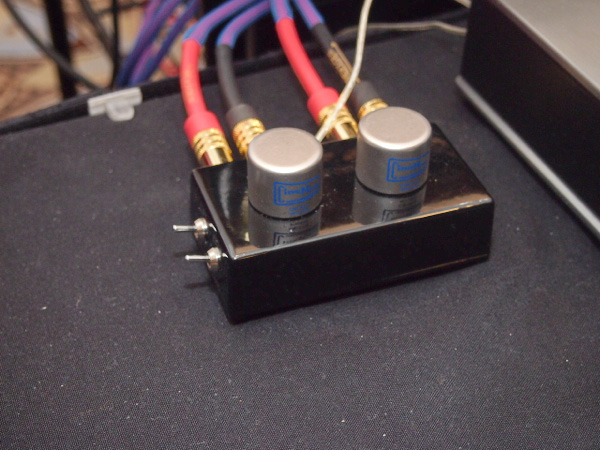 Amarra Audio
Curator of amazing playback software for the Mac. Still a big user here…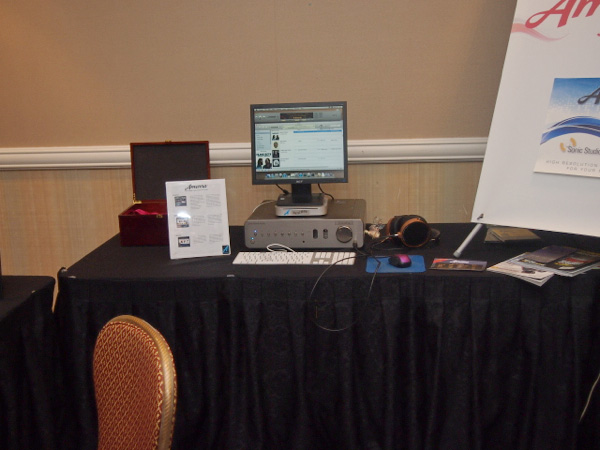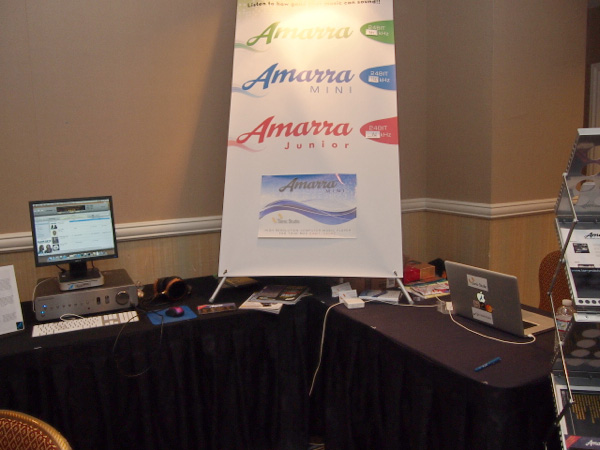 Audio Power Labs / Laufer Teknik / Sphere Audio Systems
These guys had a booth at the venetian like I mentioned earlier in my report, but they couldn't turn on the big 833TNT because of it's mains requirements. 200 Watts per channel using dual 833 transmitter tubes.
Took tons of pics of these beasts, they really sounded as good as they looked…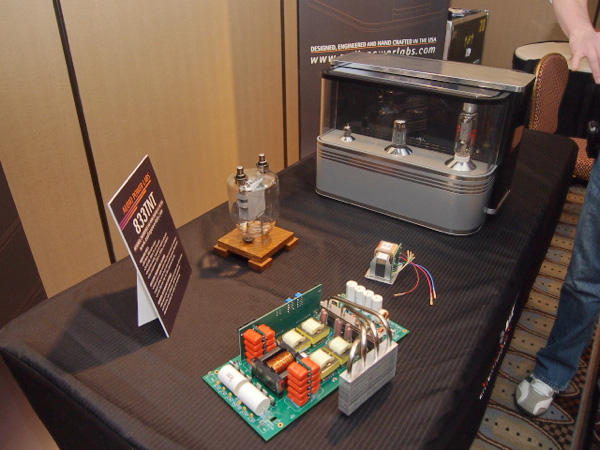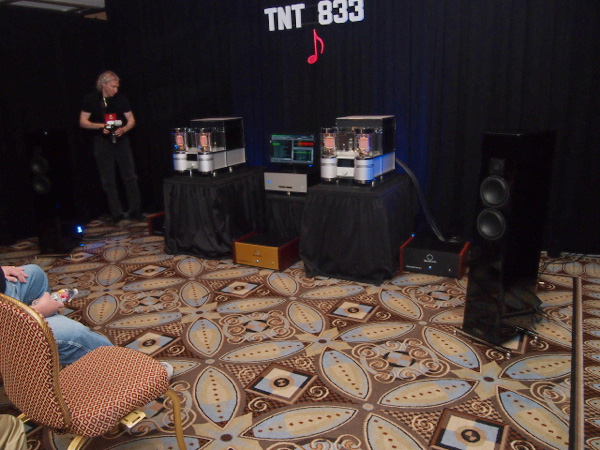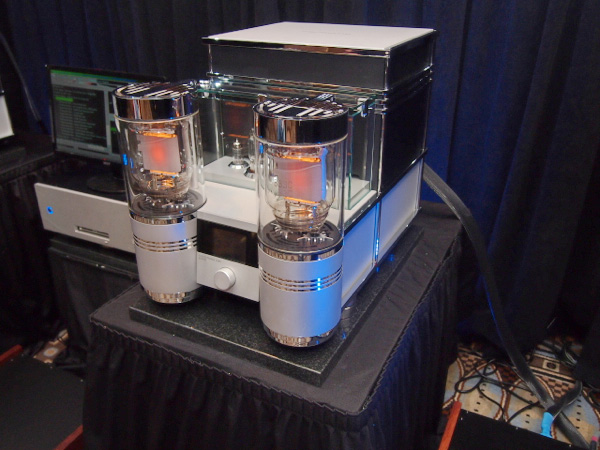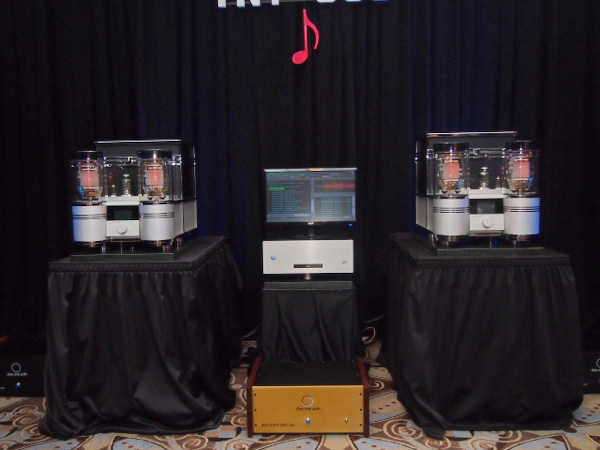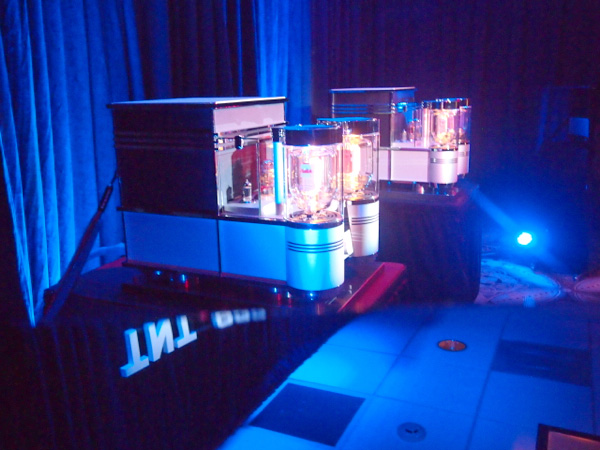 Acapella Audio Arts / Einstein Audio / Harmonious Haven
Acapella introduces their new Violon MK6, $36,000 with the Ion tweeter! These speakers really took over the room and sounded amazing. I must have listened to 3 songs off of my CD.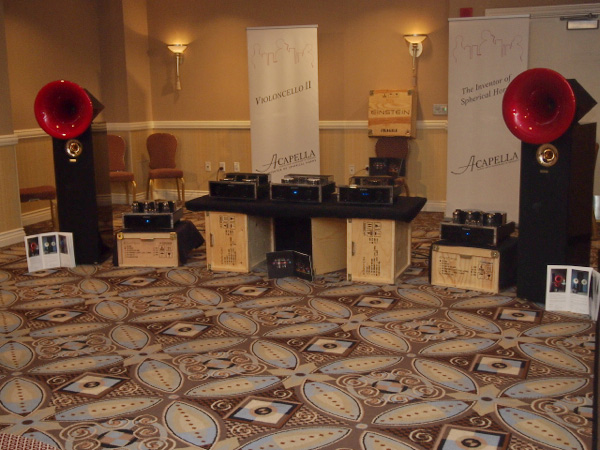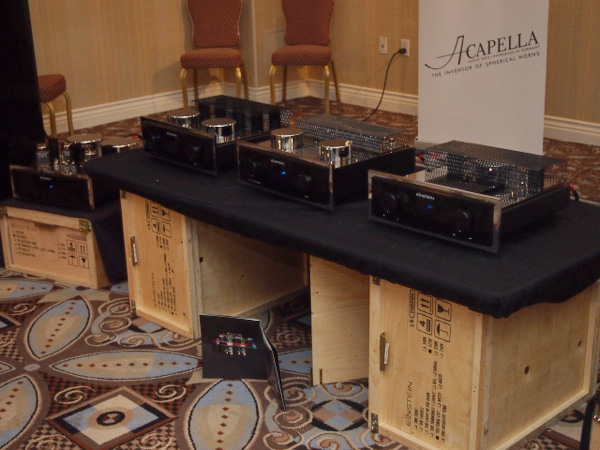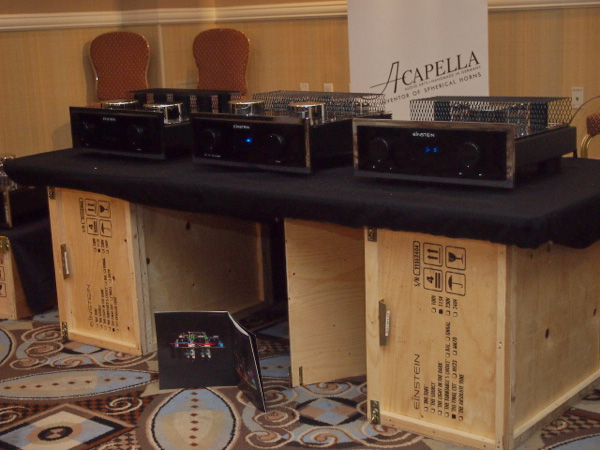 Einstein gear...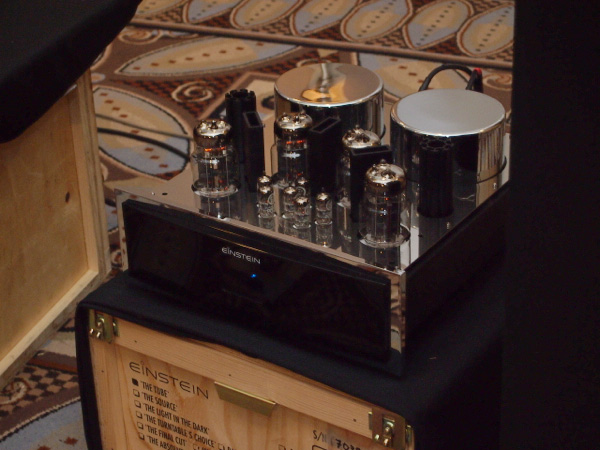 From the listening position...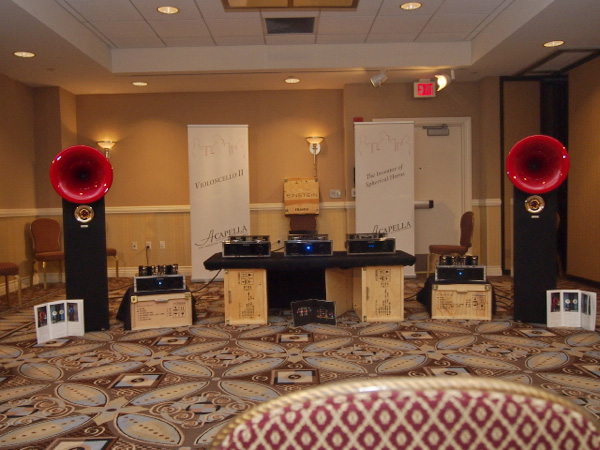 OK Up the elevator to the rest of the exhibit rooms…
NFS Audio
NFS? Oh – "Not for Sale"!
Had to pay a visit to my friends here, these guys are just straight up music lovers. They are also Apogee fans so I always have to stop and hang out here for a little bit. Nice laser light show and a glass of wine… If I don't force myself out of here I'll totally forget I'm at an audio show…
Cerwin Vega monitors!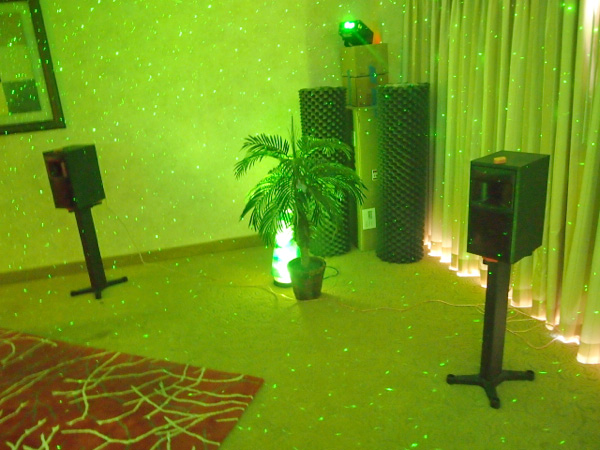 Kubotek USA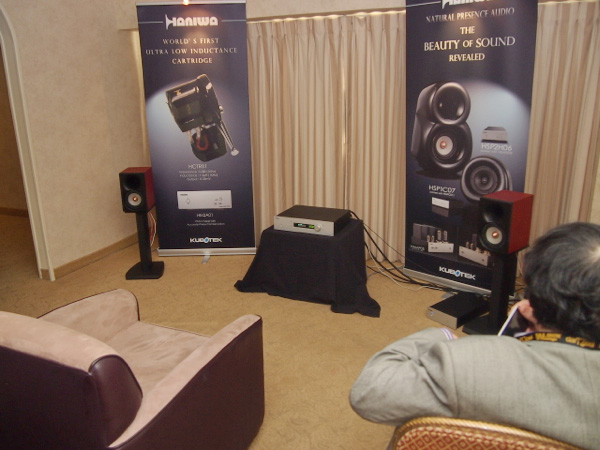 Hudson Audio Imports / Art Audio / Audiopate Cables / Blumenhofer Acoustics / Goldenote / Blacknote / Lector-Audio
Tons of great gear in this room…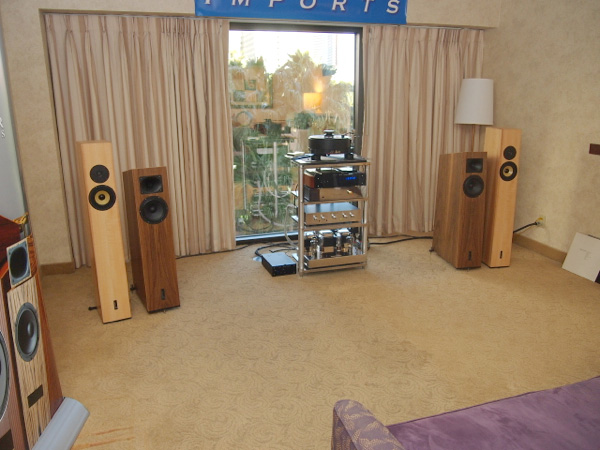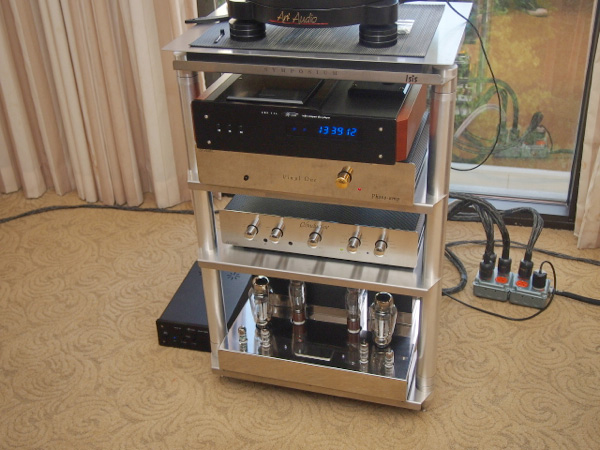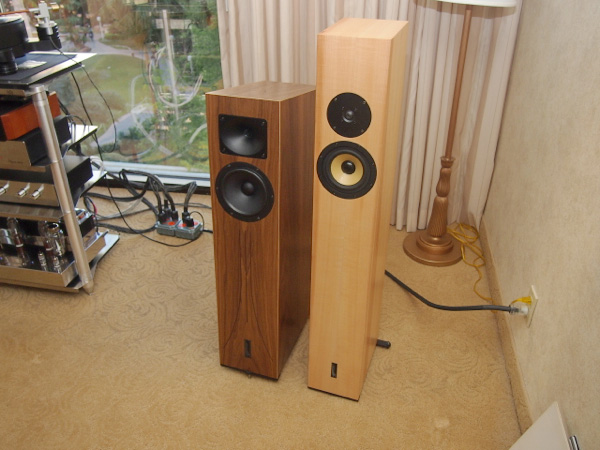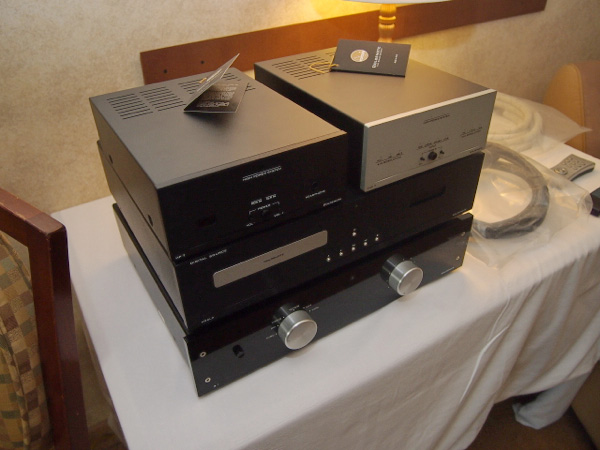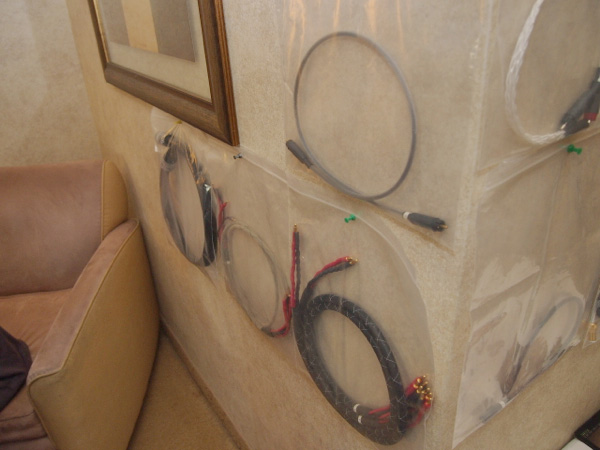 Divergent Technologies / Copland Reference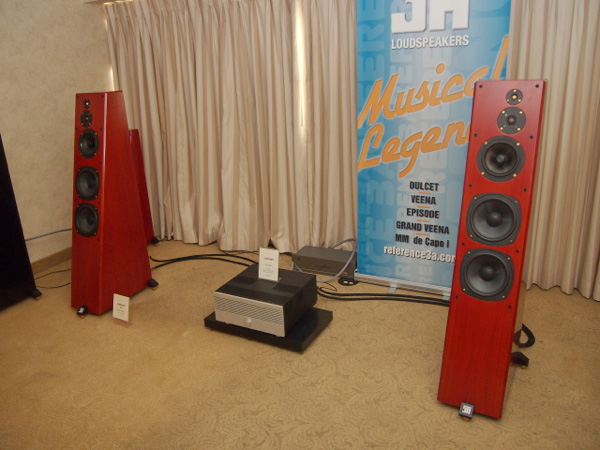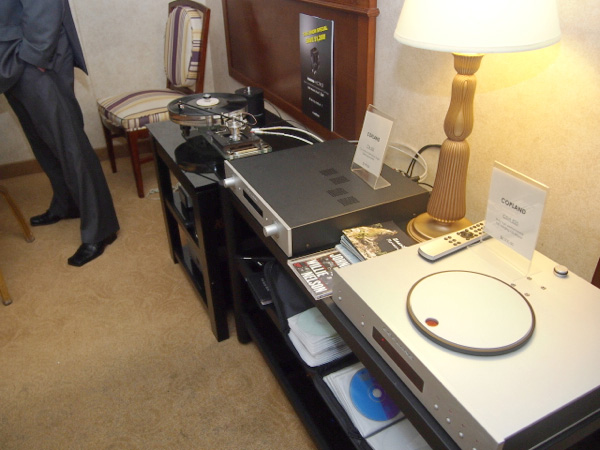 Clarity Cable / Avatar Acoustics / Legacy Audio / Affirm Audio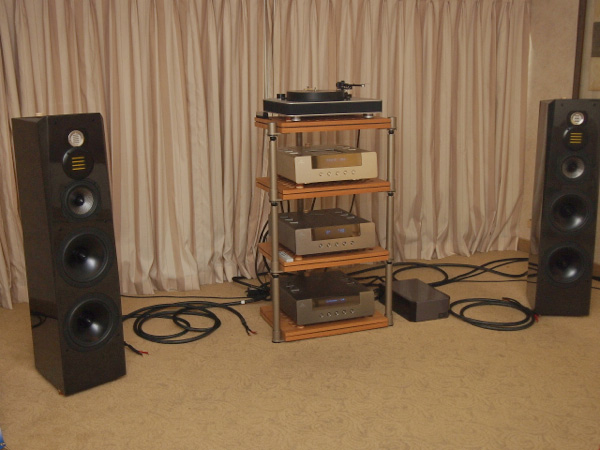 M Audio Loudspeakers / Zensati Cable / Stillpoints
Harmonius Haven
This room sounded quite nice, loved these speakers. These are the Model-10, $35,000 actively driven, four amplifiers, DSP processing, Bluetooth and WiFi! Can stream music directly to them…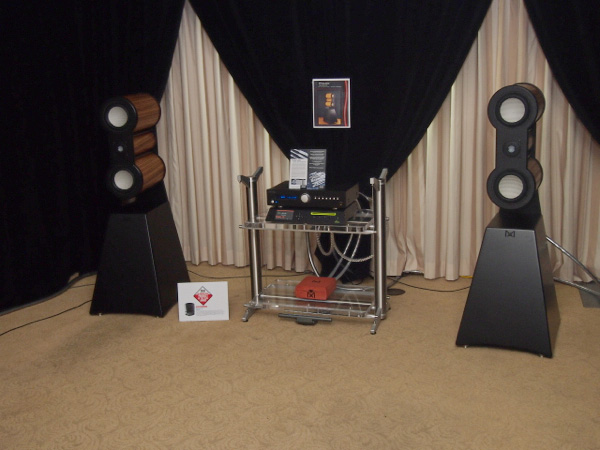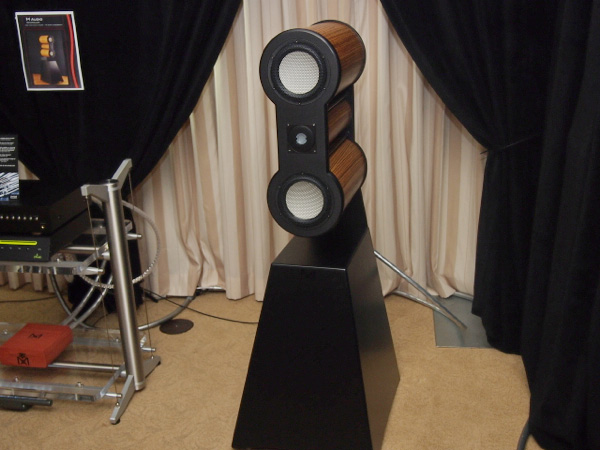 Debra and Tom Maker formerly of Edge Audio are the creators of these beauties…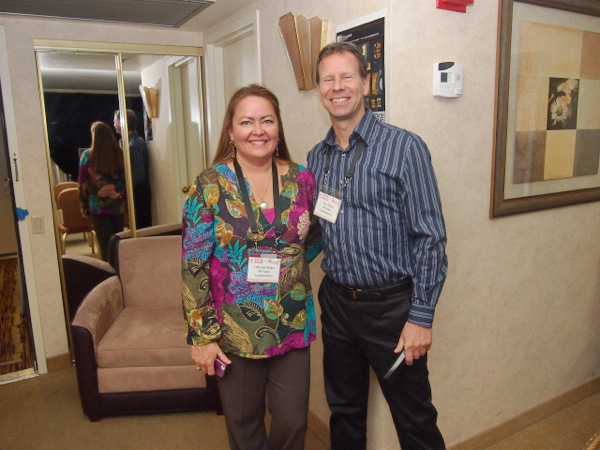 Herron Audio
Always a nice comforting sound in this room…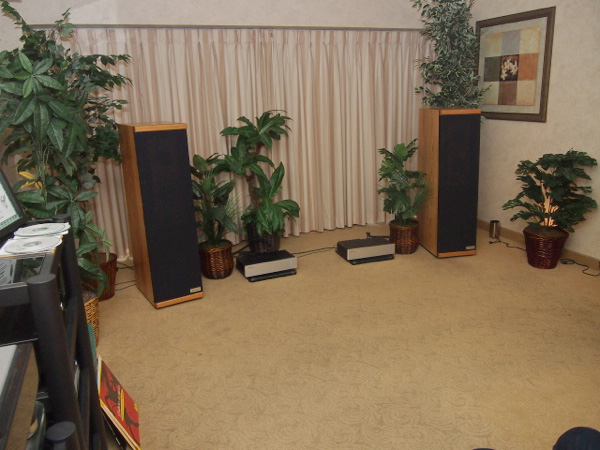 Prototype DAC...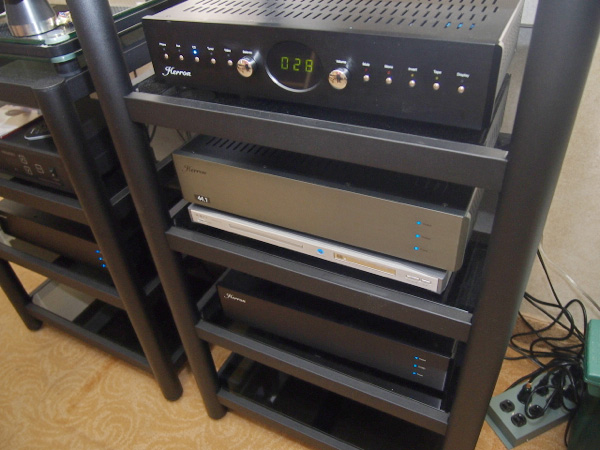 Music Direct / Mobile Fidelity
Slanging some records and cool accessories!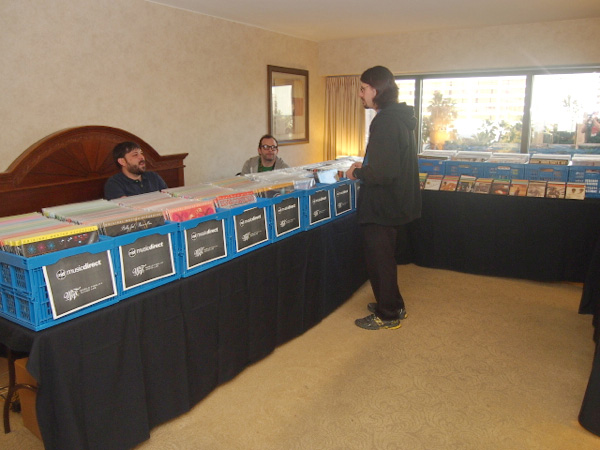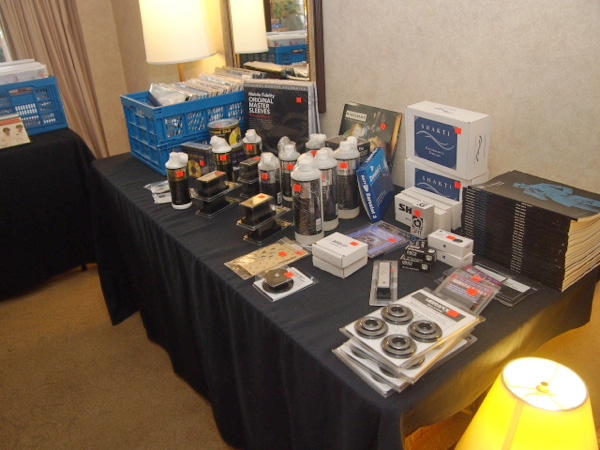 Angel City Audio / Melody Valve HiFi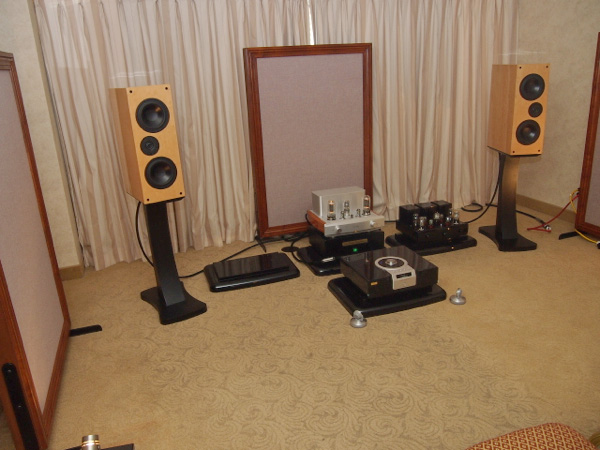 Zesto Audio / WyWires / Lindemann / TAD
Harmonious Haven
Nice sounding room with the TAD monitors…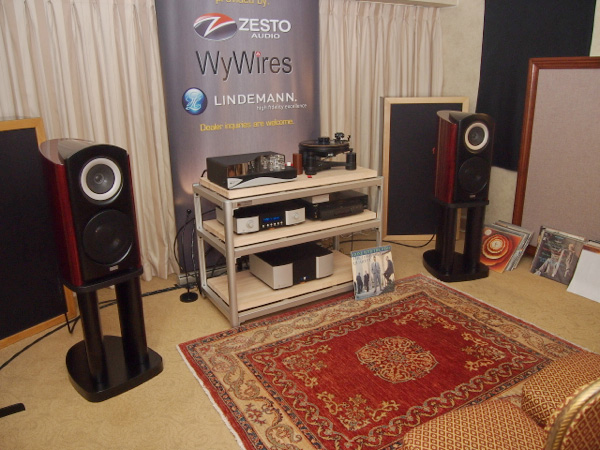 Very nice affordable Phonostage by Zesto Audio. Was great talking to curator George Counnas. He knows his stuff… The Andros PS1 - $3900. Uses 12AX7 tubes.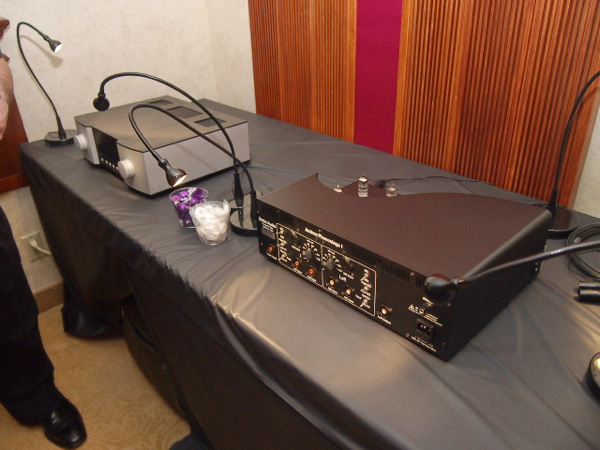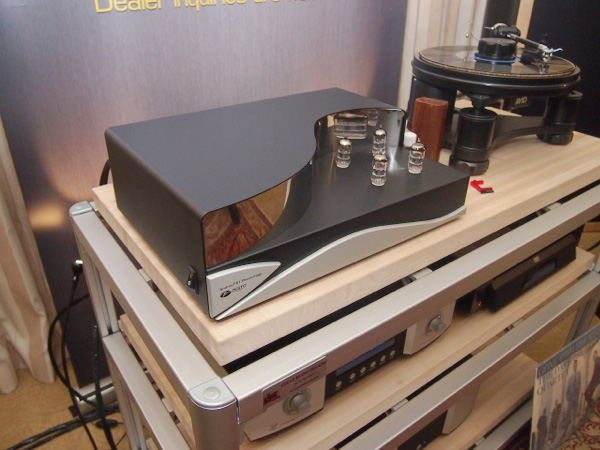 Fully configurable from the back, no covers to remove!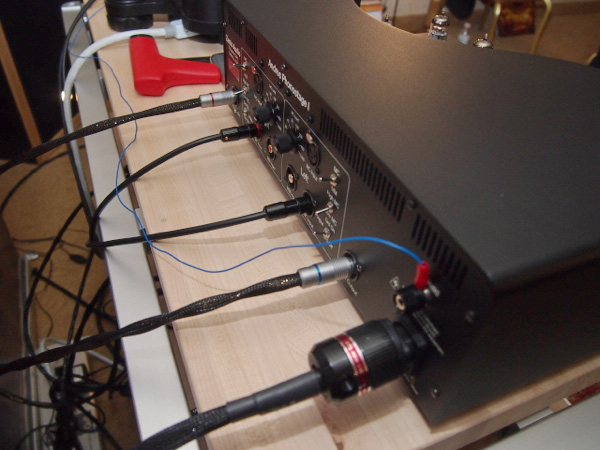 Jonathan Josephs of One World Audio (Cool guy, owe you a cigar!!)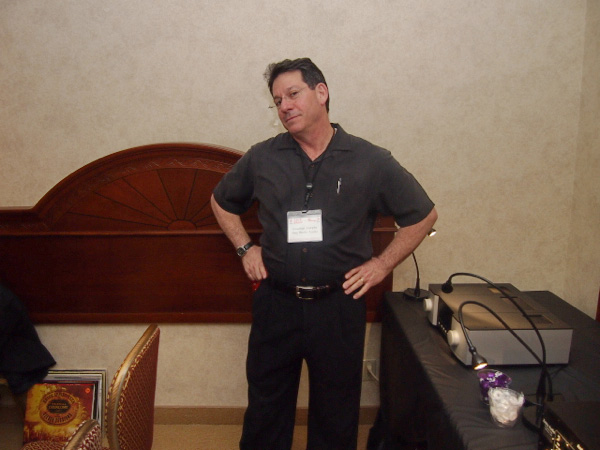 Steve Lefkowicz of PFO!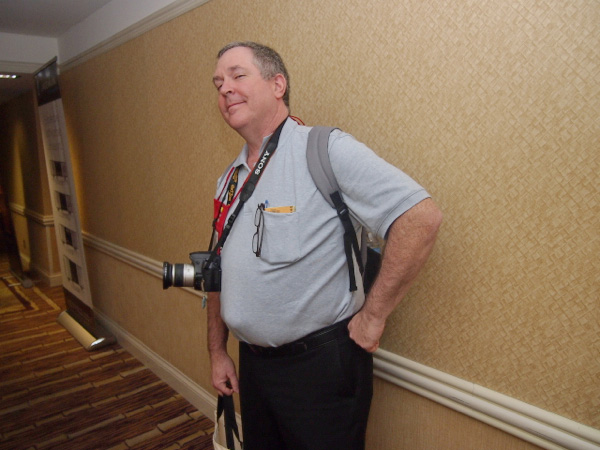 Zu Audio
Harmonious Haven
Ah, the Zu room. Always enjoy my stay here… these guys really get it and always have a blast chatting up with them, feel right at home. All analog, all the time. True music lovers…
These are the Definition MKIV's, with an active sub on the bottoms. These things really rock the house with a subtle finesse.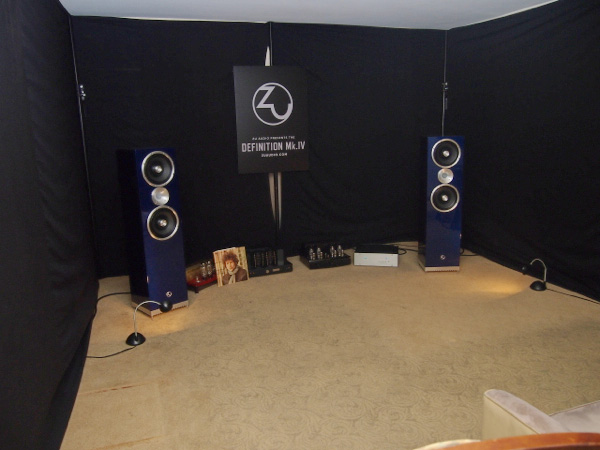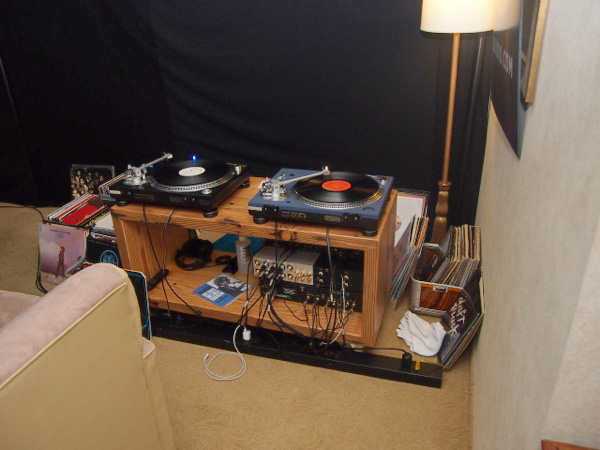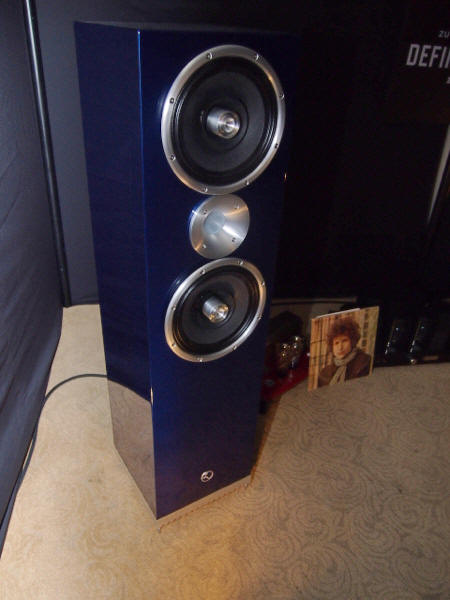 Sean Casey and Gerrit Koer, masterminds behind Zu…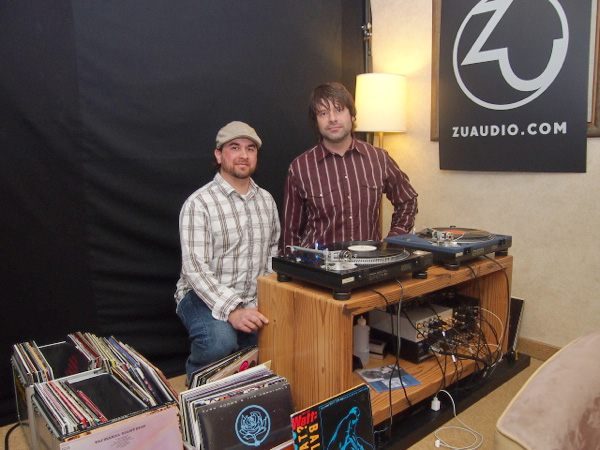 Stay tuned for Part 6!