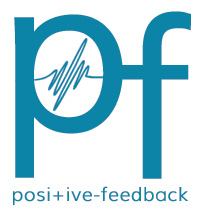 You are reading the older HTML site
Positive Feedback ISSUE 59
january/february 2012
CES 2012 - Part 1
by Steve Lefkowicz
CES, The Consumer Electronics Show, the granddaddy of all shows. I've been attending CES events since the mid 1980s, and never seem to get tired of them. There are so many exhibitors, spread out over several locations, that it is simply impossible to even contemplate seeing everything. Even just trying to stop in all the High Performance Audio exhibits (as CES refers to high end audio) to get a few photos leaves little time to actually listen to any of them for more than a minute or two. Add in all the exhibitors down the street at The Home Entertainment Show, and you realize how important it becomes to find a focus, something to direct you to those displays, rooms and suites that you can pay a little extra attention to, while justifying skipping over some others.
Since PFO had several writers representing them at the show, I decided to focus once again, like I usually do, on the more affordable offerings on display, while leaving the megabuck systems to others on the staff. That doesn't mean I avoided more expensive gear altogether, but I did try to spend the extra time as necessary with the less expensive. Admittedly, the concept of "affordable" gets skewed in an environment like CES, and after several displays of products costing $50,000 or more, somehow a speaker for $15,000 or a $9000 amplifier starts to sound reasonable.
I usually don't offer up any best of show comments simply because I understand the difficulty of setting up a system in this environment. If a room sounds exceptionally good, I know the gear in it must be good, but if a room sounds mediocre, I'll write it off to setup, environment or the standard "show conditions" excuse.
I spent most of the first two days of the show covering the audio displays at the Venetian Hotel, and then spent the remainder of the second day and the whole third day at The Home Entertainment Show at the Flamingo. On the last day I went to the main convention center and to the Photo Marketing Association pavilion in the Venetian. I spent 30 years in the photo industry, and had to see what was left of that once great market.
Also, I always look to shows like CES to find proof that manufacturers are on the cutting edge, ready to move the market forward and ensure their future. I watched the photo industry fail at this over many years, and at this CES I was really looking to see how the audio industry was preparing for the future of networked audio and server based audio. To that end, I only brought a USB flash drive with Apple Lossless files or 24/96 WAV files on it. I did go expecting every display to be able to handle playing this files. Silly me…
If I left anyone out of this report, it most likely was just that I didn't get to your room, no offense intended. It most likely was that their gear was out of my price range and therefore not part of my focus. However, there were some rooms that I avoided for a few other reasons:
You were playing music way too loud. I can't risk getting a headache at these shows, as unavoidable as that usually ends up being.

You were showing movies. I was here to listen to audio systems playing music, not watch things blow up.

You insisted on playing old audiophile standards, no matter how crappy the music might have been. I won't sit through Rebecca Pidgeon, Diana Krall, or bad, boring jazz. I don't expect anyone else to like the music I listen to, but hearing another close-miked acoustic guitar or deadpan female vocalist doesn't tell me anything about your product.

You hassled me about playing the music I brought. If you had good music that I knew or liked in your room, I wouldn't have asked.
So, let's start with what I saw displayed at CES at the Venetian, that seemed reasonably priced and sounded promising, at least. In somewhat alphabetical order, here we go!
Adam Professional Audio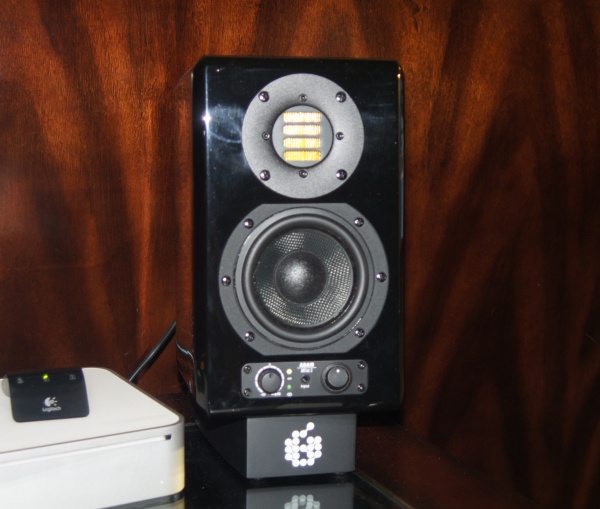 Here we see the Adam ARTist 3 powered "multimedia" speaker for $800 4.5 inch mid/woofer with a tweeter based on principles of Dr. Heil. It has 2 25-watt amps built in.
Below is the ARTist 5 with a slightly larger woofer and 50-watt amps for $1200.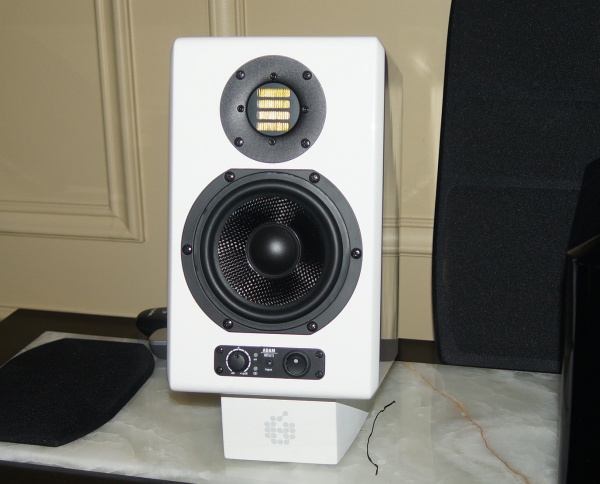 Arcam
Arcam was showing a wide variety of products, but what intrigues me most was their new "r" series of small digital components. This included the DrDock for iPod, iPad and iPhone that feeds the digital signal from the Apple device through its own DAC. It has a video out too, for those who store movies and other video on their i-device. Also shown was the rBlink Bluetooth DAC, the rPAC USB DAC / Headphone amp, and the rLink DAC for optical and coax inputs. All very reasonably priced and seemingly well thought out. Hope to try a few of these in the near future.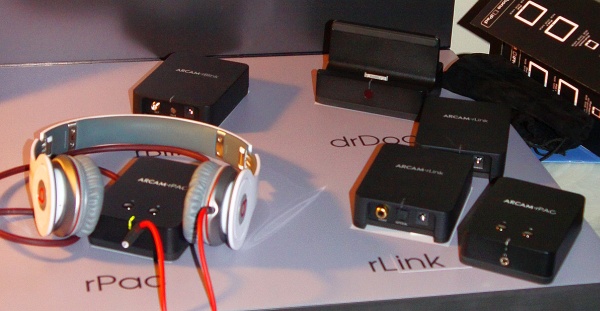 Amplifier Technologies Inc.
ATI has been around a long time, and though they seem to focus on theater and multichannel (up to 12 channels per amplifier), they still produce two channel stereo amps too. Here is the AT 1202 120-watt/ch stereo amp for $895. Below it is a 12-channel 60-watt amp for $2495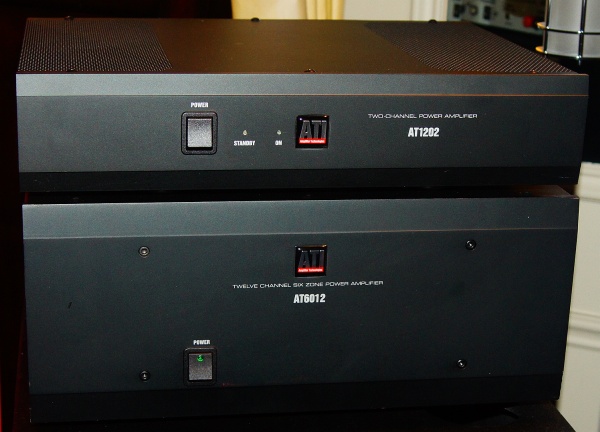 Audioquest
Long time cable innovator Audioquest displayed their wares in nice cases. It is nice that they still make a broad range of cables from very inexpensive to, I suppose, expensive.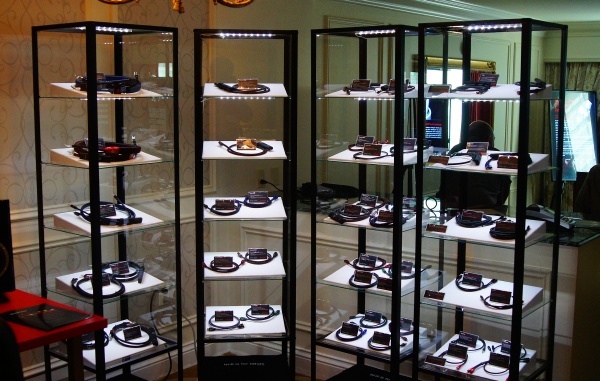 Ayre Acoustics
Ayre has gotten a great deal of positive press in the last few years. It is good to remember that they do produce some moderately priced gear too. Here are their CX-7eMP CD player and AX-7e integrated amp ($3500 each).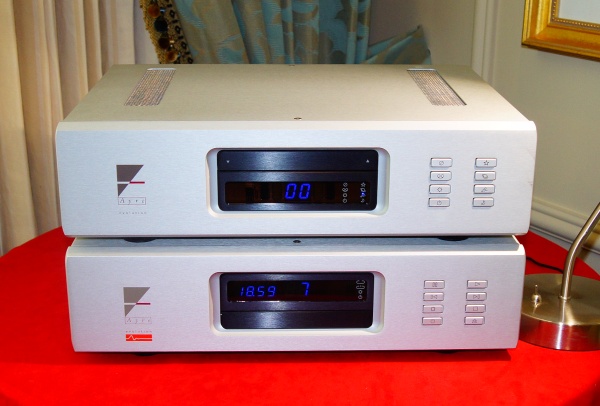 Brik Instruments
Displaying in one of the pavilions in the Venetian Convention Center rather than in the towers with all the other audio companies, I found Brik Instruments. I have no idea whether they are any good or not. However, they offer a full line of little components, Bluetooth receiver, DAC with USB, coax and optical inputs, 10 band equalizer, 35-watt integrated amplifier, an Internet radio that can also stream from a PC via wireless network, headphone amp, a single separate power supply to power everything, and even a MC/MM phono stage. All with projected US prices from under $100 to maybe around $300.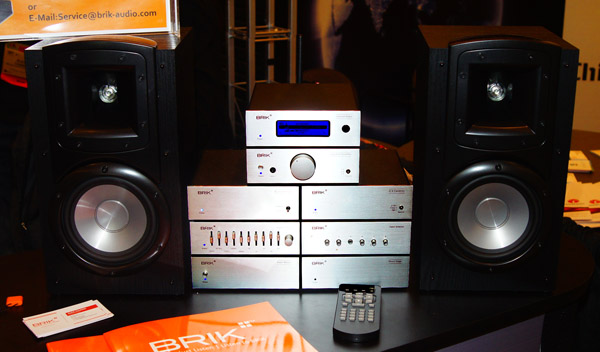 Clearaudio
Clearaudio from Germany continues to offer a wide range of turntables, cartridges and phono preamps. The Concept table is one of their more affordable offerings at $1400 to $2000 depending on choice of included cartridge.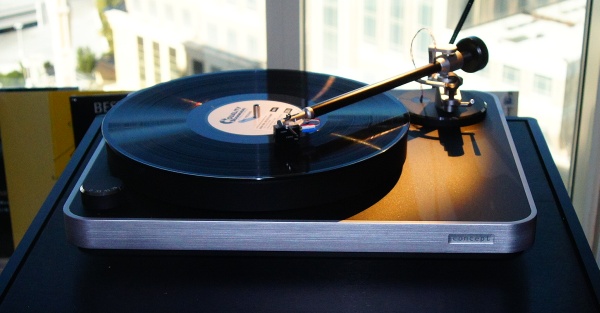 They also displayed a wide range of cartridges: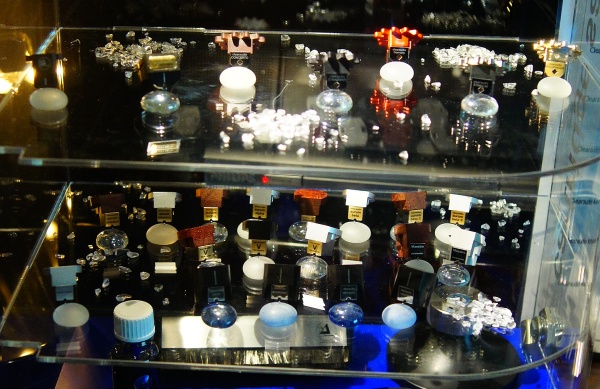 Here are some of Clearaudio phono stages, starting from $400 for the Nano (left).

conrad-johnson
Though most people think of their ultra high end Premier Series, venerable manufacturer conrad-johnson offers products like the Classic 60 tube amplifier for just $3750. I fondly remember spending lots of time with their MV-50 amp many years ago, and like that amp, the Classic 60 takes its place as the entry into CJ's refined sound.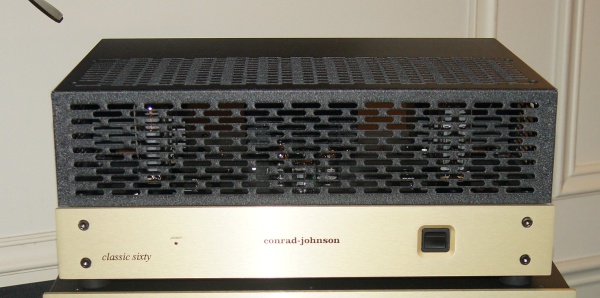 Davone
At previous shows, Danish speaker manufacturer Davone showed off its Ray model, looking like it came straight from the Jetsons. At CES, they also showed off their little $2300 Mojo tabletop (stand mounted, preferably) speaker. Though it looks like a "lifestyle" product, a brief demo (with my own files!) showed it to be a very serious product. Its omni-directional output created a very large soundstage. Bass response was more extended than I would have expected, too.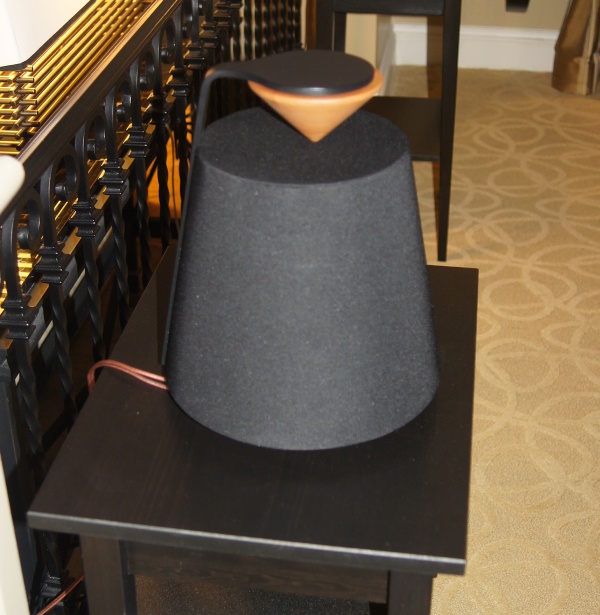 Gallo
One product line I was very eager to hear was Gallo's new Classico speaker series. I have always admired Anthony Gallo's products. Known for always thinking, not just outside the box, but literally without any box all these years, I was wondering how his new box speakers would sound. Although their mid-room placement here somewhat lessened their bass impact over a more normal installation, I was extremely impressed. They cast a huge soundstage with tremendous levels of transparency from both the CL-3 and larger CL-4. I didn't hear the small stand mounted CL-2.
The Classico CL-3 $2395/pair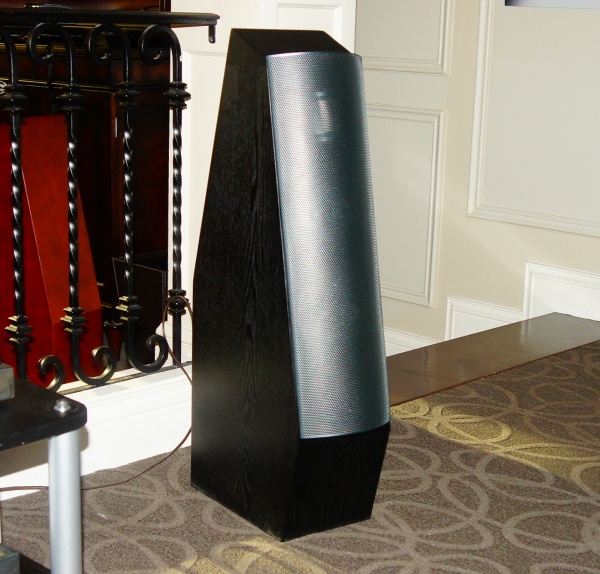 The Classico CL-2 $1295/pair and CL-4 ($3495/pair)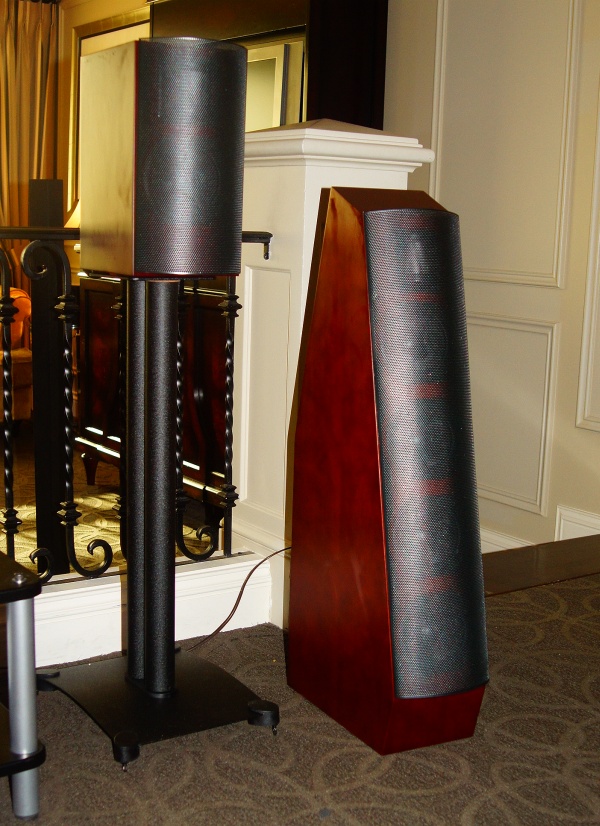 GoldenEar Technology
GoldenEar Technology is the latest creation of co-founder Sandy Gross, who previously co-founded Definitive Technology and Polk Audio before that. I had heard a great deal of positive buzz on their products, but hadn't actually heard them for myself before this show. I now understand what all the buzz was about. Listening to both the small stand-mounted Aon 3 ($998/pair) and tower Triton 3 ($1999.98 pair) I was totally taken with their spacious, dynamic and powerful sound. Granted, they were using very expensive electronics to power them, but still, their sound was way beyond their price range. Really hoping to get a set in for review.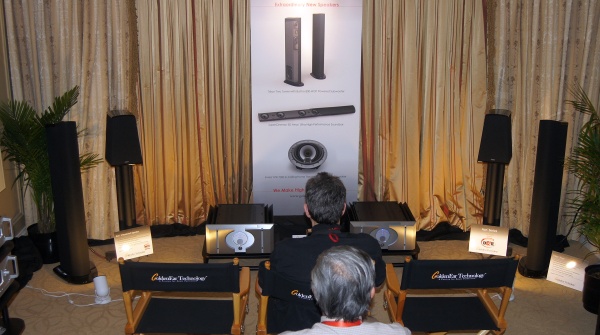 HRT (High Resolution Technologies)
HRT was showing off their highly regarded line of small, affordable digital products. The new little Headstreamer USB Headphone Amp ($139.99) certainly merits consideration for all of us who listen to headphones a lot. They also have a new HDMI streamer in the works.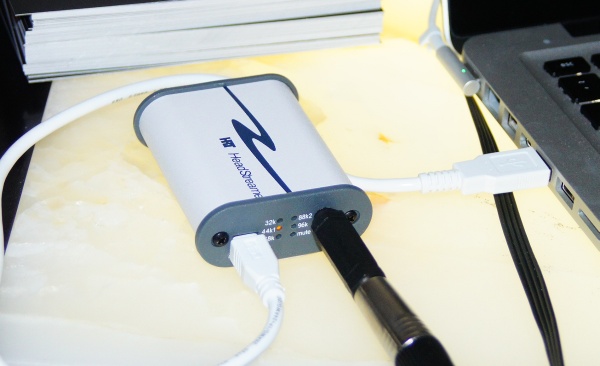 Kimber Kable
Kimber Kable was showing their cable choices in their usual, static display.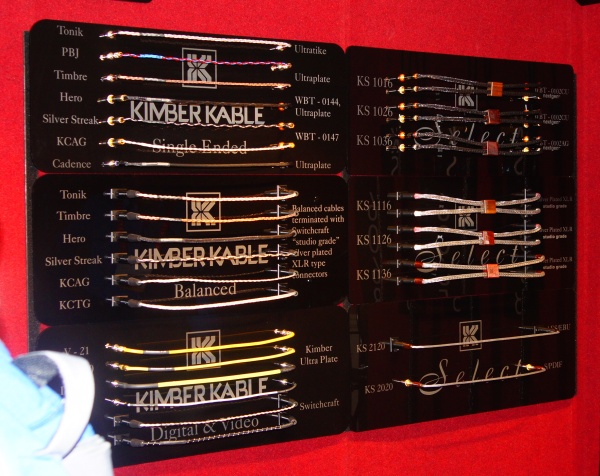 Living Sounds Audio
LSA products have been positively reviewed in PFO, but though I had read about them, I had neither seen nor heard their products before. I'm not normally a fan of small 2-way stand-mounted speakers, but the $795 LSA.5 Monitor sounded very engaging.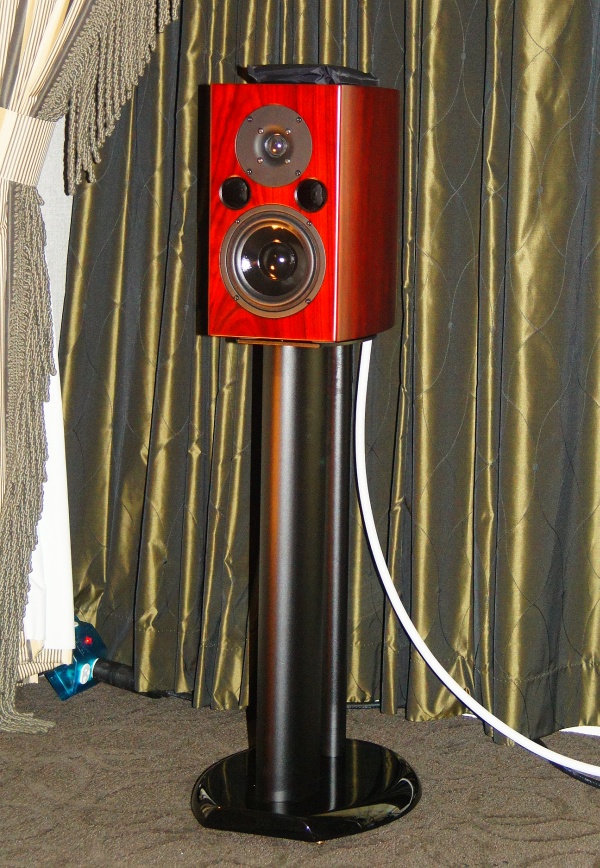 The LSA speakers were being driven by their $5000 "Standard" 150-watt/channel hybrid integrated amp. Overall a very nice sounding room.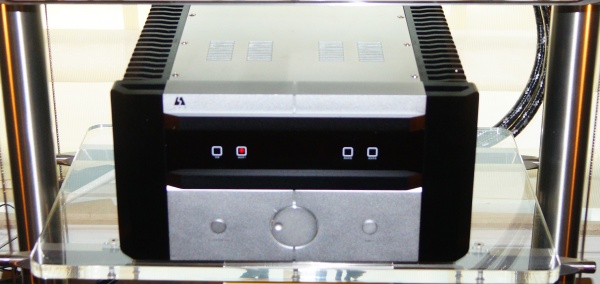 Manley Labs
I'll admit I have a long time fascination with Manley products. Maybe it's that they all look cool. Maybe it's that they all have sounded really wonderful. Maybe it's that they are all named after fish. Seeing a new Manley tube phono stage (the Chinook) for only $2250 with claimed sound quality very similar to the much pricier Steelhead is very exciting. Compared to the Steelhead, it mostly just lacks all the adjustability. It was shown along with the Jumbo Shrimp line stage ($3660) and the new Turbot DAC (price tba). Always cool stuff!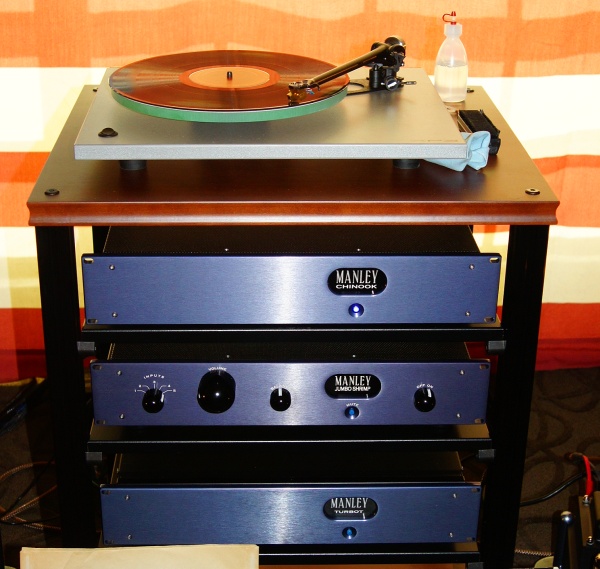 Merrill – Williams
Here is George Merrill of Merrill- Williams with his newest turntable, the REAL Turntable. REAL stands for Rubber – Elastomer – Acoustic – Laminate, and it seems that virtually every part of this table is isolated by some rubber/elastomer. The black area of the plinth between the two aluminum plates is actually rubber, as are the feet, the mounts for the motor and tonearm. The basic table is $5995, but there are several options, such as the $1190 clamping system (center weight and periphery ring) shown here. Arm boards for most popular arms will be $250 each, and there's an optional "wing" for using 12-inch arms too ($495).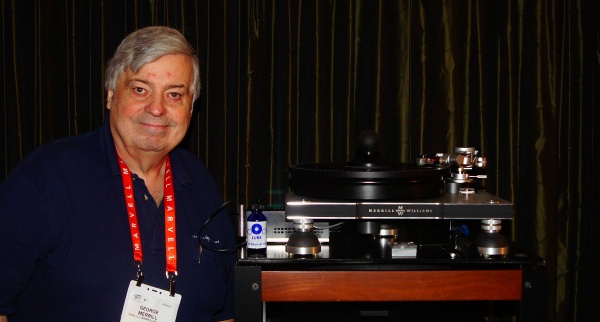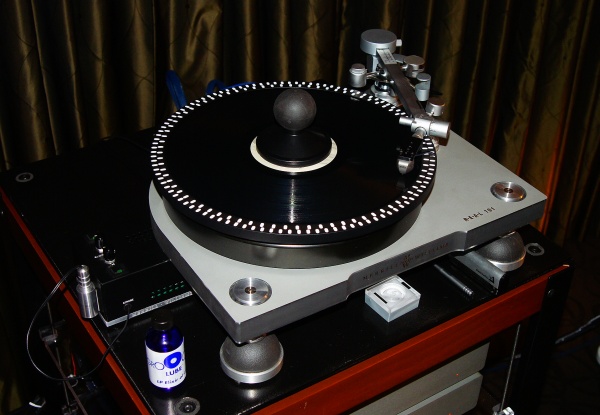 Music Hall
Roy Hall, proprietor of Music Hall, has been at every CES I have ever attended. Generally known for moderately priced high quality products, he was showing a wide variety of products from Creek, Music Hall, Epos, and some new higher priced products from EAT, including their $7495 E-Flat turntable, with its unique flat tonearm. Playing through new $1995 Epos Elan 30 speakers, this may have been his best sounding room ever. Since Roy conveniently labels all his products on display, I'll offer up several photos showing off just some of what he had on hand.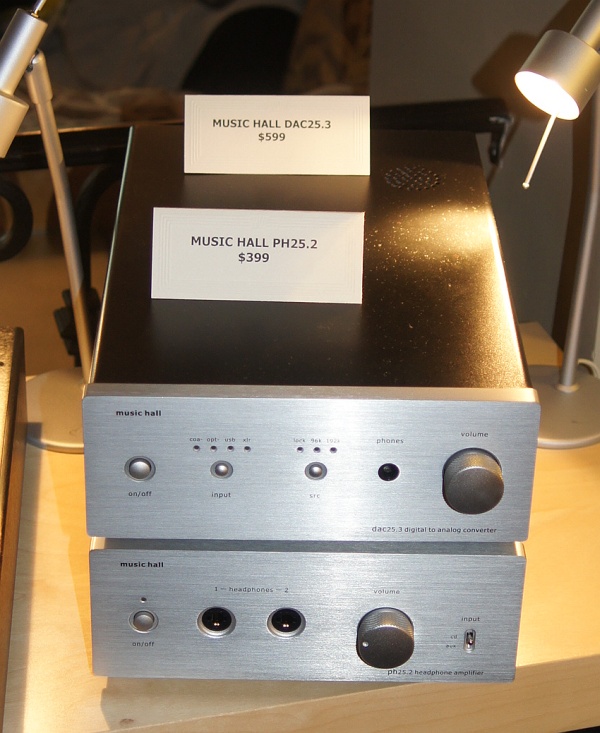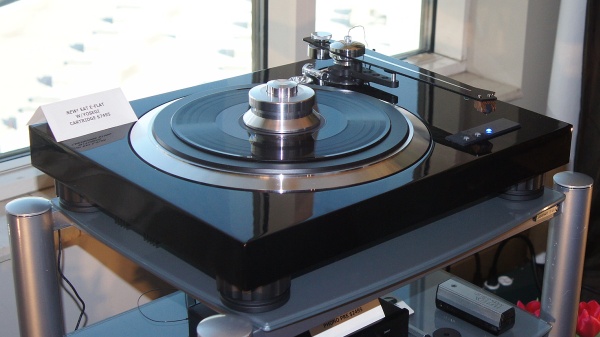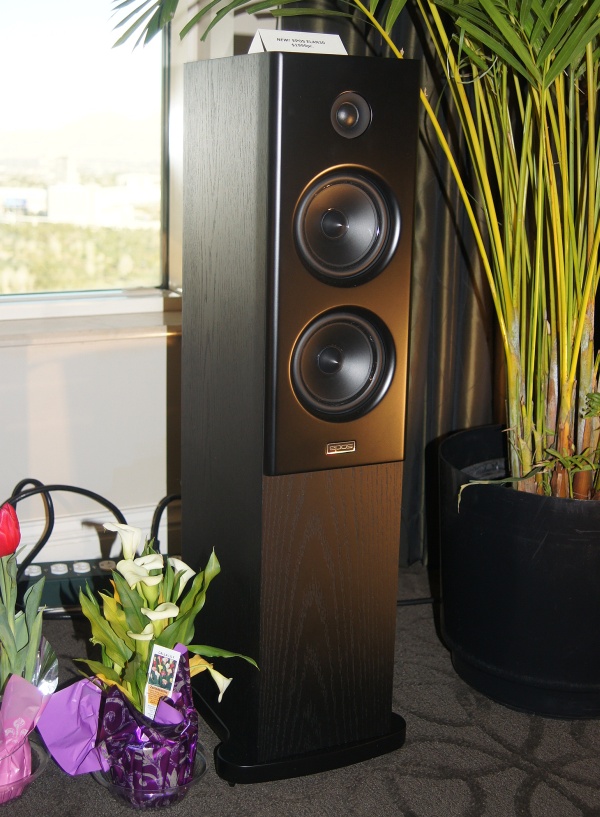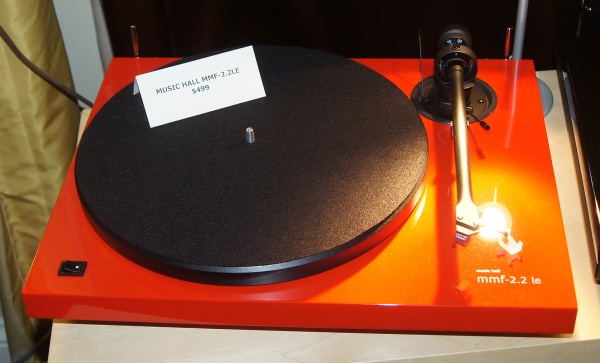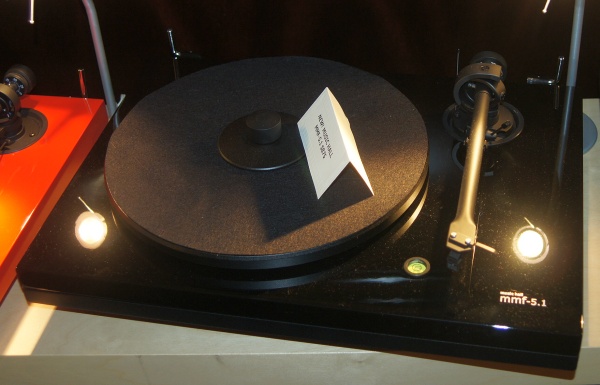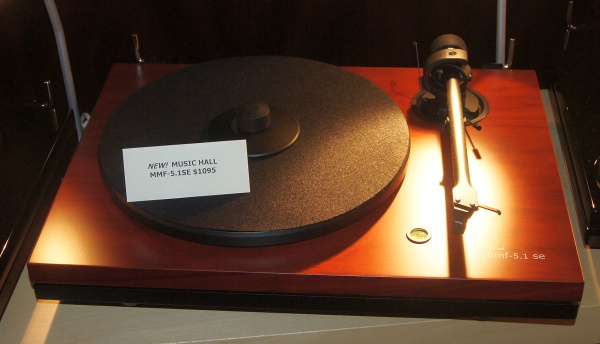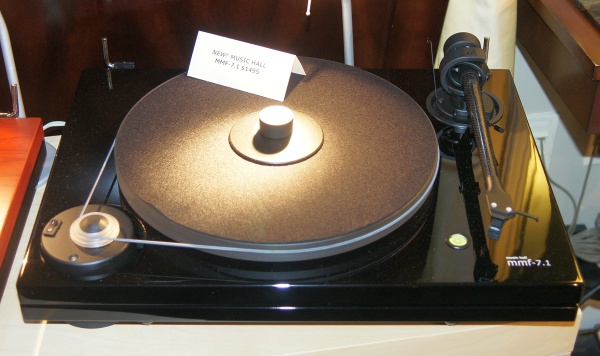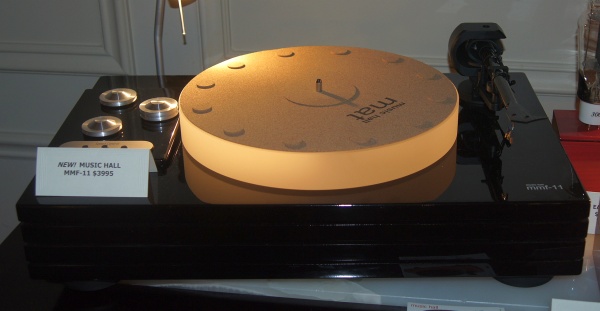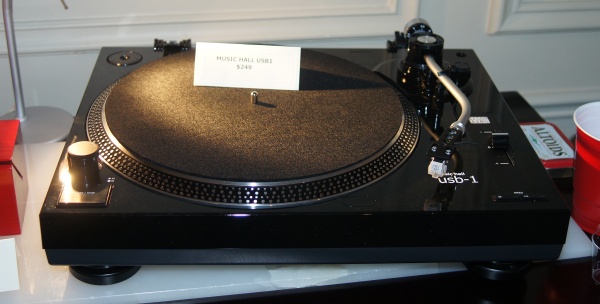 Mystere
Mystere continues to produce beautiful sounding and equally beautiful looking tube electronics at very sensible prices. Here is their $1995 PA11 power amp.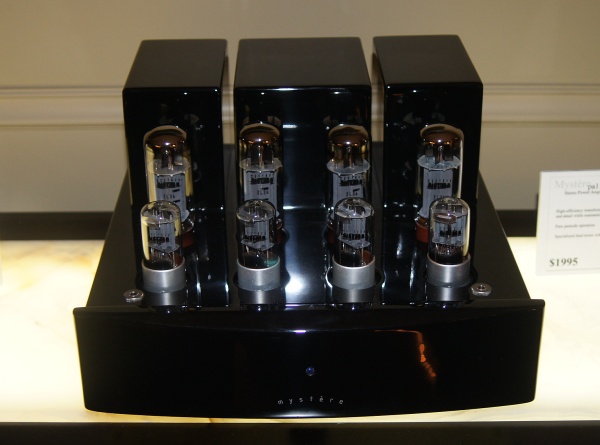 Napa Acoustics
I first encountered Napa Acoustics at this past summer's T.H.E. Show in Newport. I was solidly impressed by their musicality for such a low price ($399 for the little integrated amp) and using an iPod for a source. At CES they showed a much larger product line ranging from that little NA-208A Integrated Amplifier and NA-208CD CD player (pictured below and still $399 each) up to the very nice MT-34 integrated amp for $1199. They shared the room this year with Wharfedale speakers, and they matched up really well together.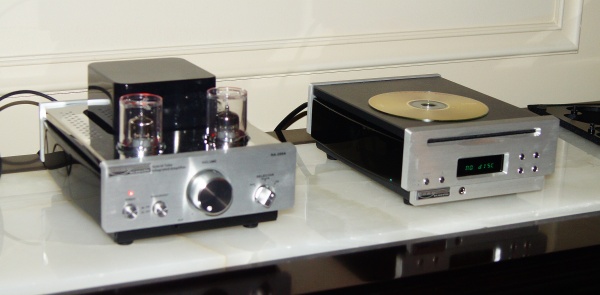 Paradigm
Paradigm showed off several of their wide range of well-regarded speakers.

Parasound
Although Parasound has been getting a lot of well deserved press lately for their more upscale Halo line, they still make less costly gear that has historically had a good reputation also. Here are a few offerings from them.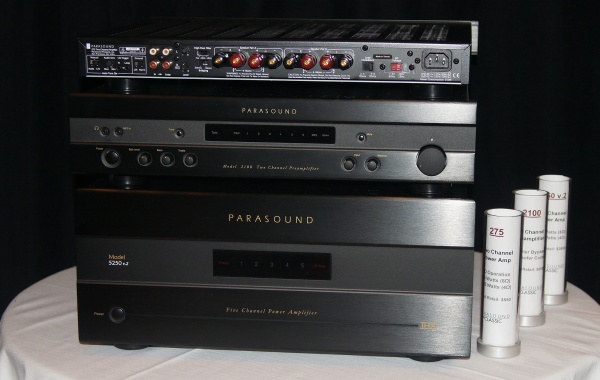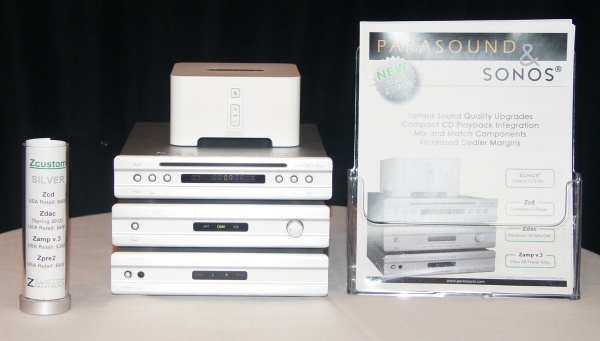 Here is an inside view their much acclaimed Halo JC3 phono stage.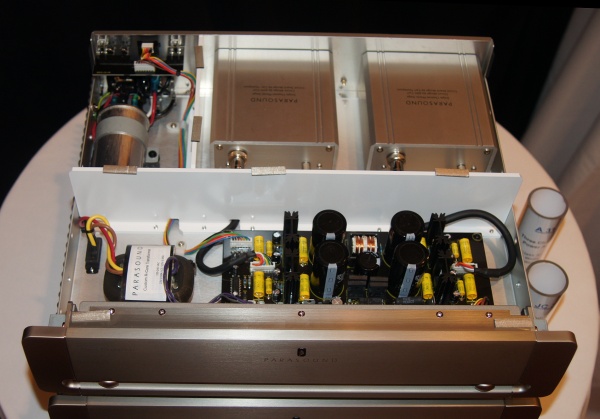 Peachtree Audio
Peachtree Audio has rapidly built a solid reputation for putting true high-end sound in sweet looking packages for remarkably low prices. Now they've upped the ante a little bit, with their new Grand Prix preamp/DAC ($2999) and Grand Integrated amp ($4299). Driving new Martin Logan Montis speakers ($9995) with the integrated, playing files from a Mac Mini, iTunes and Home Sharing, this was one of the better sounding rooms at the show.
Their alternate system, used the new Preamp, and 220 Class D amp ($1399) and a Macbook Pro to drive B&W 802D speakers. They also showed a variety of lower cost products, including the DACiT ($499), the Nova ($999).
These guys know something, that's certain.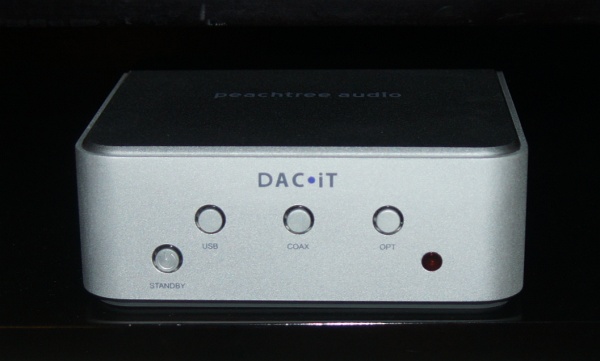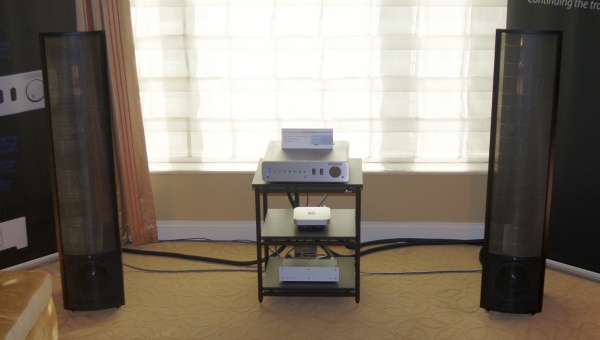 Prima Luna
Prima Luna is another company that has earned a much deserved reputation for high quality tube electronics at fair prices. Nice room, and a lot of gear on display.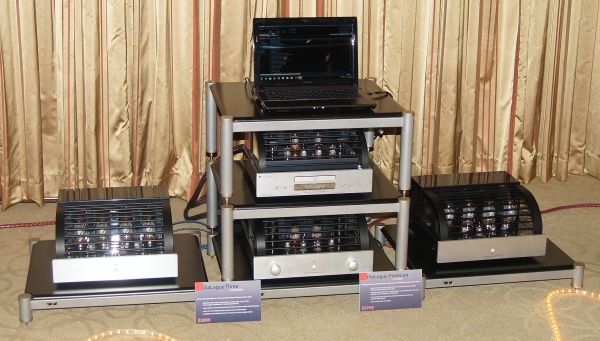 Pro-ject
Pro-ject continued to show it wide range of turntables and expanded "Box" line of products. I was very interested in their little Media Box S (price tba, but estimated to be just under $200), Stereo Box ($349) and Speaker Box $399.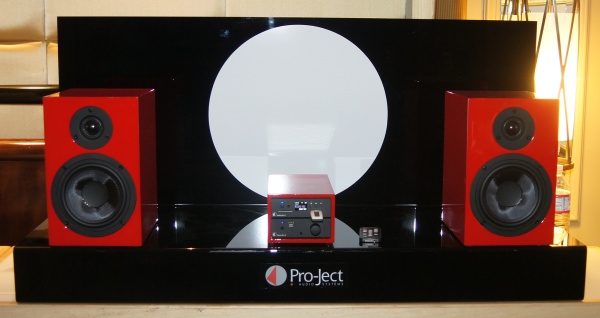 Pro-ject Debut Carbon turntable (price tba).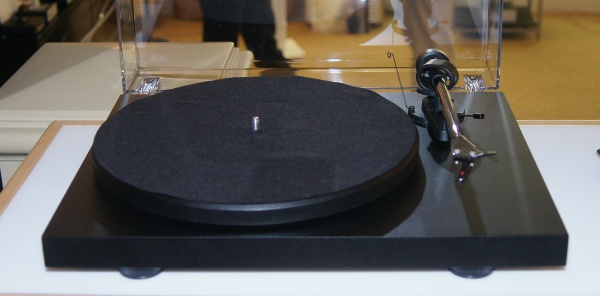 Pro-ject RM-1.3 table in red ($499).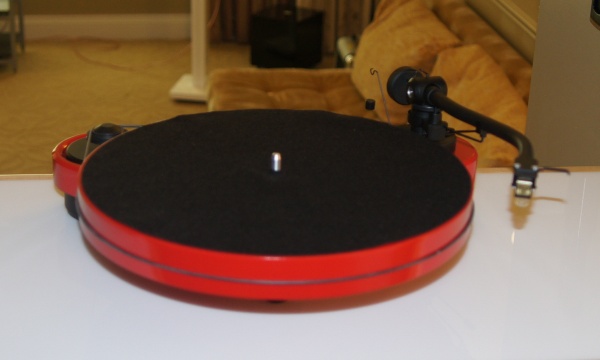 Pro-ject Xperience Basic Acrylic ($1200).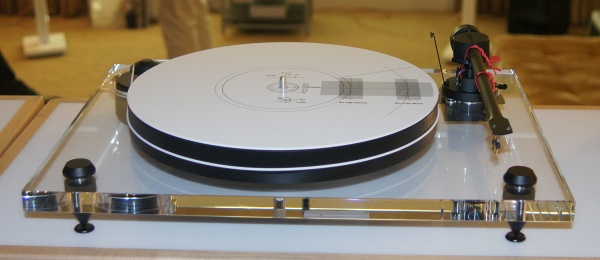 Puresonic Electric
Puresonic seems to be a cable and connector manufacturer from Taiwan looking to make inroads to the US market. Can't say much about their cables, but they did seem to have some nice ideas and design in their RCA connectors and speaker terminals.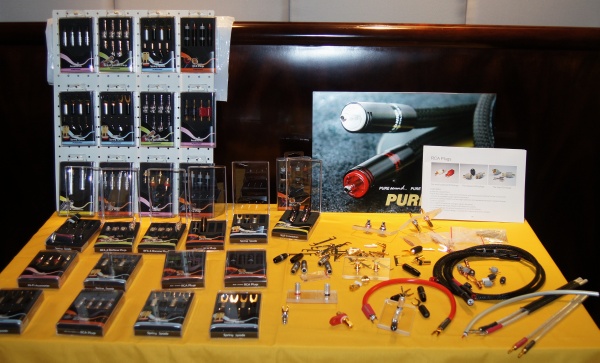 Quick Play
Somewhat of a joke by high end standards, I did find the Quick Play Turntable on the main floor of the convention center. Includes cartridge, USB output and software to convert your LPs to MP3 files. Found on the net for about $70!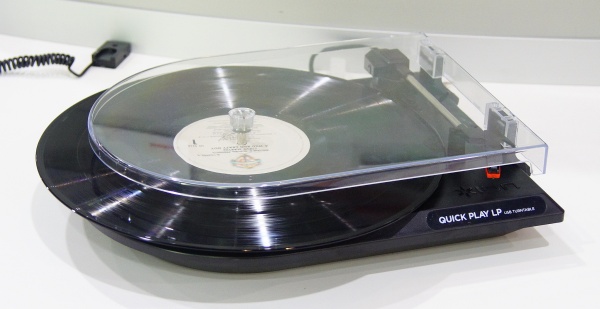 Rega Research
Everyone knows Rega, and they've have largely set the standard for affordable turntables for many years. In their suite they were showcasing their new RP6 table ($1495) and Brio R integrated amp ($895), surprisingly driving their new very expensive RS10 speakers ($12,998/pair).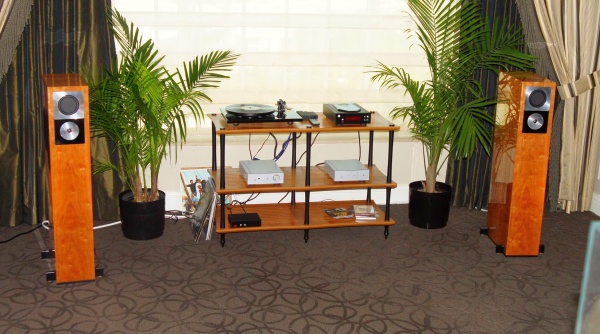 The RP6 comes in a variety of colors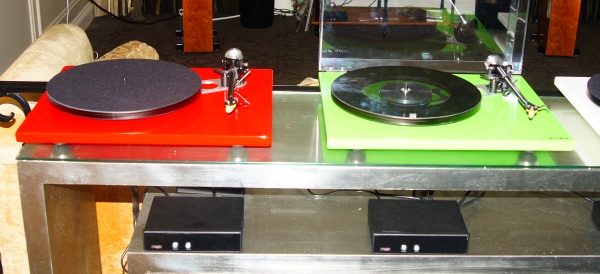 Rega's Paul Darwin showing off the fairly complex glass platter of the RP6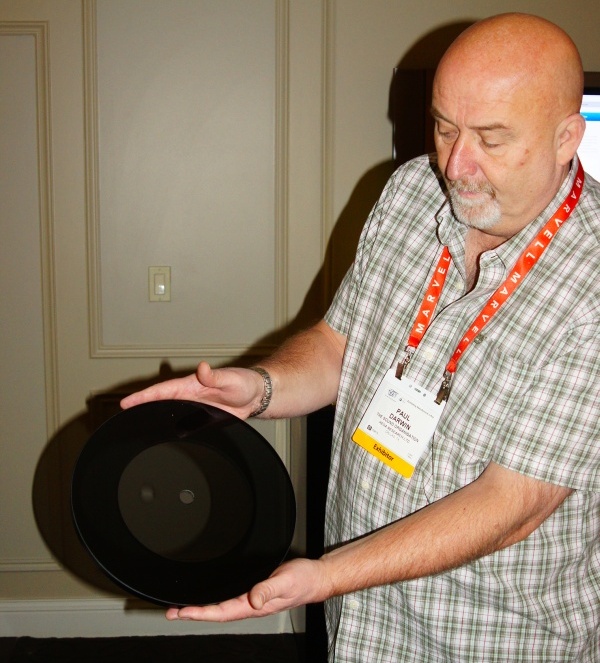 Rogue Audio
Rogue Audio is another long time manufacturer of tube electronics. I have had the pleasure of trying a few of their products at home, and have to admit I like what they do. Now they are trying something quite different. Their new Medusa hybrid amplifier combines a tube input section with a class D output section. The Medusa puts out 200 watts per channel and costs $3995. They will soon have the Hydra, a 100-watt version for $2995. Used with their Hera II preamp ($7995) and a pair of Egglestonworks Andra III speakers, the system was outstanding in its overall musical presentation. Sorry, but I seem to have forgotten to make note of their source equipment.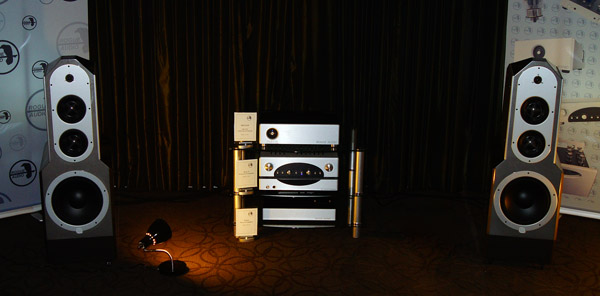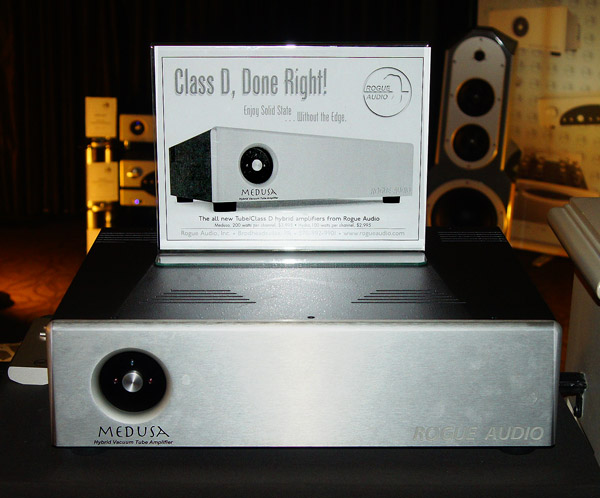 Samsung
Back in the main convention center, Samsung had a new slogan!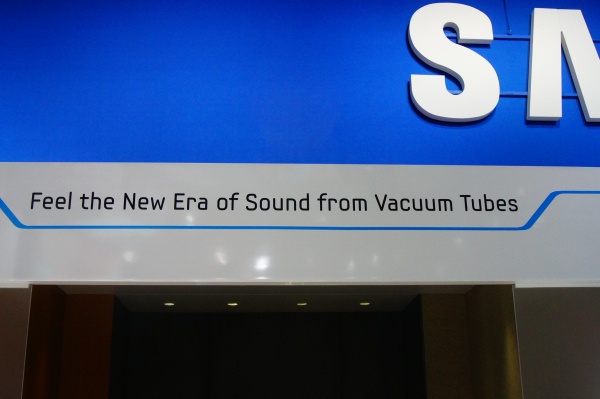 Here's what they were referring to; the Galaxy iPod/iPad/iPhone dock! The tubes glow through the little window on the top left. I overheard the Samsung rep tell an attendee that the tubes "give your music a nice warm sound."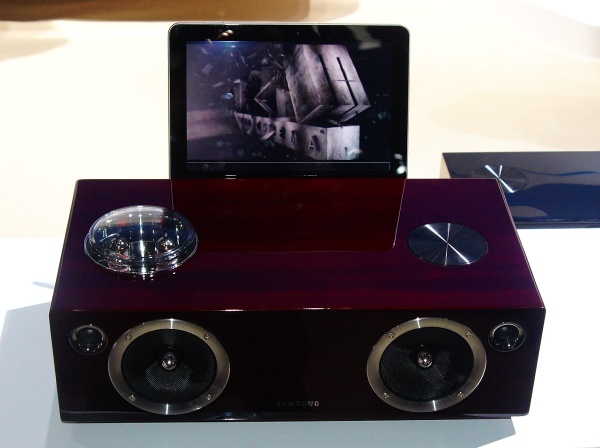 Spendor
Bluebird Music, North American Distributor of Jadis, Peak Consult, Chord, Vanden Hul and Spendor showed mostly equipment that, though very nice, was out of my price range. However, the Spendor A5 speakers, at $3195, sound about right for me. Driven by about $25,000 of Jadis electronics, and a Macbook Air, they sounded sweet!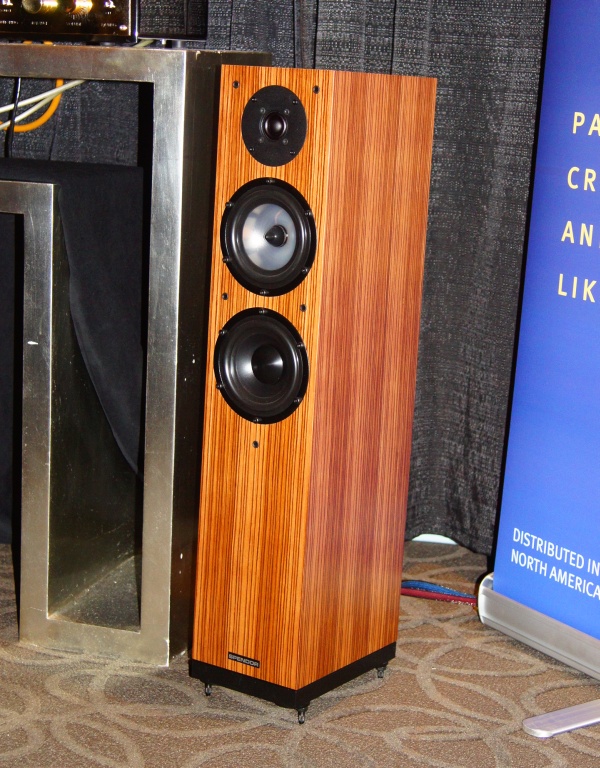 Straightwire
Straightwire has been in the hi-end cable business for about as long as I can remember. I've used their cable between my preamp and headphone amp for many years. I now also have one of their low cost USB cables plugged into my music server.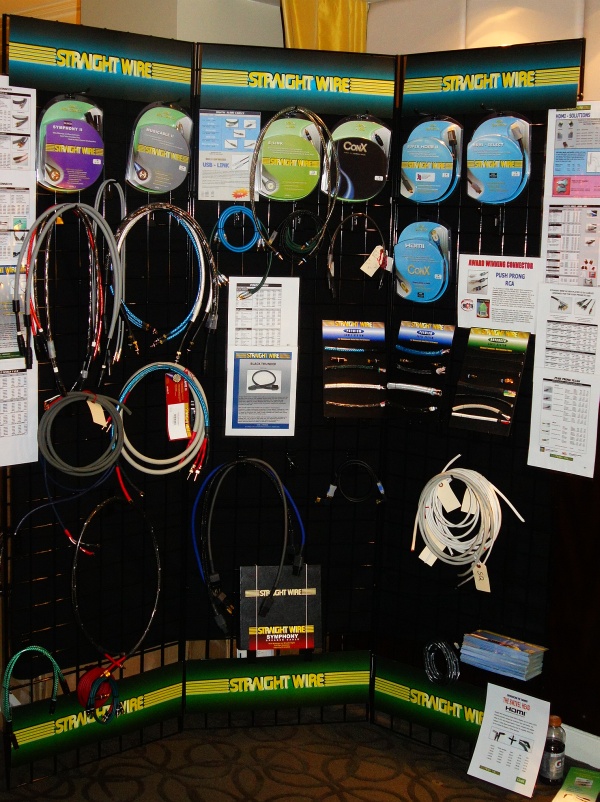 Thorens
Thorens is one of the oldest companies in the business, and they continue to turn out fine products, manufacturing a wide range of turntables and arms. Here are a few of them.
The TD 240-2 ($999.95)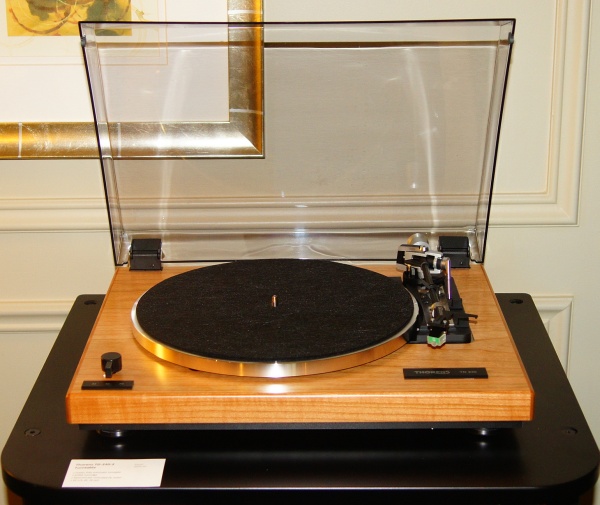 The TD 295 MK IV ($1099.95)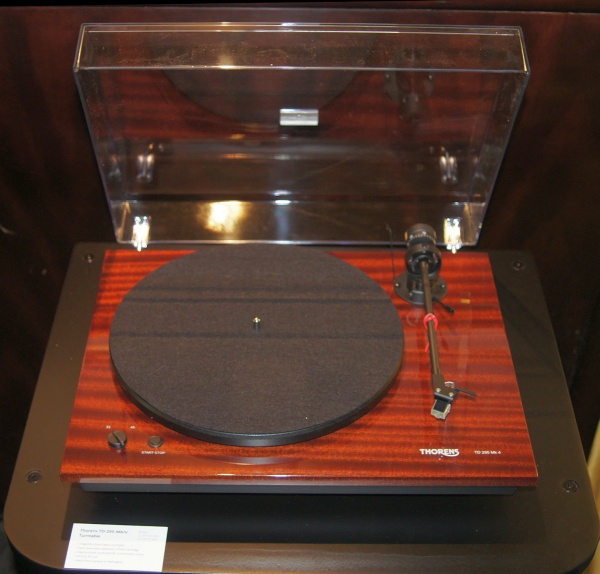 The TD 309 ($1899.95)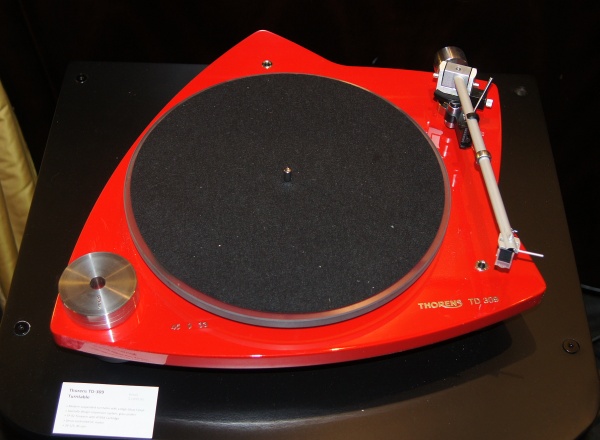 Unison Research and Opera Loudspeakers
After a few years out of the North American Market, Unison Research and Opera Loudspeakers are back, being imported by Colleen Cardas Imports. This was one of the better sounding rooms at the Venetian, even when compared to rooms hosting much more expensive gear.
Here is the main demo system: Unison Research Unico 50 Hybrid Integrated Amp ($4495), Unico CDE CD player ($3895), Opera Quinta speakers ($5495/pair). The sound was detailed, spacious, rich and very involving.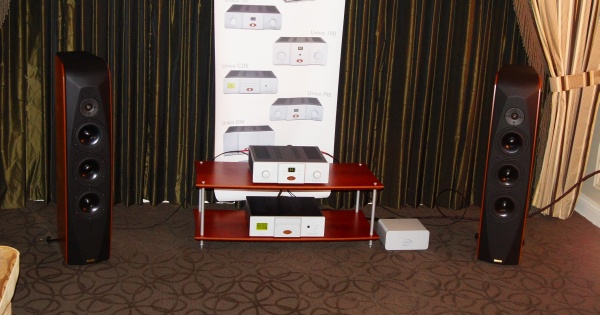 Here are the Unico Primo CD Player ($2295) and Unico Primo Integrated Amp ($2295).

And for those of you with higher efficiency speakers, here's their Simply Italy 12 watt tube integrated amp ($2450). I have a set of 98 dB efficient speakers in house right now, that might make an interesting paring with this amp.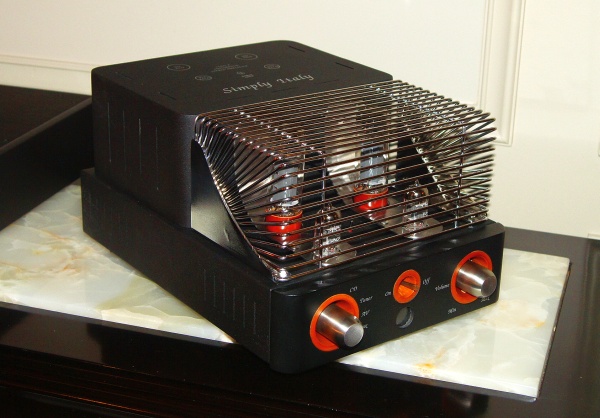 Vandersteen
This was my first time getting to hear the new Vandersteen Treo ($5995/pair). Think of them as a scaled down Quattro, rather than an upgraded Model 3. Richard Vandersteen continues to get impressive bass, volume, detail and dynamics out of relatively small speakers. As good as all of Vandersteen's new speakers are, I find it equally impressive that the Model 2 is still made (now in 2Ce Signature II form) for only $2350. That speaker has been on the market since 1977, though continually improved.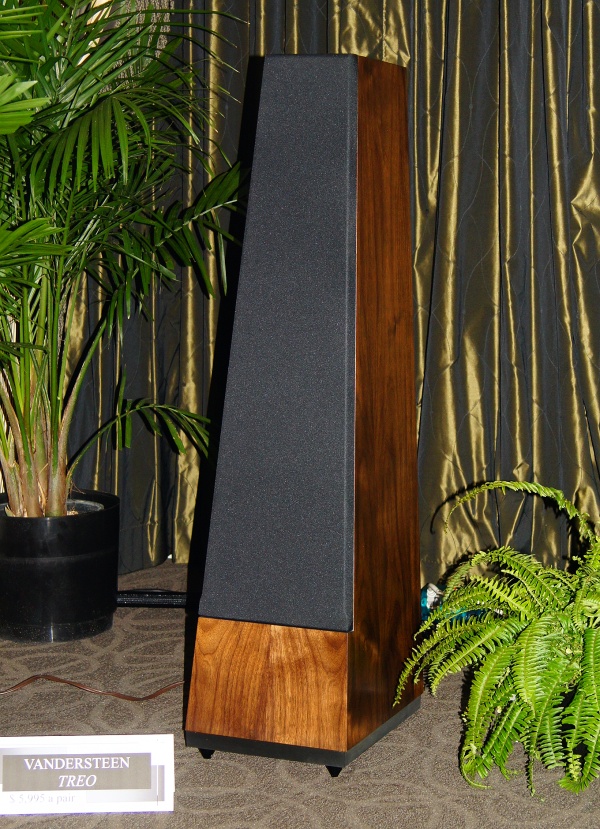 Well Tempered Labs
Bill Firebaugh's new Well Tempered Turntable and Tonearm apparently have to compete in the market not just with other comparably priced turntables, but with their own older designs being manufactured by another company and sold under the same name. Long story apparently, that I don't actually know much about. The new current model Well Tempered Labs tables are quite unique, and the tonearms are easily recognized by the golf balls used as part f the bearing/damping system. Firebaugh is a brilliant designer, and his current tables have received great press. Sorry, I don't have the price of this particular model, but all tables in the current lineup are reasonably priced.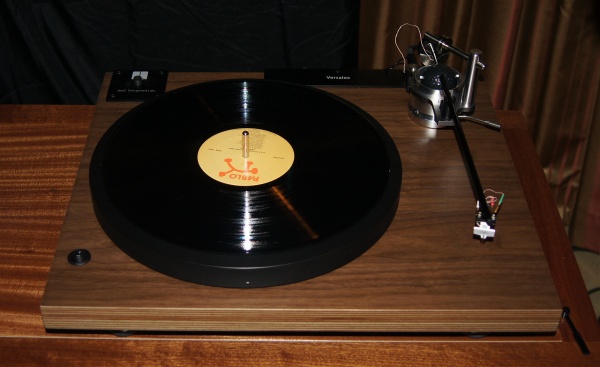 Well, that's it for Part One of my show report. Part Two will cover displays at THE Show Las Vegas, held at the Flamingo Hotel at the same time as CES. Then, Part three will cover my thoughts on some of the high priced stuff back at CES, and of the overall feel of the convention. I've been to a lot of trade shows over the years, and this one really did feel different.