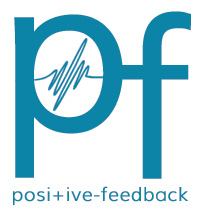 You are reading the older HTML site
Positive Feedback ISSUE 59
january/february 2012
densen
B-200 Preamplifier
as reviewed by Andre Marc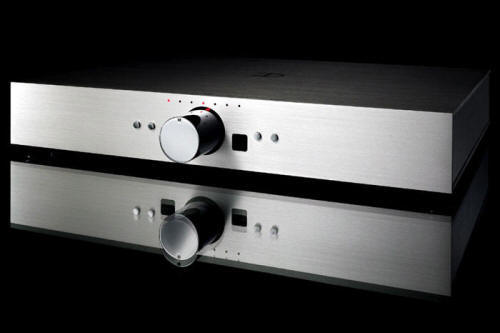 In the Scandinavian country of Denmark, Densen is a cherished purveyor of high end audio products that are both beautiful in sound and form factor. Established 20 years ago, Densen flirted with success stateside but found it difficult to sustain due to low brand name recognition and inconstant distribution. However, everyone who heard Densen products came away impressed. Today, they make a full line of amplifiers, preamplifiers, CD players, and other source components.
Densen has again found a U.S. distributor in TrueHarmonix, out of Redmond, WA. This is welcome news as Densen is much appreciated throughout Europe and deserves a presence state side. Adrian Wun, of TrueHarmonix, was kind enough to send me a review sample of the entry level B-200 preamplifier: the "B" standing for Beat. The design ethos behind the B-200, priced at $2200, was an absolute minimal signal path for accuracy, the use of the highest quality parts possible, and flexibility.
According to Densen, "The whole of the circuitry is designed with the best components, and as such all inputs are gold plated, all resistors are 1% laser-trimmed metalfilm or better, all capacitors are selected for their sonic quality, and a Alps RK27 motor-driven potentiometer is used in a 4 times version. The power supply is built with the same encapsulated transformers as in Densen's top of the line preamp, the DM-20. We use no less than 5 custom-made capacitors, with a total capacity of 50.000 uF."
The first thing I noted when I unpacked the B-200 was how visually stunning it was for a component at this price point or any price point. The brushed aluminum ("albino") case work was simply gorgeous. The unit is also available in black which is equally as stunning as the large silver volume knob offers a nice contrast. The workmanship was on par with components I have auditioned costing many times more. It may be a cliché, but Danish design is second to none.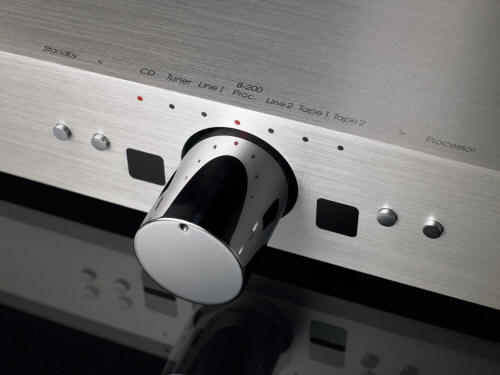 Densen products are available with a very sophisticated system remote control called the Gizmo. It can be used to control an entire Densen system and offers amazing flexibility. It is equipped with rechargeable batteries that can be charged with the supplied walwart power supply. The remote is unique in that the unit can be pointed in any direction, or even from another room and still be picked up by the component. The remote itself is also attractive, with metal casework weighing what seems like a pound. There will be no misplacing this baby.
I set up the B-200 on a trio of Symposium Rollerblock Jr. resonance control devices. I also used an Acoustic Zen Tsunami II AC cable. The B-200 drove my Audio Research VS55 tube amp using Transparent MM2 Super interconnects for most of the review period. My reference speakers remain the Thiel CS2.4 floor standers. I also used it to drive my vintage Revox A722 power amp in my second system featuring with Harbeth Compact 7ES3 speakers. My source for both systems was a Squeezebox Touch connected optically to the excellent Bryston BDA-1 DAC with some disc play thrown in here and there.
After a few hours of listening time, I began to get an idea of how the B-200 was performing sonically. What I heard initially, and what I confirmed later after weeks of extensive listening in both systems, was an open, wide soundstage, and precision. The operative word for this component however is elegance. Compared to my reference Audio Research SP16, the Densen offered 'more' articulate bass, a slightly wider presentation, and a bit more recorded detail. In contrast, the SP16 was a bit lusher bringing you one row closer to the stage, with a slightly more prominent midrange
On the 88.2kHz 24-bit FLAC files of Eiji Oue and the Minnesota Orchestra's recording of Stravinsky's Firebird Suite, (Reference Recordings, HDTracks.com), as heard through the Densen the dynamic crescendos and the sheer depth of soundstage were awe inspiring. The thwacks of the kettle drums were bombastic and gave me quite a jolt. In contrast, the quieter passages were delicately rendered. Very neat.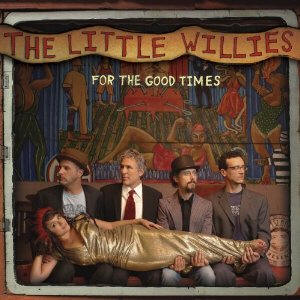 A few weeks into the review period I received my copy of For the Good Times, the second album from The Little Willies, the Norah Jones side band that includes some luminaries from the New York City songwriting scene. This time out they tackle a bunch of country pop classics, mixed in with some originals. Loretta Lynn's "Fist City", Kris Kristofferson's "For the Good Times", and my favorite, Dolly Parton's "Jolene" are done with a mix of reverence and modern twang. Norah's voice on "Jolene" was velvety smooth and seductive, with all the emotional impact intact.
One of my favorite new bands from the past few years is the Fleet Foxes. Their second full length album Helplessness Blues is sublime in every way. Luckily, it is also beautifully recorded. The trademark spooky vocal harmonies, reverb drenched guitars, and hymn like melodies are all here. The Densen did a remarkable job of creating the depth and cinematic scope I know this CD projects having heard it on many a system.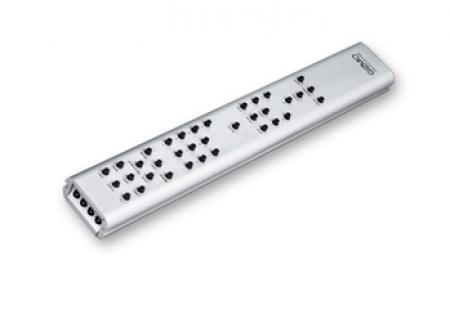 I must also note the B-200 was amazingly resolving of any changes to the system. For instance, I decided to experiment with speaker toe in, various power cords, and even isolation devices and each change was easily identifiable. Operationally, the B-200 was a sheer pleasure to use. The only quirks I noted were volume control via the Gizmo remote. It took me a short period of time to get used to it, but once I did, it was amazingly accurate and responsive. One thing I will surely miss is a volume knob since my SP16 has only push buttons. The B-200's volume knob was luxuriously accurate and precise. I will miss it!
Conclusion:
The Danes are known for design of the highest order, practicality, and great audio components, with several brands that compete with the best in the world. Densen offers a complete line of world class products with attention to detail that is impressive by any standard. The Densen B-200 at $2200, is their entry level preamplifier which leaves me wondering just how good their top of the line unit is. It is that good.
I honestly can't think of any other solid-state preamps in this price range, and even going up to three grand I would rather own. I do not need or care about a phono stage, tone controls, or a home theater by pass. I am strictly a two channel music listener, and I consider the preamplifier the heart of the system; and simplicity tends to work better for me.
The elegance of the Densen B-200 was for me irresistible. The pride of ownership factor is also off the charts as the styling and ergonomics are just ridiculous at this price. For me these things are important as an audio component is something you interface with daily, so it should be enjoyable.
The clincher is that the B-200 sounds beautiful and accurate at the same time and will work with tube and solid-state amps alike. I am tempted to say that the B-200 is what this hobby is all about… beauty, precision, and elegance. The Densen B-200 will be at the top of my list for this year's PFO awards. Andre Marc
B-200: $2200 (included Gizmo Remote)
US Distributor
TrueHarmonix
Adrian Wun
206.321.8888
15127 NE 24th Street, Suite 288
Redmond, WA 98052
info@trueharmonix.com
http://www.trueharmonix.com
Densen
http://densen.dk