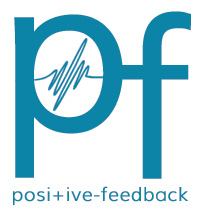 You are reading the older HTML site
Positive Feedback ISSUE 59
january/february 2012
The Future Is Here - Audio Still Rules
by Karl Lozier
Blu-ray recordings may be video, audio or most commonly video plus audio. If the video is a distraction turn it off though I would suggest watching the video at least once; at times it can be interesting or entertaining. Naxos is again following up with more high definition (Blu-ray) audio only releases. For many listeners that will be a distinct improvement in audio quality if the HDMI digital output signal is used instead of the analog. That one cable carries everything including stereo or multi-channel audio in addition to the very high quality Blu-ray video signal. Greater clarity and a smoother treble will be noticed with many if not most home audio systems. So far this seems to be consistently true. Easier connection needing only one cable is appreciated by all. Sometimes new-fangled things are even easier to use while offering better quality, at least in the audio musical field.
An easy way to get into the beauty and audio and video qualities of Blu-ray releases is by getting a truly good player (a good start is important with many things in this old world). In this issue I will continue to use the moderately priced Oppo BDP-95 player for all the Blu-ray reviews, an over performing universal player; other players may be used for SACD recordings. Next item needed would be a very decent AV receiver such as by Onkyo, Integra, Denon and others that have multiple HDMI cable inputs and good digital or digital to analog connections and jump right in. Your newer television sets will have the correct and simple HDMI connections for simplified setup. The AV receiver will let you add surround sound easily. Remember that quality is more important than quantity in the long run. If possible, try to get an AV receiver that has an official manufacturers' list price of $1200 or even a bit more, particularly if you like to listen at fairly loud levels at times and with multichannel connected. If you like "an in the theater" atmosphere or feeling, multichannel will be necessary now or later.
Notice the generally favorable brief revues I write each issue? There are logical reasons for that to happen. Changes such as digital and HDMI connections have made pretty darn good audio to be easier for the manufacturers to give us and easier for us to put to use. Same is true for the video portion that we pretty well take for granted here. As you purchase and use some of my suggested performances you may notice that relatively unknown sources and performers are often doing a superb job and why not! Unlike many of the big professional outfits and famous performers they can and possibly do practice for many months on end, repeating the same music or performances. That can be the way for an individual, or group, chorus or orchestra to be discovered by being on these well done Blu-ray recordings! Pay attention, watch and listen to the possible stars of the near future in the comfort of your own listening and viewing room.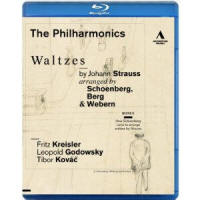 The Philharmonics, Waltzes by Johann Strauss arranged by,Schoenberg, Berg and Webern. Accentus Blu-ray ACC10228
I start this issue's reviews with an unexpected surprise. This group of seven classical musicians (plus two guests here on flute and harmonium) is an ensemble founded by members of the Vienna Philharmonic Orchestra and is known simply as "The Philharmonics". The coffee-house setting is real and unique, the Café Sperl in Vienna. All is revealed in the video portion of this fine Blu-ray release. Basically the compositions are by the justly famous Johann Strauss though variations are heard from arrangements by famous composers plus a couple of selections by Fritz Kreisler. All this winds up being almost perfect music for relaxation after a tough day at the office or elsewhere. The casual patrons do add atmosphere as does the intimate Café and it all ties together beautifully. The recording is almost as good as it could be in every respect and at times even the rich beauty of the cello is accurately captured. That happens too infrequently for my love for that instrument and really caught my ear here. Overall the audio quality is not to be faulted. I hope I am conveying the uniqness of this unusual and particularly attractive recording. Many listeners have room in their living or listening rooms for the seven main performers to equal what is seen on this Blu-ray recording. At times it may appear that the end of a violin's bow is going to get into a coffee drinker's ear, but it does not happen. The space is a tad tight; the listening is simply right and all the performers are top notch. Added together this is an absolutely top recommendation of its kind and will be played often for the perfect mood it creates. Hopefully your system will reveal all the natural subtleties contained here.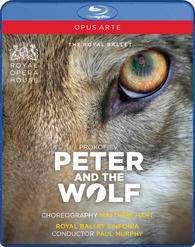 Prokofiev, Peter and the Wolf. The Royal Ballet. Orchestra: Royal Ballet Sinfonia. Conductor: Paul Murphy. Opus Arte Blu-ray OA BD7091 D
Hopefully all readers of these reviews are familiar with the famous story of Peter and the Wolf and the music accompanying it by Prokofiev. It does introduce youngsters and children to the classical orchestra and its component instruments while telling the story. With this recording ballet is added to the story with fine results. The main pitch here is frankly to appeal to the children and grandchildren. To that end I must mention that here the ballet performers are students of the Royal Ballet School, not the Royal Ballet corps. That may be even more appealing to most children as most of the performers do a very competent job here. The music and its performers are fine if not at the very highest levels. A main goal is obtained by excellent sound reproduction of many of the instruments of the orchestra definitely including the tympani and bass drum representing the guns of the hunters .This is a fun and educational project and I must mention that it is only approximately a half hour long. It is easy to recommend it for what it is. I have no information about pricing and simply assume it is a bargain priced specialty item.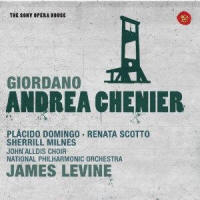 Umberto Giordano, Andrea Chenier. Orchestra: Wiener Symphoniker. Conductor: Ulf Schirmer. CMajor Blu-ray 708004
Personally, I am not familiar with this opera by Umberto Giordano. There is a unique quality to it, at least at the one of a kind performing site in this recording. The box cover photo reveals that unique location, if anyone studies the cover photo carefully and believes what they see there. Of course the video portion of the Blu-ray recording reveals the unique recording site. That visual quality and the beautiful costumes are not what our reviews are about. The audio quality is just fine if not quite outstandingly so. The vocal performers could be described the same way. The basic story line and musical qualities just seem to be a bit lacking to me and I have trouble recommending it without some reservations. If you are familiar with this opera it probably will be just fine for you. There are no significant faults with the recording, performers or audio quality and so it can be recommended. Though it may not command your attention all the way through after the first couple of listening sessions it still qualifies as a good operatic production filmed in a very unique setting. It does not seem to me to be a strong score though here it is a coherent production and is slightly lacking, in my opinion, in melodic appeal.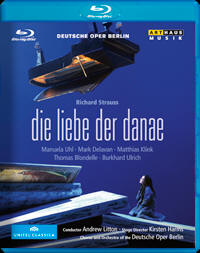 Richard Strauss, Die Liebe der Danae (The Love of Danae). Orchestra: Deutsche Opera Berlin. Conductor: Andrew Litton. ART HAUS MUSIK Blu-ray 108 032
One of Strauss' last compositions, evidently 'held back' so often that it was never performed in his lifetime. As the liner notes mention, it appears that in this instance Strauss was attempting to compose an opera featuring music that would live far beyond the age of its birth. It is a very complex opera and even many, if not most, opera lovers have never heard a live performance of this dramatic opera. It is claimed to have been performed worldwide fewer than twenty times! Strauss is quoted as "seeking not lyricism, not poetry, not sentimentality, but a theater of reason, full of brains and dry wit!" I am unable to adequately explain this unusual operatic composition as it wanders far and wide-maybe not far enough? It starts off with a male chorus moving around in the room. This is followed by very attractive music, though not really melodic. All the while there are appropriate settings and excellent costumes. It will be difficult to ever forget the intertwining of two myths including Midas and the Golden Touch when in the well known duet. A beginning synopsis finds Jupiter, the King of the gods falling for the young gal, Danae. To avoid problems with his wife, Jupiter hires Midas, the donkey driver, to change identities with him and so on and so on. Midas' reward is the famous "Golden Touch". Unfortunately he accidentally touches her in a way that turns her into a solid gold statue. Imagine trying to talk his way out of that goof. Good choral work abounds here and solid singing and dramatic music are to be heard with the excellent audio quality but there is great difficulty understanding what is going on at times and may deter maximum enjoyment of this really unusual opera. Want something a bit different in the way of operas? Aha, you have now found it. Recommended highly to those searching and not to newcomers.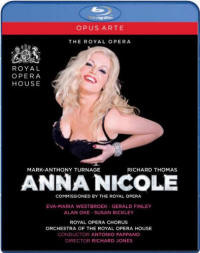 Mark-Anthony Turnage, Anna Nicole. Orchestra: Royal Opera House. Conductor: Antonio Pappano. Opus Arte OA Blu-ray BD7088D
Was I ever shocked to receive this new opera as a Blu-ray recording as commissioned by the Royal Opera House. In true opera tradition it is a contemporary take on a doomed heroine. She transformed herself into an international sex symbol and married a billionaire almost three times as old as she. As the time here is contemporary, jazz and pop do seem to be appropriate. The role of Nicole is certainly tragic/ comedy and some of it definitely and simply is a spoof on the previous craze for an exaggerated female body form that comes off as humorous and not really serious. The recording is a bit closer than usual for most operas and with much jazz scoring the end result is a bit on the show-off side of natural. Slightly exaggerated and still rather recent in occurrence, I would wonder how well repeated listening and viewing sessions might hold interest. The vocals and choral sections hold up quite well and the audio quality is quite good, detailed and impressive. Obviously recommended to anyone interested in a very contemporary setting for a tragic opera.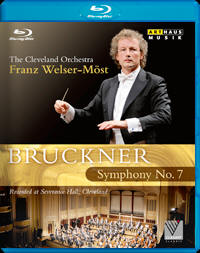 Anton Bruckner, Symphony No.7. Orchestra: The Cleveland Orchestra, Conductor: Franz Welser-Most. ART HAUS Blu-ray 108 103
Bruckner's music had been relatively neglected for so many years by many if not most classical music lovers that I no longer am surprised to have received major production releases so soon after previous ones. Seemingly the most popular ones are some of the very latest I have received, including this one.
I might as well list the, at least seemingly most popular, works by Bruckner; they all are symphonies. I hate to try to rank them in any sort of reasonable order though years ago many thought that number four was the easiest to learn to like or enjoy and it is referred to as "The Romantic" Bruckner symphony. The other two gaining in popularity seem to be numbers eight, reviewed last issue and number seven, now.
This symphony, number seven, is heavily influenced by Bruckner's admiration of Richard Wagner and his famous compositions. Many listeners complain that melodies do not always seem readily apparent with Bruckner's symphonies. Though he wrote many different types of music including Masses, they seem to be seldom performed or recorded. This recorded Blu-ray version with the Cleveland Orchestra and conductor Welser-Most had been set aside by me till now, as last night at the Kravis Center in West Palm Beach my anticipated pleasure was rewarded, completely by the most beautiful and rich sounding symphony orchestra that I have heard from my usual seat in row four in the past four years. Rich and effortlessly powerful with a natural covering created by the sheen around the strings that I never knew they had. That is not noticed in this recording of the same orchestra and conductor in a different setting.
In this recording the famous brass section of the Cleveland group comes through loud and clear thanks in part due to the almost famous recording engineer, Michael Bishop. So this recording with numerous passages featuring or highlighted by the brass comes through loud, clear and impressively enough to let some music lovers make this release done in Severance Hall in 2008, their Bruckner choice for listening pleasure and recommended by me. Newcomers to classical music might want to wait awhile to tackle this formidable composer.