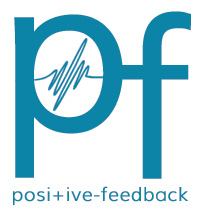 You are reading the older HTML site
Positive Feedback ISSUE 6
april/may 2003
The Mysteries of His System
The Verses in His Life
A Love Story
by Barry Grant
Part Twelve
All things. . . are aggregates of atoms that dance and by their movements produce sounds. . . Each atom perpetually sings its song, and the sound, at every moment, creates dense and subtle forms.
--Alexandra David-Neel
LXXVIII
"Pass the butter please, Prue," said Audie. He winced as Prudence slid him two spare shapes of pale grade A perched on a faux 45 of "My Way."
Audie dragged the edge of a Big Bopper butter knife along the cleft between the twinned and grimacing forms. "A bit macabre for breakfast. . . Sid and Nancy's last embrace," he said, as he severed Sid's head and plopped it atop his syrup-soaked short stack.
"I was a little nervous when you ordered the Sex Pistols special," replied Prudence.
"Just two pancakes, egg on top. No mention of butter sculptures of thanatophiles."
"Thanatophiles?"
"That's the myth, or one myth, anyhow. Sid was the Pistol's bass player. He and his girlfriend Nancy worshipped death. Sought it in heroin and domestic violence and found it in murder and suicide."
"That's why the egg is sunny side down."
Audie plunged his knife through the center of the egg. Golden yolk seeped from the cleaved pouch of poached albumen.
"Yea," Audie breathed.
LXXIX
"Listen, Prue!" Audie cried. He gripped Prudence's hand and led her toward a patch of motels and casinos down the street from their hotel.
"I hear a symphony."
Audie shot a bright smile at Prudence and extended his arm downward, full length, pulling Prudence flush to his side.
"That motel over there, near THE Show! Listen! It's the first movement of Mahler's 6th. In A minor! Hardly anyone plays it. It's his worst symphony. Assuming you like Mahler in the first place."
"Mr. Bell! Come on, Audie. Let's go! " Prudence said as she tugged Audie's arm.
"It advertises A Show! Clever!" said Audie, lowering his head. "Gold dollar signs stuck in the sidewalk," he said to himself. "Wonder where they lead. . . But no one walks in this town, no one with money, anyhow. . . Mahler's not the best choice. Better Beethoven's 7th. . . The sound is pretty good. . . . Reasonable articulation and extension for an outdoor system, especially at this distance. . ."
Without breaking stride, Prudence cupped Audie's chin, raised his head, and kissed him gently. "I still love you," she said.
"Even?"
"Even."
"Even, if I am obsessed my system?"
"Even," said Prudence, still in step, lapping at Audie's lips. "Even."
*
A Bantu man in teeny tennis shorts and rainbow shirt walked up beside them. "That music is very frightening!" he said.
"It's clearly anxious," said a Chinese businesswoman as she lit a cigarette and tossed her briefcase into the back of a taxi.
"Apologies Madam, no smoking please," said the Pakistani driver as he held the door. "Music tells despair and terror of death." The woman glared at him as she tossed her cigarette into the street.
A young man, jagged red, white, and blue tendrils of hair jutting from atop his head, cried, "Just more Mahlerian egoistic bloat!" as he whizzed by on a delivery bike.
"How can you say that!? It's beautiful!" yelled a middle-aged woman in a leopard-spotted jogging outfit.
"It's a premonition of death."
"Yer crazy! It exalts life!"
"Better get out of here," Audie said, hurrying Prudence away from the crowd spreading down the sidewalk. Cries of "Idiot!" and "It's angry, angry, music!" and "Pathetic is more like it!" faded and the Mahler grew louder as they approached the motel.
LXXX
Audie grabbed two golden handles and threw open the doors to the Made Man Motel.
"If a thing is only what it is and not something else, what is the Mahler?" Audie said to Prudence.
"Audie, a thing is only what it is and not something else. That much is true," said Prudence. Audie stepped beside her and gathered her hand in his. They paused just inside the threshold of the motel lobby.
Fluorescent lights, cracking and barking, filled the room with a faint amber aura. Chandeliers, their crystal tears, greasy and fuscous, hung limply from the ceiling. Zebra-striped paper spilled in thick strips from the walls. Clapped-out chrome and glass tables huddled in distant corners. Couches, pock-marked and broken by lost cigarettes and disappointment dotted a worn wall-to-wall. Sunlight through a gap between the doors lit bright fibers of emerald in squares of carpeting where slots once stood. Giant ficuses, their plastic limbs and rice-paper leaves mangled by drunken falls, gun shots, and forsaken lovers, formed a crippled arch over the path to the reception desk.
Audie and Prudence solemnly strode to the desk.
"Maybe Rishis know the rest. The Hindus have many gods. Every god is a face of the Absolute. Rishis know the Absolute and know that each of its faces is also the Absolute. . ."
_ _ _
_ _
_ _ _ _
_