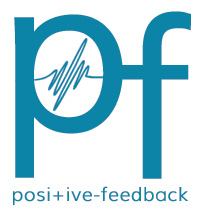 You are reading the older HTML site
Positive Feedback ISSUE 6
april/may 2003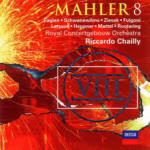 MAHLER: Symphony No. 8 in E-flat ("Symphony of a Thousand")
Jane Eaglen (Magna Peccatrix), Anne Schwanewilms (Una Poenitentium), Ruth Ziesak (Mater Gloriosa), sopranos; Sara Fulgoni (Mulier Samaritana), Anna Larsson (Maria Aegyptiaca), contraltos; Ben Heppner (Doctor Marianus), tenor; Peter Mattei (Pater Ecstaticus), baritone; Jan-Hendrik Rootering (Pater Profundus), bass; Prague Philharmonic Choir and Netherlands Radio Choir; Children's Choruses of St. Bavo Cathedral Choir and Sacramentskoor, Breda; Royal Concertgebouw Orchestra/Riccardo Chailly
Decca 289 467 314-2 (2 CDs). TT: 82:14.
Some thirty years ago, Decca Records – then doing business in the U.S. as London Records – recorded Mahler's Symphony of a Thousand with Sir Georg Solti conducting the Chicago Symphony. It stood as a noteworthy achievement, not only musically (for the dynamic performance), but sonically as well. Decca's recording aesthetic never pretended to audiophile "concert-hall realism"; the recording rather attempted, by means of careful, elaborate microphoning and mixing, to re-create the score's vivid concert-hall impact for home listening. Scattered dissents notwithstanding, the album garnered numerous critical encomia, attaining immediate bestseller status, and remaining constantly in the catalogue since.
The present release – Decca's newest installment in Riccardo Chailly's slowly unfolding Mahler cycle – illustrates, sadly, that you can't force lightning to strike twice. Digital technology and all, Decca's latter-day engineers can't match, let alone improve on, the results achieved a generation ago.
The opening organ pedal point has an imposing, deep impact – nowadays, anyone can do low bass. But the immediate choral entry is a shocker: loud, fuzzy and unfocused, it's more noise than music, and a harbinger of things to come. The passage after the big "Accende" leaves the same unfortunate impression. The tutti outbursts are powerful, but texturally unclear (which may not be entirely the engineers' fault, but we'll get to that). In the more lightly scored passages at the start of Part II, the solo woodwind images are round and vivid, but the violins sound scrawny and shallow. Only the closing pages of the work, when the heavy brass dominate the textures, sound really brilliant and full, and the final cadences have a satisfying weight. But we've missed too much along the way.
Of course, there is no shame in getting Mahler's Eighth sonically "wrong": these massive performing forces are a bear to record, and most previous issues have fallen short here. A distinctive, insightful performance would still represent a significant addition to the discography. Again, compare Solti: his episodic, overzealous interpretation notwithstanding, he remained a veteran conductor at the peak of his powers, working with a topflight, responsive orchestra capable of realizing his ideas alertly and expertly.
Riccardo Chailly, alas, is no Solti. I've never seen Chailly in concert, but his recorded work suggests that his stick signals aren't the sort to draw really clean, tight playing. The Royal Concertgebouw, of course, is an outstanding ensemble (at this point, probably superior to Chicago), and they can keep more or less together with minimal podium direction, but they need more if the biggest passages are to emerge with shape and purpose. In fairness, Chailly's musical instincts are reasonable, even if he doesn't have the technical means to realize them. In Part II, he carries off some nice coloristic and blending effects, and brings a certain amount of uplift to the "Blicket auf" motif. He can't do much to highlight major arrival points – say, cue 64 in Part I – except push into them more forcefully, but at least he's doing something.
The vocal soloists are the usual mixed bag, and here I won't invoke Solti, whose lineup is better, but hardly perfect. (If the solo singing is your primary interest, I'm afraid you'll be holding on to the rather closely recorded Kubelik – in DG 29042, 10 CDs – for a long time: no other cast even comes close.) The big disappointment, especially given the fuss in operatic circles, is Jane Eaglen. Where the tessitura is undemanding – say, the "gratiorum" before cue 72 in Part I – her singing is round and the phrasing shapely. But much of the music takes her above the top A, where the voice becomes thin and wiry. Sometimes, as in her opening phrases, this can pass for a "float"; elsewhere it just sounds careful, and occasionally under pitch. The "Gloria Patri" at cue 91, where the two sopranos trade off top Cs, is embarrassing: Anne Schwanewilms delivers them with lustrous, vibrant presence; Eaglen, vocally and texturally, is barely there.
Ben Heppner reverses the pattern of his performance for Colin Davis (RCA 09026-68348-2, 2 CDs, deleted). Here, after a stiff beginning, he is outstanding in Part I, banging out brilliant, secure top B-flats to shame the unison sopranos. But in too much of Part II he's monochromatic, and a slow, sour tremor intrudes.
Both altos are timbrally right, but Sara Fulgoni's lower range is constricted. (Is she singing the "Geeinte Zweinatur" solo in Part II? The beautiful, caressing tone and legato don't match the rest of her work here. Perhaps the line was reassigned to the second alto, Anna Larsson.) It's hard even to hear the distanced Mater Gloriosa, much less to "place" her aurally, but Ruth Ziesak's voice seems thicker and less fresh than on the Blomstedt Resurrection (Decca 443 350-2, 2 CDs). Peter Mattei's diffuse, unsteady baritone hardly sounds "ecstaticus," and he keeps trying to push the solo ahead; conversely, Jan-Hendrink Rootering is tonally firm, but his phrasing ("Infirma, infirma" in Part I) exceptionally wooden. The adult choruses are all right, although the altos and the tenors variously sound too "open" for my taste; the kids cut through satisfactorily.
Such a disappointing performance of a "big" piece suggests that some of Chailly's success with the Concertgebouw in Mahler and Bruckner owes more to the orchestra's tradition and style than to any positive contribution of his own. As for the Eighth, status quo ante.
Stephen Francis Vasta