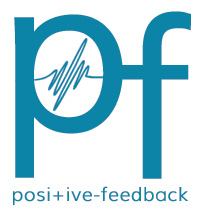 You are reading the older HTML site
Positive Feedback ISSUE 6
april/may 2003
Le Festival Son & Image - Part II
by Sasha Matson
Where were we? This is Part II of my report of "Le Festival Son & Image" 2003, that took place in Montreal the final weekend in March. Please check my show report "Part I" for my initial comments.
Tenor Audio, the fine manufacturer of amplifiers based in Montreal, was featured in one of the first rooms I visited, and Robert Lamarre of Tenor pointed out to me that I needed to go across the street to the Four Points Hotel to visit the other Tenor Audio room. And what would I find there, I inquired? The "World Premiere" of Tenor's new 300 watt hybrid amplifiers, M. Lamarre suavely intoned. Well! Based on what I'd heard of Tenor's 15Wi design, I scurried right across the boulevard and sought out one of the larger rooms at the Four Points Hotel, where drawn by the sound wafting down the hallway, I was able to quickly locate the new Tenor Audio "300Hp" monoblock hybrid amplifiers driving a pair of Kharma "Grand Ceramique" speakers.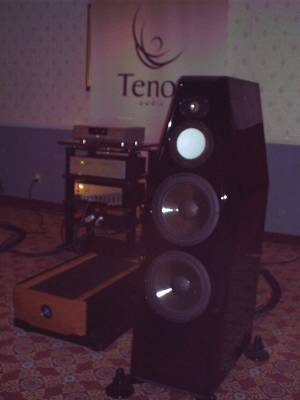 Tenor Audio 300Hp monoblocks & Kharma Grand Ceramique
I quickly fell into attentive conversation with Bill Parish of "GTT Audio & Video."
(www.gttgroup.com) Based in New Jersey, they have the good fortune to be retailers for both Tenor and Kharma– which means Bill gets to listen to this stuff whenever he wants to! As Bill put it to me in describing the Kharma speaker line: "The size of the room is all that matters; every one is a reference speaker." And judging from what I heard then and there he may well be correct. I would like to hear more of the Kharma line in the future, but was happy to finally hear the "Grand Ceramique," which have been receiving positively drooling reviews everywhere you look.
To be clear, what I was listening to was a pair of Kharma Grand Ceramique GrCe1.0 4-way floor-standing speakers, driven by a pair of brand-spanking new Tenor Audio 300Hp hybrid monoblock amplifiers. The Grand Ceramiques are a 4 ohm design with a sensitivity of 93dB, which I would never have guessed from just looking and listening. In other words you could drive these speakers with just about anything. The Tenor 300Hps are so-named for an obvious reason– they put out a gigantic sounding 300wpc. This was some real synergy, there is no question about that. And these gems were deployed in a room that was large enough to show this caliber of component to advantage, which unfortunately was not the case for some other fine manufacturers. Words fail, but here goes, from my notes: "Incredible massed strings. Extremely deep and chasm-wide stage. Canyon-deep low-end." Bill Parish played me a few things, and I stood up and exclaimed: "You're scaring me!" I cannot recall hearing such lifelike orchestral reproduction in a long time. You want width? This combination was producing holographic percussion that simply stared me in the face from way beyond the edge of the speakers. I could have danced all night– if I had been dancing and it had been night, but you get the idea. As it was, it was back to Planet Earth with the reality check; the Grand Ceramiques retail for $47.5k U.S., and the Tenor 300Hp monos clock in at $29.9k U.S. Darn it, I knew there was a catch. Final word from me: Tenor and Kharma are making some heavy mojo– Yeah Baby, Yeah! Find out more at: www.tenoraudio.com and www.gttgroup.com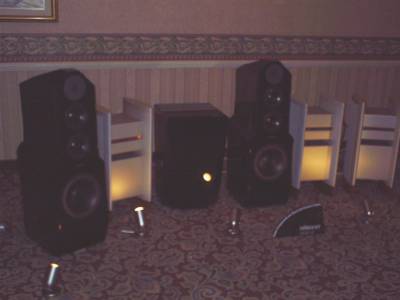 The Halcro & Eggleston Works Room
Right across the hall was another larger room presenting more truly upper-tier gear; Halcro amplification and Eggleston Works speakers. I checked it out and found that this was indeed the same pairing I had heard a few months earlier at CES; I was told that each of these two companies likes the way they make the other sound– so they are a happily married couple at this point. Speakers were the Eggleston Works Andra II, a 3-way floor-standing design rated at 87db sensitivity, (retail is $18k U.S.). Eggleston Works also included in the setup a prototype subwoofer they were calling at this point the "Unamed Woofer," which is based on two 12" speakers. All of this had been laid out for surround-sound, but while I was in the room only two-channel material was playing. The speakers were heavily towed in, I was told in order to maximize the surround sound. This room just didn't send me as much as some others did; perhaps that toe-in had something to do with it. I would like to hear each of these components matched with other gear in the future. In the meantime, there is no doubt that this is very serious and fine design work that is moving that quality bar in the high-end ever higher.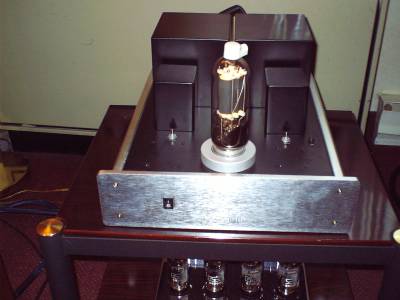 Radii GS805SE Amplifier
Back from the stratosphere and into the small hotel rooms again, I encountered a host of amplifier gear manufactured under the Radii and Cayin brand labels, and distributed in Canada by Allied Distribution based in Hamilton, Ontario. What caught my eye were the Radii monoblocks which use one imposing 805 tube each– hence the model name GS805SE. This is a single-ended design that puts out 50 watts. And you can pick up a pair of 'em for around $2600 U.S. Didn't get to listen, but I would check these out if you are an 805 tube devotee. Also in the room, a pair of Cain & Cain tapered pipe-design speakers. These are quite tall affairs with the speaker mounted about mid-ways. They are rated at a nimble 96dB sensitivity, and retail for a mere $1500 U.S. Find out more at: adist@alliedtvandsound.com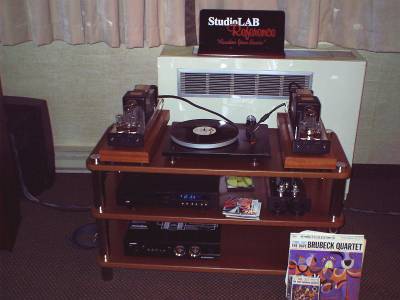 Cary Audio CAD50 Mk.II Monoblocks
Then I went to Oz. That would be Oz Enterprises based in Ottowa, a high-end retailer with an impressive roster, including Cary Audio. The Cary Audio CAD50 monoblocks, with a Cary SLP50B pre-amp, and a Cary 308 CD player, were making lovely music through the 2-way floor-standing StudioLab Reference II speakers. A fine system, which yet again emphasized for me how well Cary Audio gear sounds in a variety of system configurations and rooms. If you want to go to Oz too, you can do so at: www.ozenterprises.net.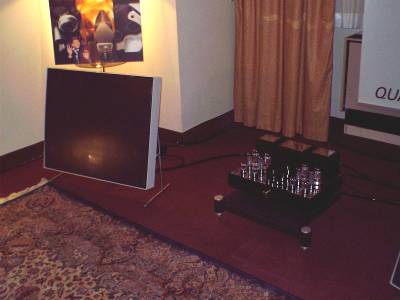 Quad & Audio Aero Capitole
The next room I ventured into was quite intriguing. Featured were Quad LE-1 electrostatic panel speakers, being driven by an Audio Aero Capitole stereo amplifier, (retail on the amp is around $9k U.S.). The Capitole is an imposing single-chassis tubed unit, delivering 50wpc. This amplifier functions somewhat like an automatic transmission; what I mean is a set of EL-34 tubes run in triode mode for the first 10 watts of needed output, and above that KT-88's kick in, driven in penthode mode. How did it sound in practice? Well the source was right on– a fine stereo vinyl pressing of Ella Fitzgerald's "Clap Hands Here Comes Charlie," which I've been listening to a lot lately. There is that stunning moment in "Spring Can Really Hang You Up the Most" when the line dips down REAL deep, and Ella goes into a low mezzo-soprano register that is to die for! But where was it? I can only initially conclude that perhaps it was another case of watt-hungry electrostatic stubbornness, or that room factors got in the way; this was another medium size hotel room. The Quads are reference caliber gear for many, so I hope I have an opportunity to listen again to both of these components. Below is a closer look at that handsome Audio Aero amplifier.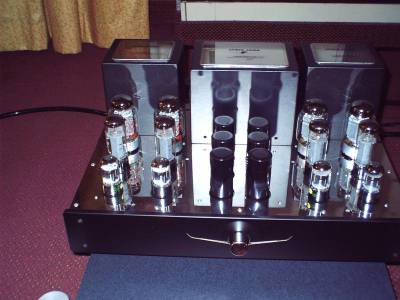 Audio Aero Capitole Stereo Amplifier
Back across the street at the Delta Hotel, my friends Tom and Hart told me I had to get upstairs to a room that was featuring Stillpoints isolation devices, and other gear that Audio Advancements also carries. So I made it by, and had a fun conversation with Allan who handles North American sales for the Stillpoints line. I told Allan I'd just purchased a set for my turntable, and he looked at me and made the 'teeth candy' gesture in the side of his mouth- he knows that once you get hooked on these, you've gotta have more. And I've got to admit that craving is growing! The lovely Ms. Jaclyn Wakeen, also with Stillpoints, was kind enough to pose for a picture next to a rack of assorted gear. What rack do I hear you say?! Find out about Stillpoints at: www.stillpoints.us.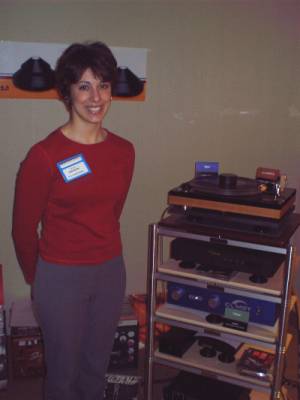 Jaclyn Wakeen & Stillpoints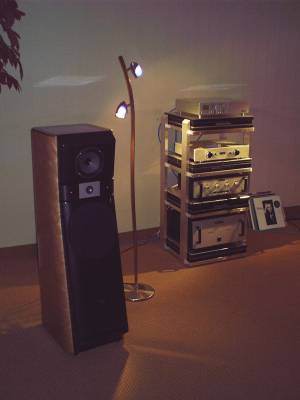 Audio Research & JMLabs Alto Utopia
Audio Research was in Montreal too, represented in a smaller room very unlike the huge multi-channel set-up I'd heard (and liked a lot) at CES. The Audio Research VT100Mk.III was holding forth, (this is a tubed model delivering 100 wpc.), driving impressive Alto Utopia floor standers by JMLabs, (the Altos retail for around $18k U.S.). I was hearing some great vinyl playback in my brief visit to this room from a GA Michell Gyro SE/SME4 turntable combo, through the exemplary stand-alone Audio Research phono stage.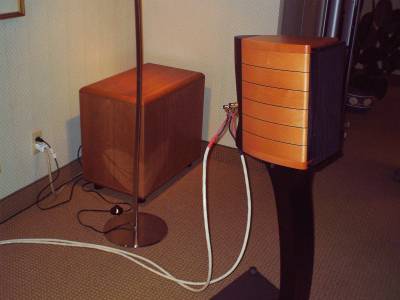 Sonus Faber Cremona Auditor & REL Stadium III
I felt right at home in the room where Sonus Faber's Cremona Auditor was playing to a full house of listeners. This speaker lists for around $4200 U.S., including the Sonus Faber stands you can see in the photo. An all-Classe' electronics set-up was driving the Cremonas, and also the REL Stadium III subwoofer unit in the corner. Many have been happy with systems built around the smaller Sonus Faber two-way designs, supplemented with REL subs. I was told that the music playing when I walked in was recorded in Italy with the Cremona speakers used as the studio monitors! 'Nuf said? As most of you know, Sonus Faber, and also REL, are distributed in North America. by Sumiko Audio of Berkeley, California. You can feast your eyes at: www.sumikoaudio.net.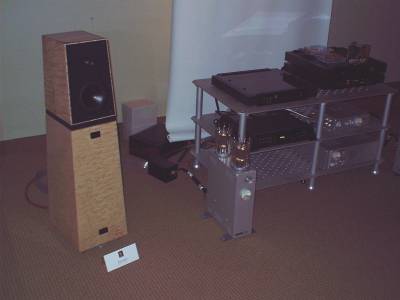 Nagra & Verity Audio Parsifal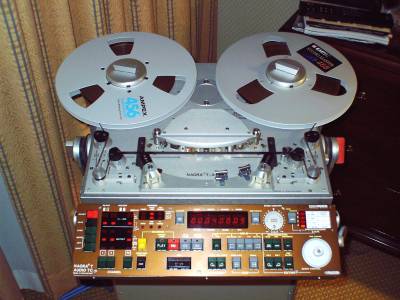 Nagra 4T Recorder
It turned out the last room I had time to visit was also one of the most memorable, and for several reasons. Starting with the gear: a Nagra 4T studio reel-to-reel tape player was sending impeccable signal to a Nagra pre-amp and monoblock amplifiers. And these were driving the Verity Audio Parsifal loudspeakers, (the Parsifals: retail for $20k U.S.). It doesn't get better than this people, even in the top-drawer recording studios, and that's where it starts to get interesting. This room was set up by Fidelio Audio, a Montreal-based company producing very fine audiophile recordings. And what had happened here was basically that Michel Berard and Rene Laflamme, two of the principals of Fidelio, had brought in most of the gear they use to record with. Add to that the fact that these gentlemen were directly involved in the lovely recordings Fidelio is making, and you have the whole process in one unified piece. As I mentioned earlier in my comments on Geoffrey Poor and his recording for Balanced Audio Technology, this 'unified' approach to performance, recording, and music reproduction, I think is simply the best way to go for the high-end, and I salute the people at Fidelio for doing it and for sharing it at the show. I heard the sound of the Mark Vallee Trio captured magnificently on their Fidelio Audio album titled "Hamadryade." This jazz/world music/jam-based music– call it what you will, is available from Fidelio as an SACD release. You can get yours, and other titles, by going to: www.fidelioaudio.com. I plan on getting to know the people at Fidelio Audio better, and look forward to hearing more of their releases. First-rate, and a great way to end my visit to Montreal and Le Festival Son & Image 2003!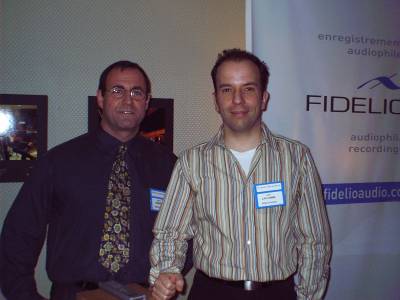 Michel Berard & Rene Laflamme of Fidelio Audio