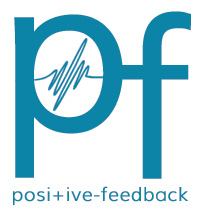 You are reading the older HTML site
Positive Feedback ISSUE 6
april/may 2003
Le Festival Son & Image - Part I
by Sasha Matson
Introduction
"What's in Montreal Dave?" I inquired of one of our two 'Ye Olde Editors' who are named Dave. That would be Dave Clark. "That's the big Canadian Hi-Fi Expo," he patiently explained. And when Dave cancelled his plans to attend I tapped myself, as I live within driving distance of Montreal. So off I went with my new little digital camera to wave the Positive Feedback Online flag, and had a wonderful time. Montreal—now there's a city! Great music, great food, beautiful women; what more do you want?!
The 16th Edition of Le Festival Son & Image 2003 took place at the Delta and Four Points hotels in downtown Montreal during the last weekend in March. Unlike the much larger CES annual blowout in Vegas, the primary focus in Montreal really is on high-end audio, and video systems that are actually related to high-end audio. As Dave Clark described it to me, "It's about the music," which was just fine with me.
A few preliminary disclaimers first: The show encompassed rooms on ten floors in the Delta Hotel, and five floors across the street in the Four Points Hotel. Now this might seem like a routine matter to veteran show reporters, but I found that by myself, actually trying to take time to listen, take photos, and make notes—there was no way I was going to be able to visit with everyone. So, my apologies to all those fine manufacturers and dealers that I was unable to spend time with—I'll try and make it up next time! I also decided early on to concentrate solely on two-channel systems, as that is my primary interest. As I found some rooms shared by a number of different companies, I may not have noted all there was that was worthy of note—my regrets for any sins of omission. And then there's the exchange rate; as of this writing the U.S. to Canadian dollar rate is about 1 to 1.4, but take that with a grain of salt as these things change and I can't guarantee these figures are all correct.
The Show
I realize I didn't even take a photo of the nice lobby or the nice people at the front desk of the show. The main floor in the Delta has of course the larger meeting rooms. Sony was in one large room , others were shared by various vendors including Cisco Music where I encountered the very erudite and entertaining Robert Pincus. Within a couple minutes Robert sold me a recording he co-produced of Mozart's "Haffner," with the memorable sales line "It sounds like a high school orchestra and I mean that in the best sense." Well how could I resist that? And it is a great recording in that Mercury Living Presence vein, with Thomas Nee and the New Hampshire Festival playing the heck out of the music–check it out!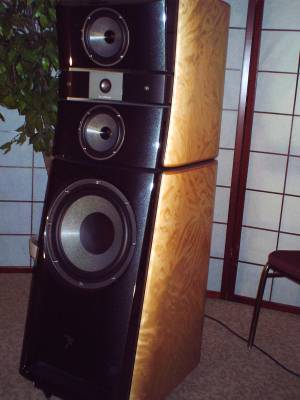 The JM Labs 'Nova' loudspeaker
Diving in, the first room I listened to was a larger suite where they had the space to properly deploy the imposing new JM Labs "Nova" 4-way floor-stander, driven by YBA "Passion Stereo" amplification. The amp was putting out a tidy 250 watts, which I guess is mere child's play to those Beryllium tweeters. These were some very imposing speakers, as I think you can tell from my photo. Like owning a Great Dane, you need the space to give these fellows some exercise. If you want to live large, and you have a strong back and checking account to match I would look into them. My compliments to JM Labs and YBA for providing the space at a show to allow these to be heard properly.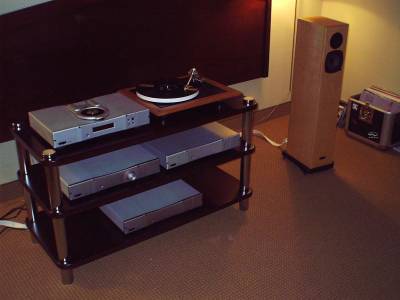 Rega 'Elya' speaker with Rega components
Moving upstairs to the smaller rooms where the bulk of the show was happening, I dropped in on Alex Bowden of Bay Bloor Radio out of Toronto, who was showing an all-Rega system. Rega's speakers don't seem to have the high profile that their turntables do, (I own a Rega 25 'table), however the Rega "Elya" 2-way speaker (list $1350) was making lovely music with a Rega P-9 turntable as the source. And if you know Rega's reputation for quality and value this might be a great sonic solution for you or your loved ones. Now if I can just find out where the cool directors chairs that said "Rega" in big letters on them came from, we'll have something!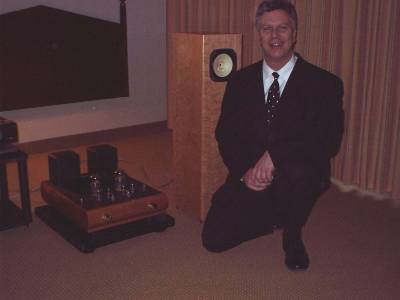 Robert Lamarre w/Tenor Audio and RL Acoustique
Checking into another room, I came upon some genuinely beautiful sound being made by two of the outstanding Canadian high-end manufacturers, Tenor Audio (www.tenoraudio.com), and RL Acoustique (www.rlacoustique.com).
The erudite and musical M. Robert Lamarre demonstrated for me the Tenor 15 Wi monoblocks, (list is aprox. $19k U.S.). These magical amps employ 6C33-C output tubes, as do a number of Tenor's other amplifier designs. OTL technology (meaning "Output Transformer Less" according to their spec sheet) is one of the means to the musical end for Tenor Audio, and man do they know how to use it! You can go read the raves in all those other high-end magazines, and all I can do is concur; this is special stuff. It is also not inexpensive. However, one interesting facet is that you can move from relatively low-powered 15 watt designs, to other models rated at 35 and 75 without much of a cost variable. Also, bear in mind that the Tenor 15Wi is an integrated design providing 3 variable RCA inputs. The real variable is your own system matching needs, and in this I think Tenor's design philosophy is particularly creative, dare I say empowering?, as it allows for the listener/user to determine which is the best match—and this includes Tenor's new higher powered hybrid power amps designs as well, which I heard in another room. Very fine music-making indeed, and some serious design philosophy at work. My highest recommendation!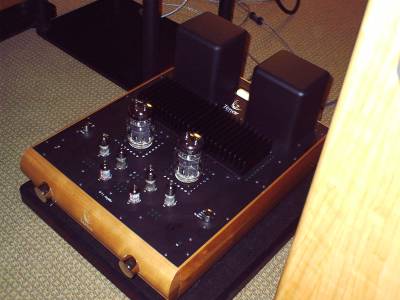 Tenor Audio '!5Wi' amplifier
Not only is Robert Lamarre a principal in Tenor Audio, but he is also an engineer and speaker designer. The Tenor amps were driving the RL Acoustique 'LamPipe' Loudspeakers, which I assume are one of his own designs. This reasonably sized floor-stander, (reasonably priced too, for this caliber of sound at a list of $3250), was a wonderful match in all regards. Appropriate to the smallish room, and rated at 94dB! In other words, you single-ended people have nothing to fear, and plenty to gain. Beautiful work; my notes say "outstanding percussion." Look into it. This room was a highlight of the show for me.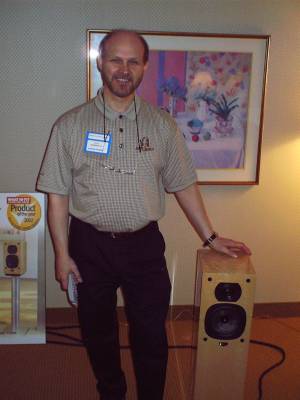 Serge Quenneville w/Quad
Next up, a visit with the venerable Quad company, a landmark in the high-end, before there was a high-end, founded in 1936. Yes, that Quad of the famous electrostatic speakers, (which I heard later in another room), and also currently the manufacturer of fantastic bang-for-the-buck systems; speakers, amps, digital front-end. The synergistic mix created by companies that are able to cover 'all the bases' so to speak, almost seems apparent when you first walk in and listen. What I heard, ably demonstrated by Serge Quenneville, was the Quad 21L floor-stander, driven by the Quad 909 Stereo Amplifier and the Quad 99CD-P CD player. The latter player up-samples to 192kHz, and the amp is rated at 140 watts into 8. It's the speakers that always seem to first catch my attention, as after all, that's what you hear when you first walk in a room! The 21L is a 2-way design with a medium sensitivity rating of 88dB; in other words appropriate to the Quad amp, and many other designs. It sounded great, and truly great value at less than $1400 U.S.! Unless I left off some zeros in my notes by mistake, those searching for truly fine speakers matched to excellent solid-state amps at a great price point, need to check it out at: www.quad-hifi.co.uk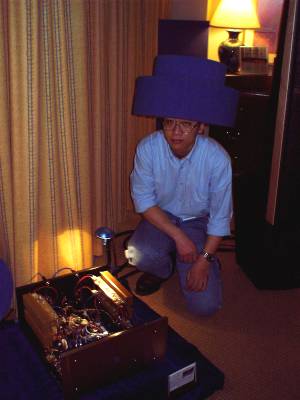 Gilbert Yeung – The Cat In the Blue Circle Hat
And now, for something completely... Blue Circle! These guys get into it, as you can see from the justly renowned Gilbert Yeung's headgear. Reflecting of course, the name and logo of the company. And what did they have going? Well, for starters, the Blue Circle BC28 Hybrid Power Amplifier. This is a tubed input, solid-state output design, putting out 120 watts into 8. (list is aprox. $2,800 U.S.) This was paired with a Blue Circle BC21.1 Preamplifier , which is a tubed unit. They were driving Martin Logan 'Ascents' very nicely indeed—though low-end seemed a tad enervated. Don't know how much juice those Martin-Logans need to come alive, but you know what voracious eaters electrostatics are, even hybrid ones. Matching? Room? Some of both—probably. Another BC28 was also sitting with its cool-looking innards on view, as you can see in the next photo. And Blue Circle gear has nice looking glowing blue circles on the front panels—natch!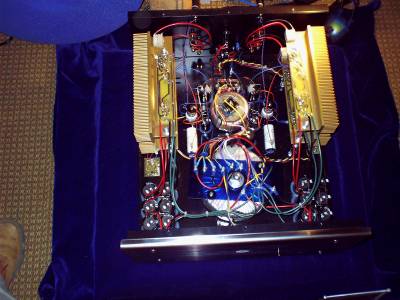 Blue Circle BC28 amp with hood down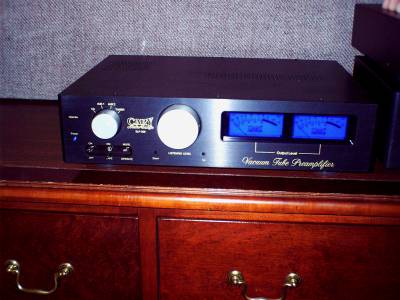 Cary Audio 'SLP308' vacuum tube preamplifier
Then it was a homecoming of sorts, as I wandered into a room featuring Cary Audio (www.caryaudio.com). I guess I'll just have to go ahead and excuse myself from any comments here, as I own several Cary (and their little brother Audio Electronic Supply) components, and recently had the opportunity to interview Cary's guru designer Dennis Had at CES in Vegas. (http://www.positive-feedback.com/Issue5/caryinterview.htm)
But I just can't help myself! If you didn't believe me before, you've got to just take my word for it at this point: Cary Audio is making, and has made for some years now, some of the best sounding and most musical audio components on Planet Earth! And Montreal was no exception. Bruno de Lorimier of Kevro International Inc. (www.kevro.com) who assists in distributing Cary Audio in Canada, and Isadore Nudell of Codell Audio,
(www.codellaudio.com) didn't have to twist my arm very hard to sit and listen for a spell. And I learned something right on the spot too—it's hard to keep up with Dennis Had. I didn't realize Cary had added the SLP308 Vacuum Tube Preamplifier to their lineup until I walked in this room. It is the matching piece for the Cary CD308T CD player that I am the proud owner of, and recently reviewed in these pages. (http://www.positive-feedback.com/Issue5/cary308tsm.htm)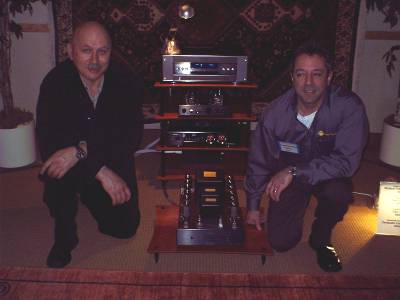 Isadore Nudell and Bruno de Lorimier w/Cary Audio
Listened to and mightily enjoyed the Cary V12 single-chassis stereo amplifier, which utilizes an even dozen EL-34 tubes capable of running in various combinations of triode or ultra-linear, (and looks as stunning as it sounds; top-class components and music-making!), a Cary SLP98 preamplifier, all driving Dynaudio S3.4 speakers. The speakers retail at around $5700, and Dynaudio needs no introduction from me—excellent and musical sound. Wished I'd been able to stay and listen longer! Didn't jot down the current list prices on the Cary gear, but you can find out at: www.caryaudio.com. More important Dennis Had and Cary/Audio Electronic Supply news coming from me soon—I guarantee!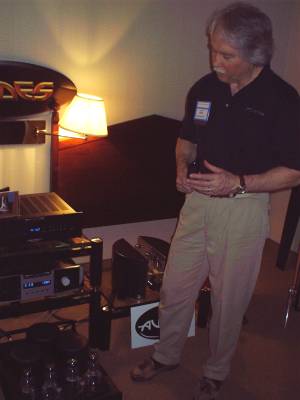 Geoffrey Poor gets down with BAT
Next up, spent a bit of time with Geoffrey Poor, a principal in Balanced Audio Technology. Geoffrey had a powerful combo running, all BAT products: the VKD5 CD player, the VK518E Preamplifier, and the VK75SE Stereo Amplifier. The amp uses 6C33 power tubes fed by the 6H30 Super Tube, and puts out a muscular and musical 75 watts. And I could hear that loud and clear, as Geoffrey cranked up a recording he has produced himself by George Faber, simply titled "Blues", (if I got that correctly,) and slated as the first BAT music release. Now this is something that is dear to my own heart and interests, and that I would like to see more of in the high-end. Namely, high-end designers and manufacturers, who for the most part are passionate about music, becoming involved in the total musical process, from inception through recording, and then finally the reproduction through high-end audio components. So I was particularly pleased to meet up with Geoffrey Poor and hear him hold forth with equal passion on various styles of Hammond B-3 performance he'd managed to capture, as he also discussed the technology used to play it back. This is healthy for the high-end, and can only assist in yielding meaningful product designs. Perhaps that good sweet 'Little-Feat' style r+b groove was starting to get to me, as I neglected to jot down list prices.(And not only that, I didn't make any notes on the speakers either!) But you can find out more at: info@baclanced.com. Below is a closer photo of the BAT VK75SE.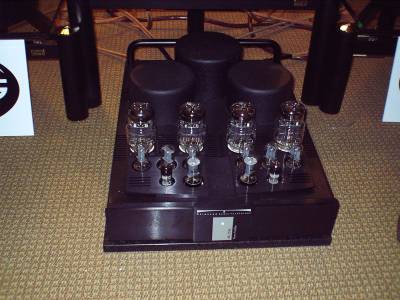 Balanced Audio Technology VK75SE stereo amplifier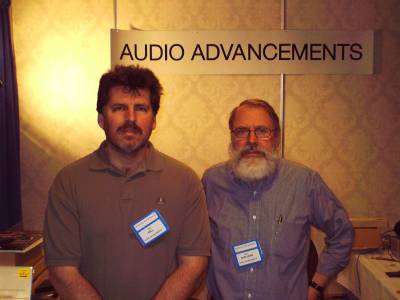 Tom Hill and Hart Huschens
Back on the main floor I caught up with two fellows I'd met out in Vegas at CES a few months earlier, Tom Hills of Hudson Audio Technology, and Hart Huschens of Audio Advancements. They had a little Santa's workshop going there with all sorts of good stuff spread out on the tables. I'd literally grabbed a power cable that Tom had at CES and made a run for the airport– so we finally met. I've since ordered another one, and am about to order two more! Take my word for it, these prices are too low to print!! You can e-mail Tom directly at: HUDS143@aol.com Tell him Sasha sent ya... . But Tom doesn't just make cables, he is also a turntable expert, along with Hart Huschens. They had several fine 'tables set up and running at the show. Two models by Eurolab: the Minuet (with a list of about $1350) and the Premier (with a list of $1650—see my photo below). The Minuet is equipped with a Schroeder arm, and the Premier was set up with a Morch UP4 tone arm (if I'm spelling those correctly Hart?). This is quality gear and Tom and Hart know how to set it up and get it to sound its best as well.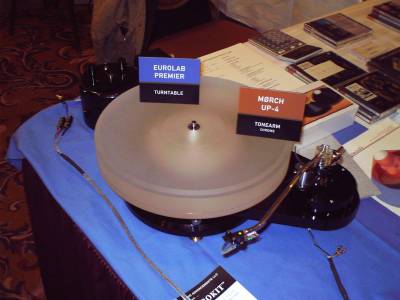 Eurolabs 'Premier' turntable
Another item that Tom and Hart feature that really caught my eye and ear are two small outboard tubed units, one is a phono stage, the other is a headphone amp. The Ear Max headphone unit lists for $550, and the Phono Max phono stage lists for $1150. These are incredibly compact elegant designs that won't use up all your rack space, or your wallet, and sound outstanding! Check all these out, and more at: www.audioadvancements.com
And I might as well mention that on my way out the door this time I picked up a set of three Stillpoint isolation cones from these guys, (Stillpoint was also featured in one of the upstairs rooms), got home, put it under my Rega 25 turntable and viola'—new turntable!!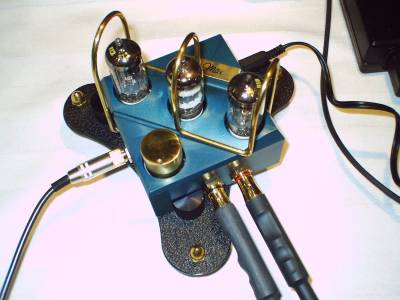 Ear Max' headphone amplifier
I had heard one particular room the afternoon I arrived, and went back again to grab a photo and more information. Rogue Audio from Pennsylvania, manufacturer of tube amps was sharing a room with Meadowlark Audio, a speaker designer from New York. This was powerful stuff, basically too much sound for the small hotel room in which it found itself. But in a more sympathetic environment I think it be a force to reckon with. What do I mean? Well take a look at the photo below.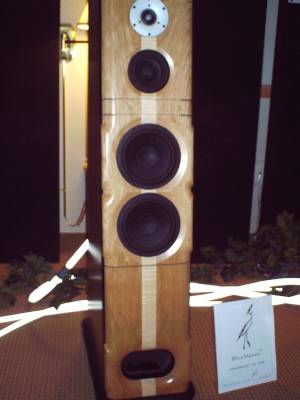 Meadowlark 'Blue Heron 2' loudspeaker
The Meadowlark "Blue Heron 2' is a large 4-way floor-standing loudspeaker, using a 'transmission line' design approach. (listing at $12k U.S.) Even in the not-so-great photo I think you can see the outstanding level of craft that goes into the cabinetry—ditto the sound. Big, generous. How do I know? I chose an Audioquest Music track they happened to have on-hand, "Too Proud," by Mighty Sam McClain. This is one of my reference recordings, that I know intimately. It was sounding humongous, bringing forth a larger-than-life version of all Mighty Sam has to offer, and that's a lot. No doubt this was due in great part to the Rogue Audio 'Zeus' Stereo Amplifier, a not shy affair willing to commit 225 wpc, and using six KT88's per side, (with a U.S. retail of about $6k.). That's a lot of tube bang-for-the-buck for those among you who desire Fremeresque levels of 'slam' and like qualities. Were tube subtleties there as well? Not quite sure, and as I said I think the small hotel room wasn't helping on that front. You can learn more though at: www.rogueaudio.com and www.meadowlarkaudio.com. Unfortunately my photo of the amp was blurred, but I'm sure you can find it on their website.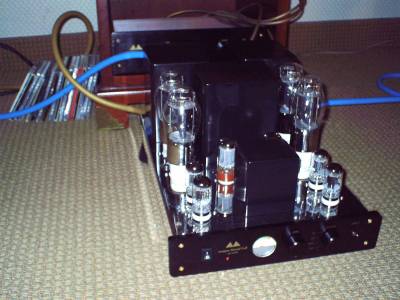 Antique Sounds Labs 'AQ1010DT' amplifier
Into the Antique Sound Labs den I dove next. There was a whole stack of shelves with small interesting gadgets on it, but too dark in there to take a useable photo! So, I can at least tell you about two of their power amps. The one playing music while I was there was the AQ1010DTI. This beauty has two 300B tubes per side (4 Valve Art 300B's are included in the purchase price!) It was described to me as "parallel single-ended" and putting out 18 watts. Available as either a power amp or an integrated. And the good news is all this retails for around $2200 U.S. dollars! By the door they had on display (along with its award as "Power Amplifier of the Year" 2003 from Absolute Sound), the Antique Sound Labs 'Hurricane 200DT' monoblock amplifier, which runs with eight KT88's. (list is $4400 the pair) Frankly I did not stay long enough to form an impression of the sounds for myself, but others have thought very highly of these great value-for-the-dollar components.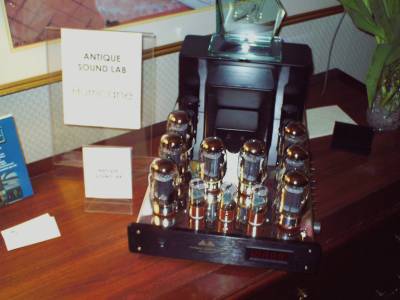 Antique Sound Labs 'Hurricane' amplifier
So that's Part I of my report from Le Festival Son & Image, Montreal 2003. Onwards to Part II!