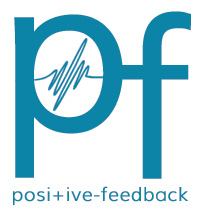 You are reading the older HTML site
Positive Feedback ISSUE 60
march/april 2012
Notes of an Amateur: Vasks' Choral Music and Céline Moinet's Oboe
by Bob Neill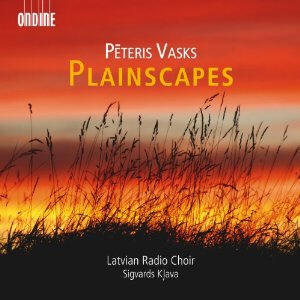 Péteris Vasks, Plainscapes. Latvian Radio Choir, Sigvardis Klava, director. Ondine ODE 1194-2
As I've written here many times, contemporary Latvian composer Péteris Vasks has a sound, his version of the Slavic/Eastern European elegiac angst, which it seems can only be composed from within a world that knew Soviet repression. Not all composers who endured that experience express it with this sound—Ustvolskaya, Gubaidulina, Schnittke, for example. But those who do—Vasks, Kanchelli, Pärt, Silvestrov—have distinctive emotional appeal that can be irresistible.
This is the second album of choral music I've heard from Vasks (the earlier one focused on what he calls spiritual music, this one on secular), though what strikes me especially about this one is the composer's obvious love of the close harmonies (and disharmonies) of renaissance religious music—and his obvious calling to transmute them into modern sounds. Not all of the music on this album does that—some of it is 'easier.' In some works, we hear reflections of eastern orthodox hymns we've heard elsewhere and in others, folk music. All of this music sounds slavic/Eastern European, as if there were no national boundaries east of Germany and Austria. To call Vasks' music Latvian, which it is, seems unnaturally specific to western ears, political perhaps, which is understandable given how recently the country recovered its independence from the Soviet Union. All Baltic countries resist our tendency to hear past their national identities to larger cultural contexts, which of course includes the land of their oppressors—to hear Polish, Lithuanian, Estonian, Latvian, Russian, Georgian, Ukrainian music as a single, albeit complex and varied, musical universe.
Latvia is always in my heart, even if I do not name it specifically. I am a Latvian composer, and every one of my compositions tells about the country which I love the most in the world - Latvia. I compose music about all of us who live here. There is sadness, but there is also sometimes joy. I think that is the duty of the composer.

Peteris Vasks
That Vasks' choral music is as moving as his orchestral and chamber music is gratifying, as I discovered with the earlier album. That many of us hear it in its larger context doubtless keeps us from hearing much of its distinctiveness. For that reason, listening to an album like this one through in a sitting and letting its sound works its way into us can do wonders.
The title work, Plainscapes, which includes a violin and cello along with the chorus, is the most recognizable Vasks here and the violin is largely responsible for this. The work was commissioned by Latvian violinist Gidon Kremer. There is no verbal text, so the voices act as instruments. Hearing this work, about two-thirds of the way through the album, we can feel all of the other works in the program form themselves into a ring of musical satellites revolving around it.
To call this music secular, as Vasks does, demonstrates how deeply spiritual his culture is!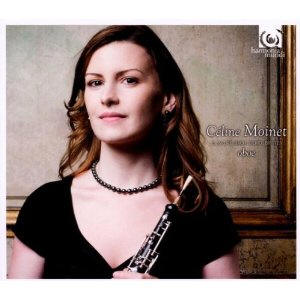 Céline Moinet, oboe. J.S. Bach, Berio, Britten, Carter, CPE Bach. Harmonia Mundi HMC 902118
Soft music lovers want the oboe to sound soft: to be oboe-like but to imitate the clarinet a bit. A bit more than is its double-reeded nature. Everybody's favorite oboist for a generation (at least) back in the 1960's and 1970's, Heinz Holiger, condescended a little to please the softies and presumably reaped the benefits, as did his Philips record label. His tone was rich and gorgeous and we all loved it.
Céline Moinet's tone is not gorgeous. It is beautiful as maple and platinum are beautiful: hard, clear, pure—especially on the Crimson electronics. Her program for this recording is wildly varied and despite its considerable music interest is a great deal about the oboe. It can sing, shout, reflect—all in its distinctive coppery ale-like voice that haunts us as few other instruments quite can.
While the opening work on the album is a very satisfying transposition of a solo flute sonata by JS Bach, for me, the main event is a surprise: a rich narrative musical meditation, Sonata in A minor by JS Bach's most accomplished son and fascinating figure in his own light, Carl Philip Emmanuel Bach (1714-1788). CPE has always shown us the eloquence of an aesthetic born (and bred) in the baroque period of his father and coming of age in the classical period of Haydn and Mozart, on whom he had considerable influence. This sonata is among the most attractive works of his that I've heard, and Moinet breathes wonderful energy and fluidity into it. As fond as I am of the Bach sonata and of the Britten piece, this is the work on the album I'll be coming back for.
Britten's Six Metamorphosis after Ovid (1951) is a work that remembers Debussy's L'Apres-midi d'un Faun but aims to restore its classical clarity and authority. The Berio and Carter works, the two 'radical' pieces on the program, explore the expressive possibilities of the instrument and pretty much pick their audiences accordingly.
Harmonia Mundi has a way of finding emerging stars and I'd be very much surprised if we don't hear more from Ms. Moinet in the future.
Equipment used for this audition: Audio Note CDT 4 transport; Audio Note Dac 4.1 Balanced Signature and Blue Circle BC501obLOC dac; Audio Note M6 tubed Phono preamplifier & P3 Silver Signature 300B stereo amplifier; Crimson CS710 solid state preamplifier & CDS640E solid state monoblock amplifier; Audio Note E/SPe HE and Jean Marie Reynaud Orféo loudspeakers; Audio Note and Crimson cables.
Bob Neill, in addition to being an occasional equipment and regular music reviewer for Positive- Feedback Online, is also proprietor of Amherst Audio in Amherst, Massachusetts, which sells equipment from Audio Note, Blue Circle, JM Reynaud, and Crimson Audio.