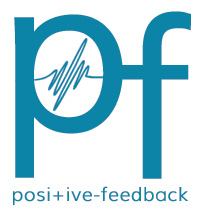 You are reading the older HTML site
Positive Feedback ISSUE 60
march/april 2012
Brodsky Quartet, God's Sketches
by Teresa Goodwin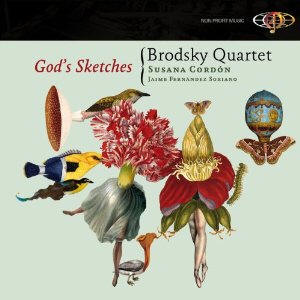 Jorge Grundman: Surviving a Son's Suicide for String Quartet, God's Sketches for String Quartet, Soprano and Mallets. Brodsky Quartet, Susana Cordón (soprano in God's Sketches) Jaime Fernández Soriano (percussion in God's Sketches). Stereo/Multichannel SACD Hybrid. Non Profit Music NPM 1201.
For your consideration another very unusual chamber music SACD from Spain's Non Profit Music; this one for string quartet which also includes percussion and a soprano in the second work.
The two compositions on this SACD are by Jorge Grundman, born July 1961. He is one of Spain's most popular contemporary composers and a co-founder of the Non-Profit Chamber Orchestra. He started his musical training when he was 12 years old and wrote his first composition at the tender age of 14. For more information on his life and works visit his website: http://www.grundman.org/
Mr. Grundman considers himself a writer of music more than a composer as he says there is nothing new in the music he writes nor is it his intention. He just tries to tell stories through the musical narrative. He does this in the simplest, almost naive way possible. However, if there is something that leads him when he starts writing a piece, it is to avoid communicating something tiring and boring. He wants people to find his music sentimental and moving and also, as far as possible, to fancy listening to it again. Accessible to the listener and the performers, in other words, he does not write for composers.
From a listening standpoint I actually find Jorge Grundman's music quite new, exciting and unique. Could he be referring to atonality in music as being new, at least as far as contemporary composers are concerned, and his rejection of it? Jorge Grundman's music is very tonal and very much his own, which I consider very new. This is not my first exposure to his music as "His A Walk across Adolescence" was included on Trío Arbós' Play It Again http://www.positive-feedback.com/Issue59/arbos.htm
Surviving a Son's Suicide for String Quartet
Jorge Grundman imagined it as a broken marriage that meets again many years after the suicide of their son. They revive the happiest moments they had lived with him, even if the bitterness still exists in the background. The piece takes place in three movements that describe the encounter.
I. Browsing his childhood photographs
II. Remembering the awkward age
III. His room as he left it
In "Browsing his childhood photographs", the marriage tends to be moved but they contain themselves not to show their feelings. The music is sad, slow and lyrical.
"Remembering the awkward age" represents the time when they could not understand or agree with the erratic thoughts of their son. Even so, there was always something they liked. This is my favorite movement with the beautiful pizzicato interplay between melody and harmony. And later, the entrance of the Argo line is mixed with the pizzicato lines... which to my ears is pure genius.
The final movement "His room as he left it" is when the couple check their dead son's room, where every object, color and photograph strings together new memories as each melody starts with the finale notes of the previous one. I am left wondering if their son's tragic suicide brought the estranged couple closer together. I am sure this was a difficult piece of music to write as the circumstances are tragically unfair since no parent should outlive their children.
God's Sketches
This composition is based on Jorge Grundman's experience of witnessing the people who have sisters or sons with Down's syndrome or autism. He wondered what would happen to these people as they grow up and their parents are no longer there to take care of them. So he read about the subject and concluded that society was over-protective in a way that hinders their independence.
He realized that we probably don't know how to interpret those we consider disabled; who are so full of tenderness and happiness. That's the reason he called this composition God's Sketches, as we are all created in the image of God and the disabled are like an unfinished human tapestry. This piece is for soprano, percussion, and string quartet; a very unusual combination. Susana Cordón is the soprano who sings about the relationship between a boy with Down's syndrome and a girl with autism. Her voice is very pleasing and the percussion is very realistic, as is the string quartet.
Elegant long-lasting packaging
As many disc collectors have come to realize most disc packaging is not so good. Jewel cases get scuffed and scratched, digipak cardboard covers get worn, damaged, and the unreplaceable hinges can break. However Non Profit Music's SACDs come housed in a beautiful hardcover laminated miniature book which should retain its full beauty for a lifetime. This mini-book is 32 pages with text in both English and Spanish. It offers complete information of the musical compositions, their history and style, as well as the biographies of the performers, and lots of full color pictures. The SACD fits in a pocket bound to the back of the book. The look and feel of the book is elegant and no doubt expensive to produce. I wish all my SACDs were packaged in such books.
I selected track 4 from the SACD to import to my computer to make this measurement as it has percussion in addition to the string quartet. I used Audacity and converted to 24/96 PCM as I don't have a way to measure direct from the SACD. I closed the project without saving after getting a screen shot of the spectrogram and plot spectrum, as the SACD does sound better on my modified SACD player.

There is a "smooth" natural roll-off down to 25kHz followed by well-controlled DSD noise that doesn't raise above -84dB in the ultrasonic frequencies. For comparison see a brick-wall filtered recording in "Are Your High Resolution Recordings Really High Resolution?"
Thus it is possible that the roll-off to 25kHz was the natural response of the microphones or some other analogue device used, and thus this is a true high resolution recording.
About Non Profit Music
Non Profit Music as a record company, has born with the aim of bringing the lesser known artists' and musical compositions to the music buying public and at the same time to gather funds for humanitarian reasons.
The Foundation Non Profit Music arouse as a response to the current incidence that classical music has, in the world, seen a progressive decrease of the top degree students in the music conservatoires, a lack of motivation by the public to assist in the representations of classical music—an example could be the "chamber music"—and the loss of sensibility towards the social and humanitarian action.
The Foundation Non Profit Music believes that it is possible to create initiatives that will help solve these deficiencies in our society, and even that those initiatives could act in a combined manner. This way, the activities of the Foundation Non Profit Music will be directed to the promotion and broadcasting of the musical culture and, simultaneously, sensibilizating the population towards the solidarity and the collection of funds for social and humanitarian purposes.
You can read more about Non Profit Music's foundation and record label at the website: http://www.nonprofitmusic.org/