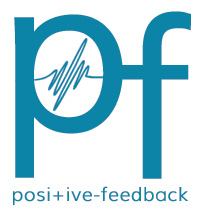 You are reading the older HTML site
Positive Feedback ISSUE 60
march/april 2012
Music Reviews of Releases by PentaTone, Linn, Telarc, Naxos, LSO Live, Marco Polo, and Reference Recordings
by Karl Lozier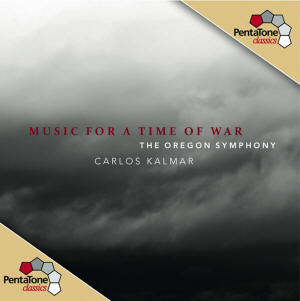 Music For A Time Of War, Charles Ives. The Unanswered Question, John Adams. The Wound-Dresser, Benjamin Britten. Sinfonia da Requiem, Ralph Vaughan Williams. Symphony No. 4. Orchestra: Oregon Symphony. Conductor: Carlos Kalmar
PentaTone Hybrid SACD PTC 5186 393
This must be called a concept release. I do not know who decided that. Eventually I agreed to that idea even though only two of the compositions definitely would fall under that title. The Wound-Dresser comes directly from Walt Whitman's "Drum Taps" collection of poems about the Civil War. During that war, Whitman served as a nurse and indeed was bandaging patients as a wound-dresser. The Sinfonia Requiem commissioned the pacifist Britten and the result is this modern warfare requiem. Be very careful with your gain/volume control here; it starts off with well recorded timpani thwacks that may be a bit too much for many systems. This is particularly true if you had boosted the volume/gain settings for the unusually low output audio for the sublimely beautiful setting of Ives' "The Unanswered Question". I doubt that it was originally composed with war in mind, though here it does seem to do a fine job of introducing this "War album" quite convincingly and I am not sure why. I will accept the liner note's observation that a contemplative work is whatever the listener makes of it. You will boost the amplifier's output to catch the subtle music making going on here as it is recorded or presented at a very low volume setting. Make certain that you lower that gain/volume setting before the third selection, The Sinfonia da Requiem, by Britten is a serious piece by the composer with an unusual background and reviewed here many months ago. The overall audio quality here is simply excellent for all the selections and ties all the compositions together as if they were meant to be. Those opening timpani thwacks are powerful enough and clear and free of distortions to qualify as being of demonstration quality-let your audiophile friends know. If you are asked, nobody knows what the unanswered question is; used here it could possibly be; why do civilized countries go to war, or what ever. It could fit in with many other concept groups or ideas. Claiming to be a pacifist, Vaughan Williams would not claim any connection with war for his powerful Symphony No. 4. His wife claims it to be more like some of his rages though it contains many beautiful sublime passages suggestive of very peaceful night times. This is simply an outstanding release in almost all aspects of performance and audio quality. It is a most highly recommended SACD release even in two channel form and I believe even newcomers to classical music can appreciate the great quantity and quality of music making contained on this little five inch disk.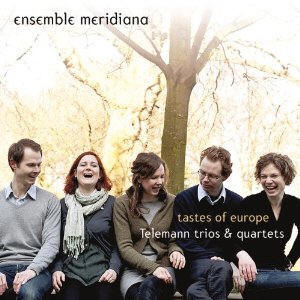 Tastes of Europe, Telemann trios and quartets. Linn Records Hybrid SACD CKD368
Linn gained fame for their early turntable designs and now are developing a fine reputation as Linn Records (Gramophone's Label of the Year 2010). To turn out the best possible audio at this time the SACD hybrid (playable on any CD or SACD player) system is being used as expected. This recording definitely offers top audio quality with particularly outstanding detailed quality and very extended frequency response. Some of the early baroque period instruments seem to put out great output in the treble ranges and particularly noticed because of relatively less output in bass and lower midranges than more modern orchestral instruments. If your system is a bit lacking in high end range quality the result may be at least a subtle hint of irritation or harshness resulting in listening fatigue. Unfortunately the quality problems in the high end or so called treble range are not limited to being found with CD or SACD players. Along with trying to extend the frequency range of tweeters, manufacturers often have to deal with more resonances particularly with metallic cones of various exotic materials and so on. This group consists of violin, viola de gamba (almost a cello) basso continuo, oboe and recorder. Most of the compositions here are the trios, so fullness is perhaps slightly lacking and I have no idea why that would be done. In any event the performances are easily top notch and the audio quality even in the stereo SACD mode seems to have a definite projection quality in addition to great depth for such a small group. Outstanding audio is not true of all Telemann (my favorite baroque composer) though it is certainly here on this release, a larger group or a bit different combination of instruments would have been more readily appreciated by those newly exposed to baroque music. Those with great interest will like the inclusion of the Italian style (sharp and colorful) the French style (flowing and tender) and the later German style (mixed taste); that accounts for the heading of this fine release. Personally I shall look forward to a release adding a couple more players to this fine group for potentially more appeal to more listeners to discover what Linn Records is doing with SACD. It rates recommendation to any listener interested in music from that time period of long ago, the baroque period.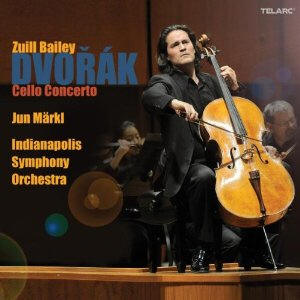 Dvorak, Cello Concerto. Orchestra: Indianapolis Symphony. TELARC CD TEL-32927-02
Next to the piano my favorite musical instrument is the cello. Unfortunately few compositions feature it as a solo performing instrument. Dvorak's cello concerto certainly does and is quite famous for doing so. Of course it is a favorite of mine and I am fussy about performances of it and the recorded audio quality as well. I have been very fortunate to have heard it live a number of times including three of the greatest cello players of all time, namely Lynn Harrell, Janos Starker and Mstislav Rostropovich. Many might add two or three others to the modern era list though Rostropovich should take the prize as most famous and influential by attracting more composers to offer compositions for him and his famous cello.
In addition, many regard him highly as a conductor and respected when tangled up in Russian politics. Though certainly acceptable for most listeners and with two added and not commonly heard Dvorak tone-poems, I must mention that Positive-Feedback does place emphasis on audio quality and so has Telarc in the past, particularly so when Michael Bishop's name is mentioned. The attractive added selections, "The Water Goblin" and "In Nature's Realm" well performed and recorded here would have been enough to entice my purchase as I did not have them in my digital Dvorak collection. I find them to be very enjoyable and alone worth the price of admission here at well over a half hour total. That is not the point here. Serious listeners looking to replace an old favorite version of Dvorak's beautiful cello concerto with the latest up to date recording of it are not likely to be pleased overall with this release. That in no way should detract from Bailey's fine rather leisurely approach giving full attention to the melodic passages of this great composition. Initial disappointment at the slight lacking of detail and balance between cello and orchestra can be greatly improved by simply turning up the gain/volume control about two to three db or even a bit more, making noticeable improvement.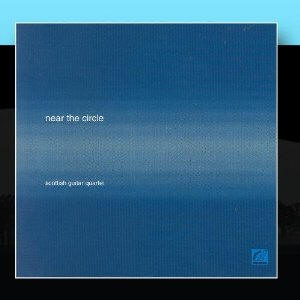 Near The Circle, Scottish Guitar Quartet. Brockie, Clark, MacFarlane and MacKenzie. cabermusic.com CD #023
I have no idea where this recording came from for certain. It was at the bottom of a Toshiba, Kimber or Sirius bag from some show quite awhile back with no information attached. I finally listened to it. Four acoustic guitar players of fine musical abilities playing 'popular' music as well as you ever likely to hear it played. Well positioned by fine recording pickup seemed to reveal them taking turns as the lead. The recording sounds impressively simple, detailed, dimensional and natural. These four player should easily fit into your listening room and provide upbeat performances of 'pop' style music as is too seldom heard.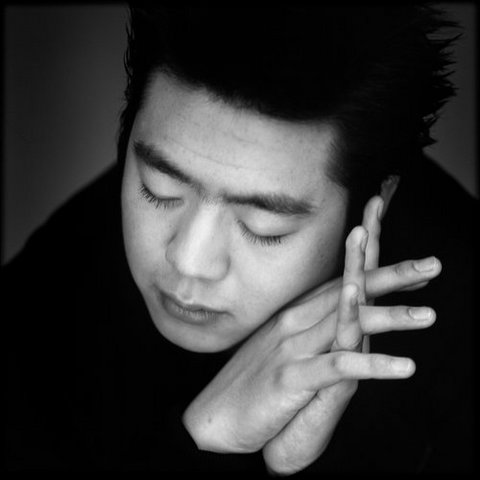 Creations of Passion, Lang Lang. Special Montblanc Edition. Deutsche Grammophon GmbH Compilation
Here is another one as with the disclaimer I used in the above guitar album review. Here there is an obvious and interesting promotional twist. Nearly fifteen years ago, writing a review about teenager Lang Lang I said that he would be the greatest pianist of the next century. So far that seems to true and he seems to be getting ever better. I have heard him live recently from close up in the fourth row. At times he seems to remind me of a young Earl Wild at his bravura best and his best was tough to top. I rarely use sports' analogies to make a point though here's one from my undergraduate school, FSU. The famous defensive back Dion Sanders (outgoing and boastful) showed up while his replacement the following year was having a 'low key', quiet interview. Dion told his replacement, "man you just humbled yourself out of a million dollars". Being a bit of a show-off in any field can pay off well.
Lang Lang does that at times and backs it up always. Nothing and certainly no composition seems to seriously challenge him. Try to get to see and hear him in person if you possibly can. There is a great deal of promotional information here for Lang Lang, Montblanc and the Montblanc Cultural Foundation and its chairman, Lang Lang. The recorded compilation selections were chosen by him and are obviously taken from DGG releases. They are simply excellent. Check with a Montblanc dealer to see if this package is still available.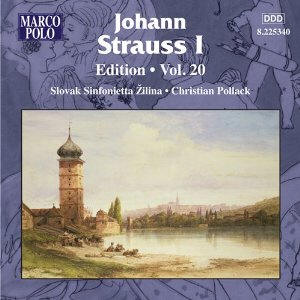 Johann Strauss I, Edition Vol. 20. Marco Polo CD 8.225340
This lightweight group of releases by the elder Johann Strauss is simply delightful. Most of the selections are relatively unknown or seldom played in the U.S.A. at least. They definitely tend to sound familiar and are mainly waltzes. There are a pair of audibly contrasting marches, the Austrian Celebration and the Esmeralda. Somehow they manage to sound quite a bit like dance music also.
Performances are seemingly spot on and the relatively small orchestra certainly knows this music. The audio quality is excellent and even presents a very solid bottom (bass) end response when called for. Depth, staging and detail are not to be faulted. If you hear any distortions such as harshness, shrillness, flabby bass or whatever, you need to checkout every bit of your audio listening components because at least one is not performing as it should for you, the music lover. Simply enjoyable music performed excellently and captured in absolutely top quality sound has to be recommended, even to classical music newcomers.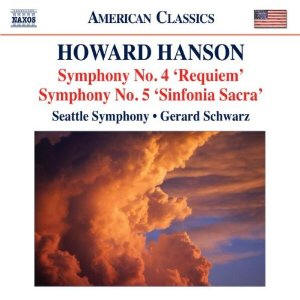 Howard Hanson, Symphony No.4 "Requiem". Symphony No.5 "Sinfonia Sacra". Naxos CD 8.559703
It is necessary for me to bring some backgrounds up to date here. This was originally released on the Delos International label. I probably have it in my collection if I were to look for it. If it were recorded and released this year I might guess that this truly excellently recorded release might have been recorded with a tad closer microphone placement with even a bit more detail apparent-maybe. I find absolutely no audio/recorded faults in this recording, period! Next up; Gerard Schwarz is no longer the fine Seattle Symphony conductor. He has been promoted to Conductor Laureate. Hopefully he will still do a few new releases in the near future. Few conductor/orchestra pairings have equaled the outstanding results they have obtained in their recordings released over the past twenty-five years.
Hanson regarded the "Requiem" fourth symphony as one of his two favorite compositions. The other is his deservedly famous opera "Merry Mount" (even the suite from it is very highly regarded). This very serious composition is dedicated to his father and stands as an elegy. Some of the movements are entitled as if they were part of a requiem mass. The symphony, or requiem actually, in the last movement has moments and passages of beauty and power and ultimately as in life as we know it, ends quite peacefully and fades away appropriately as noted,' Largo pastorale'. Premièred by Hanson and the Boston Symphony late in 1943 it received the first ever Pulitzer Prize awarded to music! The Symphony No.5 is compact within one movement and gives off an atmosphere symbolic of the story of Easter. In the elegy, echoes or hints of Hanson's love of Wagner and Sibelius are heard and just before the ending he inserts a distant farewell muted trumpet. All is beautifully performed and recorded, perhaps even a slight degree better than the" Requiem Symphony". 'Dies Natalis' the last of these compositions was written while at his summer home on a Maine island. It was a commission dedicated to Hanson's native state of Nebraska on its one hundredth birthday. I shall not go into detail; the other selections will and should determine purchasing this outstanding recording. A fine addition to any serious classical music lover's collection of fine music and written by one of America's great composers. I am not of one mind about recommending it to classical newcomers.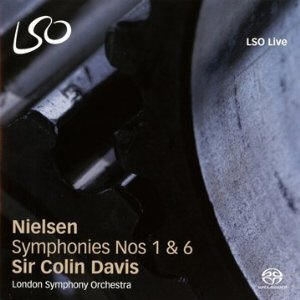 Carl Nielsen, Symphonies Nos. 1 and 6. LSO Live Hybrid SACD LSO0715
A preface if you will please. In the nearly forty years since I started reviewing recordings and audio equipment I have often written the following disclaimer. In my not so humble opinion, the only really good first symphonies that I have heard are by Brahms, Mahler and Sibelius. To this arcane group I now nominate, after serious consideration, Carl Nielsen. The second and last item is addressed to a small though vocal group that has not always agreed with my generally favorable comments on the audio quality of LSO Live releases with the London Symphony Orchestra. I plead guilty to a bias in favor of that great group, the most recorded symphonic orchestra in the world. I have heard them live on and off with some regularity for more than forty years. An underlying basis for their recorded sound is the fact that they are recorded where they perform. That is at the Barbican in London and often regarded as possessing some of the worse acoustical properties of any major orchestra's home venue. It is no secret.
I do need to let it be known that recently and with this fine Nielsen release, the balance engineers and audio editors are newly listed as Neil Hutchinson and Jonathan Stokes. Try this recording and listen very closely to hear even better overall audio quality with a bit better detail and clarity, particularly listening in the SACD layer in the stereo two channel mode without going to the more revealing multi-channel.
Nielsen's first symphony is a pleasant surprise as I do not remember ever hearing it my rather long lifetime. Repeated listening let its relatively aggressive passages settle in a bit. The first movement marking, "Allegro ogroglioso" translates as 'a proud allegro'. That should be at least a bit of a showpiece movement. The truly excellent recording reveals all in a natural detailed manner and even with near audiophile emphasis in some deep bass drum passages such as in the third movement scherzo. Could we imagine the sight of a second violinist walking to the front of the stage at that premier performance with the king and queen in attendance and being introduced as the composer? Listen to all very carefully preferably at least twice and then listen to the very different, even down to length, of his last symphony, the sixth. It also receives top quality orchestral performance and audio listening quality.
Highly recommended including the outstanding performance of the LSO, as usual, with even better than usual recorded audio quality. The recommendation can cover even newcomers to listen and compare differences presented by a nationalistic composer that both the Danish Nielsen and Finish Sibelius are.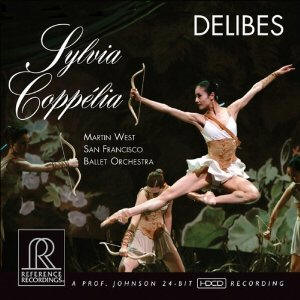 Leo Delibes, Sylvia ballet. Coppelia ballet. Reference Recordings 24-Bit HDCD No.RR-125
These two famous ballets are Delibes most popular compositions. I was again reminded that Coppelia preceded Sylvia by six years and I always think of it as the more mature (older) composition. Sylvia seems to be a particularly beautiful and traditional ballet and at least remotely comparable to the "Swan Lake" ballet for example. Many years ago I was fortunate to attend an almost theatrical performance of Coppelia. It featured the well known actor Jose Ferrer (now on the new "forever" stamps). It had some very exuberant dance performances such as some popular Greek and Gypsy male groups stomping in unison very prominently. Somehow ever after, nearly all performances of Coppelia seem too tame or lanquid to me. The beautifully full and rich or ripe Keith Johnson recording will please most music lovers with not even a hint of harshness or distortion to be heard. The bass drum, particularly with the Sylvia ballet, seems to be a bit too prominent or loud for a really natural balance though there will be no complaints with that impressive and clearly solid deep bass response. Orchestral performance is quite excellent though overall it comes off as slightly too leisurely for my personal taste with Coppelia. With that caveat in mind, my recommendation is for all, including newcomers to classical music. I should add that I have been extremely impressed with all aspects of the recent San Francisco ballet's subtly contemporary performance of Tchaikovsky's Nutcracker on Blu-ray.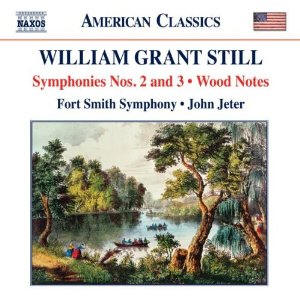 William Grant Still, Symphonies Nos. 2 and 3. Wood Notes. Naxos American Classics 8.559676
Leopold Stokowski, some years ago called Still, "one of our greatest American composers". I hear no reason to dispute that after listening to this release a few times. At first I was put off by the strong hints of the blues, spirituals, and jazz. That makes him a nationalistic composer as mentioned in the preceding review of Denmark's Nielsen and his symphonies. Still played a bit with avant-garde and then quickly returned to his early influences. In addition to playing the oboe in Broadway pit orchestras he was studying composition. He worked with many jazz and popular performers including Artie Shaw, W.C.Handy and Paul Whiteman. It is easy to see how and why he eventually slipped into the neo-romantic idiom and with thoroughly laced traditional harmony and fresh melodies. So it is with all three of these seemingly familiar compositions. The impressions are there for familiarity though so is newness or freshness. Yes, I just painted all three of these attractive works with the same brush. Like one and you will like them all. Hard to judge though all the performances seem fine and the audio is excellent and truly full range. It is so very easy to recommend this fine release to all; even newcomers will pickup on the fresh melodies in a hurry. Play it for your musical friends and ask them to identify the composer.
Continuing PentaTone's special anniversary box set with PentaTone's statement, "PentaTone is here to stay". Let us hope that those listeners that claim to want the highest quality recordings will support PentaTone and other companies that continue to support the highest quality releases, SA-CD. All in this special box set are SA-CDs. The special set is: "PentaTone The First Ten Years".
Disc 2004; Russian Violin Concertos-Khachaturian, Prokofiev and Glazunov. All are different of course but full of those qualities that make the better Russian compositions so popular. They are all good or better and the new female violinist star, Julia Fischer shows why she is that. Excellent performances and audio quality to match-no screeching violins here, just melodic music for our enjoyment.
Disc 2005: Beethoven Piano Sonatas, Op.31. Includes Nos.16, 17 and18. Not the more famous ones though all are given solid lyrical performances by Mari Kodama with typical fine PentaTone quality.