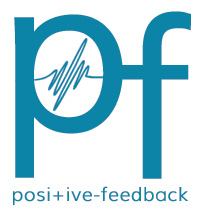 You are reading the older HTML site

Positive Feedback ISSUE 60
march/april 2012

vienna acoustics

The Music Loudspeakers

as reviewed by Robert S. Youman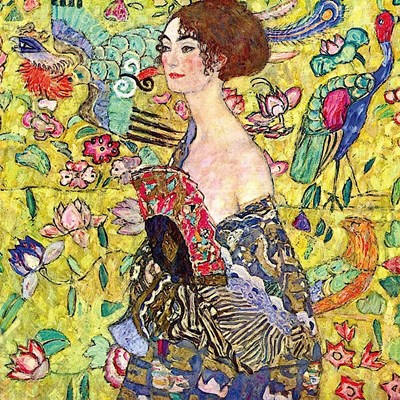 Gustav Klimt – Lady With Fan
It was one of those rare CES demonstrations that continues to haunt what few brain cells that I have left. David Wilson (yes, that David Wilson of Wilson Audio) was making a commanding presence in the corner of the room. Stately, articulate and elegantly dressed as usual. All eyes and ears were focused on every movement and every comment. Some call him a rock star, but I have a great deal of respect for his products and his commitment to excellence.
I may not get all the details correct. This was the 2004 CES after all (eight years ago), but the key messages were clear.
Up front were his Wilson Audio Sasha Speakers at a list price of $25,000. If memory serves me correctly, there was a run of Transparent or MIT speaker cable leading to the remaining components behind a curtain. Top of the line wire for an entire system of this caliber can list for as much as these speakers and then some. Most of us in the room expected an equal value behind the curtains in terms of preamp, amp and front-end components.
Wilson was comparing this to another system with a pair of unnamed speakers that were said to have a higher list price than the Sashas. Driving these speakers was an all Krell component rack of amplifiers, preamps and CD player.
For the Sasha system, the sound was impressive at all frequencies. It was hard to get a real handle on all the usual audiophile variables—there were just too many bodies for my ears to get a clear path to the sound. Room acoustics were average at best. Still, there were enough smiles surrounding me that I knew that many were pleased with the quality of both systems. Most agreed that the Sasha system sounded better.
We were all on pins and needles waiting for the grand climax and point of the demonstration. When the curtain was drawn back, I was astounded to see an inexpensive Parasound amplifier and an Apple iPod driving the Sashas. Youch!
What was the point? Well, one could argue from this demonstration that the speakers are the key element in the playback chain. This is in stark contrast to the old axiom championed by Ivor Tiefenbrun of Linn Audio fame. He claimed that the front end was the most important element, as the quality of sound passed from the source could never be corrected once it was handed off. Garbage in. Garbage out. This philosophy was instrumental in the success of the Linn Audio LP-12 turntable and high-end turntables in general.
Where do I fall on this line in the sand? I have heard demonstrations for both philosophies. Both can make you scratch your head and wonder. It's one of the many conundrums that make this hobby so challenging and so much fun. After living with the Vienna Acoustic The Music speakers for several months, I might have to agree with Mr. Wilson. Or maybe not.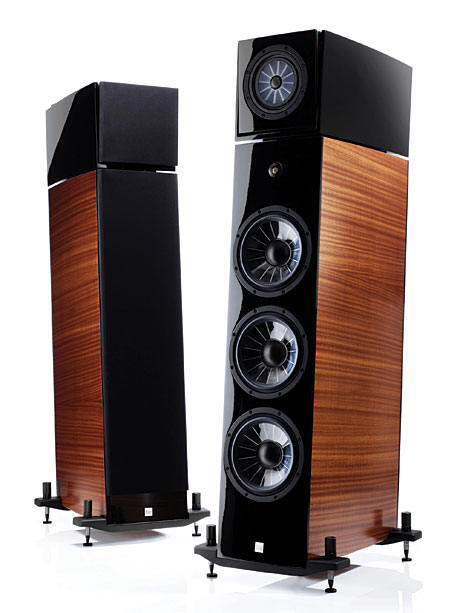 Description
The Klimt series of speakers by Vienna Acoustics consists of The Music (flagship), The Kiss and the Poetry models. The series is named for the Viennese artist Gustav Klimt who was a prominent member of the Vienna Secession movement. His major works focus mostly on paintings and murals. His art was best known for his love and depiction of the female human body. I can understand why Vienna Acoustics named an entire line after Klimt. Beautiful and very inspirational. Google and you will find an amazing portfolio.
The aesthetics for The Music are clean and simple with a touch of contemporary flair. Fit and finish are outstanding which follows closely in the tradition of all the Vienna Acoustic products that I have seen and experienced over the years. As these beasts stand in the corners of your listening room, you will be reminded of the heft, beauty and elegance of a small sized Steinway. The piano black finish option that was selected for this review is simply gorgeous.
The Music is a fairly large four-way bass reflex design with overall dimensions of 10.75 inches wide by 51 inches high by 24.80 inches deep. Each speaker weighs 180 pounds. The mahogany wood shipping crates weigh 200 pounds each so shipping costs are not insignificant. The Vienna Acoustics website lists sensitivity at 92dB and frequency response from 22Hz to 100kHz.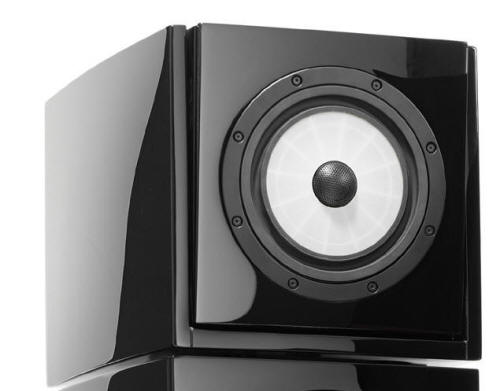 Vienna Acoustics is extremely proud of their unique designs for the super-tweeter, silk dome tweeter, spider-cone midrange and spider-cone bass drivers utilized in The Music. These drivers are said to have significant design advantages that target ringing, resonances and other mechanical limitations. Please see the Vienna Acoustics website for specifications and more insight into the design choices that were made.
There are two physical external cabinets for each speaker. The top cabinet or head contains the silk dome tweeter and flat midrange driver mounted on the same axis or pole position. VA claims that this allows for better timing and phase correctness. It also allows for these coincident drivers to reproduce the entire human vocal range without cross-over interference—one of their key objectives for the design.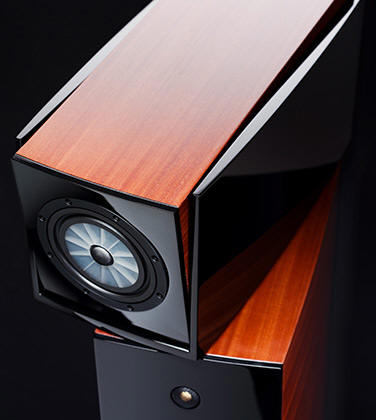 The head is held in place by a solid alloy shoe attached to the cabinet at two points in the front and a single point in the rear. The overall goal is to lock in the head at its optimal height and horizontal position and to isolate it mechanically from the bass cabinet.
The bass cabinet contains several independent internal modules or spaces. At the top of the cabinet is an enclosed environment for the super-tweeter. As we move south, there is another separate module that contains the upper bass woofer with dedicated venting. Below that is the last module that contains the remaining two woofers and dual venting ports. The goal for all of these independent modules is to limit refraction and resonance issues.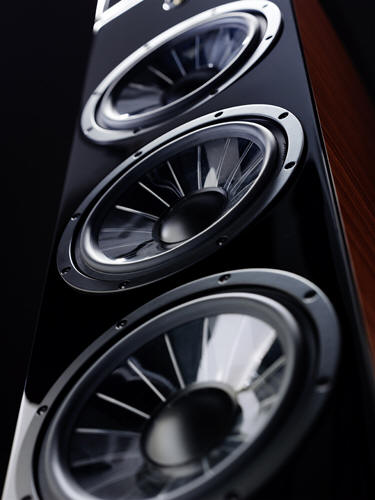 The Music also provides three switches on the rear of the cabinet to adjust the speakers for specific room response anomalies and corrections. These adjustments are used for minor tweaking after proper installation and setup. These include an M switch for midrange, UB for upper bass and LB for lower bass.
System Description
The VA The Music speakers were evaluated with my current two-channel system: VPI Aries 2 Extended Turntable, VPI JWM 12.6 Memorial Tone Arm, Van den Hul Frog MC Cartridge, Pass Labs INT-30A Integrated Amplifier, Sonus Faber Amati Futura Speakers, REL Studio III Subwoofer, Synergistic Research Tesla LE REL neutrik subwoofer cable and a Synergistic Research Tesla SE T3 power cord were used with the REL Studio III subwoofer. Kubala-Sosna Elation balanced interconnects, speaker cable, and power cables were used throughout the rest of the system.
The VPI Aries 2 includes all possible HRX upgrades. One might describe it as something close to a "Mini-Me HRX" with a smaller footprint. A custom-made SRA VRA isolation platform was used under the VPI Aries 2 and belt drive motor.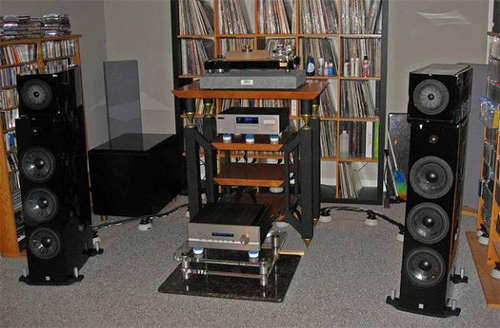 Caveat Emptor
You have heard it before but it bears repeating. System synergy and personal taste are critical when evaluating high-end audio products. This review is based on my subjective requirements, my subjective ears, and my specific system. These combinations of components are only a few data points of many that exist out there. For further insight into my personal biases, check out the "Meet The Writers" section of Positive Feedback Online. Please consider my comments and analysis appropriately
Sound
Firstly, I'd like to thank Mick Survance over at Quintessence Audio in Morton Grove, Illinois. Mick was invaluable in his ability to properly set up these speakers for maximum sound quality. Trained by some of best, Sumiko Audio of Berkley California, Mick utilized the Sumiko Speaker Setup Protocol for my room. The difference in results was significant. I take pride in my ears and my set up abilities, but his efforts took the sound to another level. We need to find a way to support those few audiophile dealers still out there. Go ahead and buy used and new gear off the Internet without proper support for setup and compatibility—you might be costing yourself more than what you think you are saving.
After several months of listening to these speakers with a variety of different preamplifiers, amplifiers, cable and front end components, two words continue to pop up in my notes and between the ears as I listen: neutral and fast. This is true at all frequencies and with virtually any genre of music.
Highs are natural, crisp and detailed. I detected no pumped up artificial effects or edginess to achieve these results. Snare drums had just the right amount of splash and metal without going over the top yet still sounding amazingly real and exciting. Acoustic guitar had proper timbre and harmonics. It was easy to tell if you were listening to steel or nylon strings. This can be difficult to differentiate on most digital recordings.
Dave Matthews and Tim Reynolds Live At Luther College is my go to recording for evaluating acoustic guitar reproduction. Track 1 "One Sweet World" is a wonderful dual between Matthews and Reynolds that brings out the best of The Music. No ringing and no zinging on a recording that might overwhelm in other systems. Proper sheen and vibrato can make your hair stand on end when both are strumming in high gear. The Music gets it right.
Midrange was seductive yet very clean. Female vocals had a wonderfully detailed and rich sound. Some might prefer a touch more warmth and bloom like the Sonus Faber Amati Futuras, but just as many might prefer the more neutral output of The Music. Reed instruments like the saxophone and clarinet were amazingly detailed and textured. Again, we have speed, speed and more speed.
Though reviews were mixed, I love the Cowboy Junkies Trinity Revisited release which was an attempt to recapture the excitement and acoustic excellence of their classic Trinity Sessions recording in a new live concert environment. On track 2, "Misguided Angel"; both Margo Timmons and guest vocalist Natalie Merchant are in all their glory. On some systems I noticed a slight edge and flatness to their voices. The Music provided just the right amount of warmth and an almost three-dimensional effect. Did I mention the word "seductive" earlier? Highly recommended.
Bass was extremely tight with plenty of slam and power. I heard no overhang or bloat. Again, many might be looking for a tad more weight and warmth, but I prefer the extraordinary amount of detail and speed that The Music was able to offer. This also allowed for the midrange and highs on some of my best recordings to clearly come through with no filtering from the bass output like many other speakers.
Take a listen to the Rob Wasserman's Duets release. Track 7 "Gone With The Wind" performed with Dan Hicks is just an outstanding example of bass performance. When Wasserman takes it up a notch half way through the song, you get a sense that he is virtually standing right there in the listening room. You can clearly hear his fingers sliding and plucking the strings on his acoustic bass. Bass tone is deep and meaty yet texture and detail explode into the listening room.
I also listened to The Music with my REL Studio III subwoofer in the system. For my ears, the Studio III has never failed to improve the sound quality in any system. This has been true for even the most expensive full range speakers priced way beyond The Music that have been dragged in and out of my home. Additional ambience and enhanced performance at all frequencies were still evident even with The Music. However, I must say that improvements in bass slam and depth was marginal. In this case, I could easily live without the Studio III—The Music was that good.
The Music also excelled in terms of soundstage and ambient information. Again, with digital recordings, it can be difficult to separate groups of instruments in a large classical orchestral piece. The Music provides a deep sense of depth and breadth for the recording venue with excellent separation of all instruments.
Checkout The Brahms Violin Concerto on RCA Living Stereo with Heifitz, Reiner and The Chicago Symphony Orchestra (CSO). Heifitz stands out front clear and strong. The string section is still tightly defined yet a few rows back and to the side. Strings are lush and natural. The entire CSO is layered front to back and left to right in an appropriate manner—no smearing and no lost information. Fantastic stuff!
It might not be important to most, but it was hard not to notice how huge the listening window was for The Music. While working on a variety of projects and wandering around my listening room, I was continually and abruptly surprised by the many quick transients and vocal inflections that poured out from the system—even at low to medium volume levels. I could be sitting at my desk off to the side or sitting in my prime listening position—music quality was superb at both.
Conclusions
Vienna Acoustics The Music is another superb example of the many new speaker systems that continue to hit the market place with a slightly different presentation and appeal. Like the new Magico and Hansen product lines, you can really get a great sense of speed and detail yet proper timbre and texture is still all there in spades. The Music is one of the most neutral speaker systems that I have auditioned. All this and at a very reasonable price of $27,500 USD! Yes, this is still an extraordinary amount of money, but The Music has many of the same virtues of those speakers costing several times this price. High value at $27,500? That's a tough one that only your ears can decide.
As for my earlier question about where the most bang for buck is when laying out a budget for your playback chain, The Music has me intrigued. Recently, I have cut back on all the boxes in my system and invested more in a simple 30-watt Class A integrated amp and fewer but better interconnects, power cords, and speaker cable. Easy to drive and easy on the eyes! I have also been playing with several moderate SACD/CD/DAC front ends. When teamed with The Music, I am finding my listening sessions more enjoyable then ever. I am pleased for now but I am a little nervous about that that $20K CD player on the way for audition. Are we ever satisfied? Robert S. Youman
The Music
Retail: $27,500 USD
Distributor
Vienna Acoustics North America
728 North Street, Unit C
Mukilteo, WA 98275
USA
(425) 374-4015
sales@vienna-acoustics.com
www.vienna-acoustics.com