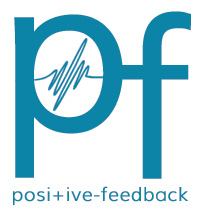 You are reading the older HTML site
Positive Feedback ISSUE 61
may/june 2012
Notes of an Amateur: Britten & Finzi; Berio.
by Bob Neill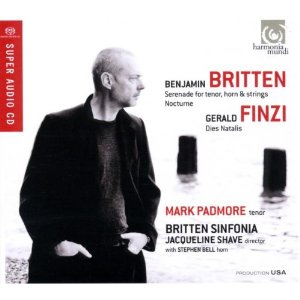 Benjamin Britten, Serenade for Tenor, Horn, & Strings; Nocturne. Gerald Finzi, Dies Natalis. Mark Padmore, tenor. Britten Symfonia, Jacqueline Shave, Director. Harmonia Mundi HMU 807552.
Serenade for Tenor, Horn, and Strings (1943) is for many of us Britten's central work, hauntingly elegiac. As a young man, I was greatly moved by it, long before I ever knew the words. High tenor Peter Pears' voice was an instrument alongside the horn, the two suspended in a spell by the strings. Reading the words now, I see they are fine but there are no surprises or revelations. I feel I already knew the essence of them. It's all there in the extraordinary power of the music.
Tenor Mark Padmore is no Peter Pears, which it turns out is a good thing. We need to hear what else this music can be. Pears sings behind and beneath the music, as if he fears to overwhelm it, resulting in an elegant and mournful whisper that creates the work as we have always known it, uniformly elegiac in tone and mood. Padmore confronts the music, stands up to it, giving us more passion, less suggestiveness... and more variety. Pears is afraid to break the music's spell, Padmore aims to deliver its variety and power, letting the spell come when and if it will. Padmore is capable of as much beauty as Pears, sometimes, as in section 7, set to a sonnet by Keats, more. Because while smooth, he is also strong and clear. His performance of the Keats, is probably the best single Britten performance I've ever heard. As a whole, by design, Pears' version is more beautiful, Padmore's more eloquent.
Britten's less well known and later Nocturne (1958), while more sophisticated musically, especially in its orchestration, weaves a less obviously compelling musical spell and so needs its words more. Padmore delivers it with even more boldness and passion than the Serenade—and it comes through wonderfully well.
The more we we listen to Padmore's Britten, the more we hear the presence of Thomas Adès, Britten's musical heir. It is sometimes as if we are hearing Britten as Adès must hear him, as we must learn to hear him if we are to escape the single view of the older composer that his own and Peter Pears' performances gave us. This music is half a century and more old now and well ready to be heard out of its time. Padmore shows us it is even better and surely different than we knew.
I am pleased to see the music of fellow Englishman Gerald Finzi (1901-1956) placed alongside Britten's, rescued from the cloying company of his contemporary pastoralists. Finzi is a romantic composer, Britten an early modernist—musically they are miles apart. But Finzi's best music in its direct, easier, more emotionally straightforward style is comparable in power to Britten's. Dies Natalis (1938-39), with words by English poet Thomas Traherne, is romantic and sentimental in the best way. Finzi is England's Copland.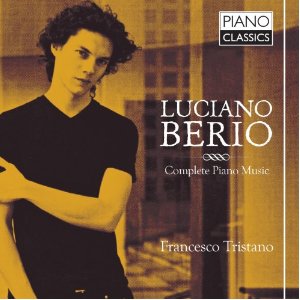 Luciano Berio, Complete Piano Music, Francesco Tristano. Piano Classics PC 10032.
Some composers are able to create an effective kind of music by using ellipses or at least by suggesting them: leaving out notes, leaving our minds free to fill them in. Or at least fill them in with something. For some modernist composers, the continuousness of traditional music feels like a closed room. By 'skipping' notes they strive for an openness, an escape from the room. This is a step farther than impressionism. Berio, one of our most respected modernists, in his music for solo piano makes effective use of this approach, mixing it with bits of minimalist repetition, to create what some still find—even a half-century after most of it was composed—a refreshing alternative to what we are mainly accustomed to. Modern audiences tend to arrive late to modern music, as we know.
Berio uses the minimalist device of a repeating note (B flat) in his full length Piano Sonata (2001), weaving all manner of melodic filigree around it, which expands in complexity as the work advances. The note becomes a double pulse in response, to maintain its primacy in our ears, sometimes fading away but always returning. Is it purely an exercise, a naughty and precocious child having us on? Or is it a wild flourish of musical frenzy meant to clear the air and our heads?
Equipment used for this audition: Audio Note CDT 4 transport; Blue Circle BC501obLOC dac; CrimsonCS710 solid state preamplifier & CDS640E solid state monoblock amplifier; Jean Marie Reynaud Orféos Supreme loudspeakers; Crimson cables.
Bob Neill, in addition to being an occasional equipment and regular music reviewer for Positive- Feedback Online, is also proprietor of Amherst Audio in Amherst, Massachusetts, which sells equipment from Audio Note, Blue Circle, JM Reynaud, and Crimson Audio.