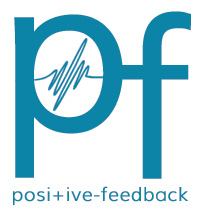 You are reading the older HTML site
Positive Feedback ISSUE 61
may/june 2012
Notes of an Amateur: Shostakovich, Mozart, & Vivaldi.
By Bob Neill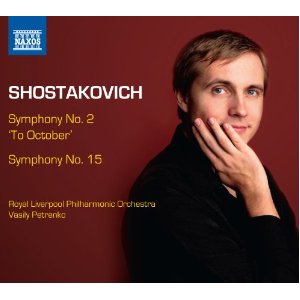 Shostakovich, Symphony No. 2 'To October.' Symphony No. 15. Royal Liverpool Philharmonic Orchestra and Choir, Vasily Petrenko, conductor. Naxos 8.572708.
Petrenko is back with early (1927) and last (1972) Shostakovich symphonies and is in his customary form. Great music making and great sound. This is one of the very best contemporary recording series I know of. Volume 7 of what should ultimately be nine.
As always with Petrenko's Shostakovich, detail and dynamic contrast give this music its best chance to prove its detractors wrong. Petrenko understands that flamboyance is not bombast. He brings out these works' extravagance, their fun, and their eloquent Russian melancholy as well. The long second movement of Symphony No. 15 is the composer at his most deeply powerful, pointing the way for his successors in both Russia and Eastern Europe in the next generation.
Special praises are due to both musicians and recording engineers Clements and Long for the power and clarity of the brass on which Shostakovich so frequently relies for the power and impact of his music's edges. The low brass are especially wonderful.
Reviewers should always be reluctant to introduce autobiography into their descriptions and estimates of recordings, but I'll have to say that I was not at all a fan of this music before hearing it at the hands of Petrenko and the Liverpool Philharmonic. In his best work as a symphonist, Shostakovich is not inferior to the more esteemed Mahler, he is simply different. That Britten admired them equally as composers says a great deal.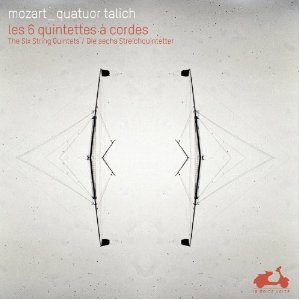 Mozart, The Six String Quintets. Talich Quartet. la dolce volta LDV 109.1
Hard on the heels of the re-mastered and re-released album of the Talich Quartet's much admired set of Mozart's Complete String Quartets (originally on Calliope) comes their 3 CD set of the composer's Six String Quintets. I wrote in my review of the quartets album that the Talichs play Mozart "without a special agenda, historic or otherwise...o n modern instruments he would never have heard...with an ease, a directness softened by suavity and without forced drama;" and that they have "a fine feel for tempo that keeps the beauty from cloying."
All of these assessments apply to this release of the quintets but I am struck even more in these performances with how they are able to make 'directness' and 'suavity' coexist so effectively. This is forceful, robust Mozart, the Mozart Beethoven heard, but the elegance we prize the composer for is here as well. Eighteenth century classical decorum does not call for rigid good manners, it calls for composure and balance within which there is plenty of room for energy and forcefulness.
The Talichs' principal virtue as interpreters of Mozart may be the persuasiveness with which they resist the stereotype of his loveliness. There is much virile beauty in their album but no loveliness.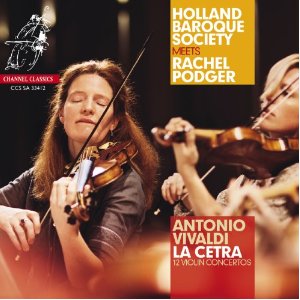 Holland Baroque Society meets Rachel Podger. Antonio Vivaldi, La Cetra. 12 violin concertos. Channel Classics CCSSA 33412.
Vivaldi has musical virtues possessed by neither Handel nor Bach, so depending on how you value these virtues, you may take more pleasure from the Italian than from his more esteemed peers. (I have a portrait of him on my wall alongside Stavinsky and Britten.)
In 2003, violinist Rachel Podger released one of the best albums of the decade, Vivaldi's Opus 4 La Stravaganza. I take it to the Rocky Mountain Audio Fest in Denver every October to wake visitors up toward the end of long days in which they have listened to too much non-music from too many too loud audio systems. I want to remind them of the joy of music they have experienced in too few other rooms. It never fails. Vivaldi's Opus 4 and period violinist Rachel Podger were born for each other. The ensemble who play with her on that album, to give them credit due, are the Polish baroque group, Arte dei Suonitori.
So...nine years later, we have Star Wars II and fear not, nothing has been lost. The band is now the Dutch group, Holland Baroque Society, who are totally up to the job. And Rachel hasn't lost a step. Opus 9, La Cetra, was written fifteen years after the ebullient Opus 4 and three years after the illustrious Opus 8, Il Cemente dell'Armonia e dell'Inventione (with the famous Four Seasons). As Podger explains, Opus 9 places greater technical demands on the soloist which are what draw both musicians and music lovers to its mature rewards. That said, I find its real treasures lie in the slower, less challenging largo sections which Vivaldi is least known for. Here Podger's great skill at drawing out the baroque violin's ability to swell and to inflect detail comes forward: there are a handful of period violinists who are her equal but none I know of can wring as much emotion from the instrument.
Jared Sacks, who is Mr. Channel Classics, is among the very best recording engineers in the business. His Vivaldi Opus 9 is as brilliant and exciting as was his Opus 4. All of his recordings are hybrid CD/SACD's, so if SACD is your thing, there is added incentive to track this album down. On Redbook, it's a gas.
Equipment used for this audition: Resolution Audio Cantata CD player; Crimson CS710 solid state preamplifier & CDS 640E solid state monoblock amplifier; Jean Marie Reynaud Orféos Supreme loudspeakers; Crimson cables.
Bob Neill, in addition to being an occasional equipment and regular music reviewer for Positive- Feedback Online, is also proprietor of Amherst Audio in Amherst, Massachusetts, which sells equipment from Audio Note, Blue Circle, JM Reynaud, and Crimson Audio.