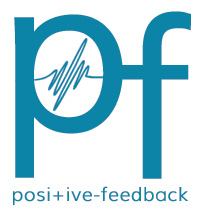 You are reading the older HTML site
Positive Feedback ISSUE 61
may/june 2012
sonus faber
Amati Futura Loudspeakers
as reviewed by Robert S. Youman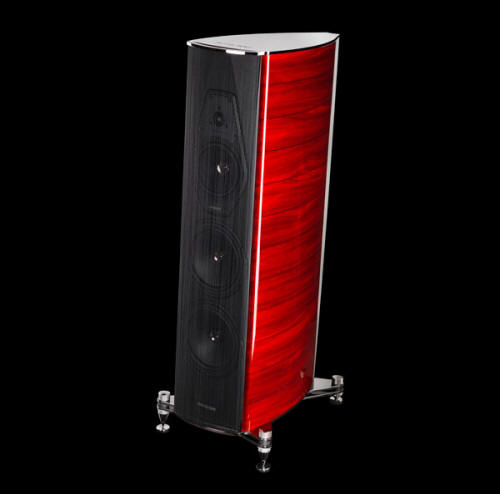 Sophia Loren. Need I say more? No, but I will. If you have ever seen the movies El Cid, Arabesque, It Started In Naples, The Pride and The Passion and even the comedy Houseboat (with another of my favorite actors, Cary Grant), was there ever another Movie Star anything like her? We are talking curves. We are talking sexuality. We are talking Italian beauty.
As an actress, she was clearly underrated despite her many Academy Award nominations and win in 1960 for Ciociara La. Don't forget her five Golden Globes Awards (all puns aside) that spanned over almost 40 years of work. She walked the talk. But man did she walk the walk.
This lack of appreciation of all things Italian reminds me of the Sonus Faber Amati Futuras! Is there a more beautiful speaker in production?
The lute shaped violin red maple cabinet with nickel top and bottom plates and rear nickel spine are as sensuous as it gets. Like Sophia, we have curves, curves and more curves. Check out the unique spaghetti grill that allows ultimate transparency but also seems to dance in the air. We are talking art here, not just form. As a transducer of music, is the Amati fully appreciated for the quality of sound that it produces? Well, lets take a listen and compare.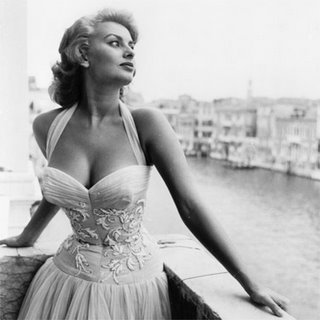 Sophia Loren
System
The Sonus Faber Amati Futuras were evaluated with my current two-channel system:
VPI Aries 2 Extended Turntable, VPI JWM 12.6 Memorial Tone Arm, Van den Hul Frog MC Cartridge.
EMM Labs CDSA SACD/CD Player
Pass Labs INT-30A Integrated Amplifier.
Vienna Acoustic The Music Loudspeakers
REL Studio III Subwoofer.
Synergistic Research Tesla LE REL neutrik subwoofer cable and a Synergistic Research Tesla SE T3 power cord were used with the REL Studio III subwoofer. Kubala Sosna Elation balanced interconnects, speaker cable, and power cables were used throughout the rest of the system.
The VPI Aries 2 includes all possible HRX upgrades. One might describe it as something close to a "Mini-Me HRX" with a smaller footprint. A custom-made SRA VRA isolation platform was used under the VPI Aries 2 and belt drive motor.
Caveat Emptor
System synergy and personal taste are critical when evaluating high-end audio products. This review is based on my subjective requirements, my subjective ears, and my specific system. These combinations of components are only a few data points of many that exist out there. For further insight into my personal biases, check out the "Meet The Writers" section of Positive Feedback Online. Please consider my comments and analysis appropriately.
Design and Specifications
This an entirely new speaker design from Sonus Faber. The Futura is definitely an evolutionary piece from other speakers in the line above and below, but there is no Amati Homage or Amati Anniversario tweaking going on here. Everything is new from the ground up.
One interesting design choice that might be the reason for the improvements in sound quality are the nickel plates at the top and bottom of the speaker and the nickel spine. I cannot avoid thinking about the Magico line of speakers and their emphasis on structure and resonance control using aluminum frames and skeleton. The additional information and detail that is communicated through the Futura combined with the traditional musical and natural voicing from past models, makes for a very appealing combination.
Please see the Sumiko website for all additional specifications, finishes, cabinet, and driver design choices.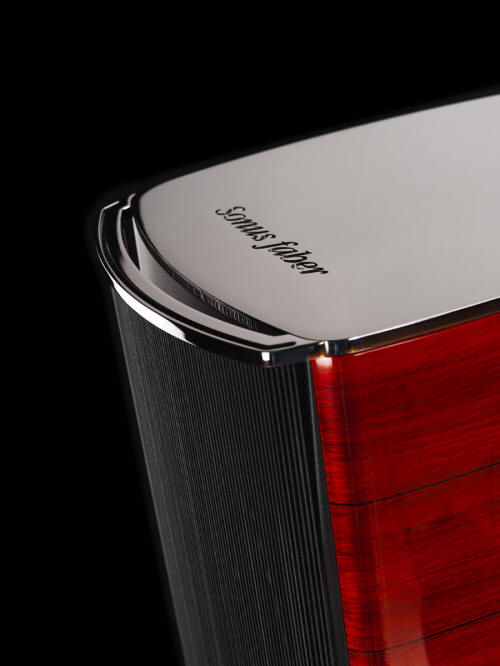 Sound
I have owned all three iterations of the Amati: the original Homage, the Anniversario and now the Futura. I have also owned the Strativari Homage and the original Guarneri Homage. All have strengths and weaknesses. All are known for a rich detailed midrange. The Futura takes the best from them all and steps it up a level.
The Amati Homage was my favorite for the top end frequencies. I may be one of the few who feel that way, but it was fast and tight with a huge sound stage in my listening room. The Futura exceeds that with similar speed and detail, but with a slightly more lush and rounded sound to strings and symbols.
Greg Browns album "Poet Games" is one of my favorites—especially on vinyl. The title track is a classic and never fails to entertain. Listen to the acoustic guitar whirl and swirl throughout the song. You get just the right amount of harmonics and string tone - never edgy or steely. The sound rushes out at you and leaves you wanting more.
The Strativari provided an extremely powerful and deep base—some of the best bass performance of any speaker that I have auditioned at any price. With the right solid-state amplifier, the Strads were very fast and had plenty of inner detail and air. The Futura again exceeds that with more speed and slam and excitement.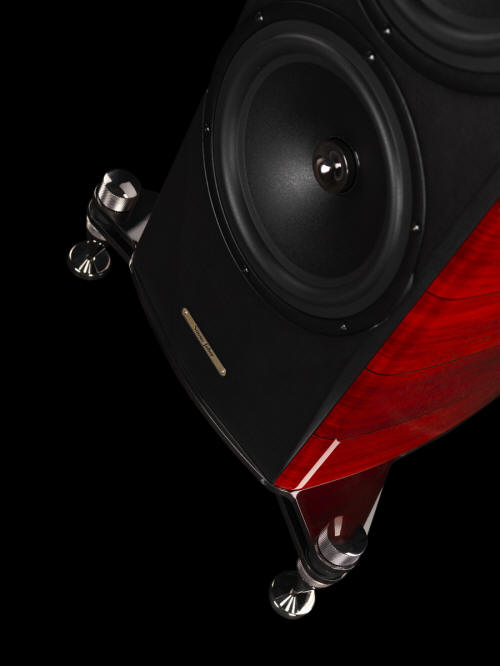 The bass on Peter Gabriel's "Sledge Hammer" is obviously goosed up a bit but it can be an excellent test. Bass player Tony Levin and his four string Fender bass with envelope filter and octaver never sounded as impressive. You will be startled when the bass line kicks in on the Futuras. No over hang. No distorted over the top boom. Just pure accurate power. The room will shake and your listening chair will jump with you in it.
Which brings us to the midrange, a strength of every Sonus Faber speaker that I have owned. My favorite in this frequency range was the original Guarneri Homage—the first speaker produced in the Homage line. As good as the others were as each was rolled out over a ten-year period, none ever approached the Guarneri Homage to my ears. The Futura takes that extra step with something that approaches nirvana—especially on male and female vocals.
Its not just the exquisite rich tone and proper timbre that shakes your booties, there is a tremendous amount of information speaking to you (not at you) that I for one have never heard before in my listening room. Take a listen to Ella Fitzgerald on her 1969 release Clap Your Hands Here Comes Charlie.
"Round Midnight" will hold you in your tracks as Ella slowly and surely winds you around her little finger. Closely miked, you get every breath, every lip smack, every turn of her head as she looks back to the band. I am not trying to sound overly dramatic, but you get a real sense of her vocal cords as they expand and extract with each emphasis. Check out the 200-gram Classic Records release from a few years back. Wonderful stuff.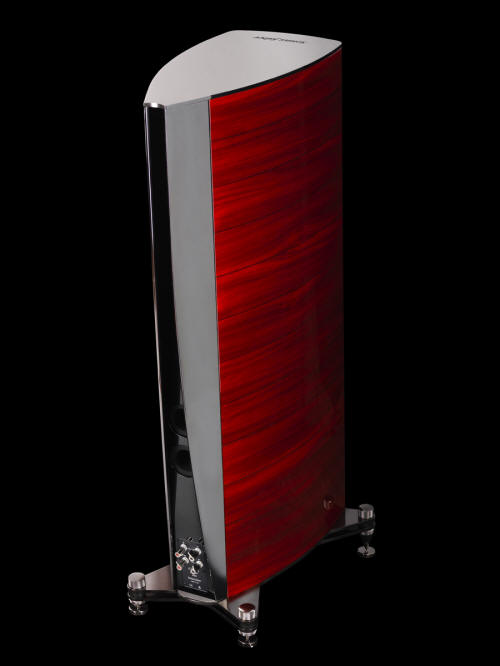 Soundstage depth, width and height are excellent on the Futuras. Not quite the huge expansive picture that the Vienna Acoustic The Music can provide, but instruments seemed to be the correct size and in the correct space and position depending on the specific recording. Music extends beyond the speakers when appropriate—nothing more and nothing less.
Conclusions
The Sonus Faber Amati Futura has it all. It is breathtaking to look at it but it also one of the best sounding speakers that I have auditioned in my system. Extraordinary at all frequencies, it follows in the Sonus Faber tradition of rich and musical performance but it also adds a new level of detail, speed and musical information. Sophia Loren says it best:
"Timeless. Has she ever looked better?" (and sounded better?) Robert S. Youman
Amati Futura
Retail: $36,000 a pair
Distributor
Sumiko
2431 Fifth Street
Berkeley, CA 94710
510-843-4500
www.sumikoaudio.net