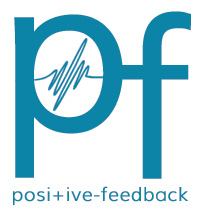 You are reading the older HTML site
Positive Feedback ISSUE 61
may/june 2012
avm audio system
MA 3.2 amplifiers, PA 3.2 Preamplifier, and 3.2 CD Player
as reviewed by Gary Lea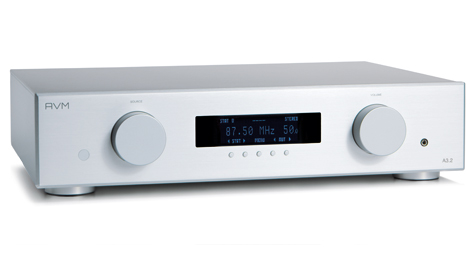 Sometimes you find yourself in a situation tantamount to a modern day David and Goliath. So this story of my introduction to AVM audio components goes. It was at this year's Rocky Mountain Audio Fest when I entered the Ayon / Legacy audio room where the epic battle took place. I entered to the sounds of a percussion track emanating from a sizeable pair of speakers. The dynamics, transients, soundstage et al were incredible. The mighty Goliath speakers were none other than the infamous Legacy Audio Whispers. Bellowing forth with such bravado and gusto as to blow the hair on your head straight back. This was concert level percussion at its best. Goliath is an apt description for the Whispers who measure xxxxxxx. No meek David of a speaker to be sure. So where did David enter this equation? Well he presented himself in the form of the AVM solid state electronics. These were the electronics responsible for driving goliath to the incredible and even deafening levels that they were producing. So while it was more of a cohesive effort between David and Goliath rather than a fight to the death, the comparison is still fairly accurate and germane.
Compared to the Whispers the AVM mono-blocks were definitely diminutive in size but not without the tremendous power of a whirling, whipping, sling shot at full tilt. Everyone who listened to this system was taken aback by the power that was delivered and the solid control of the every aspect of the music. There is nothing quite so visually engaging as a ginormous set of speakers being driven to dizzying heights by a tiny power amp or two and such was the case here. That is where the David analogy for the AVMs comes into play. While they may be small in stature they are huge in power and capability. One would not look at them and expect them to generate the magnitude of sound that they were capable of producing in concert with the Whispers. Many awarded this room "Best sound of the show!" No small praise to be sure.
So this was my introduction to the world of Udo Besser and AVM electronics. Now being imported and distributed here by Ayon USA the AVM line adds a mid range line of solid state components to their mix. I was fortunate enough, after some dialogue with Udo and Charlie to leave RMAF with my car packed with the monos, the pre-amp and CD player for review. All totaled, the cost of this electronics was on the order of $12,570. The AVM MA 3.2 amps at $5390, the PA 3.2 preamplifier at $3230 and the CD 3.2 CDP at $3950. Just comparing on the surface the performance I heard at the show, the bang for the buck is huge. What it all sounds like in a home setting with a different set of speakers and room dynamics would remain to be seen.
The AVM Company is the brain child of Udo and his partner Gunther Mania. As a brief intro to their philosophy I will use their own words.
"Before starting the design of electronic circuits or constructing mechanical parts we always question: What is the work to be done by this certain component and how can we consequently realize this in an optimal way. We strongly believe that the method of try and error seldom leads to good sounding hi-fi equipment. Therefore we do not develop unnecessarily complicated circuits which need a lot of compensating components in order to function correctly.

We prefer a straight circuit design where every component has its own clearly defined task and found that often the most simple circuit concept works the best. And: a part which is not there cannot influence the music and on the other hand: it doesn't produce costs and can never be defective. Hi-fi components are not only technical things but primarily a part of our customer's home. So we always attach importance to a worthy and beautiful appearance. Besides that we try to make all our components easy to use and last but not least we make effort to offer best value for money to our customers.

In order to realize this philosophy we manufacture all AVM components in our own plant and have the whole know-how in house. For the few parts (such as pc-boards, front panels, transformers) that we cannot produce by ourselves we have reliable suppliers nearby, who are working with us for years. This ensures the constant high quality of our products and, if needed, a quick service to our customers."
So home I came with a pair of AVM Evolution MA 3.2 mono-block amplifiers, a PA 3.2 pre-amp and a CD 3.2 CD player. As a side note it was rather interesting to load all of this into a little Audi TT convertible along with luggage etc and drive it 750 miles from Denver back to Las Vegas. This was just one of the times I cherished and appreciated the components small stature and small box sizes. Can't think of too many systems that I could have pulled that off with!
Once home it was time to set up this new system. As I stated these components are rather small in size compared to some of the behemoth components I have dealt with in the most recent past. No back breaking lifting required schlepping the stuff around. Hallelujah!
So let us begin with the power amps. The two MA3.2 combined will add up in width to just all other EVOLUTION components like the PA3.2 or CD3.2. Standard versions are aluminum silver or black; a chrome front may be supplied as an option. The components I received were of the silver aluminum finish. The MA3.2 may be connected balanced or unbalanced to any preamplifier. In conjunction with AVM preamplifiers like the PA3.2, a comfortable on/off management for the system is in place and handled via the audio connectors without additional cables, i.e. for the DC-trigger needed. Splendid idea! My Jolida system offers this but it requires specific cables to link the functionality between the preamp and power amps.
"Separate power supplies for the input and output stages of the MA3.2 ensure a signal processing and handling without any loss in fine details. All signal paths are logically arranged and represent the shortest possible signal path. Class D Amplifier output stages drive all speakers available in the market with ease and extreme control related to the amplifiers high damping factor."
The high efficiency switching amplifier translates incoming music signals to the loudspeaker with a claimed efficiency of over 90 %. Relative to the music signal very little dissipating heat is produced. The amps ran very cool to the touch. Considering the size and the output I was quite surprised at how cool they seem to run. The amps have the following features:
Balanced and unbalanced inputs

Bi-Wiring-speaker terminals

2 separate power supplies for input section and output stages

750-VA-Transformer and over 50.000 µF filter capacity

High Efficiency Class-D Power amplifier stage with 420 W

Intelligent protection circuits monitor DC, overheat, short circuit

NF-controlled on/off and trigger input (on/off)

Convenient on/off function in conjunction with AVM Pre-Amp.

Environmentally friendly standby power consumption below 1 Watt

Case made of solid aluminum anodized in silver or black, chrome front available (option)

Dimensions - 210mm x 100mm x 380mm each

Weight 12 kg
The PA3.2 is a very versatile preamplifier: 5 line inputs, a front input and 3 slots for the optional plug-in modules (Phono, USB and tuner) connect it to any source. Power amps can be connected via RCA or XLR cables alike. Active subwoofer may connect to the processor in/out. Convenient menu functions allow an individual configuration of the PA3.2 according to your personal preferences (input names, sensitivity) etc. I did not use any of this functionality as it seemed superfluous for me. The standard titles etc. were just fine). Specs are as follows:
5 line inputs (one balanced XLR), 1 processor in/out, 2 preamp outputs (RCA-Cinch, XLR)

Headphone jack alternatively useable as front input

3 slots for phono module (MM/MC), FM-RDS tuner module, USB DAC module with 192 kHz/24 bit up sampling (USB, SPDIF coax and TOS-link), USB works PC and MAC without driver installation (Mine was not equipped with these options but the phono stage would have been very interesting to try out).

Environment friendly standby power consumption below 1 Watt

Parametric loudness, bass and treble controls (can be bypassed)

Large bright blue graphical display, dimmable

Full metal aluminum remote control included

Remote control via RS232. Connector for external infrared receiver

Multiple functions accessible via menu: Input sensitivity, individual input names & many more

Case made of solid aluminum anodized in silver or black, chrome front available (option)

Dimensions (W x H x D) 430 x 100 x 325 mm

Weight 6 kg
The CD3.2 offers a large variety of connectivity and control options: USB DAC input (without external driver installation) and six digital inputs in all possible shapes (AES EBU, coaxial, optical). The RS232-control and the port for an external IR-sensor allow the operation in custom installation environments. The XLR- and cinch outputs spark separate driver stages and may be operated simultaneously. Cutting edge technology is applied when digital signals are being processed in the CD3.2. Both channels offer separate DA converter chips, operated in double mono configuration. This results in optimized signal to noise ratios and eliminates distortions almost completely. The up sampling circuitry allows an individual adjustment of filter characteristics and sampling rate alike. By using up sampling technology the master tact for the digital signal is generated internally and makes the signal processing independent from the master tact stored on the CD, possible jitter originating from the CD is eliminated in this way. The Pure CD drive with the slot-in loader is shielded against acoustical influences and rests in a suspended mounting, which protects the CD drive against footfall. Specs:
2 line outputs (Cinch and XLR)

7 digital inputs: 2 x USB (work without external driver installation), 2 x SPDIF, 2 x optical, AES/EBU

2 digital outputs (SPDIF, optical)

Pure CD mechanism with slot-in, suspended mounting

Signal processing with up to 192 kHz / 24 Bit (Up-sampling rate is adjustable from 44,1kHz/16bit up to 192kHz/24bit)

2 separate, oversized power supplies (no leak field) for CD Drive and signal processing electronic circuitry with stand-by < 1 Watt

Large bright blue graphical display, dimmable

Full metal aluminum remote control included

Remote control via RS232. Connector for external infrared receiver

Multiple functions accessible via menu: auto play, track, etc.

Case made of solid aluminum anodized in silver or black, chrome front available (option)

Dimensions (W x H x D) 430 x 100 x 325 mm

Weight 6 kg
I strung the entire system with my reference cable XLO Signature 3 interconnects, speaker cables and power cords. Since the electronics were already burned in nicely at RMAF there was no wait time for them to get conditioned and they were ready to go right out of the chute. I had them hooked into my Von Schweikert VSR4MKIII speakers and began listening almost immediately. Over the length of the review, October through February, the AVM system rocked along admirably without a glitch. Just as it had been at RMAF, so it was in the home. The amps remained rock solid, providing truly dynamic punch, especially in the bottom end and presented a balanced mid range that leaned toward neutral and highs that were sparkling without being annoyingly so.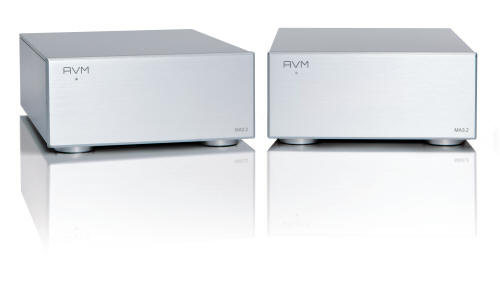 MA 3.2 MONOBLOCKS
The mono block MA 3.2s provided enough headroom to handle any dynamic swing I threw their way and also provided some very clean and detailed low level listening. Any amp that can give you the sound stage, focus and imaging at lower levels and still be unruffled when you hit hard with the big noise gets my attention. I have never been a big fan of solid state. I make no bones about my prejudice against most solid state. Not that I inherently dislike it all but rather given a choice between tube amps and solid state I almost always veer towards tubes. There have been a few exceptions along the way though and these definitely fall into that level. I think that it takes a special set of amps to keep me engaged for more than 10-15 minutes.
I never fatigued while listening to the AVMs and coming from me that is saying a lot. (Let me restate that a bit. As long as I was not too relaxed and sipping my favorite Anejo tequila I was never fatigued. More succinctly the amps did not provide any fatiguing in my experience.) I played a very diverse selection of music and as an example of the sort of shifts in styles and loads to the system I might throw down in a single listening section it was not uncommon to go from the Ji Grandi del Jazz recording of Stephan Grappelli GDJ47, recorded in 1969 and 1973 right straight into Joe Satriani's Flying in a Blue Dream LP, Relativity Records in their entireties. Grappelli's mostly acoustic jazz requires a certain finesse to handle properly and to deliver with the correct amount of up close, small, smoky, scotch laced, club intimacy. Tracks include the late and great beyond words Django Reinhardt. This LP on my main system through healthy tubes is simply magical. Through the AVMs only a slight bit of sterility entered into the presentation and when I say slight I mean just that. I could tell that a bit of the warmth was gone but not in any way detracting from the enjoyment of the recording.
Simply stated it was more neutral than the sound delivered through the 845/300B driven PSVANE amps or the 211/EL34 fueled Music Envoys. I concede that tubes are rarely neutral! What the AVM units delivered was crystalline sharp highs, good solid midrange and a bottom end that could sink a battleship. These amps, combined with the right speaker in a room that lets it all breathe will provide a level of bass that can put a knot in your stomach. I am not sure how most kids today deal with the excessive levels of deep bass without projectile vomiting most of the time. Very, very deep base, sub 20 Hz is simply uncomfortable for me in large doses and actually brings on a physical nausea. I am happy to say that if that is your cup of tea have no fear the AVMs can and will deliver if called upon to do so.
What was definitely apparent at the show and then in my home was that the MA3.2 can provide you with a very smooth overall delivery and when needed can provide the power and overhead to drive sound pressure levels to ridiculous levels without a hint of breakup. At least none that I could ever find in my system. Most importantly though was the ability of this amp to produce all of the wonderful contrasts, dynamic swings and delicacy of Eva Cassidy's "Somewhere Over The Rainbow". This is the track I always revert to for a final summation. Only a top flight set of components can do it justice, reveal the depth of emotion, the delicacy of an angelic voice and the slam of the dynamic changes needed to bring a tear to the eye. The AVMs pass with flying colors. Sort of a Rainbow of colors if you will. (Yes I really did go there and no I am not the least bit ashamed.)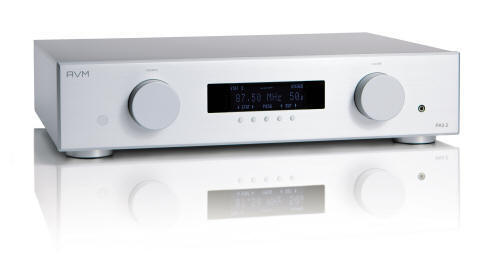 PA 3.2 Preamp
The PA3.2 preamp was also a joy. Slick remote control, linked-one button turn on for the entire ensemble and it simply disappeared into the musical experience. If I had one thing in particular to say about the preamp that would describe it… what would that be? "Absent!" Aside from attenuating the volume and routing front end choices the preamp simply was not there. I ran the amps with two other preamps, both sporting tubes and they were immediately noticeable substitutions and each brought a personality of their own to the party. Neither of them made the system sound better, rather they seemed to upset the balance and symbiosis that was in place with just the AVM components working together. I placed the PA3.2 back in the system and it disappeared, in essence removing itself from the musical equation. I do wish that I had had some of the additional modules to play with. I cannot report how well the phono stage works or any other add-ons at this time. Perhaps I can hoodwink someone into providing that for a future follow up.
I also took the liberty of hooking the PA 3.2 up to my other amplifiers. The most notable thing that came to light was that the AVM unit, when coupled with tube amps was that it did not rob the sound of warmth and intimacy but rather added some neutrality to the overall sound and sharpened the edges a bit especially in the delivery of the upper registers.
The combination that pleased me the most with this preamp was when I mated it with the PSVANE amplifiers. It created a symbiotic sort of harmony as if they were made for each other. The two designs could not be further apart in design topology and yet when hooked together they made magic. Just enough sharpness to make the highs razor sharp but without edge or harshness, bass that was noticeably tighter and more focused and midrange that maintained the velvety smoothness but with a bit more definition and no smear. Nowhere was this more evident than on tracks that contained the female voice. A new track added to my review list is actually by an old friend of mine from elementary school days. June Williams is easily one of the most talented singers, songwriters and musician you have never heard of. That is going to change and her track "I Can't Stop Getting Over You" is now at the top of my list of favorite cuts. She recorded this playing most of the instruments herself but has also been collaborating with Ted Stancliff. Ted is another talent you have not heard of but soon will. Ironically Ted was my very first musical collaborator when we were twelve years old, started our first band, and had our first paid gig together making us professional musicians at that tender age. Ted was a gifted and natural drummer who went on to play other instruments and now focuses mainly on guitar. Both Ted and June obviously have incredible raw talent and have continued to flourish while yours truly realized he had no talent and went on to other things. But I digress. The combination of these two old friends collaborating is something you will want to keep your eyes and ears open as they will be releasing this and other tunes on a CD to be released in June of this year. All I can say is watch out Dianna Krall and Anthony Wilson!" I was fortunate enough to receive this incredible recording just in time for this review and this system delivered it in a way that left me stunned and speechless. There just seemed to be a halo of ethereal light around the June and all the club images just appeared in my listening room. It was so real I could see it and no, I was not knee deep into the tequila. This was music as it was meant to be heard and as close to live as I could possibly imagine.
As a total side not perhaps AVM should look into a development project with a noted manufacturer of tube equipment like, say, oh I don't know, maybe AYON?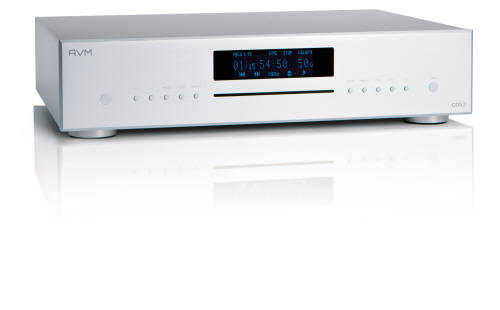 CD 3.2 CD Player
The CD 3.2 was a real gem. The controls were silky smooth and the door opened and closed like it was gliding on butter. The blue display, as with the other components in the line were easy to read and easy on the eyes. It didn't hurt that it mated up well with my notorious blue lit room scheme. The performance was exceptionally strong in the price range. Flexible and the delivery of the music are great. I substituted a Cary unit and a Grant Fidelity unit in the mix… each is at a similar price point. Neither improved the listening experience at all. The dynamics were strong with the AVM unit and there seemed a lack of coloration. The Grant Fidelity unit is tube buffered and provided a bit more lushness which, when compared A/B to the AVM, was not necessarily preferred to the AVM. I am forever enthralled by the more lush sound in audio as opposed to the more neutral and analytical sound.
What I can say is when the AVM was inserted into the reference system as opposed to placing another tube CD transport into the AVM system I favored the AVM as it added just the right edge to my all tube system. In this respect I actually liked the solid state unit a bit more. Ironically when I put both the preamp and the CD unit into my system it became a bit too sterile but the CD unit does bring a bit of that focus and sharper image in the same way that inserting the preamp into my system did. The AVM CD 3.2 is simply a very elegant solution and it provides great musical delivery with just the right amount of sharpness and edge without the digital wasteland of over analytical sound that can rob the music of its soul. In this respect the CD 3.2 was totally neutral and only delivered what the performer intended.
Together these three components represent what magic can truly take place when the pieces are designed to work in perfect harmony from the outset. On their own each of these items can provide pleasure as an addition or replacement in an existing system. They each have their own strengths that when carefully mated can improve most any system. When I placed a piece into my reference system or mated with other components in make shift systems they never took away anything that left a negative impression on the listener. However when the three are placed together as the heart and soul of a system there is some truly spectacular results and audio pyrotechnics result. Just ask all of those folks who heard this system in Denver at the RMAF show. AVM is a brand worth checking out and auditioning if you are in the market for individual components or an entire system. I just do not think that you can go wrong unless you are a die hard, close minded tube nut like some folks I know. Check out AVM and you will not be disappointed! Gary Lea
100% MADE IN GERMANY
AVM Audio MA 3.2 Mono Amps
Retail: $5390
AVM Audio PA 3.2 Preamp
Retail: $3230
AVM Audio CD 3.2 CD Player
Retail: $3950
AVM Audio USA
8390 E. Via De Ventura
F110-194
Scottsdale, Arizona 85258
1-888-593-8488
1-310-601-7976
www.avmaudiousa.com