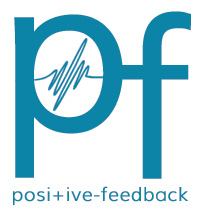 You are reading the older HTML site
Positive Feedback ISSUE 61
may/june 2012
America's High Resolution DVD
by Teresa Goodwin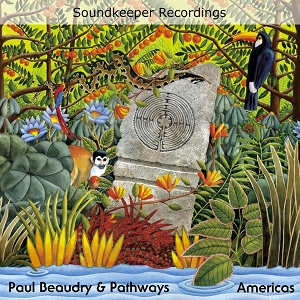 Paul Beaudry & Pathways: Americas
Paul Beaudry (bass) Tim Armacost (tenor saxophone, soprano saxophone) Bennett Paster (piano) Tony Jefferson (drums). Soundkeeper Recordings
Available in the following formats:
SR1004 - CD pressing $15
SR2004 - CD-R $20 *
SR4004 - 24/96 audio only DVD-R $30 **
SR6004A - 24/96 AIFF files-on-disc DVD-R $35 ***
SR6004W - 24/96 WAV files-on-disc DVD-R $35 ***
SR8004A - 24/192 AIFF files-on-disc DVD-R $45 ***
SR8004W - 24/192 WAV files-on-disc DVD-R $45 ***
* The one-off CD-R is slow-burned from the hard disk CD master.
** The one-off DVD-R with 24/96 stereo audio has no video beyond the menu, playable in most DVD players and is slow-burned from the hard disk DVD master.
*** The last four formats are one-off files-on-disc for computers and music servers.
My review is of the 24 bit 96kHz audio-only DVD (SR4004), I selected this version as my Yamaha DVD-S1700 with the Terra Firm Lite Clock mod sounds superior to my Mac Mini. http://www.positive-feedback.com/Issue46/terra_firma_lite.htm
I previously reviewed Soundkeeper Recordings first three 24/96 DVD releases. http://www.positive-feedback.com/Issue61/soundkeeper.htm Please see that review for an explanation of Soundkeeper Recordings' purist audiophile and "Direct to Stereo" recording techniques.
Americas features a jazz quartet led by Paul Beaudry, who played bass on Soundkeeper Recordings' Equinox. Not long before the recording sessions, Paul and his band Pathways, had returned from their Rhythm Road tour of Central and South America and the Caribbean which was co-sponsored by Jazz At Lincoln Center and U.S. Department of State's Bureau of Educational and Cultural Affairs. At each stop on the tour, the band gave concerts as well as seminars for jazz students and they learned local music. Americas features songs they learned on the tour, as well as an original by Pathways pianist Bennett Paster "Harmonia Mundi".
The recording was done in the same 1908 auditorium in which Barry Diament recorded Equinox and Confluence, with Bennett playing a 1908 Steinway grand. The technical particulars of the recording are what have become Soundkeeper's standard: a two-mic stereo array consisting of a matched pair of Earthworks QTC-1 microphones, separated by an absorbent baffle of Barry's own design, a variation on the Jecklin Disk.
The output of the mics connected, with a pair of Nordost Valkyrja cables, to Barry's Metric Halo ULN-8, which converted the signals to digital at 24/192 and fed the laptop hard drive using FireWire. All songs are complete performances recorded "direct to stereo" with no overdubs or mixing. No processing, equalization or compression was used in the recording or mastering.
The album begins with Maria which is the song that inspired this album Americas, it's in the kaseko style, a unique blend of Caribbean, North and South American influences. A great beginning as it is a very catchy inspired romp with really sexy saxophone playing and a nice bass solo that makes one want to hear more. Next up is Harmonia Mundi which means world peace in English. It is soft jazz and the only original composition on this recording.
El Bananero (the Banana Vendor) has a very pulsating shakin' Latin jazz beat, hard to resist the urge to dance or at least tap your feet. O Que É Amar is a very romantic sax lead number. El Pañuelo De Pepa is a very cool Cuban dance number that has a really neat interplay between the bass and sax, a very catchy tune with exciting percussion. D'Leau is a Haitian piece that starts out with the traditional jazz trio of piano, bass and drums and then the sax comes in, this is straight ahead jazz. Every Time Ah Pass is from Trinadad. Zamba Alegre is bouncy Argentinean dance that was difficult for the band to learn because of the contrasting 6/8 against 3/2 rhythms. Nicaragua Nicaraguita, also know as the second Nicaraguan national anthem concludes the album, it is Latin jazz with excellent playing especially from the very talented drummer who almost ends the album, however the sax player gets the last note.
A very enjoyable disc with wonderful music and state-of-the-art high resolution sound. It will show what your sound system is capable of. Highly recommended.
For more information on Soundkeeper Recordings and to hear streaming audio samples visit: www.soundkeeperrecordings.com
Also check out their format comparison page www.soundkeeperrecordings.com/format.htm for samples from the same album and same mastering session in 16/44, 24/96 and 24/192 to hear the differences for yourself prior to purchase.
To learn more about Barry Diament's recording philosophies visit: www.barrydiamentaudio.com