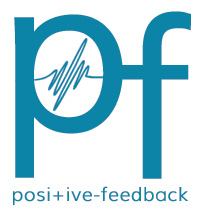 You are reading the older HTML site
Positive Feedback ISSUE 61
may/june 2012
Reel to Reel… is Real
by Greg Beron
[Greg Beron is President and Chief Passion Officer for United Home Audio, producer of fine reel-to-reel recorders. He is a certified wild man for RTR… I like him! You will too….
I've invited Greg to share his thoughts on the RTR Movement, which he was kind enough to do. Enjoy the results.]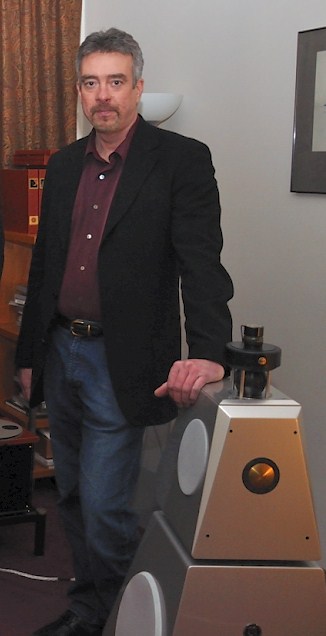 Greg Beron of UHA
Life, and music…
New Orleans.
I was very fortunate to grow up in such a musical city. As a kid I looked forward to the pounding of the marching bands playing at full tilt during a parade. I remember the Jazz funerals groaning through humid streets, the second liners swaying along behind the procession. This was the norm; life and music were intertwined in New Orleans. When Pete Fountain and his 'Half Fast Marching Band' wobbled down the street Mardi Grass day under the spell of brown liquor, we thought that was… normal. When the Neville Brothers and Professor Longhair played at Tipitinas, (on Fess's sixtieth birthday), we left just in time to get to work at 9:00 a.m., and that was… normal. Growing up in New Orleans there was incredible music everywhere: The Jazz Fest, The Warehouse, Tipitinas, a hundred other small clubs. We took it for granted; we thought it was that way in every city. Now as I look back on it, I am thankful; I couldn't imagine growing up anywhere else.
Now that I live in a suburb of Washington D.C., I have the luxury of visiting the Kennedy Center on a regular basis. I've been a season ticket holder for the Washington National Opera since 1996, when Placido Domingo became the Artistic Director. What fine music, performers, stage sets—not to mention personal performances—Maestro Domingo has brought to the WNO. I submit that there is no better way to tune your ears to the natural sound of unamplified music and vocals, with all the natural spatial representations, than at an opera.
It was this lifelong exposure to live music that made me wonder if I could get that same natural live sound from a stereo system. Over the years I have tried to solidify my impressions of that live sound as I progressed through various audio components, upgrading them as money would allow. Like most, I drink the Kool Aid and bought a CD player, actually lots of CD players, SACD players, DVD Audio players—a mountain of the damn things. I've had stupid expensive digital players, but never found that sound I wanted. So, like many, I went back to wonderful sound of vinyl with a vengeance. This all progressed into expensive vinyl… like, "holy crap vacation home expensive!" So I enjoyed a beautiful-sounding vinyl rig, and all was great with the world.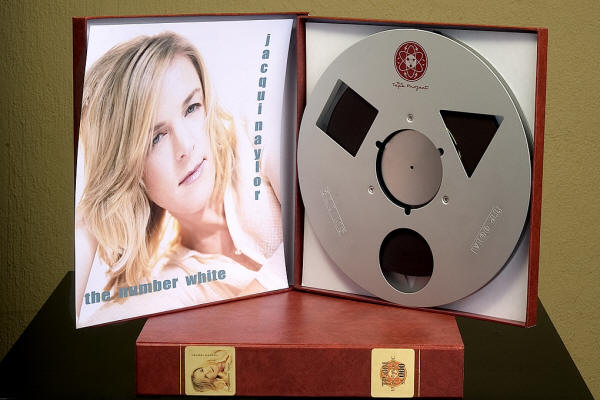 A Tape Project reel [image courtesy of The Tape Project]
Enter open reel tape!
That was till I heard about some crazy guys (Dan Schmalle and Paul Stubblebine, to keep no secrets and tell no lies) who were talking about copying master tapes and selling them to consumers. That is now known as The Tape Project. The buy-in wasn't cheap, but I had to hear it, and at the next CES I did just that. Well, I felt like I was closer to the recording than I had ever been; I had to have it!
But my friends, that was where the problems started.
I bought tape decks, a bunch of tape decks; there were tape decks on top of tape decks, a grave yard of tape decks. I bought all the popular and touted decks that would play 15 ips and had an IEC EQ. I almost broke my back with some huge heavy studio decks. Some sounded pretty good, some not so hot, all had some kind of problem that affected the tape path calibration, sound, or reliability. I guess I wasted tens of thousands of dollars to come to a conclusion: forty- to fifty-year-old tape handling hardware can be problematic, and the stock audio electronics was just not getting it.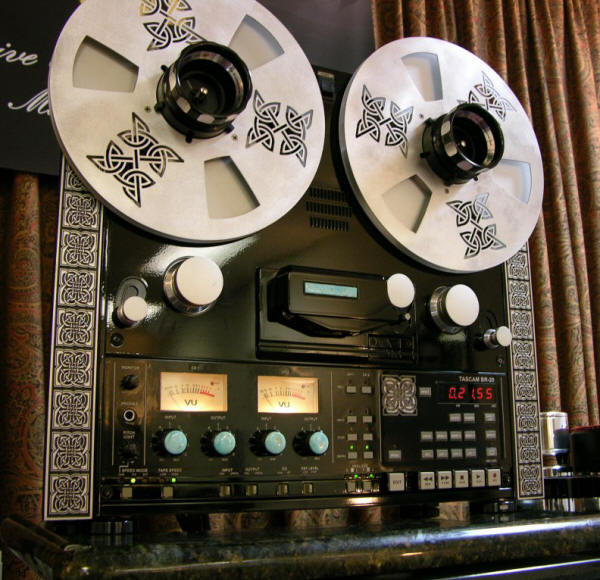 [Image courtesy of United Home Audio]
There had to be a better way, so I decided to remanufacture my own line of UHA-Q tape decks and get exactly what I wanted. That was the only way I felt I could get everything I wanted from these incredible new master tape copies that were now available. After all, it was all about the music, and a master tape copy is going to get you so much closer to the real recording than any other format. Even a vinyl record has to go through many different processes to get from the original tape to the finished pressed record, and every step offers a distortion point from the original tape.
There were many issues in a tape deck that needed to be examined if one wanted to get a deck tricked out with all the latest technologies we have today. There have been some great improvements in electronics in the last 40 or 50 years, and that is exactly what needed to be brought to a tape deck. The tape heads, transport, electronics, power supplies, wiring, all the typical audiophile aspects must be examined. I won't bore you with all the details but I have auditioned so many tape heads, both record and playback, capacitors, resistors, audiophile wire, relays, power supplies, connectors, circuit changes, that it became… obsessive.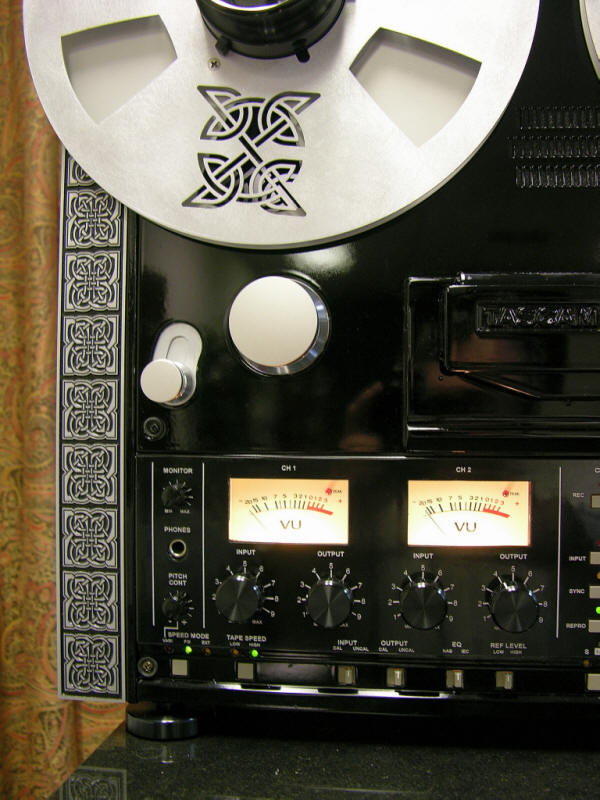 [Image courtesy of United Home Audio]
The UHA-Q decks have been through 9 phases of design to get where I wanted to be, and I guess it was all done relatively fast—if you call six years fast. United Home Audio now can supply a turnkey deck that even comes with a warranty. This is a much newer deck, made till the late 1990's, with some great features and a nice tape path, plus parts can still be purchased from the manufacturer. The design objective was always the same: wife-friendly looks, consumer-sized deck, and the most important requirement of all: uncompromising sound quality.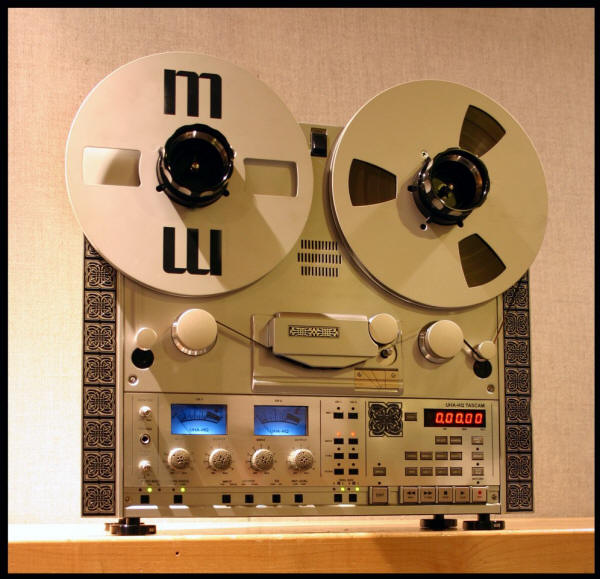 [Image courtesy of United Home Audio]
With a proper deck in hand, I wanted to focus on the music, and started trying to get more music available on high-quality master tape copies. Thankfully The Tape Project continues to churn out great albums; these guys are doing a great job of duplicating the tapes, packaging, and, of course, picking some great music.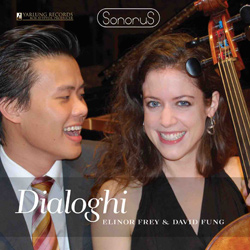 [Image courtesy of Yarlung Records]
Yarlung Records and Bob Attiyeh allowed me to talk them into being the second recording company to sell Master Tape copies after The Tape Project.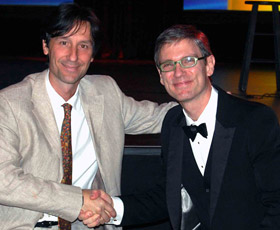 Antonio Lysy and Bob Attiyeh enjoy the moment after winning the 2010 Grammy for Latin Music [image courtesy of Yarlung Records]
Now we have Jan-Eric Persson of Opus 3 Records into the fray with 25 titles listed on their web site, (and more to come).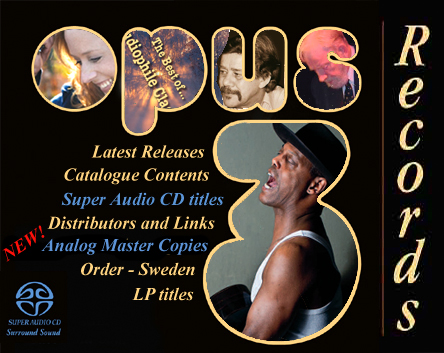 [Image courtesy of Opus3 Records]
The Opus 3 sampler tape at $250 is a sonic no-brainer, just buy it. Recently I have been able to persuade Jonathan Horwich of International Phonograph Inc. to start issuing his jazz library (He estimates he may have 300 titles in total) on Master Tape copies. Jonathan has some nice stuff all at $150 per tape; I suggest trying the Warne Marsh tape for starters—nice!
The business model
When you consider the business model, Master Tape copy sales can actually work well for a small recording label who records their artists on open reel tape. Instead of being a small fish in a huge sea of CDs and digital downloads, they can make a real splash by being one of the limited number of companies selling master tapes. I have even spoken to symphony orchestras; those guys are always strapped for cash, and master tapes are a great way they could make money. Virtually every audiophile likes classical music, and, after all, they don't have to get all creative and compose anything new that consumers may or may not like. They just play the classics!
Actually, I will be happy to pitch any recording company with Master Tapes on getting into this. I don't care who they are, so look out!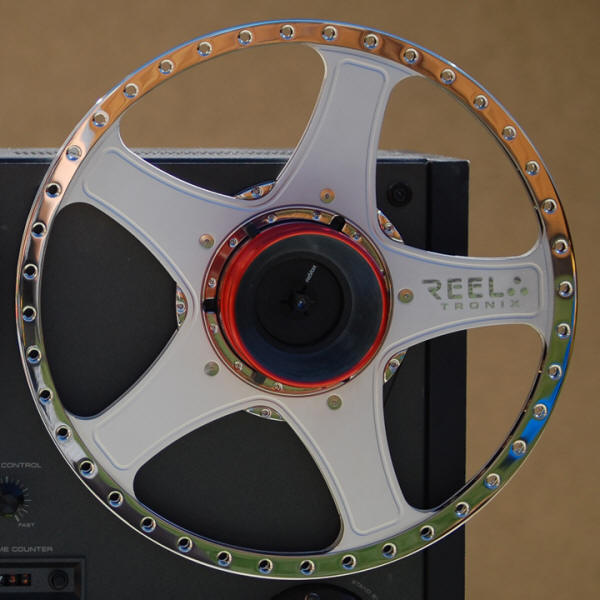 [Image courtesy of Reeltronix]
Crimes of passion for the music we love!
Also I have to declare Patrick Sinegal of Reeltronix a pioneer. Here is a guy who makes a balanced high-end take up reel. Very nice work; you have to hold one in your hand to experience the value of the workmanship. I believe coverage of Reeltronix from PFO is forthcoming as an aspect of David Robinson's work with the RTR Movement. [Quite right, Greg! –Ye Olde Editor]
All these folks are taking a flyer, spending their money and time on something that will probably never be a mainstream format. The funny thing is that they all know they ain't gonna get rich on their ventures, but that didn't stop them. These folks are focused on the music, and believe that tape is the best-sounding source they have heard to date. Of course, I and many others agree!
You can find much written in forums on the web about R2R tape. Some have heard it done right, and consequently they get it. Some deny master tape not only as a viable source, but also question the very sound quality of tape verses vinyl, or even high-resolution digital. But you can find people that believe almost anything on the web, and the vast majority has no real experience, just an opinion. That's why I have an audio store open six days a week full of great equipment, including tape decks and master tape copies.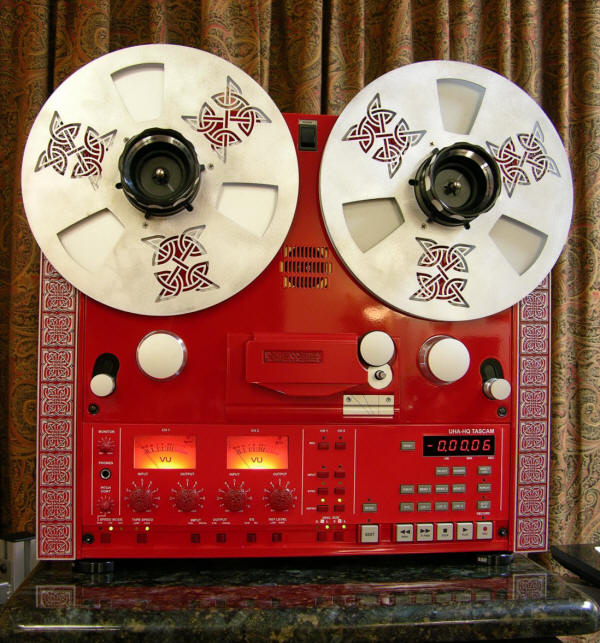 [Image courtesy of United Home Audio]
I say come by and hear it!
One huge issue that has bypassed some folks, even the confirmed tape enthusiasts, is the recording capabilities of tape. It's always cheaper and easier to make a playback-only deck, or a deck that uses an outboard head unit. However, some of those decks give up the fantastic recording capability of tape—after all, that started this whole master tape movement in the first place! I have always worked as hard on the recording side of the UHA decks as the playback domain. I can make tapes from a high end vinyl system that are awfully good representations of the source. All the reasons people had tape decks back in the day are real again as a result of one trend: the return of vinyl. You probably had a tape deck back in the day, so why not make compilation tapes with all your favorite tunes back to back like you used to? Hey, we're all busy, and sometimes listening time is dear. Why not listen to exactly what you want? We always talk about master tape playback, and that is truly what started this movement, but don't discount recording! It's fun, and you will like the result.
A conclusion… for now!
I guess in conclusion the big question is, where is this master tape movement going?
I believe that the sound quality alone will keep the RTR Movement spreading. After all, we are seeing more tape decks at the shows, right? New companies are issuing master tape copies, and tape decks and tapes are selling. There is always a reason that anything flourishes, and in high-end audio sources, tape simply has "the" sound.
Magazines, both print and online, are picking up on this movement and starting to take note. David Robinson and Myles Astor of PFO have been into tape for quite a while (decades in the case of Editor Robinson!), and long since have embraced this new master tape movement – and with good reason! I am sure there will be more to come from them on this subject.
With all the new regional audio shows popping up all over the USA, it's easier than ever to hear a great system playing one of the new generation of master tapes. I do four shows a year from east coast to west coast, and I have all the latest recording companies' master tapes with me.
If you come to a show that I'm attending, stop by! Hear it for yourself!
Greg Beron
United Home Audio