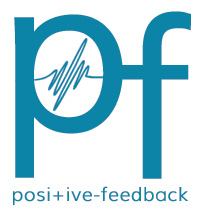 You are reading the older HTML site
Positive Feedback ISSUE 61
may/june 2012
Three New Channel Classics SACDs and the Grimm DSD converter
by Teresa Goodwin
The internet has been abuzz about the new Grimm DSD converter and how "analog-like" it sounds without being too soft.
"The sound of Grimm recorded SACD's is AMAZING, it totally closes the gap between analog and digital in terms of enjoyment one takes from listening to music (it completely removes digital feel from the listening experience!), sonic image captured by Grimm AD1 is extremely transparent and spacious, full of subtle detail and vivid tone colors which are strikingly realistic - that's how music should sound in our homes in the XXI century!" - Hiro (Pure Super Audio)
"For us, in that situation the Grimm [A/D DSD converter] killed the Meitner. It sounded exactly like the analog, both tone wise and ambiance wise. Very impressive." - Steve Hoffman (Mastering Engineer)
These three new releases from Channel Classics are my first chance to hear the now legendary Grimm DSD converter and how it compares to older DSD ADCs (analog to digital converters). The Grimm has been out awhile however these are the first recordings made with the Grimm that were of interest to my musical palette.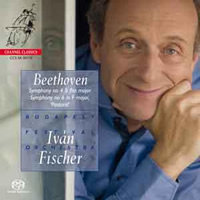 Beethoven: Symphony No. 4, Symphony No. 6 'Pastoral'. Ivan Fischer, Budapest Festival Orchestra. Microphones: Bruel & Kjaer 4006, Schoeps. Digital Converters: DSD Super Audio/Grimm Audio AD converter. Producer: Hein Dekker / Recording Engineer & Mastering: Hein Dekker, Jared Sacks. Stereo/Multichannel Hybrid SACD - DSD Recording. Channel Classics CCS SA 30710. Playing time: 78:30
My interest in this SACD is the second composition, Symphony No. 6 'Pastoral' which has been a favorite of mine for many decades. One of the earliest examples of program music was Vivaldi's The Four Seasons written in 1725. The concertos were based on descriptive sonnets, one each for spring, summer, autumn, and winter, however to my ears the Four Seasons sounds more like absolute music even though it had a program, as it does not evoke the feeling of or being in any of the four seasons. It was not until Beethoven's 'Pastoral' written in 1808 that program music actually began to sound like its program, I can just picture Beethoven out fishing, getting caught in a rainstorm with the violent thunder and when the storm ends I can feel the relief and even smell that unique aroma left after it rains.
This is what I would call an historic achievement and music would forever be changed. The 'Pastoral' paved the way for the impressionist composers such as Ravel and Debussy who were to follow in this evolutionary step.
My introduction to the Pastoral Symphony was the first movement "Awakening of cheerful feelings upon arrival in the country" which I first heard in the 1973 science fiction movie Soylent Green. It was so beautiful I had to rush out and buy the LP. There were assisted-suicide facilities in that dark world of the future where one was treated to a giant video screen that filled the room with images of a peaceful and beautiful green Earth as it was ages ago when animal and plant life thrived and there was no pollution. A perfect music selection to fade off into oblivion or to appreciate being alive in a world that still has plant and animal life.
This is one of Beethoven's few works containing explicitly programmatic content. He was a lover of nature who spent a great deal of his time on walks in the country. He frequently left Vienna to work in rural locales. The composer said this symphony is "more the expression of feeling than painting" The symphony has five movements, rather than the four typical of symphonies of the Classical era.
I. Awakening of cheerful feelings upon arrival in the country
The symphony begins with a placid and cheerful movement depicting the composer's feelings as he arrives in the country.
II. Scene at the brook
Beautiful and serene. At the opening the strings play a motif that clearly imitates flowing water. The cello section is divided, with just two players playing the flowing-water notes on muted instruments, with the remaining cellos playing mostly pizzicato notes together with the double basses. Toward the end of the movement, in the coda that begins at measure 124, there is a cadenza for three woodwind instruments that imitates bird calls at measure 130. Beethoven helpfully identified the bird species in the score: nightingale (flute), quail (oboe), and cuckoo (clarinet).
III. Happy gathering of country folk
A depiction of country folk dancing and reveling. The movement ends abruptly, leading without a pause into the fourth movement.
IV. Thunderstorm
A depiction of a violent thunderstorm with painstaking realism, building from just a few drops of rain to a great climax with thunder, lightning, high winds, and sheets of rain. The storm eventually passes, with an occasional peal of thunder still heard in the distance. There is a seamless transition into the final movement.
V. Shepherds' song, cheerful and thankful feelings after the storm
Like many classical finales, this movement emphasizes a symmetrical eight-bar theme, in this case representing the shepherds' song of thanksgiving. The mood throughout is unmistakably joyful.
IvŠn Fischer used a different seating arrangement in the 'Pastorale', with the winds scattered among the strings, so that each soloist was surrounded by musicians playing the flow of Beethoven's nature music. After the storm, when the first tentative horn call is heard with a bagpipe-like accompaniment, suggesting signals across the mountains, they discovered it appropriate to answer with a solo violin, which is gradually joined by the whole orchestra.
The is the most beautiful and exciting version of the Sixth Symphony I have ever heard and I have heard a lot of them. It has surpassed my previous favorite: Bruno Walter conducting the Columbia Symphony Orchestra in the single-layer Sony SACD version which sounded excellent if somewhat hissy. I also tried Charles Munch conducting the Boston Symphony Orchestra on RCA Living Stereo SACD, Paavo Jšrvi conducting the Deutsche Kammerphilharmonie Bremen on RCA SACD, and a dozen or so versions on LP and reel to reel tape. I had high hopes for the Paavo Jšrvi SACD as I love so much of his work for Telarc, however the sound was just too lean for me with the chamber orchestra he used. This version has everything I ever wanted in a 'Pastorale', with some of the finest sound I have ever heard.
This SACD begins with Beethoven's Fourth Symphony which explores feelings from an different point of view. According to IvŠn Fischer this work is suppose to explore the human feelings and moods of obsession, love, happiness, fun and wit. I have listened to this version over a dozen times and to many other versions in the past 40 years and I just don't hear it. Personally I have never been a fan of this symphony, and unlike the Sixth Symphony it sounds very much like absolute music, a type of classical music I haven't totally warmed up to, thus I can't comment on the performance as the music is not to my taste. I am glad that this SACD ends with the Sixth Symphony that I love, I will of course continue to listen to the Fourth and hope before I die I finally connect with it, if not it's fine as a entrance into the magical world of Beethoven's wonderful Sixth Symphony!
IvŠn Fischer discovered that the Fourth Symphony sounds better with natural horns and trumpets.
The sound quality of course is up to the high calibre of the Sixth, and it is easy when listening to believe that the Grimm is a significant step forward in absolute realism and comfortable sonics.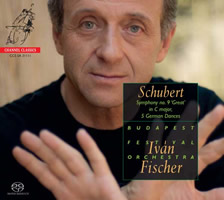 Schubert: Symphony No. 9 'Great', Five German Dances. Ivan Fischer, Budapest Festival Orchestra. Microphones: Bruel & Kjaer 4006, Schoeps. Digital Converters: DSD Super Audio/Grimm Audio AD converter. Producer: Hein Dekker / Recording Engineer & Mastering: Hein Dekker, Jared Sacks. Stereo/Multichannel Hybrid SACD - DSD Recording. Channel Classics CCS SA 31111. Playing time: 69:41
I got this SACD for the German Dances as I had never heard them before and in classical music the dance is one of my favorite musical forms, I see the word dance and I gotta have it. Never a big fan of Schubert's symphonies, however I have always found the 'Great' to have nice melodies and interesting development and this version does not disappoint. The German Dances are sans percussion unlike Brahms Hungarian Dances, Dvorak's Slavonic Dances or the many dances in ballets and operas. However I did enjoy them, they are very light in nature, musical, have excellent rhythm and are quite beautiful.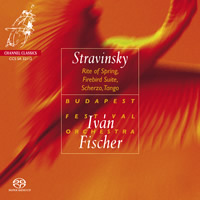 Stravinsky: Rite of Spring, Firebird Suite, Scherzo ŗ la Russe, Tango No. 72. Ivan Fischer, Budapest Festival Orchestra. Microphones: Bruel & Kjaer 4006, Schoeps. Digital Converters: DSD Super Audio/Grimm Audio AD converter. Producer: Jared Sacks / Recording Engineer & Mastering: Jared Sacks, Daan van Aalst. Stereo/Multichannel Hybrid SACD - DSD Recording. Channel Classics CCS SA 32112. Playing time: 63:10
I saved my favorite for last, this is highly enjoyable from start to wonderful finish.
From the liner notes: "The recipe seems simple: take a simple melody of six notes and repeat it in the same order, accentuating a different note each time. For example:
1 2 3 4 2 5
1 2 3 4 2 5
1 2 3 4 2 5
Here we have the beginning of the Sacre du Printemps (with a short transition between lines 2 and 3)!
Next step: add a rhythmic pattern and repeat it many times.
Prepare a few of these and combine them thoroughly until you get a polyrhythmic and polytonal mix! Finished.
With his simple recipe, Stravinsky changed the world. Many plants grew from this seed: beat, rock, rap, minimal musicÖ
A pagan, sacrifice ritual with shocking music and shocking choreography: three exceptional talents - Roerich, Nijinsky and Stravinsky - brought about an artistic revolution with a masterstroke.
100 years later it still sounds fresh, pagan, scary, new and beautiful."
IvŠn Fischer
The Rite of Spring was written in 1913 and is in two parts. The first part is the Adoration of the Earth and the second part The Sacrifice. The May 29, 1913 premiere in Paris involved one of the most famous classical music riots in history. The intensely rhythmic score and primitive scenario and choreography shocked the audience that was accustomed to the elegant conventions of classical ballet. The complex music and violent dance steps depicting fertility rites first drew catcalls and whistles from the crowd. At the start, some members of the audience began to boo loudly. There were loud arguments in the audience between supporters and opponents of the work. These were soon followed by shouts and fistfights in the aisles. The unrest in the audience eventually degenerated into a riot. The Paris police arrived by intermission, but they restored only limited order. Chaos reigned for the remainder of the performance.
This is perhaps the finest performance I've ever heard, the rhythm and drive is electrifying. The winds and brass have that "bite" they have live in the concert hall, and the strings are analog smooth with just the right touch of scariness to suit the piece.
The bass drum doesn't have the fullness, heft and deep timbre of the Litton on BIS, Oue on Reference Recordings or the Paavo Jšrvi on Telarc, however the impact and thrill is just as exciting. The other low frequency instruments sound quite accurate with deep realistic bass, so I feel it may be either the drums themselves or the beaters that makes a difference in the four versions. However sonically overall and especially in the critical midrange this new Channel Classics SACD from Budapest is clearly the winner. This has got to be the finest versions of these works I have ever heard.
The Firebird Suite is the original 1919 version with seven movements. It is gorgeous sounding and the performance leaves nothing to be desired. It too may become my preferred version. The Infernal Dance is very thrilling.
The Scherzo ŗ la Russe of 1944 is one of Stravinsky's finest miniature masterworks with a really rockin' infectious rhythm, excellent performance easily surpassing my Paavo Jšrvi version.
1940's Tango No. 72 is the orchestration by Felix Guenther, approved by Stravinsky and first performed by Benny Goodman. For me, this is the highlight of the SACD, 2 minutes and 27 seconds of pure joy! No. 72 doesn't refer to the 72nd tango as Stravinsky only wrote one tango, it is the number given to this composition by Eric Walter White in his book "Stravinsky, the Composer and His Works" Stravinsky only used opus numbers for his early works written between 1907 and 1910, opus 1 through opus 9. His compositions before 1907 and beginning with The Firebird of 1910 forward are without opus or other catalog numbers and are usually listed by year of composition. Someday perhaps we will adopt a numbering system similar to that used in Mr. White's book for Stravinsky's compositions.
Sonically all three Channel Classics SACDs are amazingly realistic, with plenty of excitement, beautiful and comfortable analog-like sound. The midrange is the smoothest and most natural sounding I've heard yet with digital. The high frequency percussion instruments have that exciting "zing" one hears with the best analog, which sometimes is a little lackluster with some DSD ADCs, and too etched with some PCM ADCs, the Grimm DSD and Channel Classics have captured a perfect balance between energy, liveliness and comfortable sound.
I highly recommend all three Channel Classics SACDs and will be waiting with baited breath for new Grimm DSD recordings yet to come.