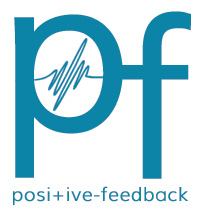 You are reading the older HTML site
Positive Feedback ISSUE 61
may/june 2012
dynamic design
Nebula AC Power Cords
as reviewed by Robert H. Levi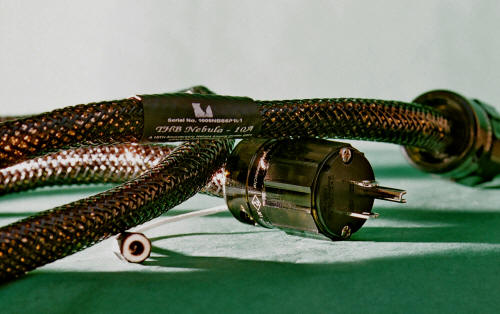 Based in Chicago, Dynamic Design Audio Video Products has been designing and manufacturing cables since 2000 under the watchful eye of Chief Designer Olu Sonuga, a long time connectivity enthusiast. I have reviewed a few of his earlier efforts, and really like his high-value designs. All his previous work has been quite good, but none of them prepared me for these new Nebula Power Cords. I have not heard all the power cords in the world, but I have auditioned a ton of them. That said, as of this review, the new Nebula Power Cords, both analog and digital versions, are quieter, more sumptuously detailed, and more truly real sounding in every application I tried, than any other power cords known to me. As far as I am concerned, and as of this moment, the Nebula Power Cords are state-of-the-art, and an important sonic leap for audiophiles searching for the best-of-the-best in power connection.
The Nebula Power Cords come in two versions: VLT Digital and Analog. I had three cords to try, two analog and one digital. I placed the analog on my World Power Wing power conditioner and my E.A.R. 912 Preamp and the digital on my E.A.R. Acute 3 Tube CD Player/DAC. As each was installed, I heard a boost in overall definition and timbral colors/intensity and quietude. Once all three were installed, switched on, and in use, I heard a new and phenomenal reproduction of the real thing. I thought I was already there, but you never know what you are missing until you aren't missing it anymore!
Part of the secret formula of these cables is the active shielding. I have ignored this in most designs, but it works fantastically in this one. The cables have multiple shields, but only one is active with its own three volt power supply. You switch it on before use and its magic works fully in about ten minutes. The wire is also cryo'ed, though some of it is left uncryo'ed on purpose as a part of the design. The 15 amp connectors are Furutech's newest top-of-the-line models that light up with LEDs when the switch is on. The wire itself is an alloy of various expensive rare earth metals that is proprietary in nature.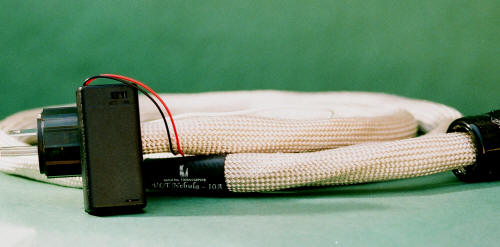 This is the discussion of Dynamic Design's Nebula Shielding called "Dynamic Shielding," taken right from the horse's mouth:
Dynamic Shielding™ technology is the combination of two innovative noise abatement processes. It marries our UMLS™ (Unitized Multi-Layer Shielding) technology with our new GIT™ (Ground Isolation Technology). Our UMLS™ technology utilizes an array of shields to protect and isolate the internal conductors from internal and external noise as well as to cancel the magnetic fields generated within the cable assembly; Our GIT™ also protects the internal conductors from noise and isolates the system ground circuit from noise. This is done by using a specially designed, self-contained DC powered circuit that prevent noise from being assimilated into the ground circuit and permeating the entire system. Our GIT™ is powered by a 3-volt battery power supply using readily available and replaceable AA batteries. When not needed, the battery power supply can be turned off to extend battery life by up to six months.
I maintain a reference system tweaked to the edge, and most revealing of nuances when they are present in the source material. Any change one way or the other will be revealed quickly and clearly. The Nebulas did just that! Once installed and playing the Blu-Spec CD version of Kind of Blue, I heard a mellifluous and realistic reproduction never previously revealed in my number one system. You could hear a fine level of delicate details, lower grain, and added power intensity just not there previously. I was shocked.
The Nebula Power Cords are the most involving power cords that I've heard in my system, without a doubt.
I will also tell you what the Nebulas did NOT do. They did not add stridency or coolness. They were not vivid or etched. They did not reduce the depth or width of the sound stage. They did not irritate or wear on the listener. They were neither muddy, extra rich, or over the top. I have had so many cords in here that just seem to be designed to fix a coloration or two in certain electronic gear they were expressly designed for. Not the Nebulas! They seem to be made for everyone [with deep pockets that is] and all tip-top gear, tube or solid state, that needs to be maximized on the power cord side of the equation.
Recently, I installed the Stein Musical Harmonizers which enhance realism and imaging bringing you tantalizingly close to the performance in the listening room. The Nebulas bring me closer yet. What great fun!
If you thought your phono setup was at peak perfection, just wait until you hear your favorite LPs with the Nebulas in the system. Oh boy! The sound literally pops into the room with a verisimilitude you will love. It is all about the little things and tiny bits of detail are now easy to hear and enjoy. Textures bloom as never before. Exciting and dramatic climaxes are even bigger and bolder. There is a greater evenness from top to bottom, with smoother mids and highs. Plus, the involvement factor of the listener with the Nebulas is off the chart. As a music lover you will really love these. As an audiophile, you will want to own them and brag about them to your friends. The Nebulas are what the high-end is all about!
I have reviewed enough of Dynamic Designs wires to know that Olu knows music and that real music is his design goal. Taste is everything nowadays. Technology has advanced to the point that you can accomplish pretty much whatever your goal may be in audio design. But you must have a goal! There is no substitute for great taste in a designer of equipment or cables—and Olu has it!
Quibbles?
Well, nothing's completely flawless, I guess.
After much listening and comparison, the only small quibble I can find in the sonic makeup of the Nebula is a very small reduction of low bass intensity. You will hear an increase in bass definition and textures as you will at all other frequencies. What is slightly diminished is deep bass power. I turned up my sub-woofer just a smidge to compensate, and all was fine and dandy. If you have loudspeaker bass adjustments, that should do the trick. Otherwise, try a bit of added toe-in or out. We are talking a very small change here, and should not be in any way, shape, or form a deal-breaker. Many other high-end power cords have too much slam on the bottom with less bass nuance on board.
I should also point out that the Nebula power cords are a bit stiff to work with, but aren't they all a challenge to wrestle at this exalted level? They are in my experience, anyway.
Summary
The Dynamic Design Nebula Power Cords are a slam-dunk, state-of-the-art design, with very sophisticated technology and metallurgy on board. They consistently yield improved definition, delicacy, and quietness to the best gear with which they are used, regardless of whether your system is based on tubes or solid state designs. They are either designed specifically for digital or analog equipment, and will handle ultra-high current with ease. Their construction is first rate, and the cables are gorgeous to look at. They must be used with the included electrified shielding built-in to the wires for maximum performance. Batteries ARE included.
To my way of thinking, the Nebula Power Cords are a triumph in good taste and top engineering, and are true beauties. They are the best I have auditioned to date. My highest and most emphatic recommendation! Robert H. Levi
Nebula VLT Power Cord for Digital Sources
Retail: $6100 (Six Feet)
Nebula Analog Power Cord
Retail: $5800 (Six Feet)
Dynamic Design
310.466.1040
bill@dynamicdesignav.com
www.dynamicdesignav.com