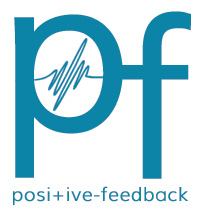 You are reading the older HTML site
Positive Feedback ISSUE 61
may/june 2012
Girls Just Wanna Have Fun - Cyndi Lauper and Stacey Kent
by Dr. Sardonicus
Introduction
Throughout the years… from time to time, I have absented myself from contributing to PF for various reasons. Other times I have been a steady and perhaps even prolific contributor.
While my enthusiasm for music and writing has never wavered, I must admit my interest and even tolerance for the "hobby" has waxed and waned, especially for writing about equipment. I specifically omit the term "reviews" from the last sentence, because my work has consistently appeared in the editorial section, rather than with the equipment reviews. The primary reason for this is my obdurate refusal to comply with the accepted conventions of "proper" equipment reviews (which seem to vary considerably depending upon who is opining on what is, and is not "acceptable."); hence also writing under the obviously insidiously deceptive and sinister, nom de guerre, Dr. Sardonicus.
My long term friend and Editor, David Robinson has had the patience of Job in this regard… I think largely because he is amused by what, and how I write. And he is, after all, the one who hung Dr. Sardonicus around my neck. But you would have to ask him to know for sure… I just speculate.
My decision to largely stop reviewing equipment arises out of three primary issues:
The first is practical. I am simply too old and cranky for huge crates, pain in the tucas shipping companies and emotionally unstable distributors.
The second is also practical. I turn 61 in April of this year, and between growing up on a farm (long before anyone used hearing protection), and playing live rock and pop music professionally for over twenty years, my high frequency hearing is not what it once was. It's kind of like knowing when it's time to stop driving, instead of stubbornly hanging on and making your kids hide your car to stop you from killing yourself or someone else.
The third is simple chronic emotional fatigue with the endlessly repetitive discussions about "how many angels can dance on the end of a pin," and the never ending groin kicking and rancor that seems to forever and forever describe the public discourse on our hobby. No high moral tone here… I have done my share. But after gaining some distance, it all seems so… pointless.
But I still listen to music, and I still enjoy writing… so I will do that.
Cyndi Lauper
Enduringly beautiful, enormously talented, quirky, inconsistent and often bewildering, this New York born singer-song writer has always been a somewhat guilty pleasure of mine. From her opening offering, fronting Blue Angel (1980), through her meteoric rise to fame not long after with, She's So Unusual, Cyndi has alternately achieved wide commercial success and embarrassing weirdness (Professional Wrestling? Sheesh).
She has even dabbled in film (such as the disastrous, Vibes, with Jeff Goldblum) and TV (including cameo appearances in Mad about You). An ardent social activist, she shows up in the darndest venues. When Margret Cho works you into her comedy routines (in a good way) you know for sure your freak flag is flying proud and high.
She has always been an easy and very visible target for dismissal as just a campy pop icon, but underneath all that… stuff… there are some incontrovertible facts. First, that voice. From a delicate whisper to hurricane force slam and a four octave range, when she hits full voice she is like a 140 pound Bruce Lee throwing a skipping side-kick and blowing the padded target-victim through the air without the benefit of wires and CG. Say what you want to about her rollercoaster career and musical choices, but that voice, man the girl has pipes.
She was the first female singer to have four, top-five singles from a single album, and songs like "Time after Time," "True Colors," and yes, "Girls Just Wanna Have Fun," have guaranteed her place in pop music history. 40 singles, 11 albums, multiple Grammy Awards and nominations; say what you will, she is the real deal. She has sold more than 50 million albums, worldwide, and approaching her 60's, she is still going strong. Her 2010, Memphis Blues was Billboard's top blues album that year.
However, since I am arguably somewhat narcissistic, most importantly, I have had such a crush on her since the very first. Hearing the unarguable promise in Blue Angel; seeing her walk down that staircase in the pathetic, "Vibes," with her hair a blonde angel's halo around that porcelain perfect face… and that voice coming out of a blonde Bettie Boop. Whew, she still gives this old man the twitterpates.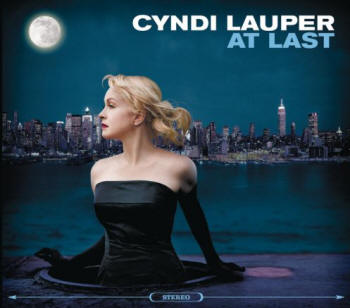 Cyndi Lauper, At Last. 2003, Sbme Special Kkts. Format RB CD
In spite of my obvious affection for this artist, her 1997's, Sisters of Avalon, just went somewhere I was not interested in following.
I think being a serious artist means that sometimes you head off in creative directions that will cost you some existing fans, and perhaps gain some new ones… and, in retrospect, might even be seriously misguided, or alternatively, transformative. Such is life and art.
Sometimes the separation is temporary, and sometimes permanent. I am firmly in the camp of artist control, resultant consequences be damned, because very rarely do good things happen when labels, managers and even fans dictate what artists should do, and how they should do it. This, my friends, is a recipe for mediocrity. I would rather a disastrous album or movie, than the stultifying results of trying to please everyone all the time.
At Last is Cyndi's first full-length studio album post-Sisters. And true to her penchant for going her own way, this one is comprised of familiars, ranging from "Walk on By," (one of my favorite songs from my youth), to "If You Go Away." And, in a pattern she continues to repeat, she surrounds herself with stellar companions: Stevie Wonder, Sheila E, and even Tony Bennett.
While I have some issues with what I consider relatively weak (And dare I say it, under produced?) arrangements on some tunes, her voice is stronger, richer and better served than on Sisters. This is altogether a much more enjoyable experience and immediately won me back. She wants to do standards? Hell yeah, I'm up for that.
Standouts include: "Unchained Melody," Eric and the Animals,' "Please Don't Let Me be Misunderstood," and "Stay." But Etta Jame's, "At Last," is somewhat uncomfortably rendered, and "La Vie En Rose," would probably have been much better served by her staying in the original French. "On the Sunny Side of the Street" has only worked for me in one application, the soundtrack for, O Brother Where Art Thou? Here, it's just… weird.
Overall, this is a surprisingly strong and enormously enjoyable recording. And while it is highly unlikely every listener will appreciate every song, dollars to doughnuts, every listener will find sufficient enjoyment to make the experience worthwhile.
Welcome back you delightful little power-house Kewpie Doll… gimme a big hug and keep on keeping on.
Sonics: First rate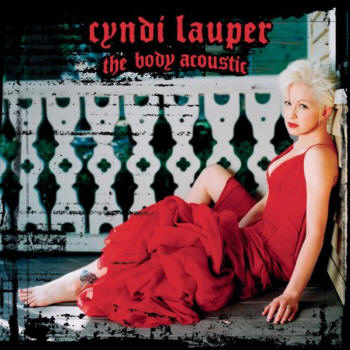 Cyndi Lauper, The Body Acoustic. 2005, Epic-Daylight. Format RB CD
In my experience, "unplugged" albums from well known artists reprising their work have always been a mixed bag. Frequently, the new arrangements bring added life and nuance to the familiar, and just as often I find myself pondering, "What were they thinking?" This 2005 release is no exception.
On the plus side, her voice has richened, and perhaps roughened with time since the 80's when she first broke. And early releases reprised in this offering, such as "She Bop" and "Money Changes Everything" are altogether a new experience from the originals; "She Bop," dark and brooding, which when you think about the content, is more than a bit unsettling, and "Money" benefiting from this almost "Exile on Main Street," roughly acoustically cluttered (harmonica, fiddle, harmonium, et al) shuffle. "True Colors" remains one of the most moving songs in pop music, and this freshened version maintains all the sincerity of a younger Cyndi with the wisdom and compassion that can come with time.
At the other end is "All Through the Night." Where the original is all sparkle and fairy dust, this version is inexplicably marred by Shaggy's intrusive rasta rap, having nothing whatsoever to do with either the song, or the performance. Also completely confusing is Ani DiFranco's insubstantial contribution to "I'll be Your River," which I suspect has more to do with causes and politics than a musical decision (and I am very much an Ani fan, both the music and the woman). Even the redoubtable Jeff Beck sounds virtually anonymous on "Above the Clouds."
And in the middle … some ambivalence. I sort of get how "Girls Just Wanna Have Fun" works with a kinda Asian school girl twist ala, Puffy AmiYumi. I am also conflicted about Sarah McLachlan on "Time After Time," but this may arise at least partially out of my increasing ambivalence about Sarah in general (Read on, I am reviewing one of hers in a bit). It may also be that two sweets, jaggery makes.
But taken as a single work, say in comparison with another compilation disc of hers, 1994's "12 Deadly Cyns," the overall experience is very much like the woman herself… quirky, inconsistent, unabashedly emotional, and revelatory. Between the two, I much prefer "Acoustic."
It's like a wonderful friend, who has certain aberrations that sometimes make you want to smack them on the back of the head, but in no way lessens your appreciation or love for them. Maybe it is that all too human element of her being unapologetically her, that nourishes me the most.
Like the painfully raw, "Foiled," by Blue October, "The Body Acoustic," whatever this album is and isn't… and in spite of my reservations, it keeps me coming back, and I keep enjoying it. Not entirely rational, I know, but as Maude said, "Consistency isn't really a human characteristic."
Sonics vary as much as the music… sometimes great, sometimes just average.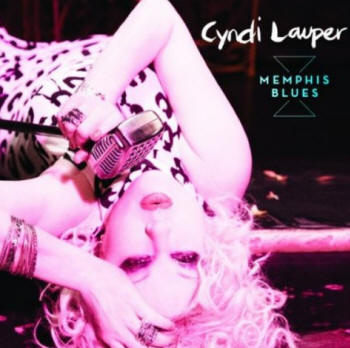 Cyndi Lauper, Memphis Blues. 2010, Mercer Street Records. Format RB CD
Cyndi is so white she glows in the dark. To get a tolerable blues album from her is remarkable… to get a good one, is extraordinary. When I first spun this disc, I actually thought I had loaded the wrong CD (I had some other blues stuff I had bought in the same purchase with this disc).
Featuring the likes of Charlie Musselwhite, Jonny Lang, Ann Peebles, Allen Toussaint, and even the legendary B. B. King, this is a serious offering, and Billboard's rating reflects it. Perhaps I should not have been so surprised. She has always had the ability to growl and rumble, she just never used it quite so much as on this album. Standouts are, "Just Your Fool," "Rollin and Tumblin" and "Don't Cry No More."
It would be easy to dismiss this work by saying it doesn't play to her strengths as a pop singer, and allege she is just indulging herself. It would be even easier to dismiss it with the uncharitable observation that she's no Koko Taylor (Who is?). But if you can put your preconceptions aside for a bit, and listen more deeply, what you might hear is this ambient tension that comes and goes in this recording, created by having to bring her "A" game in order to do justice to her formidable partners in this work (classic material aside).
What rocked me is you can feel this "head-chopping" vibe going on in the recording, which is so iconic of blues players… a kinda one-upmanship that either elevates both, or leaves one coughing blood in the dust.
No blood in the dust here. Well done. Sonics are solid. No complaints.
Stacey Kent
From Sarah Lawrence College to international fame as arguably one of the most subtlety nuanced interpreters of the romantic ballad. You remember… nuance … one of those words, like "wistful," "subtle," "understated," "wry," "tasteful"… words that are rapidly disappearing from our language, along with the delicacy and rapidly declining refinement they represent.
A relative new-comer (her first album, Close your Eyes, came out in 1997), she has enjoyed steadily increasing acclaim for her work through nine subsequent discs, although as with many jazz notables, she is better known in Europe than the US.
The first time I heard her, 2009 Dreamsville, I thought Blossom Dearie had been reincarnated… and with more of everything that made Blossom a delight to behold (but sans Blossom's considerable piano skills). That elfin, almost girlish voice that could so easily fall into cutesy, maudlin treacle (but never, ever does); so pure and almost molecularly precise, it carries her through even the most potentially sticky sweet songs that would mire a lesser singer. I was hooked from the first tune.
Hey, this woman can pull off the classic "Girl From Ipanema." While simultaneously maintaining Astrud's nearly comatose delivery, she adds just enough actual humanity to fill in the sketch of that hornifying, micro-bikini clad, bronzed mythical Brazilian fantasy woman vividly enough that you can practically see the smallest trail of perspiration slowly trailing down that perfect thigh, as she "walks on by."
Ok, as usual, I have to confess some nefarious behavior on my part here. But I will temper it with very sincere and useful advice. If you are male (which statistically, you probably are) and fortunate enough to be with a significant other… get a copy of Dreamsville, on the sly; wait for the appropriate opportunity (alone with your amour, lights down low, perhaps a gentle libation), and cue this disc.
I promise, unless you do something oafish, you are getting lucky. I know this, because it is precisely how I seduced my elegantly exotic and beautiful wife (and I am a bit of a beast, if I am completely honest about it). And I know this, because she told me so, saying that the combination of my considerable charm (ahem), and the irresistible romanticism of this music, left her helpless and completely in my thrall (he chuckles ominously). Hey, when you are fighting out of your weight class, you do what you gotta do.
And it still works! When I occasionally act like the miscreant that I am, most times cueing that disc up triggers her state-dependent memory and domestic bliss is re-established.
And this is what baffles me most about Stacey. She is never overtly sexual (like a Holly Cole, for example), and yet if she doesn't get you hot, you need to check your pulse. Think Audrey Hepburn sex. Never vulgar or direct… again this understated subtlety that is all the more beguiling for its innocence.
And it's all Hepburn perfect. Never a misstep… she is preternaturally perfect, from arrangements and instrumentations to her unvarying renditions. She simply can't hit all these songs so well, but she does. Remarkable.
If you are unfamiliar with Stacey… fix that. And if you are familiar… well, I am not telling you anything here you don't already know.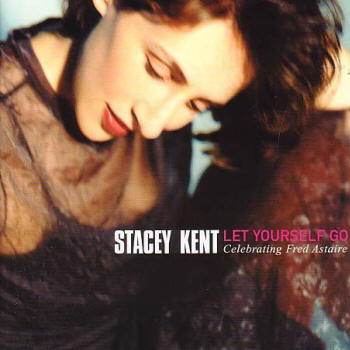 Stacey Kent, Let Yourself Go. 1999, Candid. Format Standard RB
A loving and highly entertaining homage to the incomparable Fred Astaire, this somewhat spare and deceptively simple recording, should be a traditional audiophile's wet dream, but it seems largely unknown or ignored in the US, which is truly tragic. I guess this is to be expected. It's not exactly like this territory hasn't been previously uncovered, and by everyone from Andre Previn to Mel Torme. It would be very easy to dismiss this charming work out of hand, having never seriously (or perhaps even) listened to it.
I can understand those who think her approach sometimes verges on cloy, and to be sure she is often poised on the knife edge between the natural sweetness that defines her voice, and the more complex (and perhaps for some, less accessible) complexity that underlies it, her arrangements and delivery. Not every singer needs or benefits from that wearying "American Idol" big note finish we have come to expect… like some kind of aural money shot.
Occasional detractors aside (they faded quickly as her career progressed), this work helped her punch through into the American market, and while she has never enjoyed her disserved status in the US, England-based American, Stacey Kent has certain had her share of international recognition.
But let's get back to things at hand. First there is the material. Sure, Fred was mostly a hoofer and film star, but he is also responsible for introducing more of the so-called, "American Song Book" than any other male singer; albeit, I think, largely unintentionally. I never had the impression from his movies or interviews he considered himself much of a singer, but he certainly benefited from the song-writing of the best America had to offer at the time.
Working, as she mostly has, with pianist David Newton, and her husband on tenor sax (Jim Tomlinson) instrumentation is minimal on most tunes… and both arrangements and production are clean, simple and tasteful. This is consistent and characteristic of her body of work: clean, simple, and tasteful.
Unlike some of her later work, the mix between romantic ballads and "up-tempo" tunes is pretty even. And there is the obligatory nod to Brazilian jazz (her husband's specialty), with the bossa nova flavored "s'Wonderful."
"Shall We Dance?," "I won't Dance," and "I'm Putting All My Eggs in One Basket," take the tempo up, and are each enormously fun, which Fred wasn't… always.
But this is Stacey, and so there will be romance and tears. "I Guess I'll Have to Change My Plan," and "By Myself," conveys the heartbreak of innocent love gone wrong about as well, and as believable as it can be done.
If I were new to Stacey, I don't know if this disc is where I would begin. I would probably start with Dreamsville and work my way both forward and backward through her discography. This, only because I am a bad, bad man, and just the opening tune, "I've Got a Crush On You," from Dreamsville can so easily become your path to paradise, I have to go with what is most likely to produce presumably highly-valued, non-musical benefits to the listener.
Sonics are simple, clean and uncluttered.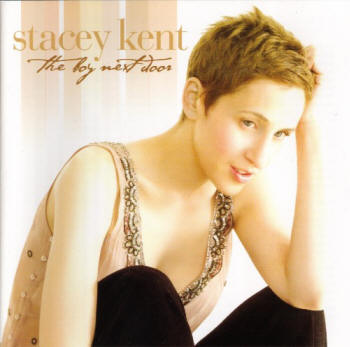 Stacey Kent, The Boy Next Door. 2003, (reprinted in 2008) Candid. Format RB CD
Stacy has always been about romantic ballads and standards. While this recording pre-dates my fave, the 2009, Dreamsville and is less lush and full in comparison. Even with the tinniest bit of occasional sibilance in the recording, for those of you committed to the unprocessed clarity of an acoustic recording, this recording works at every level.
Everyone on the recording (from her hugely talented husband, Jim Tomlinson, to David Newton) maintains that same precise, delicate support that characterizes all of her work. No pointless soloing, nothing drawn out past its absolute need.
"Que reste-t-il de nos amours?;" brings that whole sun-washed Gilberto thing back in spades. Yummy. Even the completely silly "Ooh-Shoo-Be-Doo-Bee" is touched sufficiently with her wry sensibility, that you know this is just for fun, and fun it is.
Ok, so my "issues" with Carole King and Jams Taylor, kinda make me skip over "You've Got a Friend," but hey, we all have our idiosyncrasies.
I could say that I recommend this disc, unreservedly, but that would be redundant; I recommend all of her discs. How many artists can you personally say that about? And she just gets better as you move through time to listen to her ever more recent releases.