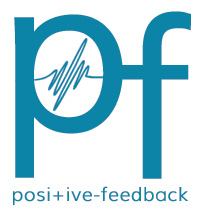 You are reading the older HTML site
Positive Feedback ISSUE 61
may/june 2012
Ron Miles, Quiver
by Chip Stern
I was attracted to the Lovesexy quality of the word.
The spiritual and sexual ways a word like Quiver are used.
From Isaiah 49:2 - "He made my mouth like a sharpened sword,
In the shadow of his hand he hid me.
He made me into a polished arrow
And concealed me in his quiver."
Gentle, powerful and passionate.
- Ron Miles
Don't play what's there,
Play what's not there.
- Miles Davis
All music is beautiful.
- Billy Strayhorn
Much as murder was gumshoe Phillip Marlowe's business, words are mine, and while I am rarely at a loss, I'm afraid that the music on Quiver—trumpeter-composer Ron Miles' latest collaboration with his long-time musical partner, guitar innovator Bill Frisell, and master drummer Brian Blade—has caught me short.
I've been down this road before, where the power of the music is such that I feel a profound sense of inadequacy in conveying the extent to which the performances inspired me; and while I reckon that I'm more than capable of manning up and fashioning a reasonably articulate response to the emotional journey that this music took me on, straight out of the gate, I'm afraid that even so glib a scribe as myself cannot possibly explicate the sheer melodic elegance, tonal luminosity, supple swing and veneration for silence with which these three master musicians have fashioned this most perfected of trio recordings.
Where to start? Asserting Ron Miles's preeminence in the firmament of the finest trumpeter-composers seems like a good way to get our mojo percolating.
"From the moment I met him, he's always been committed to something," comments his long-time friend and collaborator Bill Frisell, speaking to the character which animates the man and the muse which fires his creativity. "I don't think I've ever met anyone quite so stoic, no matter what is going on around him. He has some sort of internal power…some sort of incredible center that he just will not budge from. And whether it is some sort of moral stance or a musical stance, I don't think I've ever met anybody who can stay so strong on that. Whatever the path he is on at the moment, when it comes to conceiving music, he'll take it just as far as he can go. It's always been obvious in his playing, but then there's quality of his writing—I've never quite seen that in anyone else."
Dig if you will, Pilgrims, there is life beyond New York City, and perhaps if Ron Miles looms less largely in some narratives of modern jazz, it's only because this trumpet master resides in Denver, Colorado. Among the many qualities which have endeared him to me, music aficionados and those long-time collaborators who've warmed themselves by the quiet fire of his creativity (such as Bruno Carr, Fred Hess, Bill Frisell, Ginger Baker and Don Byron), is Ron's daring, unapologetic sense of outreach and inclusion; solidly grounded in the jazz tradition, and yet open to all manner of ethnic, popular and classical sources let alone down home American folk, such as the joyous hoe downs and hosannas of "Just Married", in which country music and blues share a glorious two-step, much as the sanctified white and black churches do likewise at the root cellar level. (Or as Ron instructed Bill in his pithy composer's notes to this performance, "Big Buckle Elvis.") And in the process Ron Miles and his Quiver trio illustrate just how narrow if not downright non-existent the imagined divides are between the black and white church, let alone social and musical cultures in 21st Century America.
"Well, yeah, it is non-existent," Frisell offers by way of an amen chorus. "And when you get to the music it's exactly the same. I mean, Ron knows the whole history of jazz and yet he also loves the Bee Gees and Prince, not just Ellington and Monk. And as complex and challenging as Ron's writing and improvising can get, he doesn't have a problem with simplicity—he's not afraid to play a D Triad. I mean it actually does piss me off…the idea that complexity automatically equals sophistication—it's just as hard to play a C Major chord as it is to play a C Minor chord with a sharp this and a flat that, and to hold one higher and one lower than another really misses the point. In music, the whole hierarchy of things where folk music and blues are at the bottom and classical is at the top and jazz is somewhere in the middle… man, I just can't buy into that."
And neither does Ron, and so when he and the trio delve deeply into the folkish elements which enliven "Just Married" there is an earnest, unapologetic joy in the sanctified yet celebratory grits and gravy of the event—not just the white of the bread but the hard, dark crust of the experience. Likewise, in addressing the extended form of Duke Ellington and Bubber Miley's sophisticated 1929 big band masterpiece, "Doin' The Voom Voom", Ron, Bill and Brian come correct and are careful to dot all their eyes and cross each and every subsequent tea out of veneration for those timeless jazz values embodied in the original arrangement—and yet they manage to find a place within the music wherein their own very contemporary sensibilities may blossom and grow in the spirit of collective improvisation. Because while Miles' arrangement sustains a sense of the original's time and place of origin, his trio manages to derive something very modern and personal out of the whole cloth of Ellingtonia, conveying its joyous sense of swing and fulsome orchestral pallet with but three pieces.
Because while a modernist in every sense of the term, Miles nevertheless harkens back to an era where trumpet players defined themselves by something other than the sheer audacity of their chops and the bravura love-gush of notes per minute. So while it is easy to apprehend Dizzy, Fats, Miles, Clifford, Booker, Hubcaps and Lee in his playing, the vocal grandeur and burnished articulation of Ron Miles' sound and conception on Quiver, particularly in the instrument's often overlooked lower register, reflects the authentic values of early jazz trumpet's tribal elders, who were more fully defined by the singing quality of their solos (Bel Canto, if you will), be it King Oliver, Louis Armstrong, Bix Beiderbecke, Bubbler Miley, Roy Eldridge, Buck Clayton, Freddie Webster or Harry James from one generation or Clark Terry, Chet Baker, Don Cherry, Lester Bowie and Olu Dara from another…not to mention classical masters the likes of Wynton Marsalis from the jazz side of the aisle, or Maurice Andre from the symphonic side.
"There was this bass player," Frisell recalls. "I'm sorry, but I can't remember his name off hand, and he visited Freddie Hubbard, and played him the duet record Ron and I did which preceded Quiver, Heaven, and Freddie really liked it. He talked about that lower register that Ron favors and he said, 'I wish I could do that,' and explained how hard that was to do on the horn, and the fact that he got it, was some sort of compliment coming from a trumpet innovator of his stature and magnitude."
In short, Ron Miles' trumpet mastery is best defined by his unimpeachable foundation in the historical tradition and an unquenchable appetite for knowledge—he has remained a student of the horn and of the compositional forms, all the while divining more and more varied ways of framing and explicating that curiosity, capable of breathtaking complexity and daredevil upper register clarion calls, yet unafraid to play simply and directly and melodically in the trumpet's luminous bottom end—as if he were a bass-baritone vocal artist authoring a lullaby for the sleepy-time child in us all.
As such, he extends upon this instrumental mastery through the probing, sophisticated contours of his original compositions and canny arrangements; again, deeply versed in the most advanced, challenging forms of modern jazz and contemporary classical music, and yet unafraid to indulge his democratic instincts, his authentically Catholic stylistic sensibilities; his innate willingness to engage his audience in the spirit of outreach, inclusion and a sense of celebration—irrespective of whether or not his uncompromising artistry and stylistic curiosity measures up to the missionary position political correctness by which some hanging judges defend the honor and purity of Lady Jazz (which is more than the old gal ever did for herself).
God bless the truly gentle men amongst us,
Those non-alpha males with sensitivity enough to allow their inner light to shine through
And touch others through the power of faith, compassion and an authentic generosity of spirit.
- Chip Stern
The pursuit of truth and beauty is a sphere of activity
In which we are permitted to remain children all our lives.
- Albert Einstein
The music on Quiver extends brilliantly on the technical and spiritual foundations this 49 year old musical trailblazer has crafted for himself since graduating from the Manhattan School of Music in 1986 and fashioning the first of his solo excursions in 1989: music that celebrates the complex nature of a man who while projecting a genuinely tender-hearted demeanor to the world, harbors as much duality and uncertainty as the next.
Ron's soft, amiable, good-natured persona belies a steely purpose, athletic tenacity, intellectual rigor and a fearless willingness to improvise in the most exposed, unforgiving formats, such as the deceptively quiescent duet recital with which he and guitarist Frisell graced us some years back, Heaven.
"I think the idea was to expand on the Heaven duet format which Bill and I did, and if we were going to add a third person, we both agreed it should be Brian more than anyone else, because he is one of the most musical drummers on the scene," Ron enthuses, and in fact, it is hard to imagine many other drummers approaching this music with both the pianistic elegance and intellectual discretion to lay back enough to allow the action to come to him—never truncating the conversation with some nervous compulsion to fill every inch of space with… excitement. Such as how Brian sets the table for the old-timey jazz feeling of Ron's brilliant re-working of that Roaring Twenties chestnut, "There Ain't No Sweet Man Worth The Salt of My Tears," with some of the most beautifully inflected mallet phrases this side of Big Sid Catlett and Elvin Jones, even as Bill gets up on his Charlie Christian soap-box, while Ron seemingly channels the spirit of Lester Bowie in the viper's dream of his solo passages and the phelgmish death rattles of his concluding pedal tones.
"I heard it on a Paul Whiteman record where Bing [Crosby] and The Rhythm Boys sing it and Bix steps out for short spot; I transcribed the real chords, but then I worked on it for a long time to orchestrate it with more modern chords, which really opened it up for us, because there was something of a voe-dee-oh-doe quality to it. But it also had an earthy blues quality that Bing could get to, and Bix obviously could get to, and I wanted it to lean more towards the latter."
Ron's keen sense of those qualities which elevate the joy and drama of the very earliest jazz recordings—even if the nascent recording technology could not quite give the music it's true due—enlivens the trio's forays into roots elements of the music as well as its most modern iterations on Quiver, and I am filled with admiration for how Ron, Bill and Brian navigate the music of our tribal elders, coloring their modernist interpretations with an authentic sepia patina of aged in oak bourbon, such as Ron's intimations of Scott Joplin on "Guest Of Honor."
"On one hand Honor is my son's name; then again, I always wanted to do something syncopated in a ragtime manner, and it got me thinking about Scott Joplin and the opera which preceded 'Treemonisha' which was 'A Guest Of Honor.' We don't actually know what the music sounds like, because it was never sent to the copyright office. Apparently "A Guest Of Honor" referenced the story of how Booker T. Washington was invited to the White House, with all the controversy that subsequently ensued. And so while we tend to think of Joplin writing such upbeat music as "Maple Leaf Rag" here he was writing political operas as far back as 1903."
Likewise on Ron's more modernist conceptions, from the jagged hesitations and stutter steps of "Bruise" to the Ornettish exposition of "Rudy Go Round", the composer's love of extended forms, asymmetrical abstractions, and dramatic syncopated dances between the dissonant and the consonant, rings just as true as his forays into the music's earliest roots… as does the torchy tenderness and lyric splendor of his balladic interpretations, like "Days Of Wine And Roses" and "Queen B."
"Well, that's for my daughter Justice," Ron says, referring to "Queen B." "We used to call her Bird, although no one can remember exactly why. It has some of what Charlie Hunter refers to as my Burt Bacharach blood, because every now and then those cadences start flowing through me, like the way it modulates through the keys; it even ends on a different key than it starts on. "
However, ultimately what's most interesting to this scribe about the music on Quiver is how selfless a leader Ron Miles is, and how often he seemingly deflects attention away from himself and towards his collaborators. I say seemingly, because in the process, Ron Miles evinces an unorthodox perspective on the very notion of a lead solo voice, with a hard right back in the direction of an authentic ensemble conception.
"There's a tradition of bands without a bass," Ron explains, "like going back to Bix's work with Frankie Trambauer and Eddie Lang; and then there are the Jelly Roll Morton recordings with Baby Dodds and Johnny Dodds; and obviously those Lester Young records with Nat Cole and Buddy Rich. So in checking all that out I realized there is a great deal of room to create an ensemble identity without necessarily filling up every bit of space. It's also pretty daunting; the Paul Motian Trio with Bill and Joe Lovano being one of the greatest bands to ever play this music. In fact, I quite consciously didn't listen to their music, because I didn't want to be intimidated by it."
Furthermore, by consciously precluding the use of a low register instrument, Ron Miles reasserts the notion of jazz chamber music in the sense of, oh, say a Beethoven Piano Trio (with cello and violin), while edifying the true nature of the bass function as someone like J. S Bach understood the concept: Bass not as an instrument, or even as the lowest notes, but as the one critical note without which the other notes would not make sense, could not reach a parlay.
So in a sense, Ron's elegant brass arias fulfill the function of the bass, Bel Canto style, singing yet swinging; the connective tissue in a conversational trialog in which carefully plotted motifs melt ineluctably into freely improvised sections at the behest of the improvisers. "I had this idea of having a series of melodies that people could interpolate during a performance as the spirit moved them, and likewise if someone was doing an improvisation someone else could interpolate an ensemble part."
And in keeping with the selfless, generous nature of the man himself, when the leader is not functioning as a glorious solo voice, as in his expressive operatic intro to "Mister Kevin", he often steps aside and acts as the melodic referee; having fashioned a lovely tuneful turnaround, the trumpeter is thus content to hold Bill and Brian's jackets as the guitarist and drummer joust congenially about the arranger's conception.
"I conceived it so that generally there was a lot of space in the music, which just makes it a perfect vehicle for Brian and Bill, who are so purposeful in the way they think through a phrase, with all of the silences intact, and create all of this motion and energy without any wasted gestures or playing a whole bunch of notes."
And in the end, this is why time and time again throughout my listening notes to Quiver, the words, grace, elegance and luminosity seem to appear with such numbing frequency, like skeleton keys with which to pick the lock of my subconscious and reveal, some deeper meaning, a more perfected way for this writer to convey the sense of quiet fire and spiritual conviction which informs each and every performance; modern jazz chamber music in the best sense of the term—a devoutly intimate recital.
"Listening to composers the likes of Scott Joplin, James Reese Europe, Jelly Roll Morton and Duke Ellington on one hand, and improvisers such as Miles Davis, Sonny Rollins, Ornette Coleman and Don Cherry on the other is both humbling and inspiring," Miles concludes. "And as much as anything, after a lifetime's study, what this music has given me is a sense of the enormity of all of that: of spirituality; of being American, of being African-American… of how privileged I am walk that path and how much work I still have to do. I mean there are so many people who've inhabited this music: living it, writing it, playing it, listening to it—that it's all good. And so you just find a way to be you in it, whatever that is… be it spiritual or secular or none of the above, just to find your way in it. And that's what we're trying to do on Quiver."