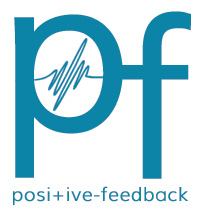 You are reading the older HTML site
Positive Feedback ISSUE 61
may/june 2012
ologe acoustic
The ONE Loudspeakers
as reviewed by Andre Marc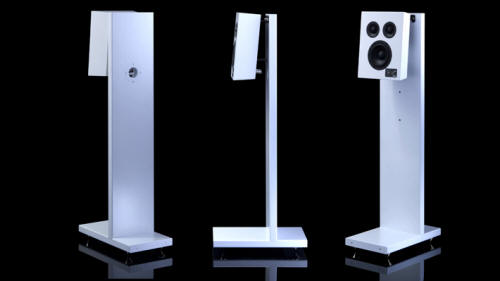 I confess Ologe Acoustic was totally unknown to me until Adrian Wu, the knowledgeable and hard working importer and distributor of Densen electronics, Bogden Audio Creation loudspeakers, and his own line of True Harmonix products among others, told me about this new line of audio products. I was happy enough to agree to a review of the unique Ologe ONE monitors. A few weeks later a huge professional custom shipping case arrived and the fun began.
Ologe, as described on their very nice website, essentially means "private seat", as in a perfect location at a performance. The company has an extremely varied and colorful origin in that the products are co-engineered in Germany and Japan, with certain parts made in Taiwan, and final assembly done in Japan to strict quality standards. The company produced its first products only a few years ago but already has dealers on several continents, including Australia, Europe, and Asia.
The product line is very interesting to say the least. It includes electronics, in the form of an exotic looking preamp, two amplifiers, and several loudspeakers topped off with a subwoofer. Ologe caters to both the professional and consumer markets and offers some rather unique solutions. Their approach is certainly unusual, which is probably a huge understatement. I would even go as far as to say that the Ologe product is one of the most intriguing I have come across as a reviewer.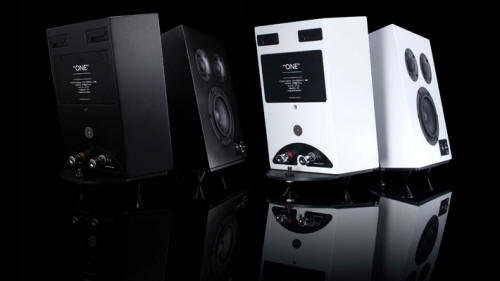 What I received for review was the Ologe Acoustic ONE monitor priced at $2500 a pair. Ologe's speakers also include the ZERO, FIVE, TEN, and the TWENTY subwoofer. They differ in regards to driver configuration, shape, and application. The ONE, like the other speakers in the line, was developed via extensive prototyping and with a several key design goals. According to Ologe, these include:
Accurate and the Fastest Response

No Additive Tone with Mammoth Dynamic

Wide with Solid Soundstage

Lossless Detail

Adjustable Driver Mode
To achieve, these goals, Ologe chose to pursue a seal box design with the intention of banning any cabinet resonances to the extent that is possible. They use narrow baffles and cabinets that are made of extremely high density wooden board. The whole line features in house designed and manufactured drivers. Ologe has a few more unusual tricks up its sleeve as well. They use multiple tweeters and built in selectable "room correction", and in the top tier models, the choice of active or passive mode. Sound interesting?
The ONE monitor is rather compact, but very heavy. My review sample arrived in a very attractive matte white. The speakers are also available in matte black, and piano gloss black The ONE is rather unusually shaped for a monitor as you can see from the pictures, in that it is not a typical box. It is outfitted with two 1" soft dome tweeters above a 3.75 " single woofer. All drivers are designed and assembled in house and are magnetically shielded. The ONE is equipped with very high high quality chrome-plated 4N copper binding posts. Frequency response is stated as 58 to 30,000Hz at ±1dB, and sensitivity is 84dB@1W/1m.
The ONE's front baffle is equipped with a three-position toggle for tweeter level that offers +/-0 .75dB in either direction and a 2-position on/off toggle that activates "boundary compensation" that comes into play at 62 cycles. As far as set up, the ONE comes standard with the ABASE, or optionally with the ASTAND, or AMOUNT, for wall mounting. My samples came with the hefty, and very impressive matching ASTAND. The ONE is designed to work with the ASTAND to enhance performance, including resonance control and bass response. Carrying them up the stairs was not an easy task, as they weigh 32lbs each and are made of extruded aluminum alloy. One consideration is that even though the ONE's binding posts accept banana plugs, using the ASTAND restricts you to bare wire or spades.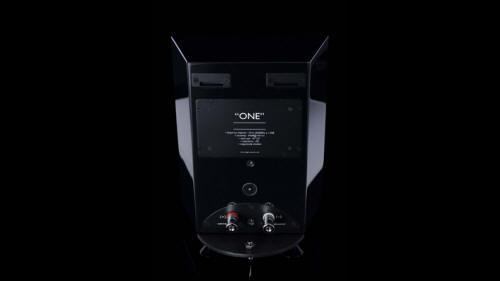 Set Up & Listening
I installed the ONE's on the ASTAND, carefully hooking them on and making sure they were secure. I used a set of Kimber 8TC speaker cables terminated with bananas at the amp end and spades at the speaker end. I used the McIntosh MA6600 solid-state integrated amp to drive them, and my source was a Squeezebox Touch streaming FLAC files via Ethernet, with digital to analog conversion done by a Musical Fidelity V-DAC II. Interconnects were Kimber KCTG's.
To end the suspense, I thought the Ologe Acoustic One's sounded terrific. They offered up a very focused soundstage, with great depth, precision, and surprisingly good bass for a 3.75" woofer. The ONE/ASTAND coupling and inert cabinet design probably played a big part in bass performance. I felt the midrange was transparent, if a bit on the warm side, and treble was smooth and utterly glare free, a byproduct of the twin soft dome tweeters.
Relatively natural recordings like Abigail Washburn's City Of Refuge sounded very pleasing and present. Vocals were velvety smooth and acoustic instruments had lots of texture. Jason Mraz's new outing, Love Is Four Letter Word is a soulful take on mellow 1970's AM Gold. It sounded terrific on the Ologe's, with Mraz's voice front and center, surfing on a cloud of smooth grooves.
After a few weeks I experimented with the tweeter control but ultimately left it in the neutral position. I felt there was plenty of resolution and so there was no need for a high frequency boost. Of course this may come in handy for mellower amps or very dead rooms. I also on occasion, activated the room boundary compensation switch and felt it helped on certain recordings.
Conclusion
I really enjoyed having the Ologe Acoustic ONE's in my system. They sounded wonderful, and they looked great in the room, at least in my opinion. These are certainly unusual speakers from a configuration, development, and design perspective. A set of monitors with twin tweeters, designed in Germany and Japan, with drivers built in Taiwan, with final assembly done in Japan, should certainly be interesting.
Those with an eye for the unusual owe it to themselves to check out Ologe Acoustic's complete line. If the ONE is any indication, I can safely say there is something to their approach. The Ologe ONE monitor is a high class product, and I would have no qualms about living with them long term. The various setup options give you flexibility for installation, and the tweeter and room boundary controls offer even more customization for specific room types. Lastly, build quality and attention to detail is high end all the way. Andre Marc
ONE Monitors
Retail: $2500 Pair. ABASE standard, ASTAND additional
Ologe Acoustic
www.ologe-acoustic.com
US Importer
True Harmonix
http://trueharmonix.com