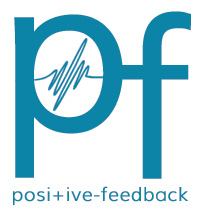 You are reading the older HTML site
Positive Feedback ISSUE 61
may/june 2012
Soundkeeper Recordings High Resolution DVDs
by Teresa Goodwin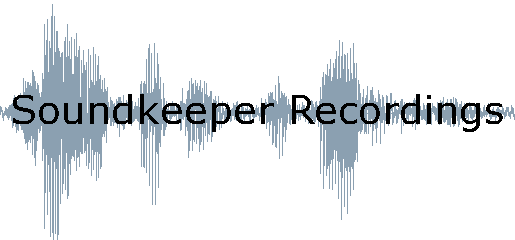 Soundkeeper is a new purist audiophile recording company owned by Barry Diament who left Atlantic Records to become an independent audio engineer. He has been a music lover, amateur musician and audio hobbyist since childhood and a professional audio engineer since 1975. Having cut tracks, recorded overdubs, mixed tracks, edited tracks and mastered for vinyl, in 1983 Barry became one of the first engineers to master for CD. Aside from his work on location and in the studio, he enjoys writing about audio. A number of his articles have been published in The Abso!ute Sound and in MIX Magazine.
Direct to Stereo
Soundkeeper Recording's goal is to bring the listener to the performance, to create the feeling of being in the presence of the musicians, in the space where the performance actually took place.
Instead of a traditional recording studio they utilize natural performance spaces in which the music would best be heard by interested listeners and where the musicians actually perform at their best. Under these "live without an audience" conditions the players listen more intently to each other since they alone will determine how they balance against each other. The resulting music is realistic with the spontaneity of a live performance as all the players are creating music at the same time, together in real time.
The musicians determine the musical balances and musical dynamics. They are recorded directly to stereo with no overdubs and no mixes, capturing the feel of the performance, the excitement and emotion that make the music what it is. Personally I have always preferred unedited real music over note perfect performances with less feeling, this is why I am a big fan of Direct to Disc LPs and DMP's "Direct to DSD" SACDs as I feel that editing and processing destroys that part of music that makes it feel real to me.
Barry uses a stereo array comprised of only two microphones where each mic feeds its own channel of the stereo pair. This is in contrast to the more common method of having a separate microphone placed closely to each instrument and having the engineer create the final musical balance by using a recording console. He prefers to have the microphones "listen" from a position that more closely reflects what a listener at the performance would hear and to leave musical balances to the musicians. He claims sonic benefits in eliminating the console entirely, which is easy to believe as you will see in the reviews below.
With this simple stereo array, Soundkeeper Recordings is able to capture not only the timbre of the musical instruments but also their individual locations upon the stage in order to better immerse the listener in the performance and the actual space in which it occurs.
Formats
Soundkeeper Recordings are available in regular pressed CDs, CD-Rs, 24/96 stereo PCM audio only DVDs playable in most DVD players, 24/96 AIFF and WAV files on DVD-R for computer playback, and 24/192 AIFF and WAV files for the recordings originally made at 24/192.
See their format comparison page http://www.soundkeeperrecordings.com/format.htm for samples from the same album and same mastering session in 16/44, 24/96 and 24/192 to hear the differences for yourself prior to purchase.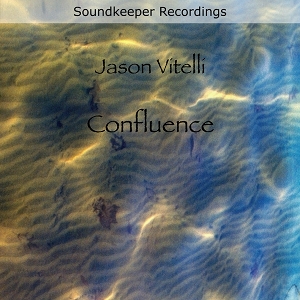 Jason Vitelli, Confluence
Confluence is available in the following formats:
SR1003 - CD pressing $15
SR2003 - CD-R $20
SR4003 - 24/96 audio only DVD-R $30
SR6003A - 24/96 AIFF files-on-disc DVD-R $35
SR6003W - 24/96 WAV files-on-disc DVD-R $35
SR8003A - 24/192 AIFF files-on-disc DVD-R $45
SR8003W - 24/192 WAV files-on-disc DVD-R $45
The 24/192 files-on-disc of Confluence are on two discs in order to fit all the music, cover art and PDF of the booklet.
This recording showcases Jasonís talents as songwriter, vocalist, musician and arranger. It features solo performances, duets and a trio as well as full ensemble pieces, the albumís 17 songs range from ballads to all out electric rockers.
My review is of the 24 bit 96kHz audio-only DVD, I selected this version as my Yamaha DVD-S1700 with the Terra Firm Lite Clock mod sounds superior to my Mac Mini. http://www.positive-feedback.com/Issue46/terra_firma_lite.htm
This single-sided DVD-R has four "sides", these are like the traditional sides we had with LP records in length prompting me into asking Barry if an LP version was in the works. It is not, instead he explained the four "sides" in the following email:
"I was very impressed with Jason from the moment I heard the music on his first album "No Photographs" (a self-recorded project he came to me to master). I like his originality, his voice, his captivating melodies, his literacy and the atmosphere each of his songs creates.

The "risk" as I see it, is his originality. In a world where many seek the familiar, something that sounds like something else, Jason had me worried a big label would come along and scoop him up away from Soundkeeper.

He brought so many songs to the project (not all of them made it to the final cut) and I loved so many of them, the album became long. This raised a second concern for me: declining attention spans. I've seen many comments on audio forums regarding how long some albums are and did not want to dissuade any potential listeners. It occurred to me that if the album was presented as a double album (which it would be if there was a vinyl version), the mindset of the listener changes immediately - from "a long album" to "a more serious work". I felt this would prepare the listener for the journey I take this album to be. And it would suggest from the outset that some time must be devoted to getting everything there is to get from this work.

That is the purpose of referring to it as a "double album". The four "sides" are in many ways, entities unto themselves, one leading into the next. There are no plans for a vinyl version."
Thus one can listen to the entire recording at one setting or just a single "side". I chose to listen to the entire recording and find it very involving all the way through with a unique and varied mixtures of styles from simple acoustic ballads to hard electric rock. The following instruments and instrumental groups accompany Jason's singing: simple ballads accompanied by piano only (Unrequited, Promise, Her Kind Eyes, American Reflection), acoustic guitar only (Sweet) piano and acoustic guitar (Tribe Song) acoustic guitar and cello (Rust) piano, cello and French horn (From Egypt) piano, cello, celeste and drums (River Nile) piano, acoustic guitar and drums (Feel Better) full band mostly acoustic, piano, cello, drums, acoustic and electric guitar (Blank Page) full band electric/acoustic (Suit, Call Waiting) full band electric (Say No More, Working, The Winner) full band electric hard rock (Stay Away!)
I am one of those who have complained about some longer rock/pop albums Barry mentioned, however my complaint has to do with recordings from the 1960's and 1970's which I feel were perfect in the original versions. Because of the longer playing times of CDs and the high resolution physical formats some people complained about the shorter playing times of recordings originally issued on LP, which were anywhere from 30 to about 45 minutes. To give the music consumer more value for their money what artists and record companies did was include rejected songs, out-takes, alternate and live versions of songs from the album proper. Usually these rejected songs were rejected for a good reason, and I have never found the alternate versions as good as the ones chosen for the original LP. In addition the sonic quality of many of the live versions was not very good. So what usually happens is the "extras" only get one playing and after that I stop the recording after the "album proper" ends. To fill out a disc I think combing two complete LPs by the same artist is a better idea than the duplicate fillers, this is what is done in reissues of classical music. However popular pop/rock artists are not likely to adopt this strategy, indeed they seem to be going the other direction turning classic 30 minute LPs into multiple CD sets lasting hours and hours loaded with worthless extras. I for one never complain about long recordings if they are full of great original music (without duplication) as Jason Vitelli's Confluence is.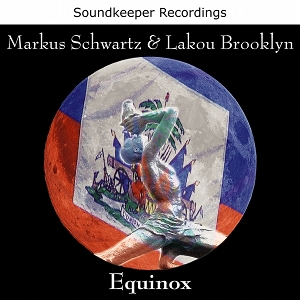 Markus Schwartz & Lakou Brooklyn, Equinox
Equinox is available in the following formats:
SR1002 - CD pressing $15
SR2002 - CD-R $20
SR4002 - 24/96 audio only DVD-R $30
SR6002A - 24/96 AIFF files-on-disc DVD-R $35
SR6002W - 24/96 WAV files-on-disc DVD-R $35
SR8002A - 24/192 AIFF files-on-disc DVD-R $45
SR8002W - 24/192 WAV files-on-disc DVD-R $45
This is Soundkeeper Recordings second release. It features Markus Schwartz & Lakou Brooklyn, recorded in ultra high resolution 24-bit 192kHz PCM in a beautiful auditorium built in 1908. The dynamics of the performance were left fully intact, Barry's stated goal was to capture the sound of the band as they would be heard by a listener present at the performance.
My review is of the 24 bit 96kHz audio-only DVD. This is very exciting and realistic African inspired music with traditional African drumming and many exotic African instruments. Kote Moun Yo?'s melody, lyrics and rhythm come from the traditional Haitian "Rara". Yanvalloux was written by Haitian guitarist and composer Frantz Casseus as part of his "Haitian" Suite. Seremoni Tiga has lyrics from a traditional Vodou chant.
Equinox is written by John Coltrane, an equinox occurs twice a year, when the tilt of the Earth's axis is inclined neither away from nor towards the Sun, the center of the Sun being in the same plane as the Earth's equator. It occurs only twice a year, around the 20th of March and the 23rd of September with day and night in perfect balance, exactly 12 hours apart. The Autumnal Equinox (September 23) is the birthday of John Coltrane and Markus Schwartz, who helped arrange many of the traditional pieces on this disc.
The final selection, Gede Drum-n-Bass is set to the funky rhythm of "Maskawon", the song's melody references traditional songs for Gede, the "trickster" spirit of life and death and owner of the cemetery in Haitian Vodou cosmology. The ending celebrates our musical journey with an improvised chant.
The image on the cover of the CD booklet shows the "Neg Maron" or Le Marron Inconnu which is wrapped in the Haitian flag inside the Equinox moon. The image comes from a landmark statue in Port-au-Prince, Haiti, created by architect and sculptor Albert Mangones in 1959. The statue depicts an unknown African who has escaped from slavery. He blows a conch shell, signaling his fellow revolutionaries in hiding to assemble. He holds a machete in his other hand and from his wrist hangs broken shackles. A symbol of the Haitian revolution.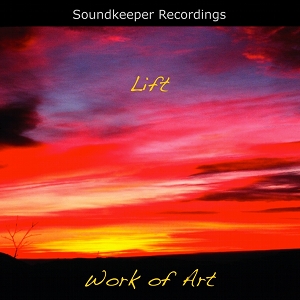 Work of Art, Lift
Lift is available in the following formats:
SR1001 - CD pressing $15
SR2001 - CD-R $20
SR4001 - 24/96 audio only DVD-R $30
SR6001A - 24/96 AIFF files-on-disc DVD-R $35
SR6001W - 24/96 WAV files-on-disc DVD-R $35
I saved my favorite for last, as with my other two reviews this is of the 24-bit 96kHz audio-only DVD. This was the first release from Soundkeeper Recordings which features Art Halperin and his band Work of Art. A mostly acoustic session, Art did play electric guitar on "No One Knows The Weight". Influences include bluegrass and folk music, a really wonderful recording of beautiful sounding acoustic guitars, banjo, mandolin and lute. With smooth harmonic voices, bass and percussion keeping the beat, plus an occasional touch of fine harmonica playing.
On two separate occasions, the members of Work of Art drove up to meet at a rustic 18th century church deep in the woods of upstate New York. Barry claims to have captured the "feel" of those days and the sessions he recorded herein. This is a reference recording of natural acoustic instruments in a natural space with a feeling of being there. In my opinion I think it is even move effective musically than the Jonathan McEuen's The Brand New Opry from the AIX 24/96 DVD-Audio which the style very much reminds me of. This is an album that is growing on me and I believe will become one of my favorites, highly recommended.
For more information on Soundkeeper Recordings and to hear streaming audio samples visit: www.soundkeeperrecordings.com
To learn more about Barry Diament's recording philosophies visit: www.barrydiamentaudio.com