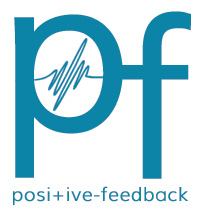 You are reading the older HTML site
Positive Feedback ISSUE 61
may/june 2012
Sonic Satori - The VPI Traveler, Just What the Doctor Ordered!
by Michael Mercer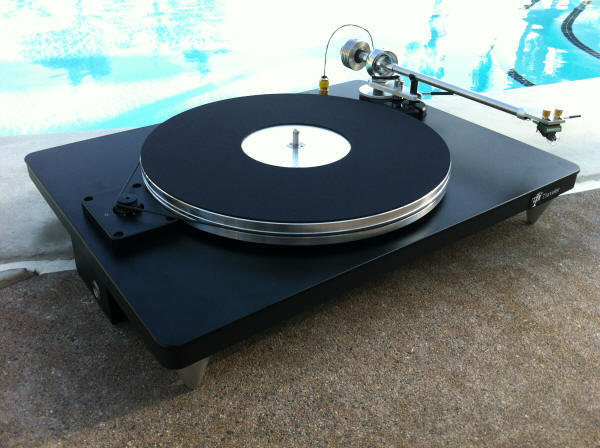 I know the goal of a journalist is to attack its subject with objectivity. I also realize I've mentioned this in previous essays, so if I am beginning to sound like a broken record you have my utmost apologies. I can't help it. I'm thirty-seven years old and that's hard enough to believe sometimes. More than half of that time has been spent in the hifi and music industries. Why does this matter at all when it comes to the VPI Traveler turntable? I met Harry Weisfeld (founder and president of the company) when I was a young punk ass answering phones at Pearson Publishing (previous home of The Absolute Sound, The Perfect Vision, Films in Review, and another magazine I can't remember). A year or so later I was setting up equipment for Harry Pearson, a pretty daunting task, or tasks, to say the least, for a young guy who only knew he loved music and good sound. Mr. Weisfeld was one of the first high end audio manufacturers I met, and he didn't judge me for simply being young. Believe it or not, there were some manufacturers and reps who thought that because I was young, I wasn't really interested in all this hifi business. Boy were they wrong!
Weisfeld took the time to teach me about basic turntable set-up. He explained things like VTA (Vertical Tracking Angle) and what they meant. I feel obligated to tell you this as the Traveler was built in honor of Harry's late wife, Sheila. Do I think I can be completely objective here? Honestly: No. However, I can promise you that if I didn't love the Traveler I would have called Mat Weisfeld and told him so. I would have also bowed out of reviewing it. I would have said (and believed) that somebody else would undoubtedly hear something I didn't and like it. All forms of art speak to people in different ways. Whatever you feel about this I cannot control, but that's a glimpse into how much I care about this industry, and the good people who fight to keep it alive. Does that make me a bad critic? I'm not sure.
Thankfully, I do love the VPI Traveler turntable. So I don't have to worry about any of that bullshit! This is the perfect turntable for the present. The vinyl resurgence is great. It's re-awakened people's thirst for better sound (and I'm not campaigning for vinyl here, I listen to streaming music as well) but it seems to help people make deeper connections to their music. We are analog beings after all. You wouldn't believe how many people I've had to explain this to when trying to sell the idea of a better DAC for their computers or iPhones/iPads. We live in such a digital world, where the word is so deeply rooted in the pop culture lexicon that we sometimes forget we don't process 1's and 0's! It doesn't matter what cool gadget we're rocking (an iPhone, iPod or Android-based smartphone) by the time we hear the audio signal it's been transferred back to analog in order for our human brains to process the information.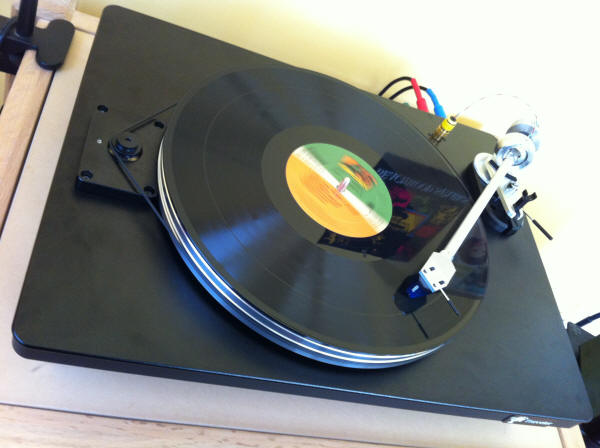 Analog is the most natural source. Of that, I don't think there could be an argument. Wait a minute, this is high performance audio, and of course there will be arguments! Who cares?
Bottom line: The VPI Traveler has done for me what a great CD player, or DAC, or even headphones (like the Audeze LCD-3, review coming) have done: I've been listening to more music in the last two weeks since T.H.E Show Newport than I have in the past month, and I'm a music addict. I listen to it all day, and even while we sleep. However, I typically listen to music digitally about eighty-percent of the time, via my computer/DAC and maybe twenty-percent vinyl. Since I got the Traveler for review, it's more like 50/50. I've also been digging through my record collection, which is admittedly not huge (a few hundred records) and listening to things I haven't heard in years. This is usually the mark of a great audio product in my opinion. It helps you make that magic connection to the music. You think of people in your life while listening, the places you've been, sad feelings and feelings of complete joy. I think Sheila Weisfeld is looking down and smiling right now.
OK. I know you have to be at least a little bit techy in order to write about a turntable. The sad truth is I'd rather spend my time listening to tunes! But, we do what we gotta do to pay the bills right? Like it's a rough life, getting to listen to audio gear and write about it. With products like this, I wish I could do it fulltime! The VPI Traveler is perfect for those seeking to enhance their vinyl listening experience, if all they've ever heard was a cheap, mass-market turntable. At $1,300.00 it's not cheap by any means, but the crazy thing is (and the high end audio industry is a little crazy) it is cheap by high end standards. Perhaps a better word to apply here would be "affordable", as to not diminish the quality of the turntable. I may however be doing my only disservice to VPI by saying I actually prefer the sound of the Traveler to my Scout (about twice the price). I'm not saying its overall resolving capabilities are equal: I think the Scout is quieter. But the performance you're getting here for $1,300.00 is, to be completely juvenile about it, pretty freakin' stupid!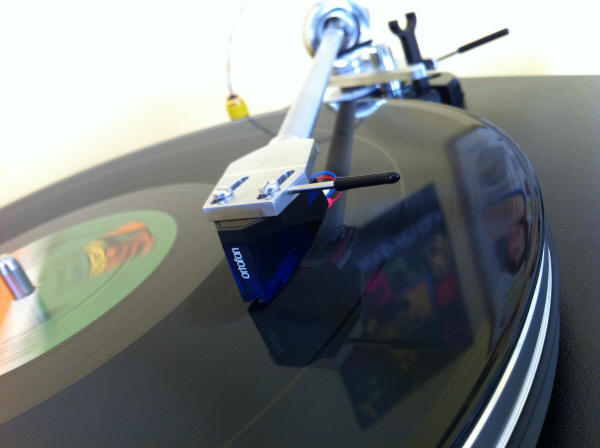 This turntable is the perfect merger of minimal form and function. It consists of an aluminum and acrylic plinth with coned, tip-toed feet (fully adjustable for easy leveling) and an aluminum platter that is damped with stainless steel. It has a 10" removable gimbaled tone arm, which makes set up a breeze! No fussing here. The table is belt-driven, with a 600 rpm low noise motor mounted on the plinth. All you have to do in order to switch between 45rpm and 33 is move the belt between two grooves on the motor's spindle. I installed my own reference cartridge, an Ortofon 2M Blue, in a few minutes, and we were listening instantly. To keep the whole analog front-end cost-effective I used my Ray Samuels F-117 Nighthawk battery-operated phonostage (you can find Dave Clark's review of that unit HERE) and one meter of Black Cat Cable's Morpheus analog interconnects. These are killer for the price ($125). I can't think of another interconnect that gets close to the musical qualities of the Morpheus for less than $400 or $500 a meter and they married perfectly with the Traveler. The table has RCA stereo outputs mounted on the rear of the plinth. Again: Simplicity is king.
Here are some specifications, which can be found at: www.vpiindustries.com/table-traveler.htm
Wow and Flutter - Less than .02%

Rumble - Greater than 80db down.

Speed Accuracy - Within .1%

Total Weight - 24 pounds.

Platter Run-Out - Within .003 inch.
My first experience was listening to the 45rpm 10" pressing of James Blake's "Limit to Your Love" and it was liquid and coherent. The nasty, warbling TB-303 bass line shook the room, but the bottom was controlled. I was blown away. Then I dropped Radiohead's In Rainbows on 12" on the table (not the best pressing, but not the worst either). "Nude" is my favorite track of this record, and it sounded warm and textural, just the way I remember it. Next I put it through my new Dusty in Memphis test (the QRP pressing). Bravo to Chad Kassem and the gang there. The sound just oozed with soul and the horns and strings were plush. There was also great dimensionality in and around the soundstage; you could feel the air in the room and around the instruments. Dusty Springfield sounded like she has on many leading-edge systems and I have a feeling Arif (Mardin, co-producer and string and horn arranger on this record) would be proud of its sonic representation. Other favorites on the Traveler have been Jack White's Blunderbuss, an all analog recording, and The Black Keys Attack & Release. Peter Gabriel's Scratch My Back (Classic Records pressing) is an incredibly quiet disc, which allowed us to get lost in the music. I've probably spent more time listening to that LP than any other. Gabriel's solemn cover of Paul Simon's "Boy in the Bubble" is a fantastically unique interpretation, and it can really show you what your analog system is doing right, or, doing wrong! I didn't get caught up in any of that while listening to the record on the Traveler. It was just me and Peter Gabriel in the room, and that's what I look for. That's my ultimate goal when listening to music on my systems: Forgetting about the gear and the racks and the room and just getting lost in the imagery of the sound. That's been easy here.
I'm not giving this review sample up. I think that says more than any five dollar word I can dream up to try and show you how much I like this little turntable. I'm also honored to be able to write about this product from a company whose principles I have a long history with. That said: I had very high expectations of the VPI Traveler. It exceeded them all, and did so in a way that still has me reaching for records that I have to blow the dust off of in order to play them! I cannot offer the table a higher recommendation. If you're getting into vinyl and you need a step-up in clarity on the player side, look no further than the VPI Traveler. You're getting a piece of the VPI magic at a fraction of its previous cost. It's like buying gold at silver's price. Happy listening everybody!
**At the time of this review VPI is offering the Traveler without cartridge at $1300 and with a Grado Gold Cartridge at $1500.**