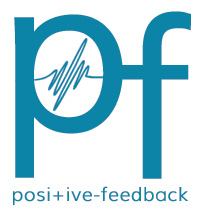 You are reading the older HTML site
Positive Feedback ISSUE 61
may/june 2012
Jethro Tull, Aqualung 40th Anniversary Remaster
by Steve Lefkowicz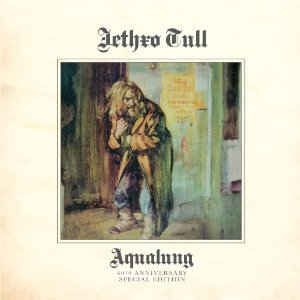 I was fourteen years old when Jethro Tull's Aqualung was released. I heard it at a friend's house and loved every minute of the record. Rushed out and bought it for myself. I've listened to it hundreds of times. Still love every minute of it. People who hardly even know the name Jethro Tull, or any history of the band, instantly recognize the opening guitar riff and "Sitting on a park bench…"
Jethro Tull managed to play both sides, even more than two sides, of musical genres. Labeled at the time as a progressive rock band, a label they didn't seem all too fond of, they still managed to get radio play, and the widespread recognition that few, if any, prog bands of the day could ever hope for. Then they also, mixed hard rock/blues based tunes with a mix of old English sensibilities, jazz, and folk, and that most hard rockin' of all instruments, the flute. Many people listening to this Tull album today may be surprised at how much of the music is acoustic, and not hard rock at all.
The band was apparently embarrassed over winning the first ever Heavy Metal Grammy, many years after Aqualung was released.
For anyone over forty years old, I shouldn't have to describe or explain the music on Aqualung. You know it when you hear it. Ian Anderson's voice is one of the most distinctive in all rock history, and the band had that distinctive blues/jazz/prog/old English/hard rock/folk vibe going on. Awesome stuff.
The important thing here is the 40th anniversary reissue of the album. There have been other reissues before on CD, though I skipped all of those. After all I had the LP, didn't need a CD too. However, this edition is something special. The remix and remastering was done by Steve Wilson of Porcupine Tree, who has developed a rather stellar reputation for doing this, having also worked on recent remasters of Caravan and King Crimson albums.
First, if you have the money and are lucky to nab one of the full Collector's Box Set, you get all sorts of goodies:
Aqualung Vinyl LP - Cut from new Aqualung Stereo Mix (Previously unreleased) on 180 gm heavy weight vinyl in reproduction of original gatefold sleeve.
Two disk CD set – Disk 1 - New Aqualung Stereo Mix (Previously Unreleased), Disk 2 – Additional 1970 &1971 Recordings include some Previously Unreleased New Stereo Mixes.
DVD - Album mixed to 5.1 surround sound with 4 additional recordings all DTS Surround (96/24) & Dolby Digital Surround (48/24)
New stereo mix of original album - as 96/24 LPCM stereo; Additional 1970 & 1971 Recordings - as 96/24 LPCM stereo
Original Quad mix (4.1) – as DTS (96/24) & Dolby Digital Surround (48/24)
Blu-ray - Album mixed to 5.1 surround sound with 4 additional recordings all 96/24 LPCM & DTS-HD Master Audio
Hardback book - 12"x12" 48 page hardback book, 6,000 liner notes by Dom Lawson, Initially written for 'Classic Rock Presents Prog' March 2011
- Additional unreleased interview with Ian Anderson by Dom Lawson.
- Memoirs from: Jeffrey Hammond-Hammond (Bass Guitar), Martin Barre (Guitar), Clive Bunker (Drums), Barrie Barlow (Drummer following Clive Bunker's departure), Glenn Cornick (Original Bassist on early recordings), Terry Ellis (Manager), Jennie Franks (Ian Anderson's first wife and Lyricist for title track 'Aqualung') & Billie Ritchie (from 60s rock band & label mate 'Clouds')
- Q & A with engineer John Burns conducted by Dom Lawson
- Technical Q&A with engineer John Burns conducted by Don Needham
- Notes on the new mixes from producer Steven Wilson
- 1970/1971 Tour dates Chronology
- Notes: "Inside Island" (1970) Keith Wicks visits Island Studio
- Band line-ups
- Album lyrics
- Tape box scans
- Rare photos
Unfortunately for me, I didn't get one of those Collector's Box Sets. I did, however, get the "Aqualung" 40th Anniversary Special Edition set. Which contains CD1 and CD2 plus a 36 page booklet, in a digipack sleeve.
CD1 – New Aqualung Stereo Mix (Previously Unreleased)
CD2 – Additional 1970 &1971 Recordings include some Previously Unreleased New Stereo Mixes.
I would have loved to have the 24/96 files for my server and the 180-gram vinyl, but you know, you take what their publicist sends you, and sincerely say thank you.
Thank you!
After listening to the CD reissue many times, as far as a CD release goes, this is stunning achievement. I'm sure the high-resolution files and LP are better still, but this is among the best CD reissues of rock from the late 60s / early 70s that I've heard (as are the two Gentle Giant reissues I recently wrote about). Right from the opening notes, Martin Barre's guitar just sounds right. It has the tone and attack to set the mood for the album. Clive Bunker's drum kit comes through more like what I expect from a good LP, not a CD. Listen to the bass line in Cross-Eyed Mary, it'll knock pictures off your wall if your speakers can handle it.
Of course you then have Anderson's voice and flute. There is often something both odd and eerie (at least to me) about his voice (something I also feel about singers like John Wetton or Gordon Haskell), yet on the acoustic tracks Cheap Day Return or Mother Goose, he sounds so folksy, like a mellow David Cousins, or like he could easily have sat in with John Renbourn's band*. That's what makes Ian Anderson so special; he can sing however fits the song's needs. The CD reissue does Anderson's voice justice, as it does the rest of the band.
I had Apple Lossless files of this CD set with me at CES this past January, and in the few rooms that let me play it, a crowd instantly gathered. As I expected, everyone knew the music, but few had heard it recently, or heard it sounding so good. It is so hard to get people to be quiet and listen at a show like CES, yet more than a few times, that was exactly what happened. People got quiet, sat down, and listened. That's what happens when you play good music that also sounds really good!
From what I've heard of Steve Wilson's work on the King Crimson high-resolution surround reissues, I expect the DVD and Blu-ray of Aqualung to be extremely good too, with a proper and subdued use of the side/rear channels. But that's just a guess, as I haven't heard them yet.
If you are already a Jethro Tull fan, even if you still have your original vinyl from 1971, you really only have two choices. Either spend the money on the full Collector's Box Set, or at least get the 40th Anniversary Special Edition CD set. Heck, even if you've never heard a Jethro Tull song before that you can remember, at least get this CD set. You'll probably appreciate it. This is a great reissue of a seminal work of a wonderful band.
*Actually, Ian Anderson and members of Jethro Tull did play with many of the English folk bands, backing up Maddy Prior on her first solo album, and playing with members of Fairport Convention, among others.