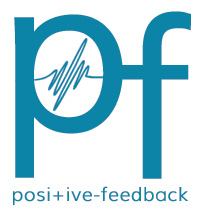 You are reading the older HTML site
Positive Feedback ISSUE 62
july/august 2012
The Future Is Here - Audio Still Rules
by Karl Lozier
Blu-ray recordings may be video, audio or most commonly video plus audio. If the video is a distraction turn it off though I would suggest watching the video at least once; at times it can be interesting or entertaining. Naxos is again following up with more high definition (Blu-ray) audio only releases. For many listeners that will be a distinct improvement in audio quality if the HDMI digital output signal is used instead of the analog. That one cable carries everything including stereo or multi-channel audio in addition to the very high quality Blu-ray video signal. Greater clarity and a smoother treble will be noticed with many if not most home audio systems. So far this seems to be consistently true. Easier connection needing only one cable is appreciated by all. Sometimes new-fangled things are even easier to use while offering better quality, at least in the audio musical field.
An easy way to get into the beauty and audio and video qualities of Blu-ray releases is by getting a truly good player (a good start is important with many things in this old world). In this issue I will continue to use the moderately priced Oppo BDP-95 player for all the Blu-ray reviews, an over performing universal player; other players may be used for SACD recordings. Next item needed would be a very decent AV receiver such as by Onkyo, Integra, Denon and others that have multiple HDMI cable inputs and good digital or digital to analog connections and jump right in. Your newer television sets will have the correct and simple HDMI connections for simplified setup. The AV receiver will let you add surround sound easily. Remember that quality is more important than quantity in the long run. If possible, try to get an AV receiver that has an official manufacturers' list price of$1200 or even a bit more, particularly if you like to listen at fairly loud levels at times and with multichannel connected. If you like "an in the theater" atmosphere or feeling, multichannel will be necessary now or later. In Issue 60, I went into some detail about why I have now chosen the Nola loudspeakers, namely the Boxers (for right and left front channels) and the specifically designed Announcer model for the very important center channel to use for the all important front trio in these and continuing reviews. Yes, you may have heard that all three would ideally be the same. That is not necessarily true; here both models are, the same, in that each uses the same drivers/cones in a different designed cabinet for an even slightly better sounding center channel. As many have found out, center channels can be of extreme importance to many listeners; that is where singers live as do news reporters. In this very competitive price range, models are offered by Paradigm, PSB, Definitive Technology and others. As before, a right and left pair of Nola Thunder Bolt II subwoofers complement the front channels for even deeper and more palpable bass range desired by some listeners.
Notice the generally favorable brief revues I write each issue? There are logical reasons for that to happen. Changes such as digital and HDMI connections have made pretty darn good audio to be easier for the manufacturers to give us and easier for us to put to use. Same is true for the video portion that we pretty well take for granted here. As you purchase and use some of my suggested performances you may notice that relatively unknown sources and performers are often doing a superb job and why not! Unlike many of the big professional outfits and famous performers they can and possibly do practice for many months on end, repeating the same music or performances. That can be the way for an individual, or group, chorus or orchestra to be discovered by being on these well done Blu-ray recordings! Pay attention, watch and listen to the possible stars of the near future in the comfort of your own listening and viewing room.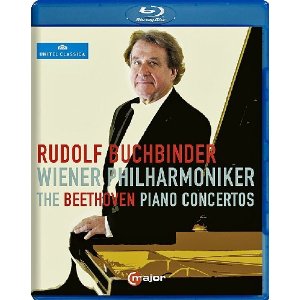 Beethoven. Piano Concertos Nos.1-5. Orchestra: Vienna Philharmonic. Conductor: Rudolf Buchbinder. Pianist: Rudolf Buchbinder. Cmajor Blu-ray 708904
It is well past time that a collection of all five of the truly great composer's piano concertos are available in hi-rez audio. As with most musical forms Beethoven is often the best there is or has been historically so honored. Though concertos one and two owe much to those preceding composers such as Mozart, by number three he begins to be uniquely Beethoven.
Certainly even the relatively light weight Allegro movement there leaves other composers behind. The first two concertos were written in reverse order and have never been corrected. Concertos four and five, particularly five in my thinking, are evidence of Beethoven's mastery of the genre. The stunning Fifth Concerto has been described by music critics in many ways. For examples; the best ever performed, the greatest, the most nearly perfect, the most popular and so on. I would not argue with any of those comments though there are a fair number of piano concertos that I like just as well; they are simply different and do not aspire to greatness.
There are many widely told stories about a subtitle that Beethoven had added to number five.
I am certain that browsing the internet will quickly inundate you with historical interest of the first magnitude-enjoy your search. I have spent much time listening to this recording, particularly numbers four and five. I deliberately have not compared any of it to any others. The orchestral playing is as good as it gets. I can wholeheartedly recommend it to anyone wanting fine performances with great video accompaniment. I am not certain that I like the idea of the performer also conducting. I can not 'put my finger on' what subtly bothers me overall though (as usual I prefer even more feeling of power in the fifth concerto). I give this collection an excellent recommendation that somehow just misses being truly outstanding.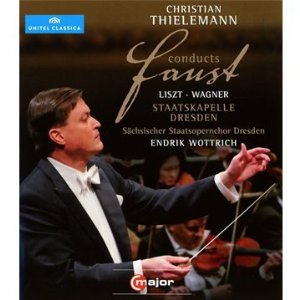 Faust. Franz Liszt & Richard Wagner. A Faust Symphony & A Faust Overture. Orchestra: Staatskapelle Dresden. Conductor: Christian Thielemann. Cmajor Blu-ray 707804
Faust and most certainly the quite famous Faust legend are the subject matter here. For those few that never paid attention in your school literature classes, Johann Goethe spent much of his life (supposedly nearly fifty years of it) writing his dramatic poem, Faust. To this day that has inspired artists in many fields of endeavor. Here, of course, musical inspiration is what we are interested in. Both Liszt and Wagner were inspired to create musically the famous tale of Faust selling his soul to the devil, here referred to as Mephistopheles, for various worldly goods and pleasures. Does that "ring a bell with you" and remind you that Faust might eventually change his mind? Faust was a magician and alchemist as you might remember. Well, the plot as you might guess revolves around these two strong personalities. In some quieter lyrical passages it is apparent a female is somehow involved—surprise? Her name is Gretchen. I can not remember the last time that I met a Gretchen. See if you can figure out which of the three is being represented by the music at any given time.
Though Wagner was first to decide to compose a symphony about Faust, he never got beyond his Faust Overture. When Liszt got started he got his finished and he followed Beethoven's lead and here we have some good male chorus singing and a tenor soloist. That is 'frosting' the excellent musical cake here. This is fine music making, excellent performances and with recorded audio quality to match. Easily a solid recommendation, I am unable to decide if it is also a good recommendation for beginning classical music lovers; it probably is though not a necessary addition to a basic musical library. Typically fine video here and I should mention the city of Weimar that in some way, at some time attracted all the principals and they lived there. Yes, author Goethe, and the above noted composers Wagner and Liszt.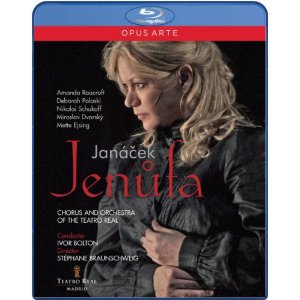 Jenufa (Opera in 3 Acts). Leos Janacek. Orchestra and Chorus: Teatro Real. Conductor: Ivor Bolton. Opus Arte Blu-ray 7089D
Though not one of the more famous or most popular composers, Janacek is one who I truly enjoy much of his orchestral output. My favorites begin with his Sinfoinetta and others with strong hints of Moravian folk music. In addition he often has slightly unusual orchestral scoring that simply appeals to me. Here we are dealing with opera and the strongly held opinions and tradition of opera lovers, an almost fanatical group at times. Only certain vocalists and conductors are considered worthy of performing certain compositions. For the rest of us, other factors are very important including the appeal of the language being sung.
This composition is very serious drama and deals with some once or twice in a lifetime situations. The vocalists would be of great importance to many opera lovers and here are some very powerful performers and their characters are at odds with each other at times. Beautiful duets, for example, have to wait until near the end for the most part. With my interest in the orchestral music and its scoring, I kind of listen through the singing to the backing instruments of the orchestra. Here I am happy with much that I hear. This is not a light weight lyrical opera production. Proceed with caution and hopefully enjoy a new operatic experience with excellent audio quality, though probably not to be enjoyed fully by newcomers to classical music and operas.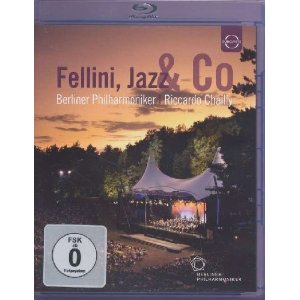 Fellini, Jazz & Co-Waldbuhne 2011. Orchestra: Berlin Philharmonic. Conductor: Riccardo Chailly. EuroArts Blu-ray 2058404
The Waldbuhne is one of Europe's famous outdoor amphitheatres. It is also one of the most popular classical music events in the world. With this live recording it presents the orchestra playing works by Shostakovich, Nino Rota and Respighi in that order. Most of the music being played is relatively light-weight and simply very enjoyable as seemingly summer outdoors concerts are meant to be all around planet earth at least. Shostakovich's composition is 'Suite No.2 for Jazz Orchestra' (Suite for Variety Orchestra). It just is not really meant to be jazz or for a jazz group. Listening closely to it, I was often thinking that I was hearing music by Leroy Anderson, composer and famous for arrangements for Arthur Fiedler and the Boston Pops (hopefully you remember those delightful and kind of cutesy songs). In other words here Shostakovich is at his delightful melodic best. Next is Nino Rota, world famous for his many collaborations with fellow famed film director Federico Fellini. Here it is as if we are hearing the film score music for a light comedy-love story type of film. Melodic, relaxing and enjoyable describe everything so far. Do remember that an open theater does not add as much fullness or richness to the audio quality though here the audio engineers have done quite well, capturing this particularly famous orchestra; little is to be heard that could be faulted in this situation. Performances with the rather relaxed performers in this summer setting, is quite excellent. Part of the time a beautiful sunset is occurring that simply adds even more to this concert. The last two major works are Respighi's descriptive 'Fountains of Rome' and the more powerful and dramatic 'Pines of Rome' done while emphasizing their lyrical beauty.
The recording then ends with a number of very brief and likable selections, not really encores.
For simple and beautiful listening pleasure it is certainly recommended to all including newcomers to classical music though no single aspect of the performance or recording is particularly outstanding just outstanding for listening and relaxing pleasure.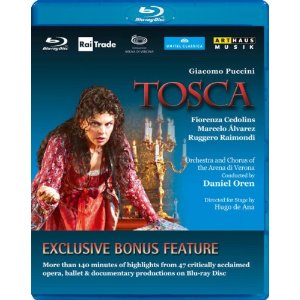 Puccini, Tosca. Orchestra: Arena di Verona. Chorus: Arena di Verona. Conductor: Daniel Oren.
Here is a real jewel that I can recommend highly to all. There have been quite a few opera recordings in for review lately. As I started listening and viewing I rather quickly realized that I was not really in my reviewing mode. I was simply enjoying the opera Tosca. I do not think that I had ever heard or seen it previously. I was quickly hooked visually, also I must admit by some of the best costuming ever. A small fortune must be tied up with them; that is something that most productions can not afford to do. The outstanding vocalists, aided by a fine chorus, just seemed to be a step above most of the performers I have heard the past months this year. I know that is a strong statement to make and maybe I am over reacting a bit as everything just seemed to fall into place creating, at least an outstanding if not great, operatic production. Yes, everything else fell into the same mould from conductor Daniel Oren to all the musicians in the fine orchestra. I shall give the recording at least two more spins before releasing this review to make certain that all is as fine as it has seemed to be so far. It is so nice to be able review recordings that seem to have no flaws. If any show up, they will be added right here.
Now it is a couple of days later and if anything has changed it is that I feel even more certain of the rave review. The orchestral playing is simply outstanding and in the visual area (not a concern with Positive Feedback) the dramatic acting is almost on par with film productions.
Seemingly flawless and easily awarded my top recommendation.
Side bar: For those listeners not use to opera, a short tale I try to spin every year or so. Many years ago I became acquainted with a wealthy new patient from Manhattan. As a classical music lover he admired my use of it as background music in my office rooms. He was an extreme opera lover with season tickets to the Met for many years, also attending many operas in Europe and so on and expensive "opera cruises" meeting performers and conductors. I told him that I was not much into opera, finding it boring at times. He laughed a bit at that. Then he said "me too and I buy 'the highlights opera albums' for listening at home". In the LP days, an opera set would contain 3 to 5 records. Highlights would be on a single LP and would contain the best or most popular music from that opera. He explained that an opera composer would dream up and compose a number of pieces that he would tie together in a story and that tying together is like a filler (small talk in a play) to get from one scene to another. He admitted he really only enjoyed the best or most popular selections in any given opera. Now I never find highlights recordings but we can, at the touch of a button, just play the best or our favorite parts, songs or passages. Think about that and perhaps give it a try.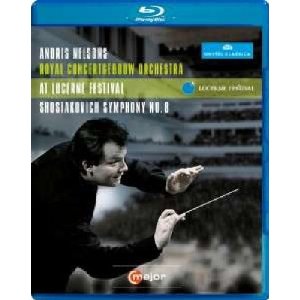 Lucerne Festival Summer 2011. Wagner. Rienzi: Overture. Richard Strauss. Salome: Dance of the Seven Veils. Shostakovich. Symphony; No.8. Orchestra: Royal Concertgebouw. Conductor: Andris Nelsons. Cmajor Blu-ray 710004
Though the Shostakovich Symphony is listed as the major composition for this release there will be those that want it for the pair of much shorter selections. Wagner's Rienzi overture, as well as the Flying Dutchman overture are my favorite Wagner overtures. Here Rienzi is given a fine reading and excellent performance. If you are not familiar with it I recommend it highly; you can always put a good overture on your player. Strauss' almost famous dance from his opera Salome is probably not as an exciting composition as you might guess. Of course when performed live, as Salome does her exotic, or is it erotic, dance with veils being shed all over the stage, anticipation as to when she might stop shedding at least makes it more interesting even for listening. Shostakovich can turn out melodic and delightful music with the best of them as shown in one of the above reviews. However I must warn you about this very different composition. Shostakovich wrote three symphonies during the infamous WW ll. The three are known as the World War symphonies. This No. 8 is also referred to as the "Stalingrad". Repeated sessions have just continued to show the depression, despair, grief violence and Shostakovich's own lack of optimism. Surprised that it was then allowed to be played in late 1943, the premier performance received a standing ovation lasting a half hour and five years later it was banned from being played by Soviet censors. The recording is just fine, it is just difficult to enjoy a long composition that is so sad and depressing. The two shorter selections go a long way toward countering that.