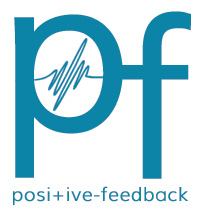 You are reading the older HTML site
Positive Feedback ISSUE 62
july/august 2012
The Neoteric Listener and the Davone Mojo Loudspeakers
by Dean Seislove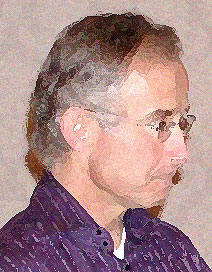 Now appearing in your listening room, straight from their whirlwind west coast tour, the brand new, omnidirectional Davone Mojos! Let's give a hand for the Mojos, everybody!
Who doesn't have a summer memory of the coolest person ever showing up out of nowhere, dazzling the neighborhood with personality and style... and then leaving? I grew up on the edge of a public park where the influx of visitors each June deposited all manner of characters and once-in-a-lifetime personages: The the teenage runaway who could sing any song note perfect––when he wasn't stealing Coors six packs from the local liquor store. The Italian tennis player who bragged about his yacht in the harbor, only to bolt (to his native Iran, it turns out, and nary a boat to be found) after an ugly scene with somebody's angry husband. The studio musician who really did tour with Elton John and Alice Cooper, when he wasn't reading books about particle physics (he told me that neutrinos were the name of a breakfast cereal). Of course, most of time, it was just the usual crew, staring at the same faces we'd known for a billion years and counting down the days until we had to go back and serve out our scholastic sentence. But every now and then, something or someone extraordinary would appear, and for that brief period... well, there's just nothing better than unlooked for summer encounters. This summer, in fact, has been blessed by my fortunate acquaintance with the Davone Mojos Compact Monitor Loudspeakers.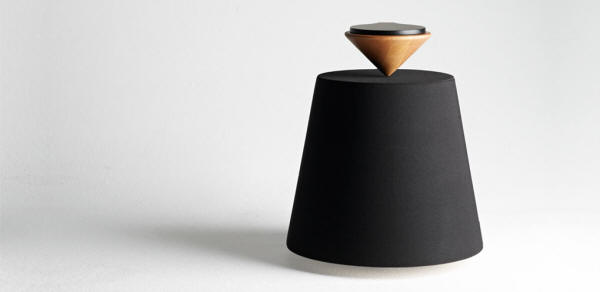 For those not familiar with Davone of Denmark, they describe themselves as makers of "gorgeous objects that happen to be High-End loudspeakers." Hard to argue the gorgeous part, as the stunning moulded wood paneling and cabinetry of their Rithm and Ray loudspeaker models exemplify some of the finest modern aesthetic you're likely to find in audio. The Mojos continue this design expertise by sporting a uniquely truncated cone fabric covered base that is topped by a smaller inverse wooden cone to produce something that reminds me of a brown fez (because I'm weird) but I suspect most people will judge them to be wonderfully quirky and stylish. Both cones come in a goodly number of fabrics and woods, respectively, which is mighty convenient when you consider that these speakers would work equally well placed on a pair of dedicated stands or on a pair of end tables at both ends of the divan.
Hooked up to either a Peachtree iNova integrated or to the Sophia Electric integrated recently reviewed in this column, the Mojos add a little Danish class to our tattered beach shack. It would have been better had the 10' by 11' listening room been at least a third bigger, of course, but I made due fairly well. I simply pulled my TV. trays (bona fide audiophile models, treated with Tallahassee pill bug oil guaranteed to reduce vibration down to the Higgs boson level) and placed them well into the room. The secret to the Mojos omnidirectional sound is a five and a quarter inch woofer (bass reflex system) engineered with a 2.5" wideband driver operating from below 200Hz to 20kHz to produce a 360 degree sound radius throughout the listening area. It should be noted that those not familiar with this design may need some time getting accustomed to a speaker that largely avoids the boxiness of traditional standmounts. It's kind of like the difference between sitting in front of a cozy fireplace or sitting around a cheery campfire: one's comfortably and predictably controlled while the other's thrillingly alive. I should also point out that, at 4 ohm and 86 dB sensitivity, the omnidirectional Mojos prefer amps that have a fair amount of watts to spare, so little engines that could, shouldn't. In any event, I immediately appreciated what the Mojos do with recorded music.
The Mojos deliver a ridiculously palpable soundstage-in-the round that present music with startling presence. To illustrate, at the 2:10 mark in "Dub Revolution, Pt. 1" by Lee "Scratch" Perry and the Upsetters, the song's vocals (previously mixed well in the rear of the soundstage) are suddenly brought right to the front. When I first heard this shift via the Mojos, I literally blinked because the singers seemed so close to me. What's more, the soundstage stays fairly constant whether you're standing or sitting, moving side to side, or listening before or behind. Naturally, I preferred sitting in the usual center position, but it was nice not having to drag around the listening chair to chase after some elusive sweet spot. Much of my listening was done utilizing my Macbook Pro and, alternately, the CEntrance DACmini PX DAC or Audioengine D2 DAC. Lately, I've been playing the hell out of the wonderful MA Recordings Hi Resolution WAV file DVD-ROM Sampler for computer audio and High Resolution Audio playback (given to me by the personable Todd Garfinkle of MA Recordings when I picked up the Mojos, although I confess, I already had a copy) "Gitana," is one of my favorite tracks from that sampler, and features Silvia Perez Cruz's shimmering Flamenco inspired vocal and Ravid Goldschmidt's masterful hang drum (kind of like a low octave steel drum) accompaniment. The combination of human voice and ringing drum as they hover and fall in the acoustic space truly shows what the Mojos offer that other speakers cannot. The Mojos may not have the pinpoint accuracy and resolution of some traditional speakers at this price point, but neither can the latter produce the intoxicating feeling of being in a Brazilian lounge, listening to the sumptuous reverb guitar and woodblock combination weaving throughout Cibelle's masterful "Luisa."
Most recordings with any kind of space (real or engineered) will benefit from the Mojos' qualities, even a modern radio darling like Maroon 5's "One More Night." Of course, this dance club single can only get so bumpin' with a 5" woofer, but the Mojos give you way more low bass than you'd expect. Spinning the uptempo rocker, "Static" by the Bouncing Souls, it was clear that blazing drum fills, yowling rectifier amps, and full tonsil rock vocals are well within the Mojos' provenance. I don't know how hard it is to blow these things up, as I didn't try, but they were loud enough for my purposes. Just don't try to blast their reflector through the ceiling by cranking your Rise Against album, and you'll be all right. Besides, I don't think anyone will buy these speakers to slam hardcore in their homemade mosh pit, at least, I hope not, because the Mojos are epitome of taste and refinement. They really shine on a track like world music musicians Fiamma Fumana's "Bella Ciao." Although this song suffers from a ham-handed mix, the performances are so strong that it's entertaining to enjoy the Mojos' prowess as the song unfolds in all its jumbled glory. The unifying synthesizer drone permeates the soundfield at varying locations, while a series of vocal performances (some solo, some in ensemble) emerge in the foreground. When the somber bagpipe solo ends (quickly followed by a powerful choral lament), the beautiful lead vocal that terminates the song stands just as dead center in the listening space as it must have done in the "engineer's" headphones. It's an effect, but a fortuitously lovely one. Only the unique properties of the Mojos enable this song to be heard in such an advantageous manner, and how many other omnidirectional speakers can you name that are affordable and sound this nice? Me neither.
I could say more, but the Mojos have already left me and gone to a trade show to dazzle other listeners. I wish they could have stayed all summer, but how could I begrudge such an enjoyable time of listening? Right now, the Mojos are probably creating new admirers, especially those who are looking for something novel to replace the same old standmounts they've been listening to for...well, maybe not a billion years, but pretty long. It's easy to understand why Davone is so proud of this newest addition to their product line, and why the Mojos are such an exciting summer find. Highly recommended.
Davone Mojo Compact Monitor Loudspeaker
Retail $2300 a pair
Davone Audio
www.davoneaudio.com
Davone USA
http://davoneaudiousa.com
The Signal Collection
www.thesignalcollection.com