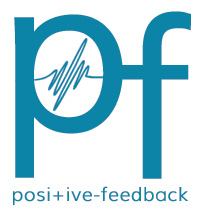 You are reading the older HTML site
Positive Feedback ISSUE 62
july/august 2012
dayens
Ecstasy IVse Amplifier
as reviewed by Kent Johnson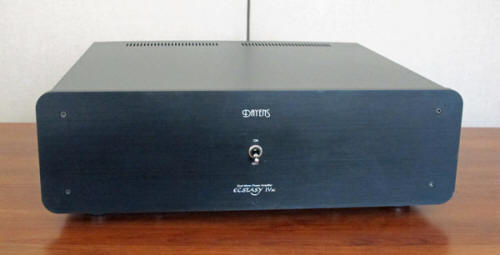 The Dayens Ecstasy IVse power amplifier is made in the Republic of Serbia, a country about which I know virtually nothing. So I spent some time on Wikipedia reading about its history. Serbian history does not summarize. It's complicated and difficult to follow. Serbia was an important part of the Roman Empire and provided seventeen of its emperors, second only to Italy. World War I resulted from the assassination of the Archduke Franz Ferdinand of Austria in Sarajevo by a Serbian nationalist. The modern republic resulted from the break-up of Yugoslavia. Nikolas Tesla was Serbian, and his history doesn't readily summarize either. It is no exaggeration to state that his accomplishments are simply staggering in their range and implications for our modern world.
Being Tesla's home, it really isn't surprising that high-end audio equipment would be manufactured there.
I first saw Dayens components at RMAF in 2010 but none of them were playing when I was in the room. There has been very positive buzz regarding their small 25 WPC Ampino integrated amp over the past couple of years. Dayens currently makes power amplifiers, integrated amplifiers, a preamplifier (a passive design that also carries the IVse nomenclature), loudspeakers, and cables.
Description
Photos of the Dayens really does not do it justice. True, it isn't a remotely flashy amp, but it is far more than a featureless black box. The black front fascia is very conventional at 10mm thick. What can't be appreciated until you handle the amp, however, is the lovely smoothness of this chunk of aluminum. It is finished to a silkiness that has to be felt to be appreciated. Likewise, the chassis cover is finished in a pebble-grained paint that is flawless in its application. The fit of all the parts that make up the Dayens' exterior is excellent.
The front of the amplifier has a single control, an on/off toggle switch located in the exact center of the fascia. Below it, and impossible to see unless you are standing three feet or so away from the amp, is a small green "on" indicator light. This light is located behind the fascia and, as a result, is invisible when looking at the amp from an angle.
It is my opinion that this toggle switch lets down the appearance of the Ecstasy IVse far more than its black boxiness. When I see a toggle switch on a piece of equipment, it is usually because it was built by someone in his garage or basement. No offense intended to those builders, as I have heard some really excellent sounding equipment produced this way. In the case of the Dayens, however, I think that it undercuts the quality of the amplifier's fit, finish, and the connectors being used. A switch with a built-in indicator lamp, better integrated into the design of the front fascia, would support the overall quality of this component far more.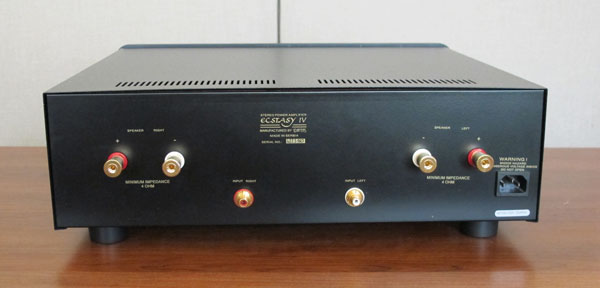 The rear panel has very good quality, gold-plated, single-ended RCA inputs and speaker binding posts, all of which are made by WBT. There is a standard IEC AC input jack.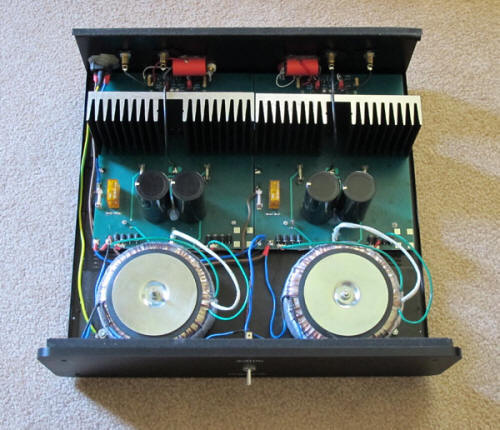 What is not subject to my opinion is the IVse's weight. It is 66 pounds, much of which is the result of two large power transformers. These transformers endow the Ecstasy with an output of 175 WPC into an 8 Ohm load, and 300 WPC into a 4 Ohm load. It is a Class AB amplifier and, as the photo shows, is entirely dual mono in design but for the AC connection.
The Dayens is medium-sized at 18 by 17.5 by 6 inches (HWD). The retail price of the Ecstasy IVse is $3000.
Listening
The Dayens is a single-ended amplifier; so I ran an entirely single-ended system using Zentara Reference interconnect cables. The speaker cables were Zentara Reference 2s. The other components were my McIntosh MVP-871 and Cary SLP-03 tube line stage. The speakers were Magneplanar 1.7s in Mye stands.
A minimum of 100 hours of break-in time was recommended for the Ecstasy IVse, and I had very close to that amount accumulated when I first put it into my system.
Turning on the Dayens amplifier has all of the drama of turning on a light switch. It is simply on. There are no relays clicking, no delays, no flashing lights, or other indications that anything is happening. As with most components, it takes around twenty minutes or so to reach its sonic best. Still, it sounds quite good even at first turn-on and was dead silent through my speakers.
The IVse has noticeably more input sensitivity than other amplifiers I have heard recently. The Cary SLP-03 was driving it at comfortably loud levels with its volume display in the 20-30 range. The other amplifiers that I have been paired with the Cary have needed volume settings in the 30-45 range. This relatively high sensitivity makes sense given that the matching Dayens IVse preamplifier is passive. The Dayens appears to be an excellent candidate for use with a passive preamplifier or with a DAC, server, or disc player that includes its own volume control.
As always, I listened to a variety of music through the Ecstasy IVse.
Organ music has never been a high priority where my listening has been concerned. But, having found a number of used Telarc organ CDs recently, and having plenty of power to play with, I spent some time listening to how the MG1.7s responded when fed signals with plenty of acoustic energy.
Despite being an early digital recording (1980), Saint-Saens Symphony Number 3 with Eugene Ormandy and the Philadelphia Orchestra on Telarc (CD-80051) is still very satisfying sonically and musically. The size of the hall is well presented and the low level detail makes clear what instruments are playing, and where they are located. When the organ comes in midway through the second movement, there is tremendous energy unleashed. The MG1.7s could not convey the actual weight and impact of this energy but the Dayens insured that bass definition was never sacrificed. Given this information, my brain could infer the sort of forces involved and fill in how it would have felt to have been present at the actual performance.
An Organ Sample Blaster from 1991 (Telarc 80277) was even better at demonstrating the full capabilities of a very large organ. (Memo to self: consider rewording this.) The more recent recordings on this sampler CD do a better job of balancing weight against delicacy. The Bach "Toccata and Fugue in D Minor" has some wonderfully sustained chords that were impressively reproduced—both via the organ and via the IVse. Playing music at levels that grossly exceed "reasonable," simply because you can is a great feeling. Throughout all of this listening, the Dayens never remotely suggested that it was under any sort of stress or, for that matter, was expending much in the way of effort to impressively energize my listening space.
I also ran Moussorgsky's Pictures at an Exhibition with Lorin Maazel and the Cleveland Orchestra by the IVse (Telarc 800420) as well as The Wagner Collection with Sir George Solti and the Vienna Philharmonic (London440 107-2). Despite the high volume levels, sustained operation, and relatively low sensitivity of the MG 1.7s, the Dayens not only performed impeccably, it barely even got warm.
My wife was in downtown Chicago recently for a class, and there was a blues festival going on at Millennium Park nearby. She spent some time at the festival and bought a CD for me from one of the vendors. She simply asked for something they thought was "good". The CD she brought home was Leaving Mood by Toronzo Cannon (Delmark DE 817).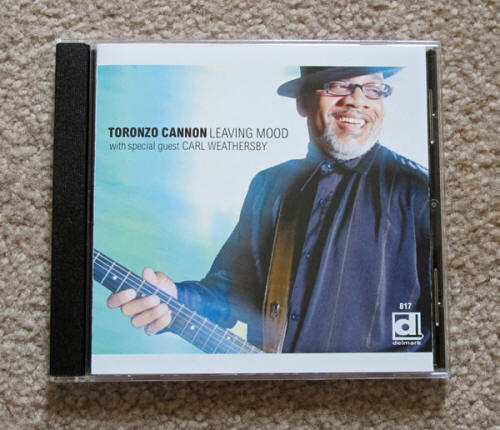 Mr. Cannon is a gifted guitar player, sings well, and wrote or co-wrote ten of the fourteen songs on this disc. The CD features excellent sound quality, insightful, even funny, lyrics, and great backing instrumentals. Toronzo drives a bus for the Chicago Transit Authority by day (at least he did when the CD was recorded in June of 2011) and finds that his day job is fertile ground for his song writing.
Toronzo's guitar playing overall is very clean and precise. Whether it was the transient attack of each note, or the subsequent decay, the Dayens got it through the speakers just as Toronzo had laid it down. At the same time, when Toronzo decided to dirty-up the sound, there was no doubt about that either. Sonically, this CD proved to be of very high quality with a bass line that was as tight as the ensemble playing. Blues-wise, it's the real deal. My wife did very well. Check out more authentic Chicago blues and jazz recordings at www.delmark.com
The Music from Peter Gunn (Buddha 7446599610 2), another garage sale CD, was a lot of fun via the Dayens amp. According to the liner notes, Henry Mancini had been let go by Universal Pictures after six years of working there when he ran into Blake Edwards in or in front of the studio barbershop*. Edwards asked Mancini if he would be interested in working on a TV show that he was producing. That show was Peter Gunn and it revivified the then thirty-four-year-old Mancini's career. Within a couple of years he had won two Oscars for Breakfast at Tiffany's—for best soundtrack and song. He went on to do the soundtracks for Days of Wine and Roses and The Pink Panther with Edwards as well.
The Peter Gunn theme is, along with Paul Desmond's "Time Out," one of the most iconic and popular jazz compositions of the very late 1950s. It is catchy, cool, and easily accessible. An album of the show's music, The Music from Peter Gunn, sold so well that a second album, ingeniously titled, More Music from Peter Gunn was also released. I believe that both were originally RCA Living Stereo recordings.
Sonically, the music on the CD is extremely spacious while also being somewhat veiled and limited dynamically. The trumpets, for example, are obviously playing loudly, but they never actually get loud. Still, the recording quality is pretty good and the CD exhibits an unusual amount of soundstage height, which was very entertaining via the MG17s.
The pianist on the Peter Gunn soundtrack was John Williams who went on to compose a few soundtracks himself.
Despite the sonic limitations of Peter Gunn, the Dayens amp insured that the the zeitgeist of the music, as well as Mancini's unique style, emerged intact from my speakers. It was 1959 again, only the sound quality was infinitely better than it had ever been through our family's black and white G.E. television.
Loreena McKennitt's music can be relied upon to make good use of the soundstage and be recorded at a very high quality level. Parallel Dreams (QRCD 103) is an excellent example of both of these attributes. Her music also can be damaged by any component that adds a treble edge to her voice, the Uillean pipes, or whistles. As it had done with everything else I listened to, the Ecstasy IVse showed itself to be absolutely indifferent to the content of the recording. Loud, soft, high frequency, or low, it simply reproduced what it was given without any editorializing on its part. I could not detect any emphasis to any part of the frequency spectrum introduced by the Dayens. The soundstage was, likewise, big but never overdone.
There is a lot of transient information on this CD from guitar, mandolin, and harp. These notes all sounded lightning-fast and perfectly focused through the Ecstasy IVse.
I listened to Jane Monheit's In the Sun (NCodedMusic NC-4234-2), and found her voice also beautifully reproduced with excellent air and detail. Her version of "It Never Entered My Mind" is one of the loveliest that I have heard. My notes also remark that guitar and acoustic bass were reproduced extremely well. It is clichéd but true that, through the Dayens, Jane sounded truly in-the-room real.
I felt a need for some Swedish jazz, and turned to The Ludvig Berghe Trio's 48 and Counting, (Moserobie CD056). Maybe something genetic is involved but I found this recording satisfying in every possible way. The playing is impeccable, the sound quality is impeccable, and the soundstage is wide and deep. The bass is wonderfully dynamic and the piano is played with both finesse and intelligence. A recording like this makes me glad that I have a high end audio system. The Dayens Ecstasy IVse proved to be as high-end sonically as anything I have had the good fortune to listen to.
Conclusion
"Simple" describes the Dayens Ecstasy IVse almost perfectly. It has no features; it is black; it is a nicely built box. It is an amplifier simplified to the point where it could not be made simpler without losing its ability to function. And that function is to reproduce music.
The Dayens Ecstasy IVse reproduces music with life, dynamics, power, neutrality, and tonal accuracy within a detailed and utterly credible soundstage. It is also, apparently, bulletproof. The Ecstasy IVse has done nothing but sound absolutely terrific with every bit of music that I have listened to while it has been part of my system.
I am sure Nikola Tesla would be extremely proud of how his countrymen have used his electrical explorations to create an object capable of providing so much delight and beauty. Kent Johnson
Ecstasy IVse Amplifier
Retail: $3000
Michael Gill
mlgill2002@yahoo.com
404. 840. 6052
Dayens
www.dayens.rs
*The Peter Gunn liner notes state that Edwards was "sitting in the next chair over from Mancini." The liner notes to Breakfast at Tiffany's (RCA 2362-2) notes that "a chance meeting with Blake Edwards outside the Universal barber shop bought him the Peter Gunn assignment." The Breakfast at Tiffany's soundtrack is much better sounding than the Peter Gunn soundtrack, but overall not nearly as interesting or enjoyable, in my opinion. What I do find interesting about Breakfast at Tiffany's is how the track, "The Big Heist" foreshadows the theme music Mancini would write for 1963's The Pink Panther. Mancini grew up playing the flute so perhaps it isn't surprising that he utilized this instrument so effectively in his composing.