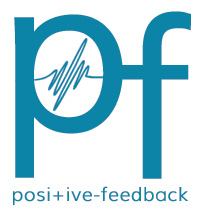 You are reading the older HTML site
Positive Feedback ISSUE 62
july/august 2012
densen
B-310 Amplifier
as reviewed by Andre Marc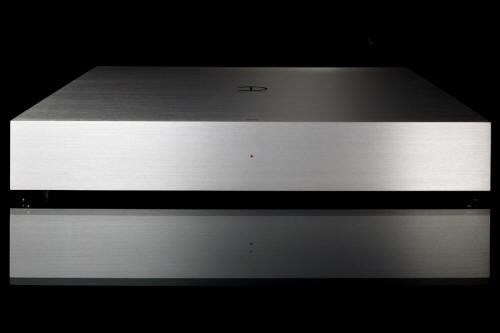 I reviewed the gorgeous looking and sounding Densen B-200 preamplifier earlier this year, and was very eager to get a hold of more Densen products. Densen, from Denmark, is well known throughout Europe, but was never able to get a foothold stateside due to shaky distribution and the lack of a committed importer. That has changed now, noted in my B-200 review, as Adrian Wu of TrueHarmonix has been making a serious effort to establish a dealer network, and to spread the word about the Densen brand.
I absolutely loved the harmonic richness, huge soundstage, bass articulation, and ergonomics of the B-200. I used it to drive my Audio Research VS55 tubed power amp. It proved to be a very nice match. Adrian Wu sent me an email asking if he could send me the Densen B-310 power amp to evaluate. I replied in the affirmative, and it was at my doorstep a week later. He also sent back the B-200 so I could use it for part of the review to see how they worked together. For the first half of the review period, however, I used my Audio Research SP16L tubed preamp to drive the amp. Sources were Unison Research Unico CDE, Logitech Squeezebox streamer, and Bryston BDA-1 DAC based music server.
The B310, retailing for $2300, is a direct descendant of their B-300 amp, which dates back to the 90's, offers up 80-wpc into 8 ohms, and 160-wpc into 4 ohms. My Thiel CS2.4's are a nominal 4 ohm load, so there was plenty of power, actually way more than I needed for my small listening room. The form factor is simple and elegant. The solid and compact brushed aluminum chassis matches the B-200 in height and width. The B-310 is second in Densen's power amplifier line, which includes a total of six models. The Densen line is available in silver and black. Both are rather attractive in my opinion.
A lone LED indicator inhabits the front panel. Around back there is a DenLink socket for connecting to other Densen components. This is not to transfer signals, but to put the unit into standby. There is a switchable gain setting, which allows for flexibility depending on source and front end. Interestingly, there is also a pair of bi-wire terminals, making it easy to bi-wire your speakers. There is of course, a pair of RCA inputs and a SAXO input for use with an external crossover to drive speakers actively. Owner and designer Thomas Stillesen is a big proponent of this set type of set up.
The B-200 preamp, like other Densen components, is upgradeable with their DNRG external power supply, a Densen trademark, similar to U.K. competitor Naim. The B-310, like the B-200, has an IEC socket that prohibits using the monster sized AC plug found on many aftermarket power cords. I ended up using the reasonably sized Shunyata Venom on both the B-200 and the B-310. I connected both the ARC, and Densen preamplifiers to the B-310 with Transparent MM2 Super interconnects.
I was wondering if going from the VS55 with brand new KT120 tubes, to the solid state B-310 would be a jarring transition. The KT120 tubes were the single biggest improvement I have heard in my system, bar none. I was skeptical at first, but, they are the real deal. Within the first thirty seconds of hearing the SP16L with the Densen however, it was obvious this was going to be an easy thing. I was immediately impressed with the depth, bass weight, and midrange transparency of the B-310. Very impressed. Its stable imaging, smoothness, and sweet high frequency reproduction were real winners. To be honest, I have not been this taken with a solid-state power amp since I reviewed the $4000 Marantz Reference SM-11S1, now discontinued.
The B-310 was high end and high class all the way. No matter what discs I spun, or files I streamed, the results were the same. Endless hours of fatigue free listening, with enough information to satisfy detail freaks, yet a full bodied, rich sound that would satiate tube aficionados, with the huge plus of super quiet operation, zero maintenance, and superb bass control.
Replacing the SP16L with the B-200 yielded even better results! This coming from me, your humble writer, the "tube guy". I get nervous at just the thought of no tubes in the signal path. But these two components are the proverbial match made in heaven. Everything I described above was brought to a new level, with an added precision and lower noise floor. From experience, I am a firm believer in matched brands preamplifiers and power amplifiers.
I really enjoyed the fact that the Densen combo did not favor any style of music; it shone a positive light on all comers. Everything from Glen Hansard's smart folk pop with The Swell Season, and on his brilliant new solo album, Rhythm & Repose, to Grace Potter and The Nocturnals sassy bar band boogie. Acoustic jazz, amplified rock, vocals, it didn't matter. The music was served well.
A deal killer for me with solid state amplification is if there is any hint of mechanical artifacts, or silicon haze. I often hear it, and it is just as annoying as clicks and pops on a scratchy record or a low bit rate mp3 file. There was not a trace of this with the Densen combo. Not even close. Even on recordings that were a bit vivid in nature everything remained balanced, natural, and flowed easily. Just to clarify, I would not want to give the impression that the Densen gear is "warm" or soft sounding. Not at all. There was simply something "just right" about the tonal balance.
Conclusion
Densen Audio Technologies has stealthily been making very nicely built and superb sounding components since the 90's. The company, under head honcho and chief designer Thomas Stillesen, has had a loyal following in Europe among audiophiles and especially among the British and European audio press. This following is well deserved, with very fairly priced products, made in Denmark,
The B-310 power amp is an easy recommendation. It is a sweet sounding, solid-state amp, with plenty of power for most applications, maintenance free, with understated good looks in the Danish design tradition. It worked really well with my tube preamp, but even better when coupled with Densen's own B-200 preamp. For a combined retail price of approximately $5300, I don't know how you can do better without spending a whole lot more. Andre Marc
Playlist
Gillian Welch: The Harvest & The Sorrow (CD)
Grizzly Bear: Veckatimest (CD)
Robert Plant & The Sensational Shape Shifters: Live in London 07/12/12 (48 khz/24 bit FLAC Download)
Foreigner: 4 (96 Khz/24 Bit FLAC Download)
Glen Hansard: Rhythm & Repose (96 Khz/24 Bit FLAC Download)
The Swell Season: Once (CD)
Stone Temple Pilots: Stone Temple Pilots (CD)
The Cult: Beyond Good & Evil (CD)
B-310 Amplifier
Retail: $2300 US
US Distributor
TrueHarmonix
Adrian Wun
15127 NE 24th Street, Suite 288
Redmond, WA 98052
info@trueharmonix.com
http://www.trueharmonix.com
Densen
http://densen.dk