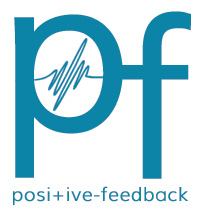 You are reading the older HTML site
Positive Feedback ISSUE 62
july/august 2012
Reviews of Releases by: Linn, Naxos, PentaTone, LSO Live, OEHMS, ARC Music and Yarlung
by Karl Lozier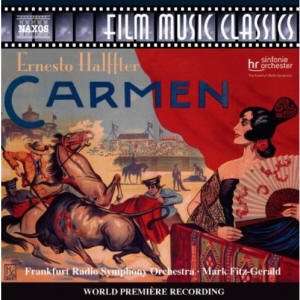 Ernesto Halffter, (World Premiere Recording). Carmen. Orchestra: Frankfurt Radio Symphony. Conductor: Mark Fitz-Gerald. Naxos Film Music Classics CD 8.572260
What is going on here? No secret, just never discussed anymore is the brief explanation. This is the musical score for Jacques Feyder's silent film (Remember them?), The Carmen Story, released in 1926. We do not hear much about it lately; it is a tale of thwarted love, passion, jealousy and violence. The setting is in the heart of Andalusia in southern Spain. This release is the world premiere audio recording a little late it seems. You may have trouble relating some of the music as you have to guess what or where you are relating it, probably to the opera would be a guess. Carmen's sensuous dances are a good start and then you have to start using your imagination if you have not seen this film. The audio quality is outstanding being clean, clear and wide ranging starting with very deep bass response. Audiophiles can start with track five (Real Fabrica de Tabacos) as a good example for full clean bass drum thwacks naturally, not exaggeratedly recorded. I personally consider much of this music impressionistic. Track fifteen (Paso Doble Brillante) contains particularly picturesque, melodic and appealing passages. As might be guessed, the last track is "Mort de Carmen." For something a bit different, I can highly recommend this fine CD and newcomers might enjoy figuring out the visual action that is being musically described. As an aside, I should mention that this recording, most of the others in this issue and those in the current issues of my "The Future Is Here" series are nearly all sharing very good audio qualities, particularly a noticeable lack of irritating, harsh distortions in the higher or treble ranges. There are two possible answers to that observation. One is that the companies and their respective audio engineers are now paying closer attention to their audio quality possibly being reminded by the excellent typical video quality on the new Blu-ray recordings. The other possibility is that the few relatively recent changes in both of my completely separate listening systems has eliminated or reduced distortions, which in the past might have added to those on the recorded discs or exaggerated them. In any event, be alerted that I am not hearing obvious distortions as often as in previous years, for whatever reason or reasons.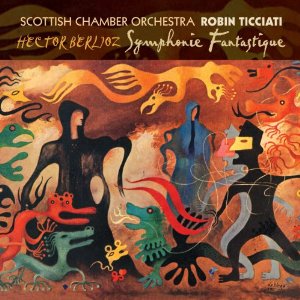 Berlioz. Symphonie Fantastique. Beatrice and Benedict Overture. Orchestra: Scottish Chamber. Conductor: Robin Ticciati. Linn Hybrid SACD CKD 400
Berlioz is noted for a wide variety of compositions and often done in his own and often very unique way. He definitely does not copy other composers; the other way around is often true as he is often a bit ahead of his time. Things such as that may not be realized for a long time. Berlioz's life and career are extremely interesting as well as unique. If delving into a composer's life has ever interested you. I would suggest delving with Berlioz. Liner notes mention this work as his first symphony; I do not believe it. I have never seen that comment in print ever before; in fact I am not certain if he ever had a symphony published or performed though it could be called a "symphonic work". Berlioz introduced it as an "instrumental drama". Some writers compare it with Beethoven's Pastoral Symphony where a violent storm is whipped up. Berlioz takes the hero (himself?) from passion, in real life, an actress that from Britain comes to Paris and Berlioz becomes infatuated with her. Then his hero trying to commit suicide becomes a disaster as the drugs create a stupor and not death. The end comes with the famous (used in films/movies for pending doom) March to the scaffold and the beheading. After a number of listening sessions I would overall describe the performance as relatively elegant or almost sophisticated. I am not sure that is appropriate for this unique composition. A very high quality sound system reveals a smaller than usual group's slight thinness at times while revealing all facet's of the performers at a generally very high artistic performance level. Lesser audio systems may obscure much here. The recording itself, is an excellent SACD. The overture to Berlioz's last composition is excellent as is the entire opera with comedy, warmth and general appeal, Beatrice and Benedict. Les Troyens is often thought of as his masterpiece. My personal favorites are Harold en Italie (Harold in Italy) that is almost a beautiful concerto for viola, a rarity and when the mood strikes, the potent choral work La Damnation of Faust.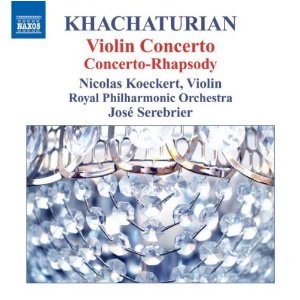 Aram Khachaturian. Concerto-Rhapsody. Violin Concerto. Orchestra: Royal Philharmonic. Conductor: Jose Serebrier. Violinist: Nicolas Koeckert. Naxos CD 8.570988
The Concerto-Rhapsody is placed first in this recording and also features the violin. After a fair number of attempts to carefully listen to everything on this disc all at one seating, I almost gave up and am probably not being fair about my review contents. Khachaturian is Armenian by birth and at various times over the past not so many years that means Russia. Much of his music is based on Russian folk music including the immensely popular ballet, 'Gayaneh' and its orchestral showpiece, the Sabre Dance.
This Violin Concerto, that almost seemed to take off from the ending of the Concerto-Rhapsody, was highly praised by Russian critics being noted for both oriental and Caucasian elements and passages. I personally found the music to be tuneful, lyrical and almost relaxing and all with the violin being featured. Finally, the last movement (the third as in most concertos) all comes alive for a rather lively and appropriate ending. It is recommended for violin lovers looking for something new. The audio quality is just fine though not particularly outstanding as is the performance.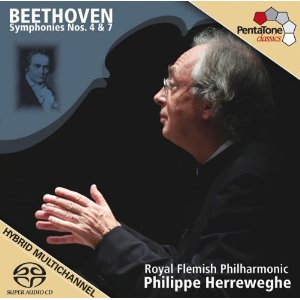 Beethoven. Symphonies Nos. 4&7. Orchestra: Royal Flemish Philharmonic. Conductor: Philippe Herreweghe. PentaTone Hybrid SACD PTC 5186 315
At last, an outstanding recording of a couple of the great Beethoven's symphonic works; seems as though we've been waiting for quite awhile. Of course, all the well known recording companies want to release excellent recordings by famous composers. The general public may know a bit more about Beethoven than other composers except Mozart, because of the film, Amadeus. It is simply a well known and accepted fact that Beethoven's great symphonies start with number three, Eroica (Heroic) and include all the later odd numbered ones, five, seven and nine (the masterpiece). Perhaps I've been away from his music too long while working with other composers. In any event, my memory keeps telling me that I do not remember any competing version of number four that is more like Beethoven and his music than this version, featuring a conductor, Philippe Herreweghe and the Royal Flemish Philharmonic. I am very pleasantly surprised perhaps partly because I do not remember them doing Beethoven so well in the past. Even here in the fourth, Beethoven's power, forcefulness and plain old palpability seem so very right and not always heard in his fourth symphony. The 'power' instruments of this orchestra are spot on here, cellos , horns, double bass, trombones and so on. This is another outstanding release from PentaTone in SACD. Remember that company and their continuing efforts to bring we music lovers the best possible sound with SACD. I did not use the multi-channel channels in the review. This fourth symphony is a fine bonus for this release that features the more famous seventh. To see if you are on your toes, just where is that Flemish area the orchestra is based?
The outstanding seventh symphony offers a fine solid outstandingly well recorded version with power and dynamic range to be enjoyed fully. Many astute listeners report hearing dance-like melodies or passages. The famous composer Richard Wagner has often been quoted as saying that Beethoven's seventh symphony is the "apotheosis of the dance". If not familiar to you, apotheosis is a very precise or exacting word. Many can find numerous times in everyday life to use it, look it up. Composer Carl Maria von Weber had said that "Never before had symphonic music been so intrinsically compared to the romantic concepts-never before had a composer tried to attain the 'unpronounceable' with purely instrumental means. Readers, jump into some music by Beethoven and see what you think. The dance- like passages here are not quite as obviously apparent as some conductors have presented though certainly acceptable here and definitely recommended. Newcomers will need more than just this for a proper introduction to the "composer who battles with the gods, not mere mortals". A highly recommended release with a bargain bonus though newcomers need to add much to be really introduced to his versatile genius and the subtle beauties of his piano sonatas and his admired piano concertos, particularly number five, and symphonies nine and six and so on and so on and so on.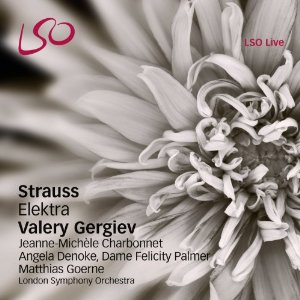 Richard Strauss. Elektra (Tragic one act opera). Orchestra: London Symphony. Conductor: Valery Gergiev. Chorus: LSO Chorus. LSO Live 2SACD LSO0701
This famous tragic opera is simply beyond my opera listening experiences. Here we have a genius opera composer in his later years experimenting in composition and almost, not quite, where no others had gone before. It would be noticed that there does not seem to be an overture to get things started. Unlike most operas I am familiar with, impressionism is very apparent here. You may have to search quite a bit to find lyrical or melodic passages in this seemingly simple one act opera that has only one scene. The music is based on a great Greek legend. The music with its powerful dissonances is particularly important here to "set the scene or action" because the vocal passages do not always do it. This unique opera, lacking in melody, at least to my ears, prevents me from recommending it to beginning classical music lovers. It would take someone who can appreciate the powerful and harsh musical settings created by the orchestra to really like this production that obviously features some of the finest vocalists available. Elektra is sung by Jeanne-Michele Charbonnet, an American, I believe. Others include Angela Denoke, Dame Felicity Palmer, Matthias Goerne and Ian Storey. As expected the LSO orchestra and chorus, as usual, are at their best with tough productions as the most recorded major group in the world. The audio quality is full and powerful with the orchestra though keep in mind the possible problems with placement of the vocalists with recording live performances. If the phrases unique, powerful, bold and dissonant do not deter you; I am willing to recommend this production highly. Just remember it does not appeal to all.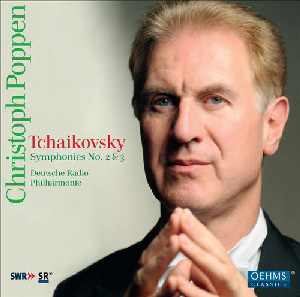 Tchaikovsky. Symphony No.2 (Little Russian). Symphony No.3 (Polish). Orchestra: Deutsche Radio Philharmonic. Conductor: Christoph Poppen. OEHMS Hybrid SACD OC762
Finally, after many years I received a recording of Tchaikosky's sublime beauty the "Little Russian". As you might have guessed, it contains hints of a number of Russian folk tunes along with a bit of possible copying. He had written the following to his patroness, Nadezhda von Meck. "The Russian element present in my music in general, i.e., the melodic and harmonic progressions related to the Russian folksong is especially due to the fact that I grew up in a remote area and was imbued with the indescribable magic of genuine Russian folk music since my earliest childhood, that I passionately love the Russian element". He and his patroness deliberately never met, though are known to have exchanged 1204 letters! Interesting stories about that relationship are easy to find. This is one of my very personal favorite recordings. It is not great. It is beautiful, melodic, and very upbeat and listening to it always puts me in a better mood (a personal top ten composition). Hopefully some of my readers will feel the same way. The performance is simply just fine with no obvious negative qualities revealed in the excellent audio quality revealed here, particularly in the SACD layer. The even less often heard third symphony is given similar treatment though it is not quite as melodic as the "Little Russian". To name it with the epithet, "Polish" because of the finale movement, as did the English conductor Sir August Manns, is a bit of a 'stretch' though it remains. A thoughtful tidbit for our faithful readers- if you take the mentioned epithet word and place it in a sentence and not capitalize it- how would you say it? Know of any other word that would change like that? For lovers of the so called 'Golden Age of Recording,' Dorati conducting the always great LSO , had a two disc set with all three of Tchaikovsky's first symphonies in stereo. Readers may consider this reviewed recording to be highly recommended.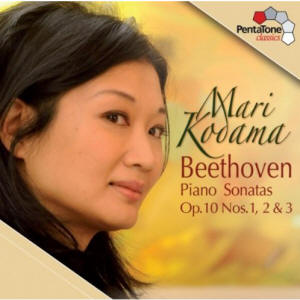 Beethoven, Piano Sonatas. Op.10 Nos. 1, 2 & 3. Pianist: Mari Kodama. PentaTone Hybrid SACD PTC 5186 377
Repeated listening to this excellent recording has made it so very easy to write about it. It is in the more recent series of PentaTone releases with no negative audible aspects to be found. The piano is a Nine foot Steinway and I think it sounds like a German one that has that beautiful bell-like quality to some of the right hand keys. The playing is very consistent and pretty much 'middle of the road.' By that I mean that I mean that in my listening experience I have heard a few pianists put more power or forcefulness into some passages and definitely a number that tried to be a bit more lyrical (for want of a better word) overall. Do remember these are relatively early compositions. I think that any music lover would be very happy with these performances and definitely with PentaTone's typical excellent and relatively high level audio output. Supposedly the Sonata in F major was a personal favorite of Beethoven though it obviously lacks a slow movement. These contrasting Sonatas showing off Beethoven's earlier efforts are mainly meant to simply entertain; that they do in all around excellent fashion and here, are highly recommended.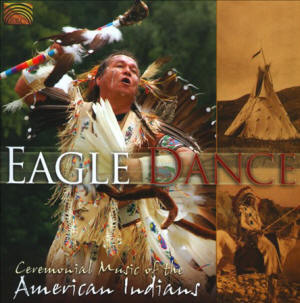 Eagle Dance, Ceremonial Music of the American Indians. ARC Music CD EUCD 2299
This recording showed up sometime ago and I had kept passing over it. With a bit of extra time and continuing curiosity I finally opened it and started reading the liner notes and listening to the recording.
This release's title is simply the name or title of the chosen Arapaho example. The only reason I had for reviewing this unusual release is the fact that many millions of the people living in the USA are within thirty or forty miles of an Indian settlement or reservation. Many years ago I was with the U.S. Public Health Service and stationed in Shiprock, New Mexico right in the huge Navajo Reservation. I and my wife, Dot, and two children lived right around the corner from the old Navajo Tribal Police Station mentioned so often, by well known mystery writer, Tony Hillerman as is so well known by his fans. I know that I wanted to hear some real Navajo Indian ceremonial music. Now, I simply assumed that many of my readers might feel the same way. So that is to let you know why this unusual recording is being mentioned. It has nothing to do with recorded quality, that is acceptable or any other reason. The various ceremonial dances share much in their music making. The bonus tracks are simply from a further area than the others; Canada and Wisconsin specifically. If interested, ARC Music Inc., P.O. Box 2453, Clearwater, Florida 33757-2453 specializes in music from almost everywhere around the world including much more from American Indians.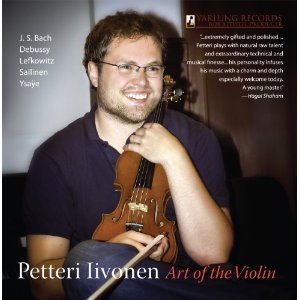 Art of the Violin. Music by Bach, Debussy, Lefkowitz, Sallinen and Ysaye, Violinist: Petteri Iivonen. Yarlung Records CD 05787
Here is another recording that had been kind of lying around for quite awhile. I am not at all certain where it came from but so what. Usually new releases by relatively unknown performers have large amounts of promotional information such as winning national or international competitions and whatever. That was pretty much lacking in this case and I am not familiar with most of the selections here and none are SACD releases. Another comparison tool is lacking though the short unknown to me releases are interesting. Performances here are headed by the Debussy Sonata for violin plus pianist Kevin Fitz-Gerald. Audio quality or performances on the other selections are difficult to evaluate due to my lack of familiarity, though they are certainly acceptable. Their usual choice of the 24 Karat CD is used here with this new artist to stimulate listeners and is expected to attract interest with some unusual selections.
Continuing PentaTone's special anniversary ten disc box set with PentaTone's statement, "PentaTone is here to stay". Let us hope that those listeners that claim to want the highest quality recordings will support them and other companies that continue to support the highest quality releases, SA-CD. All in this special box set are SA-CDs. The special set is "PentaTone The First Ten Years."
Disc 2008: Chopin Piano Concertos Nos.1&2. Rather 'middle of the road' performances by the pianist and orchestra here and very lyrical by the pianist in the first; definitely more forceful and live by both in fine performances well recorded in the second concerto. I do not know why but I never receive any releases of Chopin's Polonaises that I grew up with many years ago, why? The 'extra or fourth' movement is the third movement here and is actually just a cadenza. Recorded at the Grande Auditorio of the Calouste Gulbenkian Foundation in Lisbon.
Disc 2009: Szymaowski / Dvorak Violin Concertos. The Szymanowski selection is full, rich and palpably recorded. It has a fourth movement added though it is placed as the third and is simply a short cadenza. In between the two concertos the Dvorak 'Romance' selection is an added bonus. The melodic Dvorak concerto benefits from a particularly good orchestral backing and recorded quality. Recorded at Haus des Rundfunks, Berlin.
We have two more discs in this unique PentaTone boxed set and will cover them in the next issue. I assume that the set is attractively priced and should be a bargain though I have not received any notice. Actually there is a bonus third compilation disc full of chosen excerpts plus surround sound effects and test tones to optimize the position of your loudspeakers. If interested contact PentaTone directly www.polyhymnia.nl