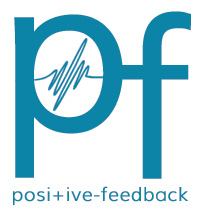 You are reading the older HTML site
Positive Feedback ISSUE 63
september/october 2012
Notes of an Amateur: Telemann, Vivaldi, and Del Tredicki.
by Bob Neill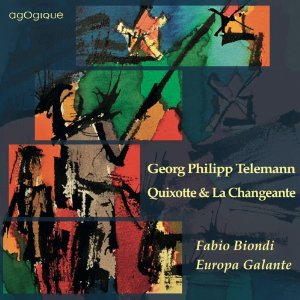 Georg Philipp Telemann. Quixote and La Changeante. Fabio Biondi, Europa Galante. Agogique. AG 0005.
Fabio Biondi and his band of Italian virtuosi have always taken a kinder and gentler approach to period instrument performance, which offers a pleasant relief from the ultra vigorous style that became fashionable during the last decade or so. He is not without crispness, vigor, and energy; but he and his people are often sweet where some others are… well, pungent.
Europa Galante's approach is particularly successful with Telemann, who is a new composer for them, at least in my experience, which has them playing the Italian repertoire almost exclusively. Telemann, even for baroque enthusiasts, is usually the odd man out, sometimes seen as a shadow of his more inventive and inspired contemporaries, Bach, Handel, Vivaldi, and a few of the French. But somewhat like Haydn in the next generation, Telemann, by having a less identifiable musical personality and voice, has a way of standing at the center of his period's style, which seems to flow through him. We often feel we are getting the essence of the baroque rather than the composer himself and his take on it.
The truth is that among his enormous oeuvre are some musical gems, several of which appear on this album. The gloriously ebullient Concerto for Viola, TWV 52 can hold its own with anything in the early eighteenth century. And in Italian hands, it comes across as wondrously fresh. This may be exactly what Telemann needs to cause contemporary audiences to wake up and reconsider his stature. As an aside, it is a pity that the late Jean Marie Reynaud could not hear this recording on his company's new Abscissa speakers, the first from the hands of his son, Jean Claude, alone. Jean Marie always sought a natural intimate sound, the essence of which he felt he had achieved in his Offrandes. Listening to Biondi's Telemann on these new Abscissas, I can't help believing Jean Marie would have been especially pleased. In some ways, especially in the warmth, solidity, and smoothness of the midrange, Jean Claude may have gone his father one better. To be fair, I played this CD on several different systems and it shone on all of them. Three concertos, two extended suites—all for strings. These five performances make a memorable recording.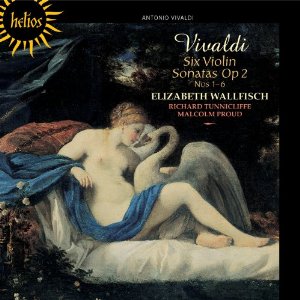 Vivaldi. Six Violin Sonatas, Opus 2. Elizabeth Wallfisch, violin. Richard Tunnicliffe, cello. Malcolm Proud, harpsichord. Hyperion Helios. CDH 55404.
Hyperion has developed the excellent policy, not original with them but most welcome nonetheless, of re-releasing some of its best CD's of years back at mid-price. I missed this CD first time around and am happy to get a second chance at it. British period violinist Elizabeth Wallfisch has a firm, crisp, cool style that her fans have come to appreciate. While Biondi charms us with warmth, sweetness, and suavity, Wallfisch plays her fiddle straight and strong. Her series of Telemann's violin concertos for CPO is exemplary and one of my favorites. Her Vivaldi has the same quality, more German than Italian in style.
This is early Vivaldi (1709), sharing much of the quality of his principal predecessor Corelli's Opus 5 sonatas (1700). Like the Opus 3 set of violin concertos, La Stravaganza, it is highly accomplished and as appealing and expressive as any the composer wrote. The album notes alert us that the cello is not merely a continuo but a full partner of the lead violin and that Vivaldi considered these works duos rather than simply violin sonatas with accompaniment. They are the baroque predecessor of the piano trio, which will replace them in the next century. The harpsichord being a considerably more reticent instrument than the piano, this music has more of the quality of a string work than the piano trio and is less dramatic as a result.
There is much to treasure here, and no harm in getting it all at a bargain price.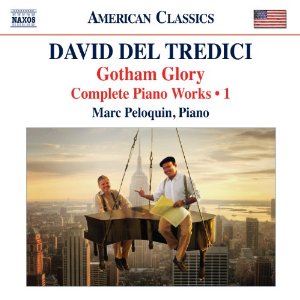 David Del Tredici. Gotham Glory. Complete Piano Works, 1. Marc Peloquin, piano. Naxos 8.559680.
How is anyone allowed/able to compose joyous, balladic, rich, lyrical, consonant music like this in the twenty-first century?!! It dances somewhere between jazz and classical idioms. There are even hits of traditional popular music. Hints of Chopin, Erroll Garner, Broadway. And in S/M Ballad something almost altogether beyond them all. It is wonderful, open and free spirited, even when it's serious.
I don't remember hearing this 'voice' in the few earlier works I've heard of Del Tredici, based on Alice in Wonderland. It may be time to revisit. Because this is highly infectious, irresistible stuff.
Is this light classical music? No, I hate light classical music. I can spot it at a hundred yards. Boston/Cleveland, etc. Pops be gone. This is simply (?) unpretentious, high spirited, balladic (Del Tredici's word), classical music without a trace of irony. It is music we thought no one was permitted to impose on 'these times' without being dismissed as naive. Del Tredici gives evidence of being able to do what we would all love to do: hold 'the times' off, protect his prodigious, elegant gift from them.
His head is not in the sand. S/M Ballad shows us this music can achieve passion and complexity without surrendering its basic harmonic, straightforward idiom. Gotham Glory (Four Scenes of New York - 2004) begins with "West Village Morning," which has a rag at its heart; then proceeds to an initially frolicsome, then more vigorous, and finally meditative fugue called "Museum Piece," suggesting a bolder version of some of Britten's smaller pieces. "Missing Towers," the third section, which is about what you think it's about, is a ''perpetual canon" that in its quietude says more on the subject than I've heard to date. "Wollman Rink," the final section of the work, takes us for an intoxicating skate at Rockefeller Center, "Grand Fantasy on the Skater's Waltz"—exactly the right place to end the celebration.
This is a lot of solo piano music to take in at a sitting, nearly 80 minutes; but I doubt you'll leave your seat, thanks both to the composer and his pianist, Peloquin, who brings the music to life. A wonderful recital of the kind of music I never thought I'd get to hear again. And there are reportedly two more volumes to come. Don't miss this train, folks.
Equipment used for this audition: Resolution Audio Cantata CD player; Crimson CS710 solid state preamplifier & CDS 640E solid state mono-block amplifier; just out Jean Marie Reynaud Abscissa loudspeakers; Crimson cables. Also, on the Telemann, equipment from Blue Circle and Audio Note.
Bob Neill, in addition to being an occasional equipment and regular music reviewer for Positive- Feedback Online, is also proprietor of Amherst Audio in Amherst, Massachusetts, which sells equipment from Audio Note, Blue Circle, JM Reynaud, Crimson Audio, and Resolution Audio.