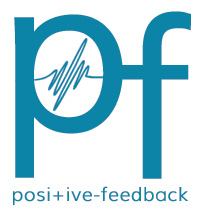 You are reading the older HTML site
Positive Feedback ISSUE 63
september/october 2012
The Future Is Here - Audio Still Rules
by Karl Lozier
Blu-ray recordings may be video, audio or most commonly video plus audio. If the video is a distraction turn it off though I would suggest watching the video at least once; at times it can be interesting or entertaining. Naxos is again following up with more high definition (Blu-ray) audio only releases. For many listeners that will be a distinct improvement in audio quality if the HDMI digital output signal is used instead of the analog. That one cable carries everything including stereo or multi-channel audio in addition to the very high quality Blu-ray video signal. Greater clarity and a smoother treble will be noticed with many if not most home audio systems. So far this seems to be consistently true. Easier connection needing only one cable is appreciated by all. Sometimes new-fangled things are even easier to use while offering better quality, at least in the audio musical field.
An easy way to get into the beauty and audio and video qualities of Blu-ray releases is by getting a truly good player (a good start is important with many things in this old world). In this issue I will continue to use the moderately priced Oppo BDP-95 player for all the Blu-ray reviews, an over performing universal player; other players may be used for SACD recordings. Next item needed would be a very decent AV receiver such as by Onkyo, Integra, Denon and others that have multiple HDMI cable inputs and good digital or digital to analog connections and jump right in. Your newer television sets will have the correct and simple HDMI connections for simplified setup. The AV receiver will let you add surround sound easily. Remember that quality is more important than quantity in the long run. If possible, try to get an AV receiver that has an official manufacturers' list price of $1200 or even a bit more, particularly if you like to listen at fairly loud levels at times and with multichannel connected. If you like "an in the theater" atmosphere or feeling, multichannel will be necessary now or later. In Issue 60, I went into some detail about why I have now chosen the Nola loudspeakers, namely the Boxers (for right and left front channels) and the specifically designed Announcer model for the very important center channel to use for the all important front trio in these and continuing reviews. Yes, you may have heard that all three would ideally be the same. That is not necessarily true; here both models are, the same, in that each uses the same drivers/cones in a different designed cabinet for an even slightly better sounding center channel. As many have found out, center channels can be of extreme importance to many listeners; that is where singers live as do news reporters. In this very competitive price range, models are offered by Paradigm, PSB, Definitive Technology and others. As before, a right and left pair of Nola Thunder Bolt II subwoofers complement the front channels for even deeper and more palpable bass range desired by some listeners.
Notice the generally favorable brief revues I write each issue? There are logical reasons for that to happen. Changes such as digital and HDMI connections have made pretty darn good audio to be easier for the manufacturers to give us and easier for us to put to use. Same is true for the video portion that we pretty well take for granted here. As you purchase and use some of my suggested performances you may notice that relatively unknown sources and performers are often doing a superb job and why not! Unlike many of the big professional outfits and famous performers they can and possibly do practice for many months on end, repeating the same music or performances. That can be the way for an individual, or group, chorus or orchestra to be discovered by being on these well done Blu-ray recordings! Pay attention, watch and listen to the possible stars of the near future in the comfort of your own listening and viewing room.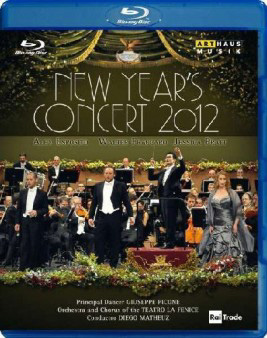 New Years Concert 2012. Orchestra and Chorus: Teatro La Fenice, Venice. Conductor: Diego Matheux. ART HAUS Blu-ray 108 056
A very logical choice to begin this fine and beautifully varied set of musical selections that began the outstanding first concert of this year. The reproduction is seemingly without any significant fault and hopefully we may get almost as much enjoyment as we might have gotten by being there live and in person. That comment is just about heresy to the music world and musicians that populate that world. Live music is our love and goal though I was unable to attend in person as was true of many people. I believe that I enjoyed a large percentage of the performances as did those lucky enough to attend in person. At times I probably was able to hear or see some things more clearly than attendees in some of the seats or sections thanks to this very well done recording. There definitely are some things for everyone on this release and for many of us; we find everything to our liking with great variety and performances to match. Tchaikovsky's ever popular Fifth Symphony is the first composition heard here and it receives a very good and solid performance with conductor Diego Matheuz and the orchestra obviously in sync. I do not remember hearing Matheuz's musical efforts previously though there will certainly be more based on his efforts here. That does not end this outstanding release by that 'famous long shot'. Unexpected variety, beauty and downright exciting, at times, follow. The first following selection might be an exception though, as it is Verdi's rare flop, his second opera's overture and seldom heard. All the remaining selections are definitely Italian oriented with beautiful Verdi songs dominating and done with particularly appropriate soloists. Before those selections though, your audio system and ears will get a real workout as a large hammer really goes to work on a couple of huge three-musicians' ( the number probably needed to lift them )anvils and then the powerful chorus adds to that and it all is simply done as closely to perfect as any Anvil chorus ever remembered by me. Mention this to any audiophile friends as they would love to indulge their ears and sound systems. Dances and songs abound and the always popular Can-can by Ponchielli and the Drinking song from "Cavalleria Rusticana" spice things up even more. The only minor Italian glitch here is so little is heard from Puccini .This is one of the finest and most appealing collections of classical music ever on one disc. My highest recommendation; buy at least two and give one to your best music loving friend.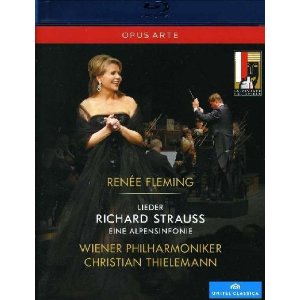 Richard Strauss. Lieder. Befreit Op.39 No.4. Winterliebe Op.48 No.5. Traum durch die Dammerung Op.29 No.1. Gesang der Apollopriesterin Op.33 No.2. Arabella (Scene Act l, "Mein Elemer") Op.79. Soloist: Renee Fleming. Eine Alpensinfonie (Alpine Symphony). Orchestra: Wiener Philharmoniker. Conductor: Christian Thielemann. OPUS ARTE Blu-ray 7101D
The attractive soprano and versatile Renee Fleming, possessor of a particularly beautiful full lyric soprano voice, is featured here. She is singing some very popular songs of Richard Strauss and the concluding scene from the first act of the opera, Arabella featuring the eponymous female character. These popular songs have, for the most part, been sung by many of the best and most popular sopranos for many years, beginning with Strauss' wife, Pauline. Obviously a very personal choice I found Fleming's voice well suited to Strauss' songs. These songs are not part of the deservedly famous sets of Lieder by Strauss. They are well done here.
The "huge tone poem for large orchestra Op.64" is more commonly known as Strauss' "Alpine Symphony." It is his longest tone poem and he worked on it for the longest time, supposedly for up to ten years, on and off. I believe the score calls for a greater number of players than almost any other. If I remember correctly, it is between a hundred-twenty and twenty-five. There are thunder sheets, wind noise making machines, a Heckelphone (rare bass oboe) and a few other rarities. The tone poem depicts a two day period of time on an Alps mountain near Strauss' home. The story line quietly begins before dawn , then dawn's breaking through, sounds of nature including grazing animals, a waterfall, calm before a storm, the storm and so on, including the decent back down the next day. It is more descriptive than overwhelming and handled beautifully between conductor and the Vienna Philharmonic Orchestra. The recording is fully and accurately up to the task. A question must arise. Is Strauss just describing nature and its changes or is he describing "life as he knows it?
This is probably a gem of a release thanks mainly to the attractive vocals sung by Renee Fleming. Newcomers to classical music may need to look elsewhere for an even better introduction to the famous Richard Strauss; probably his shorter tone poems or operas.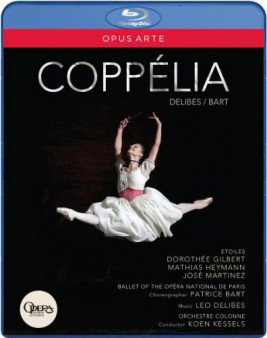 Leo Delibes. Coppelia (Ballet). Orchestra: Colonne ( Cologne). Conductor: Koen Kessels. OPUS ARTE Blue-ray 70903D
This deservedly popular ballet is seemingly a bit more contemporary than nearly all others written and produced more than a century ago. A larger following of men than usual seem to be attracted to much of the music and even many of the dances making up the program. The music often seems to be somewhat more extroverted or dynamic in nature than is usual. Actually, my personal belief is that much of the music stands on its own with more appeal than with many other ballets. Locally, many years ago at the then quite famous Royal Poinciana Playhouse in Palm Beach, an unusual production was put on for the local wealthy patrons of the arts in that relatively intimately sized theater. Coppelia was the attraction with the addition of a lead character who did not actually dance. It was the then famous actor of stage and screen, Jose Ferrrer. Not only did he add a bit of theatrical sophistication his script also had some appropriate humor. It seemed to be definitely above and beyond any ballet productions I have since seen, admittedly not a very large number. This production features an excellent group. Visually all is fine though not really a concern of Positive Feedback. Audio quality is an important concern and that really shines here through and through, right from the composition, the playing and the recorded quality on this fine Blu-ray release. It is highly recommended to all listeners and viewers, new and long timers.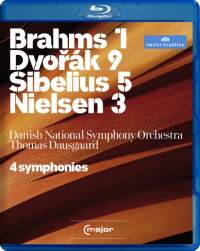 Four Popular Symphonies (All in Blu-ray). Brahms No. 1. Dvorak No. 9. Sibelius No. 5. Nielsen No. 3. Orchestra: Danish National Symphony. Conductor: Thomas Dausgaard. Cmajor Blu-ray 710604
Is this the start of a new approach? Instead of one major work plus minor and usually shorter compositions often by the same composer to "fill the disc", here we have four symphonic, and at least three of them are very substantial / major, symphonic compositions. Add in the fact that all four of these symphonies are full audio plus video Blu-ray and the implications are almost boggling. When was the last time your mind was boggled? Brahms' first symphony was generally regarded as the first outstanding symphony composed after Beethoven's last efforts. At first I sensed that the playing was a bit tentative and rough but that feeling disappeared by the beginning of the second movement. No such feelings existed at any time with the other three. The fine rendition of Dvorak's tribute to America with the beautiful " going home" theme was just fine, thank you. The nationalistic Nielsen Third with its very appropriate two subtle vocal touches and the Sibelius Fifth are heard here just about as well as you have probably ever heard them. I mean right down to small details, orchestral playing and overall audio quality. All this on one Blu-ray disc; it makes me wonder if our readers make this bargain recording a best seller, might the recording company be tempted to bring out another release with such a large amount of top quality recorded music? A very highly recommended release.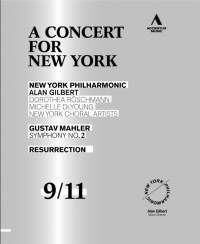 A Concert for New York. In Remembrance and Renewal. The Tenth Anniversary of 9/11. Gustav Mahler. Symphony No. 2. 'Resurrection'. Orchestra: New York Philharmonic. Conductor: Alan Gilbert. Chorus: N.Y. Choral Artists. Accentus Music Blu-ray 10241
The well known large-scale early Mahler composition is deservedly quite famous. It features a very large orchestra, vocalists and choir. As you might notice above, it has the subtitle of "Resurrection". Apply that to what happened in New York on 9/11/2001 and realize the extreme feelings of the New York audience and the obvious passion of the performers. Together they are the makings of a possible historic recording heard and seen here and highly recommended in an almost larger than life setting. I would not expect any competing effort to be released for quite some time. There appears to be no obvious flaws that need correction here with this outstanding live recording done at Avery Fisher Hall, at Lincoln Center on 9/10/2011.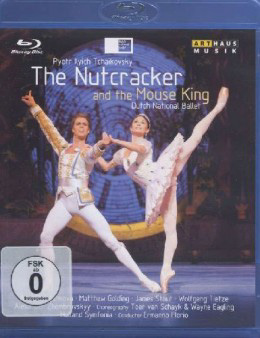 Tchaikovsky. The Nutcracker and the Mouse King. Orchestra: Holland Sinfonia. Conductor: Ermano Floria. ART HAUS Blue-Ray 108 054
Better a bit early rather than too late for this representation of the soon to be coming holiday season, here in the USA and some other countries. The liner notes were a reminder that not all countries celebrate what many call the Christmas holiday season and many that do, do not go overboard with excessive presents and partying at that time. That explains much that occurs or not in the very differing productions of Tchaikovsky's famous and very popular ballet. A bit of history may interest many of you if not your children. First performance was held in the Marinsky Theater in St. Petersburg, Russia. Sharp-eyed readers may have noticed that name, Marinsky, from a number of my reviews here and in the CD and SACD music sections. The story was based on a fairytale: Nutcracker and Mouseking, by E.T.A. Hoffman. The first performance was not particularly successful. It has become very successful in many parts of the world, particularly in the USA. In this Amsterdam setting, it is snowing and people are skating on the nearby frozen canal. Clara and her younger brother Fritz are getting ready for the traditional St. Nicholas partying and handing out of presents. The old eccentric Mr. Drosselmeyer and young nephew Drosselmeyer entertain with magic tricks and give the Nutcracker doll to Clara. Seemingly after bedtime, dream time that is, eventually the Nutcracker leads a group of toy soldiers against the Mouse King with his mice and some rats. There is little action here from the toys and animals though there is a great deal of rather typical ballet dances all with Tchaikovsky's beautiful music being played. That will be of great interest to the adult ballet lovers. I think there is a slight lack of costuming or characters that appeal to young children. That seems to be true of most recent Nutcracker productions. There is some differences with the introduction and beginning scenes that I found attractive with the San Francisco production though nothing particularly more appealing to younger children. Sometime in the past I remember a production with greater appeal to younger children such as toys coming to life and dancing among themselves. So far all the Blu-ray ones I have, no such scenes are apparent. There is one older, predating Blu-ray releases that I have not yet found. This beautiful ballet production is easy to recommend with fine audio quality, though it could have easily been more appealing to younger children and be of even greater help for them to appreciate ballet; a hint for future Nutcracker productions.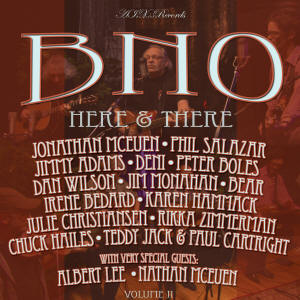 BNO. HERE and THERE Vol.ll. AIX Records Blu-ray 85058. 'Dedicated to the Memory of James "Jimmy" Ross Adams'
Addendum: A change of pace from our usual classical music, Mark Waldrep, founder and chief engineer of AIX Records, presents with his usual care, some very relaxing and yet entertaining music in the very best of true Blu-ray recording technology. Even BD-ROM Files and 2-channel Headphone "Surround Mix" are available. Do not pay attention to the complete lack of any fashion statement the performers make. They are far more polished professionals than you would ever guess and simply enjoying themselves. I listen far more than watch where music is involved. I glanced up a few times and was surprised to see a couple of players holding what looked like violins or violas. Turning to the instrumental listing I found out, 'Them thar music makers' are 'Fiddles'. They are usually accompanied by various guitars, real acoustic basses, piano and more. The music probably defies accurate naming or description though it is definitely easy listening, attractive with smooth background vocals that seem to be familiar but really are not. It comes with my almost money back guarantee. The added last couple of cuts is something very different, by some very different performers and is really very, very different-at no extra cost. After waiting years it looks like we can look forward to hearing and seeing the great results that AIX has been obtaining. No exaggerations, just the real thing.