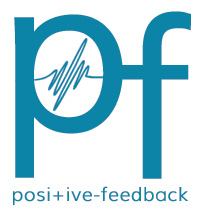 You are reading the older HTML site
Positive Feedback ISSUE 63
september/october 2012
From an Editor's Notebook: An Update on PFO's DSD DAC and DSD Download List
by Dr. David W. Robinson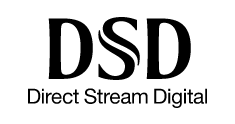 Just in case you haven't been paying attention to DSD, there are revolutionary breakthroughs afoot for fine audio in this domain.
We've been documenting DSD's progress here at PFO (for example, Issue59/dsd.htm, Issue59/dsd2.htm, Issue60/dsd_usb.htm, Issue60/dsd.htm). I've also moderated DSD seminars with some great hardware and software experts in this format at RMAF 2011 (streaming video available at http://audiofest.net/2012/video_player.php?video_id=29&Sid=3e9f693985f55c555cfb26cdc3263206), THE Show Newport Beach 2012 (streaming video available at http://www.youtube.com/watch?v=4n_mlz6UBFA&feature=player_embedded), and RMAF 2012 (video available in the near future).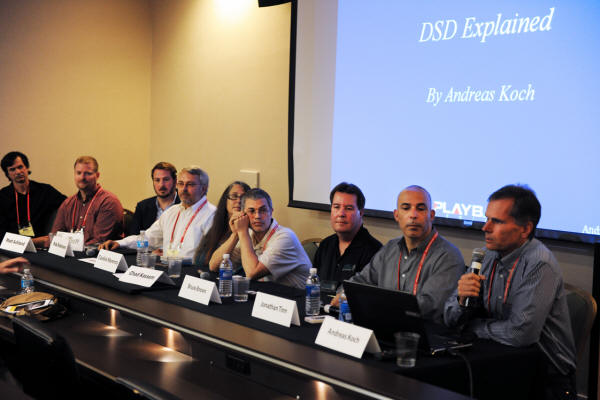 The Rocky Mountain Audio Fest 2012 seminar panel on DSD: from left to right, Michal Jurewicz, Mytek Digital; Matt Ashland, JRiver; Thom Moore, Five/Four Productions; Dr. Rob Robinson, Channel D; Cookie Marenco, Blue Coast Records; Chad Kassem, Analog Productions/Acoustic Sounds; Bruce Brown, Puget Sound Mastering; Jonathan Tinn, Playback Designs; Andreas Koch, Playback Designs (photograph by David W. Robinson).
To bring you up to date on what's happening, here is my current list of DAC manufacturers who are either already producing DACs with DSD support, or who have announced that they will be supporting DSD in the near future:
DSD-over-USB 2.0 DAC Manufacturers, as of 10/23/12:
I know of the following DACs now supporting DSD over USB:
Playback Designs MPS-5 w/USB-X interface and MPD-3 DAC
Mytek Stereo 192-DSD DAC
dCS Debussy USB DAC with DSD streaming support
Benchmark DAC2 HGC
EMM Labs DAC2x
Meitner Audio MA-1 and MA-2 DACs
Simple Design Sonore exD DAC
Chord Electronics Chord QuteHD DAC and QBD76 HDSD
exaSound Audio Design e20 DAC
Fostex HP-A8C DAC
MSB Technology DAC IV
McAUDI DSD DAC (first production set debuted at RMAF 2012)
Korg DS-DAC-10 (to be released in the near future)
Resonessence Invicta DAC
My industry sources tell me that there are definitely other hardware manufacturers who are already developing support for DSD in their DACs. While I'm tempted to share that information with you, I'll wait for definite releases of their hardware. We'll keep you updated here at PFO.
DSD download sites, 10/24/12
My current list of DSD download sites has the following URLs as of late October, 2012:
Channel Classics, the best model that I've seen for DSD downloading and a graduated price structure… smart!: http://www.channelclassics.com/ for general access, and http://www.channelclassics.com/dsd.html for their DSD catalog.
Morten Lindberg and company at 2L have a nice set of DSD downloads at http://www.2l.no/. Check their "Hires download: test bench" section, and scroll down for their sample DSD files. I am strongly encouraging 2L to expand their DSD download sections to include entire titles from their great SACD titles.
Cookie Marenco and friends at Blue Coast have some really good sample DSD files for sale…check out http://dsd-guide.com/free-downloads
Cybele Records, a German site; for DSD see that option at http://www.cybele.de/downloads. I think that we'll see more DSD downloads from Cybele in the near future.
Check the PS3 SACD site for more interesting links for things DSD: http://www.ps3sacd.com/dsd_downloads.html for a collection of DSD downloads
eOnkyo has been selling DSD online in Japan for a while. You can go to the raw Japanese page at http://music.e-onkyo.com/artist/m101210_R.asp, and then check the Google translation page to English at http://translate.google.com/translate?tl=en&sourceid=ie8-activity&u=http%3A%2F%2Fmusic.e-onkyo.com%2Fartist%2Fm101210_R.asp. I'd like to see much more of this… in English!
Also in Japan is http://ototoy.jp/feature/index.php/sound_and_recording. Same comments as for eOnkyo… let's have some language choices!
The group Wheatus is offering sales of their music in DSD direct to the public for a very reasonable donation of $5.00 (or more) for each of two EPs. Browse over to http://wheatus.com for the details.
David Elias has done some wonderful stuff on DSD; check out his album The Window, produced in tandem with Gus Skinas, at www.davidelias.com.
Here's a general-purpose site where various artists and labels offer high resolution recordings for download, including DSD: http://downloadsnow.net.
General purpose info on DSD: http://dsd-guide.com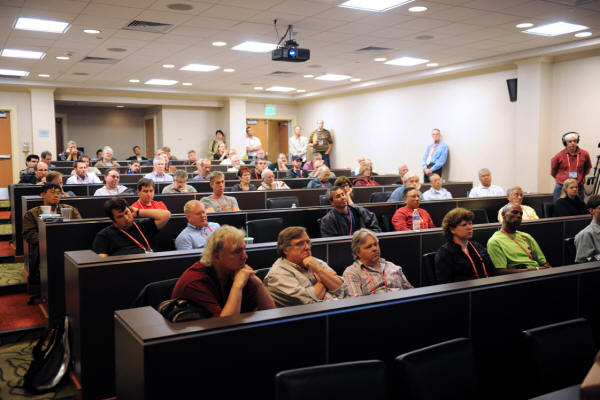 Yes, there is a great deal of interest in downloadable DSD! The seminar audience at RMAF 2012 (photograph by David W. Robinson).
Stay tuned. There is more to come about downloadable DSD and DSD DACs in the near future….