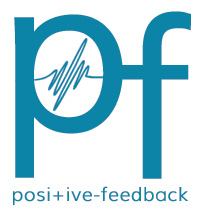 You are reading the older HTML site
Positive Feedback ISSUE 63
september/october 2012
element signature
Millennium Loudspeakers
as reviewed by Andre Marc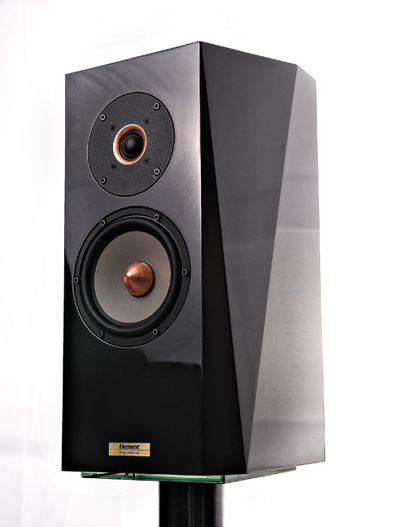 Element Cable based, in Lewisville, TX, has been around for a number of years now and have earned a well deserved reputation as makers of really great sounding cables. Their products are offered at too good to be true prices in their Element Cable line, and at very fair prices in the Element Signature line. The Signature line includes cables made with ultra pure silver, palladium, and even gold.
I reviewed, and subsequently purchased, their Silver Serenade pure silver interconnects, and their Red Storm digital AC Cable. As a matter of fact I use the Red Storm on all my digital source components. I also reviewed their impressive all silver Apollo speaker cable. Element uses only top shelf materials and parts from the highest quality suppliers... like WBT and Eichmann. I have also turned several Audiophile friends on to their products as alternatives to much more pricier, similar cables. Element also offers excellent service and is quite concerned with satisfying every customer.
It was a bit of surprise when I received an email from one of Element's cofounders Anthony Nguyen asking me if I would be interested in evaluation their first speaker. (See my interview with Nguyen at the conclusion of the review.). I replied in the affirmative, and the speakers arrived at my door shortly thereafter; fresh from being displayed at the Lone Star Audio Festival in Element's home state of Texas. The Millennium are being offered at the introductory price of $4000 a pair.
I will briefly give an overview of the design characteristics of the Millennium. On the bill of materials are the expensive 6" SEAS Excel Magnesium cone driver, and the 1" SEAS Excel fabric dome tweeter. These are both made of advanced proprietary materials in Norway and are generally found in rather pricey speakers. They are known for their very high resolution and low distortion properties.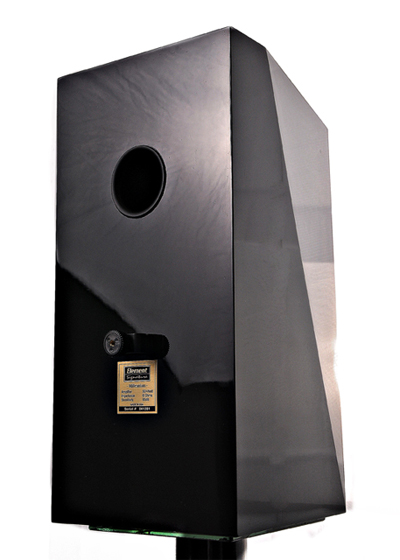 Element considers getting the crossover right as an essential element of speaker design. As a matter of fact, they call the crossover the "heart and soul" of the speaker. They say they use parts that include "metalized polypropylene capacitors, air core inductors, non-inductive wire-wound resistors, each point-to-point hand wired for the best possible connection." The goal was ultimate accuracy and a flat frequency response.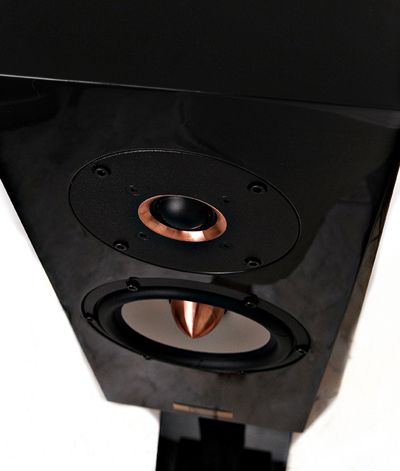 Element also spent quite a bit of time thinking out the cabinet, with the distinct notion of taming cabinet resonance, and to allow the drivers to operate at their maximum potential. The crossover sits in an special chamber a the the bottom of each cabinet. The cabinet measures 9" x 1 8.5" x 9.5", larger than a classic "mini" monitor, but smaller than my chunky Harbeth Compact 7ES's. The Millennium is attractive, and is finished with either a Cardas traditional five way binding post, or with the relatively new Cardas Patented binding posts, which offers an amazingly secure connection via spades. My review sample was outfitted with these, and I was quite impressed with them. The Millennium is available in an attractive Satin or High Gloss finish with real wood veneers including cherry, maple, and mahogany, as well as more exotic choices...
Set Up & Listening
I set up the the Millennium monitors on 26" Sound Anchor stands, with spade terminated Kimber speaker cable, driven by the McIntosh MA6600 250-wpc solid-state integrated amp. Sources were a Marantz CD player and a Squeezebox Touch/Musical Fidelity V-DAC II combo. I used a wide variety of source material over a six week period.
Before hitting play, I admit to having a bit of trepidation, as this is Element's first speaker design. Well, any nervousness was clearly unwarranted, as I was impressed by what I heard after the first few notes of streaming Norah Jones splendid new album, Little Broken Hearts. My first thoughts were "Man, these are high resolution monitors". There seemed to be tons of space around voices and instruments. I seemed to be able to hear more nuances of each recording than through my Harbeth's. While bass did not seem to go deeper than the Harbeth's, there was more articulation, punch and clarity in that area.
Both albums from The Swell Season, the self titled first released, and the follow up Strict Joy, were beautifully served by the Millennium's. Glen Hansard and Marketa Irglova's voices are a match made in heaven, and each was distinctly and holographically presented. A live recording by the great Calexico, recorded with a full orchestra in Germany, sounded stunning and panoramic. It was readily apparent the Millennium was capable of providing a wide and deep soundstage, with all the recorded detail you could ask for.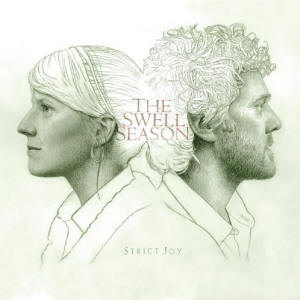 The high frequencies were ever so delicate on the these speakers, without a hint of tweeter beaming or spotlighting. As a matter of fact, I found the treble presentation on the Millennium addicting: clean, extended, and fatigue free. This open and clear treble probably was partly responsible for the super transparent and full bodied midrange. As a matter of fact, it may be folly to pick apart the separate frequency range performances as the strength of the Millennium was its superb coherence. These are a rare breed of speakers that could conceivably be used seamlessly in both a mastering studio and in an audiophile listening room. I guess I am saying is that the Element monitors provide accuracy that serves musical enjoyment.
I honestly found no areas of the Millennium's sonic performance that left me wanting. My only "concern", if you can call it that, is the amount of power needed to make the Millennium sing. I really did have to provide some substantial juice to get them going, and this is due to the SEAS driver properties and the advanced materials they are constructed from. So the prospective buyer of these lovely speakers will have to have some decent power on hand. The published specs say a 6-ohm load, with a stated sensitivity of 85dB, by the way. On paper this is very similar to the Harbeth Compact 7ES, but again, the drivers in each are made of very different materials.
Conclusion
I believe what Element has accomplished with their first foray into speaker design, the Millennium monitors, is quite astonishing. These are music making, high resolution, superbly made loudspeakers. The parts quality is top shelf, and the attention to detail is impressive. From my experience, this is one of the benefits of buying products from a small company. Every product that goes out the door is personally inspected, and it is insured that nothing leaves the factory unless it meets a standard.
The Millennium monitors, as well as Element's cables, are all made in the USA. At the $4000, introductory price point, there are many speakers to choose from, but I think the Element Millennium deserves an audition, regardless of the competition. As a matter of fact, the Millennium reminds of far more expensive speakers. One that comes to mind is the Joseph Audio Pulsar, which is a cool $3000 more than the Millennium. If you are in the market for a highly revealing, musical two way monitor, arrange for an audition. Be ready to be won over by high level speaker engineering that serves the music on a silver platter. Andre Marc
Millennium Loudspeakers
Retail: $5000 a pair
Element Signature
www.elementcable.com
1) You have a loyal following with your cable line, which to my ears, compete with the very best. What prompted you to design and bring to market a speaker?
This project started out as a monitor speaker we were building for use in our reference system for equipment testing. The monitor has to be of reference level with the ability of reproducing low level detail and the accuracy to assist us in our listening tests. Once the production of the finished speaker was completed, we listened to it and walked away extremely satisfied.
The overall level of performance were on par with some of the best the industry has to offer. I was especially impressed with how full the speaker sounds for such a compact design, and how believable music sounds through these speakers. We knew we had something special and the decision to make it available to audiophiles was an easy one. We now use the Millennium monitor along with our Magico floorstander in all of our tests.
2) Can you give us some of the key design goals for the Element Signature Millennium?
Our goal is to design an accurate speaker, not just in terms of detail retrieval but one that will accurately reproduce the tone and texture of voices and instruments. This requires experience, attention to detail, the use of the finest parts, and cutting edge driver technology designed by one of the finest transducer manufacturers in the world. With Millennium, we feel we have struck a perfect balance between technology and musicality.
We envision Millennium as the main speaker in a two channel system, and quality from top to bottom is what we aim for. The strength of the Millennium, as is with other top echelon two way monitor is in its midrange and highs, which we feel approach reference level. While there's no way of avoiding low frequency limitations in a compact two way design, Millennium does offer a very generous yet balanced bottom end for a speaker its size.
3) How did you go about fine tuning the speaker as you grew closer to being satisfied with the performance of the Millennium?
The majority of the fine tuning was to the cross-over which took the longest amount of time.
With magnesium drivers, you have to suppress the ringing breakup, which we were very careful in dealing with. We went through quite a few variations of this cross-over, before we were content.
The voicing was done by a professional violinist who knows what live music sounds like. It didn't take much fine tuning before we got to the balance we were pleased with. We are confident that audiophiles who have an opportunity to listen to the Millennium will be impressed with its clarity, organic nature, and recognize that Millennium is among the least mechanical speaker they have ever experienced.
Current Reference Systems
CD Transport: Musical Fidelity M1 CDT
CD Player: Unison Research Unico CDE
Server: Squeezebox Touch w/ CIA VDC-SB power supply via Ethernet to MAC Mini w/ Western Digital & Seagate external drives.
DAC: Bryston BDA-1
Headphone Amp: Pro-Ject Head Box II
Headphones: Grado SR60
Preamp: Audio Research SP16, Densen B-200
Amplifier: Audio Research VS55, Densen B-310
Speaker: Thiel CS2.4
Cables: Stager Silver Solids, Kimber KCTG (IC), Transparent MM2 Super (IC), Transparent Plus (Speaker) Acoustic Zen Tsunami II (AC), Transparent (AC). Shunyata Venom (AC) Element Cable Red Storm (Digital AC), DH Labs TosLink, DH Labs AES/EBU, Belkin Gold (USB) DH Labs (USB)
Accessories: Symposium Rollerblocks, Shakti Stone, Audience Adept Response aR6 power conditioner, Salamander rack
CD Player: Marantz 5003
Music Server: Squeezebox Touch via Ethernet to MAC Mini w/ Western Digital & Seagate external drives.
DAC: Musical Fidelity V-DAC II
Integrated Amplifier: McIntosh MA6600
Tape Deck: Revox A77
Speaker: Harbeth Compact 7ES3, Element Signature Millennium
Cables: Kimber Hero HB, DH Labs White Lightning (IC),QED Genisis Silver Spiral (Speaker),PS Audio (AC), Pangea Audio (AC), DH Labs TosLink, Audioquest Forest USB, Wireworld Ultraviolet USB
Accessories: Cable Pro Noisetrapper, Sound Anchors Stands, Wiremold