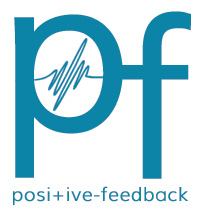 You are reading the older HTML site
Positive Feedback ISSUE 63
september/october 2012
Marinsky, LSO Live, PentaTone, LPO, Naxos, Tudor, Klavier and Cincinnati Symphony Orchestra
by Karl Lozier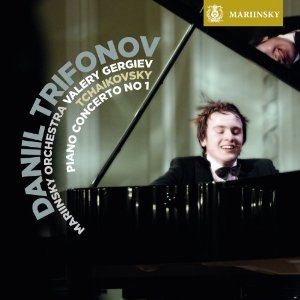 Tchaikovsky, Piano Concerto No.1. Orchestra: Mariinsky. Conductor: Valery Gergiev. Marinsky SACD Hybrid Mar 0530
What a nice surprise and so soon after release of the Blu-ray containing the famous Emperor, Piano concerto by Beethoven as part of the set containing all five of them. Along with that one, the concerto by Tchaikovsky makes for the pair of piano concertos that between them marks them as the most famous, best or most popular in the world. It is common for most reviewers to have a favorite choice as might be expected. However as time march on, it seems to become more and more difficult to make that decision. The availability of recorded high quality performances may show things such as passages that may have greater or lesser emphasis than is suggested by the score and therefore not accurately presenting the composer's intentions. Things such as that may have gone relatively unnoticed in some releases of long ago. Now performances and performers are competing on a more even or equal level.
With that in mind, this new performance of the outstanding first piano concerto by Tchaikovsky, reveals a solid and almost very mature performance by an artist in his early twenties, Daniil Trifonov. Yet in 2011 he was the Tchaikovsky competition's winner. He certainly appears equally at ease with the lyrical passages as he is with the more demanding forte' ones. The Mariinsky orchestra, now ranked, I believe, in the world's top twenty is fully and seemingly easily mastering the score and again is accorded excellent and full range recorded audio quality shared by piano and orchestra. Topping off my high recommendation is the addition of eight short pieces, not really encores, by Tchaikovsky, Chopin, Franz Schubert and Robert Schumann. It may or not, replace an old favorite release but newcomers to classical music should feel safe with this release of music that belongs in every music lover's collection. The closest the other Tchaikovsky comes close to sounding like this, is with some of his cute melodic dances in the Nutcracker ballet.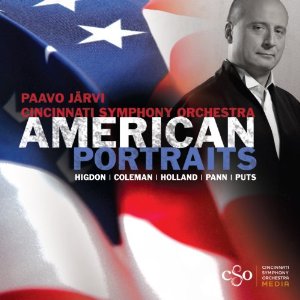 American Portraits. Coleman: Streetscape. Higdon: Fanfare Ritmico. Pann: Slalom. Coleman: Deep Woods. Puts: Network. Orchestra: Cincinnati Symphony' Conductor: Paavo Jarvi Cincinnati Symphony Orchestra MEDIA CD CSOM-945
Long time readers of this column are realizing strong hints of the days not too long ago with ties of this fine orchestra to the Telarc label. Now it is possible to see famed audio engineer Michael Bishop with Five/Four Productions, listed again, though no SACD releases yet. The music on this release is certainly contemporary music as far as I can see or hear. Also, I consider it to be modernly impressionistic. You should be able, just from the titles, to often guess what sounds or impressions you are likely to hear. This first composition listed, "Streetscape" was a commission by conductor Jarvi as was "Deep Woods" the fourth composition listed. The orchestra takes us to a noisy street that eventually becomes rather quiet and even perhaps melancholy as befits the setting late at night and early in the morning as nothing much is moving or making noises. The composer likens some of it to creative energy. His "role model" for the music's form was the famous Respighi's "The Pines of Rome". The noisy street returns and then some.
Next up, "Fanfare Ritmico", is a celebration of the rhythm and speed of life. Commissioned by The Womens's Philharmonic in San Francisco, composer Jennifer Higdon has evidently realized that the tempo of her life has speeded up in the more recent years. Many of us are wondering where has the time gone recently; welcome to our growing group Jennifer. Featuring beating drums it is easy to imagine what happens to that beat here. Pann's "Slalom is really neat and fascinating. After a performance by the famous London Symphony at the 2001 Masterprize Finals, this work is now often performed. It simply spins a ten minute tale of a specific downhill skiing event done at a severe tempo. The slalom event is the ten minutes it takes Pann to get from the peak of Mount Weaver, Steamboat Springs to the mountain base and that ends the composition; a very neat and compact package.
Holland's "Halcyon Sun" was commissioned by the orchestra to honor the new National Underground Railroad Center. He said that sparked visions of dark tunnels and pathways and a journey to the light at the end of the tunnel and a new life. He focused on the end of that journey here. Another by Charles Coleman, here inspired by a painting (photo) shown in the liner notes. The picture shows a dense forest of like black trees with no detail in the black upper portions of the painting. The bottom third of the painting is able to let light through revealing perhaps hundreds of tree trunks silhouetted against that backlighting. Kevin Puts' "Network" is an earlier work commissioned more than a dozen years ago. He says it reflected his interest at that time in "so called post- minimalists". It is rhythmic, metallic, and driving. His compositions now are definitely more romantic and lyrical.
There you have what I chose to call modern impressionism. Much of it is fun or interesting at least and perhaps surprisingly well recorded over the last few years. This release is an easy recommendation to anyone looking for something different and really interesting.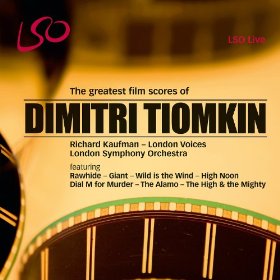 The greatest film scores of Dimitri Tiomkin. Orchestra: London Symphony. Conductor: Richard Kaufman. LSO Live SACD Hybrid LSO0720
I do not seem to remember anyone taking over the responsibility for recordings such as this one after the passing of Eric Kunzel and the Cincinnati Pops Orchestra. Kunzel inherited the position from the all time master of "pops" music, Arthur Fiedler and the Boston Pops Orchestra. I guess the demand for this kind of music is not as great as I thought. Personally I think there is wide-spread love of and demand for the "pops music" though maybe not from those willing to pay for it. As an aside, some of the popularity of Arthur Fiedler was his superb choice of music arranger, Leroy Anderson, also a quite fine composer in his own right. Anyone should be able to write about this type of recording and what it contains. Some of these all time great scores go back around sixty years ago and may have dropped from casual memory. I have a suggestion. I am only going to mention about a third of the famous at some period of time, scores. Then you can test yourself by not looking at title list when you buy your copy. That is fine, though I suggest, very highly, throwing a casual party (showing off your fine audio system) with a contest, individuals or groups, prizes or bets and so on. Winners name the most correct names of course.
To be really sneaky, in case of a tied score, the one that correctly identifies the most composers wins the tie. Only you and I know that there is only one composer here and I am not going to tell! Audio quality is as good as it gets at the Barbican and no group betters the London Symphony with this kind of music, and most others. There is a small chorus with some selections and where appropriate a male or female vocalist, unfortunately not the "old" original voice that helped make some of the songs famous classics.
Selections include: Giant, High Noon, Rawhide, Wild is the Wind, The Four Poster and the Sundowners.
This release is highly recommended, particularly if you are willing to play my suggested game.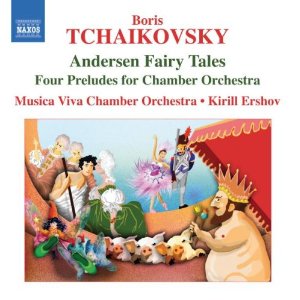 Boris Tchaikovsky. Andersen Fairy Tales. Preludes for Chamber Orchestra. Orchestra: Musica Viva Chamber. Conductor: Kirill Ershov. Naxos CD 8.572400
I hope you paid close attention to the composers' name of these selections. It is not the Tchaikovsky that most of you know and love, he of the famous ballets and the extremely popular piano concerto that begins this issue's reviews. Here is what the world famous conductor and cellist, Mstislav Rostropovich has to say about Boris Tchaikovsky. "I consider him to be a genius… I do think that one day people will come to know that two great Russian composers bore the same name." His training included three of the best contemporary Russian composers and included Dmitry Shostakovich. His compositions, as with many others got into some troubles with Stalin's cultural purges. The fine audio quality by Naxos is not severely taxed by the relatively small orchestra used here and the revealing recording adds much to the music's enjoyment. It is truly enjoyable music, outstandingly well performed and recorded with fine detail. There is no reasonable way for me to describe the varied selections on this plentiful recording brimming with overflowing melodies. Cute, cutesy, melodic, unusual scoring and instrumentation are all found here in great abundance. Playing length of time and development are limited though not as much as might be expected with forty-two named selections and passages here. Two of the suites are named the Swineherd and Galoshes of Fortune. It is fun and melodically musical and listening once is just not enough. Great music, it is probably not, though it certainly is fun and enjoyable. It reminds me of the great arranger and composer working for the famous Arthur Fiedler, Leroy Andersen. I sincerely believe that almost everyone will really enjoy this well recorded, top-notch release and play it more than once.
My very highest recommendation is easily awarded here and for all, including classical music newcomers.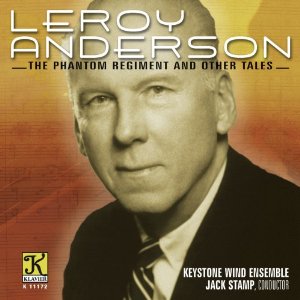 Leroy Anderson. The Phantom Regiment and Other Tales. Orchestra: Keystone Wind Ensemble. Conductor: Jack Stamp. Klavier CD K11172
I mentioned Leroy Anderson in the above Boris Tchaikovsky review and commented on great similarities to their musical compositions or at least my responses to them. I soon remembered this Klavier recording that had been resting somewhere nearby. I quickly located it and as with the aforementioned Tchaikovsky CD, placed it into the original SACD/CD showpiece Sony player of almost sixty pounds. It has the late Allen Wright's final years' upgraded efforts for VSE and with the Uber clock. Then I sat down and listened and then listened some more. Ah yes, nostalgia simply surrounded me. The title of the Phantom Regiment and its music I did not remember. Every thing else was still very familiar and drenched in nostalgia. Titles such as Bugler's Holiday, Blue Tango, Belle of the Ball, A Trumpeter's Lullaby and so very many others kept popping up. So very surprising was the famous end of the year Holiday music collection, seemingly having all those famous serious and pop favorites segueing together perfectly and done in less than ten minutes and never equaled in my not so humble opinion. Ah, I almost forgot the reason to listen to this Anderson release was to compare it with Boris Tchaikovsky's reviewed forty two short classical compositions. It is easy to say that Anderson's selections are more pop oriented and in general a bit longer with a total of only eighteen titles. There is more to it than that. Try both of them. I believe you will get a kick out of both of these delightfully fun and humorous releases. Absolutely top recommendations are necessary for both; enjoy and enjoy.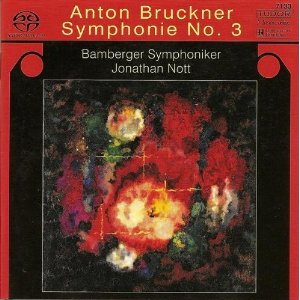 Bruckner. Symphony No.3. Orchestra: Bamberger Symphoniker. Conductor: Jonathan Nott. Tudor SACD hybrid 7133
Many years ago Bruckner and Mahler seemed to almost be lumped together musically. That is certainly no longer true though they do share some superficial characteristics. Length of playing time seems to be one they do share. This Third Symphony is also known as the "Wagner". Bruckner handed his score to the egotist and great composer Richard Wagner in Bayreuth in September of 1873. The former organist wrote his dedication as follows (Symphony in D minor. Dedicated to The Very Reverend Richard Wagner Esquire, the unrivalled, world famous and illustrious master of poetry and music, in deepest reverence, Anton Bruckner). Makes us know that Bruckner must have almost worshipped Wagner. Bruckner was easily influenced by others, even his pupils. This composition had given him more problems and caused more revisions than any other. The first version of 1873, and little more than an hour in length, is the basis of this performance release and had never been performed in his lifetime. I find it to be big, bold and powerful at times, yet surprisingly lyrical. As in the past, Nott's and the Bamberg Symphony's performances' seems to be spot on as I hear no obvious problems .The fine multi-channel recording leaves little to be desired. It is full, rich and powerful; with an almost projecting lower mid-range, results in a realistically sounding concert hall sound and ambience. This probably places most listeners around rows twelve to eighteen; loudspeaker choice and room acoustics greatly affect that. Fully recommended and do remember this is one of companies trying to give we serious music lovers the best quality sound-SACD in stereo and multichannel. We have to make it payoff for them or more will not appear.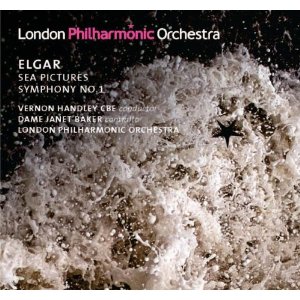 Elgar. Sea Pictures. Symphony No.1. Orchestra: London Philharmonic. Conductor: Vernon Handley. LPO CD0046
This recording may qualify as a historic release. The Elgar Society and the London Philharmonic had gotten together and planned a concert to mark the fiftieth anniversary of Sir Elgar's death. Heard here it was recorded live at Royal Festival Hall. This release was re-mastered with the two audio engineers each taking about half the recording. The Sea Pictures half is the orchestra backing, poems sung by an old favorite of mine, Dame Janet Baker. I had been privileged to hear her perform years ago in her prime. I am sorry to say that section of this release is a bit of a disappointment. Too distantly recorded and a general lack of clarity does great harm in that section of the recording. The Elgar First Symphony fares much better and can be recommended as representing a historic event recorded many years ago.
Rachmaninov. Morceaux de Fantaise Op.3 (Fantasy Pieces). Etudes-Tableaux Op.33. Variations on a Theme of Corelli Op.42. Pianist: Nareh Arghamanyan. PentaTone SACD hybrid PTC5186 399
Beautiful music for solo piano beautifully played by a relatively new artist, unknown to me is featured here. I am certain we will hear much more from her in the future. The melodic and lyrical passages get their full due in this release. The more powerful and passionate passages are what really shine so brightly. The audio quality of this SACD release featuring the solo piano, seemingly a German Steinway, is simply unsurpassed in my experience over the many years. Powerful, three dimensional and palpable into the bass range, it is almost stunningly realistic. Music lovers with high resolution systems will play this gem over and over again. I can almost guarantee satisfaction while awarding the highest possible recommendation. It is applicable to long time classical piano music lovers and the newest.
Last two SACD recordings from PentaTone's box set of ten featuring, "The first Ten Years":
Gordon Getty: Orchestral Music SACD Multi-channel # PTC5186 356
As varied as might be expected of contemporary compositions with excellent recorded audio qualities revealing outstanding performances by the Academy of St. Martin in the Fields conducted by, you know who as usual; Sir Neville Marriner.
Bruckner: Symphony No.7 SACD Multi-channel # PTC5186 370
Deserves comparison to the above reviewed third symphony with slight pros and cons. This solid composition needed no revisions as had number three required. Also found here are equally fine performances by Marek Janowski with the Orchestre de la Suisse Romande. (Remember them?)
So ends the last SACD recordings from PentaTone's outstanding box set, with a couple of bonuses and possibly still available from Amazon.