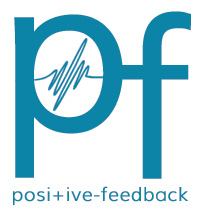 You are reading the older HTML site
Positive Feedback ISSUE 63
september/october 2012
Opus 3 Records One Reel-to-Reel Sampler Tape - In Pursuit of Musical and Sonic Nirvana
by Myles B. Astor
One. Open Reel Selection of Opus 3 Analogue Recordings. Track 1: Joakim Midler: "Here's That Rainy Day" from Consensus; Track 2: Knud Jorgensen: "Teach Me Tonight" from Teach Me Tonight; Track 3: Tomas Ornberg: "Black Beauty" from A Selection from Tomas Ornberg's Blue Five and the Swedish Jazz Kings; Track 4: Eric Bibb: "Where The Green Grass Grows" from Good Stuff; Track 5: Vaquero: (excerpt) from Tiny Island; Track 6: Granados: La Maja de Goya, Stockholm Guitar Quartet from A Selection from…; Track 7: J.S. Bach: Nun komm der Heiden Heiland (excerpt) from Musica Sacra, The Erik Westberg Vocal Ensemble and Mattias Wager (organ); Track 8: Ludwig van Beethoven: Scherzo from Symphony #2 in D Major from Stockholm Sinfonietta; Track 9: Bizet: Overture to Carmen from Best of Omnibus, The Omnibus Wind Ensemble. Playback EQ: IEC/CCIR, 15 ips/2-track. Total time: 33'20. Distributor: Audiophile Import Specialists, Tel.: 770-316-6831. Email: berg_kevin@hotmail.com. Price: One: $250; all other tapes: $450. For list of available tapes, see: www.opus3records.com/am_list.html. Opus 3 SACDs and LPs available directly from these fine Audiophile Retailers: Elusive Disc, Acoustic Sounds and Music Direct.
One is to tapeheads what Opus 3 Records' original test albums Depth of Image, Dynamics and Timbre are to vinyl lovers. Only in this case, the 15 ips, 2-track tape, surpasses—and by an appreciable margin at that—the sonics of the original LP issue. Listeners for the first time can fully appreciate the genius of Opus 3's charge d'affaires Jan-Eric Persson and why he's championed the Blumlein microphoning technique for so many years. Every track on One—spanning the musical spectrum from classical to jazz to world to blues—is sourced from the original analog master tapes (something that one simply can't be too careful about nowadays!). The gilding on the lily? Five of the nine tracks are available for the very first time in glorious analog sound (only tracks 2, 3, 4 and 6 were ever released in analog format)!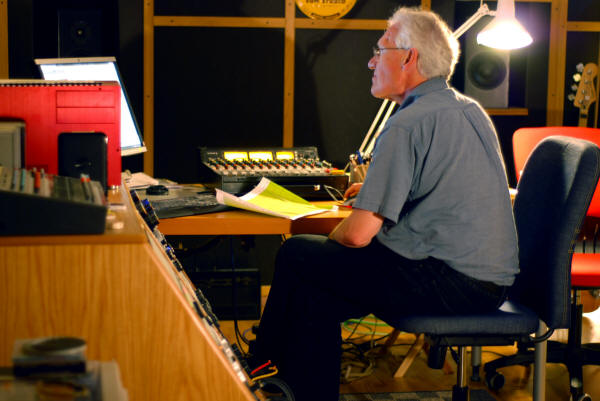 Perhaps one of the most important reasons for One's amazing sound quality is that it's a "true," second generation copy, sourced directly from the original master tape. Tape generation is everything and the closer the listener is to the master tape, the better the sound. Now, and rightly so, some readers might wonder what type of shape the Opus 3 masters tapes are in given their age? Unlike some of the major record labels, Jan-Eric went to great to preserve his irreplaceable master tapes including storing them in a special room where the temperature averaged 20˚C and never exceeded 25˚C.
So the $64,000 question is why after switching to digital, SACD and multi-channel audio, did Jan-Eric suddenly decide to backtrack and release his recordings on that antiquated medium reel-to-reel tape? The answer according to Jan-Eric is quite simple: "To cater to the needs of people for whom only the best is good enough and demand the ultimate in sound perfection." One certainly meets and exceeds Jan-Eric's goal (and more) and the tape's wide frequency response, unbridled dynamics, spatial resolution, transparency and low level information will put both your reel-to-reel machine and entire audio system to the ultimate test. Each cut is a pure, unadulterated sonic blockbuster ranging from the lowest lows of the organ to the midrange tonality of guitars and voices to the ringing of percussion instruments!
When Only the Best Will Do
Opus 3 Records, one of the longest continuously tenured audiophile record labels, was co-founded in 1976 by Jan-Eric Persson and Bo Hansson. Jan-Eric fell prey to the hi-fi bug early in life and could never shake it. In 1962, when little more than knee high to a grasshopper, Jan-Eric bought his first open reel tape deck; by 1971, he had made his first stereo recording. A mere five years later, Opus 3 Records released their first LP entitled Stan's Band (78-01). Jan-Eric's work has earned him numerous accolades including the Swedish Golden Microphone Award as the best studio recording engineer in Sweden (2003), the Swedish HIFi Life-time Award for his contributions to developing better sound (2008) and the Swedish HiFi Profile-Award (2011) from the Swedish HiFi magazine.
To this day, Jan-Eric still uses "a stereo microphone according to the Blumlein idea, i.e. a crossed figure eight pattern. He also points out that, "this is very similar to the X/Y technique, but the Blumlein is a special case! Jan-Eric recalls, "the basic idea was then to record music in the most authentic way possible, in many ways to 'reproduce' a real acoustic event, giving the feeling that you are there at for example the concert." Jan-Eric also shared that, "his principle reason for not using, for example, two spaced Omni microphones (called the A-B technique), separated by everything from half a meter to several meters, is the importance of capturing all the transients without any time difference between the channels." The reason why transients are so extremely important, Jan-Eric explains, "is because it is there that the timbre, i.e. the individual character of all the instruments and voices resides. The other reason to capture both channels at exactly the same time, has to do with the soundstage, i.e. to really reproduce the physical position of each and every instrument—both left to right and also the depth of image—this was exactly what we wanted to show with our first Test Record 1 in 1979! A 'blurred' transient affects both these thing negatively."
Jan-Eric's go to microphone is the highly revered AKG C-24 valve stereo microphone. "In all stereo microphones, the two capsules are located on top of each other and in the very same vertical plane! When it is Jazz or Blues and a double bass is involved," Jan-Eric adds, "we mostly use a special support microphone. (However, on track 3, it is only the C-24.)"
When it comes to putting the recording down, Jan-Eric's choice since 1978 is the legendary Telefunken Magnetophone M28C machine.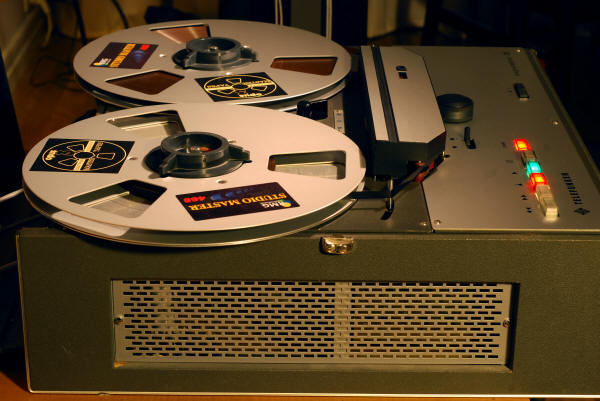 To make One, the master tapes were played back on a modified Technics 1500 reel-to-reel deck and recorded on the Telefunken machine. According to Jan-Eric, "the Technics mods were minor and consisted of adapting the deck for the IEC/CCIR equalization curve and the addition of a balanced output stage designed and built by the great microphone constructor/manufacturer Jörgen Thuresson."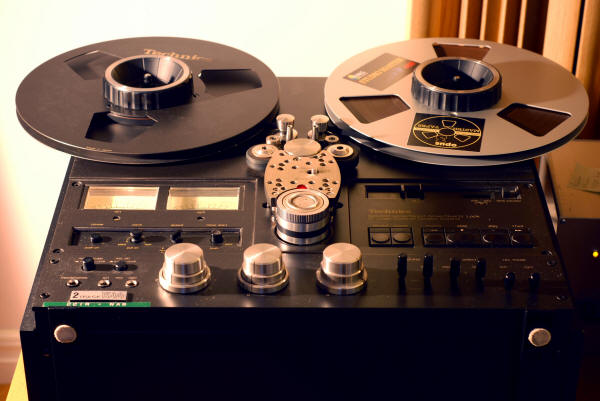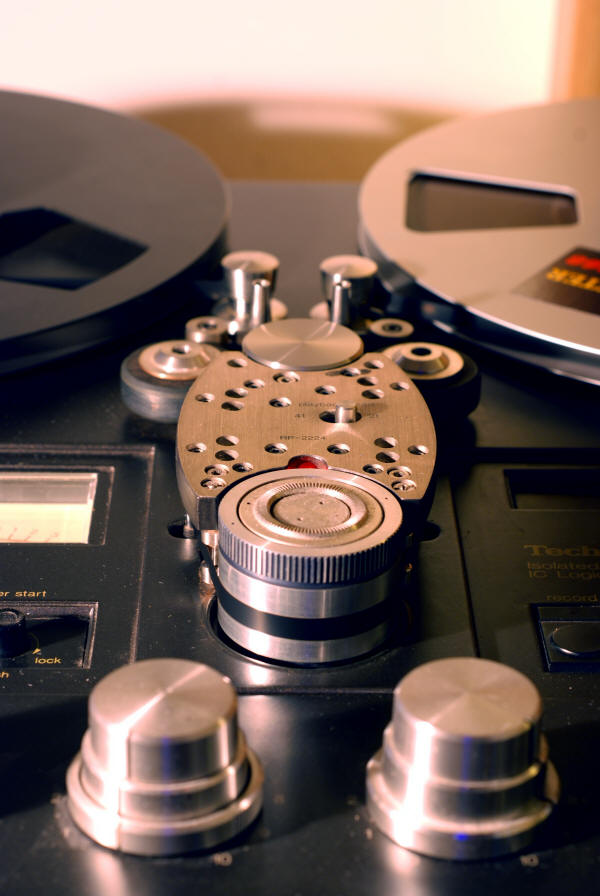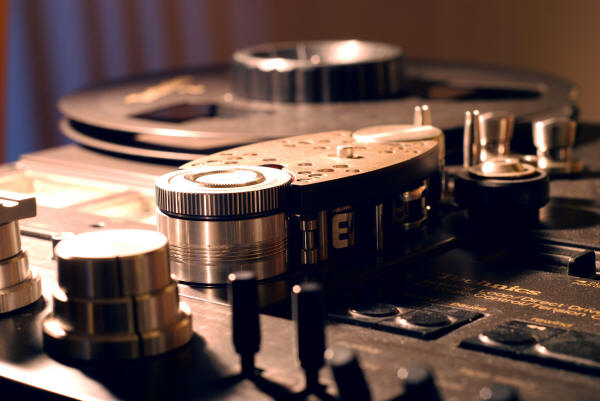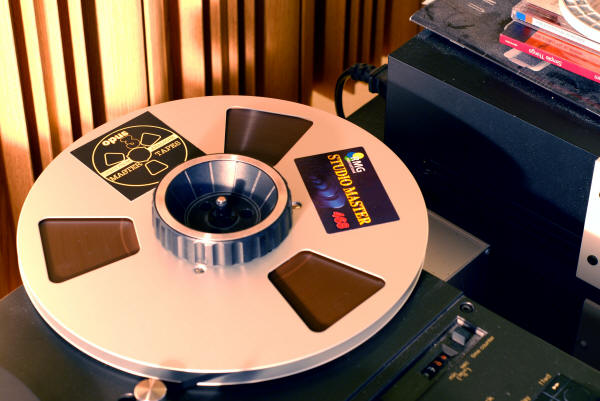 Pick of the Litter
Reviewing this tape reminds me of the difficulties Jason Stark faced writing The Stark Truth. In his book, Stark chooses the ten most underrated and the ten most overrated baseball players by position. Agree or disagree, the sort of book is bound to generate controversy, conversation and certainly no lack of opinions—and so too will this tape. No matter which tracks I enjoy, it's inevitable that every PFO reader will have their own list of favorite pieces from One. So without further ado, here are my top five selections from the group of astounding recordings.
The first track that really perked my ears up was Tomas Ornberg and company's rendition of Duke Ellington's Black Beauty (from Tomas Ornberg's Blue Five featuring Kenny Davern, Opus 3 Records 8003). Ellington composed Black Beauty in 1928 to honor the memory of singer, dancer, actress and social activist Florence Mills and the piece is widely considered one of his finest compositions. As no one seems to agree on the correct "pacing" when playing Black Beauty, Ornberg and company chose a tempo midway between the original quick Ellington and later, slower Cootie Williams arrangements.
Sonically, the hallmark of this recording is an unmistakable naturalness, realistic perspective, dynamics and timbre. Black Beauty simply lacks that sense of artificiality and mechanical quality all too often heard with other mediums, in particular digital. Completing the picture is when each member of the group takes their turns on Black Beauty. Images are rock solid and with tightly defined edges e.g. no bleeding of one instrument (or singer) into another.
Now my bias might be showing selecting the following track from one of my favorite Opus 3 artists Eric Bibb. For those unfamiliar with Eric Bibb, his father was Leon Bibb, a noted part of the early '60s NYC folk scene and his uncle was John Lewis, a member of the MJQ and a jazz pianist and composer in his own right. "Where the Green Grass Grows" represents Bibb's continuing music evolution replete with much more complex compositions. Culled from Bibb's 1999 release Good Stuff (Opus 3 Records LP 19401, 45 rpm), "Where the Green Grass Grows" features Bibb on lead vocals with capable assistance from his four backup singers and Christopher Lyssannides on guitar and Goran Wennerbrandt on slide guitar. (This duo also plays on Vaquero.)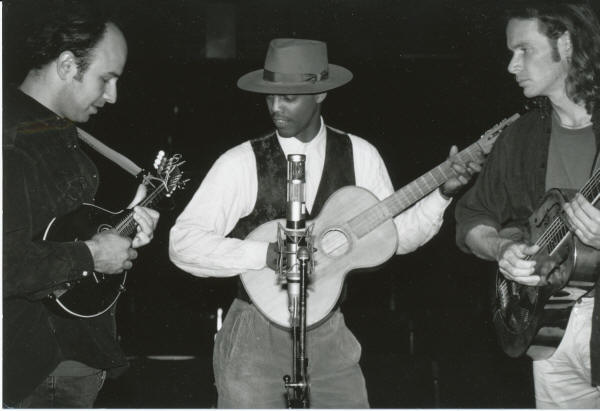 Good Stuff is one of the few recordings where Jan-Eric deviated from his purist recording technique using a separate Neumann U-89 mike on the bass only. This, as were three previous Eric Bibb albums, was recorded in a small concert hall with a natural ambience that gives the impression of the natural reverb of a live performance. Comparing the tape to the original LP release was particularly revelatory. While the sound of the LP is by no means chopped liver, the tape totally skewers it. In particular, the tape reveals far more than the LP where each of the musicians were positioned relative to the microphone. Although the accompanying picture was taken from Bibb's Spirit and the Blues sessions, Jan-Eric used the same positioning on Good Stuff and "Where the Green Grass Grows" with the AKG mike.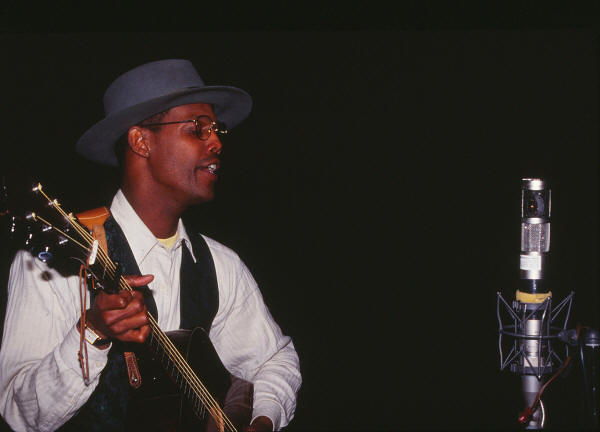 Perhaps most striking on "Where the Green Grass Grows" was how the tape, far more so than the LP, revealed the distinctive tonalities of each guitar. In addition, the tape also reveals a greater sense of each guitar's resonating body, more air surrounding Bibb and more space on the outside edge and behind the backup singers. In addition, there's far less blurring of the bass guitar lines on the tape. Add it all up and there's just a much greater feeling of Bibb and company being there!
The biggest surprise on One was Track 5, "Vaquero (excerpts)" from Tiny Island). Never before heard in analog, one could make a good case for Vacquero being the best sounding cut on the tape. Yes, this group backed Eric Bibb on "Spirit &The Blues" and "Good Stuff" (of course, depending on the track). What you'll find here is Brazilian music replete with some astounding rain forest effects in addition to an unsurpassed sense of acoustic space! The acoustics of this 13th century stone church really stand out in contrast to the other recordings featured on One!
Track 6, taken from Opus 3's first real bestseller Gitarr-Kvartetten Transkriptioner (Opus 3 Records, 78-10), is probably very familiar to many old time audiophiles. Recorded in 1978 in Botkyrka church using a stereo Blumlein microphone arrangement, i.e. with a crossed figure eight patter, this cut features the renowned Stockholm Guitar Quartet playing Grandados' La Maja de Goyas.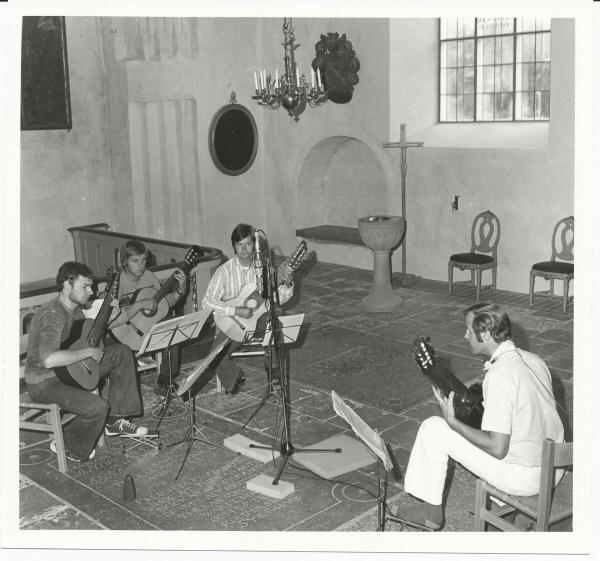 What's very unique about this group is that the quartet plays four very differently voiced guitars including a contraguitar tuned 1/4th lower to bass guitar, an alto guitar tuned 1/4th higher to a soprano guitar, a bass guitar and guitar. This unique tuning allows the Stockholm Quartet to span a 5½ octave range. (Inside the original album is a photo of a very young Jan-Eric working slaving away on his Telefunken machine!)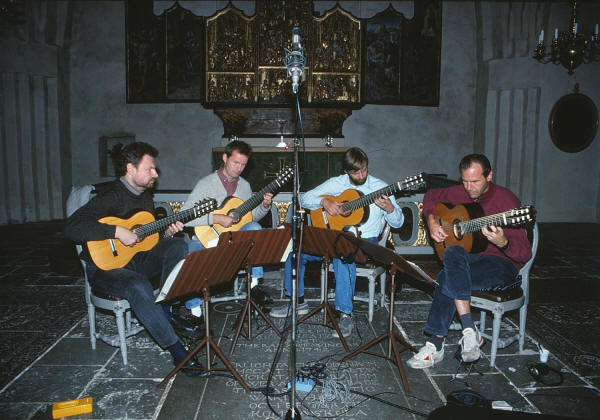 How does the tape sound compared to the original LP version? Quite simply, there is no comparison: the tape exceeds the sound on the album in practically every way. The tape possesses greater instrumental focus, dimensionality, transparency, dynamics, liveliness and harmonic information. But where the tape really stands out in contrast to the record are in the areas of subtlety and timbre. Guitars just stand out in bold relief and the distinctiveness of tone of each guitar is unmistakable.
Last, but not least, and hands down the best track on One features the Eric Westberg Vocal Ensemble performing J.S. Bach's Nun komm der Deiden Heiland (excerpt) (Now Come Savior of the Heathens) from Musica Sacra. This recording is an absolutely stunning rendition of a choir performing in small concert hall; the listener can literally close their eyes and be transported back in time to original recording venue. Jan-Eric shared that, "for this choir/organ album, the microphone was positioned on a very high tripod approximately 7 to 8 meters up at the level of the organ and where the choir was standing at the gallery "in front" of the organ, just behind the organ player, Mattias Wager—a place where they weren't "shielding" the organ, so to say. (This is in contrast to the following Beethoven piece where the C-24 was positioned very close to the place where the conductor was standing and at least 2 meters above his head.) This recording was made according to Jan-Eric, "with an AKG 426 instead of an AKG C-24 because the recording required a quieter microphone; on the other hand, this mike used the same capsule as the C-24."
The Bach piece is a system buster and will put those subs to the test! The organ has a weight, dynamics and ability to move air that simply just isn't found on LP, in part because of the limitations of the medium as well as monoing the signal below a certain frequency. There's a sense of spaciousness and envelope of air around the singers that is only hinted at by the best choral LP recordings.
The Best of the Best?
No card carrying tapehead should be without this sampler tape! Even if you don't own (or ever contemplate owning) a reel-to-reel machine, it's worth hunting someone that does or make it a point at one of the audio shows to ask exhibitors like Greg Beron of United Home Audio to demo a couple of selections from this absolutely amazing sounding tape. It'll be an experience you'll never forget. In fact, perhaps Jan-Eric can be persuaded to do Two featuring cuts from noted Opus 3 artists such as Cyndee Peters, Eric Bibb, Yuyichifca, Maytan and Friends, etc. for those who don't want to purchase a whole tape with cuts. Until then though, don't miss this incredible sampler tape.
Contact and purchase information: Kevin Berg, Audiophile Import Specialists, berg_kevin@hotmail.com, Tel.: (770) 316-6831. (Opus 3 SACDs and LPs directly from these fine Audiophile Retailers: Elusive Disc, Acoustic Sounds and Music Direct.) One: $250; all other Tapes is $450. Allow 2-4 weeks for delivery.
Photo credits: Telefunken and Technics machines and Jan-Eric Persson courteously provided by Hugo Thorsin; Eric Bibb and Stockholm Guitar Quartet generously provided by Jan-Eric Persson.