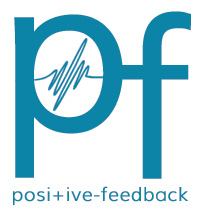 You are reading the older HTML site
Positive Feedback ISSUE 64
november/december 2012
Audioholics Get Together - Tampa Bay, Florida, October 2012
by A. Colin Flood
Was it the depression? Was it the iPod, Netflix and Pandora to blame?
Remember stereo stores? Remember the Tweeter chain of audio stores? Tweeter had more than 100 stores in 18 U.S. states, mostly along the east coast, operating under the names Tweeter, HiFi Buys, Showcase Home Entertainment and Sound Advice.
Remember Sound Advice? They were a retail chain of high-end audio and then video products with 24 stores in Florida, including five Bang & Olufsen specialty stores.
Remember when you went to an actual store to learn and hear great home and music reproduction systems?
Without high-end retail audio/visual stores anymore, how do you shop for quality systems today? How do see and hear dream systems?
The answer is a combination: reviews you trust, audiophile clubs, YouTube clips and audio shows. At consumer audio and visual trade shows, such as AXPONA* (Google for author's review) and Audioholics Get Together, you see and hear quality equipment NOT typically sold in big box retail stores like Best Buy…
Scattered on three different levels in a seaside resort hotel last weekend was a small, new audio/visual show in Tarpon Springs, near Tampa, Florida. Audioholics is an audio/visual forum, now with its own online store. The site was founded by electrical engineer Gene DellaSala in 1999. He is a fusion jazz and progressive rock music lover who plays keyboard and drums. DellaSala tries to bring objective and repeatable testing methods, measurements and analysis into the A/V industry to counter marketing myths and claims. His goal is reproduction as close to un-amplified music as possible.
Audioholics does NOT have a retail showroom. Their online store is a completely separate, independently-run entity, licensed with the Audioholics name. The next Audioholics show maybe be about the same time (early November) next year. DellaSala says, possibly "at a beach resort in Sarasota or Clearwater" [Tampa area].
Audioholics started doing these shows in 2007. They did them for 2 years until the economy crashed. "This is our first venture back," DellaSala said," and it was a success, so we will be expanding it next year. Our goal was to bring manufacturers and consumers together to experience the products in an intimate setting with plenty of time to enjoy and learn rather than rush around a busy show-floor like some of the larger Expo shows." Videos of 2007 and 2008 shows are online at www.audioholics.com/news/trade-show-coverage/videos/
As a consumer, the 2012 show was NOT much more than the big Tweeter/Sound Advice stores of old; a few high-end display rooms. Yet the show operated smoothly: plenty of help running around in Audioholics t-shirts, easy registration table (and free chair massages) in the lobby; large attractive, waterside room for pinnacle Salk exhibit; long action movie clips in the popular Emotiva theater, sub-woofer master Hsu was there with both his massive and small products; an new, interesting tube amplifier and a FREE, healthy lunch was served. It was a tiny taste of AXPONA in my hometown.
Best in Show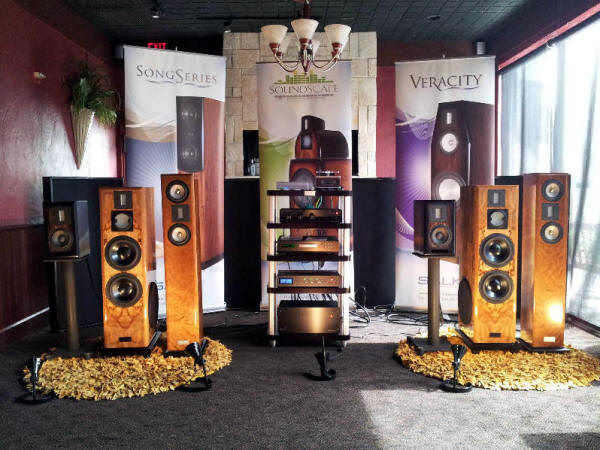 The highest quality system at the small show was the Salk room. A dining room located behind the bar, at the other end of the hotel, this showroom had double sliding-glass doors facing a canal full of boats. Such magical Florida setting brings snowbirds flocking down for the warm winter season. Like many of the hotel rooms used for the vendor system demonstrations, this one had some acoustic panel treatments.
In the Salk room, the $8K Soundscape 8s clearly demonstrated the competency of true high-end quality loudspeakers. The Salk loudspeakers are renown for their beautiful wood work and these models were no exception. In their naked "coneness," looking like marble, the burled pattern was sumptuous.
Topped by an off-center Raal ribbon tweeter (to counter rear dispersion), and an open-back mid-range driver, the bi-amp-able 8s use a pair of 8" woofers, and two 12" passive radiators, for a deep sounding F3 of 25Hz, at 87dB efficiency. Specs say the 8s are incredibly flat (+/- 1.5dB) over the entire range of human hearing (25 to 20kHz) and only vary (plus or minus) 3dB from 25Hz all the way to 60kHz.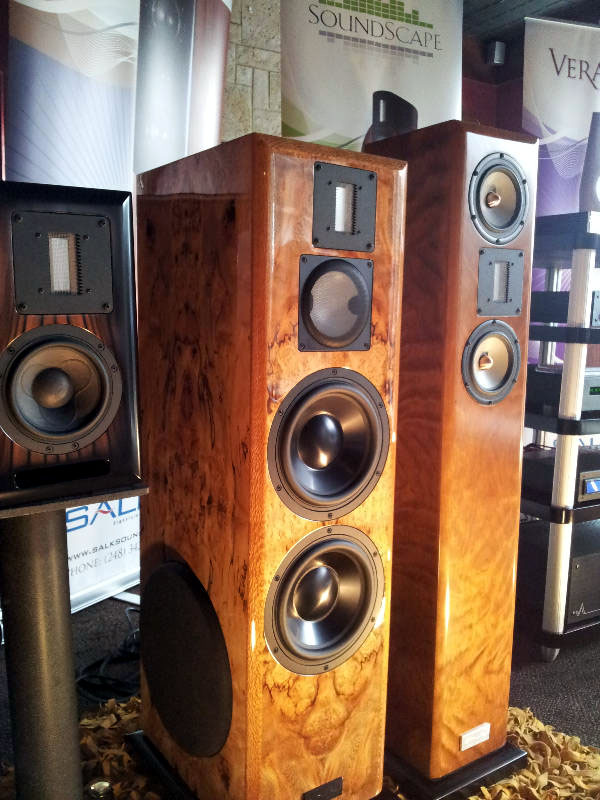 Powering Salk's iPad controlled Salkstream music system were components from Audio by Van Alstine. The Van Alstine preamplifier certainly reminded me of their Dynaco inspired roots. Power was Van Alstine's 600-watt black box. Together, the 8s had impressive dynamics and orchestral details.
The 8s' upper and low-end frequency response puts the 8s in the same league as the 50% more expensive Jaton's A3s ($12K)*. Indeed, the brief demonstration revealed much of the same capabilities and competency. Low organ pedals moved air through the room like a giant's slow sigh. The ribbon provided enough treble to balance the prodigious mid and deep bass.
The Van Alstine and 8s combination gave Sarah McLachlan's piano both body and weight. To capture the soundstage and imaging, I sat closer than I expected to with such large speakers in such a large room. Yet, it seemed as if even 600-watts was NOT enough power for exceptional high peaks at very loud volumes in this large room for these 4-ohm loudspeakers.
Salk's prototype bookshelf loudspeaker (might be $3500 or $3900?) was amazing in comparison to the Soundscape 8 towers! There was very little difference—in the brief passages I heard at normal volumes—between the 2-way cone and ribbon bookshelves and the powerful towers. I suspect their new Bookshelf loudspeakers will be a winner for Salk.
Best in Theater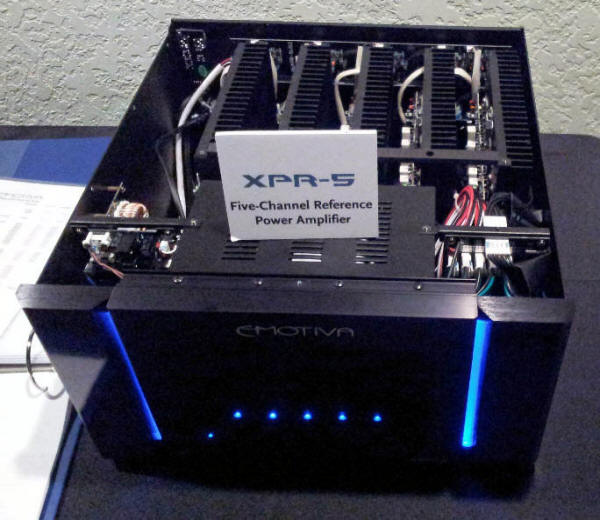 The most popular room was the large Emotiva movie theater. The first thing you see in the room though are their large, openly topless XPA and XPR amplifiers. I always thought of Emotiva as a kind of Outlaw "value for the money" A/V competitor. But one look at the guts inside that amplifier and I realized that I would have to pay more attention to Emotiva.

Broadcasting from a tower of power in the center of the room in the Emotiva theater, on a crisp 120" Severtson screen with a Epson Procinema 6020 LCD projector, was a Emotiva system with their new XMC-1 A/V processor, XPR-5 amplifier, XSP-1 Differential Preamp, a new $500 Pre/pro and matching $500 UPA-500 5CH amplifier. Here and in the EMP room, both home theaters displayed prodigious and boomy bass pounding, but with a horrible movie, "Battleship." (Horrible meaning bad CGI, lame plot, weak dialogue and no acting.)
Severtson was created in 1986 to find a quality optical coating for the Air Force's domed simulators. Beginning in 2009, Severtson became a full-service cinema screen manufacturer. Customers include IMAX, AMC, Cobb, Disney and NASA theaters.
Lunch with the Severtson representative though was very informative. From now on, I will never assume that the whitest screen is always the best for home theater (a dull gray one might provide more vivid colors in some rooms).
Impressive Value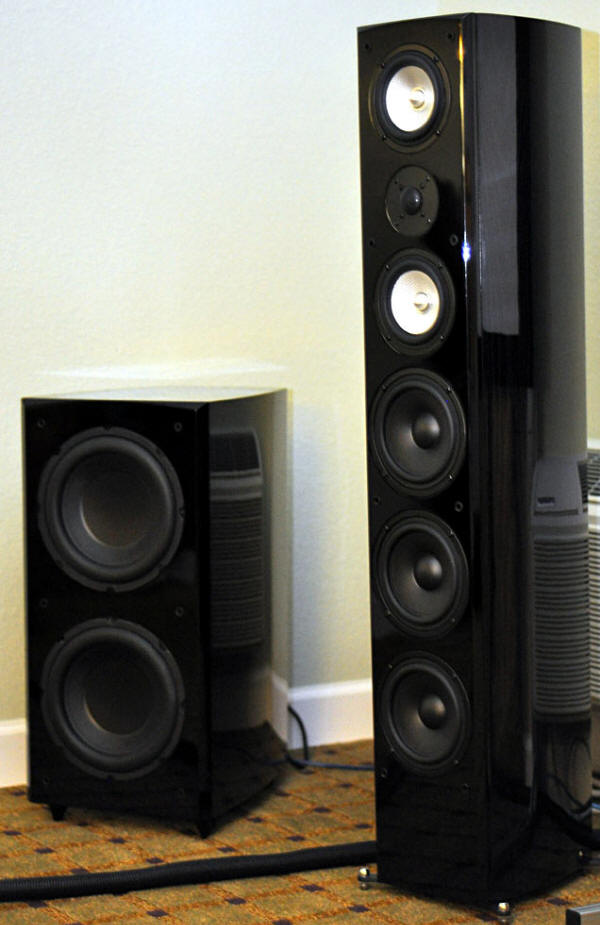 The bass in the EMP Room was almost as impressive as Emotiva theater with its $1500 demo system. The system included E55ti towers, E56ci center, E55wi surround loudspeakers and ES1010i subwoofer. EMP used Yamaha RX-A1010 A/V receiver and Oppo BDP-93 Blu-ray. They also used an Epson Cinema 6020 LCD projector with their 93" Severtson screen (gain 1.3).
Size Does Matter
A woman outside the Hsu Research connected bedrooms said "all I know is that I want small." I hope she was referring to the $149 bookshelf marvels Hsu used to match with his gigantic VTF-15H sub-woofer. The sub has 1400-watts peak, tuned to a very deep 16Hz with a front firing 15 inch gun. The crossover slope is a steep 24-dB per octave. You need such a steep slope to match subs with full-range loudspeakers properly.
The rumbling VTF-15H giant weighs 100 pounds, costs a thousand bucks and is about two feet square. Together with the Hsu bookshelf loudspeakers, the gentle 16-Hz earthquakes of the Hsu sub clearly showed how important bass reproduction is to quality home and music reproduction systems. It easily out-classed their loudspeakers. All I know is that I want BIG subs.
The Angel City room was the biggest disappointment. Angel City Audio is about 40 miles east of the Angel City, in California. They came all the way over to the other coast for this show. Angel had a Class A, Melody integrated stereo tube amplifier I was anxious to hear.
Their 88-pound Melody AN300B has four power 300B tubes for 22-watts and $7299. Either it was the music, or the loudspeakers or the room, but driven by the Oppo BDP-95 player, none of my brief listening sessions impressed me. So I would love to hear this amplifier and their $1929 entry-level amplifier on my big ole horns.
Without high-end A/V stores, how do you shop for dream systems? The answer is reviews, clubs, YouTube and fun consumer shows like Audioholics Get Together.