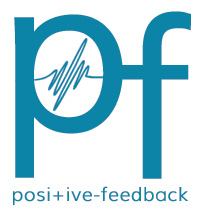 You are reading the older HTML site
Positive Feedback ISSUE 64
november/december 2012
The 9th Annual Positive Feedback Online's Writers' Choice Awards for 2012 - The Best of the Best!
Beginning at the end of 2003, PFO established its first annual awards for fine audio. The Brutus Award was established for the best that Dave Clark and I had heard in our own listening rooms during that year. You can think of it as our equivalent of an "Editors' Choice" award.
The Gizmo Award, on the other hand, was established in memory of my very good audio friend, Harvey "Gizmo" Rosenberg, and is given by me to the most conspicuous audiomaniac(s) of the year. Only one Gizmo is given per year.
The following is an opportunity for our editors and writers to recognize superior merit in the audio arts though their "Writers' Choice Awards". Our writers and reviewers have been given broad leeway to cite excellence in fine audio wherever they find it: products, people, recordings, events, groups, etc., so that our readers can be better informed.
It is our hope that you will find the PFO Writers' Choice Awards to be helpful to you in your audio journey.
All the best,
David W. Robinson, Editor-in-Chief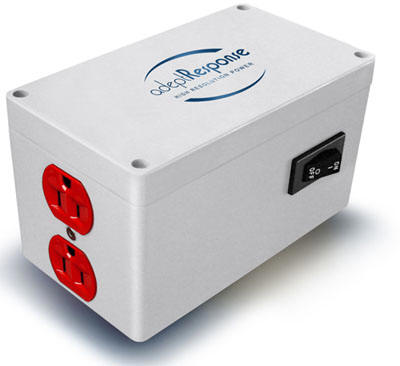 Audience aR2p-TO Power Conditioner
Despite being Audience's smallest power conditioner, the Teflon-capped, dual-outlet aR2p-TO incorporates the same technology that's made its larger stablemates so respected and revered by audiophiles. Forgoing only the last word in fancy casework and component-to-component isolation afforded by the more expensive Audience aR6 and aR12 models, the aR2p-TO dramatically improves a system's sense of clarity, space and musical flow. Unlike many other conditioners, the aR2p-TO evinces no accompanying truncation of dynamics or reduction of bass impact. Elevating itself from mere accessory, the Audience aR2p-TO has become an essential part of my system. $1600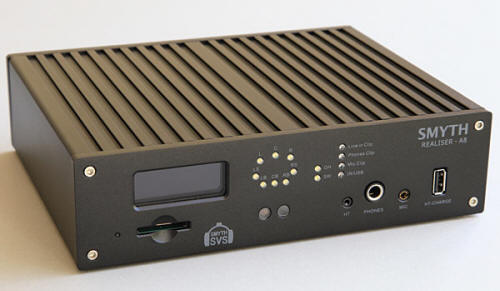 Smyth Research Realiser A8
The Smyth Research Realiser A8 has completely revolutionized the manner in which I listen to music. With its indistinguishable duplicative emulation of all aspects of a loudspeaker-based audio system and its environs for later playback over headphones, the Realiser A8 affords financially-limited and space-encumbered audiophiles the ability to enjoy their two-channel and multi-channel music and movies virtually via the most advanced and superbly-assembled audio systems. The tonal and spatial realism captured is simply uncanny. Best of all, audiophiles can "collect" these virtual systems and switch amongst them on the fly. The Smyth Research Realiser is truly the most innovative audio advancement I've encountered since becoming an audiophile. $3760 with STAX SRS-2170 electrostatic headphone system; $2910 without STAX headphones or amplifier,
Kimber Kable Hero AG
While not formally reviewed for Positive Feedback, my third nomination for PFO's 2012 Writers' Choice Awards goes to Kimber Kable's remarkable Hero AG interconnect. With four conductors of hyper-pure VarsiStrand silver and premium WBT-0102 Ag connectors, the Hero AG justifies its not-inconsiderable price tag with sheer sonic prowess. The Hero AG successfully melds delicacy and nuance with supreme levels of resolution, revealing subtle midrange and soundstaging details obscured by lesser cables. Remarkably neutral, the Hero AG represents a pellucid window to upstream components and source recordings. $1848 for one-meter length terminated with WBT-0102 Ag connectors.
2012 was an extremely fruitful year with no less than eight new high-end audio gear products (four accessories, two cartridges, one phono stage and one amplifier) receiving consideration for PFO's vaunted Product of the Year award. After much gnashing of teeth, the three awardees, selected because they above all others, really elevated the reference system's believability factor are:
Co-Winner: Silver Circle Audio Pure Power 5se Power Line Conditioner and Furutech GTX-D (Au) AC Receptacles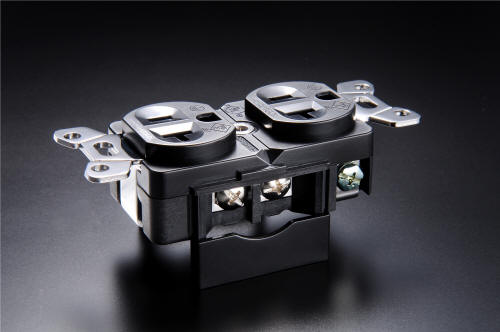 This was a clear cut case of which came first, the chicken or the egg playing out. Try as I may, it was absolutely impossible to separate the sonic improvements wrought by plugging the audio equipment into the Silver Circle Audio 5se Power Line Conditioner or the Furutech GTX-D (Au) AC receptacles.
It's no state secret that what comes out of the wall socket profoundly affects the sound of every high-end audio system and that's where the SCA 5se steps into the fray. The SCA 5se markedly reduces that oh-so frustrating day-to-day sonic variability as well as markedly enhancing the system's transparency, ability to see in the "minds eye" to the furthest reaches of the soundstage, low frequency extension and linearity and eye popping imaging.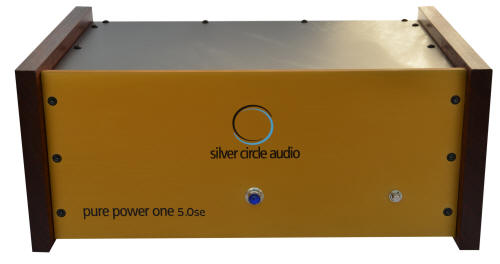 None of the improvements would be possible, however, without the Furutech GTX-D (Au) AC receptacles used by designer Stanard in the Silver Circle 5se and by me in each of my dedicated AC lines. Ignore at your own risk, but these Furutech's grip the AC plugs tighter than OJ's glove and bring to the music a new found sense of quietness, weight and solidity, effortlessness and dynamics.
Silver Circle Audio Pure Power 5se Power Line Conditioner $7500
Furutech GTX-D (Au) AC Receptacles $220 each
Doshi Audio Phono Stage
A relatively new entrant in the phonostage sweepstakes, the Doshi comes with gobs of gain (72 dB) and doesn't throw in the towel even when confronted with the Ikeda 9TT cartridge's miniscule 0.15 mV output. Remarkably neutral from top to bottom of the frequency spectrum, its vanishingly low noise floor allows the Doshi to retrieve previously unbeknownst musical subtleties as well as recreating more of the silence between notes. Combined with the likes of an Atlas, Ikeda 9TT, or ZYX Omega (Gold or Copper) cartridge, the Doshi's extraordinary dynamics, tight bass, see through quality, ability to reproduce the sense of a hall or club and freedom from distortion on dynamic peaks are oh-so reminiscent of reel-to-reel tape.
Realizing the Doshi's "full" nee last 10 to 20 percent of performance, does, however, require some tube rolling; the good news is that this tube rolling project doesn't need to cost an arm and a leg. To begin with, owners don't really need to go any further than substituting a pair of Platinum Mullard CV4024s (available through Upscale Audio) for the unit's stock Canadian/GE 12AT7s. Alternatively, a pair of far more expensive NOS Telefunken ECC801S will give a smidge different, though not necessarily better, sound. As far as the ECC83s go, replacing those God awful JJ/Tesla ECC83s with four Tungsol (reissue) ECC83 fits the bill quite nicely. Alternatively, plugging in two pairs of mid-60s to 70's vintage Tesla ECC83s brings one ever so close to the "cherished" Telefunken sound. (With the advantage that "real" NOS Teslas are somewhat easier to source than "real" NOS Telefunken ECC83s.) $9995
Matthew-James Cello Encore Monoblock Amplifiers
Yes, Cello Electronics is still alive and kicking, though for most part flying extremely low under the radar since being acquired by former Madrigal and Cello National Sales Manager Jim McCullough in the '90s. Based upon the circuitry and driver stage originally developed for the Cello Performance amplifier in 1986, the new Encore amplifiers pay even more attention to the parts quality, reliability, power supply and resonance control.
What really differentiates this four box Class A/B (each channel has a separate power supply) monoblocks from the competition—not to mention the difference in heat given off between these solid-state and my conrad-johnson ART amplifiers—is the amplifier's unparalleled ability to effortlessly drive the Martin-Logan Summit-Xs and bring the music to life. These amplifiers bring oodles of dynamics and a sense of ease to the best of my 15-ips/2-track tapes to life (coincidentally, my reel-to-reel electronics are based upon the Cello Audio Suite's original 603 module). Furthermore, there's no doubt that the amplifier's enormous power reserve (500 watts into 8 ohms or 1 kW into the Martin-Logan's nominal 4 ohm load) is in large part responsible for the system's sense of ease.
No matter, sheer brute force without finesse is pointless. With the highest resolution source material at my fingertips e.g. 15-ips/2-track tapes, the Cello Encore amplifiers cross into rarified territory only previously experienced with tube amplifiers. Exceptionally transparent (especially when combined with the Cello Strings interconnects and speaker cable), the Encore amplifiers couple tube-like dimensionality with shocking amounts of spatial and harmonic resolution. Couple that with the amplifier's speed, precision and tightness at the bottom end and one has a true world-class amplifier. $17,500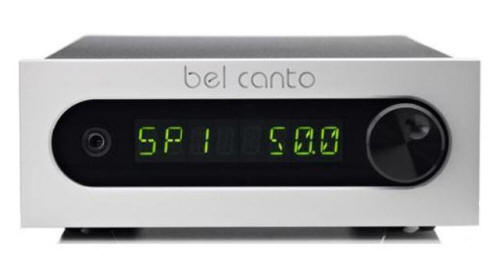 Earlier this year I had the opportunity to evaluate Bel Canto's C7R receiver. I was very impressed with the C7R's musical nature, robust power, and great versatility. Since then, the C7R has been in my possession for several months and unit has consistently performed admirably. From sipping morning cups of coffee with classical FM to explosive battles on DVD with the family to lazy afternoons of iTunes playlists to late night listening sessions of solo piano on LPs with headphones, the unassuming C7R delivers transparency, pace, and harmonically rewarding musical experience. I can think of no greater compliment than to state that I have decided to purchase the unit. Therefore, my award for Best All-Around Musical Performer goes to the Bel Canto C7R. The C7R has that rare combination of substance, style, and real world price that should give listeners years of musically satisfying service. $2995
Esoteric K-01 CD/SACD player
Without doubt, the K-01 CD/SACD single box flagship player is the most refined sounding front-end component ever to grace my system. Created in the great Esoteric tradition, K-01 is a 55 Lbs. mechanically inert masterpiece of sculptured Aluminum slabs bolted onto a stainless steel structural heart. Its quietly elegant styling matches the P-02/D-02 combo player, and reminds me very much of the essential lines of the latest and so diminutive Apple iPhone 5.
K-01 features eight AKM 4399 32-bit DACs per channel in octal differential configuration. Its full complement of filters include two Finite Infinite Response filters (FIR, a pair of Slow Delay filters, (a.k.a apodizing filters), a DSD filter, as well as a no filter option for "digital purists". Upsampling options range from 1X, 2X, up to 4X. K-01 supports a full complement of digital inputs, and its XLR and RCA connectors are capable of driving an amplifier directly through variable output, or can be connected to a more traditional preamplifier.
Already pleasing just out of the box, 600 hours of break-in on each filter gradually reveals K-01 to be a master of refined musical reproduction. Slightly stark on the basic unfiltered 1X setting combination, the sound of K-01 blossoms up to the supremely synergistic combination of 4X upsampling applied to the Slow Delay 2 (Sdly2) filter. This is the combination where, while sunk into my listening chair, I discover musical nirvana: K-01's sheer resolution is matched by the highest harmonic density I have ever heard in a single box player, an exquisite grace in the treble region, and a magnificent transient speed and authority that never strays into the excessive. $23,000
Jeff Rowland Design M725 Monoblock Amp
In some ways, the JRDG M725 monoblock amplifier marks the return of Jeff Rowland to his class A/B designs of such beloved classics as the M7 and M9 powerhouses. After all, M725 deliver that liquid Rowland sound, completely devoid of any granularity, yet rich in harmonic content, that made me fall in love with the massive M7 monoblocks some fifteen years ago. Like the M7, M725 drive relatively difficult speakers such as the Vienna Music with astonishing ease and tremendous authority. On the other hand, M725 is hardly a retrospective achievement of Jeff Rowland's Career: That classic Rowland golden glow with its almost imperceptible euphonic accent in the midrange has morphed into a spatial transparency that suffuses a grand stage where concrete instrumental images exercise our sense of hearing with a harmonic filigree that appears to suffer of no peaks nor troughs across the audible spectrum, and a surprising control an authority which surpasses my expectations for their declared power of 330W over 8 Ohms. Hence, the sound of the gorgeous Rowland M725 monoblock power amplifier defies facile appellations of tube-like or solid-state-like.
The M725 class A/B fully balanced circuitry is sealed inside the chambers of what amount to twin Aluminum machined vaults. Even the bottom covers, that slide into place with a swoosh of escaping air, are milled from 3/4 inch-thick TA-66 Aluminum plate. Characteristic of Rowland obsessive attention to detail, both the outer and inner sides of each cover plates are diamond-finished with the signature Rowland spiraling pattern.
As undeniably elegant as M725 are, Their enchanting sound is not the simple outcome of outward beauty, but is the product of Mr. Rowland's deliberate design and component decisions: The circuit is implemented on "mil-spec, multi-layer, low dielectric constant, Rogers™ ultra-rigid ceramic circuit board substrate. "The circuit is based on "separate Class AB voltage and current gain blocks with no overall negative feedback," and makes extensive use of Lundahl transformer coupling for its I/O. The tremendous power reserve of these moderately sized amplifiers is found in their power supplies: Each chassis is equipped with a 1500-watt switch-mode power supply (SMPS) that includes a Power Factor Correction (PFC) unit and a bank of unique 4-pole capacitors. $28,000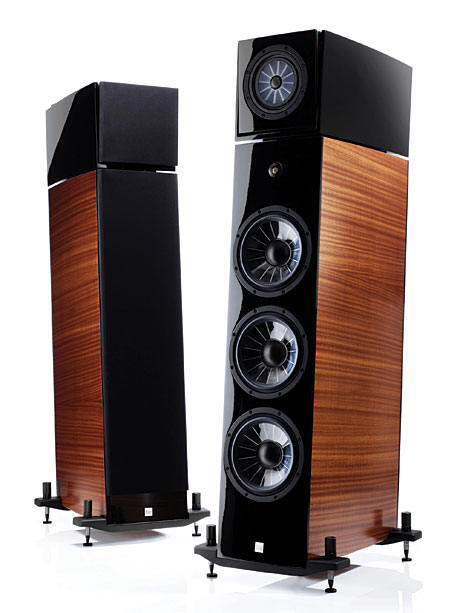 Vienna Acoustics The Music 4-Way Speaker
The elegant lines of The Music speaker by Vienna Acoustics contour a veritable technological tour de force that deliver a powerfully textured world of sound that is as immersive as it is luminously enchanting.
Each 180lb 4-way speaker consists of two cabinets: the adjustable Music Center head is fastened to an articulated yoke-mount, which pivots on top of the main cabinet. Two massive milled aluminum foot braces are bolted to each bottom plate.
The Music's are quietly stunning: they exude that understated elegance of the European object d'art. Available in two finishes: gleaming piano-black lacquer, or satiny Sapele veneer, their vertical baffles have been imparted an almost imperceptible cylindrical convexity, while the entire articulated structure is faintly raked back by five degrees to facilitate driver time-alignment, resulting in a three-dimensional totality that is subtly mesmerizing.
For The Music, Vienna Acoustics' Peter Gansterer has designed a coincident flat midrange-tweeter array u sing advanced computer modeling software. The driver, mounted in the Music Center head, serves frequencies ranging from 100Hz to 20kHz, free of any midrange horn loading or other distortive discontinuities. A proprietary supertweeter developed by Vienna Acoustics extends The Music's frequency response above 50kHz, and enhances Music's ability to resolve the lowest level cues that outline acoustic space and instrumental images.
Three 9-inch Spider-Cone™ NAWI Hyperboloid Bass Drivers are mounted vertically to the front baffle of the main cabinet, and let The Music reach below 20Hz. The drivers' curved surface becomes gradually steeper toward the central throat of the diaphragm. The surface follows a complex mathematical function called a non-developable hyperboloid, or Nicht AbWIckelbar in German (NAWI).
The Music's technological excellence correlates to their musical performance. With extensive setup, and break-in of more than 1500 hours, the VA flagship speakers develop into amazing musical instruments—a veritable source of joy, capable of illuminating the faintest musical nuance, as well as delivering the most powerful sonic authority. Their technological roots have borne a fruit that is more than deserving of the Viennese pedigree. Recently, while The Music's majesty was driven by a pair of Rowland M725 monoblocks, and I was compelled by the overwhelming grandness of Rachmaninov's Symphonic Dances for two pianos, performed by Emanuel Ax and Yefim Bronfman, I decided to make the review pair my very own. Thus The Music's by Vienna Acoustics are—and shall remain—my reference speakers. $27,500 USD
I always cringe a little bit when the esteemed Positive Feedback Online Editors Dave Clark and David Robinson send out the call for the Annual Positive Feedback Online's Writers' Choice Awards, as it means that it is once again time to sift through the past year of reviews and identify only 3 items for an award. As our dear Editors make very clear every year, "This is for THREE (3) components, music, whatever, only! That is 3! Not 4, not 5, not 6... but 3".
Like always, I very carefully vet each and every item I accept for review, as my time availability for writing and reviewing has been more limited than I'd like lately, so pretty much everything that I have written about for Positive Feedback Online in 2012 was a winner in its own right. So that means that I had to pick 3 Writers' Choice Awards out of a group of winners that all deserved special mention, which I found to be no easy task.
Since the 8th Annual Positive Feedback Online's Writers' Choice Awards for 2011 were published in Issue 58, November/December 2011, I have written five reviews, which made up my list of nominees for 2012:
In Issue 59, January/February 2012, I wrote about Jim Smith's indispensible Get Better Sound Three DVD Reference Set.
In Issue 60, March/April 2012, I wrote about Mark Coles' Sablon Audio Gran Corona AC power cord.
In Issue 63, September/October 2012, I wrote about the Tempo Electric Aurum Ag Big Twist Interconnects.
In Issue 63, September/October 2012, I wrote about the Sablon Audio Panatela Special Edition Component Speaker Cables.
In Issue 64, November/December 2012, I wrote about Tannoy's magnificent flagship loudspeakers, the Kingdom Royal.
So 2012's reviews consisted of three reviews of wire products (the Sablon Audio Gran Corona AC power cord, the Sablon Audio Panatela Special Edition Component Speaker Cables, and the Tempo Electric Aurum Ag Big Twist Interconnects), and one loudspeaker review (the magnificent Tannoy Kingdom Royal).
After careful consideration, and without further ado, my three Writers' Choice Awards from this group of winners are: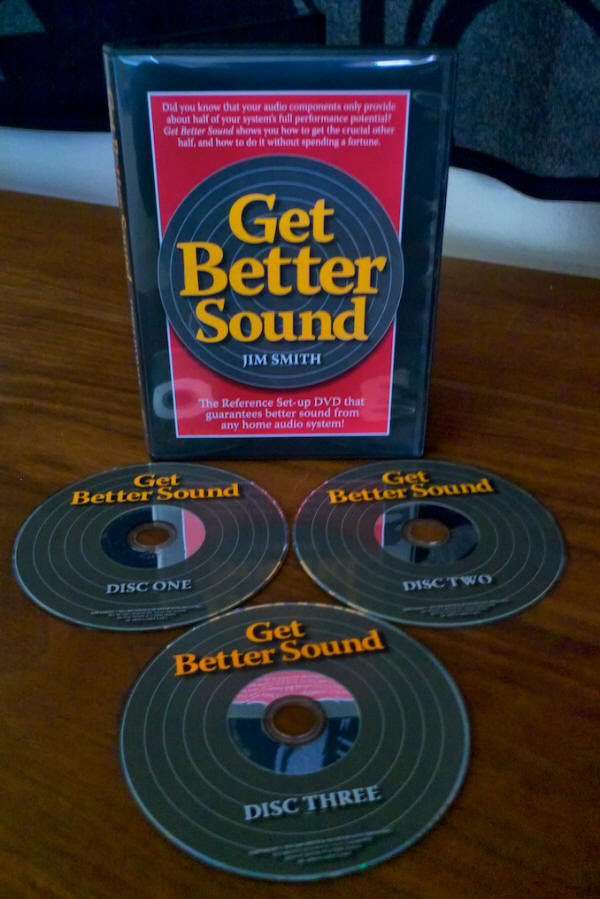 Jim Smith's Get Better Sound Three DVD Reference Set
Jim Smith's Get Better Sound Three DVD Reference Set is indispensible for getting the most out of your Hi-Fi rig. To quote from my review:
"As an individual, I doubt there's anything you could do for your Hi-Fi system and listening satisfaction that would do more good than to work through the techniques Jim demonstrates on the Get Better Sound Reference DVD 3-Disk set. If you'll take time to apply Jim's techniques to your Hi-Fi system, you'll make the equipment you already own come to living, breathing, and musical life in front of your ears.
Do Jim's techniques work? You bet they do. You could spend twenty-thousand dollars on new components for your Hi-Fi rig and not get the kind of improvement working through Jim's techniques will yield. The price of $39.70 for the set is a ridiculously good buy, and it will very likely change the way you think about audio forever. As the Nike advertisements say, "Just do it!" You'll be glad you did." $39.70 USD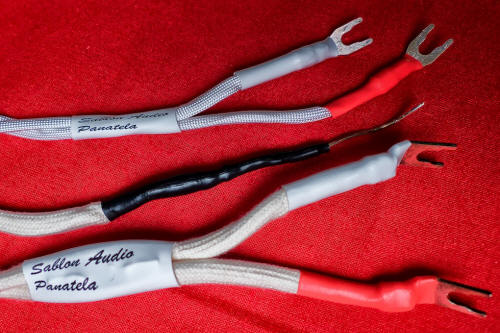 Sablon Audio Panatela Special Edition Component Speaker Cables
Mark Coles' Panatela Special Edition component speaker cables blew my mind with their astonishing sonic chops and their mesmerizing musicality. To quote from my review:
"What makes the Panatela speaker cables so good? Mark Coles. Mark custom makes every set of Panatela cables, and builds them up from the bare wire and optimizes them to your loudspeakers, in this case the Tannoy Kingdom Royal. In your case, whatever you own. Mark meticulously voices the Panatela cables using a variety of different conductors and natural dielectrics. As I mentioned earlier, Mark contacted Dr. Paul Mills at Tannoy and got his advice about optimizing the high-frequency Panatela cable run to match the Tannoys Dual Concentric high-frequency section characteristics. It's like buying a custom tailor-made suit instead of one off the rack. Mark doesn't use solder joints that degrade the sound, he used great connectors, and he meticulously tweaks the design with cryo treatments, anti-oxidants, contact paste and the like. To top it off he pre-conditions the Panatela cables with an Audiodharma Cable Cooker.
Here's how the pricing works for a component set of Panatela speaker cables, using the Tannoy Dual Concentric™ optimized component set I reviewed as an example: An 8-foot pair of Panatela speaker cables sells for $1750 USD, adding an individually tuned 8-foot pair of tweeter cables for the high-frequency section of the Dual Concentric™ driver adds an extra $1250 USD, and for a set of 8-foot Tannoy ground leads it adds an extra $375 USD. Mark is offering the full 8ft component set for Tannoy owners for a limited time at $3200 including shipping.
If you're ready for a revelation in the musicality and sonic performance of your Hi-Fi rig, I suggest you have a consultation with Mark about ordering a custom suit of Panatela cables for your particular loudspeakers. It will not be cheap, as nothing custom and handcrafted is, but it will be more than worth it. I think you will be astounded with the final results just as I was. The Panatela Special Edition Component set of speaker cables has completely reset what I thought was possible from a set of speaker cables." $3200 USD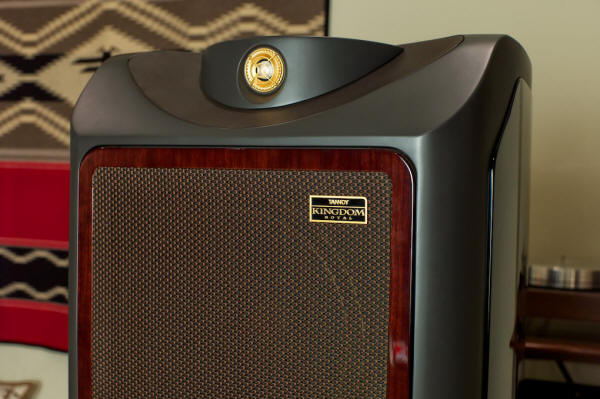 Tannoy's Kingdom Royal Loudspeakers
The Tannoy Kingdom Royal loudspeakers are magnificent and I feel lucky as can be that I got a chance to spend some time with them. Every once in a while in life you get a chance to experience something touched with greatness and it leaves a permanent impression on your life. I felt like that when I saw the amazing Starry Starry Night painting by the Dutch post-impressionist Vincent van Gogh. I also felt like that when I stepped into the Shakespeare and Company bookstore on Paris' Left Bank that pays tribute to Sylvia Beach's original Shakespeare and Company bookstore that was frequented by writers such as Ford Madox Ford, Ernest Hemingway, James Joyce, and Ezra Pound in the 1920s, before it was closed during the German occupation of Paris—positively electrifying! And that's how I felt every time I listened to music with the Kingdom Royal loudspeakers—I knew I was in the presence of greatness.
To quote from my review: "Who will be most impressed with the Kingdom Royal? Those who really understand, live and breathe music, they will be the most impressed. Those who have experienced many great live performances will recognize in the Kingdom Royals a kindred experience, a musical greatness that transcends mere Hi-Fi and takes on a musical life of its own. I can't tell you how many times that I listened to an LP and just sat there shaking my head at how utterly captivating the Kingdom Royals were when playing music. The Kingdom Royals get inside you, inside your head, inside your heart, and bring recorded music alive with a tangible excitement you rarely experience in audio… As a final note, let me say that if I could afford them, I would buy the Tannoy Kingdom Royals in an instant." $55,000 USD
NewClear Audio NC1000L Amplifier
Until my experience with the Spectron Musician III Mk. 2 amplifier I reviewed in Issue 44, I was not a class D fan. That amp irrevocably altered that perception, taking its place among the best amps I've heard, hands down. Now, the NewClear NC1000L provides some serious competition at an introductory price of $2600 including shipping. The NC1000L is a dual mono class D design based on the B&O 1000ASP module. It delivers 500 wpc into 8 Ohms and 1000 into 4. The sound is effortlessly musical, fast and nuanced. If your speakers can handle it the enormous reserves of power make for a startling explosive presentation. The amp features a Lundahl input transformer, DH Labs silver plated internal wiring and a three year warranty. Solid-state and tube lover lovers alike; if you are in the market for a new amp, put this one on your must audition list. $2600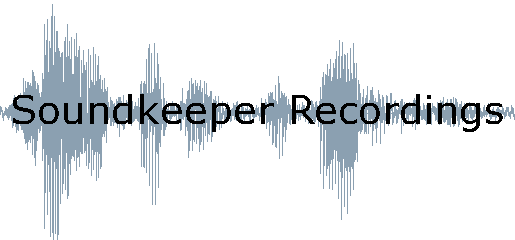 Soundkeeper Recordings
Soundkeeper Recordings records "Direct to Stereo" using only two microphones which are released as high resolution 24/96 DVDs, 24/96 AIFF and WAV audio files on DVD-R for computer playback. And 24/192 AIFF and WAV files for recordings originally made at 24/192. They recordings are also available on CD-Rs and regular pressed CDs. Instead of a traditional recording studio they utilize natural performance spaces. The musicians determine the musical balances and musical dynamics. They are recorded directly to stereo with no overdubs and no mixes, capturing the feel of the performance, the excitement and emotion that make the music what it is. Personally I have always preferred unedited real music over note perfect performances with less feeling, this is why I am a big fan of Direct to Disc LPs and DMP's "Direct to DSD" SACDs as I feel that editing and processing destroys that part of music that makes it feel real to me. These are among the finest recordings I've have confirming my belief that minimalist natural recordings are the closest to live music.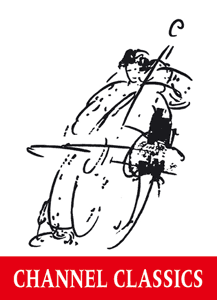 Channel Classics DSD recorded SACDs
Channel Classics is one of the biggest supporters of DSD. The physical versions of their DSD recordings are released exclusively in the hybrid SACD/CD format in both multichannel and two channel stereo. In addition they are now offering DSD downloads. The have gotten a lot of loyal customers who look to their label first when looking for a classical work to add to their collection because of their use of the Grimm DSD ADC which many in the industry and many happy customers claim is the best sounding. I would agree Channel Classics Grimm made DSD recordings are among the most realistic I've heard and sounds very analog-like.
Three New Channel Classics SACDs and the Grimm DSD converter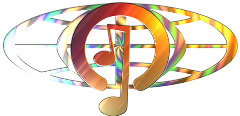 Non Profit Music SACDs
Non Profit Music SACD are recorded in 24 Bit 96kHz PCM and sound very realistic. Their SACDs housed in a beautiful hardcover laminated miniature book which should retain its full beauty for a lifetime. The SACD fits in a pocket bound to the back of the book. The look and feel of the books are elegant. Non Profit Music offers the lesser known artists' and musical compositions in mostly the chamber classical music realm. Instead of retaining profits they go to fund humanitarian causes.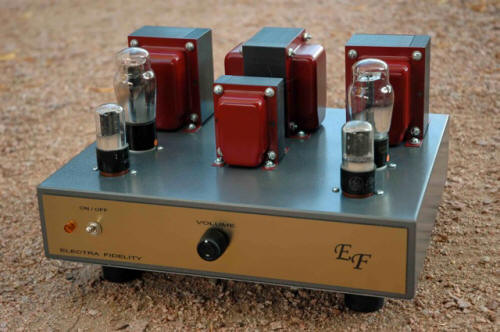 Electra Fidelity 45 SE Integrated Amplifier
The 45 SE integrated amplifier is a limited edition offering from Jack Elliano of Electra-Print Audio. The cornerstone of this fine amplifier is the solid silver wire output transformers that Jack custom winds for this project. The circuit is designed for use with NOS type 45 tubes that have been produced from 1929 to 1959, which Jack happens to have a large stash of for 45 SE owners to re-tube with. On the bench this amplifier is remarkable for a 1.2% distortion measurement, while a typical type 45 based amplifier will be in the 5% distortion range at the mid-power setting. With 1.7-WPC on tap, this amplifier needs to be paired with a high efficiency speaker, but this is a magical combination for those adventurous enough to try it.
I found this single ended integrated amplifier to lively and engaging, with a quickness that brought the music alive. While it may seem counter intuitive at first, this 1.7-WPC amplifier excels at revealing the dynamic shading contained within music. Finally, the amplifier is an imaging champ, and presents a large and realistic sound stage. The 34 SE integrated sells for $3995, and the sound quality it provides exceeds any other SET amplifier I have heard at this price point. Not many of these amplifiers will be produced, so grab one while they are still available.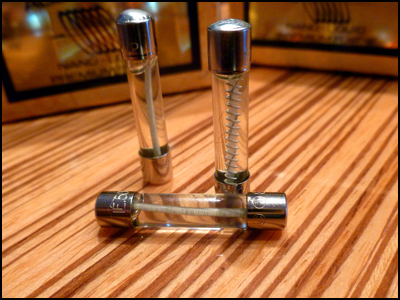 Audio Magic Liquid-Nano Fuse
Jerry Ramsey of Audio Magic is one of those crazy geniuses of the audio world that searches for new applications of technology to the barriers that hold back an advancement of our stereo systems. In the case of the Liquid Nano fuses, Jerry is crazy like a fox. In stage one, the fuses have been injected with a non-conductive liquid polymer that dampens the resonances of the fuse filament and glass body. The second step is to treat the fuse with the Nano-Stream treatment process, which enhances the conductivity properties of the fuse.
With a $60 MSRP, the Liquid Nano fuses is a cost effective way to upgrade the AC path for any audio component, and would be the final link needed for many hobbyists. With the installation of a single fuse in my Electra-Print 300B Custom amplifier I found that the music gained focus, and had layers of grunge removed that I did not know existed up until this point. There are many benefits to the improved delivery of AC power, such as instruments and performers becoming more solid in the sound stage, dynamic contrasts being easier to hear, and an easier ebb and flow to the music in general. Today every component I have uses an Audio Magic Liquid fuse, and I am glad to have them in place.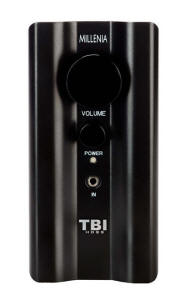 TBI Audio Millenia MG3 Integrated Amplifier
The TBI Audio Millenia MG3 integrated amplifier is a paradigm shift for the cost conscious audiophile. The Millenia is a Class B/D amplifier that employs a circuit that allows for quicker switching time between output devices. This in turn allows for a less intrusive filtering system to the signal leaving the output chips, and the end result is an amplifier that presents music in a natural and organic manner that often eludes other affordable Class D components. The pre-amp stage of the Millena contains the latest version of op-amp from Burr Brown, and offers impedance matching of the signal from the source component. This ensures proper source/amplification impedance relationship, which is unheard of from a $500 integrated amplifier.
The Millenia outputs 35-WPC when run on Mains AC or 24 volt battery power, or 10-WPC when tethered to a 12 volt battery supply. The sound of the Millenia is lithe and quick on battery power, with a natural tone that is rarely heard from affordable amplification. The AC Mains option provides greater dynamic swings and energy, which comes from having more power on tap. The overall performance of the Millenia amplifier in either configuration is remarkable, and provides a level of performance to the frugal audiophile that is unheard of at this price point. I have yet to hear a $500 amplifier that offers the level of sound quality that the Millenia brings to the table. This means that a high performance audio system can be crafted around this amplifier, and that other audio dollars can then be allocated to upgrading the source component or speakers.
In the last month Jan Plummer of TBI Audio has released an upgrade to the Millenia amplifier. The MG3 can run on either AC mains or 12 volt power. In my listening sessions I preferred the 12 volt option, but I could envision system configurations where the AC mains set up could be preferred. Well Jan designed a tweak to the AC side of the Millenia, and this has improved the sound of the amplifier considerably when powered conventionally. The differences between battery power and AC from the wall are minimized, and listeners can expect fantastic sound from either arrangement.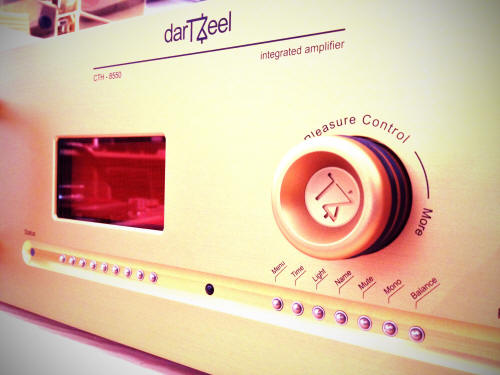 darTZeel CTH-8550
One of the highlights of this year was without a doubt the stupendously good, no make that great, darTZeel integrated amplifier. Perhaps the closest realization to what I would consider an integrated amplifier, this puppy has all the goodies and then some. Did I mention its made in Switzerland? A fantastic amplifier section, a terrific phono stage (MC), fully adjustable input and output settings and a gorgeous gold tone faceplate, this is about as close to heaven as Hervé Delétraz can make an integrated design. Having formally reviewed it in a previous issue, I am still uncovering much of the magic that makes this amplifier sing. To boot, you'll get instant darTZeel envy from anyone visiting your home - if you are looking for your last system built around an integrated amplifier, I'd look no further (that is until you realize that darTZeel also makes a separate stack…). Anything less would be uncivilized. Highest recommendation, A+++. $20,000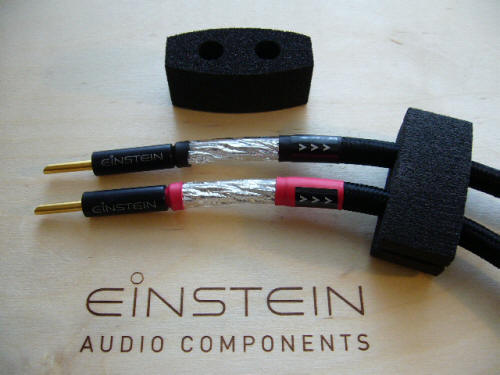 EINSTEIN complete system
Ending 2012 with a bang in more ways than one, the complete EINSTEIN system consisting of the The Preamp linestage, The Light In The Dark Limited Edition hybrid amplifier, The Turntable's Choice MK II phono preamp (MC) and a full complement of The Flash and The Thunder interconnect and speaker cables really rang more than just one of my bells. Explosive dynamics, full frequency extensions and a sound that is up front and alive, this combination really begs you to play any and all music. Absolutely incredible build quality and looks that are quite a bit different from the rest of the me-too, cookie-cutter stuff, EINSTEIN's vision of what Hi-Fi is all about is fully embodied within this system. I guess made in Germany still does mean something these days. One thing's for sure, these components are fantastic. Well done Volker and team, A+++.
Zu Audio Definition MK IV
And indeed, 2012 will go down as the year of most audio gear having passed through casa Kaey, not least of which Zu Audio's remarkable continuation of their saga that is the Definition loudspeaker. Having embarked on the Definition mission back in 2003, the Definition was to be Zu's statement loudspeaker. Sean Casey (principal and owner of Zu Audio) always used to say, "the Definition is all about what we can achieve in about a square foot of space". That of course sounds much like the tag line for the original iPod (1000 songs in your pocket) and we all know how that saga unfolded. The MK IV is now the third pair of Definitions I have called my own, which is to say that I kinda like 'em I guess. Now that's putting it mildly of course, alas, suffice is to say that this latest generation is rockin' my boat better than ever before. Much like all the i-stuff getting better with each succinct generation, the Definition MK IV has grown up quite a bit with bigger, bolder and even more coherent sound and finally a tweeter that is nothing short of world class. Best sound we can fit in a square foot? I'd say you did that and then some. Next music party is around the corner… Terrific value and truly full range sound, A+++. $12,800
In my opinion, this past year was a very good year for audio, at least for the end of it that I prefer to cover. I had several products that I either reviewed, or had plenty of time using to consider for an award. As always, I will look to choose products that offer real value in addition to high quality. But still, I had a lot to consider.
I spent great deal of time with four low cost DACs (Centrance DACport LX, Brik Audio DAC, HRT Music Streamer 2+ and the Wyred for Sound microDAC). All of these sell for under $500, and though there are some real sweet products here, I was looking for one to stand out as clearly superior in all ways to warrant a nomination. If one had, it would have gotten my pick.
The Rogue Audio Perseus Magnum ($2195) was a joy to use, and included a very nice phono section. It gets a runner up vote.
The recently reviewed ModWright KWI200 integrated is a phenomenal product, but at just over $6000, as good as it is, I just can't fit it in from a price standpoint, at least not compared to my three picks for this year.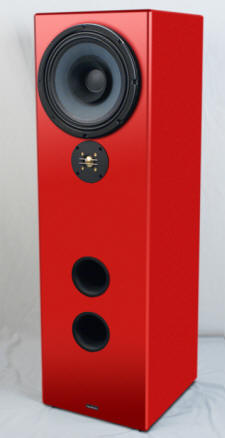 Tekton Design Lore Speakers
After a year of daily use, I still maintain that the Tekton Design Lore is the best $1000 pair of speakers I've ever heard. Over the past couple of months, driving them with the extraordinary ModWright KWI200 integrated amp left me with the realization that I have to go back about thirty years to my time with the large Acoustat Monitors ($3200 in the late 1970s) to think of a speaker that I enjoyed as much day after day. These are dynamic, exciting, powerful with stunning bass response and a high frequency ability to match. Rated at 98dB, they can be used with amps from less than five watts to as many watts as you want to give them. Whatever power you go with, they play music like nobody's business. $999
JRiver Media Center
I've been using JRiver Media Center (version 17) in place of iTunes on my aging IBM T42 notebook music server for about six months. On the surface, it would seem the best reason for using JRMC instead of iTunes is its ability to use WASAPI, Direct Stream or Kernel Streaming, allowing bit-perfect streaming while automatically switching sample rates. That's a significant feature if you have been collecting 24/96 or other high-resolution files along with standard 16/44 files.
However, once you've fine-tuned it for your PC and DAC (a fairly time consuming process) you realize that this software actually sounds better than iTunes. It is the same type of improvement you get when upgrading source hardware. Improvements at the source end are the most fundamental kind and not to be had by upgrading components farther down the signal stream. I can't think of any other $50 upgrade that can result such a basic overall improvement in a system.
My comments on JRMC haven't been published yet but Tom Gibbs wrote a good review of it in issue 62. $49.99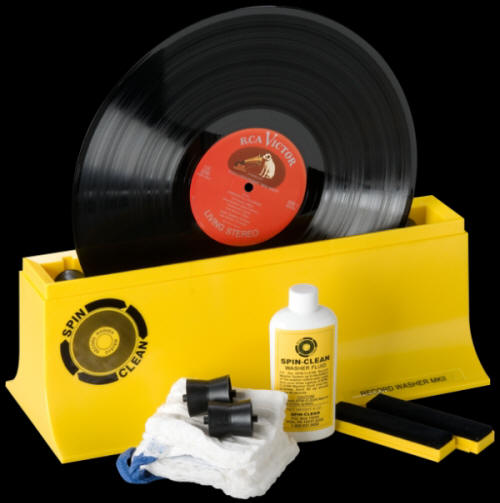 Spin Clean Record Washer
If you have records, and especially if you buy used records, you need a record washing system. You can certainly find advanced and very effective record washing systems for hundreds, even thousands of dollars. However, if you want clean records, and don't mind a little extra manual labor, you can also get the very effective Spin Clean for the price of just a half dozen or so 180 gram pressings.
Best used in batches of at least five to ten records at a time (unless you don't mind dumping out perfectly good cleaning fluid) the Spin Clean does the job about as well as many of the more expensive motorized cleaning units, with the exception of vacuuming the records dry. I bought a small rubber coated dish drying rack that holds five records at a time, and let them air dry in that. By the time I'm done washing the sixth record, the first is dry and can be put away.
Effective, relatively inexpensive, functionally designed and well built. My kind of bargain. $79.99 basic kit, $124.99 deluxe kit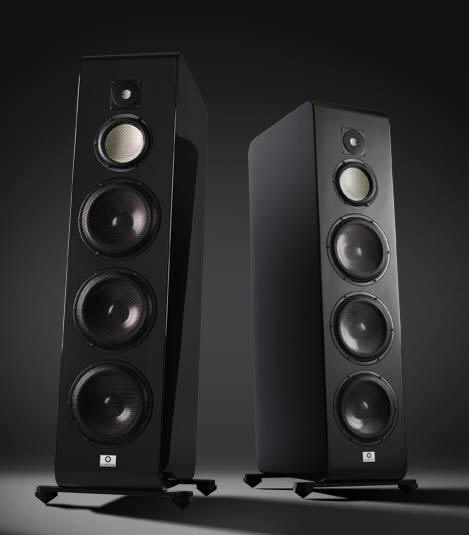 Marten Django XL Loudspeaker
This is easy. This killer speaker almost displaces my personal Marten reference, the Bird, that costs twice as much! The Django XL is the speaker that 95% of all audiophiles dream about owning and all they will ever need… it is that good. Plus, Marten is making them in sufficient quantities such that there is no waiting time to get a pair.
Marten is a company owned and operated by audiophiles with excellent taste in acoustic music. They also appreciate the cutting edge developments of Accuton of Germany for drivers made of ceramics and diamonds using them whenever they can. The Django sports a fantastic Accuton ceramic midrange and tweeter with three! custom made eight inch Seas woofers on board. The musical prowess and mellifluousness of this design must be heard to be believed!
The Django has five front firing drivers that sound like one driver. I have heard three or four drivers blend this well, but never five. There is a bass output switch on the back for tailoring the speaker to your taste and the room. Their $65,000 Coltrane has this feature.
The disappearing act of these speakers is as good as it gets…130 pound speakers vanishing from the musical stage is astounding at this price point. A single WBT hookup on back is very convenient. The included steel supports and cones work well and are very steady.
Sonically, they sound quite real with lots of power and suaveness. With good tube gear of 50 watts or more, you can rock your house. With good solid state gear, you will get superb smoothness and grainless sound. I could not find any way to ruin these speakers. They do love the best and will transport you to the musical event if your gear is worthy.
The Django is the first speaker of the 21st Century I can recommend under $20,000 that does it all and does not leave you hungry for more. It easily qualifies for my Reviewer's Choice Award. $15,000
Stein Music Audiophile Accessories
Stein Music delivers the goods with their well made, scientifically verified, ultra sophisticated accessories that bring the audiophile ever closer to the performance in the room. All made in Germany, these are my favorites:
Stein E-Pads Small rectangles that reduce vibrations in dozens of applications. Superb.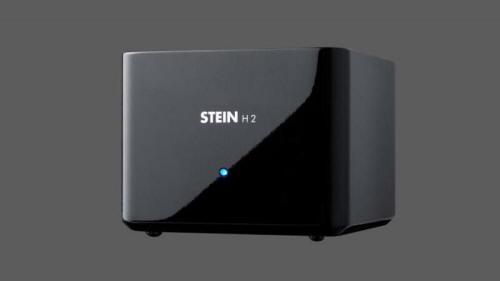 Musical Harmonizers Electronic boxes that make the air more transmissive of music. Stones enhance effect and are bought in various sizes and styles.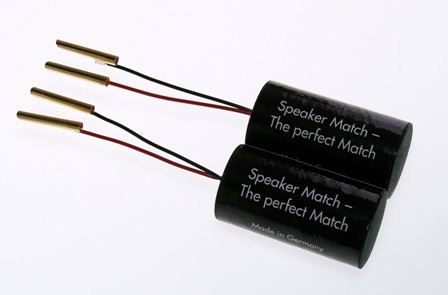 Speaker Matches Compact devices attached to speaker binding posts dramatically reducing back EMF. THE BEST.
Stein Super Naturals Compact wood feet that really isolate and enhance components.
Stein Maestro Liquid Liquid wood you can apply to CDs or about anything to reduce vibration… easy to remove if you do not like the effect.
DE3 Large demagnetization platform the really does the job well! Results are smooth and sweet.
DE2 Small demagnetization platform for 5 inch media only.
CD Plus CD spray that is one of the best available.
Contact Clear System Cleans and enhances metal contacts and leaves nothing but better sound.
Stein DX3002 Ultimate digital reclocker ever.
Holger Stein has been at it for thirty years and focused on the why and how of music in the room. A physicist, engineer, and audiophile, he is doing what few have done or will do. He is investigating and inventing those super tweeks necessary for great musical sound.
Stein Music deserves the Reviewer's Choice Award for a job in the service of music, well done!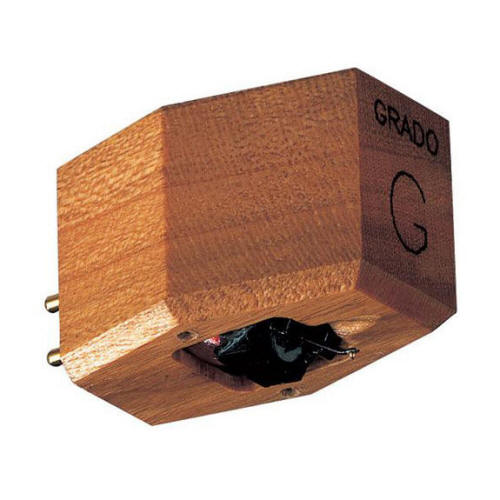 Grado Statement Phono Cartridge
This over performing, low output, moving iron cartridge is a winner in every way. Setup is a breeze. It is a killer tracker. Plus, it works well with any moving coil step-up device with a .5mv output. Any good arm that will handle a 7 gram cartridge will do. [I found the best performance from the Helius Omega Tonearm.] That said, the wood body Statement is detailed to the max and extraordinarily musical. Grado's best work to date!
The Statement overcomes all previous Grado flaws by building a cartridge in ways never before tried by that venerable company. It sports a boron cantilever [a first for Grado], a fine line stylus for Van den hull [a first for Grado], and coil windings of seven feet of 24 carat gold wire [a first for Grado]. Even the wood body is a species of mahogany never used before. The results are a Grado to take home to mother. I love it.
Even sounding from top to bottom, it is about flawless in every way. Tight bass makes this the Grado to own. Intense realism makes this the Grado to enjoy for the long term. Dynamic range is explosive. Mids are sweet, smooth, and alive. Width and depth are as good as it gets. Performs like a six or seven thousand dollar cartridge for half the price because it is made right here in America.
My advice: buy it before the price goes up! Do not hesitate owning the Grado Statement. It kicks the state of the art in the ass. My Reviewer's Choice for 2012! $3500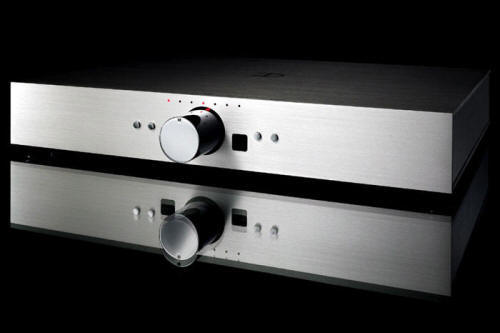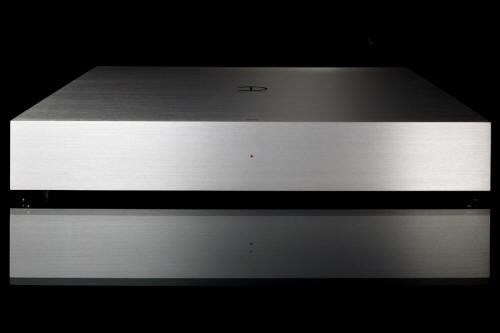 The Densen B-200 ($2200) preamplifier and B-310 ($2500) power amplifier combination
These Scandinavian beauties are a sight for sore eyes and ears. Hand crafted in Denmark, they offer up neutral sound, plenty of power, and immaculate design. They were a great match for a variety of speakers, and are in my opinion very fairly priced.
Read the preamplifier review here
and
Read the power amplifier review here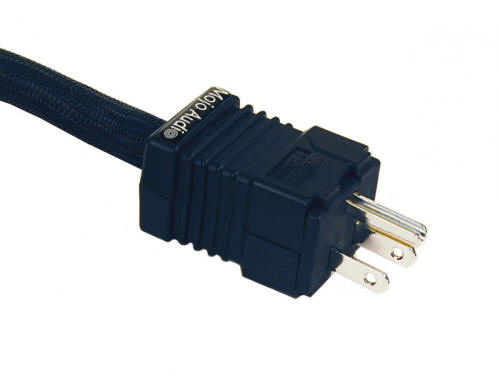 Mojo Audio Power Cords
Mojo Audio power cords are superbly made and are terminated with premium Furutech connectors. They worked beautifully with no less than half a dozen components I used them on. The XPC-7 and Enigma models are impressive even well beyond their price points. $299/$499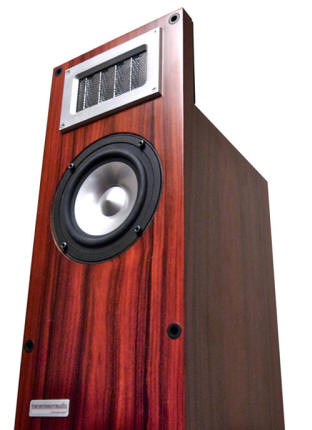 Transmission Audio M1i loudspeakers
The Swedish made Transmission Audio monitors were astounding in their delicacy and soundstage depth. The ribbon tweeter was capable of tremendous resolution, yet was as delicate I have heard. Couple that with amazing midrange transparency and very satisfying, room filling bass. As a big plus, the speaker is available in a variety of beautiful finishes. $4500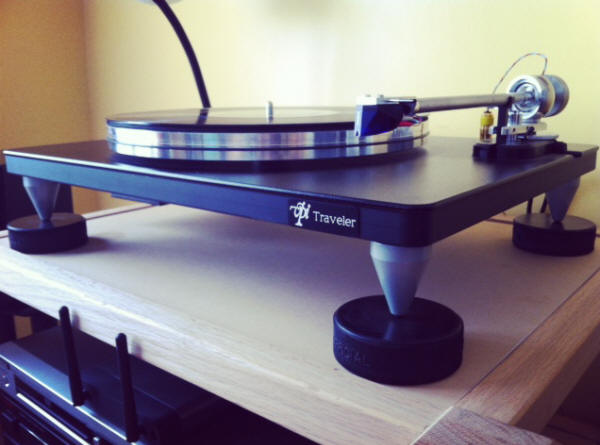 VPI Traveler turntable
To steal a trick from my fellow PFO scribe, Andy Schaub, who begins every review with a quote:
Form and function should be one, joined in a spiritual union. - Frank Lloyd Wright, 1908
I love my VPI Traveler turntable. As I stated in my review: I might be doing a disservice to VPI by admitting I prefer the sound of the Traveler to their Scout! Luckily this is based on subjectivity, as we always bring our biases and preferences to everything we critique. However, here's the reason I prefer the Traveler (it's also my primary reason for bestowing a Writers Choice Award to this spectacular, affordable, high end analog deck): When I'm listening to music on this turntable I never find myself wondering if my settings are off; if perhaps I need to tweak it a bit in order to squeeze more "performance" out of the Traveler. I just get lost in the music! Now, I'm not saying to forget leveling or proper cartridge alignment. Both steps are crucial in attaining sonic integrity from any turntable: Belt-drive or direct, magnetic drive or DC motor. I'm merely saying I don't consider audiophile-type stuff while listening to music via my VPI Traveler/ Unison Research Simply Phono tube phonostage combination. The marriage is actually my favorite analog playback system in the house right now—and it resides in my small-scale office system! After all I listen in there more than I do the reference system, strictly because of the amount of work that comes across my desk these days.
Without flinching I believe wholeheartedly the Traveler, fit with an Ortofon 2M Blue cartridge, sitting atop the Gingko Audio Cloud 9T (full review coming next issue) with my Sonicweld DampClamp is amongst the most musical and engaging analog front-ends I've heard in a long time! That's amazing, considering the whole package mentioned is under $2500! I've listened to many multi-thousand dollar turntables over the years. Am I saying I'd take this over an E.A.R DiscMaster? No. However, I'd put this rig up against anything costing twice as much today. If you've recently re-discovered the magic of vinyl playback and you're aching to upgrade without spending as much as your next car, check out the VPI Traveler. This little turntable epitomizes the phrase "giant-killer." Perhaps the best Hifi value in 2012. It gets my highest recommendation. $1300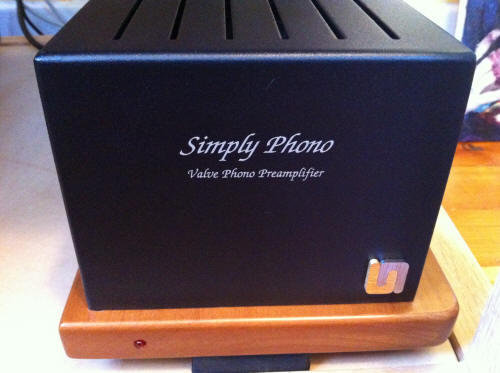 Unison Research Simply Phono V2 tube phonostage NEW
I liked the Unison Research Simply Phono V2 so much I bought it. Even though I was lucky enough to get industry accommodation pricing on my review unit, it was not an easy purchase. I put in extra work to buy this component and it was worth every bit of sweat equity I put into it. Why? When I heard it with my VPI Traveler or classic Luxman PX-99 turntable I melted into the listening chair. As I stated in my review, all the usual audiophile buzzwords associated with tube equipment came to mind at first: Warmth, fluidity, textural, etc. But after spending months with the Unison Research Simply Phono I have discovered more sonic attributes!
This relatively affordable tube phono preamp with Class A gain stage and four ECC83/12AX7 tubes is a knock out, considering its musical performance and price tag. I say this because I have heard multi-thousand dollar vinyl playback systems that don't even come close, to my ears anyway, when it comes to detail retrieval and overall liveliness. It's also insanely quiet. Part of that is easily associated with its external power supply (connected to the phonostage via a 7-pin umbilical). There's just something magical about this component, and that magic shines in the midrange, which is where most music lives. When I first tossed on the Classic Records remaster of Peter Gabriel's Scratch My Back I was captivated. One of the sonic characteristics that I liked most about the album: It' spaciousness, and the emotional punch in the subtlety, the nuances of Gabriel's voice while interpreting other artists work (its a cover album) jumped out at me like never before. I've seen Gabriel live, and I can say with a clear conscious that at that moment I felt more closely connected to this album than ever before – and I've played that record on systems costing fifty-thousand dollars and up!
This intense emotional connection to the sound of the music is always the result of all the components in the signal path of your system. I believe everything contributes its own inherent coloration, or, in the best scenario, it leaves very little of itself so as to not cloud the music. I've said this before, as well as others (including Hp himself now, at HPSoundings): A great system can be a time machine. As music can be a transformative experience, I think the greatest systems don't sound like stereo systems at all! When things are at their best for me, everything melts away except me and the music hovering in the room. The Unison Research Simply Phono V2 can help get you there. It does so every day in my office system and I can write three thousand words on why I love it. I suggest you try to experience it for yourself. $2445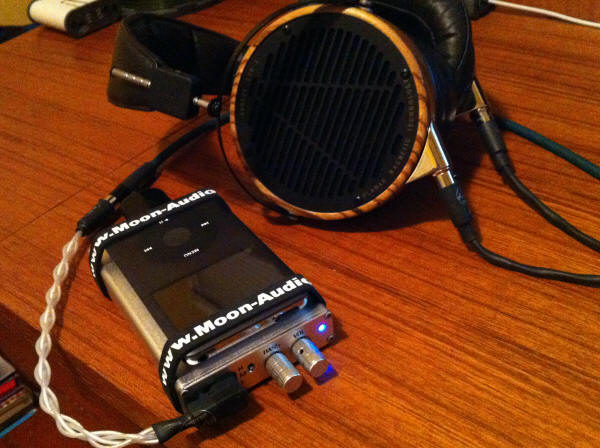 ALO RxMK3-B portable headphone amplifier NEW
In the past I found it necessary to grant certain components Writers Choice Awards despite the fact that I have not reviewed them here. The ALO RxMK3-B portable headphone amplifier gets this award because I never leave home without it. The component has become a vital tool in my portable audible arsenal! Almost every time I turn someone onto better quality personal audio, including two people on a plane last week, I use the ALO unit as part of the demo. I ask them to plug in their iPods, iPhones, or iPads (via Moon Audio Silver Dragon LOD cables) into the RxMK3-B and use their own cans. Witnessing their reactions is golden. Most people don't even know headphone amplifiers exist, but I have yet to find a person willing to listen that hasn't been blown away. That says more than I ever could.
The RxMK3-B is a straight-forward lithium battery-powered headphone amp. It's diminutive rectangular chassis; available in black or silver makes it easy to stack your iPod, iPhone, or whatever source you're using right on-top. The unit has dual inputs and outputs: 1/8" and balanced (the small, square, 4-pin Ray Samuels-style balanced—now becoming more popular in high performance personal audio). I always use the balanced output when I can. I hear greater dynamic contrast, dimensionality, and timbre seems more lively and natural. You can now find headphone cables with adapters for outputs like this. I use the ALO Green Line cables, which gives me balanced, 1/4", and 1/8" adapters.
How does it sound? To be honest, I'm not sure I can give you an accurate critique of the sonic signature of the headphone amp itself. This is due to the fact that I experience the RxMK3-B differently when I use my Audeze LCD3's, JH Audio JH-13 Pro IEMS (review HERE) or Sennheiser HD-800's! As I say in my component reviews: You always listen to an entire system: Never one component. What you're experiencing is the sum of all it's parts. That said, I love my RxMK3-B because when I use it, it does the same thing the VPI Traveler turntable does for me: It removes all thoughts of technical specs and audiophile-like scenarios, and just connects me to the music. I get lost in the sound. I wholly cherish becoming enraptured by a piece of music. While I maybe an audiophile (there's no denying that) I consider myself a music addict first. I've experienced some of my greatest listening sessions in years recently, using my Audeze LCD3's and the ALO RxMK3-B! I've found myself transfixed by its sonic wonderment. When I'm traveling, right now there's only one battery-powered headphone amp I consider using with my best headphones: The ALO RxMK3-B. $649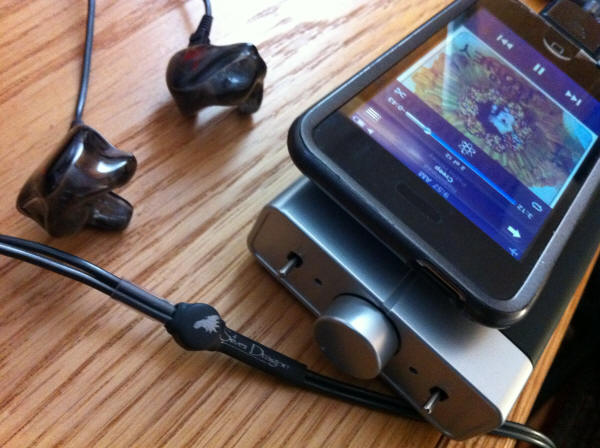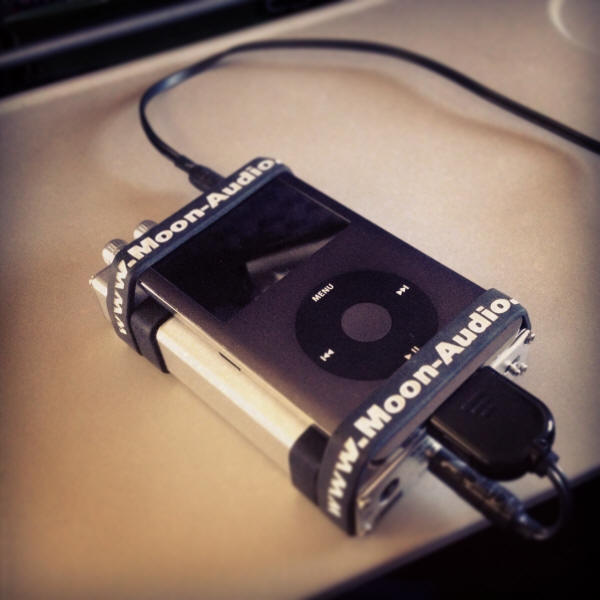 Moon Audio Silver Dragon IEM & LOD cables NEW
Like the ALO RxMK3-B, Moon Audio's Silver Dragon line, specifically their IEM and LOD cables, are an essential component of my portable audio rigs. I use the IEM cables with my JH Audio JH-13 Pros, my reference (a sonic marriage made in heaven by the way) and the LOD cable on my iPod Classic and iPad2. I'd love to take credit for discovering these fantastic cables, but I have Jerry Harvey of JH Audio to thank for that. Now, when the founder and lead designer of your favorite IEM tells you to check out a particular set of cables, saying they enhance the performance of his product, it's advisable to follow his instructions. You may not prefer the results, we're all vastly different that way, but I don't shudder when Jerry believes in a product so deeply he offers it on his own website.
When they arrived I wondered if they could even meet my expectations, let alone exceed them. I already loved the sound of my JH-13 Pros with the stock cables. In fact, as I stated in my review of the JH-13 years ago (review HERE): They changed my entire outlook when it came to the possibilities for musical integrity in a tiny in-ear monitor. They blew my world wide-open in that regard. How was anything going to top that? Enter Moon Audio's Silver Dragon IEM cable. I am not exaggerating when I say that after I switched out the stock cable for the Dragon's I was freakin' overwhelmed (sorry for the lack of technical acumen there) by how much they seemed to change everything! Vocals became far more weightier and lifelike. Guitars and bass had this intense velocity in their transient attack, plus a natural decay, that was as live as I've ever heard in a headphone.
I was so impressed I reached for my personal ultimate sonic acid test: The master file of my first house record from 2004: A tech house track entitled "Soultek" produced under our Seamless Satori moniker for Listen to Reason Records, released on vinyl and digital download. When I listened to the track with the Silver Dragon IEM cables on my JH Audio's I felt like I was back in the studio. The track is a late-night chugger, a bit of progressive house and tribal beats. We wrote and produced it for a sunrise set: When you're spinning, the crowd's going wild, and the sun is slowly beginning to light up the world after a night of intense partying. It has these subtle, hovering synth lines and pounding tribal beats with vocal samples weaving in and out of the track. The vocal is my wife actually, so I know that voice! There have been only two occasions when listening to my personal audio systems where I felt that record was reproduced as accurately as I think possible. One of those occasions included Moon Audio's Silver Dragon cables, both LOD (used on my iPod Classic as source) and IEM on the JH-13 Pros. If making deep connections with your music is important, when its not about the SPL levels and the price tag of the gear involved, products like the Silver Dragon cables can act as a conduit to that grand connection. I'm never giving mine up, and I recommend you check 'em out if personal audio is part of your listening experience.
Silver Dragon LOD 6" $65 / 3 ft: $115
Silver Dragon IEM $185.00

QOL "Signal Completion Device"
I wrote about this remarkable unit twice this year and found it to be a truly rare enhancement to an already well-defined audio system. The QOL accomplishes precisely what its promises. It establishes a larger, yet fully accurate, sound stage. Its signal retrieval and "enhancement" process add no artifacts. The unit changes no tonal or harmonic details and avoids the glare and cartoon-exaggerations many similarly-advertised units often concoct in their attempt at making recoding playback more vivid. The QOL allows a natural "you are there" sonic quality to emerge. On well-captured live recordings, the QOL demonstrates its gentle signal accuracy with a noble, truthful touch. $3995

Genesis G7.2f speakers
I finally carried out a long-deferred aim and wrote about this pair of world-class speakers offered at a "real world" price point ($12K). Few speakers at any cost can approach or equal these amazing reproduction devices. They are hugely dynamic, gorgeously delicate, sonically accurate and immensely musical. They have become a mainstay "go to" set of playback partners in my mastering work. I'd be hard-pressed to replace them with any other speakers, regardless of price or commercial pedigree. $12,000
Audio Power Labs 50TNT
Audio Power Labs' "smaller" mono-block tube amps, the 50TNT, my be the junior sibling of this state of the art amplification footprint (the 833TNT being a behemoth beyond category), but at 200w/channel, these amps are not junior or diminished in any way. I have never experienced amplification at once so rigorously refined and lush; so dynamically seductive yet stunning; so flat out beautiful in their presentation of texture and sonic details while also authoritative all across the audio spectrum. These amps, at $47,500/pair are not cheap, but if there has ever been an amplifier that can rightfully be thought of as a "bargain" at such a high price, the Audio Power Labs' 50TNT is the one... in truth, the only one I can imagine giving such a controversial but well-earned tag.
Ligeti, String Quartets Nos. 1 & 2; Andante, Allegretto. Parker Quartet. Naxos 8.570781
I stumbled on this brilliant and commanding album of second generation (1923-2006) Hungarian modernist composer Gyögy Ligeti's music for string quartet in Austin, Texas on a visit to Creston Funk of Austin Hifi, importer of some of my favorite electronics. We needed something in addition to 'Austin music' to assess how well his highly unusual Tocaro loudspeakers sounded on the Crimson gear, so I took a flyer on this CD (Waterloo Records—great shop, didn't know there were any left!), without knowing that it had won a Grammy for Best Classical Recording three years ago and that the young Parker Quartet out of the New England Conservatory have been the darlings of the classical music media ever since. The Parkers on this Naxos CD caused the Tocaros to jump and dance about Funk's largish listening room to the delight and astonishment of all assembled. They are as good on Ligeti as the Pacificas are on Carter, which is saying a lot. Ligeti's quartets are among the best modern music there is—the next step (forward? sideways? up?) from his countryman/predecessor Bartok's; and this is the best recording I've heard of them. This album is a great introduction to the composer—and the sound is as good as the musicianship and music.
Charles Ives, Four Sonatas. Hilliary Hahn, violin. Valentina Lisitsa, piano. DG 477-9435.
I have always found Ives' violin sonatas among his best music, alongside the piano sonatas.. And while Paul Zukofsky and pianist Gilbert Kalish are the kings of lyricism in this music (and thus of the softening of its modernism), there is no violinist around these days I'd rather hear play the sonatas than the consummately professional Hillary Hahn, who seems intuitively sensitive to American music. Pianist Valentina Lisitsa is a fine pianist in her own right, which is essential for this music. Her extended solos are brilliant and entirely in the spirit established by Hahn. The two musicians' performance of the third sonata (1914), their favorite and the one I also find most captivating, is the best of the four. Here, while the contrast of folk and classical idioms is not resolved in one direction or the other, nevertheless a unified spirit seems to emerge. Wonderful music, wonderful music making. I could listen to these sonata all day.
Gibbons: Motets, Anthems, Fantasias, Academy of Ancient Music & Choir, Richard Egarr, director. Harmonia Mundi HMU 807551
Christopher Gibbons (1615-1676) is not the better known Orlando Gibbons but his son. Keyboard artist, leader of the Academy of Ancient Music, and major figure in the current Harmonia Mundi family of notables Egarr, has discovered Gibbons the younger and persuaded 'those in charge' to let him introduce him to us. Bless him. What makes this music especially appealing is that, like the music of his early seventeenth contemporaries Monteverdi and Schutz, it has the rich flavor of the earlier generation's (his father's) music but is somewhat freer. Its formality is looser. It is expressive somewhat in the ways baroque music will be a generation later. The younger Gibbons is deliciously mellifluous, especially in the instrumental fantasias. I have stopped trying to speculate why stylistically transitional music (and literature) can be singularly affecting. Composers who write securely within a period style are free to refine and enrich it. Those who find themselves toward the end of a period seem to pick up the restlessness, the sense of change in the air. Born into one style that has nurtured them, they want to keep it, perhaps make somewhat more of it; but they can apparently also feel its exhaustion. And for their very artistic life, they need to explore what else is possible. Egarr gives us a rich variety of Gibbons' music—motets for chorus, solo music for organ, instrumental fantasias. I love it all. This is a great record.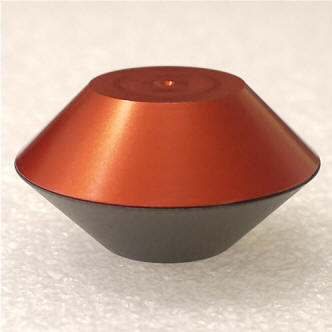 Immedia Strange Attractors (mechanical isolation devices)
The Strange Attractors in all forms improve the performance of pretty much anything you place them under; offering deeper bass, finer resolution in the midrange and a silkier treble as well as improvements in imaging and soundstaging, they truly act like mechanical diodes that only allow the vibration that plagues so many products to go one direction, i.e., out of the device. Special kudos go the Strange Attractors threaded specifically for the Berkeley Audio Design Alpha [Series 2] DAC, which take that DAC up a notch and give it the most analog-like sound I have had from any DAC in my digital music server, including the dCS Debussy. $450 per 3 piece set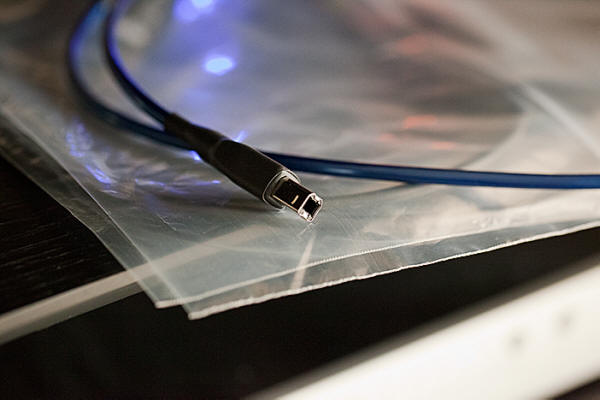 Moon Audio Blue Dragon USB Cable
Although I have returned to the Locus Design Cynosure v2 as my reference USB cable after a firmware update to my "Lee Weiland Memorial Mac mini", the Moon Audio Blue Dragon comes in as a very close second and suffers only from a hint of brightness that can be ameliorated with softer sounding interconnects, such as the Cardas (in my specific experience) and by far offer the best value in USB cables that I know of today. In every way, the Blue Dragon remains extraordinarily musical and does not suffer from the harsh treble found, e.g., in the Wireworld Ultraviolet. $180 for 3 feet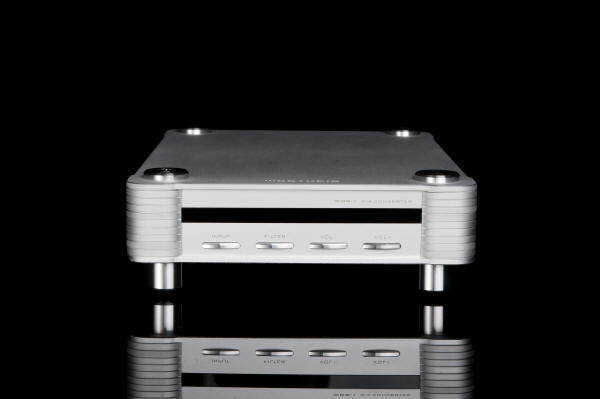 Woo Audio WDS-1 high-resolution DAC with USB input (among others)
I believe that Woo WDS-1 is the best value in high-resolution, USB capable DAC's of all that I have heard. It offers superior imaging and soundstaging with superlative tonal balance and all at a cost of $1199. The Woo also offers just the right amount of detail, neither too much nor too little, and while it can benefit from external USB converters (such as the Sonicweld Diverter HR) it's own asynchronous USB input is truly superlative in a market becoming glutted with bargain basement USB DAC's that can't come close to the WDS-1. The only thing that could make it more perfect would an all-tube analog output stage option; but I would be happy to have one as it stands.
Last year, my PFO Writer's Choice Award reflected my momentary angst that the products we love today would eventually sail off to an island of forgotten audio toys, unnoticed and unmourned by the masses who prefer an audio source that's super thin, has a bunch of apps, and takes good pictures. It discomfited me that there were so many stellar products, and so few who knew or cared. Hence, I selected the Audioengine N22 desktop amplifier because it stands out (then, as now) as a great sounding, affordable, and flexible product. Like the "Yop" emanating from the mouth of the smallest Who in Whoville, my selection would shake the walls of Amazon and open the ears of the people.
Geez. Get over yourself, Nostradamus.
The N22 remains a great buy, but further reflection and conversations with those I respect (including a number of veteran writers for this magazine) helped me to realize that Audio Playback is doing fine (and always will). Just like the youth of today or the state of popular music, it doesn't need saving nowhere, no way, no how. If audio products make a statement at all, it's a pretty Kool one: " Celebrate good times, come on!" So enough handwringing, let's celebrate the stars of 2012: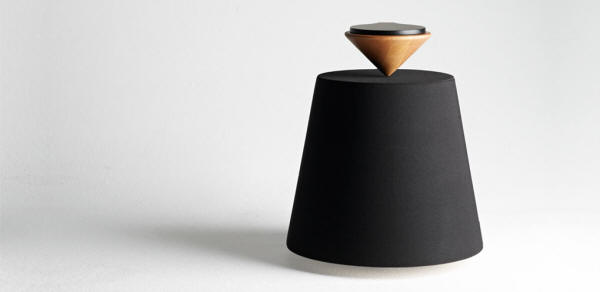 Davone Mojo Compact Monitor Loudspeaker
These omindirectional design loudspeakers look like they should be ensconced on the taupe credenza in some ad from Architectural Digest , and, truth be told, the Mojos are somewhat of a lifestyle choice. But it's a lifestyle for audiophiles hip enough to dig the sound radiating from the chic exterior of these Danish standmounts. The Davone Mojos love to fill any small to medium sized room with sound that is open and engaging. They may not have the hyper-accuracy of a traditional monitor nor the low frequency oomph of their floorstander competitors, but the Mojos trump them both by enticing you to toss aside the audio clipboard and revel in the music permeating throughout the room. An innovative product for listeners who value both style and substance. $2300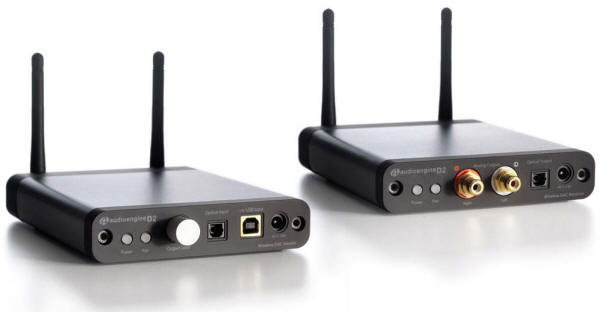 Audioengine D2 Premium 24-Bit Wireless DAC
Ok, so maybe I have shown an immoderate affection for Audioengine's wares, and, hey, how many awards am I going to give them? Still, fair's fair, and this wireless DAC has been nothing less than a daily marvel since it arrived for review. Like the Davone Mojos, the Audioengine D2 is one of those music products that carves out distinction on its own terms. Although cheaper wireless options exist, the D2 frees you of their attendant proprietary restrictions and hours of searching for work-around downloads to just play your damn music. There are lots of reasons why someone would want a reliable wireless DAC option, specifically when the D2 gives a beautiful and substantial rendering of music, to boot. Unbox it, plug it in, click-click, and you're streaming really fine wireless sound throughout the home. One of my favorite DACs at this price, and the wireless option makes it a worthy recipient of a Writer's Choice Award. $599, Cables include, 30-day audition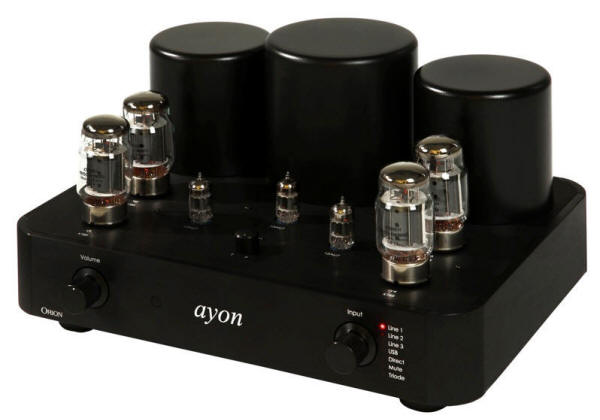 Ayon Orion II Tube Integrated Amplifier
Four Ayon KT88 Black Treasure SX output tubes and three preamp 12AU7 tubes fire up in pure Class A operation to give you the joyful sound of a thoroughly modern tube amp. In my listening room, the Orion II captured the lovely tone and warmth of a traditional tube amp, while still retaining the transparency and timing that gives life to the (typically non-audiophile grade) music that I enjoy. Not so bloody bloomy as some fat tube amps nor so bony elbowed as some solid state amps, but an excellent combination of texture and responsiveness. Truly a wonderful sounding integrated, but that's only part of the story. The Orion II is amazingly solid, impeccably finished, and reassuringly well-built. Although tube amps, as a rule, have a reputation for being finicky performers, the Ayon Orion II conveys a feeling of reliability that isn't always true of other offerings at this price point. A product whose sound and performance are designed to provide years of satisfaction. $3910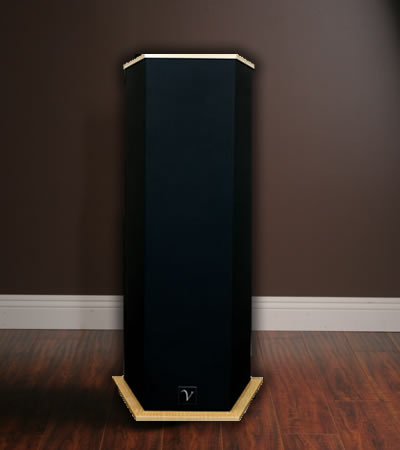 The Von Schweikert Audio VR-22
Take two relatively new drivers from ScanSpeak—a glass-fiber nanotube woofer and an all-new dual-ring radiator tweeter—acoustically blended imperceptibly using the finest European crossover parts, mount them in a quasi-transmission line, Triple Wall Noise Canceling Technology™ enclosure uniquely engineered to be the most room friendly design released in decades, and you have the new Von Schweikert Audio VR-22. While I have a complete review is in the works, I simply must share my preliminary experience with this new and amazing loudspeaker.
In brief, the VR-22 is a MARVEL at its price; one that gracefully and effectively walks the often fine line between resolution and musicality. Once properly placed, I've NEVER heard an 8-inch, 2-way loudspeaker, at ANY PRICE, fill a room with SUCH impact and weight at the lower end of the spectrum, and with such UTTER authority and prowess. And talk about musical resolve! Not in your face, take-the-paint-off-the-walls, etching detail, but honest to gawd musically relevant resolution. They will play LOUD for their breed, with no sense of strain or breakup… so long as the amps are up to the challenge. But you've been warned, using less than equally exceptional sources, amplification, or preamplification, and you WILL hear it.
This is an exciting and affordable new product that sets a new benchmark in performance at the price point! Most enthusiastically recommended. $2895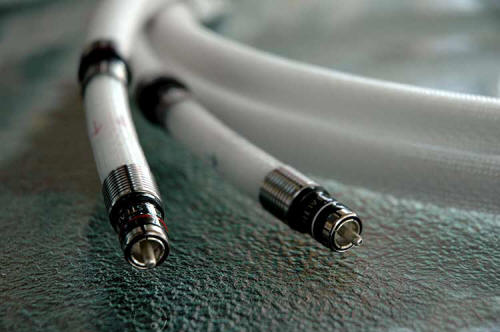 The STEALTH Śakra Interconnect
Constructed using just a handful of obscenely thin (less than 0.001 inches!) conductors of an amorphous alloy of platinum, molybdenum, and gold (just like the legendary Indra), using a construction method STEALTH calls multicore distributed Litz, the Śakra also employs a non-inductive bifilar winding to create a proprietary non-resonant cable geometry. Next, STEALTH uses what it calls a para-vacuum, employing a combination of sealed tubes of Helium gas and porous, foam-like Teflon®. The final constituent to the Śakra is the use of proprietary connectors installed using high pressure crimping, rather than solder, to create direct contact, effectively making a seamless transition between the wire and the termination.
Start with the Indra's signature utter sense of calm, distinctive frequency continuity, unique lack of granularity, and unmistakable sense of speed and musical immediacy. To that ADD deepened, fuller, and more harmonically abundant bass, significantly heightened midbass, midrange, and lower treble bloom, notable improvements in midrange and lower treble transparency, and even more distinctly rendered and clearer demarcated staging and imaging cues, and you have a sense of what Śakra can achieve.
Listening with the STEALTH Śakra in place had the unnerving effect of consistently allowing me to forget that I was listening to sound regenerated by an electro-mechanical system; its presence had moved me decidedly closer toward a convincingly real musical event. In the end, the STEALTH Śakra was the most musically resolving and expressive interconnect I've ever experienced in my system, period! If your checkbook can take the hit, I think you'll agree. $10,000 per meter, single ended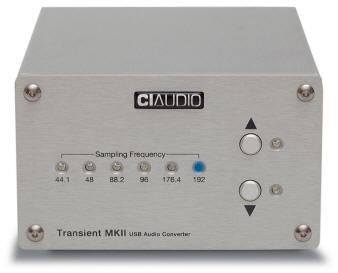 Channel Islands Audio Transient MKII Asynchronous USB Converter with VDC-5 Mk II Power Supply.
This new DAC from CIAudio, a versatile asynchronous 24 bit/192k USB converter featuring an XMOS based circuit, low-jitter clocks, multiple digital outputs, a Wolfson DAC, and high-resolution volume control, is just another example of over-achieving affordable gear from the mind of Dusty Vawter and Channel Islands Audio. It offers a host of outputs, including single-ended RCA, S/PDIF via 75-ohm BNC Connector, and I2S via either a Mini DIN Connector (Audio Alchemy/Perpetual Tech/Camelot) or Differential I2S via an HDMI Connector (PS Audio/Wyred4Sound).
By itself, and using only an unremarkable USB 2.0 cable for both signal transfer and power, the Transient Mk II regenerates the music files from my music server playback system (either AIFF or WAV) with replete texture and remarkable detail that is EASILY the equivalent of my one-box Über Universal Disk player. This ability, combined with its compact size (4.45" W x 2.9" H x 5.25" D) and lightweight (just 5 pounds) make it a perfect choice for computer audio on the go.
Adding the identically sized and shaped CIAudio VDC-5 MkII discreet power supply (designed to power your Squeezebox products too) and the PI Audio Group's DISCREET USB cable, and we are taken WAY beyond equivalency. Adding the VDC-5 MkII to the equation brings into play its low noise/high-current transformer, using a discrete Schottky diode bridge rectifier, an AC line filter, a precision voltage regulation circuit, and 20,000uF of filter capacitance, and you are in for a sonic treat.
This two box system brought my music sever/s to life in a way that was remarkably similar to that created by some DACs that retail for nearly five times as much as this unpretentious and stirring combo. This is just a stoopid good choice for any audiophile looking for exceptional computer audio playback, and it is especially exciting for those on a budget.
Channel Islands Audio Transient MkII USB Converter - $699
Channel Islands Audio VDC-5 MkII Power Supply - $329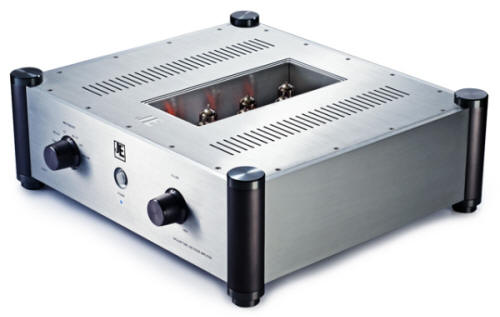 JE Audio VL10.1
The JE Audio VL10.1 Balanced Linestage gives you a serious taste of Hi End sound and build quality at a fraction of the cost of the heavy weight contenders. $5400 may not be chump change but the VL10.1 is definitely punching above its weight class. You'll get an open, wide and deep soundstage, excellent imaging and wideband performance. Also prepare yourself for natural dynamics and detail without hardness or grain. You may just fall in love with your music all over again.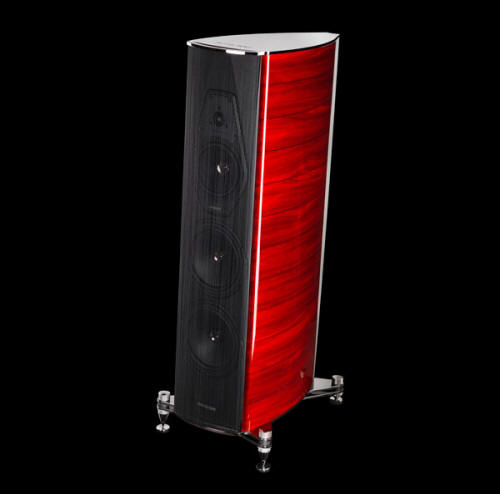 Sonus Faber Amati Futura Loudspeakers
Is there a more beautiful speaker in production today? The lute shaped red maple cabinet with nickel top and bottom support plates and rear nickel spine are as sensuous as it gets. Like Sophia Loren, we have curves, curves and more curves. Check out the unique spaghetti grill that allows ultimate transparency but also seems to dance in the air. We are talking art here, not just form. As a transducer of music, the Futuras sound as good as they look. The Sonus Faber Stradivari, Guarneri and the original Amati loudspeakers all provide an impressive heritage. The Futura takes the best from them all and steps it up a level. Extraordinary at all frequencies, it follows in the Sonus Faber tradition of rich and musical performance but it also adds a new level of detail, speed and musical information. $36,000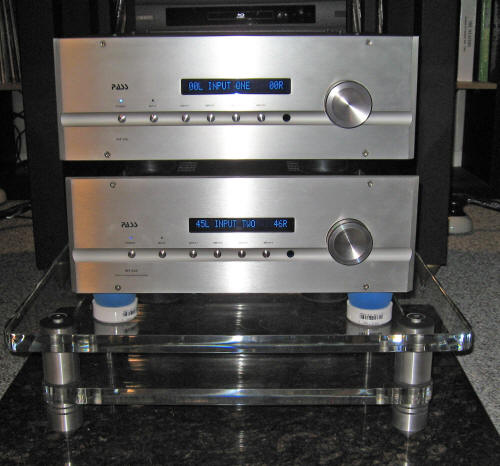 Pass Labs INT-30A Integrated Amplifier
It's difficult to ignore the efficiencies of Integrated Amps - especially those with the level of performance that the Pass Labs INT-30A can provide. Fewer interconnects, power cords and isolation devices can add up to some big bucks that can be used elsewhere in the system. Despite its solid state design, the INT-30A provides an extremely seductive combination of bloom and detail in the midrange—especially when listening to male and female vocals. Treble and bass are realistic, textured and fast. The INT-30A is rated at a conservative estimate of 30 Class A watts per channel, Even for speakers with average efficiency ratings and a wide range of impedance curves, I could still crank this baby up with little if no apparent distortion—even with the most demanding rock and electronic music. One of the biggest bargains in high end audio. $7150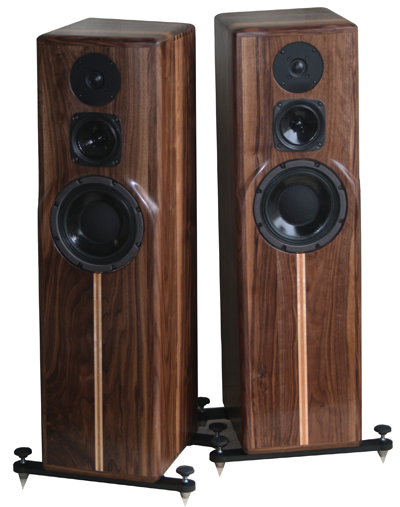 The Daedalus Audio Athena
After thinking for a very short time there was no doubt which product I would choose for a PFO Writer's Award for 2012. The Daedalus Audio Athena loudspeaker.
The Athena's mids were pure and the upper end was incredibly revealing, without the fatigue factor that can enter into the picture with some speakers. Midbass reproduction really stood out. Solid, satisfying, not overbearing, and the transition to the lower bass damn-near perfect.
Daedalus speakers have never lacked for dynamic chops and the Athena is no exception. Large-scale orchestral works were treated with respect, and electric blues, jazz and rock just, well, rocked! I also love the fact that you can virtually use any amp with Daedalus speakers.
The air around vocals was simply palpable, and the balance of body, texture, and precision were just outstanding. The reproduction of both string and electric basses was very satisfying, and I did not have to strain to pick out bass lines. I heard no hardness in the upper octave, just smooth detail and focus without any added coloration.
Congratulations to Lou Hinkley, the Athena is another winner in the Daedalus line! $9950