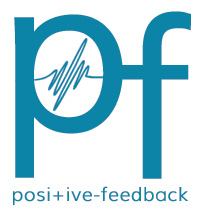 You are reading the older HTML site
Positive Feedback ISSUE 64
november/december 2012
genesis
G7.2f Loudspeakers - Gary Koh's Take-No-Prisoners
as reviewed by Jim Merod

"Take My Wife, for example . . . please" - Rodney Dangerfield
For a long while I had the good luck to do mastering work with a pair of Genesis monitor speakers illuminating the immediate vibrancy of sound stage weight, tonal and harmonic textures, ambient details and all the sonic minutiae that live music offers on well-captured, well-replicated playback. In truth, those Genesis monitors were a huge bright spot in my music and recording worlds. There was, eventually, another location designated for their arrival. I dutifully sent them off with considerable regret and a genuine sense of loss.
I was acquiescent about that change, but disquieted... only to be "saved" (alas) by Maestro Koh's infinite thoughtfulness, and more, when he replaced a set of what I honestly regarded as irreplaceable sonic companions with his Genesis G7.2f floor standing (24Hz - 40kHz; 89dB efficient) bass-amplified speakers. Each speaker weighs 82 pounds but occupies a startlingly small footprint (48" x 12" x 14"). I have NEVER heard such a discretely modest full-range speaker reach down into the signal spectrum as these do! Not only do the G7.2f giant slayers placate virtually any hunger for low-end information, since they accomplish a genuine 24Hz realization. Their extraordinary supra-sonic representation on the top allows them to perform at a level of finesse and musical accuracy that defies any reasonable listener's expectations. In fact, to put the over all matter of G7.2f sonic outcomes with such dry and minimalist semi-technicality misses their drama and glory. How can I accurately get at their spectacular "beyond the margins" vivacity?
Perhaps, to approach their larger than life yet astonishingly 'life-like" (infinitely engaging) musical joy and accuracy, I need to offer an auditory analogy. Try this one. If you ever had a memorable encounter with Arturo Toscanini's brilliant, fast-paced orchestral readings of the complete Beethoven symphonies, then you'll doubtless recall your immediate and ongoing startlement. Nothing like Toscanini's post-Second World War "Italian" reinvention of those unparalleled Germanic and Viennese works, composed nearly a century and a half earlier in the slower-paced reality of post-Napoleonic Europe, has ever been concocted. It's as if Toscanini was on the same mixture of alcohol and cocaine that Beethoven's English and French artistic contemporaries indulged.
Or, as if the old high-rev baton waver decided that the performance halls his orchestra performed in were sonically languid, needing decibel force and performative speed to overcome the ungainly ambient reinforcement of Beethoven's fortissimo energy. In sum, these Genesis miracle boxes have a similar jaw-dropping, soul-clutching sonic quality. My analogy here (and it is only an analogy, not a literal depiction) intends to suggest something very new in one's sonic universe. Please remember: I have many speakers available on a daily basis. I've auditioned hundreds of speakers of every size, kind and quality over the last thirty five years or so. My possibly stunted analogy above points toward a sonic experience that will flat-out stop you in your tracks, despite all pre-conceptions and previous knowledge.
Try one more analogy: imagine Thelonious Monk playing "Lulu's Back In Town" or "Just a Gigolo" or, maybe, "April in Paris"... luckily, you don't have to imagine that. We have these, well-recorded, in multiple versions. Even if you're a Monk fanatic, the first time you encounter the "deeply inward one" banging out his take on such semi-demented pseudo-chestnuts and old war horses you'll know you could never imagine Monk's approach to them without this evidence directly in front of you. If my analogies have value it's in the attempt to portray musical experiences that defy the rules that deliver you to unheard and unlikely emotional, lyrical and delightful places. That's precisely what Gary Koh's Genesis G7.2f delicate yet fire-eating speakers do. They transport you to a more real, more nuanced and detailed musical soundscape. They carry the immediately sensuous drama and spiritual power of music at its alluring utmost. Do I mean to suggest that these elegant Genesis G7.2f boxes are something quite truly special?
"There Are Seven Words You Should Never Use In Public" - George Carlin
Rodney Dangerfield was right. Take his wife. Somewhere, anywhere. Please ! The answer to my question above is YES: "special" and spectacular. Take these G7.2f wonders home with you.
Probably George Carlin is also correct about those seven words. Do NOT take those anywhere in public. For example, you never want to say shit or piss out loud in a fancy restaurant. Not good in a nice publication like PFO either. And the other five are worse! Stay away from this bad language because, as George told you, only terrible things happen if you violate his negatively pro-first amendment rule.
Have you noticed the strong probability that—if everybody agreed that verboten words are just that or not that at all—then no one would ever be offended? Either way, agreement breeds sameness. And amity and love. And blandness, how do you create comedy if there's no one to disagree with or make fun of?
Let's face it. In the Uber-zone of High-end Audio hot air balloon rides, only sameness prevails... can you imagine if all the audio review gurus here at Positive Feedback, or at The Absolute Sound and Stereophile, disagreed with one another? Madness and catastrophe would ensue. The Cosmic Gyroscope that keeps the audio universe balanced would veer off course. If that ever happened, a lone gun man might have murdered John Kennedy in plain sight of the FBI and Secret Service. Worse yet perhaps, a conspiracy of necrophilia, anti-democratic anarchists could've taken down the twin towers and the other tower not so close to them in lower Manhattan while the sitting U. S. President, unmoved, read a book to kindergarten kids. Of course none of that is possible, so you can see the value of our enduring (permanently encompassing) cultural, political and aesthetic unity. I mean, honestly, how could Our Way of Life amble forward, unimpeded by truth and goodness of varying textures, if a Supreme Hegemony of de facto "what me worry?" pacification did not iron out unfortunate bumps in our path?
Therefore, my complicity with George Carlin and my ambivalent sympathy for Rodney Dangerfield. These characters are funny but divinely out-of-it since (like many others who aren't funny at all) they don't comprehend that our relentlessly grand agreement about Really Important Things is necessary if our inhumane species isn't to plunge toward perpetual warfare, unfettered bickering, personal and international hatreds, political and religious combat and global loss of perspective.
Perhaps Plato was right, after all.
I'm left with this realization. If both Plato and Dangerfield are right (clearly right of Carlin), then there's an inevitable reason that I respect and admire the nearly unparalleled performance of Genesis G7.2f speakers. They are musically truthful sonically accurate and extraordinarily beguiling.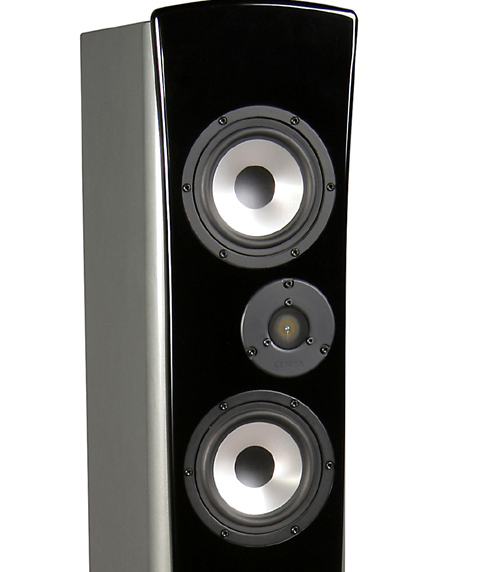 Again, I'll confess that—just as I find almost every microphone to be of some genuine use in my work (despite outrageous difference among them all)—I do not enjoy, respect or intend to live with the vast majority of speakers I come in contact with. Although speakers are inverted microphones, and mics are "input speakers," the outcome of their kinship with innumerable signal delivery variations that they hold in common turns out to be very difficult to measure precisely but as clear as the accuracy of your hearing—if you trust your hearing... if your hearing is worth trusting.
Try these numbers that characterize the Genesis G7.2f technically :
Frequency Response: 24Hz to 40kHz +/- 3dB

Sensitivity: 89dB 1 watt 1m

Input Impedance: 8 ohm (nominal)

Built-in bass amplifier: 180W Servo-Controlled

Controls: Tweeter +/- 1.5dB & Woofer +9dB/-60dB
Discerning eyes will see, in that outline, why Gary Koh's speakers are not entirely "normal" and why this reviewer is somewhat agog at their sublime musicality. For an increasingly grouchy recording person, "musicality" is only half a satisfying audio equation. The remainder of this difficult to craft whole is "signal delivery accuracy" -- which includes harmonic threads carried by large swoops and plunges of dynamic variations as well as image placement and ambient decay along with nearly whispered low-level information crucial for veridical sonic impact.
"I Refuse to Belong to Any Organization that Would Have Me" - Groucho Marx
There you have it in a nutshell. Any self-respecting comic or audiophile (or recording buffoon) ought to have enough character to avoid the trap of averaging out his or her finer eccentric traits by joining a group where adequacy, merit, accomplishment, recognition and (doubtless) unnoticed, unconscious but delusional invitations toward conformity are in play. Consider Louis Armstrong. Once an orphan, always a loner. Or Richard Nixon... well, maybe not the Trickster. But the ultimate example of an aloof Solo Guru is Edward Kennedy Ellington.
Why, do you think?
The Duke trusted his own ears—a liability, it seems, in the High-End Audio market where following the latest fad or trend over the cliff pretty much is the constantly evolving rule of thumb. Each day is a new market prospect. Every day a new set of suckers. Try this experiment for yourself if you get bored swapping your gear in and out, over and over. If, for example, you've been wise enough to keep your Vandersteen 2Ce speakers and your old (untweaked) Linn LP-12 table, then haul out your previously mothballed NAD tuner. Keep your Stealth or Kubala-Sosna (or Nordost, Acoustic Zen, or Silversmith) cables in the new-old set up you're about to enjoy. Whether you have a state of the present DAC art, plop a decent disc player in the rig. My guess is that you'll surprise yourself as you make adjustments to this obviously less than superior (clearly beneath contempt) system. I'm not going to wager that it's a better audio playback set up than your current one. But I'll bet that you will find it, you can make it, thoroughly satisfactory or better than that. The music will still "speak" to you and your bones will still move in tow. The music will be there in more than merely "adequate" generosity even though the full dimensions of playback accuracy and dynamic slam, as well as harmonic colors and imaging contours, will be diminished by degrees.
But, Waldo, hold on! The thing that you'll get is very real, enjoyable MUSIC at minimal cost.
Here's the core of my suggestion. Create an ongoing, low-cost audiophile system that snubs the mind set of those who like joining clubs where the jacket and logo signify belonging, "arrival," and all those compensatory symbols of second class ascension into the empyrean of illusory status. But, for the benefit of your inner iconoclast, assemble an apparently half-assed "old fashioned" hi-fi system that may be six or even nine years old. Go ahead Herbert: you can do this! Keep the expensive one and the crude one, both. Listen to each when the mood strikes you. You just might find something very interesting there.
"Why?" - Charlie Brown
Here's the answer to that obvious and insurmountable question, a subsidiary code for the Ontological Question itself: why is there anything rather than nothing? Because infinity and eternity are big enough to contain every possibility. Ergo, give yourself more alternatives. Leonard Bernstein confessed that he liked Elvis and Ma Rainey. Get it? Your life is, among other necessary and fortunate elements, about music. Here's a question in response to Charlie B's perennial inquiry. Do you really want to end up like me: a grouchy grouch, never-satisfied recording dorko?
"When I was young, I felt old; now I'm old, I feel older" - Sweets Edison
Hard for me not to sympathize with my ol' pal Sweetness, who labored gloriously on trumpet for five-plus decades in Count Basie's band and alongside Frank Sinatra, Billie Holiday, Ben Webster, Lester Young and all the hippest jazz players of the mid-20th century. Sweets was never young, but truly never old. He was part Native American and part angelic force... a man of superior lyrical tact and daring. Not for nothing did the unrivaled Lady Day keep his musical spirit nearby on her last series of recordings for Verve.
Today I'm editing and mastering recordings that Sweets regarded as almost incidental when we did them. After he heard what got captured with legendary tenor saxophonist, Clifford Jordan—the only time he ever played alongside Jordan—Sweets was elated. How am I doing such sobering mastering work, you ask. With Gary Koh's unassuming, understated, poised and never-faltering and (for me) essentially perfect mastering speakers.
You read that correctly. In my music-dominated and professional lifetimes (plural) no speaker I've ever lived with, or worked with on a daily basis, has approached the Genesis G7.2f loudspeakers. At $12,000/pair I regard them as a gift to anyone who (i) adores intimate musicality; (ii) loves great music rendered magnificently; & (iii) desires what I now know to be a literally state-of-the-art full range speaker at a bargain price.
Genesis G7.2f mastering and monitor-grade speakers are in a class by themselves. They are my Audio Product of the Year for 2012.
I doubt you will find anything that rivals them at this price or with sticker tags considerably higher. Jim Merod
Genesis G7.2f Loudspeakers
Retail: $12,000 a pair
Genesis Loudspeakers
www.genesisloudspeakers.com