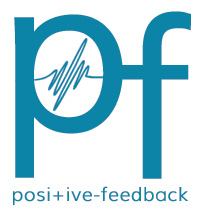 You are reading the older HTML site
Positive Feedback ISSUE 64
november/december 2012
je audio
VL10.1 Vacuum Tube Stereo Balanced Linestage
as reviewed by Will Wright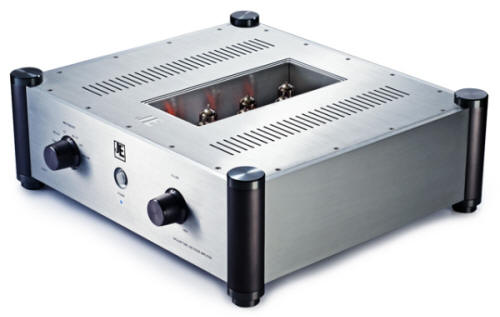 My first serious preamp was the McIntosh C22, purchased in 1969. I still have it, though it hasn't been used since the '80s. The C22 uses six 12AX7 twin triode tubes. It has a phono stage. It has tone controls. I liked the MAC, it was cool for its time. In 1969, McIntosh and Marantz were the big names. Since then the competition has heated up.
Since the MAC, I've moved on to solid state units and rarely have any tube gear in my system. My bias is more toward solid state for amplification but tubes still hold some appeal for preamp duties. Because my system is designed around balanced connections, any preamp I would consider, tube or solid state, would need to accommodate balanced sources and balanced amplification. While I'm at it, my preference would be for a fully balanced design, input to output for noise immunity. Dual mono design for best channel separation would also be on my wish list.
Madonna notwithstanding
I have to confess to one bias regarding tube equipment. Unlike many, I prefer the parts on the inside where they aren't exposed to mishap. Luckily, the beautifully built VL10.1 has it both ways. The understated good looks and solid construction of the aluminum chassis won me over immediately. And for you tube gazers, the VL10.1 has a peek-a-boo view so you can bask in the glow of all six of its tubes via a window in the top of the chassis. This handsome unit is at the bottom of the VL series. There are two other preamps, the VL19 and the VL20 in the line. Specifications on the three models are very similar but the VL10.1 is obviously intended as a minimalist design as compared to the other two, which have more advanced feature sets. Don't worry. You won't feel slighted. The VL10.1 has everything you need for good sound.
Controls for the VL10.1 are only the basics. There is a source selector knob to the left, a volume control knob to the right and a round push button power switch in the middle. When the power switch is depressed, the LED backlighting the power button will blink red for about 30 seconds while the tubes and circuits stabilize. The LED will then turn to solid blue. On the back panel, the VL10.1 has three sets of balanced inputs, three sets of single ended inputs and both balanced and single ended outputs. There is no remote control, so you'll just have to get up and make that walk across the room to adjust volume or select your sources.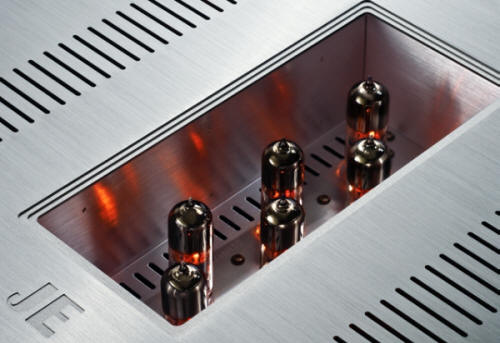 The VL10.1 preamp is a Wideband Unity Balanced Amplifier that employs a patented single-stage balanced voltage amplifier design. It utilizes no load resistors, buffers or followers. A single gain stage insures minimal phase shift. There are six triodes per channel. In each phase, two triodes are connected in a Cascode configuration for wide bandwidth and two triodes form the SRPP (Series Regulated Push-Pull) configuration for low output impedance and low distortion, providing the advantages of both the Grounded Cathode amplifier and the Cathode Follower. The 6H30 twin triode was chosen for its linearity. No global feedback is used. Updates from the VL10 include wideband MOSFET transistors as high performance constant current sources as well as a power supply utilizing a premium grade R-core shielded transformer.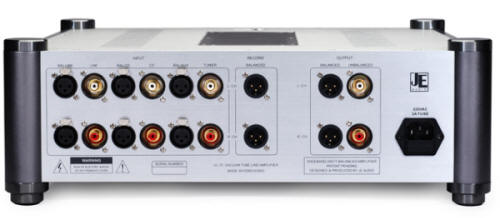 Setup
I placed the VL10.1 in the exact same spot occupied by my Tim DeParavicini Signature preamp from Alchemist Audio atop a Halcyonics Micro 40 active isolation platform. I also used the exact same cabling employed for the Alchemist pre; Soundstring Gen II power cord and interconnect cables. As tubes can be microphonic, good isolation is a must and the Halcyonics unit is one of the best I've tried. Power conditioning was provided by my Jack Bybee / John Curl Signature power conditioner.
Listening
Until the unit had a few hours of break-in, the frequency balance was uneven but soon leveled out. The most immediately obvious difference from my solid state pre was in bass performance. Compared to my reference, the VL10.1 has a warmer but equally well extended low end that does a good job of preserving hall ambience in live recordings. In truth, after a week in my system, I really didn't notice anything about the bass presentation that I would have changed. Bass detail, impact and note articulation are excellent. Pitch is precise. The dynamic envelope of individual instruments is well preserved. Rhythm and pacing are engaging and draw you in to the music. The VL10.1 builds a solid foundation for the musical event.
The bass to midrange transition is well handled, in fact, the overall tonal balance from bass to treble is smooth and problem free. One big difference from what I am used to is how well the VL10.1 handles drums. Drum kit or Orchestral maneuvers, the clarity and natural presentation are outstanding through this musical range. Take, for instance, The Ray Brown Trio Live at the LOA (Summer Wind) doing "It Don't Mean A Thing If It Ain't Got That Swing", or the Ginger Baker Trio Falling Off The Roof. You can almost see the sweat on the drummer's forehead.
Horns such as saxophone and trumpet are rich and brassy without being brittle. Upper harmonics are reproduced believably. Queue up Maceo Parker Roots Revisited playing "Children's World" or Art Blakey and the Jazz Messengers The Big Beat and listen to Lee Morgan and Wayne Shorter work out. Treble has good clarity without being clinical; extended but smooth. There is no added prominence through the treble range. Cymbals have good space and air without graininess; more shimmer than sizzle with good supporting harmonic structure in the upper midrange.
The VL10.1 excels at reproducing a natural soundstage, good width and depth but not overblown or too lush. Instrument placement, though not vivid, is believable and instruments stay anchored in place and well delineated. Performers exist within their own well defined acoustic space. Front to back queues are well resolved. Retrieval of low level spatial queues such as reverberation and hall ambience are well served. In live performances, audience sounds such as applause sound like applause rather than white noise. The sound is relaxed, open and natural.
Conclusions
There is only one thing wrong with this Line Stage Preamp. I have to give it back. It's true that some will be put off by the lack of remote control. Others may want more inputs or additional features. But I'd be surprised if anyone looking in this price range would complain about the sound. I only experienced one problem during my time with the VL10.1. One of the tubes became intermittently noisy. This was usually noticeable between tracks or when no disc was playing. The fact is I love this preamp. My own reference preamp, if sold today, would likely be priced at around $10k -12k. At $5400, the VL10.1 bettered my reference in every category for half that price. I'd say that constitutes good value. Are there better preamps? No doubt, but you'll have to pay a lot more. I encourage our readers to check out this brand. I wasn't familiar with JE Audio prior to this review but I'll certainly be watching them from here forward. Will Wright
VL10.1 Line Amplifier
Retail: $5400
JE Audio
web address: www.je-audio.com