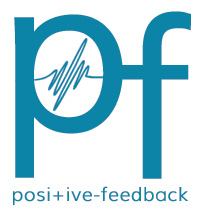 You are reading the older HTML site
Positive Feedback ISSUE 64
november/december 2012
Impressions: Robinson's RMAF 2012 Audio Oasis! Awards
by David W. Robinson
[All photographs and image processing by Robinson; cartoons by Robinson, Walker, & Zimmerman]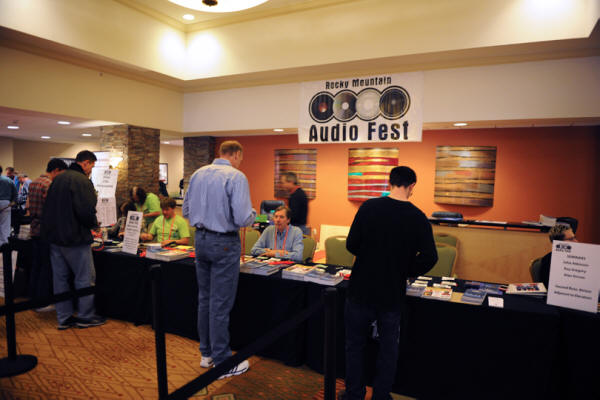 Another year, another great Rocky Mountain Audio Fest. Marjorie Baumert and the Colorado Audio Society once more did a smashing job in producing yet another great audio event. What started out as a regional show, an outgrowth of the older VSAC shows, has blossomed into a true national-level audio bash, one of those real and all-too-rare "got to be there!" smashos. If you weren't there… well, you really missed it, amigo!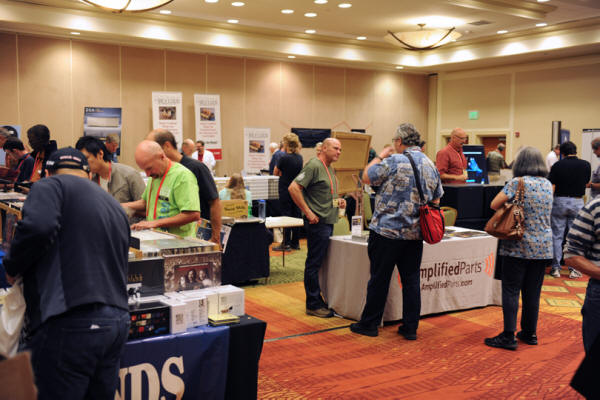 2012 is in the books now, and I've had a chance to go over my notes. As usual at every audio show that I have attend for the past handful of years, I have an opportunity to give my PFO Audio Oasis! Awards. This are for those (relatively) rare rooms that I visit that have something special about them… the ones that I actually relax in, and truly get into the music. Instead of being bored, put-off, or aurally assaulted. You know: the thing that fine audio is supposed to be all about, but all-too-often is not.
Especially at shows.
So……….how did this one measure up?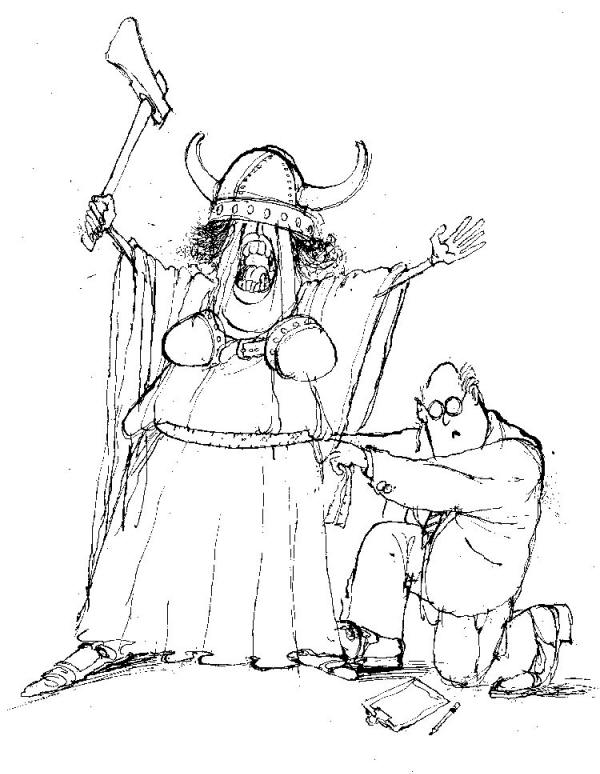 Stretch it, Brunhilde!
Pretty well, actually. There were some good rooms that I visited at RMAF 2012 this year, places that delivered sonic satisfaction. It's time to recognize these places as being havens for the weary audio traveler, oases for the musically thirsty, and places for the tunes, not the tombstones. And so here, in no particular order, are my PFO Audio Oasis! Awards for RMAF 2012.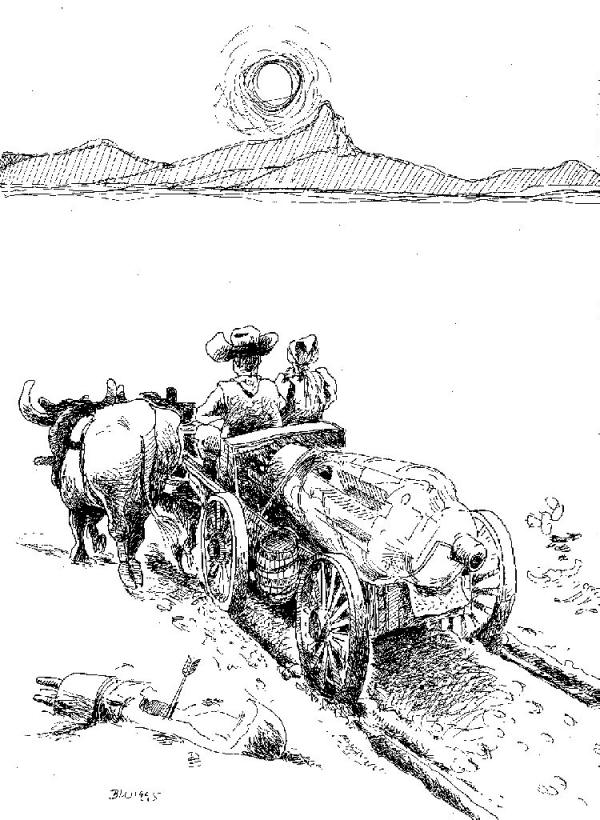 DEQX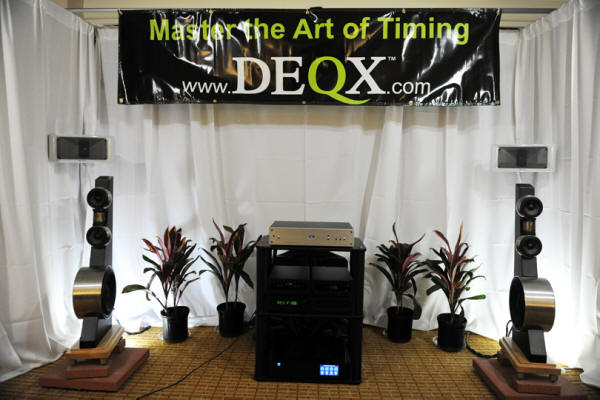 I admit it: I was very impressed by the demos in the DEQX room, and I wasn't sure that I would be. But their challenge to hear the difference that DEQX would make to a pair of honky PA horns (the white beasties above) was intriguing. Bel Canto furnished the front-end and amplification of the system.
I went. I listened. I was amazed.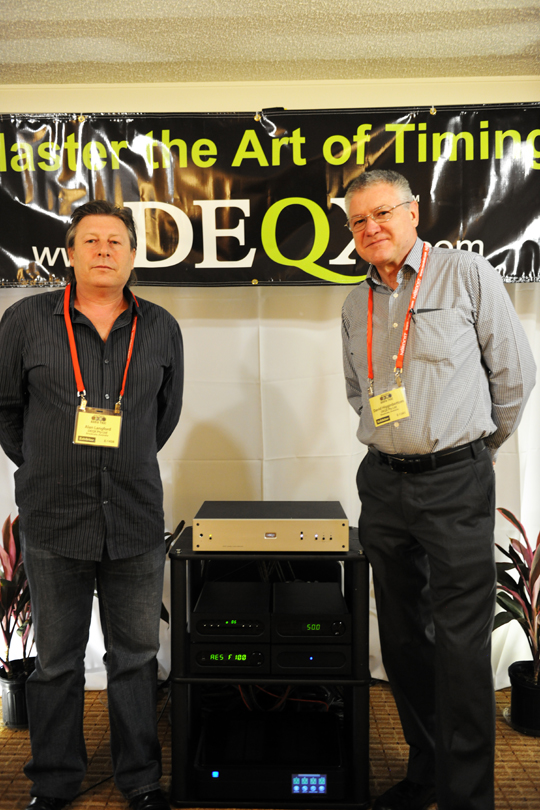 Alan Langford and David Higginbottom of DEQX
What can I say? DEQX is real. The difference that their processors make in the quality of audio playback in a given room space is no illusion, and could make a very significant improvement in many listening rooms.
So DEQX gets a PFO Audio Oasis! Award, easily.
Bel Canto Design/Joseph Audio/Cardas Audio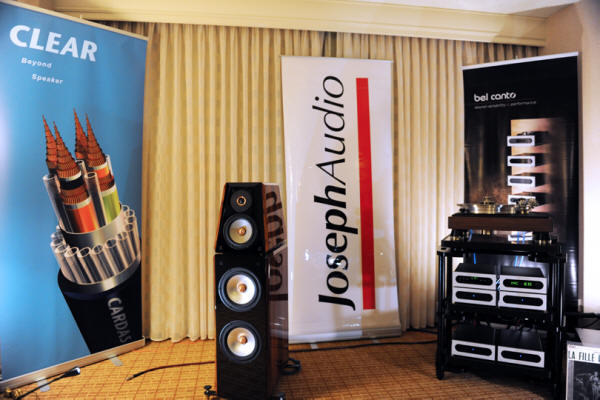 In the Bel Canto/Joseph Audio/Cardas Audio room…
Here are three great names in fine audio, but I had never heard them together in a room, at least that I could recall. The Cardas Clear line is my current reference for headphone cables, and a Bel Canto stack is playing some lovely Debussy solo piano works from DVD-A at 88.2 kHz as I type this (their pre/DAC 3.5, the REF150 stereo amp, their dedicated power supply, and a REFLink USB interface, if you must know), and I've heard Joseph Audio from time to time at other shows over the years.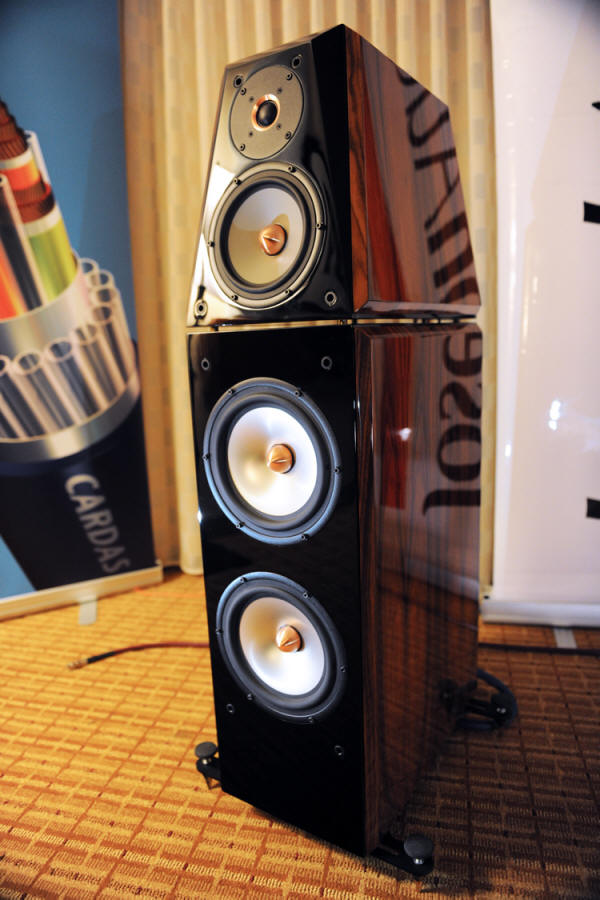 The Joseph Audio Pearl3: Poetry…
But somehow, the sound in this room was truly gorgeous: rich, lush, detailed, and seductively musical at all times. You just wanted to sit down and listen to your favorite stuff for a few hours. That's always a sign to me that an Audio Oasis! Award is lurking.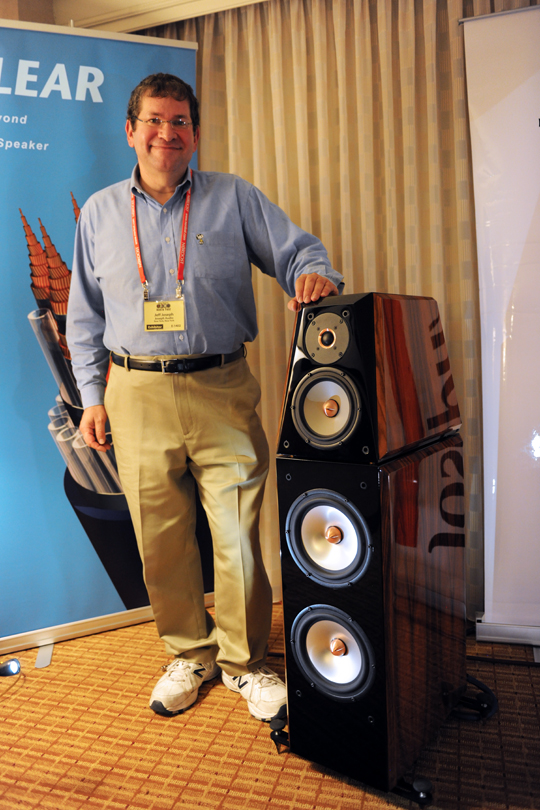 Jeff Joseph, proud papa of the Pearl 3s… don't blame him for looking pleased!
This is a smashing synergy, from a combination that I had never heard. Knock-out sound from the Bel Canto stack (Bel Canto were using the 3.5VB MK II and VBS1 Power Supply and REF500 amplifiers to name a few of the key players). There was no lack of dynamics and nuanced detail; to pull this off under show conditions is a real accomplishment. Kudos to all here!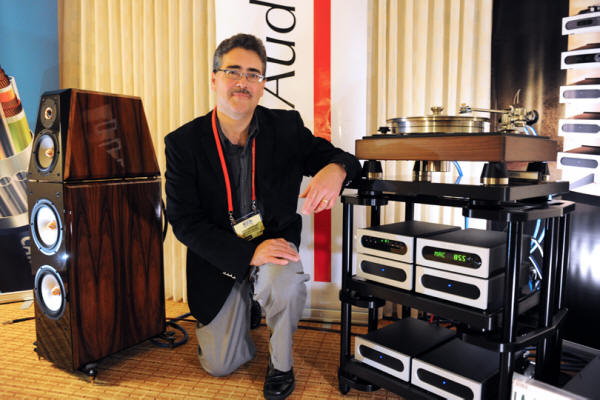 John Stronczer of Bel Canto with the Bel Canto stack… John's smiling too!
This room was a slam-dunk Audio Oasis! Award… an easy call.
MSB Technology/HDTracks/YG Acoustics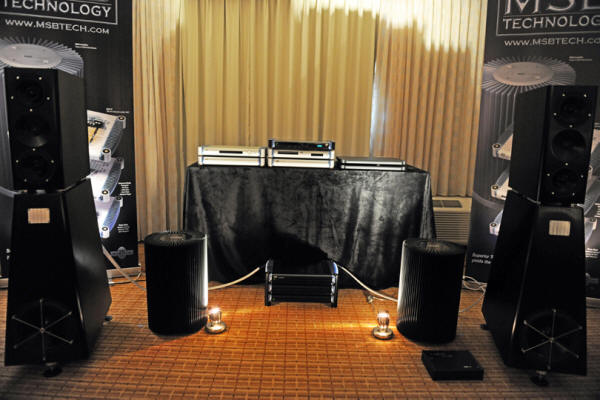 MSB Technology, YG Acoustics, and HDTracks… perhaps a bit tight for space, but very good sound.
The MSB/YG/HDTracks room had the latest MSB digital stack going, feeding their 200 WPC Platinum Mono 203 amps. This passed in turn to a pair of the YG Acoustics Anat III Studio speakers. While the room was a bit small, I was still impressed by the clarity and detail of the MSB front end, taking its HDTracks source files and passing them along with aplomb to the YGs. I know the Anat IIIs pretty well, and they were sitting up and paying attention to the MSB monoblocks.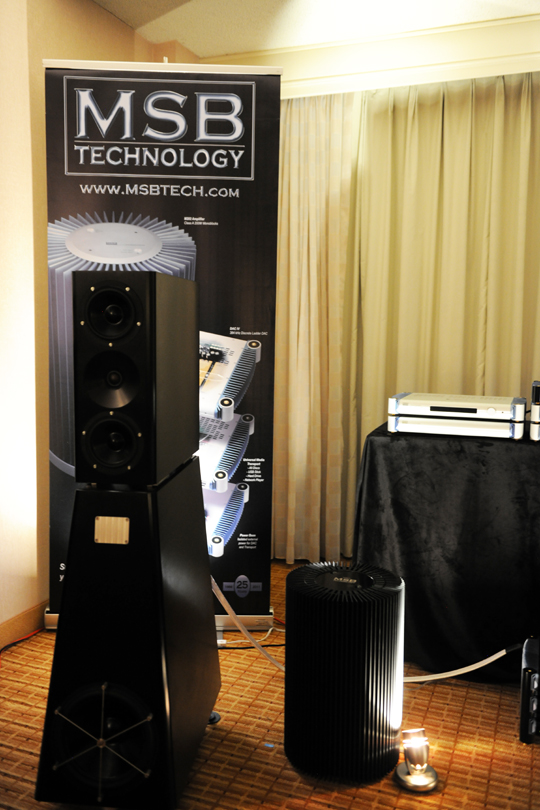 This was the best sound that I can remember hearing from MSB at a show, but this was also the first time that I remember seeing MSB and YG in the same room. This is a good match, which is not an automatic thing. The YGs are so revealing, and put such demands on the upstream components, that it's possible to hit a bad synergy, especially in the hectic pace of show conditions.
It didn't happen, though; this combination worked.
I wish that I had had more time for this room. A PFO Audio Oasis! Award, though, for sure.
GTT Audio/YG Acoustics/Tenor/Kubala-Sosna/Accuphase/Veloce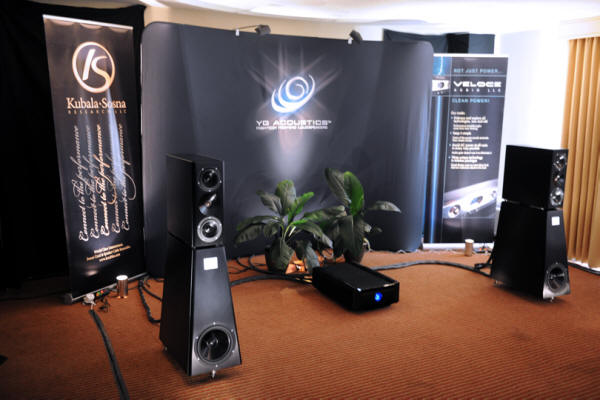 Sometimes I find rooms that are sonically great by accident, unexpectedly. Those moments are a lot of fun, and a major reason why I love going to good audio shows. It's a treasure hunt for some audio gold. Maybe you'll find some, maybe you won't.
And you never know what you don't know.
Other times, you find yourself visiting an old friend, tried-and-true… a room that just seems to be great each time you visit. This room is one of those. Year after year, I have visited the room that Bill Parrish, Dick Diamond, Joe Kubala, and Jim Fairhead assemble, and find that I'm never disappointed. The music is always great… either DSD/Double DSD, or LPs of late… and they play real music. (The Eagles come to mind immediately here.)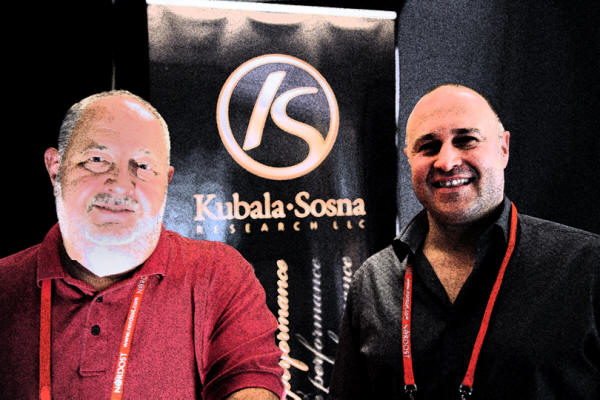 Joe Kubala of Kubala-Sosna and Bill Parish of GTT Audio…in living watercolor!
This year's room featured the Accuphase DP-600 SACD player, the Veloce Audio LS1 mkII Linestage, a Tenor Audio 175S stereo amp, and YG Acoustics Anat III Studio Signature speakers, all cabled with Kubala-Sosna's terrific Elation! cables. I spent quite a while here, listening to music, relaxing, and enjoying the rich and dynamic sound. I mean really listening and mellowing out. Not just sitting there! No problems with any of the usual audiophile categories, since this room is larger, and doesn't suffer from some of the constrictions that smaller rooms have. Bass, mids, and trebles sounded very good for a show, and once I got front and center for my listening, imaging and soundstaging proved to be their usual reference-grade levels. YG + Tenor + Kubala-Sosna is a top-flight combination in my audio pantheon, and proved it at RMAF 2012 once again.
Hats off to these gents! And an Audio Oasis! Award to the group of them once again.
Von Schweikert Audio/Jolida/United Home Audio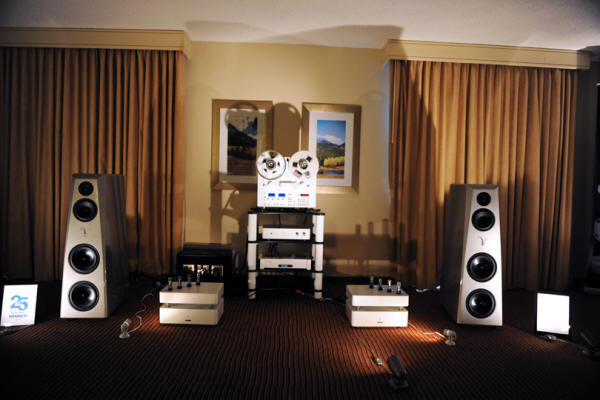 The Von Schweikert VR-44 speakers, powered by the Jolida Luxor monoblock amps and the Fusion preamp… leading the charge, the United Home Audio Phase11 RTR machine!
You know, ever since discovering this combo a year ago, back at RMAF 2012, I've been more and more taken with the quality of the synergy that the three companies manifest when they're hooked up together. This is the third time that I spent time… which turned out to be extended time… in this room.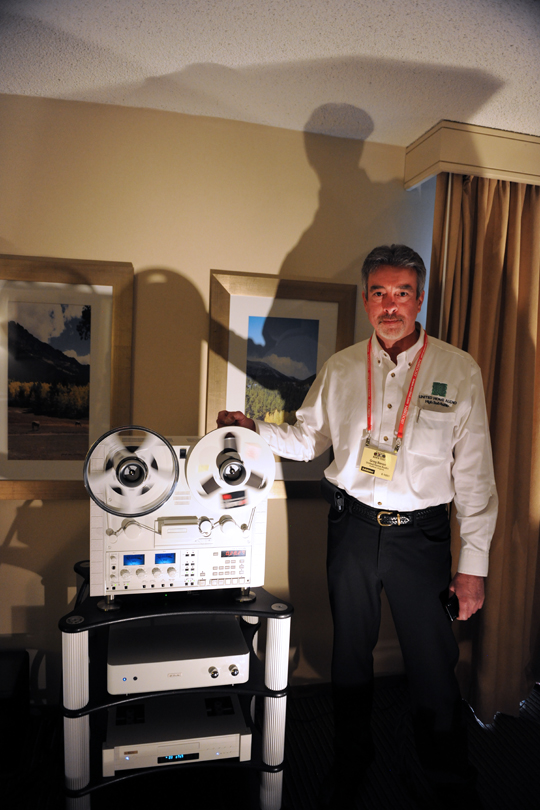 Greg Beron of United Home Audio with his Phase11 RTR deck
This room had the Von Schweikert Audio VR-44 speakers; at the other end of the line was the UHA Phase11 tape deck, being shepherded by Greg Beron. In between were the Luxor Dual Mono Preamp and the Luxor Monoblock amps with separate power supplies. All cabling was by Master-Built, a brand that I was not familiar with.
The sound was a delicious blend of open reel tapes of the highest quality on a world-class RTR machine, great tube pre-amplification and amplification, and the typical great sound that VS loudspeakers always provide. The VR-44s filled the room with well-integrated sound… nothing beamy, no obvious evidence of crossover points, with rich bass and nicely extended high frequencies. The Jolida preamp and amp were glorious! Great, clean sound, and none of the stereotypical "tube feel." No spurious noise, no microphonics, no rolled-off euphonia… none of that nonsense! And at (relatively) affordable pricing for audiophile kit! Impressive work, Jolida!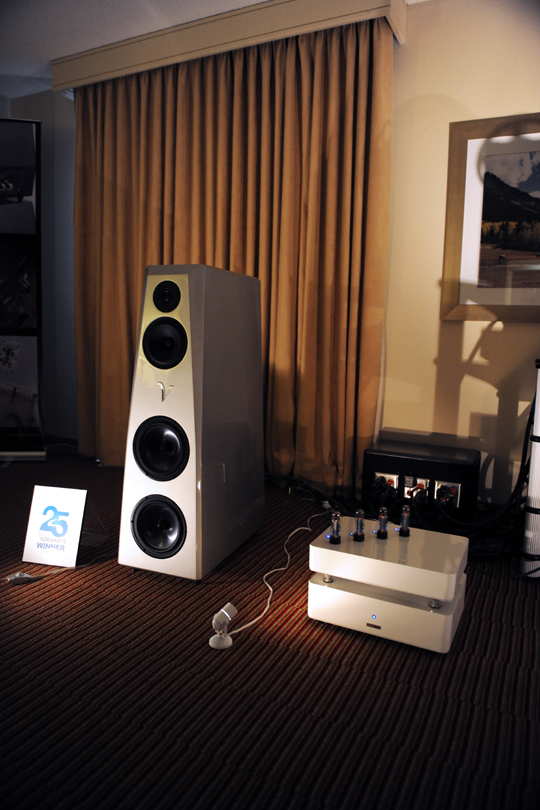 A Von Schweikert VR-44 speaker and Jolida Luxor amp with power supply: magic….
So, after three shows in a row, it's crystal clear to me that VS speakers really work and play well with Jolida electronics, and that superior open reel tape makes for an excellent diet in this system. Greg's Phase11 RTR is at the top-o'-the-heap of open reel machines that I've ever heard. The Phase11 will make a trip here within the next year, so that I can appraise the further advancements that Greg has made. It's really good… all of it is really, really good.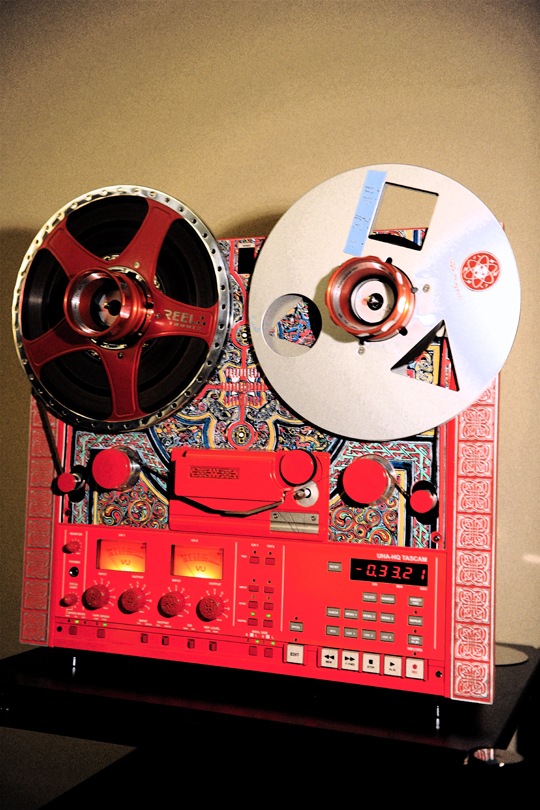 A UHA RTR in Celtic Red!
In fact, this was so good that I promised myself that I would return after hours, and catch a late-night listening session there, DJ'ed by Greg Beron. He shared several of his open reel treasures, while a group of us enjoyed an adult libation. This confirmed my take during business hours: the Von Schweikert/Jolida/UHA tandem is a PFO Audio Oasis! Award winner once more… and without breaking a sweat!
mbl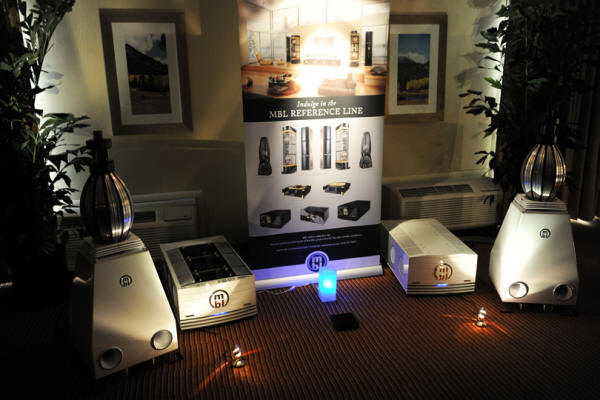 mbl's reference line of components: world-beaters!
Also in the category of "no surprise!" was the room by mbl North America. Superbly set up by Jeremy Bryan and his team, the mbl reference room was an exercise in audio scrumptiousness, both for the eye, and (more importantly), to the ear. The Radialstrahler 101E Mk. II omni-directional speakers were working hard to create a holodeck in a good-sized room, and making a very fine job of it. Of course, the 9011 monoblocks at about 875 Watts per channel were making sure that the 101E's paid attention, so that I could, too. The mbl 6010D reference preamp was sterling, as always. The digital front end was the 1621 transport feeding the 1611 DAC. The only thing that I could possibly fault in that playback was the fact that it doesn't support DSD over USB.
Yet!
In fact, this system mirrors what I have in my listening room right now, with the exception that the finish here was white with chrome; mine is black with gold.
I have the same emotional response to both systems, though: mbl is very special stuff. This is a case in which you have an audio system that delivers music at the very top tier of audio performance, and does so effortlessly. Here I was, at an audio show, that setting that is so very tough on audio performance, and I was simply easing back into the recordings. Splendid! But not astonishing… I know this system's superlatives very well, first-hand right now.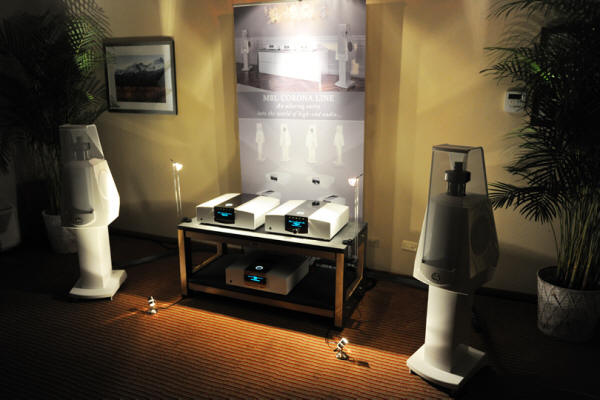 The mbl Corona system in action…
What did astonish me was how well the second mbl room was doing, with its Corona components. These were comprised of the C11 preamp, the C21 stereo amp at 300 Watts per channel, the C31 CD player, and the compact Radialstrahler speakers. These represent a lower price point in the mbl product line, with a more compact footprint, but the same beautiful visual and aural aesthetics. I dropped by for a moment to say hello to Jeremy Bryan, but was drawn in to what I was hearing as I sat there.
Frankly, after exchanging some greetings, I sat for a while just listening to the sonic presentation. While true that this was not the reference line, the Corona line was very convincing and downright surprising in its dynamics, the musical detail, and the very respectable soundstage that it was projecting in a small room. For monitor-sized speakers, the compact Radialstrahler did a dynamite job, excelling most monitors that I have ever heard. Very, very tasty!
There's just no doubt in my mind: there at two PFO Audio Oasis! Awards here… one for the mbl Reference room, and one for the Corona room. Exceptional performance.
Merlin Music/Cardas Audio/Ars Sonum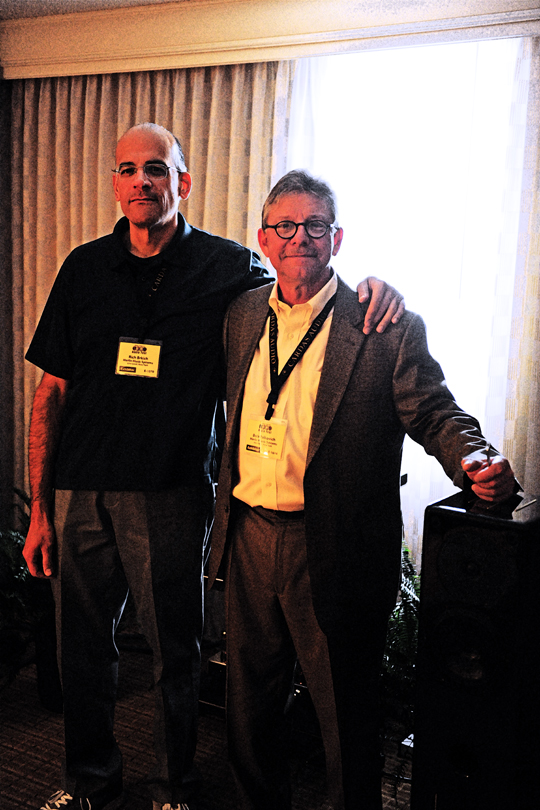 Rich Brkich of Signature Sound/Merlin Music and Bobby Palkovic of Merlin Music: Brothers in audio arms! [Photograph and fresco by Robinson]
Here's a room that always provides a haven for me at RMAF: the Merlin Music/Cardas Audio room. Over the years, I've gotten to hear Bobby Palkovic's VSM in its various iterations, versions, and refinements many times. One common theme: these speakers always make music. Never etched or forward, never constricted, never beamy or boomy… just musical. There aren't many speaker designers who have worked so many years to get the most out of a given configuration; Bobby is one of them.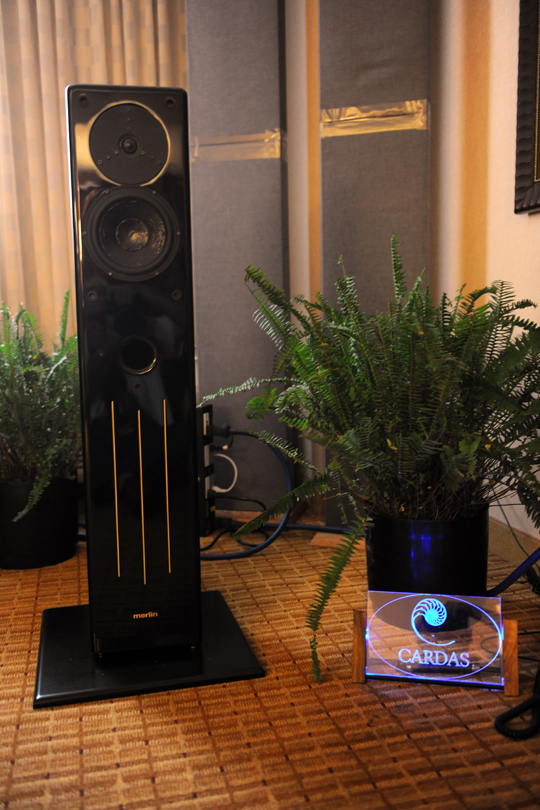 The Merlin Master VSM, cabled by Cardas Audio Clear
Bobby has a definite preference for tube amplification, so it was no shock to see Ars Sonum in place. In past years, Merlin Music showed with Joule Electra's brilliant OTLs, but with the changes there, Merlin has shifted to new tubed electronics.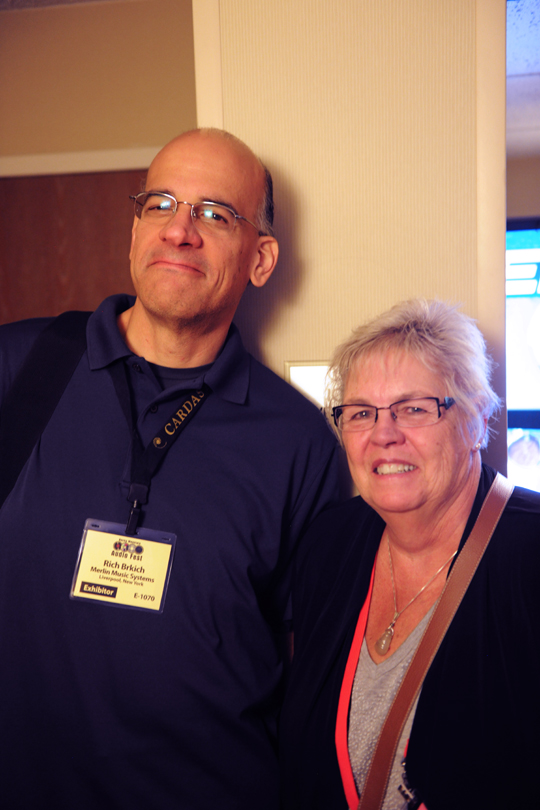 Rich Brkich with PFO's Lila Ritsema
I'm not familiar enough with the Ars Sonum Gran Filarmonia (60 WPC) integrated amp's sound to be able to separate it from everything else that I was hearing, but the results were very pleasing regardless. That's pretty impressive when we're just talking CDs; normally CDs are pretty depressing for me to listen to. Give me DSD/Double DSD, LPs, open reel tape, or SACDs, please! Nevertheless, Bobby's room was great sounding… I have to admit it.
So, once again, an Audio Oasis! Award for Merlin/Cardas, with Ars Sonum in the mix. Great stuff!
Usher Audio/JPS Labs/Abyss Headphones/Puget Sound Studios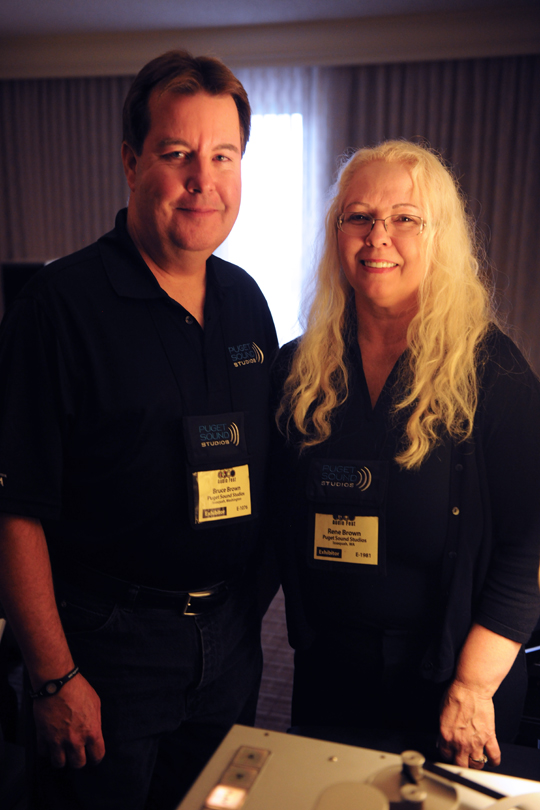 Bruce and René Brown of Puget Sound Studios
This room brought me into a place that had the big-time open-reel sound going. Bruce and Rene Brown were hosting the room that they shared with JPS Labs, Usher, and Abyss Headphones. The Usher speakers were sounding great, driven by an Usher preamp and Orion amplification, and cabled with JPS Labs. The kicker, though was the amazing source sound, coming from Bruce Brown's lovely half-inch Studer sitting right in the room!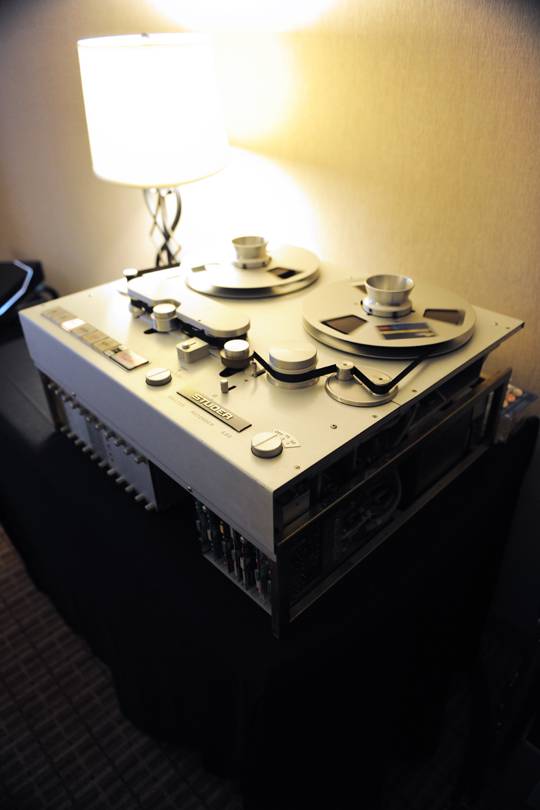 A half-inch Studer machine, in all its glory…
What can you say to this? The sound was yummy-rich, dynamic, with the Ushers jumping to with lovely detail and smooth, elegant sound. It never was a consumer format—reel-to-reel ain't for wimps!—but the sound from this RTR machine was to die for. I suspect that whatever you hooked this machine and tapes up to would sit up and take notice. Which is what was happening here.
Obvious Audio Oasis! Award material… and duly given!
ModWright Instruments/Daedalus Audio/WyWires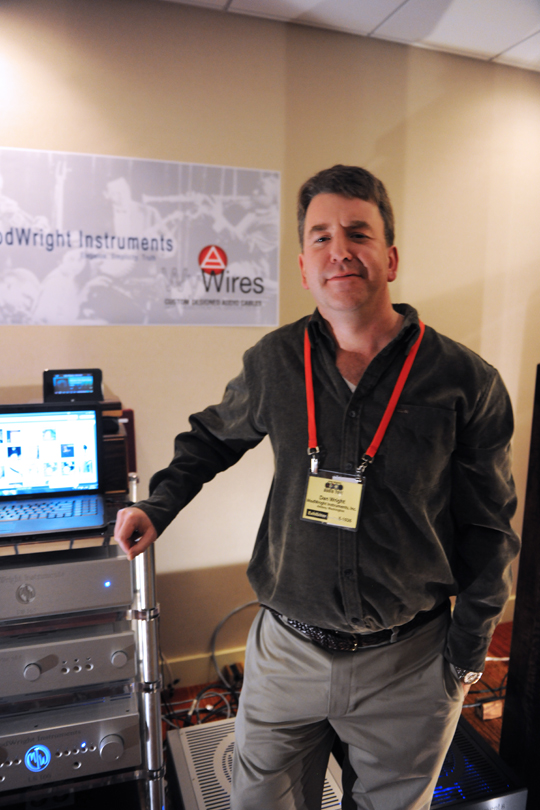 Dan Wright of ModWright, next to a stack of his very righteous gear…
Some folks do seem to get it right, year after year. Dan Wright of ModWright is in that group, together with Lou Hinkley of Daedalus Audio, and Alex Sventitsky of WyWires. The room featured the ModWright KWA 150 Signature Edition power amps, the LS 36.5 DM preamp, the Elyse DAC, and the Oppo BDP-95 universal player with the ModWright "Truth" mods. Daedalus supplied the Orpheus full-range loudspeakers with Bass Optimization Woofer (BOW) and the Daedalus Speaker Cables. WyWires provided their Silver Interconnects and Blue/Silver/Gold power cords. Good stuff!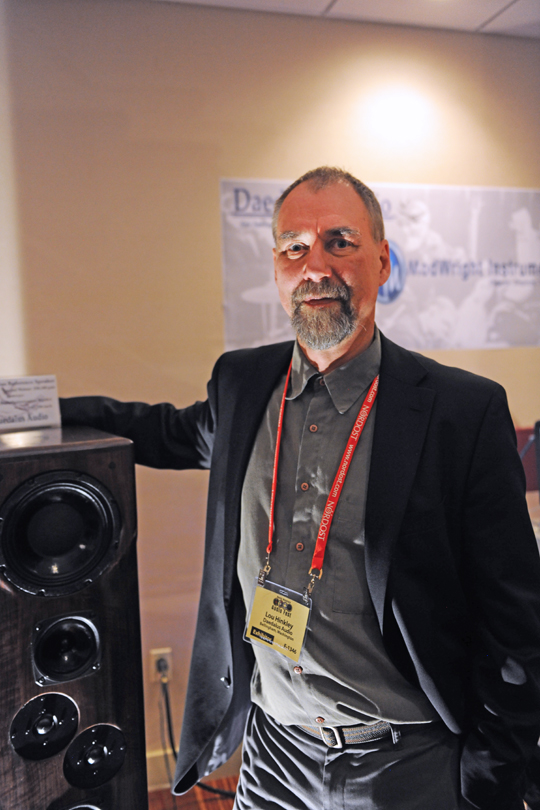 Lou Hinkley of Daedalus Audio
The sound in this room was extremely musical, and confirmed my anticipation that I'd be able to relax and take in the recordings that were rolling. Dan's electronics have been getting more and more transparent, elegant, and refined for years now, and they really synergize well with the Daedalus speaker line, via the WyWires connection. The music was sounding rich and involving, but without a hint of euphony at all. Dan's modded Oppo BDP-95 with the "Truth" mods has been impressing me for the past year or more at shows... great sound! The dynamics were excellent, even under the high-noise-floor of show conditions. That's quite an achievement.
Once again, I heard the kind of excellence of audio reproduction that makes me drop in on a room on a regular basis. Great to see that an Audio Oasis! Award was in order… done!
Blue Light Audio/Playback Designs/Evolution Acoustics/Wave Kinetics/ATR Services/Puget Sound Studios/B.M.C. Audio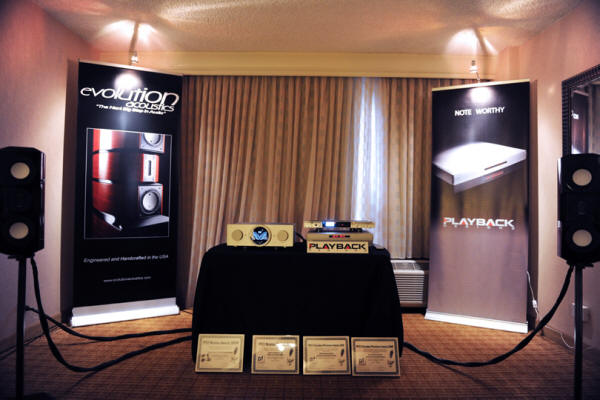 In the Playback Designs/Evolution Acoustics/etc. zone… check out those PFO show awards!
Yep. Again.
Once again, Jonathan Tinn's (Tinn Man!) room, ably aided and abetted by folks like Andreas Koch, Mike Spitz, and Bruce Brown, was shining again this month. The DSD files were flowing, and open reel was in evidence on one of Mike's ATR ma-cheens.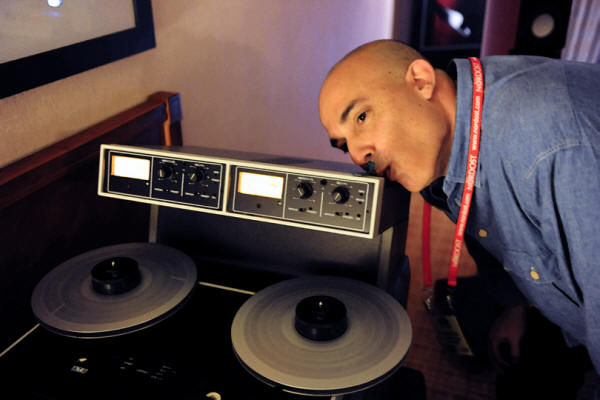 Jonathan Tinn demonstrating some love for his ATR Services RTR machine!
The items on display were very familiar to me… Playback Designs DSD, ATR open reel, Wave Kinetics, Evolution Acoustics. Specifically, Playback Designs' MPS-3 CD player with USB DAC for DSD/2x DSD and PCM via USB 2.0; the Evolution Acoustics MMMicro One Loudspeakers; Wave Kinetics isolation devices; Aural Fidelity interconnects, speaker cables, and power cords; the B.M.C. AMP CS2 Integrated stereo amplifier; ATR Services' ATR 102 RTR; and some open reel tapes from Puget Sound Studios. The only major change this year over year's past was the absence of darTZeel electronics, those sumptuous components of audio coolosity that have been at the top o' the audio heap for me for many moons now. In their place was the AMP CS2, a component that I must confess I didn't have any experience with.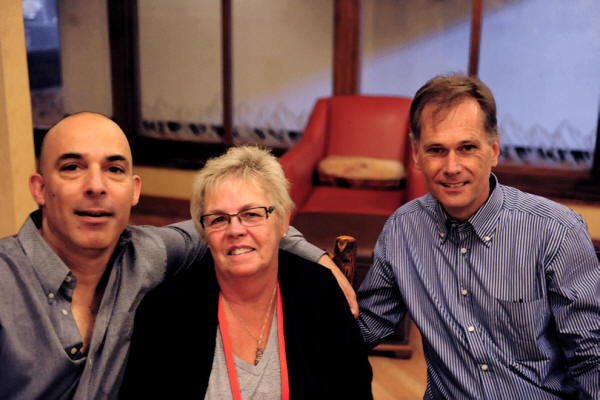 Jonathan Tinn of Blue Light Audio, Lila Ritsema of PFO, and Andreas Koch of Playback Designs, enjoying the moment…
While the B.M.C. didn't strike me with the same sort of transparency and effortless ease that the darTZeel gives me, it was still quite good, especially as the show went on. But given the quality of the sources in this room, that's what I would expect… DSD and Double DSD, plus open reel, is a feast fit for kings! And those little MM Micro Ones… bloody incredible, every time that I hear them. Unbelievable value, amigos.
I sat in here, listening to comparisons of open reel vs. Double DSD of same, done in near-real-time, and thinking, "You know, I should just sit here for an hour or two."
And that's always the sign of an Audio Oasis! Award.
So, move over the awards in your room, folks: here comes another….
Finally, some photographs from the show, because people make the music go 'round…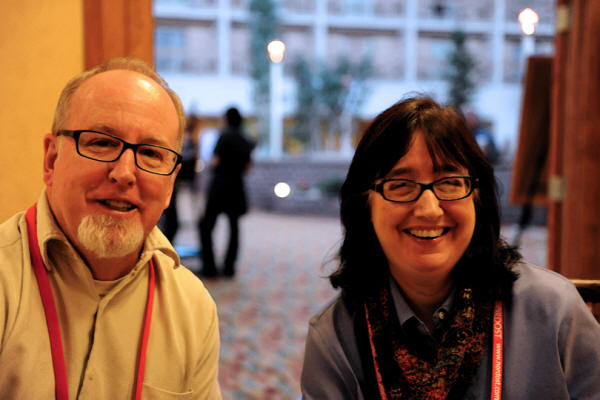 Natch, it would not be cool for me to miss my fellow unindicted co-conspirators, Dave and Carol Clark. I've said it before, and I'll say it again: I guess you don't have to like your partners…but it sure helps!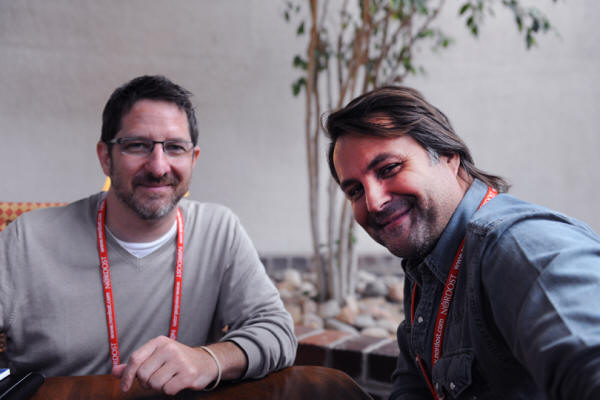 Speaking of PFO, here is Bryan Gladstone, Marketing and Advertising Manager, and Danny Kaey, our European Bureau editor… great folks, and a lot of fun at parties!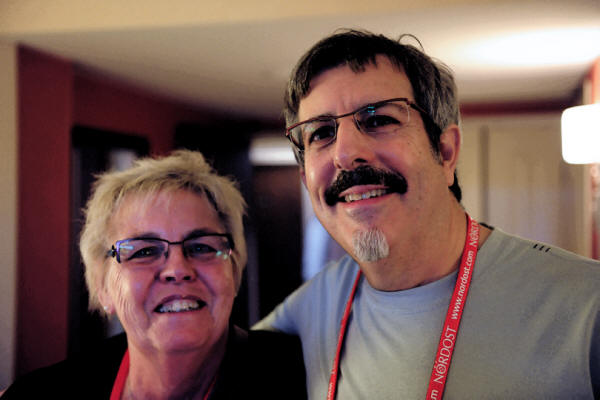 Wouldn't be the same without an image of long-time PFO friend, Alan Kafton… here he is with Lila.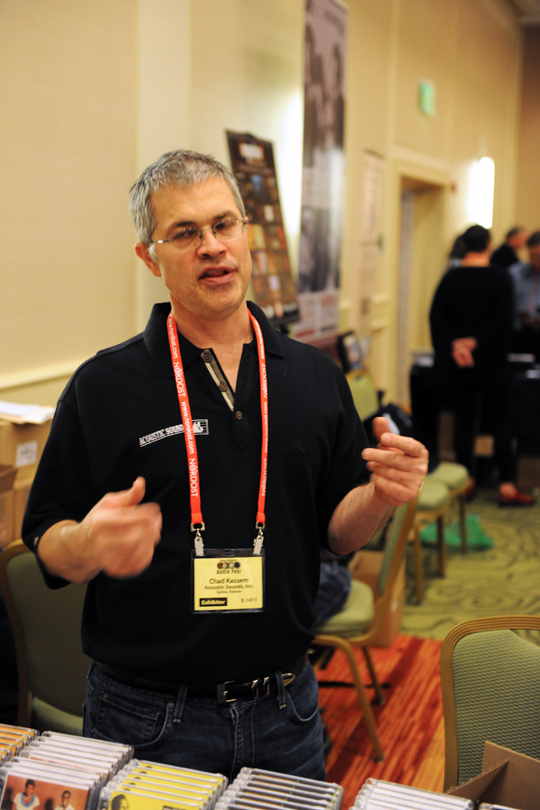 I've been buying music from Chad Kassem for a long time… in fact, I think I've paid for a portion of his facilities over in Salina, Kansas, by now. The man knows his stuff, which means that he's been a blessing to the rest of us, eh?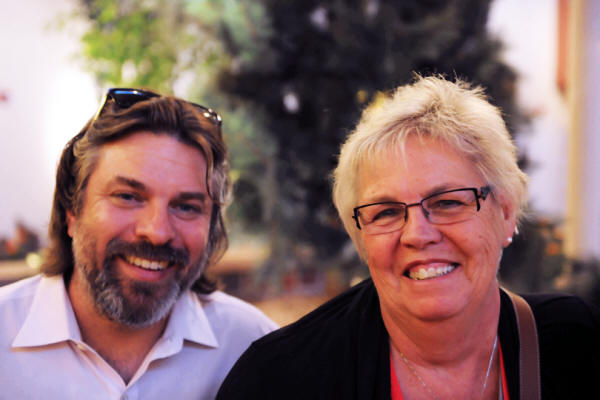 Wow. Got a lot of images of Lila this year! Here she is with our dear friend Chris Sommovigo of The Signal Collection, Black Cat, etc. Chris is a brilliant cable designer, and a deep lover of great audio.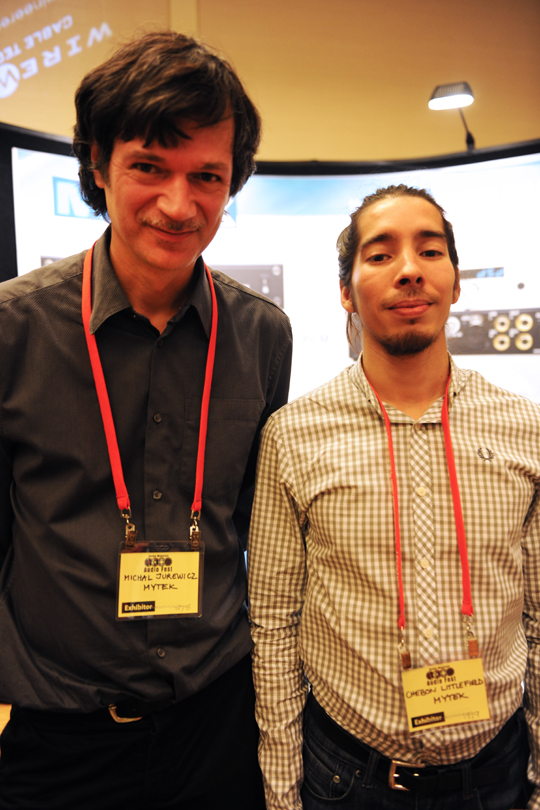 Michal Jurewicz and Chebon Littlefield of Mytek, who just happen to produce one of the greatest DACs with DSD and Double DSD support in anything like its price bracket: The Mytek Stereo 192-DSD DAC. Brilliant stuff!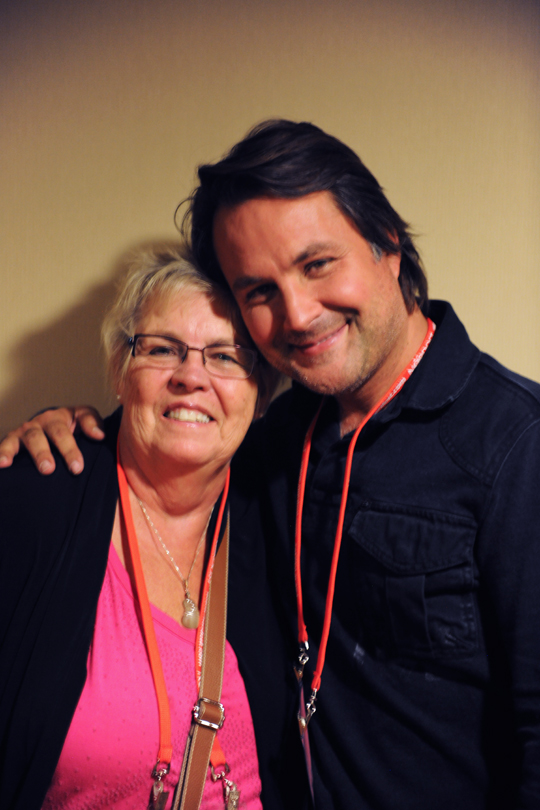 "Hey! Lila! Could you and Danny stand here for a moment!" Despite utterly crappy lighting, a goodly image was to be had...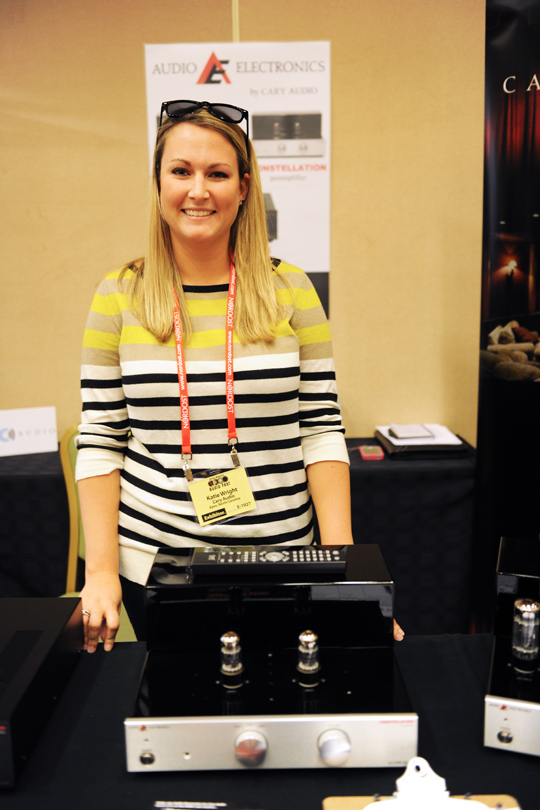 Katie Wright of Cary Audio did yeoman's work in the Evergreen room, showing off their new Audio Electronics line. Looks really promising for price-performance; PFO's Timothy Roth will be trying the Constellation preamp and Hercules amplifier out in the near future!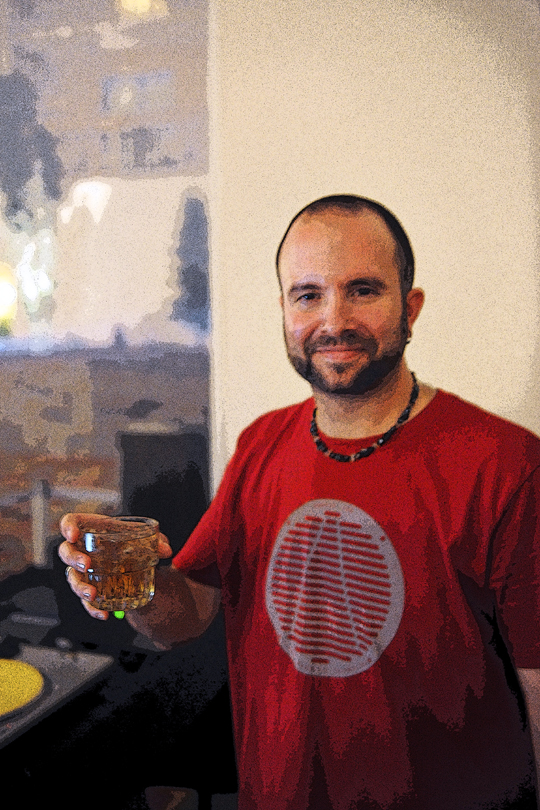 In past years, I've signed off my RMAF reports with a cheerful toast from Carol Clark. This year, I thought we'd give the poor girl a break. This time 'round, we'll let Mighty Michael Mercer, the Sonic Satori and Dynamic DJ, hoist a whiskey glass at ya!
Here's to our next audio event, amigos…!