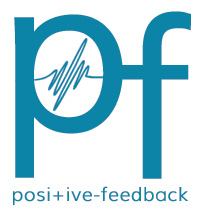 You are reading the older HTML site
Positive Feedback ISSUE 64
november/december 2012
Tannoy's New Flagship Loudspeaker: The Kingdom Royal Project
by Jeff Day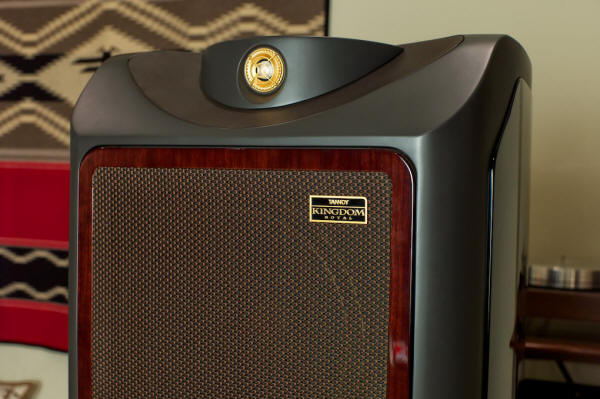 A Royal Review
1926 was a very good year. It was in 1926 that George Martin, Ray Price, Marilyn Monroe, Miles Davis, Andy Griffith, Mel Brooks, Dick Dale, Joan Sutherland, Chuck Berry, Julie London, John Coltrane, Tony Bennett, Don Rickles, David Attenborough, and Jerry Lewis were born. All of those nineteen twenty-sixer's went on to enrich our lives through their prodigious talents related to music & film.
Tannoy is another nineteen twenty-sixer, being first established in 1926 by Guy R. Fountain at his London workshop location (below). Tannoy has enriched our lives over the years by allowing us to enjoy the music & film from the Great Ones reproduced at its very best. As the world's oldest surviving and most respected loudspeaker company, Tannoy has a depth of experience and knowledge in loudspeaker design that is simply breathtaking.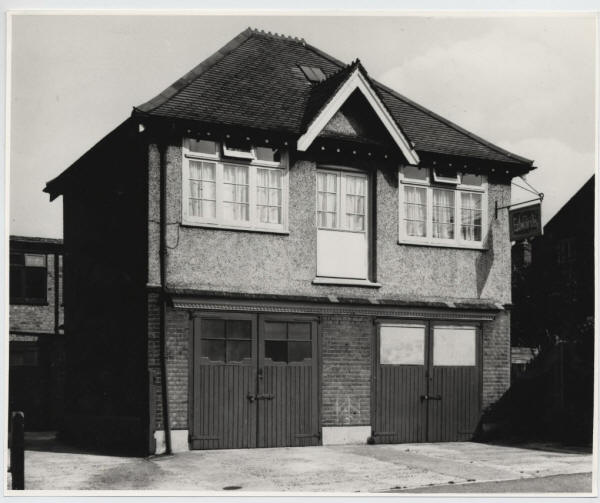 Take for example the Tannoy Westminster Royal Special Edition loudspeakers that I wrote about back in Issue 49. The Westminster Royal SE are not only one of the most iconic loudspeakers of all time, they are also a musical masterpiece that deserved wider recognition. As rare as they are wonderful, useful information about the Westminster Royal SE was almost non-existent, so I felt privileged to be able to write about them for you, to tell you about their history, and to tell you how truly magnificent they are as a musical transducer.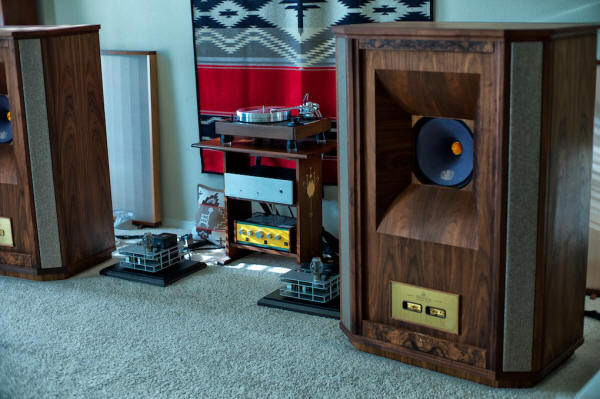 Those of you who have been following my articles know what high regard I have for Tannoy loudspeakers, so when Jennifer Kavanagh of TC Group Americas (the importer of Tannoy) contacted me about reviewing Tannoy's new flagship loudspeaker, the Kingdom Royal, saying "We really appreciated your time with the Westminster review and look forward to hearing from you," my ears perked up and my pulse quickened as I thought about what it meant to review such a noteworthy loudspeaker.
As I pondered Jen's request to review the Kingdom Royals, I reflected on what it means when the world's oldest and most respected loudspeaker company announces to the world that that it has developed a new flagship loudspeaker. With Tannoy being responsible for such loudspeaker masterpieces like the Guy R. Fountain (GRF), the Autograph, and the Westminster Royal SE, I concluded that it was likely that the Kingdom Royal was a matter of momentous loudspeaker significance—not to mention being the review equivalent of winning the lottery—so of course I said, "Yes!"
The Kingdom Royal Project
The Kingdom Royal project was initiated in the Summer of 2006 at Tannoy's Head Office in Coatbridge, Scotland (photo below). Dr. Paul Mills, Director of Research & Engineering at Tannoy (and also responsible for the Westminster Royal SE), headed up Tannoy's Kingdom Royal project team. In the photo of the Kingdom Royal project team below, in the back row are Harry Bakke, Tim Lount, and John Grimason. In the middle row are James Harkness, Meryl Saunders, and John Smith. In the front row are Paul Mills, Matthew Phelan, and Andzej Sosna. The project team embarked on a four-year journey that would take the Kingdom Royal from an idea to a reality that was released for public viewing in Fall 2010 at leading Hi-Fi shows.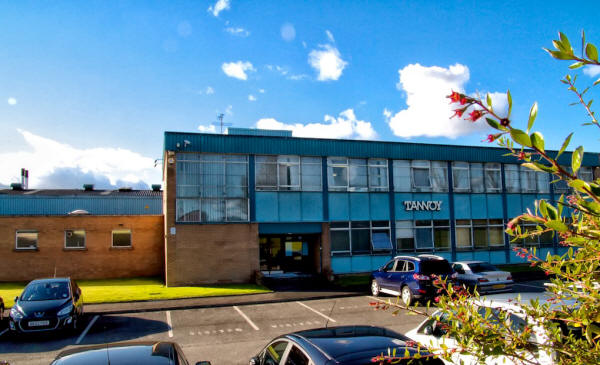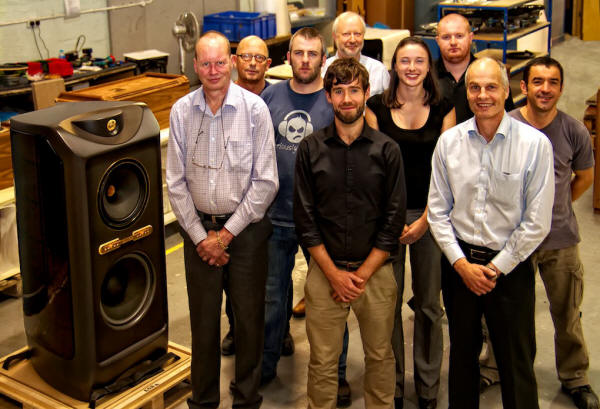 Tannoy's goal for the Kingdom Royal project was to develop a new high-resolution statement loudspeaker that would be as comfortable with 24-bit/192kHz digital recordings as it was Golden Age analogue recordings, and one that would be able to "…communicate the full emotion of the music with articulation, accuracy and coherence irrespective of the genre of music... with power and passion of delivery that encapsulates the magic of live music with breathtaking precision."
I don't know about you, but when I read what Tannoy's goal was for the Kingdom Royal project only one word came to my mind: Amen!
The Kingdom Royal's Design
While you might think the Kingdom Royal's design genome runs up through the iconic Westminster Royal SE, it doesn't—it's not a horn loudspeaker. Rather, the Kingdom Royal is a descendant of the Tannoy Kingdom, a premium dynamic loudspeaker that was released in 1997 (Tannoy has a tradition of adding the "Royal" suffix to evolutionary heirs of successful loudspeakers). That original Tannoy Kingdom was a four-way dynamic design that utilized a 12-inch Dual Concentric™ driver, a SuperTweeter, and an 18-inch sub-bass driver, resulting in a 92dB (2.83V @ 1m) overall sensitivity.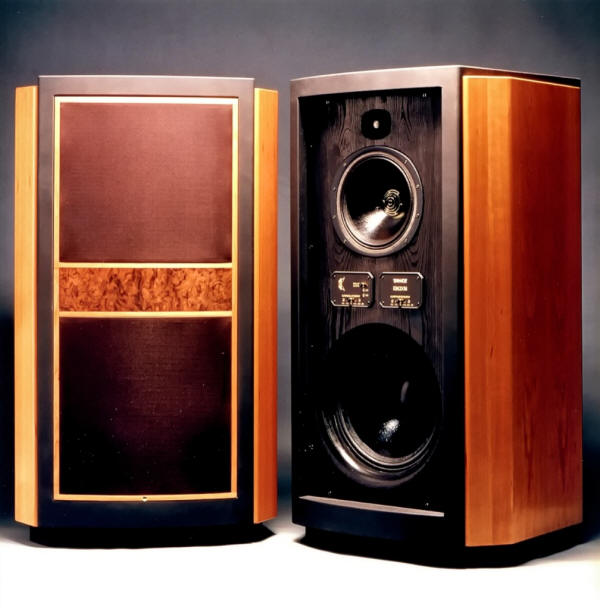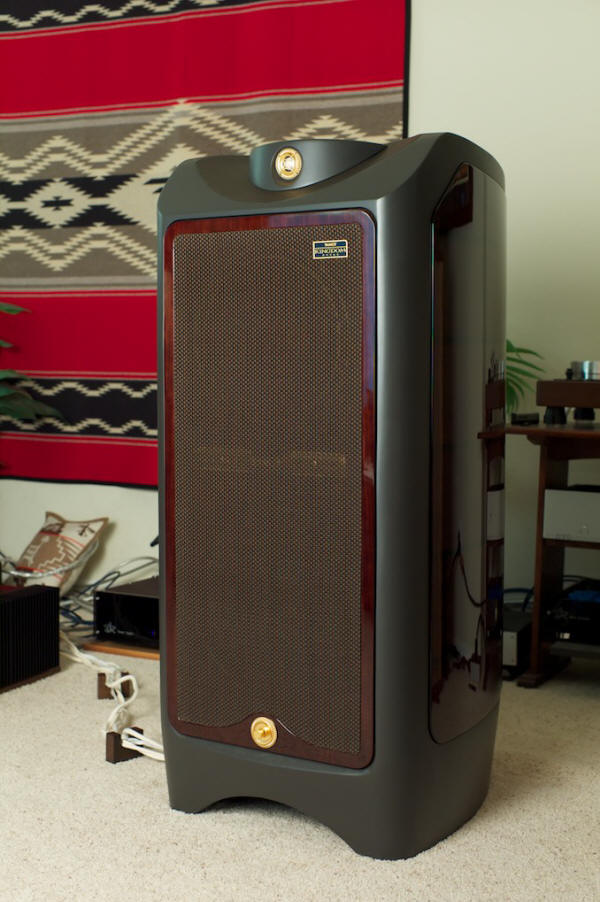 The Cabinets
So while the new Kingdom Royal conserves the original Kingdom's four-way heritage, it utilizes an all new 12-inch Dual Concentric™ driver, an all new SuperTweeter, and an all new 15-inch sub-bass driver, resulting in a higher overall sensitivity of 96dB (2.83V @ 1m). The new Kingdom Royal maintains a four-way driver arrangement in a nod to its heritage in the original Kingdom, but in reality there is nothing shared between the two designs, with even the cabinets of the new Kingdom Royal forgoing the more traditional stylistic lines of the earlier Kingdom for thoroughly modern looking cabinetry with a smooth & curvaceous enclosure, a high-fashion dark charcoal finish, dark burgundy veneered wood wrap-around panels, and detailed with Italian leather & gold accents. Even the magnetically attached grill is so tasteful that owners may choose to leave them in place for stylistic reasons. Tannoy says they will also offer different wood veneers, paint colors, and trim versions in the future.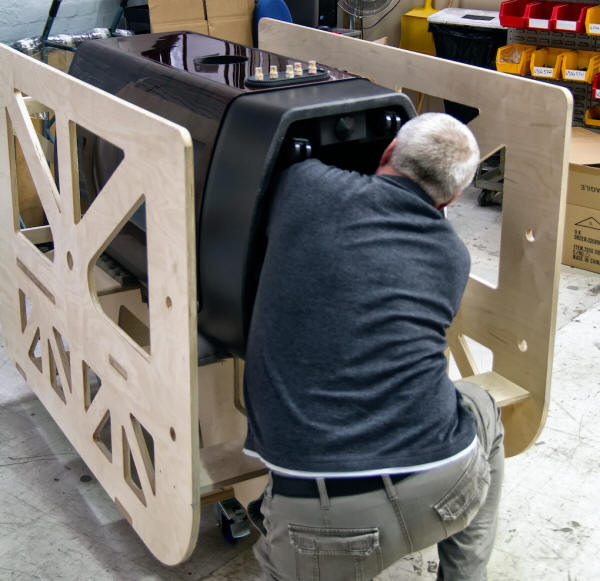 The Kingdom Royal's cabinet side panels and front baffle are constructed from premium birch plywood that is made from raw timber grown in the cooler regions of the world, giving a denser wood that sounds better as a tone wood. The cabinet's top panel and plinth are machined from MDF sheets bonded together as a horizontal laminate, which are then machined to provide the Kingdom Royal's curvaceous exterior (and interior too actually). A final plywood wrap is then bonded onto the cabinet structure to strengthen the cabinet's curved sides.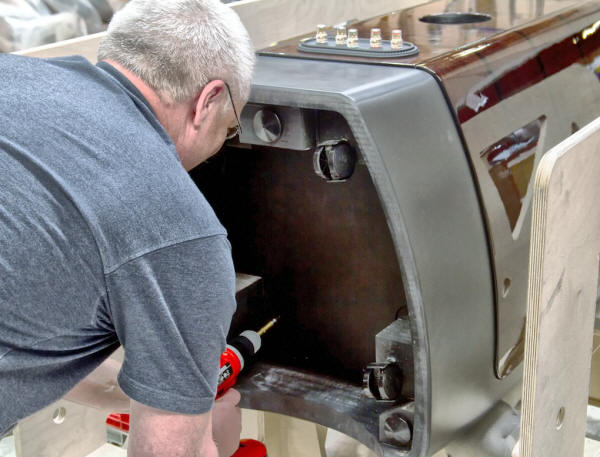 When moving the massive 265-pound Kingdom Royals around to find the best positioning in my room, I swear if they weren't wrapped in a wood veneer, I'd have thought they were hewn out of a solid block of granite, so substantial and solid did they feel. A knuckle rap test on the cabinets yields nothing but a dull thud emanating from the dense and non-resonant cabinets, along with a set of sore knuckles.
The Driver Types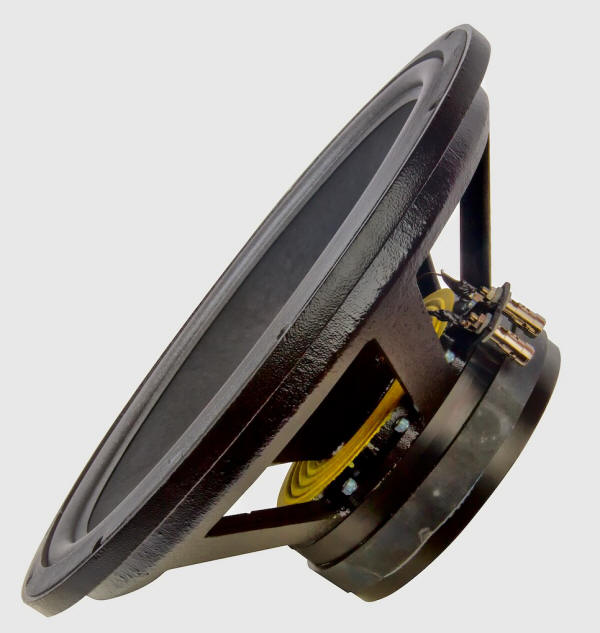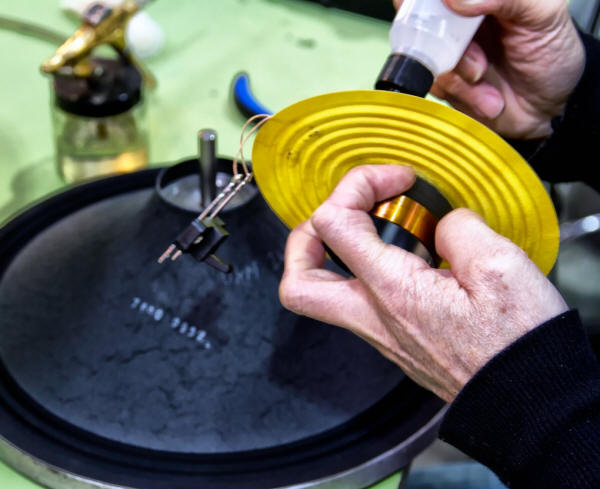 The 15-inch sub-bass driver used in the Kingdom Royal is an all-new design that gives flat output down to almost 20Hz, and with meaningful output all the way down to 15Hz. Tannoy describes the sub-bass driver as, "…a 15-inch multi-fiber bass driver with massive ferrite motor system and under-hung voice coil was chosen for its accuracy and articulation down into the sub-bass region. In an under-hung configuration the magnet assembly is extended to ensure the voice-coil remains completely within the flux of the magnet over its entire range of motion. The result is constant electromotive force on the voice coil, significantly lower distortion than traditional driver designs and improved motor cooling."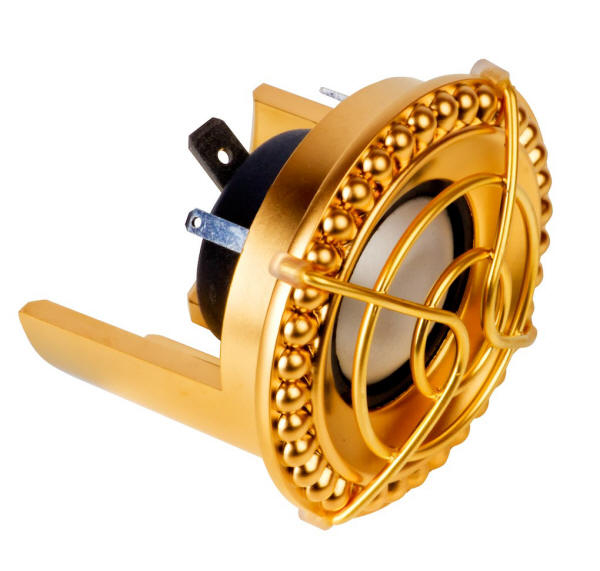 Tannoy's goal for the Kingdom Royal's new SuperTweeter was to have a frequency response of over 50Khz in order to reproduce even the most extended recordings in all their musical glory. Tannoy chose to use a magnesium alloy for the SuperTweeter's dome, "for its coherence and near flat extension out to 61kHz." Tannoy says the magnesium dome is vapor coated with a thin ceramic layer to give it high internal damping and low coloration. The SuperTweeter dome is plasma treated, which Tannoy says "increase the surface energy of the domes, allowing for better bonding, and thus energy transfer from the coil." Finally the SuperTweeter is bonded to the voice coil. Tannoy uses a Neodymium motor and a rear damping cavity to give the SuperTweeter "outstanding linearity and accuracy… higher sensitivity and wider bandwidth" than previous Tannoy SuperTweeters. The ceramic coating on the SuperTweeter makes it look like a giant pearl behind its protective cover – very nice!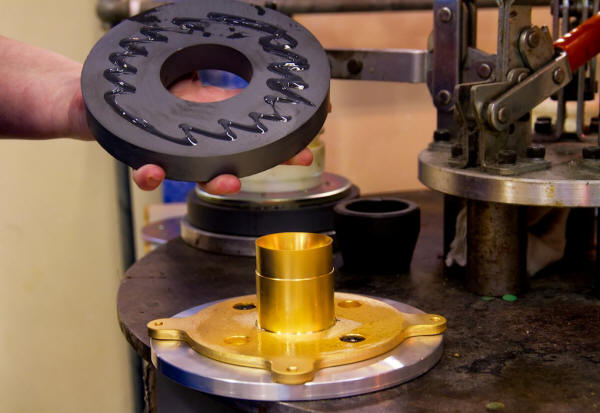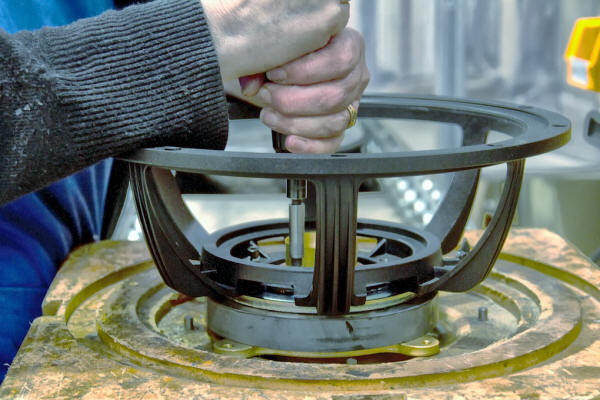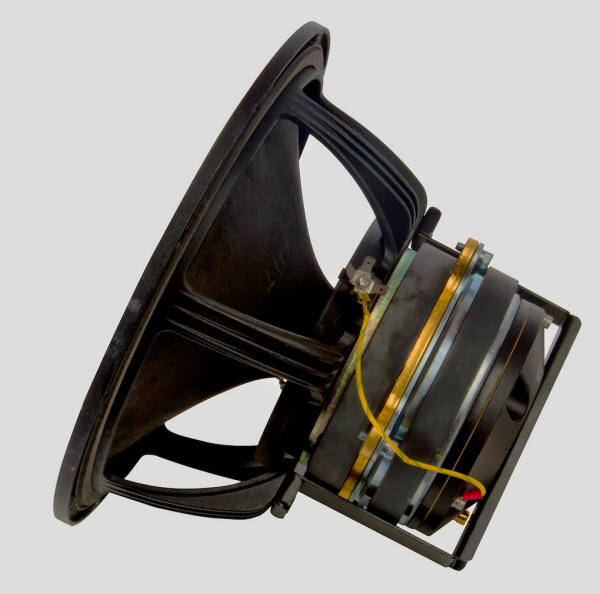 The Kingdom Royal's 12-inch Dual Concentric™ driver is an all-new design that was the result of two years of intense development. Tannoy says that the Kingdom Royal's Dual Concentric™ driver is the most advanced coaxial driver it has ever developed, "With a new chassis and 10-point fixing, the outer bass/mid driver section mates a revolutionary ultra-light multi-fiber cone and copper clad aluminum edge-wound voice coil to a massive ferrite motor system for breathtaking transient response. Its hardedge roll surround has extremely low memory effect, which further improves articulation in the mid and upper bass. The crossover to the DC's high frequency tweeter unit occurs at an exceptionally low 700Hz to ensure the majority of the vocal region is handled by the new tweeter."
The high-frequency part of the Dual Concentric™ is a horn-loaded compression driver that uses a 3-inch tempered aluminum alloy dome & waveguide with a 1.5-kilogram ferrite motor, and a copper clad aluminum voice coil, with the entire assembly being cryogenically treated. Tannoy says the result is their most natural sounding mid/high-frequency driver to date. The detail work around the driver is also very tasteful, with a black-lacquer finish and gold highlights.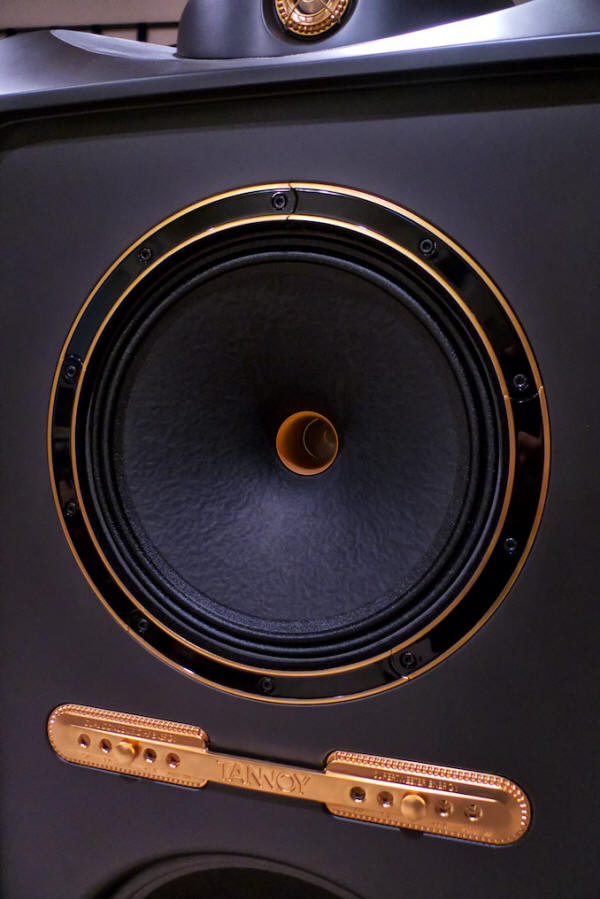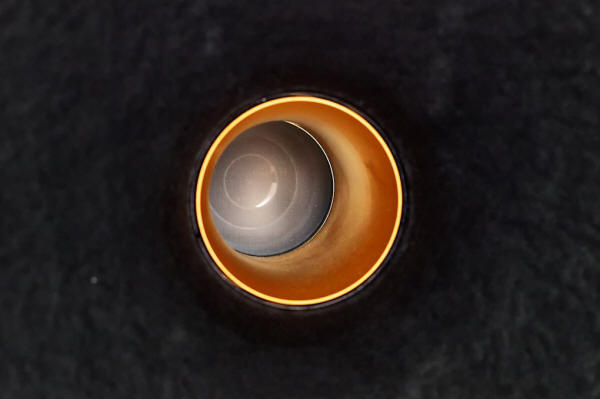 The Crossover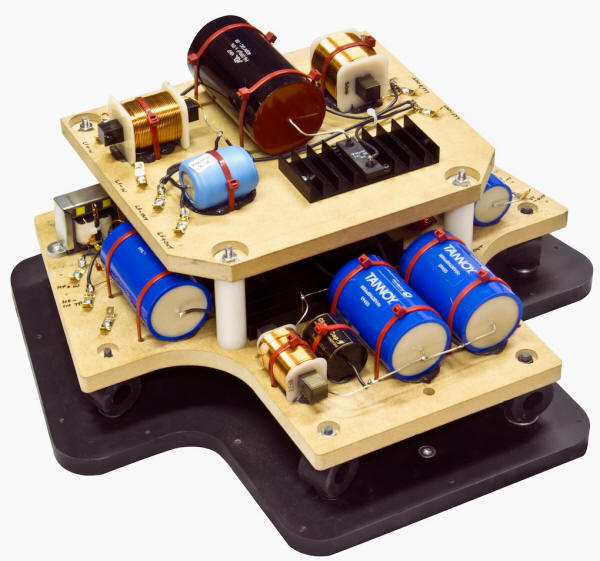 The crossover for the Kingdom Royal is the largest Tannoy has ever built, and in fact it's so big it had to be mounted on a double-decker chassis, which was itself mounted upon suspension to isolate it from vibration inside the cabinet. The Kingdom Royal's crossover uses the highly regarded ClarityCap MR capacitors which use metalized polypropylene film encapsulated in an epoxy resin to reduce resonance, and which are even further damped with Tannoy's DMT™ (Differential Material Technology) damping compound. Tannoy says that the crossover uses "low loss laminated core inductors and thick film resistors" which were chosen for their performance in resolving micro dynamic details.
Impedance matching to the high-frequency section of the Dual Concentric™ driver was done using a single-winding transformer, which Tannoy says gave it "an incredibly open and natural sound". The Kingdom Royal crossover components are hard-wired with PCOCC six nines copper (99.9999% pure), and each connection is hand soldered with silver solder. Tannoy used 99.997% purity single strand silver cable for the SuperTweeter circuit. The crossover is cryogenically treated as complete unit, because Tannoy wanted that to be the last thing done to it before it was mounted into the cabinet, to ensure every single component in the crossover—including the solder joints—received the benefits of cryogenic treatment.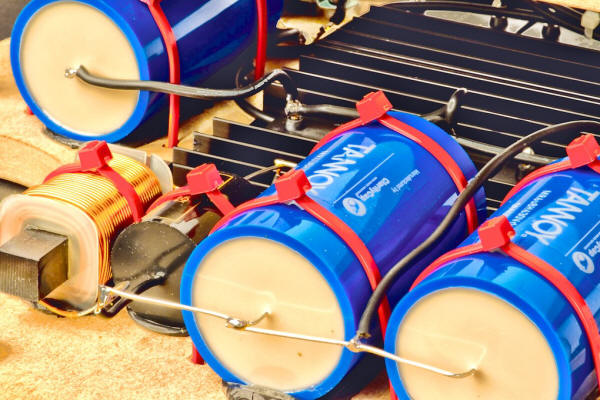 Kingdom Royal Specifications
The Kingdom Royal project resulted in a statement loudspeaker that—as I'll describe to you in a moment—has reached its lofty goals of both flagship sonic performance and superb musicality in two 265-pound impeccably appointed packages. Would you expect anything less from Dr. Paul Mills and Tannoy? The Kingdom Royal has -6dB points at 24Hz and 54kHz, and impressively has prodigious sub-bass output down to a ribcage rattling 15Hz, with high frequencies ranging up to a dizzying 61kHz.
With a sensitivity of 96dB (2.83V @ 1m) the Kingdom Royals have been as comfortable being driven by my 9-watt 300B mono amplifiers from Sophia Electric & Fi as the 280-watt ASR Emitter II Exclusive Blue solid-state amplifier used for the majority of this review. With power handling up to 1200 watts peak you can use almost any amplifiers that catch your fancy.
The Kingdom Royals are big loudspeakers, much more so than the promotional photos you've seen suggest. The dimensions of the Kingdom Royal are 50.2 x 23.0 x 23.6 inches, with a weight of 265lbs each. In the photo below you can see them next to my Westminster Royal SE, and while they're not as huge as the mighty Westminster, they're not that far off—they're big!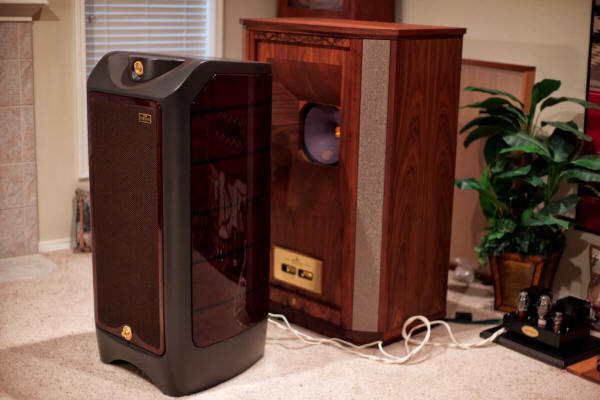 The Kingdom Royal Experience
Tannoy has given a lot of thought to making your experience with the Kingdom Royals as easy and rewarding as possible, from unpacking the shipping crates, to setting up and optimizing them in your listening room. If you have a Tannoy dealer close by they'll deliver and setup your new Kingdom Royals for you. If you're like me and don't have a Tannoy dealer nearby, then it takes a little bit more effort on your part to unbox and setup the Kingdom Royals, but as you'll see in a moment, with a little help from your friends (you'll need four) it's still very doable.
After I let Jen know that I could do the review of the Kingdom Royal loudspeakers for Positive Feedback Online, she placed an order with Coatbridge, and Tannoy started building up the pair I would receive for review (and which will leave here after the review to go to the 2013 International Consumer Electronic Show held in Las Vegas, Nevada, January 8 – 11th). Tannoy builds each pair of Kingdom Royal loudspeakers as an order is received, so it takes a while from the time you place an order until they make your pair, test them, and then ship them to you. Figure on a couple of months after you order your pair before they will be sitting in your listening room making music. Trust me, it will be worth the wait! I settled in for the wait for Tannoy to make up my Kingdom Royals and deliver them to me in the USA from their factory in Coatbridge, Scotland. I was nearly as excited as when I ordered my own Westminster's!
When the shipping crates arrived from Tannoy, my neighbor Jim helped me wheel them into my house. The shipping containers for the Kingdom Royals are big and heavy, around 300lbs each, so you'll need a hand truck and a friend's help if you're planning on moving them around at all.
As luck would have it, my friend Pete planned one of his famous Bad Boyz & Girlz audio crawls for the Labor Day weekend here in the States, which nicely coincided with the arrival of the Kingdom Royals. As usual, audio designers, audio writers, Hi-Fi nuts, and just general fun-to-be-around characters showed up from around the country for the audio Tomfoolery and superb wine tasting this region has to offer. My listening room was one of the stops on the audio crawl, so I worked into the proceedings a Kingdom Royal unboxing & unveiling party for the attendees! (Many thanks to attendee Kent Laydon for snapping photos of the unboxing with his iPhone)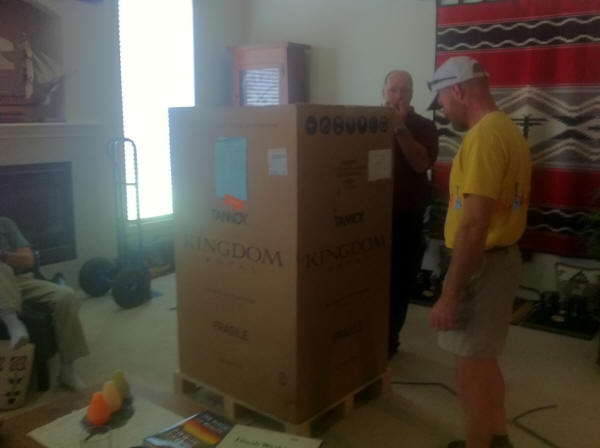 After I wheeled in the Kingdom Royal shipping container we all got excited about the unveiling—off with the top!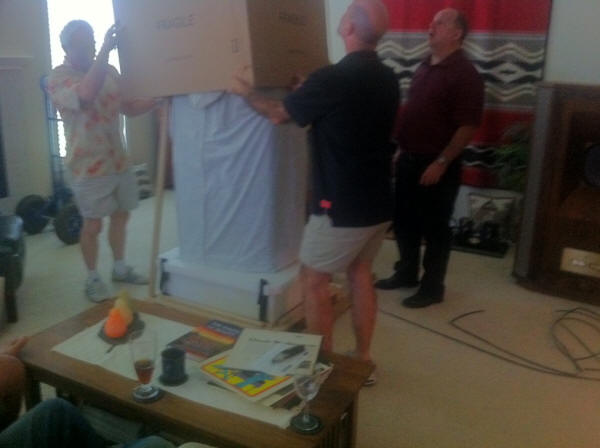 Underneath the outer carton we found a carefully wrapped Kingdom Royal waiting to be revealed.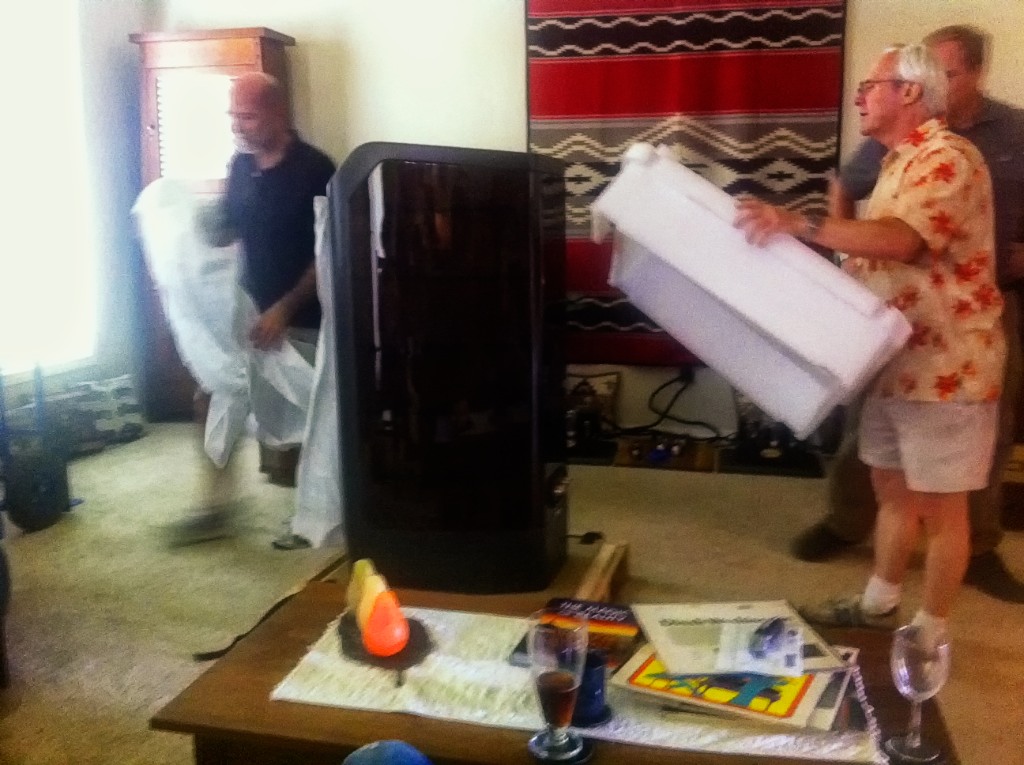 Like an art gallery unveiling, I removed the protective shroud to reveal Tannoy's version of Michelangelo's David—the Kingdom Royals! Voilà!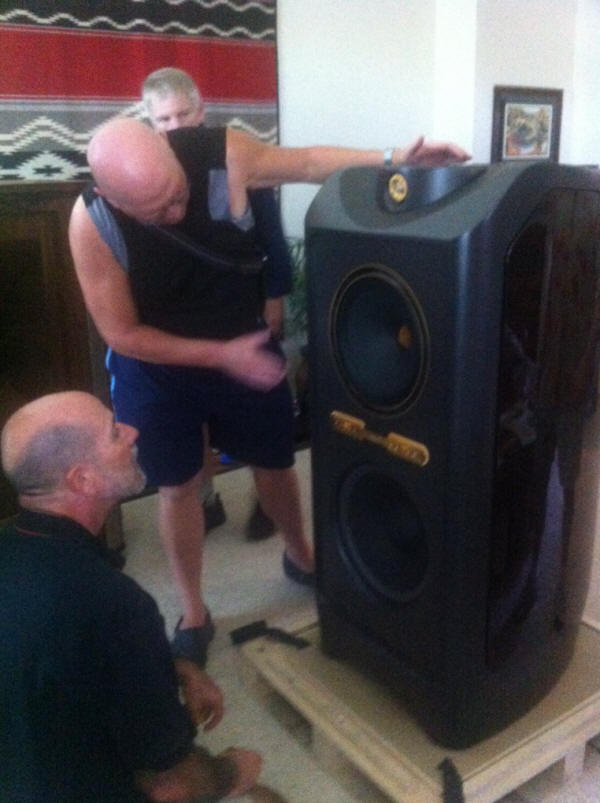 There was awe and admiration all around as we looked over the Kingdom Royals. Tannoy's step-by-step instructions made the unboxing about as easy as it could be considering the 265lb heft of the Kingdom Royal loudspeakers. Once we lifted each Kingdom Royal off the shipping pallet they were easy to roll into place with their castors (hidden from view under the speaker).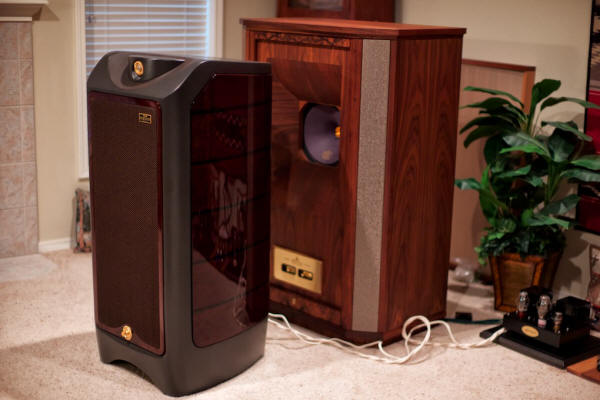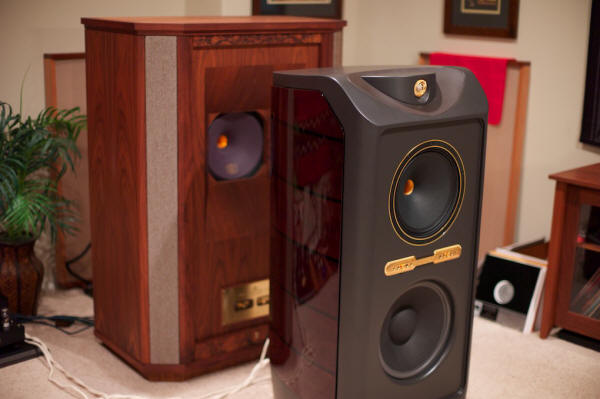 One of the things that have always impressed me about Tannoys is how easy they are to get working well in a room, and the Kingdom Royals are no different—these are very user-friendly and non-fussy loudspeakers to setup. In my rather small & modest nuevo bungalow home, where my living room area serves as my primary listening room (it is 27'6'' long by 20'4'' wide, and with variable ceiling height from 9 to 20 feet), I found that positioning the Kingdom Royals 75-inches from the front wall, 60-inches from the side walls, and with 96-inches of separation between the two loudspeakers to work very well. I found angling in the Kingdom Royals towards the listening seat a couple of degrees works nicely. The positioning that will work best in your room will likely be different, but just give them plenty of space to breathe and you will not be disappointed with the results.
Like my Westminster Royal SE loudspeakers, the Kingdom Royals have adjustable high-frequency output to tailor them to your room. The Kingdom Royal's SuperTweeter and Dual Concentric™ high frequency output is adjustable in 1.5dB steps to plus or minus 3dB via controls mounted on the front baffle. You can adjust the Dual Concentric™ driver up or down by up to 3dB in the 700Hz to 17kHz range, and the SuperTweeter the same way from 17kHz upwards. This allows you to voice the Kingdom Royal to your room, your equipment, and your personal taste.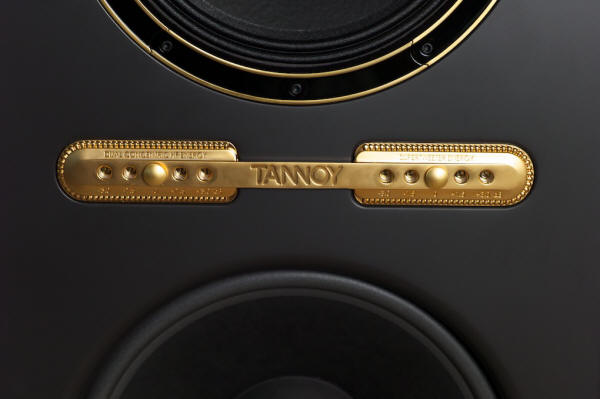 I found the Kingdom Royal to best match my tastes best in my room when the high-frequency adjustments were set in the 0dB position.
The Kingdom Royal comes with an accessory set that includes "milled aluminium dual-layer tri-point floor couplings, single wire terminal bridging cables in 99.9999% pure OFC copper, spare SuperTweeter grilles, spare HF energy level control pins; all supplied in wooden presentation box."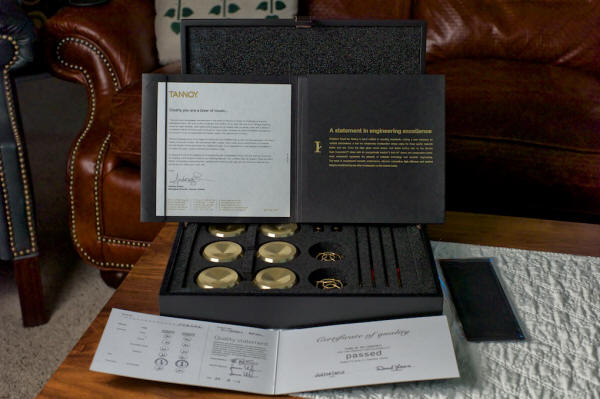 Reports from the field suggest that placing the Kingdom Royals on isolation stands works nicely, but I haven't tried it myself. Acoustic Revive's Mr. Ken Ishiguro (owner) and Mr. Yoshi Hontani (exporter) offered to send me a pair of their Custom Series loudspeaker stands designed specifically for the Kingdom Royal, and I would have loved to have tried them, but time constraints associated with making the Custom Series stands, completing the review, and sending the Kingdom Royals on their way to the 2013 International Consumer Electronics Show didn't allow for that. I think the Custom Series loudspeaker stands by Acoustic Revive are the nicest loudspeaker stands you can buy, and I would encourage Kingdom Royal owners to check into them if you feel the need for a stand—you can read more about them here.
The Review System
My normal review system was modified for this review due to the recommendations from a number of very enthusiastic Tannoy cognoscenti from around the world. It turns out that quite a number of Tannoy owners are particularly fond of combining their favorite Tannoys with the ASR electronics designed by Dr. Friedrich Schaefer, which are handmade in Germany to incredibly high standards. In particular, Siedy, a Tannoy & ASR enthusiast from Holland put me in touch with Dr. Schaefer to make arrangements for pairing the Kingdom Royals with the ASR electronics for this review. Thank you Siedy!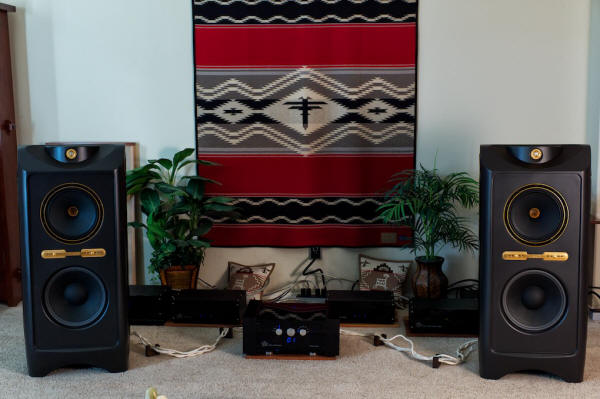 Dr. Schaefer, and the USA importer of ASR, Mr. Zed Husain of Musical Sounds, LLC, were kind enough to make the ASR Emitter II Exclusive Version Blue amplification and ASR Basis Exclusive phono preamplifier available for this review. Thank you Siedy, Dr. Schaefer, and Zed, for bringing this exciting opportunity about! I will be doing separate reviews of both the Emitter II Exclusive Version Blue and Basis Exclusive in a future issue of Positive Feedback Online, so stay tuned for more in-depth reporting on these fine electronics. As a preamble to those reviews, let me just say that the synergy between ASR and the Tannoy Kingdom Royals reported to me by listeners from around the world is quite real, and if there are Kingdom Royals in your future, you might as well starting writing the check now for the ASR electronics, as they are a superb match.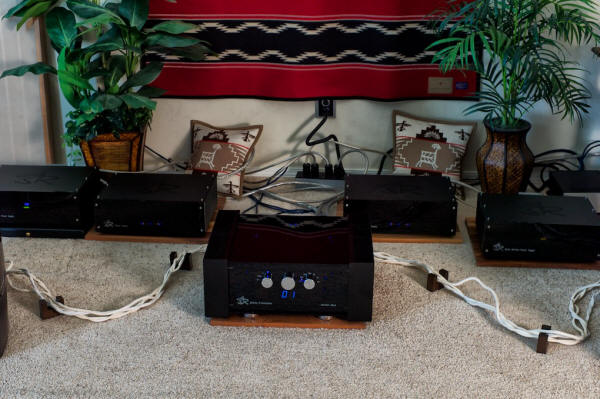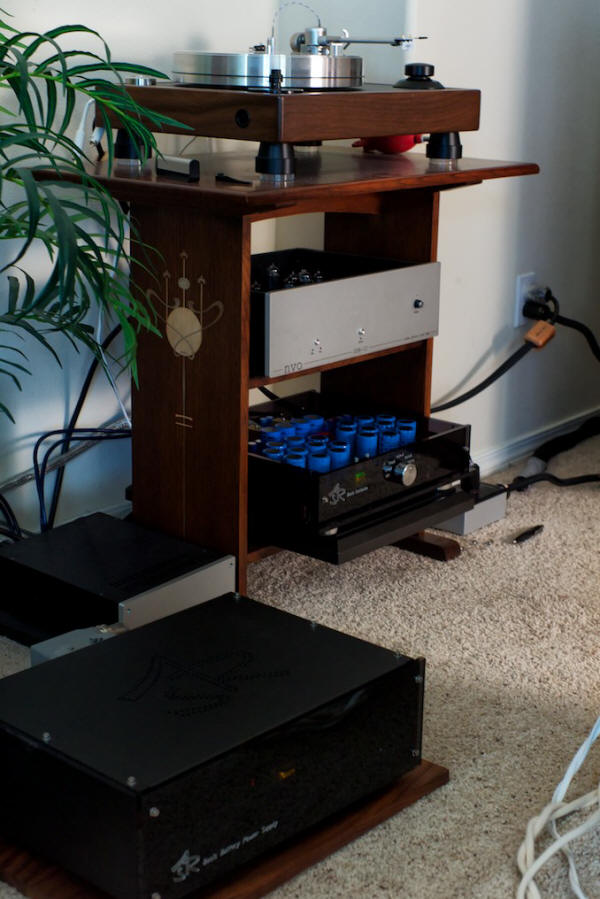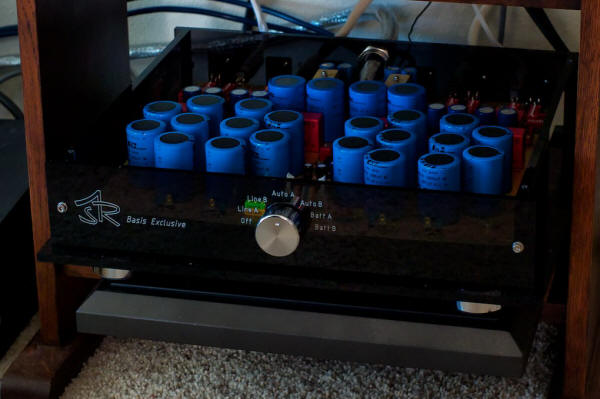 Here's the system I used for this review: An EMT TSD-15 phono cartridge on the VPI Classic 'table feeding the ASR Basis Exclusive phono stage via Sablon Audio Panatela interconnects, which were in turn feeding the ASR Audiosysteme Emitter II Exclusive Version Blue, which was driving the statement Tannoy Kingdom Royal loudspeakers through the phenomenally good Sablon Audio Panatela Component Speaker Cables that I reviewed in Issue 63 (if you have Kingdom Royals you really need to write another check for the Panatela component speaker cables which are optimized for the Tannoy drivers—they are a phenomenal match). I also used quite a number of the very effective Acoustic Revive accessories to optimize performance of the system in my primary listening room (1, 2, 3, 4, 5, 6, 7, 8).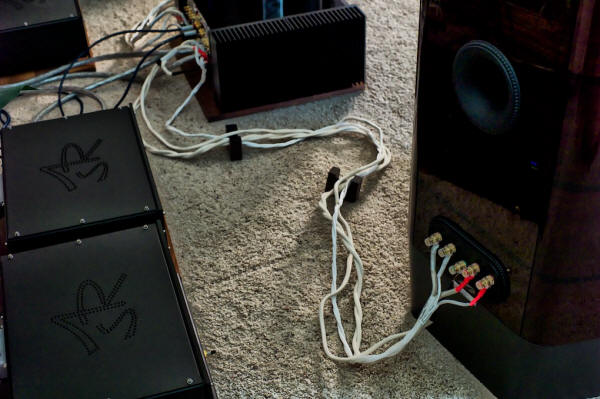 I know that a number of you who knew that I had the Kingdom Royals in for review have been wanting to see a shootout between them and my own Westminster Royal SE, and to know which one is the winner. To tell you the truth, I have come to discover it is a completely misguided perspective to compare the Kingdom Royal to the Westminster Royal SE in terms of a winner or loser in a shootout. The Kingdom Royal is a four-way dynamic loudspeaker and the Westminster Royal SE is a two-way horn-loaded loudspeaker, which means they are as different as apples and oranges from each other in a design perspective, and they are likely to appeal to high-performance audio enthusiasts for different reasons (i.e. precisely because the Westminster Royal SE is a horn loudspeaker, or alternatively, precisely because the Kingdom Royal is a dynamic loudspeaker, along with everything those two type of designs imply). The Kingdom Royal sounds like a superb dynamic loudspeaker, and the Westminster Royal SE sounds like a superb horn loudspeaker. I like them both a lot, and I should, as they're both ridiculously good loudspeakers. I really wish I could afford to own them both, as they're both loudspeakers I'd love to live happily ever after with in separate reference systems, and describe to you in every article I write their unique charms and wonders. It sucks not to be in the upper 1%!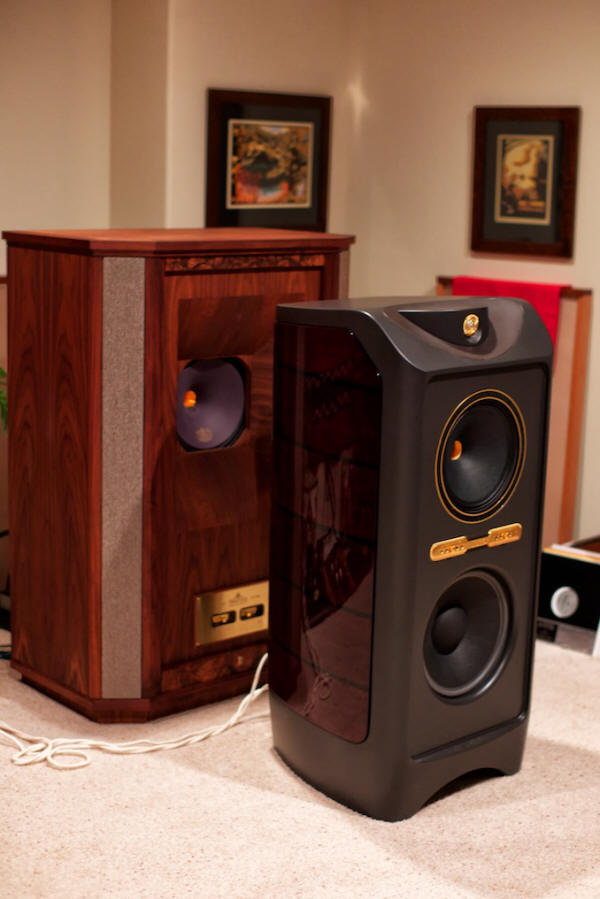 Probably the best analogy for the Westminster Royal SE & Kingdom Royal I can think of comes from the automotive world: The Westminster Royal SE reminds me of a 1966 Ford Shelby AC Cobra 427, with its 485 horsepower engine and a top speed of 185 mph. The Kingdom Royal reminds me of the new Porsche 911 Carrera S, with 400 horsepower and a top speed of 188 mph. They both are cool as can be, will give you lust bumps all over your body, and are fast as hell. Which one is better: The classic Shelby version of performance, or the contemporary Porsche version of performance? I'll tell you what, if I had either one in my garage I'd feel like I'd died and gone to heaven. So take your pick, either the classic-style Westminster Royal SE or the modern Kingdom Royal will get you there with immense musical satisfaction. Does that put it in perspective? I hope so, because that's what you're dealing with here: two world-class loudspeakers that will give you the ride of your life.
Listening Impressions
When I write a review of a high-performance audio device, I try my best to give you the most complete picture of its performance within the context of my listening room, associated equipment, and personal tastes that I can. I want to be able to give you a feel how well a given component performs on audiophile-style 'sonics' like transparency, resolution, imaging, soundstage, and soundspace. I also want to be able to inform you how well a given audio device performs on those attributes that make up the fabric of the recorded music itself, like the textures, tone colors, and tones & overtones that contribute to timbre, or those basic attributes of music like melody, harmony, dynamics, loudness, rhythm, and tempo.
All Hi-Fi equipment performs at varying levels of competence across those aforementioned sonic & musical attributes. For example, some equipment does a better job at portraying realistic timbre than others (the unique 'voices' of instruments). I think that a component that renders instruments and voices more recognizably like themselves in tone and texture helps lend a feeling of beauty and expressiveness to the music, and deviations from that tend to diminish the believability of the playback as a musical performance for me. Some Hi-Fi equipment is better than others at portraying the melody of the music (the tune you 'whistle while you work'). Some components are better than others at portraying the harmony (treble & bass accompaniments to the melody) and the rhythm (the steady beat that determines the tempo). If a component doesn't do as well at reproducing the beat as another component it will be noticeable in its ability to successfully play back beat-oriented genres of music like rock & roll, making it less interesting and fun to listen to. The inability of a component to portray the full range of dynamics (variations in loudness) heard in life—from micro to macro—will diminish the emotional connection to the music we get as listeners. If you want to experience music like it is in life, a component must be able to play back recorded music similar to live loudness levels. Some equipment is better than others portraying the tempo, which informs both the mood & speed of the music, so a lot of the emotional connection to the music is conveyed through it.
Transparency (being able to 'see' into the recording) and resolution (the ability to retrieve recorded detail out of the recording) are also important factors of performance, because they help more complex music like classical come to life before your ears, as you can hear all the individual instrument contributions to the music. Some components are very good in terms of transparency & resolution and others not so much. The projection of a soundstage (the three dimensions of the recorded space in width, height and depth), soundspace (the acoustic 'space' of the soundstage), and imaging (the feeling of solidity and localization of instruments & musicians on the soundstage) can bring an extra dimension of excitement to the playback of a recorded performance, and all components have varying degrees of competence in drawing these attributes out. Some components overdo it, some underdo it, and some are just right. All of these musical & sonic performance attributes matter in the final playback of a musical performance.
All Hi-Fi equipment performs at varying degrees of performance competence across all those attributes, and while I write about many of those attributes separately, in the end it is all about how well all of those factors are voiced to work together to deliver a musical performance that really matters.
Earlier in the article I mentioned that Tannoy's goal for the Kingdom Royal project was a new high-resolution statement loudspeaker that could "…communicate the full emotion of the music with articulation, accuracy and coherence irrespective of the genre of music... with power and passion of delivery that encapsulates the magic of live music with breathtaking precision."
That goal statement tells you a lot about Tannoy, for it says that their ultimate goal for the Kingdom Royals was for flagship level performance across all the attributes I mentioned, but in a way that is in full service to communicating the full emotion & excitement of a live musical performance. For Tannoy it is ultimately about the music, conveying the magic of a live musical performance for any musical genre you'd care to listen to, and that's important.
In the case of Tannoy's goal for the Kingdom Royals, it's also a spot on description of what I heard during my listening sessions, and Tannoy has achieved its goals for the loudspeaker magnificently.
Now let me go through a couple of example albums to give you an idea of what I heard from the Kingdom Royals during my time with them.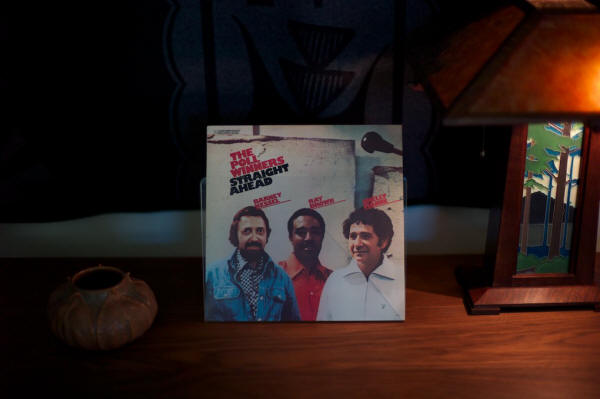 As I listened to The Poll Winners – Straight Ahead with Barney Kessel on guitar, Ray Brown on bass, and Shelly Manne on drums, my overall impressions were how refined, smooth, and rounded the recording sounded through the Kingdom Royals. I was struck by how natural the tonality was, and how fun and musical the Kingdom Royals were to listen to records with. On Straight Ahead the Kingdom Royals were so musically natural and engaging that I could feel myself relaxing into the music as soon as I started listening. The overall presentation of the Kingdom Royals on Straight Ahead was one of richness and sophistication, and they so successfully pulled me into the music that I didn't even care to think about the sound in the traditional audiophile sense.
But just for you dear readers, I focused myself and did think about the sound, and here's what I heard: The Kingdom Royals are highly detailed loudspeakers, with high resolution of even the lowest-level detail that many other loudspeakers will not be able to resolve. There's more in those recordings than you're used to hearing, but here's the kicker—the detail is portrayed so very naturally that you will probably never notice how detailed the Kingdom Royals really are, unless you listen for it specifically or someone points it out to you. The Kingdom Royal is so natural sounding it's a little deceiving on how much information is being resolved, but having that extra resolution provides that extra little bit of musical realism that can really make the musical performance come alive before you ears.
The Kingdom Royals are evenly balanced from the very top to the very bottom of their substantial frequency range, with perfect driver integration that is completely seamless and coherent. One of the things that really impressed me was the Kingdom Royal's ability to present completely life-sized images of the performers and instruments, and that combined with their exceptional resolution, imbued the imaging with a positively eerie presence of placing performers in my room. Soundspace junkies will be pleased with the Kingdom Royals too, for they project a very definite sense of the acoustic space from the recording venue into the room. The Kingdom Royals are also very transparent, and can project an extremely deep soundstage, capable of lots of instrumental layering.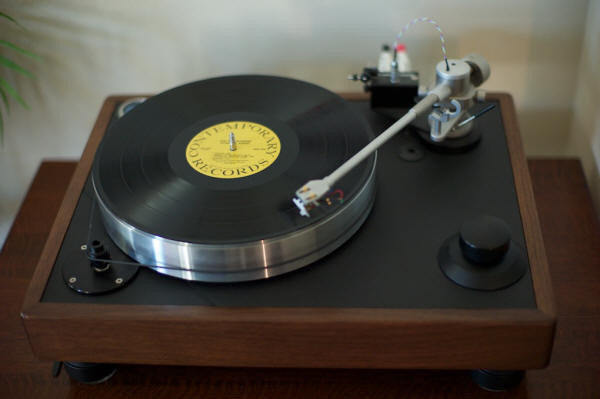 I remember once when I was visiting with some friends playing music, and I was listening to the timbre of the cymbals, and thinking how beautiful, delicate, and natural they sounded. The Kingdom Royals reminded me of that event, giving the most realistic portrayal of the beauty, delicacy, and naturalness of the cymbals on Straight Ahead that I have ever heard from a loudspeaker.
While listening for the performance of the Kingdom Royals on the musical elements of recordings, I found them to be exceptional performers. Rhythmically, the Kingdom Royals are very engaging, making me and other visitors to my listening room bob our heads and tap our feet along with the beat—you just can't help yourself, the Kingdom Royals just draw you into the music. The Kingdom Royals also render the melody line as full of life and fully engaging, and likely as not you'll find yourself whistling the melody lines of the music long after your listening session is over.
As I mentioned earlier, the Kingdom Royals play at naturally loud levels easily, un-stressfully, and as my friend Chad observed during a listening session, "It's hard to tell how loud they really are because the presentation is so clear and natural." I found the Kingdom Royals to have exceptional micro and mid-level dynamics that makes subtle dynamic shadings pop out with melodies and harmonies. Timbre is both full of tone color and has a believable amount of texture, never coming across as hyped up or unnatural. In fact 'natural' is one word that kept coming to mind as I listened to records with the Kingdom Royals. The way tempos were portrayed was perfection, the Kingdom Royals always gave me a good sense of how quick the music should be moving along, which is important, because the tempos are one of primary elements of the music that informs the mood connection to your emotions.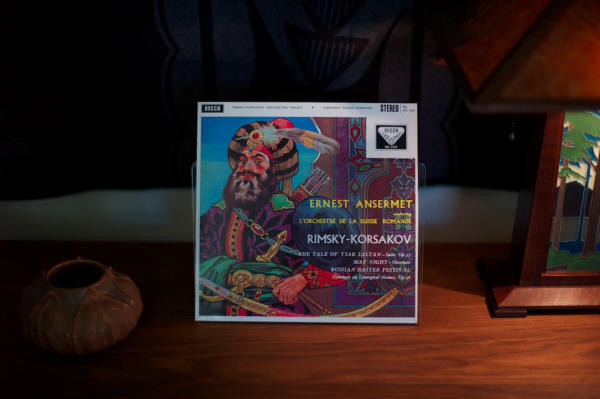 I have really been enjoying listening to Speakers Corner' Decca reissues of Ernest Ansermet conducting the L'Orchestre De La Suisse Romande. Listening to Ansermet through the Kingdom Royals has caused me to fall in love with classical music again. As most of you know who are along time readers, my first musical love is jazz, but I have to tell you that the Kingdom Royal can play classical with as much presence and intimacy as it does small group jazz, making classical incredibly fun to listen to.
As a result of the Kingdom Royals influence, I am now on a mission to get every Ansermet Decca recording that Speakers Corner has reissued. Here's the tally so far: SXL 2160-1-2 The Sleeping Beauty, SXL 2107-8 Swan Lake, SXL 2092-3 The Nutcracker, SXL 2221 The Tale of Tsar Saltan/May Night/Russian Easter Festival, SXL 2243 Iberia/Danzas Fantasticas, SXL 2296 The Three Cornered Hat, SXL Bolero/La Vallse/Pacific 231/L'Apprenti Sorcier, and SXL 2037 Carmen/L'Arlesienne.
Whether it's jazz or classical, listening to music on the Kingdom Royals is a stimulating and enriching experience that draws me deep into the message of the music. No other dynamic loudspeakers have so successfully pulled me into the music record after record on every kind of music. When listening to the music through the Kingdom Royals I always feel like I 'get' what the musicians are trying to convey through their music—it's like a direct connection to the emotive power of the music. Tannoy has really outdone themselves in how well the Kingdom Royal engages the listener into the music. With the Kingdom Royals in my reference system I tend to forget about audio, melt into the music, and just become a part of the music. I am carried off into a different dimension than normal Hi-Fi listening with the Kingdom Royals, not unlike I feel when I'm in a concert hall. I find what Tannoy has accomplished with the Kingdom Royal to be really, really, impressive.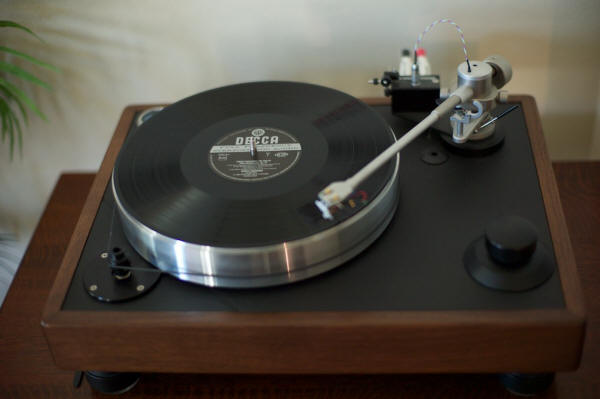 Listening to The Tale of Tsar Saltan on Decca SXL 2221 took my breath away. The resolution, transparency, imaging, and soundstaging of the Kingdom Royal brings The Tale of Tsar Saltan—and all classical music—to life in unprecedented fashion, providing a deep immersion into a gripping performance. There's a weight and authenticity associated with the portrayal of the music that makes me feel like I'm in the presence of live music, which I think is at least partly due to the Kingdom Royal's ease in playing music at live-like levels. The sonics are extremely good with the Kingdom Royal, but they never draw your attention overtly, "Oh listen to that resolution!" or "What amazing timbre!" or "Listen to that imaging!" Rather, their sonic performance is always in service of the musical performance in such a way that makes for a breathtaking and emotionally gripping musical experience.
However, even given what I just said, timbre was breathtakingly realistic when listening to The Tale of Tsar Saltan. The tone and texture was so perfect, so deep and rich, and so naturally rendered it just drew me in with suspense as I hung upon every note. This music positively sparkles with excitement as you hear the brass, strings, and percussion move The Tale of Tsar Saltan forward. It is both an exciting and beautiful experience with exciting dynamics and tempos as experienced through the Kingdom Royals.
What can I say about the Kingdom Royal's performance? They are easily the most musical and highest performing dynamic loudspeakers I have ever encountered. In my opinion no other loudspeaker company captures the feel of a live musical performance the way Tannoy does, and the Kingdom Royals will make the few who can afford & appreciate them giddy with glee as they listen in complete wonderment at the performances unfolding before them. That's how they made me feel during the review period. I knew I was in the presence of greatness when listening to music. Yes, the Kingdom Royals are great, but that is not what I mean. Rather, the Kingdom Royals allow the greatness of the music to come through with such raw power and passion of the orchestra that it is absolutely spellbinding. Yes, it is 'greatness' that is a perfect descriptor of how the Kingdom Royals play music in powerful, utterly fascinating, and totally engrossing fashion.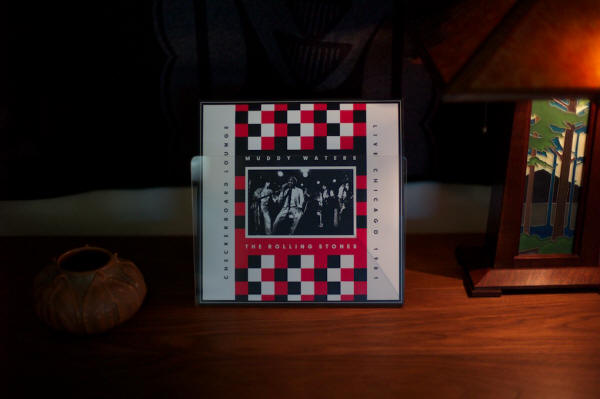 What would you do if you were a fan of the blues, and you had a little time on your hands during a stop in Chicago? I can tell you what I did during a recent trip to Chicago, I went out and listened to some live blues, and that's exactly what Mick Jagger, Keith Richards, Ronnie Wood, and Ian Stewart did on November 22, 1981, during their Rolling Stones' American tour. Getting to Chicago a little early and having some time on their hands, the boys went to Muddy Waters' Checkerboard Lounge to hear Muddy, Buddy, Lefty, and other luminaries play the blues Chicago style! What would you do if you were Muddy Waters and all of a sudden you saw Mick, Keith, Ronnie, and Ian walking in and sitting down right up front? First of all you'd call Mick up front to do a duet with you, then you'd get the rest of the boys up front too so they could strut their stuff!
I feel lucky as can be that the tape was rolling with the Stones at Muddy's place that night, and while bootlegs of this magical event have been around for years, this is the first time an official release of the night's music has been released, and it's a doozy! Great music, great sound, and I can sit here and listen to it on a pair of loudspeakers that can really do it justice in my living room!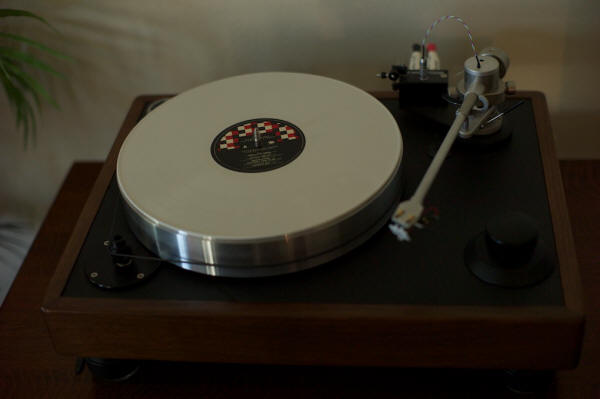 What should a really great loudspeaker be able to do in order to make you feel like you're sitting in a Chicago blues club? Well if you've ever sat through some sessions at a Chicago blues club, you know that the first thing the speakers better be able to do is to play loud and clean at window rattling levels if you want that live blues feel, and on that front the Kingdom Royals can deliver in spades! If you can hear someone talkin' over the music then it's not loud enough for a blues club! The Kingdom Royals can play loud and clean at live blues club levels which makes Checkerboard Lounge come to life, with a dynamic prowess, and a rhythmic, tempo and beat liveliness that will have you out of your seat for the entire listening session. Believe you me those big Tannoy drivers in the Kingdom Royal have it. The beat that informs the Jagger swagger, the rhythmic aptitude that propels the hip thrusts that you know are supposed to flow with the tempo. You know they're all there in all their rawness & glory because you're doing it too, and you'll be laughing & clapping & cheering along with the audience for the boys and the band as they're all having fun—like I was!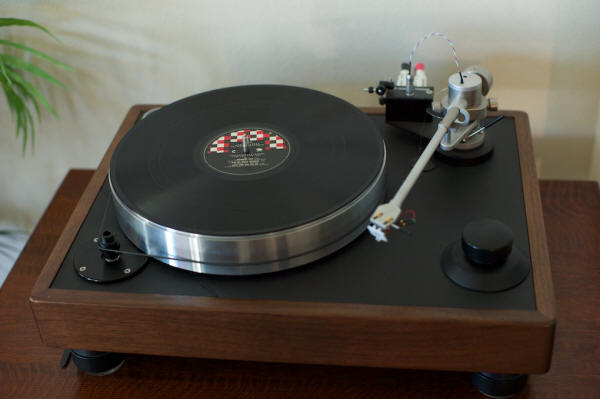 The Kingdom Royals are timbrally realistic, making it clear when you're listening to Ronnie on his Stratocaster, versus Muddy & Keith on their Telecasters, with the former's more incisive bell-like percussive tone, and the latter's richer more rounded tone. Listen to Muddy go on his Telecaster with that slide, then you'll notice that Ronnie's no slouch with a slide on his Strat either! Yeah, that's an upright piano and not a grand being played in the band, and that bass is no upright, it's electric! The harmonica player is holding it right up against the microphone while he's blowin'—you'll know because the Kingdom Royals told you so!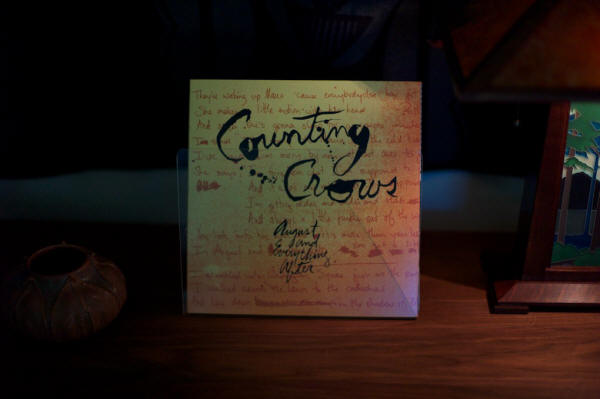 I was particularly excited when I found out that Analogue Productions was going to release Counting Crows' August and Everything After on 45RPM vinyl. I'd preordered it as soon as I found out, and the album arrived just as I was finishing up writing this review, and I could hardly wait to give it a listen with Kingdom Royals.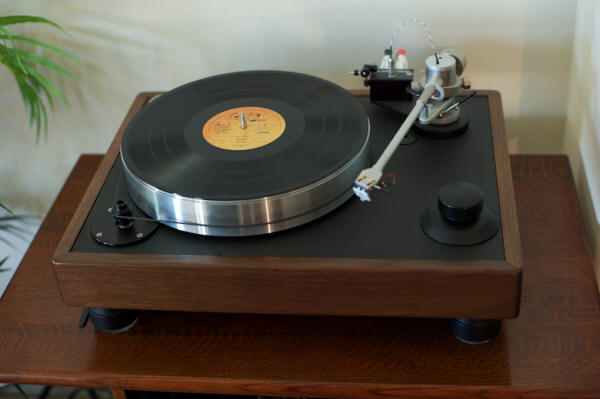 I was looking forward to hearing Adam Duritz's amazingly expressive vocals, and I wasn't disappointed. It got me to thinking about how unique every human voice is in its range, tone quality, flexibility, agility, and vibrato. Even before there was caller ID for telephones I could tell exactly who was calling in the first couple of words, because every voice has an aural fingerprint that is completely unique. I don't think I've heard more natural and expressive voices than through the Kingdom Royals. Duritz's voice was eerily present on Round Here, completely intelligible, totally lacking in unnatural sibilants, and totally full of emotional connection. The Kingdom Royals could easily keep up with Duritz's dynamic range, and the immense emotional feeling he imbues in his lyrics comes through true-blue—Duritz's a hell of a talented songwriter and vocalist.
You'll really get the excitement of Mr. Jones with the Kingdom Royals, and you'll be up out of your seat dancing to the beat and singing out loud. Perfect Blue Buildings will put you back in your listening seat and give you a perfect introduction to blue feelings, and you'll get that minor vibe as you follow Duritz down the rabbit hole of angst and worry in Anna Begins. The Kingdom Royals brings out the full range and intensity of emotional feelings these songs are written to draw out, and they do it in a completely exhilarating fashion.
Guitars, mandolin, bass guitar, piano, and drums are beautifully recorded on August and Everything After and there's a Hammond B3 organ and an accordion on this album! Two instruments I love! (Thank you Charlie Gillingham!) You'll marvel at the timbral realism, the beautiful imaging, the spacious soundstage, the billowing soundspace, the amazing music making of Counting Crows & songwriting of Adam Duritz, and the sheer emotional impact this music provides through the Kingdom Royals.
Let me quote a couple lines of Mr. Jones:
"Gray is my favorite color
I felt so symbolic yesterday
If I knew Picasso I'd buy myself a gray guitar and play"
I suggest getting Picasso's gray guitar for your collection, then get this album and play Mr. Jones on your charcoal gray Kingdom Royals, you won't be sorry. Gray is now my favorite color.
Summary & Conclusions
First established in 1926, Tannoy has brought an awesome amount of its substantial resources, long experience, and depth of knowledge to bear on the research & development that has gone into the Kingdom Royal project.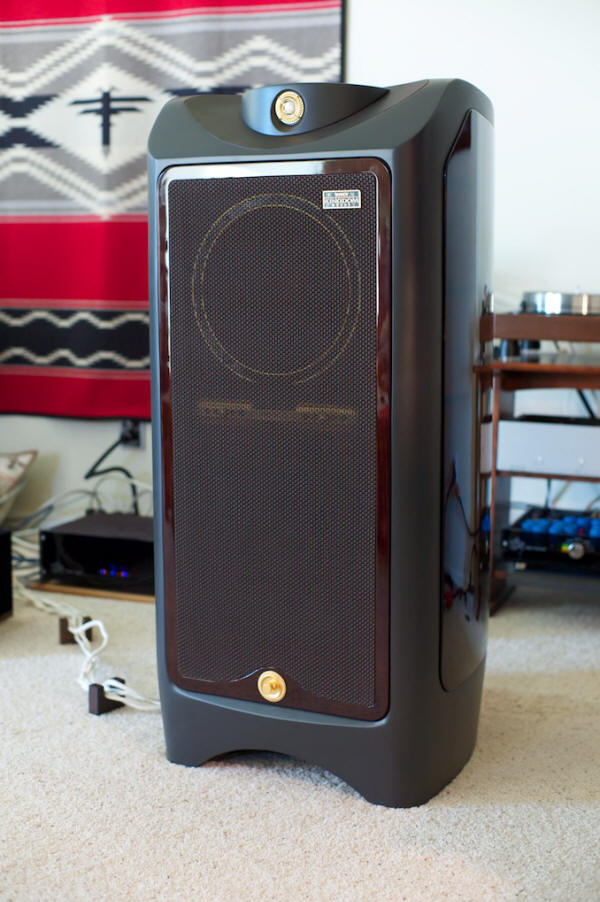 As a result, every Tannoy customer receives what is essentially a pair of custom crafted Kingdom Royal loudspeakers made just for him or her. Not only were the Kingdom Royal drivers, cabinetry, and crossover custom developed from scratch to be the best-of-the-best in their materials quality and level of performance, but also each and every Kingdom Royal loudspeaker that goes into the field has had a fanatical level of detail paid to it, both outside and inside.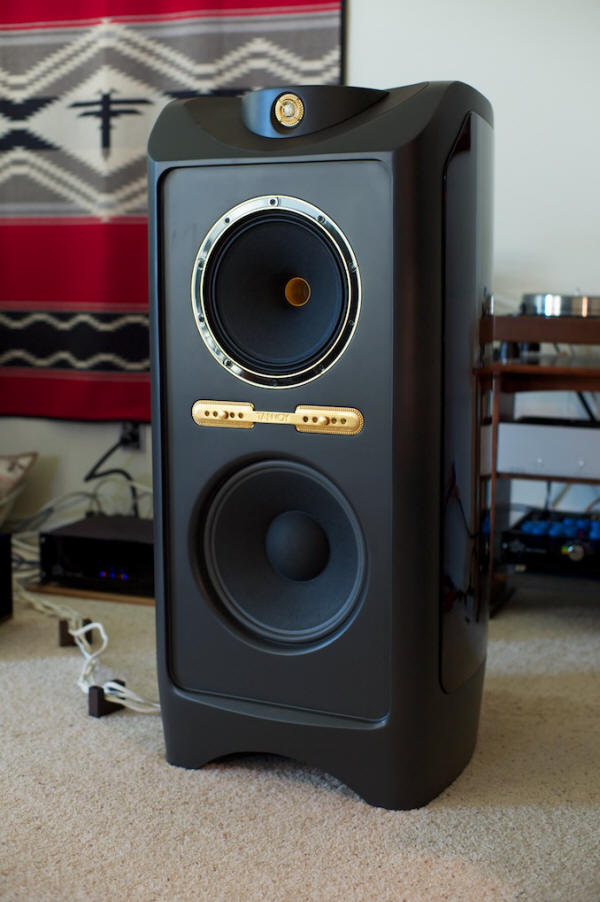 Outside the finish is impeccable, with the complex cabinetry flowing together like a solid monolith of wood affixed with drivers, with flawless paintwork, gorgeous wrap-around wood veneer, and tasteful gold & Italian leather accents. Inside, point-to-point six-nines copper wire or four-nines silver wire are soldered into place with silver solder to make connections, with the careful application of vibration reducing damping materials, and the utilization of cryogenic treatment to extra that last iota of performance. To maximize their performance and appearance, Tannoy craftsmen have lavished every 'trick in the book' onto the Kingdom Royal.
Overall, the Kingdom Royals are voiced oh so very naturally, with timbres, tone colors, and textural details that are so true-to-life in their presentation that it never ceased to amaze me—I truly was in awe. Vocals come through as supernaturally real and eerily present. The Kingdom Royals are very extended top-to-bottom (from 15Hz to 63kHz or so), with an electrostatic-like purity and a seamless continuity across the frequency range that gives them an expansive, silky, and sophisticated feel. The Kingdom Royals are very sophisticated loudspeakers from a dynamics perspective, from the tiniest micro-dynamics of bells or triangles, to walking bass lines or the beat of a kick drum, to the largest grand slams of timpani, making the music bubble with life-like tempos, beats, melodies and rhythms.
The Kingdom Royals are very resolving and detailed loudspeakers, but because of their natural tonal balance it's easy to miss that fact on a casual first listen. All kinds of subtle layers of low-level detail are resolved by the Kingdom Royals that will be missed by other loudspeakers—there's a lot more to hear in your favorite recordings than you might have thought. This prowess of recovering low-level detail combined with the astonishing ability to resolve individual instruments in an orchestra serves classical music particularly well, bringing the performance to life in ways I've never experienced before, making it as immediate and provocative as small group jazz, but on the grand scale of the orchestra.
The audiophile 'sonics' oriented performance of things like transparency, resolution, imaging, soundstage, and soundspace are effortlessly world class, and the Kingdom Royal's musical realism related to timbre, melody, harmony, dynamics, loudness, rhythm, and tempo are also effortlessly world class, but what is extraordinary and beyond world class is how all these performance characteristics are so artfully combined to forge such a strong emotional connection to the music, so that time after time while listening to a recording I felt like I was experiencing the emotional magic of a live musical event.
The remarkable level of research & development and fanatical attention to detail that Tannoy has favored the Kingdom Royal with, plus the artful combination of sonic and musical attributes, has delivered a breathtaking loudspeaker that excels at delivering the full emotional connection and thrill of a luxurious performance that portrays the magic of live music. The Kingdom Royals can sound sophisticated & mesmerizing on classical performances, intimate & spontaneous on jazz improvisation, and raw & powerful on rock and blues. The Kingdom Royal can really do it all on any kind of musical genre, good recording or not, with astonishing aptitude.
Who will be most impressed with the Kingdom Royal? Those who really understand, live and breathe music, they will be the most impressed. Those who have experienced many great live performances will recognize in the Kingdom Royals a kindred experience, a musical greatness that transcends mere Hi-Fi and takes on a musical life of its own. I can't tell you how many times that I listened to an LP and just sat there shaking my head at how utterly captivating the Kingdom Royals were when playing music. The Kingdom Royals get inside you, inside your head, inside your heart, and bring recorded music alive with a tangible excitement you rarely experience in audio.
As a final note, let me say that if I could afford them, I would buy the Tannoy Kingdom Royals in an instant. I'd love to have them as my long-term reference for a dynamic loudspeaker. The Kingdom Royals combined with the ASR Emitter II Exclusive Version Blue amplification, ASR Basis Exclusive phono preamplifier, and the Sablon Audio Panatela interconnects & component speaker cables have a synergy together that you only come across once in a very great while in high-performance audio, to create what is truly a super-system in playing back musical performances.
For the person of extraordinary means, I very seriously recommend you consider buying the Kingdom Royals, and for that matter, this entire music system just as I have described it. It is truly a winning system, a rarity and a wonder, that for the price of a Porsche 911 Carrera S, will give you indisputably world-class performance that will provide you with immense musical satisfaction for the rest of your life. If you take my advice on this, I think you'll be thanking me for the recommendation for many years to come.
I'd like to say thank you to everyone at Tannoy for letting me give their new statement Kingdom Royals a listen—they are magnificent!
The Tannoy Kingdom Royals are $55,000 USD.
Tannoy
www.tannoy.com