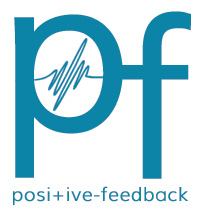 You are reading the older HTML site
Positive Feedback ISSUE 64
november/december 2012
angel city audio
The Trinity Loudspeakers
as reviewed by Victor Chavira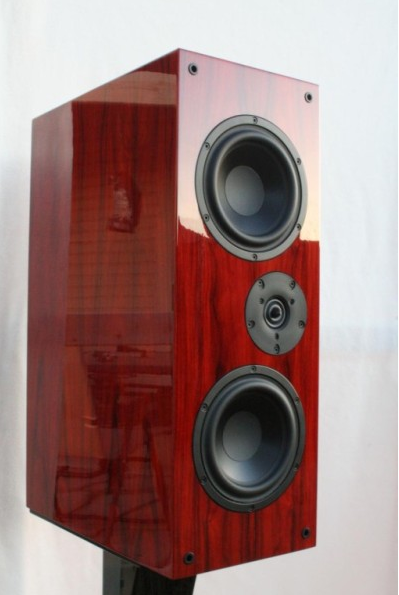 Angel City Audio is an importer of high end audio components from China. The Trinity LR is Angel City Audio's first foray into bringing a speaker to market bearing the Angel City Audio brand. Their objective was to produce a highly competitive and versatile speaker with which to showcase the importer's line of fine audio components. Extremely low coloration, transparency, and sensitivity were paramount in the development of the speaker. To this end, Angel City employed the design services of Mr. Quoc Ngo while the final voicing of the Trinity was personally supervised and approved by Angel City proprietor Hugh Nguyen. Was ACA successful with their maiden speaker voyage? Read on to find out.
First of all, I would like to point out that the Trinity is not a rebadged item mass produced in a far-east factory. The Trinity is essentially a hand crafted monitor with a level of fit and finish that one comes to expect from the finest European offerings, albeit at a significantly higher price. The Trinity is robustly built and weighs 50 pounds, but the dense mass feels more like sixty as I gingerly wrapped my arms around the exquisitely finished high gloss birds-eye maple sample and heaved it up to a 24 inch stand. It's best to use your legs to lift or better yet, find someone to help you. The Trinity's proportions are a classic rectangular prism: 24 inches tall by 9 inches wide by 16 inches deep. The front driver compliment features a VIFA XT ring radiator tweeter off set of center and flanked by two 7 inch custom woofers with substantial rubber surrounds.
Peering inside the smoothly tapered rear port reveals copious amounts of precisely routed MDF bracing and sound absorbing material. The point-to-point wired crossover is set a 2.2 kHz. Fearing that I might clumsily mar the sample's fine finish, I did not remove a woofer or further examine the speaker's internals. Nevertheless, my evaluation is largely based on the speaker's function. So, how did it sound?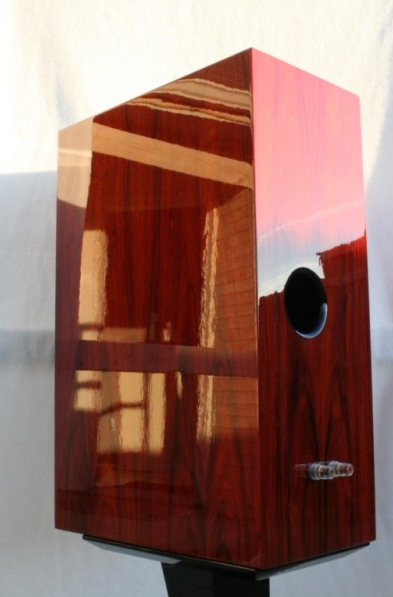 For the majority of this review, I connected the Trinity's single pair of binding posts to Bel Canto's award winning C7R receiver, with some time at the end of the review period dedicated to listening with the Melody AN211 integrated from Angel City Audio. The speakers were set up about three feet from the front wall of my open-ended 13' by 20' listening/living room, and toed in so that only the face was visible from the listening position.
As per my usual routine, listening to piano works helps me gauge an initial impression of a component's abilities. Immediately, I was impressed with the Trinity's lack of distracting colorations and deep transparent soundstage. The Trinity seemed to embody both the command and presence of a larger floor stand speaker while preserving the see-through like quality of smaller stand mount monitors. "Wachet auf, ruf uns die Stimme, BWV 140: Prelude" as performed by Awadagin Pratt from his 2002 recording Play Bach on Angel is transcendent in its contemplative pace and depth of emotion. The mass and scale of grand piano sounded accurate and intimate as if Awadagin was playing his take on this ancient beautiful melody just for me.
Given the Trinity's positive marks with solo piano, I thought to add a layer of voice. Adele has a tremendous voice, and she uses it to great effect on "Turning Tables" from her recording 21. The somber song begins with opening chords on piano played arpeggio. Then Adele starts to sing with her remarkable voice and heartfelt phrasing. The Trinity's 90 dB sensitivity traced her every subtle nuance and inflection with dynamic accuracy. The Trinity's command of macro and micro dynamics was superb. From the beginning at PFO, our philosophy has been to evaluate the sound of components using music we actually listen to and enjoy rather than test tones or "audiophile" approved recordings of questionable musical value. Therefore, you will forgive me for my lack of attention to the upper range of female vocals in my observations. Soprano singers are not well represented in my music collection and I make no claim to in-depth knowledge of the genre. Unfortunately, the soprano range of singers lies within the crossover range of the majority of speakers including the Trinity's. Adele's lower registered voice, however, sounded quite coherent and lacking in crossover or cabinet colorations.
The four 7 inch woofers and rear ports combine to produce impressively deep and firm bass. If you are accustomed to a bloated, doughy response, you may find the Trinity to be somewhat over damped. However, the astute listener will recognize at once the Trinity's clean and controlled linearity in the bass region. Electronic based music is a genre I've come to appreciate more and over the past few years. Nortec Collective's "Olvidela Compa" and Mala's "The Tourist" from Mala in Cuba are both songs with strong electronic bass pulses. The stand mounted Trinity speakers produced remarkably fast and profound bass that could be felt throughout the house beyond the listening area. The densely built Trinity releases bass energy with a speed approaching that of a panel, but with visceral impact of an active subwoofer dialed in just right.
This issue's Latin Jazz must have recommendation is "La Fiesta Va" from the recording Ninety Miles Live at Cubadisco. Unfortunately, the song is available as "album only" on iTunes. The five minute studio version can be purchased as a single, but I implore you to view the ten minute live version on YouTube. I assure you it will be time well spent. The music features American jazz musicians Stefon Harris on vibes, trumpeter Christian Scott, and Puerto Rican native David Sanchez on saxophone playing with a host of young jazz sensations in Cuba.
This is not the folkloric son based offerings of Buena Vista Social Club, but rather top tier Latin Jazz played with passion and verve. All the elements of the live recording are accurately rendered by the Trinity. Tight propulsive bass, a realistic sound space occupied by coherent musicians and instruments, and the presence of a live audience thoroughly captivated by the magical musical conversations of artists separated by language, politics, and ninety miles of sea, but unified by jazz.
With regards to orchestral music, the Trinity produced outstanding results. My LP of "Jupiter" and "Haffner" symphonies by Mozart as recorded by the Concertgebouw Orchestra of Amersterdam conducted by Eugen Jochum on Philips sounded engaging and layered. The Trinity's sensitive responsiveness to the score's dynamic markings drew me in such a way that a passerby would have witnessed facial expressions and hand gestures of a couch conductor in full effect. So much of orchestral music's communicative abilities rest with the composers dynamic markings, and unless you have speakers with moderate to high sensitivity, orchestral dynamics sound stressed or compressed. The Trinity's expressive manner conveyed pianissimo to fortissimo with effortless grace.
High marks for vocals, electronica, jazz, and orchestral music, but can the Trinity rock? My teenage son is a big fan of Smashing Pumpkins, and with their multiple layers of electric guitar textures and driving bass, it's no wonder why. The song "Hummer" from Siamese Dream is charged with loud hypnotic energy and feedback before ending with a hushed two and a half minute excursion of melodic bliss. The Trinity delivered powerful levels of volume without sounding shouty or strained.
The Trinity also impressed with DVDs in my two channel system. The Avengers movie has outstanding special effects, a clever script, and two very attractive actresses wearing fitted black uniforms. The Trinity projected clear dialogue and explosive special effects that emerged from distinct locations beyond the plane of the speakers and screen that greatly enhanced the viewing experience.
In the final days of my time with the Trinity speakers, I asked Hugh to bring me his Melody AN211 tube integrated ($5679). This is the same pair of components that drew many favorable comments from attendees at this year's RMAF. Take everything positive I've written about the Trinity speakers, multiply by five, and add heaping measures of air, dimensionality, warmth, and expressiveness. Truly, this pair of components belongs together like fine wine and cheese.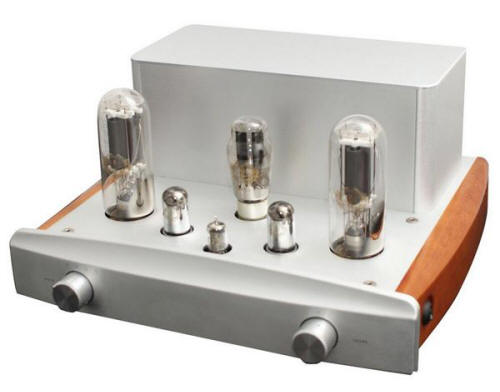 I would be remiss without recognizing the passing of jazz titan Dave Brubeck. One of my favorite compositions ever is "Three to Get Ready" from Time Out. The Melody/Trinity combo produced true to life tonal colors, space, and harmonic integrity such as I've rarely heard in the context of my home.
In conclusion, the Trinity speaker is a highly accomplished first time product that is not often seen at its market sector. If your budget is within a thousand dollars of The Trinity's price ($2599), you must seek out Hugh at Angel City Audio and arrange an audition before spending on something else. The Trinity marries the revealing qualities of a studio grade monitor with the dynamic range and sensitivity of a larger full range home theater speaker. The Trinity is a strong contender in a critical market and highly recommended. High quality stands are essential for achieving best results. Victor Chavira
Trinity Loudspeakers
Retail: $2599 a pair
Angel City Audio
http://angelcityaudio.com