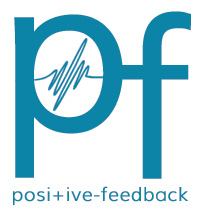 You are reading the older HTML site
Positive Feedback ISSUE 65
january/february 2013
Notes of an Amateur: Penderecki, Part 1. Jeremy Denk plays Ligeti (and Beethoven).
by Bob Neill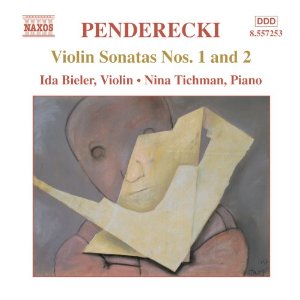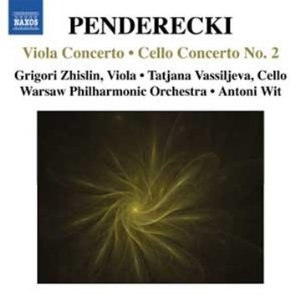 I have come surprisingly late to second generation modernist Polish composer Penderecki, even for an amateur. So I have no right to ask why his music is not more present on the concert stage or even in the FM music world, whatever's left of it. Penderecki's (pronounced Penderetsky) music presents immersion of great feeling in modernist style. We have none of the cerebral angst which features so strongly in much contemporary western music; but also none of the appealing neo-romantic suffering of some of the other Eastern Europeans and Russians. What is present in this music is great Slavic feeling and eloquence insisting on its power of expression in the midst of what is sometimes torrential dissonance.
This is the most moving modernist music I've heard in quite a while. It is less guarded and less severely brilliant than Adès and more grounded than most of Ligeti, to cite two of his widely admired contemporaries.
Penderecki. Violin Sonatas Nos. 1 and 2. Ida Bieler, violin; Nina Tichman, piano. Naxos 8.557253. (2004)
My first serious (and extended) introduction to Penderecki, setting aside a Sextet I heard and listed as a favorite a year or so ago, has been his violin sonatas. Violin Sonata No. 2 (2000) brought my household to a standstill. As the commentator hints, there is some Shostakovich and some Schnittke here; but this work mainly speaks its own language. It is an entire musical world, 37 minutes long. The other music in the program, Violin Sonata No. 1 (1953), Miniatures (1959), and Cadenza for Solo Violin (1984) is all moving but really doesn't prepare us for the reach and complexity of Sonata No. 2. This is the work that scolded me for my late arrival. And it was released eight years ago!
Penderecki, Viola Concerto, Cello Concerto No. 2. Grigori Zhislin, viola; Tatjana Vassiljeva, cello. Warsaw Philharmonic Orchestra, Antoni Wit. Naxos 8. 572211. (2011)
So what does Penderecki sound like through a full orchestra? In his Cello Concerto No. 2 (1982), the solo cello is withheld for several minutes as the orchestra builds a context. The solo instrument then stalks across the stage in spite of the orchestra's apparent attempt to maintain control. Once we are some six or so minutes in, they share the task of maintaining a bold, passionate musical vision, the orchestra occasionally stepping back to let the cello initiate a new direction. Overall, while again we sometimes feel Shostakovich in the background, there is an extraordinary inner power to this work, a resistance to melodic diversion (or escape) that marks this music as Penderecki. There is also a whirling through light and dark, loudness and relative quiet, speed and deliberation, from strings to percussion, and from solo cello to full orchestra that creates a sense of... completeness. We have the sense that no sonic or stylistic possibility has been left unexplored. And then, at the middle of this eight movement work, an uneasy calm appears. This lento is like nothing we have heard to this point, and we find ourselves held still as cello and orchestra work something out before us. There is drama but also exquisite poetry: we feel the old harmonic and new dissonant palettes and all that they represent being reconciled. And then we're off again -- to the bold, complex, heavily rhythmic excitement we had before, gliding into several final minutes of relative quietude and an elegiac song from the cello against a respectful, half withdrawn orchestra.
In the Viola Concerto (1983), the solo instrument is in control from the start. Bold, stark, sometimes furious, relentlessly aggressive. Even the quieter moments have intensity that gradually bursts into flame. Passion is the ruling spirit. Because the viola is not a violin, the thrust of the music is more muscular, even in its upper range. A social historian would hear a generation of pent up anger from Soviet suppression breaking free in this work, a furious memorial to an imprisoned culture. This is a very strong brew. Less subtle and complex than the Cello Concerto but clearly related to it.
This is what Penderecki sounds like with a full orchestra!
Next time out: Penderecki, Part 2: the symphonies.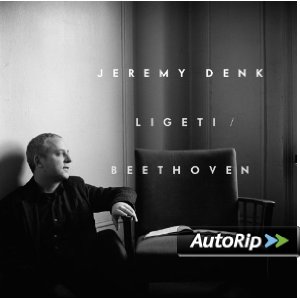 Ligeti / Beethoven. Jeremy Denk, piano. Ligeti: Études, Books 1 & 2. Beethoven, Piano Sonata No. 32, Opus 111. Nonesuch 7559-796219.
Jeremy Denk is one of the most exciting, technically skilled, and intelligent pianists around these days. His Ives disc is as compelling in its own way as Pierre Aurent Aimard's wonderful performance; and his article for The New Yorker on the making of the CD is equally so. Denk is obviously drawn to challenging music, which brings us to his Ligeti/Beethoven recording.
A first impression of this music, which doesn't really ever go away, is that Ligeti is the Debussey of the future. If the French composer turned the piano loose in the room, Ligeti opens up the room itself. This music has extraordinary energy and, under stunning control, runs several times around the world and then through it. Runs, scampers, leaps. Bounds. If one wanted to characterize this music in one word, it would be motion. Even a comparatively peaceful étude, Autumn in Warsaw, is defined by rapidly moving notes. And still Debussey's chromatic light shines through it.
Denk programs Beethoven's Opus 111 piano sonata between Ligeti's Book 1 and Book 2, so he sees the Hungarian looking back past Debussy to the beginning of modern piano music, which most scholars identify with Beethoven's late sonatas. Denk plays the Beethoven with the force and dynamic energy he brings to Ligeti, partly to make the connection, we suppose. "Ligeti's études seem at times like a sequel to late Beethoven mania," he writes in the album notes. Beethoven's power plus Debussy's freedom and chromatics takes us to Ligeti?
The second book of études have the same effect on me, if anything sounding even more French, and are wonderful for that. Antic, brilliant, syncopated, etc. Delightful.
Equipment used for this audition: Resolution Audio Cantata CD player; Crimson CS710 preamplifier and CDS 640E monoblock amplifier; Jean Marie Reynaud Orféo Supreme loudspeakers on Symposium Sveltes; and Crimson cabling.
Bob Neill, a former equipment reviewer for PF and For the Music and a current music reviewer for PF, is also proprietor of Amherst Audio in Amherst, Massachusetts, which sells equipment from Audio Note, Blue Circle, Crimson Audio, JM Reynaud, and Resolution Audio.